Interested in learning about your earnings potential, cost of buying a home and job growth in your state? Thinking of moving and want to know how well you can do as an HVAC technician in a different state? We've compiled the information here!
In this table we look at some of the important factors in making a living in HVAC.
Best State to Work In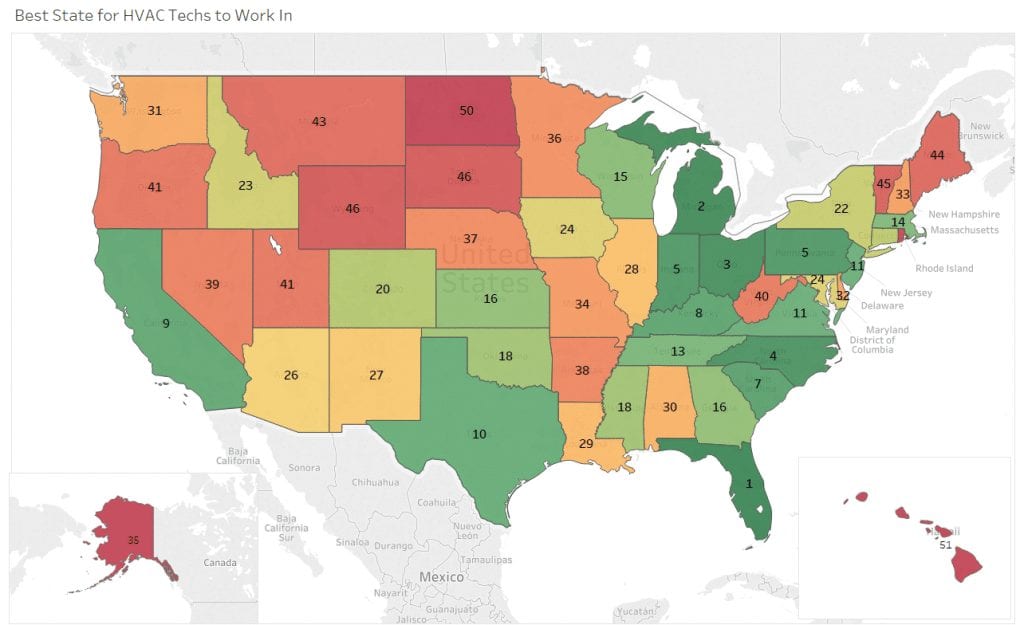 How To Use This Table
Let's look at what we've included here. You'll notice that you can sort the table by any of the columns by simply clicking the column header.
Hourly Mean Wage – this is the average that an HVAC technician gets paid per hour in each state.
Annual Mean Wage – this is the average earnings for a HVAC technician working full-time during the entire year (40 hours a week, 52 weeks a year).
Zillow Median House Value – the website Zillow uses an extremely complicated formula to try to calculate a median home value. They take into account a lot of factors, like size of the home, seasonal changes, and much more. If you'd like to look at their methodology more deeply, check out their explanation here.
Salary as % of Median Home Value – we arrive at this number by divided the "Annual Mean Wage" by the "Zillow Median House Value". A higher percentage in this column means that buying a home is more affordable. That is, every year you earn a higher percentage of the value of a home. This is one indicator of how affordable an area is.
2014 Jobs – the US Department of Labor Bureau of Labor Statistics reports there were about this many HVAC jobs in the state as of 2014.
2024 Jobs Projected –  the US Department of Labor Bureau of Labor Statistics expects that by 2024, there will be a total of this many positions for HVAC. Of course, these are only projections, not guarantees. Many factors could create differences.
Average Annual Openings – this is a rough number of jobs available each year. This includes new jobs plus the rough number of replacements needed due to retirement, career changes and other factors.
10 Year Growth Rate – this marks the projected increase or decrease in total HVAC  jobs from 2014 to 2024. A higher percentage means the field is growing more rapidly.
Rank – we used the other statistics here to create an overall rank for each state.
Of course, there are many other factors you will want to consider besides those we've been able to include. If you'd like more information about the cost of living between different cities, you might want to check a site like Numbeo, where users can add the cost of many different items and compare them to other locations throughout the US and worldwide.
| State | Hourly Mean Wage (1) | Annual Mean Wage (1) | Zillow Median House Value | Salary as % of Median Home | 2014 Jobs (3) | 2024 Jobs Projected (3) | Average Annual Openings (3) | 10 yr Growth Rate (2014-2024) | Rank |
| --- | --- | --- | --- | --- | --- | --- | --- | --- | --- |
| Alabama | $17.73 | $36,880 | $127,000 | 29% | 5080 | 5790 | 150 | 14% | 30 |
| Alaska | $30.90 | $64,280 | $268,800 | 24% | 340 | 360 | 10 | 6% | 35 |
| Arizona | $20.04 | $41,680 | $225,000 | 19% | 6330 | 9590 | 420 | 52% | 26 |
| Arkansas | $17.01 | $35,380 | $121,900 | 29% | 2580 | 3000 | 80 | 16% | 38 |
| California | $24.58 | $51,120 | $505,800 | 10% | 22300 | 29400 | 1050 | 32% | 9 |
| Colorado | $26.08 | $54,250 | $336,500 | 16% | 4960 | 7110 | 340 | 43% | 20 |
| Connecticut | $26.28 | $54,660 | $246,600 | 22% | 3550 | 3850 | 80 | 8% | 21 |
| Delaware | $24.00 | $49,910 | $216,000 | 23% | 2000 | 2360 | 70 | 18% | 32 |
| Florida | $31.79 | $66,120 | $209,900 | 32% | 27700 | 36950 | 1350 | 33% | 1 |
| Georgia | $18.10 | $37,650 | $157,600 | 24% | 8850 | 10630 | 310 | 20% | 16 |
| Hawaii | $20.32 | $42,270 | $605,600 | 7% | 870 | 950 | 20 | 9% | 51 |
| Idaho | $29.49 | $61,330 | $194,100 | 32% | 1340 | 1890 | 85 | 41% | 23 |
| Illinois | $17.89 | $37,220 | $170,500 | 22% | 7700 | 8890 | 240 | 15% | 28 |
| Indiana | $25.05 | $52,100 | $121,700 | 43% | 5130 | 6030 | 170 | 18% | 5 |
| Iowa | $20.22 | $42,050 | $125,300 | 34% | 3320 | 3940 | 110 | 19% | 24 |
| Kansas | $22.99 | $47,820 | $125,500 | 38% | 2840 | 3010 | 90 | 6% | 16 |
| Kentucky | $21.59 | $44,910 | $135,400 | 33% | 7270 | 9070 | 290 | 25% | 8 |
| Louisiana | $18.33 | $38,130 | $145,200 | 26% | 5440 | 5940 | 130 | 9% | 29 |
| Maine | $19.18 | $39,900 | $195,000 | 20% | 2160 | 2170 | 30 | % | 44 |
| Maryland | $21.97 | $45,700 | $271,100 | 17% | 6260 | 7210 | 250 | 15% | 24 |
| Massachusetts | $26.02 | $54,120 | $377,200 | 14% | 8460 | 8720 | 150 | 3% | 14 |
| Michigan | $27.17 | $56,520 | $134,700 | 42% | 7490 | 8660 | 230 | 16% | 2 |
| Minnesota | $21.88 | $45,510 | $209,700 | 22% | 2580 | 2760 | 60 | 7% | 36 |
| Mississippi | $24.98 | $51,960 | $113,800 | 46% | 1950 | 2080 | 40 | 7% | 18 |
| Missouri | $16.07 | $33,420 | $140,800 | 24% | 4870 | 5510 | 140 | 13% | 34 |
| Montana | $22.16 | $46,100 | $202,600 | 23% | 740 | 1033 | 50 | 40% | 43 |
| Nebraska | $19.49 | $40,530 | $150,900 | 27% | 2000 | 2380 | 70 | 19% | 37 |
| Nevada | $21.18 | $44,050 | $241,400 | 18% | 2690 | 3820 | 150 | 42% | 39 |
| New Hampshire | $26.23 | $54,550 | $247,500 | 22% | 1390 | 1420 | 20 | 2% | 33 |
| New Jersey | $24.30 | $50,540 | $307,100 | 16% | 10830 | 12720 | 350 | 17% | 11 |
| New Mexico | $26.91 | $55,960 | $174,100 | 32% | 1130 | 1270 | 30 | 12% | 27 |
| New York | $19.52 | $40,590 | $303,300 | 13% | 14480 | 18320 | 610 | 27% | 22 |
| North Carolina | $24.06 | $50,040 | $162,500 | 31% | 12170 | 14150 | 380 | 16% | 4 |
| North Dakota | $18.79 | $39,090 | $201,300 | 19% | 960 | 940 | 20 | -2% | 50 |
| Ohio | $24.69 | $51,350 | $128,600 | 40% | 9890 | 11360 | 300 | 15% | 3 |
| Oklahoma | $21.23 | $44,150 | $115,300 | 38% | 4200 | 4860 | 130 | 16% | 18 |
| Oregon | $20.34 | $42,300 | $313,100 | 14% | 2990 | 3480 | 100 | 16% | 41 |
| Pennsylvania | $22.17 | $46,120 | $161,500 | 29% | 13340 | 14860 | 360 | 11% | 5 |
| Rhode Island | $22.12 | $46,000 | $255,700 | 18% | 630 | 710 | 20 | 13% | 49 |
| South Carolina | $26.87 | $55,890 | $145,400 | 38% | 4410 | 5070 | 130 | 15% | 7 |
| South Dakota | $18.86 | $39,220 | $174,700 | 22% | 1140 | 1300 | 30 | 14% | 46 |
| Tennessee | $21.86 | $45,460 | $143,300 | 32% | 5730 | 6530 | 230 | 14% | 13 |
| Texas | $19.09 | $39,710 | $169,500 | 23% | 22890 | 29630 | 1020 | 29% | 10 |
| Utah | $19.52 | $40,610 | $252,600 | 16% | 2870 | 3840 | 140 | 34% | 41 |
| Vermont | $22.60 | $47,010 | $249,500 | 19% | 850 | 850 | 10 | % | 45 |
| Virginia | $22.83 | $47,480 | $245,200 | 19% | 10410 | 11810 | 300 | 13% | 11 |
| Washington | $22.77 | $47,370 | $340,200 | 14% | 4920 | 6010 | 190 | 22% | 31 |
| Washington DC | $26.09 | $54,280 | $547,000 | 10% | 340 | 370 | 10 | 9% | 48 |
| West Virginia | $17.00 | $35,370 | $100,200 | 35% | 1550 | 1540 | 40 | -1% | 40 |
| Wisconsin | $22.48 | $46,750 | $166,900 | 28% | 4920 | 5510 | 140 | 12% | 15 |
| Wyoming | $21.57 | $44,860 | $194,700 | 23% | 580 | 610 | 10 | 5% | 46 |
Sources