Illinois HVAC workers can expect to make a decent starting salary and move up with experience. As far as trades, it's right around the middle for all Illinois incomes.
Starting out in HVAC, you can expect to earn about $13.70 an hour, but with growth up to about $36.50 – that works out to $75,780 for the best of the best.
One factor that makes it easier to get into the HVAC trade in Illinois is that work in this area is not licensed by the state. Counties or cities may have their own regulations, but their is no certification, licensing or testing on a statewide basis.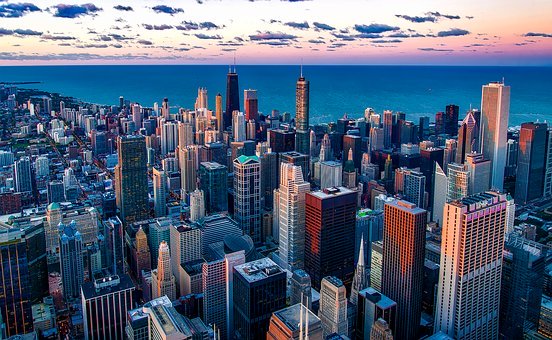 How to Become an HVAC Technician in Illinois
If you are looking for a career in skilled trades that ensure job stability and a good income, you should consider becoming an HVAC technician. In Illinois, the demand for these technicians is high for installing the latest systems in residential, commercial, and industrial buildings. Technicians are also in demand for making repairs and new upgrades in old, or pre-existing systems.
However, to become an HVAC technician in Illinois, you need to focus on getting a license. Illinois doesn't require a state license, but it does require a business license if you are opening a contracting business.
To open a business and start a career in this field, you need to qualify according to all requirements and collect the necessary certification. One of the requirements is for you to join an HVAC school.
In many cases, the minimum education requirement is a degree from a high school which takes around four years for completion. You can get a degree equivalent to it, for example, the GED. 
On Job Learning
After getting your GED diploma or high school education, some HVAC technicians opt to learn more about the job. On-the-job learning under an experienced professional involves working on HVAC systems and equipment by following important safety practices, using professional-scale tools, identifying refrigerants, maintaining equipment, undertaking electrical work, and more.
After a few years of on-the-job learning, HVAC technicians can go ahead with certification exams.
Post-Secondary Education
Certification tests tend to assess the individual's practical capabilities and technical knowledge very thoroughly, so aspiring HVAC technicians should consider getting post-secondary training in this industry.
Post-secondary education or training is carried out in vocational schools or at community colleges and helps students achieve the expertise and aptitude they need to pass the certification examination.
This training takes around two years, and it also contains general educational classes like biology and English. At a vocational school, students get to focus all their energy on one particular field only.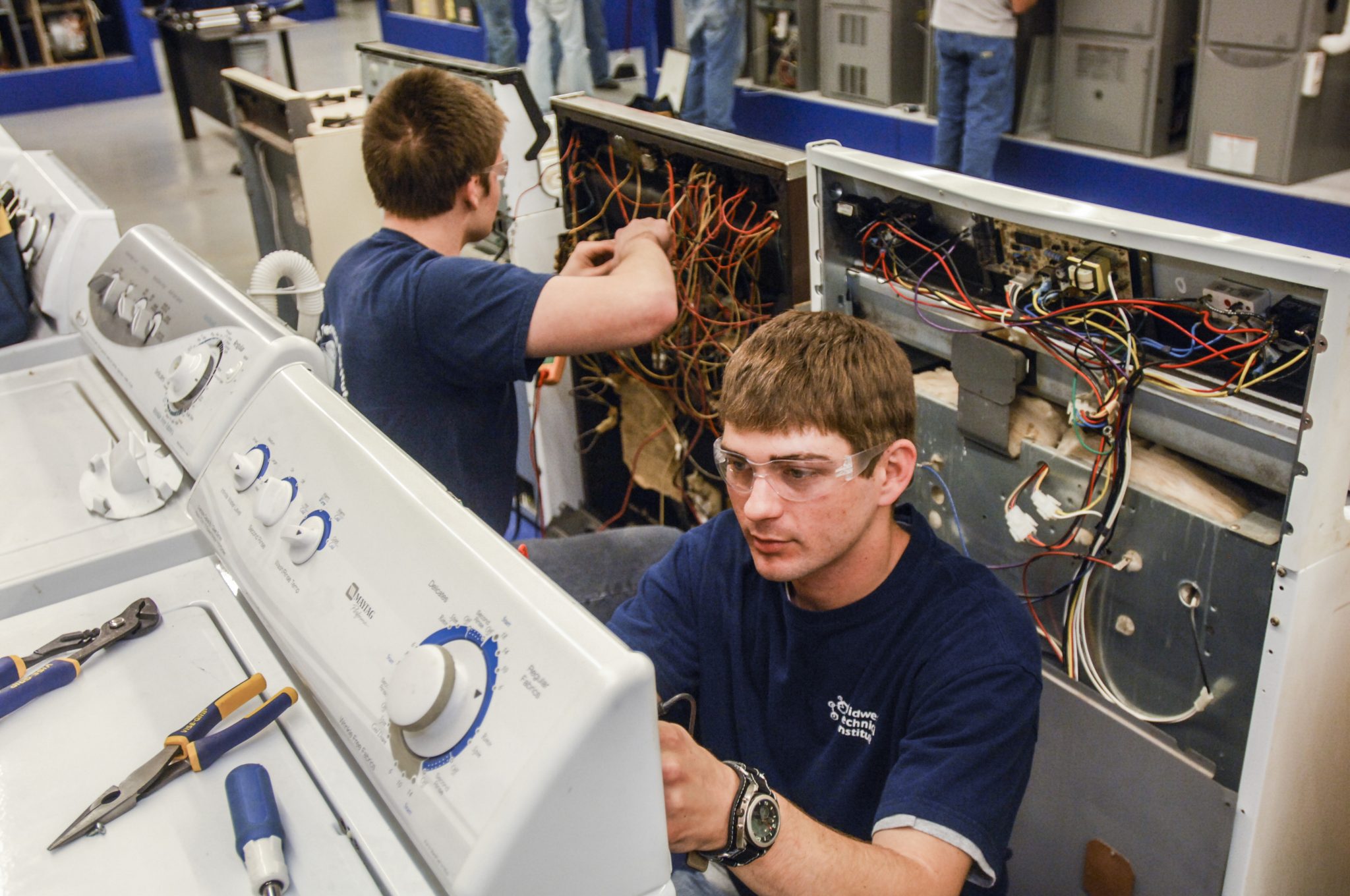 HVAC Training
When it comes down to HVAC training, it can take around 35 weeks to complete. This is referred to as vocational training, which tends to cover the basic courses such as heat pumps, electricity, air conditioning, electric heat, indoor air quality maintenance, and repairing major units and appliances. Students can learn about advanced tech through hands-on training in the lab and via classroom lectures.
Moreover, training programs provide certification and employment opportunities. Each student is required to take the Section 608 of the EPA certification. There are several types in it, including Core type I, and type II.
Related Licensing in Illinois
Illinois has few statewide licensing requirements. In addition to not having a state HVAC certification, there is no statewide process to license electricians or even contractors.
Further regulations can vary by city or county. However, Chicago, as the biggest city in Illinois, follows the state's lead and does not grant a specific HVAC license. There are licenses available for a supervising electrician and for a Plumbers' Apprentice and Plumbing Contractor, which may be useful in some cases. The process is administered on behalf of the city by Continental Testing.
Business License
You will, of course, need to register with the state to run a business. You can register online, or download and register a form at this website. This is primarily for the sake of your state taxes.
A business license may be required by local authorities, as well.
EPA Certification
As you probably know, the Environmental Protection Agency is a federal entity, so its rules are binding in all 50 states. If you work with refrigerants, it is necessary to obtain Section 608 Certification from the EPA. This helps guarantee that these potentially dangerous chemicals are properly handled, sealed and recycled.
How to Start an HVAC Career in Illinois
Illinois does not have any licensing process in place for mid and entry-level HVAC professionals. The state only demands that contracting companies and contractors operating inside the state must hold business licenses.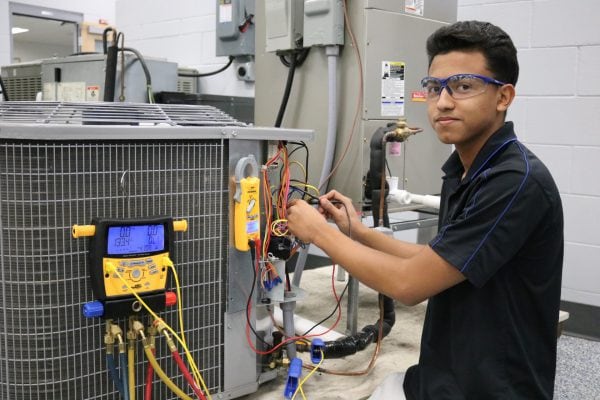 This means that entering and making your way through the industry is all about meeting the federal certification requirements mentioned above and the employer's expectation.
Some preferences most employers have are the following:
Prior experience working in the field, including specific experience in dealing with commercial, residential, and/or industrial systems, refrigerants, facility management, and more.
HVAC technical college certificate, trade school certificate, career degree, or diploma.
Industry-recognized national credentials in some areas of HVAC/R.
Employers are more inclined towards candidates who have graduated from a good trade school or have a degree from a good technical college program. This is because an HVAC education program provides students with the key skills required to deal with advanced systems such as:
Heat pump technology
Heat loss and heat gain calculation
Principles of heating and air conditioning
Design of duct and installation applications
HVAC electricity control
Earning a degree while meeting the requirements mentioned above allows you to become a full-time contractor in Illinois.
What Makes Illinois a Great Place to Start an HVAC Career?
Illinois has very few statewide licensing requirements, and in addition to not having a state certification, there is also no statewide process to license contractors and electricians. Since there are so few rules to being a full-time technician in Illinois, it is a great place to start your career.
There are also more advantages that allow the state to be an excellent place for technicians in the HVAC industry to prosper. These are as following:
Great Job Outlook and Compensation
It is no secret that people tend to make use of air conditioners, refrigerators, and heating systems occasionally. Because of this, the employment prospect of HVAC technicians will continue for a long time; as long as technology is advancing, technicians will remain in business.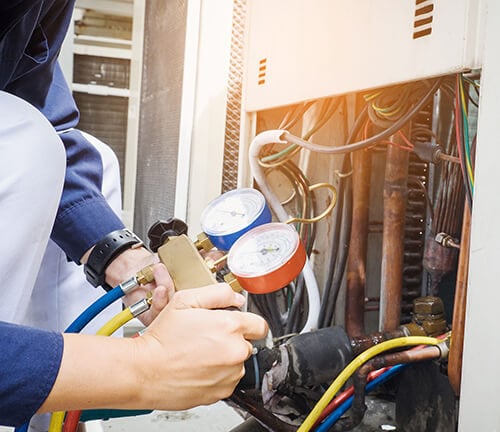 According to the Bureau of Labor Statistics, an HVAC technician's employment will see an increase of 15 percent by 2028. This continuing growth of residential and commercial construction and the increasing occurrence of service contracts show how good the job outlook is in Illinois.
Furthermore, these contracts help in stabilizing the income and workload for technicians all-year-round. In addition to this, HVAC technicians receive higher pay as compared to the workers in other occupations.
According to the BLS data, the median salary of technicians in May 2019 was $48,730. The highest ten percent of workers earned $77,920. So, if you plan on succeeding in your career as an HVAC technician, Illinois will help provide you the base to build a rewarding career.
Get Paid While Learning
If you wish to become a technician, you will have to undergo training on your job even as an entry-level worker, followed by completing your training. Even during this learning time, you have the advantage of earning half of what your fully-trained, professional seniors do.
This is an advantage since you will be learning and still earning a good income. As you learn and polish more skills, you will receive a pay raise.
You Can Join Field From the Start of Your College Career
Illinois is one of the five best states for technicians in the industry. The other four include Florida, Texas, Ohio, and California. The reason why this state tops the list is that it has a high demand for HVAC workers, and joining the field has been incredibly easy.
There aren't any strict statewide requirements. Therefore, it's a lot easier for you to get a good understanding of where you prefer working as you get a headstart in this field. In general, starting your college days with an HVAC program will give you the right direction and make you eligible for working in a city of your choice.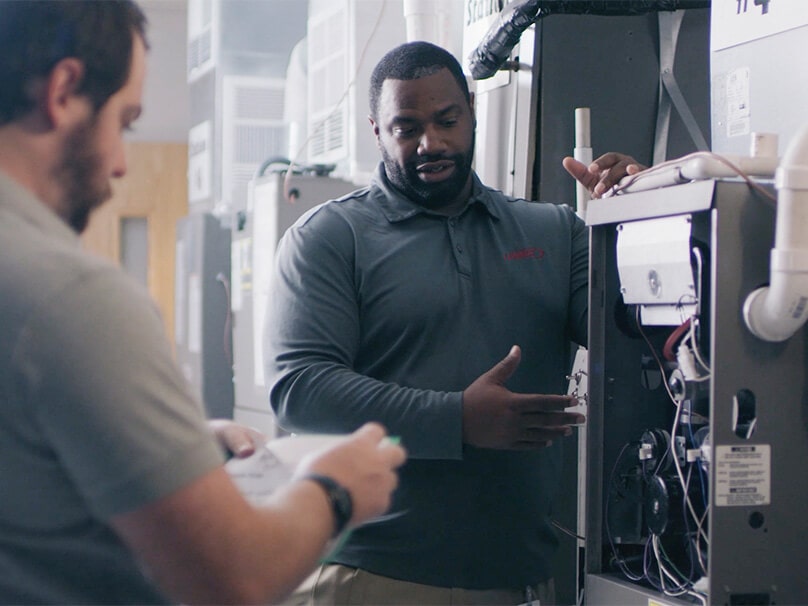 Exam Prep for Illinois HVAC Techs
Federal law requires that you earn EPA (Environmental Protection Agency) Section 608 certification concerning the reclaiming, recovery, and recycling of specific refrigerants.
Virtually, all HVAC technicians working with refrigeration and AC systems are required to earn these 608 certifications. There are four kinds of certification options you can choose from, and for that, you have to pass the EPA exam specific to the certificate you want.
You can easily find same-day education and certificate programs locally. If you are getting an HVAC degree from a college, then the certification course allows you to prep for the exam itself and is included in your curriculum.
Illinois has plenty of schools and colleges that provide HVAC courses and certifications. You can join the university and choose the certification course most suited to your requirements, and they will help prep you and enable you to join the field.
HVAC Job Outlook and Salary for Illinois
Growth in the HVAC sector throughout the nation is very strong. 
The state of Illinois is not different from this, and as the need for new upgrades to buildings that are already constructed continue, qualified technicians are highly in demand. Today, the growth throughout this board is really high, approximately 13% faster than the average job outlook.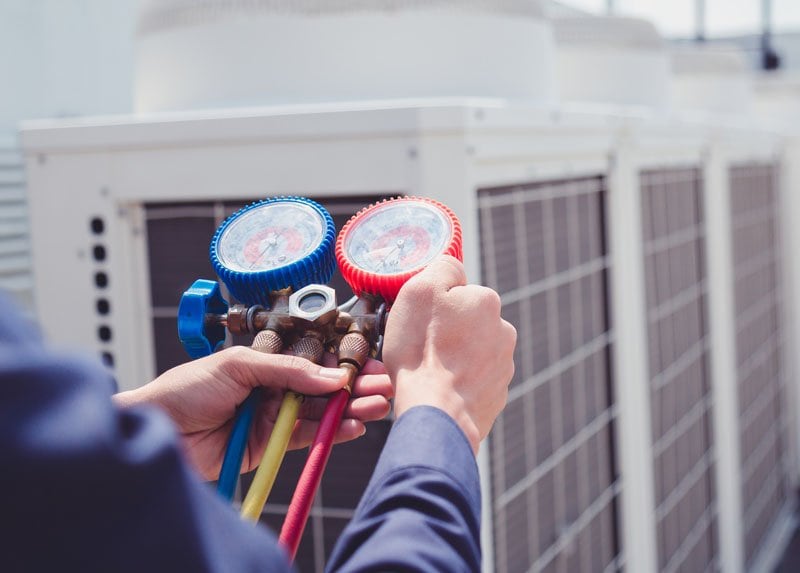 If we look at the median pay for the industry technicians all over the state, their pay per year is $48,730 and $23.43 per hour. This expected salary for technicians is nationwide, whereas, in Illinois alone, an average of $47,080 is higher than most other places.
You are expected to earn better when working and living in Illinois than any other state in the US.
The employment RSE in the state is 73%, whereas employment per 1000 jobs is 1.296. The statistics for this state speak for itself, and you can read below to find out the wages.
How Much is the Hourly Pay For an Entry-Level HVAC Installer in Illinois?
The wage rates in Illinois are pretty good. Their median hourly wage is $28.91, whereas the mean hourly wage is $30.02. The annual average wage is $62,430, with an average wage of RSE at 2.9%. You also get good wages at the entry-level technician, and the annual salary is as follows:
Entry-Level: $30,957
Mid-Level: $55,590
Master-Level: $67,041
Illinois Cities With Highest Average HVAC Salaries
The highest paying cities in Illinois include Arlington Heights, Wheeling, Chicago, Skokie, Aurora, and Plainfield. With the high-rate salaries in these cities, you also get great benefits such as paid sick leave, paid time off, fuel discount, insurance, flexible spending account, and more.
The average salary for the cities are as following:
Arlington Heights: $28.35
Chicago: $26.35
Wheeling: $25.20
Skokie: $25.62
Aurora: $25.59
Plainfield: $24.76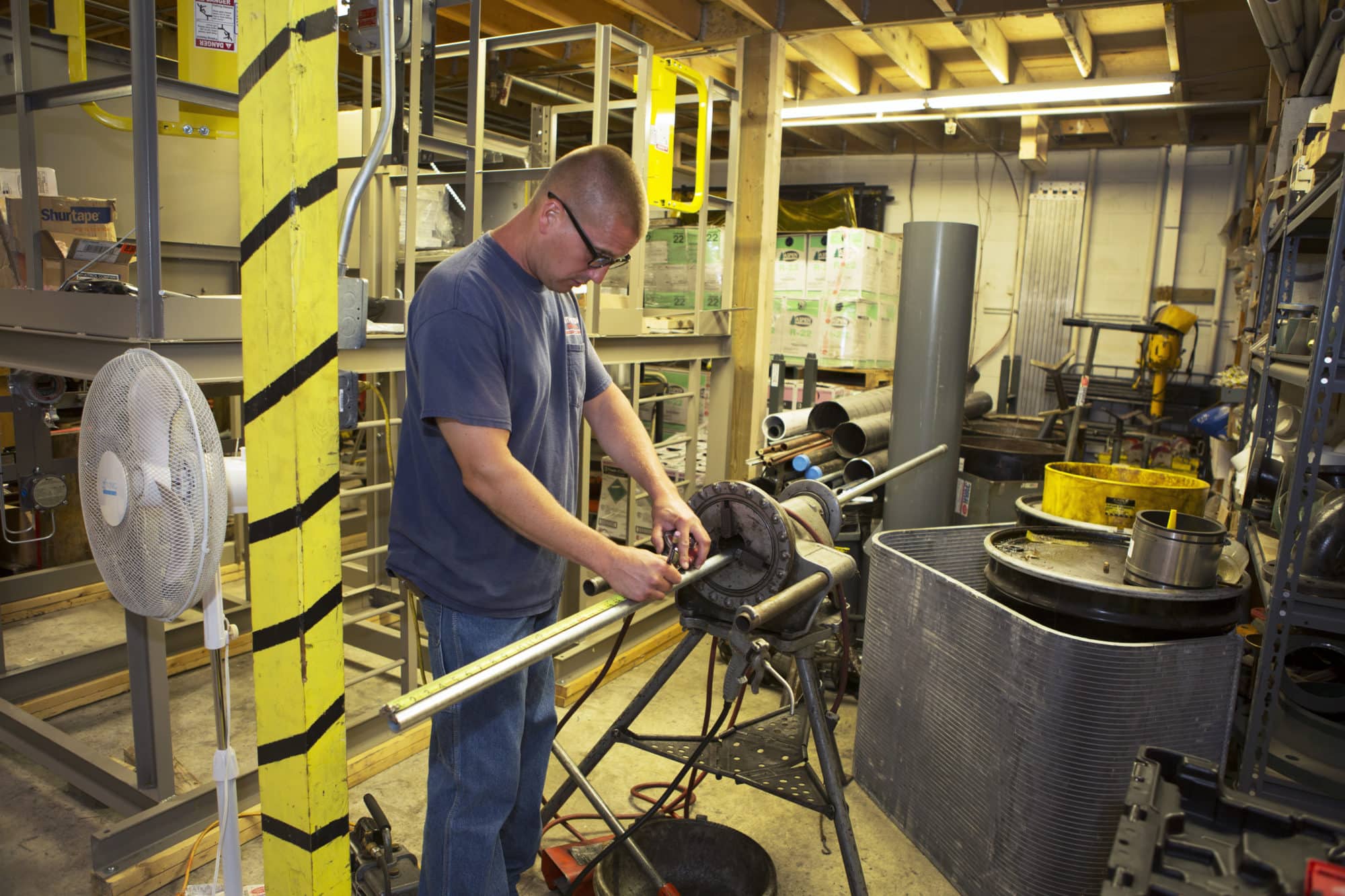 Apart from these cities, the others also have good salary rates, such as Evanston at $21.92 and Glenview at $20.74. Whichever city you go to in Illinois, you will get an exceptional hourly rate to relax and work with peace of mind.
Insurance and Tax Information For HVAC in Illinois
Contractors and technicians are exposed to many high-risk conditions. They may repair, provide service, and install air conditioners. These ACs are usually electrically powered; they get charged with different coolants. Some of these coolants can be very hazardous.
While many technicians have adapted to the challenges that come in the industry, what happens if something unexpected occurs? Property damage, injuries, and malfunctioning equipment are some of the emergencies that can commonly take place.
Unless you are prepared for such a situation, these emergencies can put you in a serious predicament. So, how to prepare yourself for these things? The answer is simple, by carrying the right HVAC Insurance coverage.
There are several types of insurance policies, such as commercial property insurance, errors and omissions, commercial general liability, workers' compensation, and more. The insurance cost depends on various factors, including the insurance you need, the location of your company, the size of your business, and the coverage amount you require.
Why is Insurance Necessary For Contractors?
You or your co-workers can damage the client's property or get injured due to common human errors or equipment failures.
In any of these circumstances, you can be held liable. The client or employee can file a lawsuit against your negligence. The right insurance will cover everything up for you, and you won't have to pay for the cost out of your pocket. This insurance allows you to keep yourself safe from financial devastation.

Conclusion
Illinois has a rather open practice regarding licensing for the trades. On the state level, there is almost nothing that will affect your work as an HVAC technician. Even in the Windy City, there are not many requirements. Be sure to check with your own county or city government to see if there are any differences.
Check out more info regarding HVAC schools in Illinois here.
People Also Ask
Now that we have tried to provide you with all the information, some questions might remain unanswered. We have answered all your queries, so you can read and learn more about HVAC License in Illinois.
What Counties in Illinois Require an HVAC Contractor's License?
If you are getting started with a business, you will need a contractor license all over Illinois. However, if you are simply entering the field and working at an entry-level job, you do not require a license; you will only need certification and a high school diploma.
How Much is an HVAC License in Illinois?
EPA 608, which is the basic certification, costs $24.95 for the initial test, whereas you need to pay $5.95 extra to get an additional attempt. Some HVAC schools also include the costs of the 608 initial tests within their tuition fee.
How Long Does it Take to Get an HVAC License in Illinois?
Most Illinois residents have to join a community college to start their HVAC studies. These technician's programs are six to ten months long. To become an engineer in this field, you need to attend a full four-year institute and earn an engineering bachelor's degree.
How Much Does HVAC School Cost in Illinois?
HVAC certification will cost you $5,500, whereas EPA (Environmental Protection Agency) Universal Certificate is under $10,000-$12,000, and a Master Electrician license is $6,000.
Looking For Information On Nearby States?
You might also be interested in HVAC licensing requirements in bordering states: