The Equality State's natural beauty is outstanding, especially with the vast Yellowstone National Park and many other parks and sites to see.
But even nature's beauty can get uncomfortably hot or cold at times.
That's why the residents and visitors need qualified HVAC technicians to service their heating and cooling systems

State Requirements
At the state level, there actually are no HVAC or refrigeration licensing requirements. However, cities and counties are allowed to set their own requirements, and it appears that many do have such requirements.
Local Regulations
Many cities, include Cheyenne, Sheridan and Casper, each has its own requirements for HVAC licensing. This includes as a journeyperson, master and contractor. The details vary by city. In general, all require experience and passing an exam.
The Wyoming Associated Municipalities do share the exam that is overseen by the International Code Council. The latest bulletin regarding the exam was issued in April 2016. It discusses general information related to all trades exams in Wyoming.
Be sure to contact your municipal authorities or look on their website to get the application form for your jurisdiction.
EPA Certification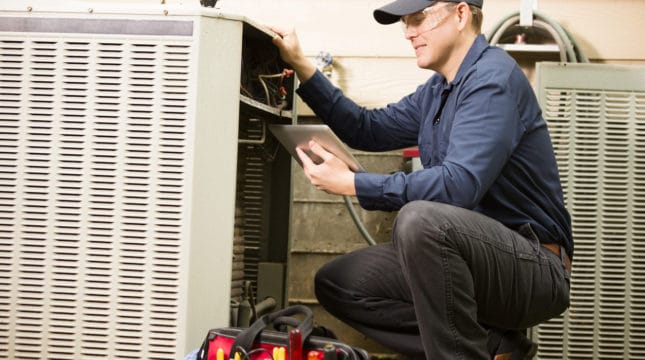 The federal Environmental Protection Agency requires that anyone working with refrigerants be certified. There are three types of certification, depending on the type of appliance you work with; there is also a universal certification.
While Type I is the easiest to get, we recommend getting at least Type II to give you more flexibility. Even better, try for the Universal License. This is a certification that does not expire, so it will come in handy as your career path changes.
This article on EPA certification explains some of the details about types of certification. EPA Section 609 certification is for anyone working with air conditioning systems in motor vehicles. If you already have Type II Section 608 certification you are probably covered for this, though.
Conclusion
Local jurisdictions dominate the licensing requirements in Wyoming. Be sure to check with the appropriate licensing authority to begin the application process.
Starting wages for an HVAC tech in Wyoming is over $15.60 an hour, and the top of the scale is about $33 an hour. Learning this trade well can help you in a profitable and fulfilling career!
Looking For Information On Nearby States?
You might also be interested in HVAC licensing requirements in bordering states: