Choosing the kind of air purifier you want for your home may seem like an easy task, but that isn't exactly the case. When you bring into consideration factors like health safety and effectiveness of the product, the task is not so simple anymore.
To help you out, we've reviewed the best air purifiers, ones that are not only effective but also ensure your best health.
At a Glance: Our Top Picks for Air Purifier
Comparison Chart of the Best Air Purifiers
IMAGE
PRODUCT

Best overall and best for basements
Four different filter types adjust to the changing air
15 diverse panel options, allowing a seamless fit in your home

View Latest Price →

Runner up in our list of best air purifiers
Filters and circulates the air 5 times every hour
Turbo cleaning mode ensures the best of air purification

View Latest Price →

Best Budget Option

Best budget air purifier
Ideal for normal-sized rooms
Offers three stages of filtration for ultimately purified air

View Latest Price →

Best HEPA Air Purifier
Features an AOC Carbon filter that helps to remove odors
Comes with a smart sensor, an auto mode, and a sleep mode

View Latest Price →

Best home air purifier
The device requires low maintenance
30x more filtering media than standard furnace filters

View Latest Price →
How to Choose a Quality Air Purifier?
As mentioned earlier, choosing the right air purifier yourself can turn into a hefty task if you're not sure what to look for. Like every product, air purifiers have some key features that need to be considered before buying one.
Type of Filtration
Air purifiers use different types of filtration. The most common ones are HEPA and Carbon Filtration. Both filters are used for different types of air purification. HEPA is the right choice if you just want generally cleaner air, while a carbon filter is more efficient at removing allergens from the air.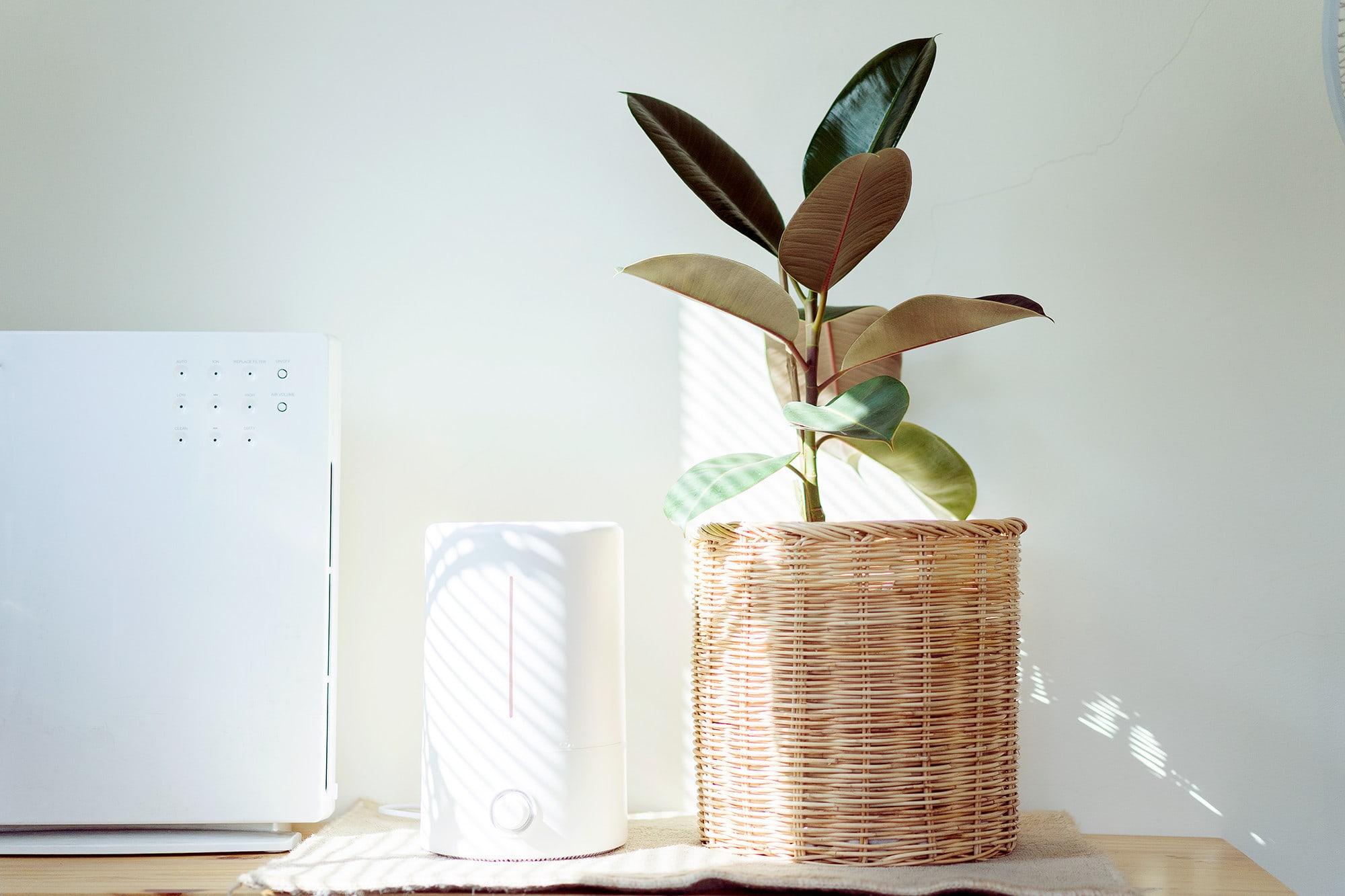 Area of the Room
Different air purifiers work efficiently in different sizes of rooms. You need to evaluate the size of the room where you wish to use an air purifier and choose one that is best suited for that size.
Budget
Keep your budget in your mind while you look at all your options. The price of an air purifier may greatly vary from roughly $20 up to $1000. Still, you do not necessarily have to spend a fortune for a good air purifier. Provided you look at the right features, a good quality air purifier can be fit into any budget.
At a Glance: Our Top Picks for Air Purifier
Review of the Best Air Purifiers
Finding good air purifiers can be quite a hassle, given the number of products the market has to offer. To save you from the trouble, we've found and reviewed the very best of the best.
Best Overall & Best For Basements
Alen BreatheSmart Air Purifier
Decibel Level: 48.7 dB
# of Fan Speed Options: 4
Coverage Area: 1,100 sq. ft.
Dimensions: 10 x 17.75 x 26.75 inches
Weight: 21 pounds
We may earn commission from purchases made from our links, at no additional cost to you
Review
From all the tested and reviewed products, Alen BreatheSmart Air purifier, with its HEPA filter, proved to be the absolute best. It is efficient at removing allergens, pet dander, and dust from the air. So what's left for you, in the end, is fresh air to breathe in.
What's smart about this BreatheSmart Air Purifier is that it offers four different filters. All these filters accommodate the changing air of your room, and its purification needs as well. So if the air changes, so does the filter. The 14 different panel colors will complement your home decor without a problem. What's even better is that it generates white, pink, and red noise, all of which help you relax and sleep better.
Alen BreatheSmart Air Purifier is ideal for rooms that are as big as 1100 square feet, and the job won't take too long either. In less than two hours, you could feel the air being fresher. This, along with its incredible efficiency to purify the air of dust, makes it ideal for your basement.
Bottom Line
This air purifier is absolutely the best in all regards. If you can ignore the little noise that it sometimes makes, this could be the ideal air purifier for you. Just make sure that you're cleaning the filter well about every 10 days, and you're good to go!
Pros
Comes with a lifetime warranty
White, pink, and red noise generated has a soothing effect
Works well in houses with open rooms given the large amount of space it can cover
Cons
Mid-speed mode is a little noisier than the others, which may be disturbing
Filter needs to be cleaned thoroughly, or the performance of the device won't stay up to mark
Runner-up and Quietest Air Purifier
Honeywell True HEPA Allergen Remover
Decibel Level: N/A
# of Fan Speed Options: N/A
Coverage Area: 465 sq. ft.
Dimensions: 9.25 x 20 x 22.25 inches
Weight: 21 pounds
We may earn commission from purchases made from our links, at no additional cost to you
Review
This device, with its benchmark filter and efficient working, comes to a close second. Equipped with the HEPA filter, the device can capture particles that are as small as 0.3 microns. That being said, this air purifier will be sure to clean up most of the unwanted particles from the air. With Honeywell, you can bid goodbye to dust, pollen, pet dander, and even mold that have been infesting the air you breathe for so long.
Since the device is capable of filtering the smallest of particles, it will be sure to spare no allergens in the air. This makes it ideal for those who suffer from various allergies, allowing them to breathe easy and sleep easier. Honeywell True HEPA Allergen remover will rid your rooms air of not only small particles but also bad odors and germs. So there isn't much left that pollutes the air in your room.
This air purifier is designed such that it filters and circulates the air in the room about 5 times in an hour, ensuring that the air is constantly fresh for you to breathe and that any newly introduced particles in the air are immediately removed. This gives you fresh air to breathe 24/7.
Bottom Line
No other air purifier works as efficiently as this one for removing allergens. If you're looking for an air purifier that will help you with your allergies, then this is the perfect one. You just need to wait for the initial odor to die down.
Pros
Works very quietly, making virtually no noise
Will keep your rooms air clean almost all the time, allowing you fresh air all day long
Can capture very small particles, ensuring most of the unwanted particles are removed
Can cover a large amount of space, making it a good recommendation for extra-large sized rooms
Cons
Upon using for the first time, there might be a chemical odor
Front grill of the device is not a perfect fit and may fall off and require to be fixed
LEVOIT LV-H132
Decibel Level: 46 dB
# of Fan Speed Options: 3
Coverage Area: N/A
Dimensions: 8.5 x 8.5 x 14.5 inches
Weight: 6.5 pounds
We may earn commission from purchases made from our links, at no additional cost to you
Review
Levoit brings to you this air purifier that works like magic. This device will clean your air of all the allergens, dust, and pet dander that have been annoying you for a while now, all the while making sure it doesn't get too heavy on your pocket.
The device is designed to be harsh on the pollutants around your house, but easy on you. It is completely ozone-free and uses no ultraviolet lights or ions that may produce ozone. And as we all know, no ozone equals cleaner air. You can imagine the efficiency of the device from the fact that it can filter particles up to 0.3 microns and pollution of PM 2.5.
This air purifier by Levoit offers a 3-stage filtration system; a pre-filter, the true HEPA filter, and the activated carbon filter. Given the multiple filters, you can rest assured that most of the pollutants in your room will be gone for good. Along with the three filters, it also features 3-speed settings that will allow you to use the device according to your own need.
The size of this device is perfect, as is its contemporary design. These two make it ideal for any sort of interior, and perfect for average-sized rooms. Its features make it the ideal air purifier for you, or even to gift someone!
Bottom Line
It is important to understand that products that come within a budget are prone to have a couple of cons. You just need to evaluate if the item is worth it or not and this air purifier definitely is. If you can get around to tackling the minor issue with buttons, this device could be the perfect one for you.
Pros
Features a night light with two brightness settings
Comes with a year-long warranty and lifetime support from the brand
Does not make a lot of noise and can be used all night without any disturbance
Replacement of filters for this air purifier is as cost effective as the device itself
Cons
May give out a burning smell upon its first operation
Buttons may freeze and prove to be a little hard to operate at times
Winix 5500-2 Air Purifier
Decibel Level: N/A
# of Fan Speed Options: N/A
Coverage Area: 360 sq. ft.
Dimensions: 15 x 8.2 x 23.6 inches
Weight: 15.4 pounds
We may earn commission from purchases made from our links, at no additional cost to you
Review
Winix 5500-2 steals the show with its true HEPA filter that will give you a cleaner air to breathe and help increase the quality of your life. HEPA filters are known to capture about 99.97% of all the particles that pollute the air and pose a health risk for those breathing in that air. Given that, this air purifier will be sure to clean your air of dust mites, pollens, and any allergens that you don't want around.
The Winix 5500-2 air purifier comes with an AOC carbon filter that is designed from activated carbon granular. These carbon filters are ideal for removing the general household odor, and the best part is that these filters are washable. So instead of spending money on replacing the filter every time, you can just wash and reuse.
This device features a PlasmaWave that serves as a permanent filter. This PlasmaWave will not only safely break down the odor around you but will also get rid of chemical vapor and other harmful pollutants without a trace of ozone. Meanwhile, the smart sensors of the device efficiently gauge all the air around, and the auto mode adjusts the fan to optimize the working of the air purifier.
Bottom Line
This air purifier in itself is one of the best, given its efficiency of cleaning the air of particles you do not need around. The sensors and the remote control of the device may pose a few problems, but they're easy to get around if you simply use the device without the remote control, especially considering that most air purifiers work that way.
Pros
Special technology offers complete purification of air without any ozone
Filter can be washed and reused instead of being replaced, making it economic
Works efficiently to remove most of the pollutants and particles for fresher air
Works well in rooms as big as 360 square feet, making it ideal for family rooms and kitchens
Cons
Cord of the device is a little short
Sensor of the device is not very accurate and can be set off by other remote controls such as those for televisions
Best Home Air Purifier and Best for Allergies
Aprilaire 2410
Decibel Level: N/A
# of Fan Speed Options: N/A
Coverage Area: N/A
Dimensions: 28.2 x 17.75 x 6.75 inches
Weight: 17 pounds
We may earn commission from purchases made from our links, at no additional cost to you
Review
Air purifiers are put into use at offices and workspaces very often to ensure optimal working conditions for employees. But these devices are of equal importance in homes. If you're looking for one for your home, then this is the ideal one for you. Add this piece of technology to your home, and you'll feel the difference in the air you breathe in no time.
Being listed as one of the best home air purifiers, this device leaves no questions about its efficiency at removing pollutants and unwanted particles from the air. An estimate of how well the device works can be made from the fact that it is proven to provide about 30 times more filtering than the standard 1" furnace filters.
The Aprilaire 2410 is not only efficient but also cost-effective, as it doesn't require a lot of maintenance for optimal working. The filters only need to be changed after about 1 to 2 years and the device functions perfectly in between without any extra hassle.
The device features no moving parts and hence ensures production of no ozone, making sure that the air that it cleans stays that way. So, it adds to the quality of your life, without taking away from it.
Bottom Line
If you need an air purifier for your house, this might be your best option given its efficient purification and low maintenance. The noise is a constant with most air purifiers, and you will find yourself getting used to it really easily, making the device a good buy, with virtually no cons while working.
Pros
Can be set to cycle according to your need
Very easy to install and doesn't require too much work
Filters don't need to be replaced frequently and can last for up to a year or two, making it cost effective
Cons
Wiring may be slightly tricky to get around to
May be a little noisy and cause disturbances
Coway Airmega 400 Smart Air Purifier
Decibel Level: 43.2 dB
# of Fan Speed Options: 5
Coverage Area: 1,560 sq. ft.
Dimensions: 14.8 x 22.91 x 14.8 inches
Weight: 24.7 pounds
We may earn commission from purchases made from our links, at no additional cost to you
Review
Out of all the things that can pollute the air around you, smoke has to be one of the most annoying. Be it from cigarettes or cigars, cars on the street, or even your own kitchen, smoke is never good for your health. This air purifier will make sure that your lungs don't suffer from the impact of smoke.
The Coway Airmega 400 is the perfect air purifier for extra-large sized rooms, given the fact that it can cover space up to 1560 square feet. And, what's even better is that it does that twice in an hour. It also makes sure that the job is done efficiently, cleaning up most of the pollutants from the air in each cycle. It not only removes allergens and dust from the air but also removes any traces of volatile compounds, reducing fumes such as NH3 and CH3CHO, all of which are harmful to you to breathe.
But that isn't all. The Airmega 400 also features a pollution sensor. This smart feature allows the device to evaluate the air quality indoors and the bright LED rings on the device can communicate to you how clean (or unclean) your indoor air is.
The device also features five different fan modes, a smart mode with three settings, and a timer for added convenience.
Bottom Line
The price for filters is an investment you'd need to make no matter which air purifier you use, if not sooner than later. And if a little extra expense can bring you a much better quality of air purification, then why not? That is why this air purifier by Coway has made it to this list of best air purifiers.
Pros
Ideal for large sized rooms as it covers a huge space
Automatic adjusting of the fan speed to suit the air quality of the room
Features five fan modes with the lower modes offering virtually no noise
Eliminates not only dust and allergens but harmful chemicals and fumes from the air too
Cons
Upon the first administration, the device may radiate a burning smell
The charcoal filters are expensive and need to be changed twice a year, making it a high maintenance device
Rabbit Air MinusA2 Ultra Quiet HEPA Air Purifier
Decibel Level: 45.6 dB
# of Fan Speed Options: N/A
Coverage Area: 700 sq. ft.
Dimensions: 24.02 x 22.64 x 9.84 inches
Weight: 24.25 pounds
We may earn commission from purchases made from our links, at no additional cost to you
Review
Anyone with pets would know the struggle of having pet dander all around the house. To help you with your trouble, let us introduce you the Rabbit Air MinusA2. This air purifier is definitely one of the best air purifiers that anyone with pets can buy as it will be sure to rid your room of all the unwanted pet dander in the air.
The Rabbit Air MinusA2 offers a customized panel so that your style is taken care of as well as your comfort. The brand offers a wide range to choose from, featuring artworks by artists to grace the interiors of your house.
The panels of this air purifier are not the only thing that is customized. The filters are customized too. With the Rabbit Air MinusA2, you can choose which filter best suits your need. You get to pick between germ defense filter, pet allergy filter, toxin absorber filter, and an odor remover filter. With the wide variety of offered filters, you can make the air purifier work just according to your needs.
Unlike standard air purifiers that offer a typical HEPA filter, this device offers an advanced HEPA filter that provides extra features for better and more efficient cleaning.
Bottom Line
If you're looking for a device that is built to your needs inside and out, then this is the one for you. This air purifier is where your style will meet your comfort, only at the cost of setting the device every time you disconnect and connect the power again.
Pros
Enhanced filtering reduces the build-up in the filter and prolongs its life and efficiency
Will suit the style of your house, offering a number of designed panels to choose from
Allows you to choose the right filter to accommodate your interior's needs, be it for pets or for generally cleaner air.
Cons
Not very efficient at removing harsh odors
If the power is disconnected, the settings of the device are lost and need to be set again
Blueair Blue Pure 211+ Air Purifier
Decibel Level: 56 dB
# of Fan Speed Options: N/A
Coverage Area: 540 sq. ft.
Dimensions: 13 x 13 x 20.4 inches
Weight: 22.4 pounds
We may earn commission from purchases made from our links, at no additional cost to you
Review
If you live somewhere where the atmosphere is constantly humid, you'd be no stranger to the curse of mold. While mold can be extremely annoying, it is not impossible to get rid of. The Blue Pure 211+ can serve to be your perfect solution. It is an air purifier that will take away the mold from the air along with the dust and allergens, leaving you with nothing but fresher air.
The air purifier comes with a 3-part filtration. This system of the filter allows the device to eliminate most of the pollutants and particles from the air that it circulates. And the end result is no dust, allergens, mold, smoke, dust mites, or pet dander spared. And while it works, it works quietly, making sure you are not disturbed by loud and odd noises.
The Blue Pure 211+ comes with a washable pre-filter that will catch larger particles and can also be matched to any sort of decor. Since this filter is washable, it does not need to be changed and can simply be washed when needed.
Bottom Line
Finding an easy solution for mold doesn't get any better than this. The product has proven to work efficiently and last long as well; therefore the lack of details on the warranty may not be such a great issue if the quality is just what you're looking for.
Pros
Works very efficiently without making a lot of noise, allowing no disturbances
Washable filter not only filters bigger particles but also reduces the cost of maintenance
Ideal for medium to large rooms, so it can be used in open rooms, kitchens, living rooms, and offices.
Cons
May emit a burning smell on the first use
Comes with no statement on its warranty
Coway AP-1512HH Mighty Air Purifier
Decibel Level: 53.8 dB
# of Fan Speed Options: 3
Coverage Area: 326 sq. ft.
Dimensions: 16.81 x 9.57 x 18.31 inches
Weight: 12.35 pounds
We may earn commission from purchases made from our links, at no additional cost to you
Review
You could be allergic to dust or not, but you'll still agree that having dust in the air you breathe is not the best thing. The Coway AP-1512HH Mighty Air Purifier will get rid of that issue for you. The device is known to be ideal for removing all the dust from the air you breathe, leaving you with cleaner air and a better mood.
This air purifier is made to accommodate rooms that are up to the size of 361 square feet, and it comes with great efficiency of its 4-stage filtration. This multiple filter system offers a pre-filter, a deodorization filter, a true HEPA filter, and a vital ion. All of these work together to ensure that the air that you breathe in is nothing but the best for your health and free of any pollutants
The device also comes with a pollution sensor. This sensor is capable of evaluating the surrounding air for the degree of pollution and communicates it to you through bright LEDs on the device. The LEDs also indicate the timer and a filter lifetime indicator.
Bottom Line
The device delivers exactly what it promises, and that is the absolute best. It filters the air from all the dust particles that have been triggering allergies for so long. And if that comes with the cost of disturbing noise, then so be it. Most other air purifiers do too!
Pros
Offers three different fan speeds to suit your needs
Eliminates any odor and volatile chemical compounds
Timer and filter replacement indicator offer added convenience
Perfect for your rooms, making sure the air is efficiently cleaned from any dust particles
Cons
Makes a considerable amount of noise
Air quality light indicator is too bright and might be annoying at night time
Best Portable Air Purifier
Pure Enrichment PureZone Mini
Decibel Level: N/A
# of Fan Speed Options: 3
Coverage Area: 54 sq. ft.
Dimensions: 8.5 x 3.3 x 2.7 inches
Weight: 0.58 pounds
We may earn commission from purchases made from our links, at no additional cost to you
What Recent Buyers Report
Most consumers love this portable air purifier because it is lightweight and has a rechargeable battery that can last for 12 hours. The performance capability of cleaning 99.97% of air contaminants is also a major consideration for recent buyers, while others were impressed at how well the carbon filter handles odor. They also love that the unit is uniquely quiet with a sound level of about 30 dB.
Why it Stands Out to Us
The Pure Enrichment PureZone Mini can purify the air in your space from any mounting position because of its portability. It does not have to be plugged in to operate as it has a rechargeable battery that lasts for about 12 hours. It also has a two-in-one activated carbon pre-filter and true HEPA filter that can capture and destroy up to 99.97% of air pollutants larger than 0.3 microns in size. The unit has three fan speeds that can be adjusted according to different air purification needs.
Bottom Line
The Pure Enrichment PureZone Mini is a versatile portable air purifier that can handle most indoor air pollution in small rooms. The dual activated carbon and true HEPA filter is 99.97% effective, and the UV light destroys airborne bacteria and mold spores for even cleaner air. The unit is also very quiet and won't cause you any annoying noise disturbances.
Pros
Quiet operation
100% ozone-free
Built-in UV light that quickly kills microorganisms
Uses a button-control operation technology for regulating fan power thus energy efficient
Has a three-stage air purification system that removes up to 99.97% of airborne contaminants and absorbs organic compounds
Cons
Require a replacement filter at regular intervals
Low CADR rating of about 80 CFM meaning it only best for air cleaning in small spaces
What Does an Air Purifier Do?
An air purifier, in very simple terms, is an air cleaner. What it does is removes various contaminants from the air in the room where it is placed, thus improving the quality of your indoor air.
Air purifiers are most beneficial to those who have allergies or asthma as they remove various allergens and irritants from the air. These devices also work really well at removing cigarette/tobacco smoke from the air and reduce the effect of passive smoking.
How Does an Air Purifier Work?
Air purifiers work just like sieves, only much smaller. Just like sieves, all the bigger and unwanted particles are removed from the filtered medium. The devices use these fine-sized sieves to filter the air as it circulates through them.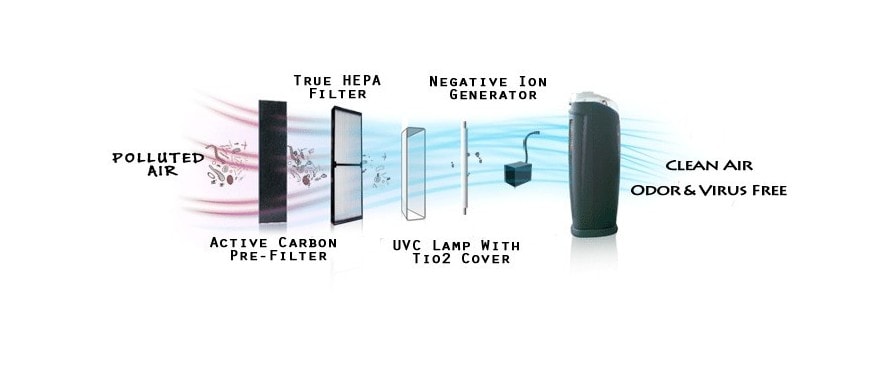 Some devices use additional features to enhance their air purifying functions. These features may include an electrical attraction for the particles to trap them, or an ultraviolet light system with the capability of killing a number of microorganisms. Such a light system not only keeps the air purified but also saves the filter itself from being contaminated by unwanted germs.
Aspects to Consider Before Buying 
Here are some things to keep in mind while shopping.
CADR Ratings
Air purifiers are rated using Clean Air Delivery Rate (CADR) that enables consumers to gauge a unit's effectiveness for a particular room size. The higher the CADR rating, the more the air contaminants the purifier can eliminate and the bigger the area it can clean. Therefore, yohttps://hvactraining101.com/air-purifiers/cadr-rating/ur aim should be to get a purifier that can efficiently clean the air in your space within the shortest time possible.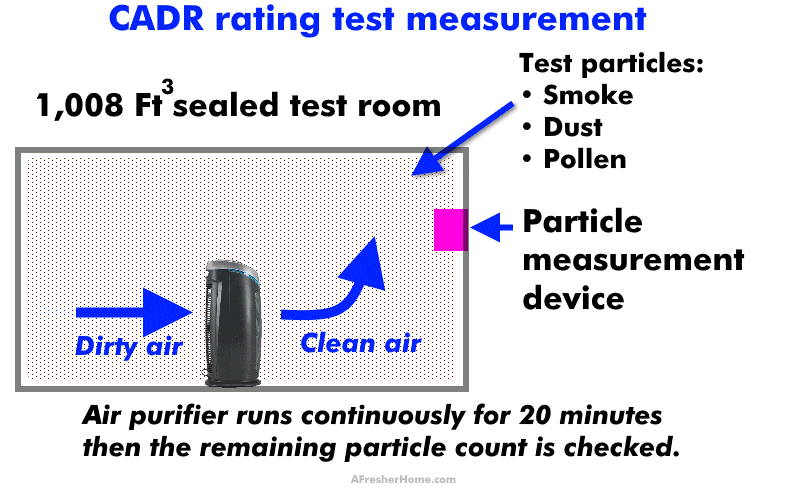 Filter Types
The American Lung Association recommends the use of True HEPA filters for standard air purification. Therefore, you may prefer to have a HEPA air purifier to capture up to 99.97% of minute air airborne particles like dust mites, dander, or pet hair. Some air purifiers have additional air cleaning steps, such as a UV light, charcoal filter, or carbon filter.
A UV light destroys bacteria, viruses, and mold spores, while a charcoal or carbon filter is better for trapping odor and VOCs (Volatile Organic Compound). For all-around indoor air quality improvement and protection, you can choose a filtration system that utilizes all three filter types.
Noise Levels
The noise levels of different air purifiers range between almost quiet to steady humming, similar. Most consumers prefer a unit that is as quiet as possible while performing at optimum speeds. 
Types of Air Purifiers
The many types may be confusing. Here is some information to help you out. 
What is an Ionizer Air Purifier?
An ionizer air purifier is one that uses the chemical properties of ions to clean the air. These air purifiers create negatively-charged ions using electricity. These anions are discharged into the air to attract positively-charged contaminants and bind them down.
After binding, denser particles that are too heavy to float in the air are formed. The dense particles fall to the ground and thus lower the chances of being inhaled. They can then be cleaned through wiping, sweeping, or dusting.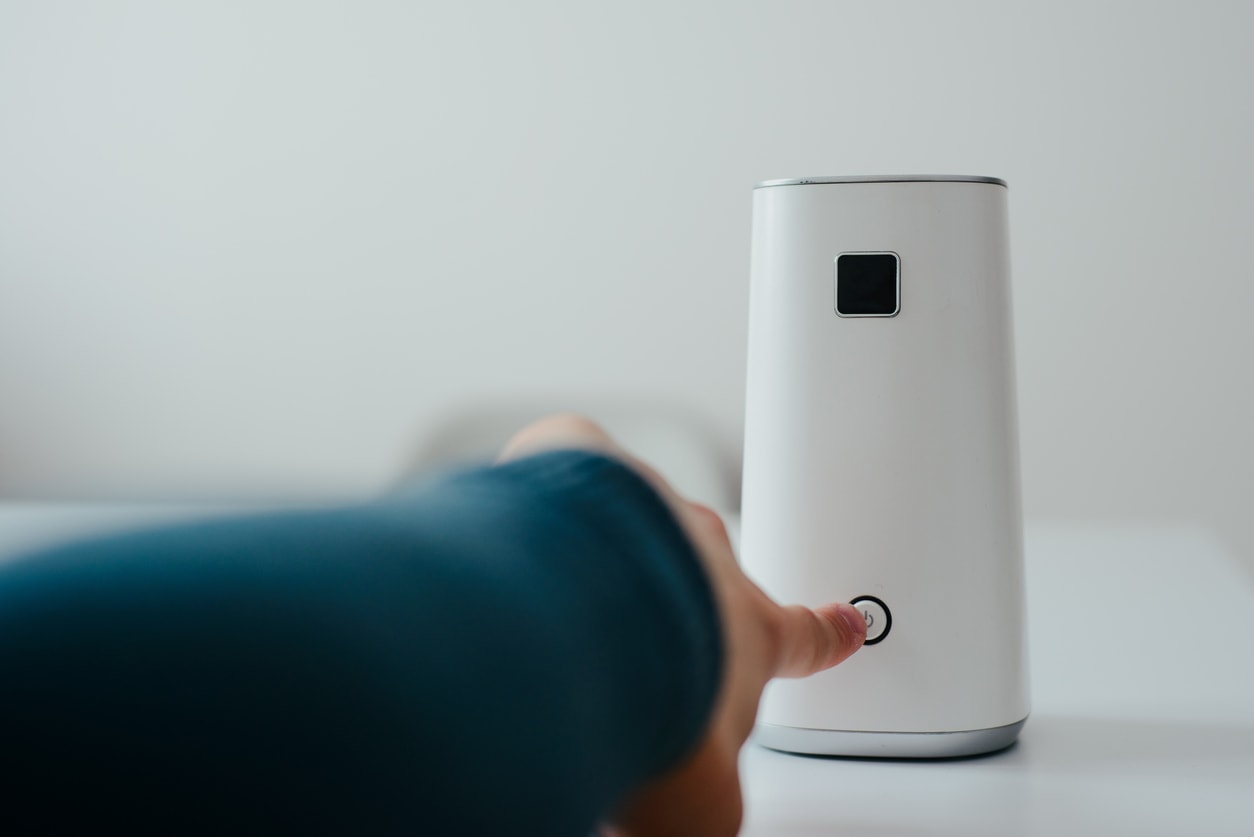 What is an Ozone Purifier?
Ozone air purifiers eliminate strong odors and clean the air by creating ozone. These purifiers work by taking in oxygen from the natural air and giving it a strong electrical charge. The electrical charge forces the oxygen molecules to form O3, which is the ozone that rids the air of contaminants. 
The air purifier releases the ozone into the air. When it hits any air contaminants, the third molecule of the ozone gets attached to the molecule of that contaminant then eliminates it. When ozone attaches to odors, bacteria, and germs, or any pollutants while at the molecular level, it works by destroying the cell wall of the contaminant. This process eliminates the contaminant, after which the ozone particle reverts to oxygen. Ozone purifiers are useful in removing mold, smoke, and other pungent odors.
How Do Air Purifiers Compare?
Air purifier, dehumidifier, humidifier, air scrubber, which is best for you? Check out these helpful comparisons.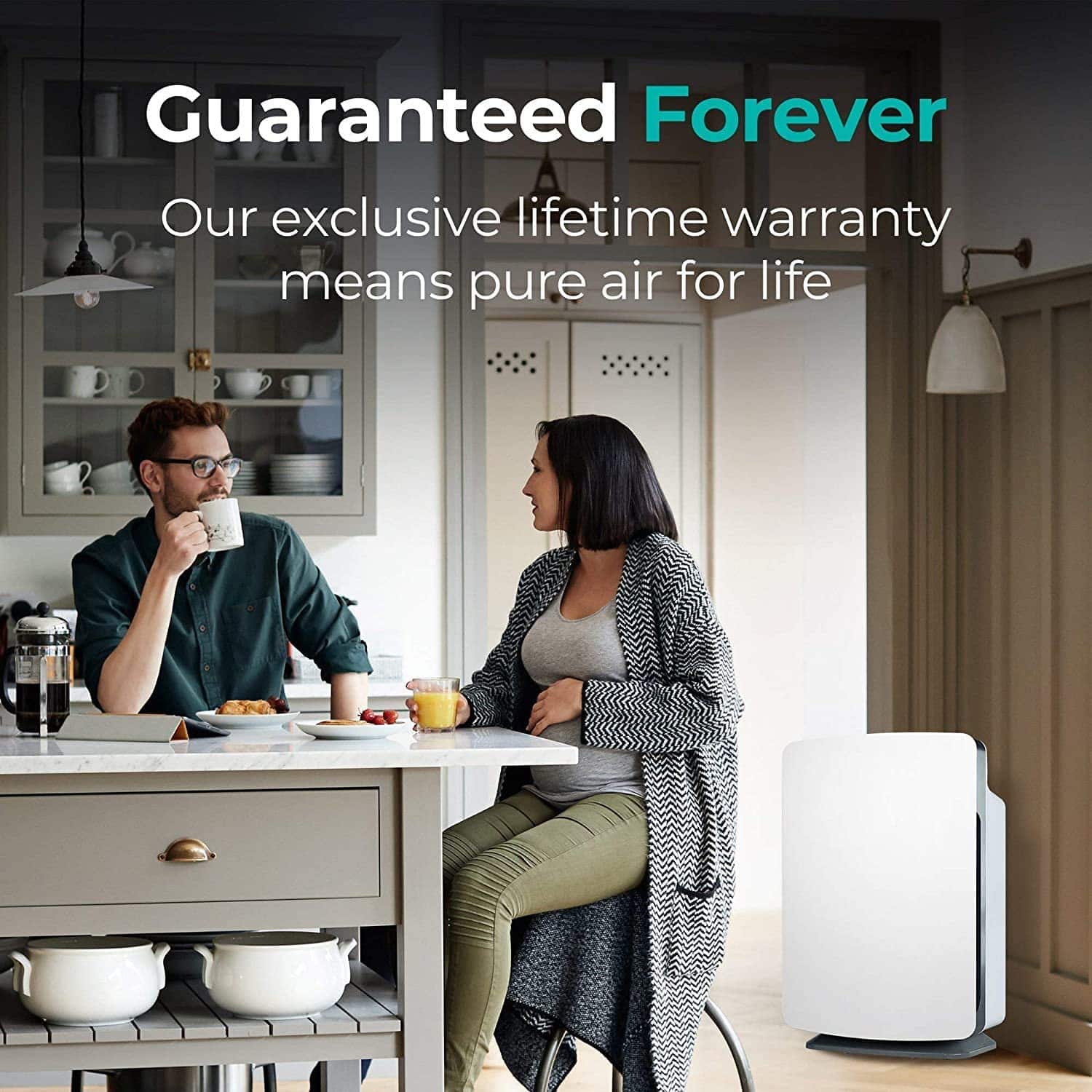 Air Purifier vs Dehumidifier
Similarities
Both air purifiers and dehumidifiers reduce allergens in a room, improving the room air quality.
Differences
An air purifier filters and circulates air by capturing smoke, dust, pollen, and different types of allergens. The purpose of the dehumidifier is to minimize the moisture content in your surrounding air. Dehumidifiers eliminate microbes and molds that thrive in a moisturized environment.
Air Purifier vs Humidifier
Similarities
Air purifiers and humidifiers help with the reduction of allergies, asthma, eczema, and cough.
Differences
Air purifiers clean the air by capturing dust, allergens, mold, smoke, and controlling odors. They have different types of filters that capture the air contaminants hence improving air quality.
On the other hand, humidifiers are designed to control the humidity level in the air in your room hence they do not have any role to play in the number of contaminants in the air. Instead, they release moisture into the air, consequently increasing the room's humidity level.
Air Scrubber vs Air Purifier
Similarities
Air scrubbers and air purifiers have the primary function of cleaning up the air in your space. Specifically, they clean up the air by eliminating various contaminants that cause air pollution and discomfort. They both use filters to clean air.
Differences
Air purifiers utilize advanced filters with your central air unit or HVAC to filter the tiny particles and air contaminants. They essentially sanitize the air by eliminating up to 99% of the pollutants by trapping them within the different types of filters.
Air scrubbers use the search-and-retrieve mechanism in eliminating air contaminants. Air will flow through the ductwork system and pass through filters to eliminate pollutants before being allowed back in the space. 
Benefits of Investing in a Great Air Purifier
An air purifier may seem like an item of luxury, but given the present era, it really isn't. It is quickly turning into a device that one absolutely needs to have for one reason or the other. And investing in something that brings you a bunch of benefits is a no-brainer.
Better Quality of Life
The air that you breathe in has a huge impact on not just your mood, but also on the quality of your life in general. Breathing in fresher air will automatically put you in a better mood and make you feel more energized.
Helps With Allergies
An air purifier works wonders to help you with your allergies. An efficiently working air purifier will remove most of the allergens from the air, leaving you free from the struggle of dealing with constantly triggered allergies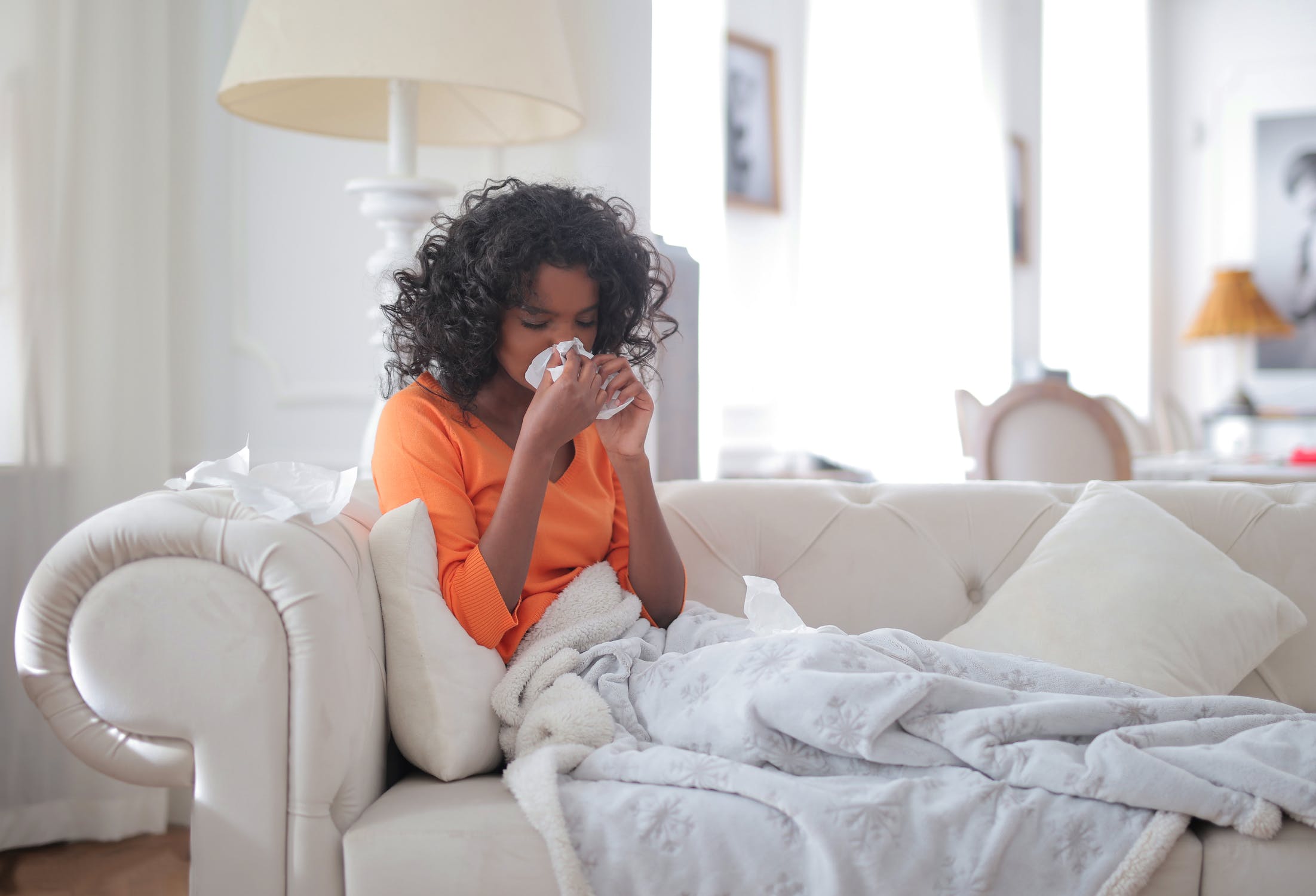 Reduced Smoke
If you live with someone that smokes, then an air purifier will greatly decrease all the effects of passive smoking that you may be suffering from. Not just that, any sort of smoke that is in the air surrounding you indoors will be reduced greatly, leaving a positive impact on your health.
How to Clean an Air Purifier
Keeping your purifier clean is essential to its operation. Here is some information on cleaning:
How to Clean an Air Purifier With Replaceable Filters
Unplug your air purifier from the source of power





Take out the filters and clean thoroughly but carefully using water or a blower





Only wash the filters with water if they are washable





Ensure the air filter is fully dry before reinstalling and powering on the device once again





Replaceable filters need cleaning in between, preferably monthly, using a vacuum brush attachment





Check the filter indicator if your air purifier has one, to know when to change your filter





Ideally, replace your filters at least every 6-12 months.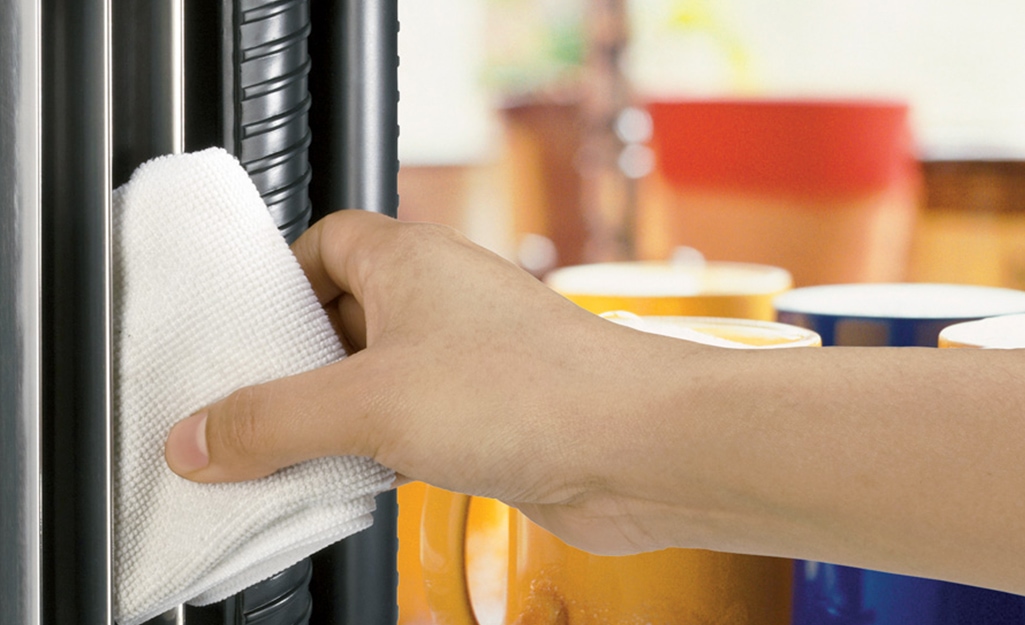 How to Clean an Air Purifier With Permanent Filters
Clean your permanent filters at least once every 1-3 months





Once you unplug the purifier from the power source, take out the filters and clean them using the brush attachment on both sides





If your permanent filter is washable, then take it out and soak it in a mild detergent for about 10 minutes





Gently scrub it using a soft brush





Take it outside and ensure it is completely dried out before reinstalling it on the device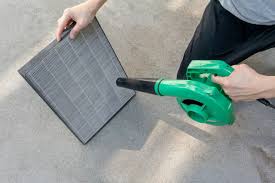 Cleaning the Pre-filters
Some models have pre-filters that have to be replaced every three months





Some of the pre-filters can be washed or vacuumed 





Confirm with your user manual to know the best method to use to clean your pre-filters.
Cleaning the Exterior
Use a soft damp cloth to clean the outside of the air purifier including the air inlet and outlet points.
Be sure to refer to the video below for a detailed overview of the process that we have just described above.
Conclusion
An air purifier can have a great impact on your life, and you won't know the difference until you get one. It will save you from dust, allergies, smoke, and a number of things that you didn't even realize you needed to eliminate from the air around you. Just keep the right features in mind and find the perfect air purifier for yourself.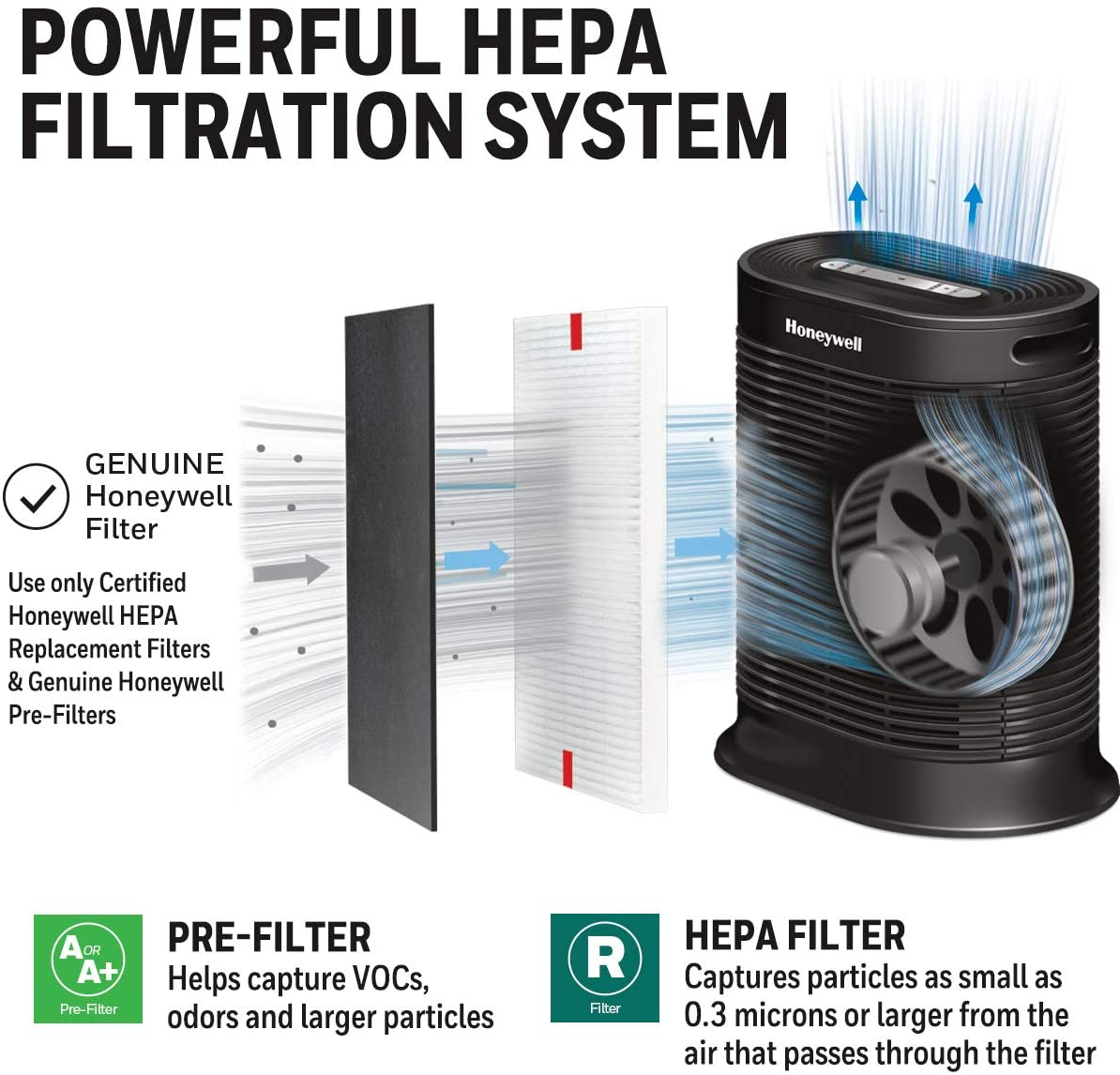 People Also Ask
There are questions that most people ask about air purifiers that guide them in selecting the best air purifiers on the market. Some of these frequently asked questions are discussed below.
How Much are Air Purifiers?
Air purifiers cost as low as $29.99 and as expensive as over $513. Several factors determine the price of the devices, including the features and performance capacity.
How to Tell if an Air Purifier is Working
Check the airflow in and out of the purifier. Ensure the product is blowing out some air.

Check the filters in your purifier. If you see some debris on it, then it means it is working. However, please take note that the filter could be too dirty that it may be clogged up and hence needs replacement.

Use an air quality monitor to test the efficiency of the product in improving air quality.
How Many Air Purifiers Do I Need?
If you have a home that is about 1400 sq ft, then you may need two air purifiers for optimum air purification. However if your living room is 14×14, your kitchen is 15×10, and your bedroom is 12×12, then one purifier should be enough. You can move one purifier from one room to another to enhance the circulation of clean air.
How Effective are Air Purifiers?
Most air purifiers use True HEPA filters that can remove up to 99% of air contaminants in the air. Air purifiers are about 99% effective in cleaning your indoor air. To improve the quality of the purification further, you can use different types of air purifiers. For example, while the HEPA filter air purifiers are good for eliminating contaminants like dust and pet dander, air purifiers with carbon filters are good for cleansing the air of odors and musty smells.
How Long Should I Keep My Air Purifier On?
It is highly recommended that your air purifiers should be on all the time. This is because air purification is a continuous process, and the air quality in your space changes all the time, and would need cleaning more regularly for maximum results.

However, it is advisable to let your air purifier rest for a few hours after prolonged use to boost its longevity.
What is an Ionizer on an Air Purifier?
Ionizers in air purifiers emit negatively-charged particles called anions that help the purifiers to capture contaminants in your space. 

The anions attract and bind down the positively-charged contaminant particles and cause them to drop to the ground or on other lower surfaces to reduce the chances of inhaling them. They can then be eliminated by regular dusting, wiping, or cleaning.
Are Air Purifiers Safe?
The safest air purifiers are the ones that are filter-based because they do not produce any harmful by-products. Ionizer air purifiers are also relatively safe as they only produce ozone as a byproduct. Ozone purifiers are potentially unsafe because of exposure to ozone. To reduce the chances of exposure to ozone, it is important to leave the room for the duration the purifier will be working and also for about 60 minutes after it stops. This allows time for the ozone molecules to dissipate or revert to oxygen molecules such that the air is fully safe all over again.
Can Air Purifiers Remove Viruses?
When used appropriately, UV, ionizer, and ozone purifiers can remove viruses from the air they involve either the production of heat or the release of anions and ozone that are capable of controlling the viruses in the air but only at that specific time when they are on. The heat and ozone destroy the envelope proteins in viruses, hence killing them off.

The anions bind down the viruses and make them too heavy to float in the air. HEPA purifiers may have the ability to trap viruses depending on the size of the virus, but they cannot kill the virus. As such, the virus may remain on the filter for hours or days and may eventually find its way back into the air. 
Do Air Purifiers Remove Odors?
Most air purifiers are majorly designed to minimize air pollution by capturing air contaminants. Odors can be removed if the purifier has activated carbon filters, which are efficient in capturing the tiny particles that cause smells.