Be it from the tobacco burning in cigarettes or the cooking from your kitchen, smoke is, in no way, good for your lungs or your health in general.
You don't realize how much smoke you are breathing in until you've used an air purifier and breathed in smoke-free air. But for that, you need to buy an efficiently working air purifier to help you feel the difference.
This article will help you figure out the right one for you and aid you in living a healthier life.
At a Glance: Our Top Picks for Air Purifiers For Smoke
Comparison Chart of the Best Air Purifiers For Smoke
IMAGE
PRODUCT

Our Top Pick

Best Overall Air Purifier for Smoke
Ideal for Open and Extra Large-Sized Rooms
Pollution Sensor to Communicate the Real-Time Indoor Air Quality

View Latest Price →

Runner-Up on Our List of Best Air Purifiers for Smoke
Recommended for Rooms up to 322 Square Feet of Area
Smart and Sleep Mode Accommodate to Your Change in Surroundings

View Latest Price →

Best Budget Option

Best for the Money
Designed for Norma-Sized Rooms
Permanent HEPA-Grade Filter Promises High Efficiency

View Latest Price →

Best Option Under $100
3-in-1 Filter That Assures Optimal Air Purification
Whisper Quiet Operation for Minimal Disturbances

View Latest Price →

Best for Cigarette Smoke
Four-Stage Filtration for Maximum Air Purification
A 360-Degree Air Intake System That Ensures All of the Air in the Room is Filtered

View Latest Price →

Best for Cigar Smoke
Three Air Cleaning Levels for Better Suitability
SurroundSeal Technology to Ensure Minimal Air Leaks

View Latest Price →

Best for Wildfire Smoke
Auto and Sleep Mode to Accommodate Your Needs Throughout the Day and Night
Real-Time Indoor Air Quality Check and Indicator Allows You to Evaluate the Surrounding Air Continuously

View Latest Price →
How to Choose An Air Purifier to Target Smoke
Once you have made up your mind to get an air purifier and rid yourself of the smoke around you once and for all, the question is, how to choose the right one? Well, here are some pointers for you.
Look For an Air Purifier Labeled For Smoke
To choose the right air purifier to eliminate the smoke from the air around you, the first and foremost thing to check for is if the product itself claims to be able to remove smoke. Most air purifiers do not.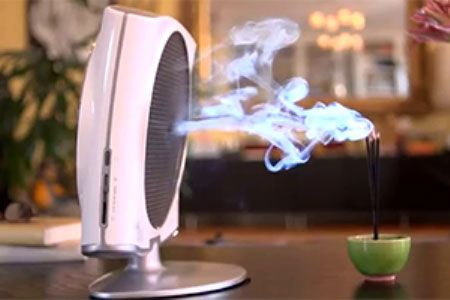 Check the Size of Particles the Device Can Remove
If you still want to verify even further, look for the size of particles that the device is capable of removing and compare it to those present in smoke. If the values come close, then you have a capable device. If not, keep looking.
Go For a HEPA Filter
HEPA filters are not only the most widely used but also the most trusted ones, and that is for a reason. If you're not sure about what to buy, then HEPA filters are definitely a safe choice. They are designed to trap particles as small as 0.3 microns and are capable of filtering the air a great extent, leaving you with the freshest of air to breathe in.
Review of the Best Air Purifiers For Smoke
We know what a hassle it can be to go through all the products available in order to find the right one. To help you skip the painstaking task of looking at every air purifier you come across, we've reviewed the best air purifiers for smoke so you can simply pick the best one.
Coway Airmega 400 Smart Air Purifier
Decibel Level: N/A
# of Fan Speed Options: 3
Coverage Area: 1,560 (sq ft or cubic feet)
Dimensions: 14.8 x 22.91 x 14.8
Weight: 24.7 pounds
We may earn commission from purchases made from our links, at no additional cost to you
Review
Coway Airmega 400 steals the show with its true HEPA filter that will be sure to filter particles as small as 0.3 microns. Its ability to filter such small particles will ensure that along with dust particles and allergens; smoke is filtered out from the air too.
This air purifier is designed to cover about 1,560 square feet of room space, making it ideal for extra large-sized open rooms where standard air purifiers won't suffice. Not only does Airmega 400 purify the air over a large area, but it also does so very efficiently, cleaning the air twice every hour.
One unique and useful feature of this device is its pollution sensor. This sensor allows the device to evaluate the degree of purity or pollution of the surrounding air and communicate the results to you through the brightly colored LEDs on the device itself.
The device is aptly named as a smart air purifier, given its smart mode feature and its smooth function. Switch your device to the smart mode and forget the struggle of adjusting the fan modes over and over. The device will itself adjust to the surrounding air quality and function accordingly.
Bottom Line
This device is a complete package for a healthier life where you're not constantly breathing in smoke polluted air. Not only does it function smoothly, but also efficiently without the hassle of settings and installation.
Pros
Cleans the Air Efficiently, Doing so Twice in One Hour
Smart Mode Automatically Adjusts to the Surroundings
Very Efficient at Removing Different Odors From the Room
Different Fan Modes Allow You to Adjust the Device to Your Needs
Cons
Size of the Device is Considerably Large, Almost the Same as That of a Side Table
At Higher Speeds, the Fan Noise is Not Good Enough for an Office Setup as it Causes Too Much Disturbance
LEVOIT LV-PUR131
Decibel Level: N/A
# of Fan Speed Options: N/A
Coverage Area: 900 (sq ft or cubic feet)
Dimensions: 14.5 x 7.2 x 18.5
Weight: 11.22 pounds
We may earn commission from purchases made from our links, at no additional cost to you
Review
LEVOIT LV-PUR131 is another true HEPA filter that comes to a close second on this list, with its remarkable capability of efficiently clearing up the smoke from the air in your room. This air purifier is designed to give you nothing less than absolutely purified and fresh air to breathe indoors, and it does so very well.
What's best about this air purifier is that along with cleaning up the smoke around you, it makes sure that the air around you is ozone-free, too. It also offers a three-stage filtration, a system that ensures maximum filtration of unwanted particles and pollutants from the air.
The smart mode allows you to evaluate the indoor air quality, but that is not where it ends. It also further suggests the right fan speed to accommodate to your surrounding air quality. The sleep mode, on the other hand, provides you with the lowest setting that will ensure a peaceful sleep with minimal disturbance and fresh air.
Bottom Line
The filters may be expensive, but the efficiency of the device at getting rid of the smoke is unparalleled. All good things come at a sure cost, and if a little extra money gives you the best performance, then it's reasonable to say that the device is worth it.
Pros
True HEPA Filter Captures Most of the Particles of Smoke and Other Pollutants
Different Modes Adjust the Fan Speed for Minimized Noise Disturbances and Optimal Air Purification
Air Purifier is Designed to Cover a Large Area of Space, Making it Ideal for Large-Sized and Open Rooms
Cons
Filters Require Changing Every Two Months, Which Can Get Pretty Expensive
Hamilton Beach TrueAir Air Purifier
Decibel Level: N/A
# of Fan Speed Options: N/A
Coverage Area: 140 (sq ft or cubic feet)
Dimensions: 10.84 x 8.08 x 16.43
Weight: 6.3 pounds
We may earn commission from purchases made from our links, at no additional cost to you
Review
Hamilton Beach TrueAir is a device that is designed to provide your lungs relief from the constantly inhaled smoke. It will not only go easy on your lungs, but on your pockets too, giving you a run for your money.
This device will work to purify the air in spaces up to 160 square feet. It utilizes a permanent HEPA-grade filter which efficiently functions to remove any sort of particles and pollutants in the air, leaving you with fresh and cleaner air. The best part is that the filter does not require changing every few months, saving you the cost of expensive filter replacements.
Utilizing 120 volts, this air purifier comes with three different setting speeds. All of these settings offer quiet and efficient functioning that can be controlled with a simple control knob, making its use super easy.
Bottom Line
Overall, this is a device that not only filters the air around you for smoke and other pollutants, but also saves you the extra money you'd spend on a fancier device that functions the same. A little noise is an issue for every air purifier, but if the device works well, the noise doesn't matter a lot.
Pros
Ideal for Bedrooms, Offices, Den, or Small to Medium-Sized Living Rooms
Filter Does Not Have to Be Changed, Therefore Making the Product Cost Effective
Functions When Placed Horizontally as Well as Vertically, Enhancing its Functionality
Allows Three Different Fan Speeds to Adjust the Device According to the Surrounding Air
Cons
Makes a Considerable Amount of Noise While Functioning, Which May Be Very Disturbing
Pure Enrichment PureZone 3 in 1
Decibel Level: N/A
# of Fan Speed Options: 3
Coverage Area: 200 (sq ft or cubic feet)
Dimensions: 10.8 x 6.9 x 12.1
Weight: 6 pounds
We may earn commission from purchases made from our links, at no additional cost to you
Review
There are a number of products you can find on the market that will help you reduce smoke from your surroundings. A number of air purifiers come with an array of features, most of them being ones that you don't need. Such devices may look tempting, but they are way too heavy on your wallet. However, the PureZone 3-in-1 is an air purifier that will give you guaranteed functioning, while not being too expensive.
This 3-in-1 device will give you the benefit of a pre-filter, an activated carbon filter, and a HEPA filter, putting it at the top in regards to functionality. The device also features a UV-C light that further adds to sanitation by killing germs and bacteria.
PureZone is an efficient and convenient air purifier that will be set up in seconds and be ready for immediate use. Furthermore, it features a timer for energy efficiency and quiet operation for a peaceful sleep at night.
Bottom Line
An item within a smaller budget will always come with a couple of drawbacks, as does this product. But since our main concern here is getting rid of smoke, and the device manages to do that very efficiently, we don't see why this device wouldn't rank among the best air purifiers for smoke.
Pros
Easy to Set Up and Use
Ultraviolet Light Kills Germs to Keep the Filter Itself Sanitized
HEPA Filter Purifies the Air up to 99.97%, Leaving Behind Just Fresh Air
Cons
Might Need Filter Replacements More Often Than Mentioned
Isn't Very Efficient at Removing Odors From the Surrounding Air
Austin Air HealthMate Purifier
Decibel Level: N/A
# of Fan Speed Options: 3
Coverage Area: N/A
Dimensions: 14.5 x 14.5 x 23
Weight: 45 pounds
We may earn commission from purchases made from our links, at no additional cost to you
Review
Cigarette smoke is considerably more harmful than that from other various sources due to the tobacco ashes. Austin Air HealthMate Air Purifier is certainly the best solution that you can get for all the cigarette smoke.
Austin Air HealthMate Air Purifier will provide you optimally purified the air using the four-stage filtration system. The true, medical-grade HEPA filter will ensure that about 99.97% of the polluting particles are removed. It will get rid of not only smoke and its odor but also other irritating particles such as dust, pollen, and other allergens.
The air purifier offers three different fan speeds that accommodate the needs of the air quality surrounding you. What's even better is the 360-degree air intake system that ensures that all the air in the room passes through the filtration. As a result, all you get is fresh air to breathe.
Bottom Line
If you're looking for a long term solution for the smoke that hangs around you, this is it. It efficiently and smoothly functions to filter your air. You may have to run the device on high the whole time, but that won't be an issue, since the air purifier doesn't seem to add to the electricity bill at all.
Pros
Removes Most of the Particles Present in the Air With the True HEPA Filter
Three-Speed Settings for the Fan Allow You to Adjust the Device to the Surrounding Air Quality
Provides an Air Filtration That Helps With Various Allergies and Irritation From the Particles and Pollutants in the Air
Cons
Low Fan Setting is Not Very Effective
On High Settings, the Device Makes a Lot of Noise
Honeywell 50250-S
Decibel Level: N/A
# of Fan Speed Options: N/A
Coverage Area: 465 (sq ft or cubic feet)
Dimensions: 18 x 18 x 19
Weight: 21 pounds
We may earn commission from purchases made from our links, at no additional cost to you
Review
The Honeywell 50250-S is a true HEPA filter purifier that you may consider as your way out of the cigar smoke infested air. It efficiently filters the air around the room to give your lungs a breather from all the harmful particles and fumes present in the cigar smoke.
The device is designed to cover large-sized rooms efficiently, making sure all of the air is filtered. It provides maximum filtration that would suffice for large or even extra large-sized rooms, with three air cleaning levels and an odor-reducing activated carbon filter.
The Honeywell 50250-S not only filters out the smoke from the cigars but also traps different germs, bacteria, and other allergens that help you maintain a healthier life, making it the perfect air purifier that you can invest in.
Bottom Line
It is about time you get rid of the cigar smoke and this is the ideal device for the job. If you're concerned about the bright blue LED that can probably light up an entire room, just know that it is nothing a little tape can't dim. With that said, this air purifier definitely qualifies to be on this list of the best air purifiers for smoke.
Pros
Filter Indicator That Will Inform You When the Filter Requires Cleaning or Changing
360-Degree Intake Offered by the Device Ensures That All the Air in the Room Gets Filtered
With its HEPA Filter, Ensures the Removal of All the Dust Particles, Allergens, and Other Particles That Are Harmful to Your Health
Cons
LED Light is Very Bright and Might Be Disturbing, Especially at Night
Winix 5500-2 Air Purifier
Decibel Level: N/A
# of Fan Speed Options: N/A
Coverage Area: 360 (sq ft or cubic feet)
Dimensions: 15 x 8.2 x 23.6
Weight: 15.4 pounds
We may earn commission from purchases made from our links, at no additional cost to you
Review
Winix has made its name amongst the brands of quality air purifiers and this device is an example of how it has managed to do so. This device is specifically designed to eliminate wildfire smoke that burns your lungs.
The 5500-2 air purifier provides you with four fan speeds that you can switch between to change the airflow and filtering speed whenever your surrounding air is in need. The low and medium modes allow air filtration with no noise disturbance, while the higher speeds provide more efficient air purification.
It also features an auto mode that senses the air quality with its smart sensor and adjusts the fan speed accordingly for maximum and efficient air cleaning without the hassle of changing the settings manually.
Bottom Line
Bottom Line
Wildfires come with smoke that contains a wide range of particles, all having harmful effects that you don't want to deal with. This device will efficiently get rid of all of those. You may find a more cost-effective purifier for the job, but it won't work as well. That is why Winix 5500-2 is the perfect air purifier for wildfire smoke.
Pros
Efficiently Filters Out All the Harmful Particles and Pollutants Present in the Smoke
Auto Mode Will Add Convenience to This Device as it Adjusts Itself to the Surrounding Air
Four Fan Speeds Can Be Switched Between Manually, so you Have the Air Purification You Desire
Cons
Replacement HEPA Filters Can Be Costly
Higher Fan Speeds Produce a Lot of Noise, Which Can Be Very Disturbing
RabbitAir BioGS 2.0 Ultra Quiet HEPA Air Purifier
Decibel Level: 48.6
# of Fan Speed Options: N/A
Coverage Area: 550 (sq ft or cubic feet)
Dimensions: 16.6 x 9.8 x 22.2
Weight: 16.8 pounds
We may earn commission from purchases made from our links, at no additional cost to you
Review
Just like cigarette and cigars, weed, too, leaves behind smoke and odor that can be extremely irritable to others, if not the people who smoke it. Getting rid of that can be an issue, but not if you have the RabbitAir BioGS 2.0 which is designed to eliminate all sorts of smokes and odors from your surroundings.
The four-stage filtration provided by this device ensures that there are absolutely no harmful particles and pollutants left in the air once it has been filtered. It also provides deodorization that gives out a subtle yet pleasant smell, eliminating the odor entirely.
The advanced HEPA filter of this air purifier not only provides the trademark air purification up to 99.97% but also decreases the build-up of germs and microorganisms on the filter itself, keeping it sanitized.
Bottom Line
Eliminate the weed smoke and odor efficiently with this device, and rest assured that you won't be disappointed. It may work for smaller and medium rooms, but it will work efficiently, leaving no trace of the annoying smoke.
Pros
Not Only Smart and Thorough With its Job But Also Economical and Energy Efficient
Filter Itself Remains Free From Germ Build-Up, Allowing it to Last Considerably Longer
Allows You to Switch Between Two and Four Cycles in an Hour According to Your Need
Cons
Isn't Suitable for Large-Sized Room
Higher Speeds of the Device are Noisy and Disturbing
Best for Commercial Model
Enerzen Commercial Ozone Generator
Decibel Level: N/A
# of Fan Speed Options: N/A
Coverage Area: 2,250 (sq ft or cubic feet)
Dimensions: 6.75 x 8 x 5.75
Weight: 5 pounds
We may earn commission from purchases made from our links, at no additional cost to you
Review
Standard air purifiers would not suffice for commercial-grade use. For that purpose, the Enerzen Commercial Ozone Generator proves to be the perfect product. Its efficiency can be estimated by the number of its successful sales, which mount to over 100,000 units.
The device comes with a fan that is 40% larger than others that will cover a larger area and provide a longer lasting treatment. Its stainless steel filter is washable and saves the cost of replacement.
You will be required to monitor the device for a lot less time with the timer that lasts up to 180 minutes, further making it ideal for commercial use. The ergonomic handle furthermore adds convenience to the design of the ozone generator
Bottom Line
The Enerzen Commercial Ozone Generator is a device that will work ideally in a commercial setup. The large size and extra noise of the device are due to its enhanced function, which is what makes it ideal for a larger scale use. All in all, if you're getting the job done, temporary inconveniences don't amount to much.
Pros
Ergonomic folding handle provides the comfort of handling and convenience in Storage
Larger-Sized Fans Help to Cover Larger Areas of Space in a Shorter Time and More Efficiently, Too
Washable Filter Makes the Device Extremely Cost Effective by Cutting Down the cost of replacement filters
Cons
Extremely Noisy and Cause a Lot of Disturbance
Cord is Only 5-Feet Long, Restricting Access to Other Parts of the Room
Bissell air320
Decibel Level: N/A
# of Fan Speed Options: 5
Coverage Area: 308 (sq ft or cubic feet)
Dimensions: 8.3 x 14.75 x 25
Weight: 18.25 pounds
We may earn commission from purchases made from our links, at no additional cost to you
What Recent Buyers Report
The features that customers enjoyed the most were the silent performance and how quickly it eliminates smoke. A few buyers also bought units for their office, marveling at how well it cleaned the air and made it easier to breathe. While the device is bulky, some clients enjoyed the look in their homes or bedrooms.
Why it Stands Out to Us
This purifier has a stunning white design, while you can quickly open the front filter for easy access to the rest of the interior. The layers are massive, ensuring that you receive fresh air for the equivalent of a 1,000 square foot room. There's a discrete cord wrap to keep the cables out of sight, presenting a neat appearance.
When it comes to dealing with smoke, you'll find a three-stage filtration system. The first is a fabric pre-filter that deals with the largest air particles. This system is followed by activated carbon for the smoke and VOCs, and the HEPA filter works on the smallest substances, such as pollen and dust.
Bottom Line
The BISSELL air320 is an effective air purifier to counteract the effects of smoke. There's nothing more unpleasant than having it linger in the air for too long, which is why this unit has three stages to ensure the best air quality. You can sleep well at night with the silent performance.
Pros
Three filtration stages
Convenient front panel access
Whisper night mode for a peaceful sleep
CirQulate System that provides air quality readings
Honeycomb activated carbon filter to capture smoke
Cons
Bulky design
Filters are expensive to replace
Are All Air Purifiers The Same When It Comes to Smoke?
While all air purifiers are designed to purify the air from small particles and pollutants, not all of them are efficient enough to get rid of the smoke in the air. In fact, most of the standard air purifiers are not designed for the job of providing smoke-free air. The same goes for removing the smoke odors.
The issue with removing smoke is due to the small size of the particles that compose it. The standard air purifiers are designed to remove particles down to the size of 3 microns, while the particles found in smoke can be as small as 0.7 microns.
It is, therefore, important that if you're buying an air purifier to get rid of the smoke around you, make sure the one you're buying is actually capable of doing so.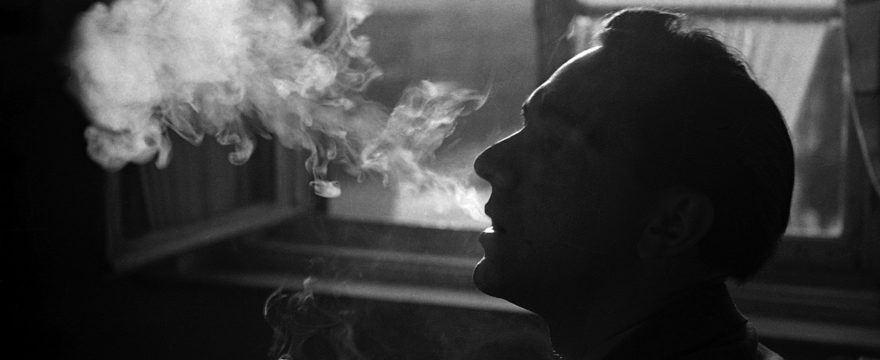 How Does an Air Purifier Remove Smoke?
Most purifiers have various layers inside that deal with different air particles. This process is known as multi-stage cleansing, as the air needs to pass through separate filters before exiting the unit. What you receive is improved air quality that's free of dust, pollen, and smoke.
The first stage is pre-filtration where the purifier uses a fan to draw in the surrounding air and block the largest particles. This section precedes the activated carbon, which deals with smoke, odors, and VOCs. Finally, you'll find a HEPA filter that combats the tiniest particles that are usually smaller than 0.3 microns. Your unit might even have an ionizer that treats the air one last time for airborne contaminants.
What Size Air Purifier Do I Need to Remove Smoke?
When you purchase an air purifier, it usually has a label for what size room it caters to, signified in square feet. You should always ensure that it can cover the entire area, so measure your space before buying the unit. If you're planning to obtain a single device for multiple rooms, you'll need to sum up the cumulative area of all the spaces.
You should also assess the clean air delivery rate (CADR). It measures efficiency in terms of cubic feet per minute (CFM). The highest score for smoke is 450 CFM, so ensure you find the best rating based on how much air you need to be cleaned on an hourly basis.
How Often Should I Change My Air Purifier Filter When Filtering Smoke?
Changing your filters is essential if you want to maintain a healthy environment with quality air. If you don't do it regularly, the system can become clogged and may not perform efficiently. You can also end up with a damaged device.
In theory, you should change the activated carbon layer every three to six months based on how much smoke it clears daily. Pre-filters last about 30 days before they need cleaning or replacement, while the HEPA filter needs changing every year. Of course, reality may differ depending on how hard the machine needs to work to clear the smoke and pollutants.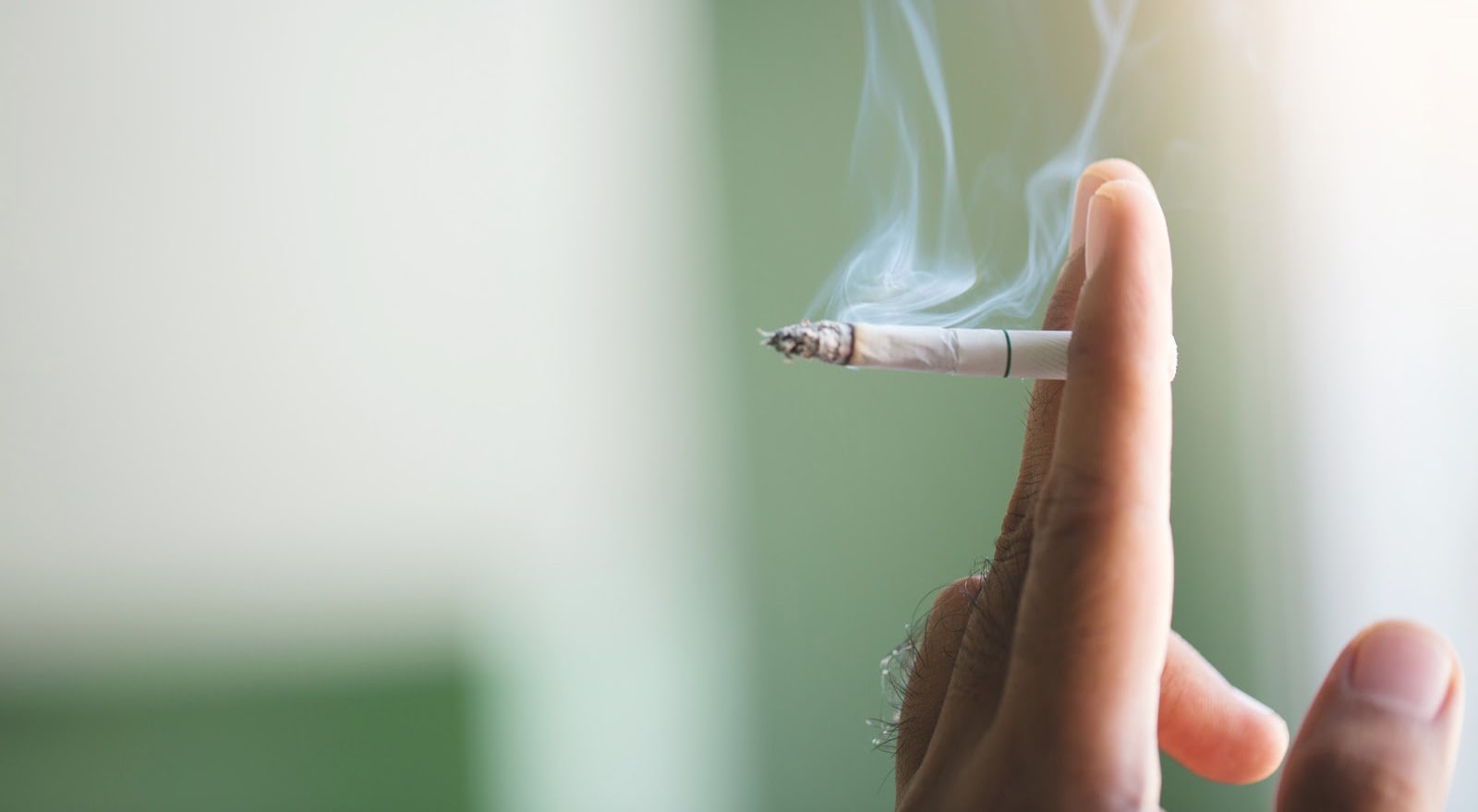 Best Air Purifier Filter Types for Removing Smoke
You'll find a wide variety of filters in purifiers these days, but not all of them cater to smoke. For instance, ionizers merely treat the final output for any lingering viruses or bacteria, while other layers eliminate pollen or dust. Here are the three top filters your device should have to deal with smoke. 
Pre-filter
The pre-filter takes care of the largest particles that enter the intake. Some units have fabric layers to ensure that most of the smoke molecules stick to them, leaving the smaller ones to pass through to the inner filters. It's easy to remove and wash this layer, but you'll also need to replace it more often than the others.
Activated Carbon Filter
This filter is the one that does the most work against smoke. Not only does it deal with VOCs and smoke particles, but it traps the odors that arise due to it. Whether you're dealing with cigarettes, weed, or external pollution smoke, the activated carbon filter will eliminate those bad smells for you. 
HEPA Filter
Sometimes, the smallest particles will pass through the previous two filters. The HEPA layer deals with molecules that are smaller than 0.3 microns. While this section generally deals with allergens and contaminants that irritate the lungs, it's also the last defense against smoke in your home.
Perks of Choosing a Model From Our List
While choosing an air purifier for smoke, you are not really obliged to choose from our list, but doing so will definitely have some benefits for you.
Saves Time
The best part about choosing from the list is that it will save you time. You would not have to go through every air purifier individually, looking at anything and everything that comes your way. Instead, you'll be taking a look at only the very best and pick the right one for yourself.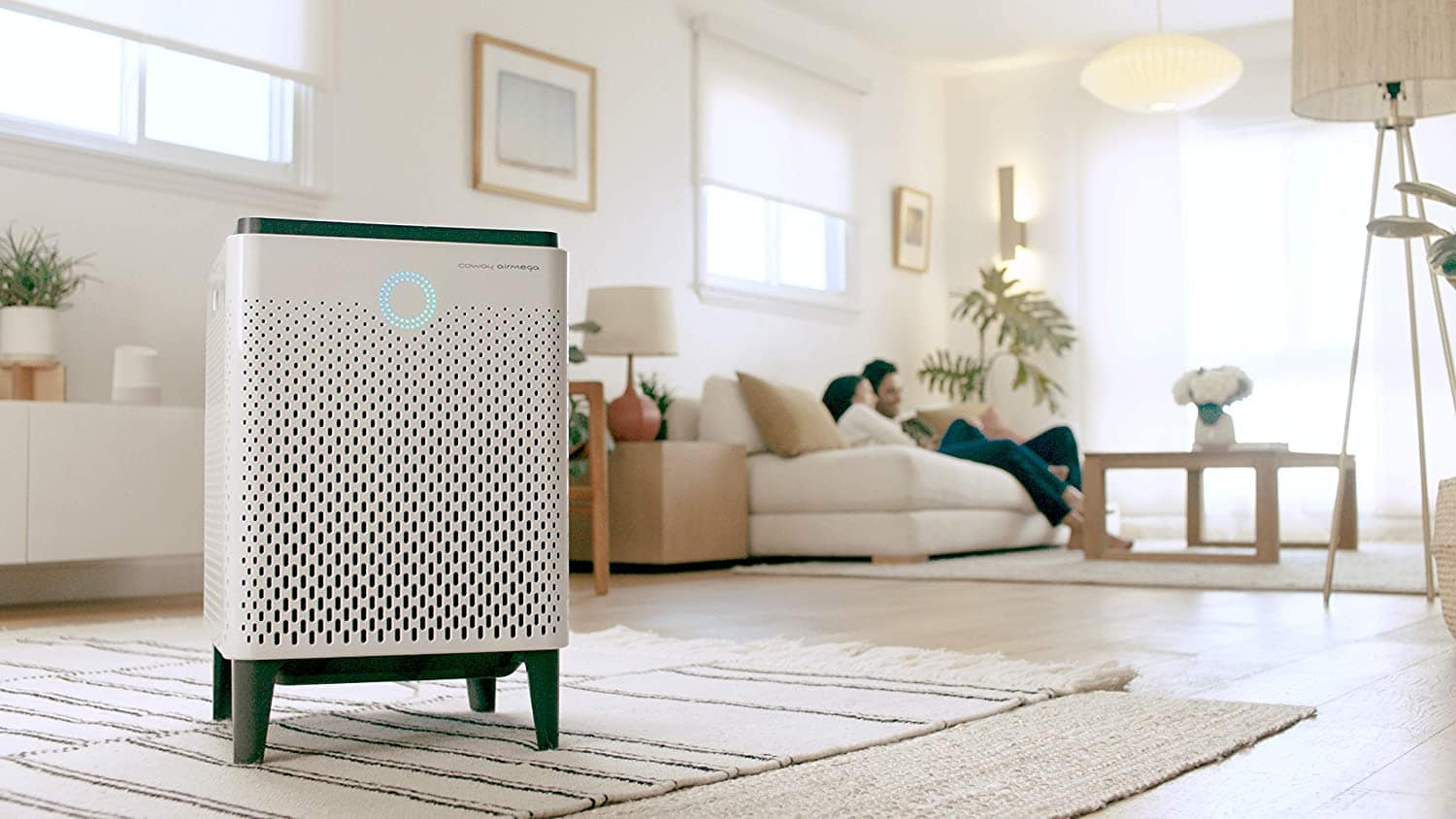 Guaranteed Functioning
The products reviewed on this list are tested and trusted. You don't have to worry about these devices, wondering if they are good for filtering smoke or not. We have chosen only the top-quality products for this review, hence ensuring that you get the full functionality out of these air purifiers
Defined Features
Our list gives you a defined outline of features for every product, giving you a complete idea of how the device functions and how efficiently it does so. So if you purchase a product from our list, you will know exactly what you are signing up for.
Conclusion
Investing in an air purifier that will rid you of the smoke around you is definitely a smart choice. What's smarter is knowing the features of the air purifiers that you're looking at and knowing that you're choosing the right one for yourself. Once you've done that, you will feel the difference in the air you breathe and experience the impact it has on your life.
People Also Ask
We might have left you with some lingering questions regarding the best air purifiers for smoke. Here are the top FAQs we receive from our readers.
How Effective Are UV Air Purifiers for Smoke?
UV filtration processes help eliminate germs from the air and are therefore not utilized for removing smoke unless they're combined with other filters. For instance, UV light can turn smoke molecules into water vapor and carbon dioxide but relies on an advanced hydration photocatalytic (AHPCO) technology for the remainder of the process.
What is a CADR Rating in Air Purifiers?
CADR refers to the clean air delivery rate, indicating how efficiently a purifier can cleanse the air in a room. You'll usually measure this in cubic feet per minute (CFM), which is why you should check this against the room's area where you'll place the device.
Do Air Purifiers Help With Smell?
Yes, they do. The devices have activated carbon filters that deal with VOCs and odors. If you find lingering scents after a few months, it means that this layer needs exchanging or cleaning.
How Long Does it Take for an Air Purifier to Remove the Smell of Smoke?
The time it takes for a purifier to remove smoke depends on various factors. For example, what is the CADR, and what area does it cover? How much smoke does it need to clear, and how many air changes per hour (ACPH) are there? It can take anywhere between ten minutes to an hour.
Can an Air Purifier Remove Wildfire Smoke From a House?
Yes, it can, specifically if it has a large pre-filter, activated carbon filter, and HEPA filter. These sections work together to combat the worst smoke, even if there's a raging fire in your area.