Air purifiers clean the air around you and make it safer and more suitable for your home.
However, one problem with air purifiers is the amount of noise they make. For this reason, what you really need to go for is the quietest air purifier available on the market.
Whether you want if for your whole household or just your room, this article will give you the complete review of the quietest air purifiers of 2019.
Comparison of the Quietest Air Purifiers 
IMAGE
PRODUCT

Our Top Pick

Best Quiet Air Purifier Overall
Brushless motor
It Traps the Allergens and Pollutants as Small as 0.3 Microns in Size

View Latest Price →

Runner-Up
It has a HEPA filter System With 4 Fan Speeds
3-Stage Air Purification Ensures Maximum Purification

View Latest Price →

Best Budget Option

Best for the Money
Fights Off Odors and Pollutants
Suitable for Rooms up to 140 Square Feet

View Latest Price →

Best for Bedrooms
3 Settings for Speed Lets it Keep Pace With Your Lifestyle
3 Stage Filtration System With the Advanced HEPA Filtration System has 99.97% Efficiency

View Latest Price →

Best Tabletop Model
Compact, Fit for Small Spaces
Filters Air Pollutants and Allergens

View Latest Price →

Best Under $100
Has an Automatic Timer Setting of 2, 4, and 8-Hour Intervals
UV-C Light Mode Rids the Air of Germs and Other Harmful Substances

View Latest Price →

Quietest Portable Air Purifier
Operates at a whisper quiet level of 30 dB
Comes with a 1 year warranty plus lifetime support

View Latest Price →
Characteristics of Our Top Picks
The three main things that you must observe while purchasing an air purifier are its cost, functionality, and maintenance.
Cost
Your air purifier must not be a burden on your pocketbook. It should give you all that you require without spending thousands of dollars on it.
Performance
The air purifier must offer optimum performance. Its air thrust power and power settings must suit your needs.
Portability
If you're someone who travels frequently and does not want to get exposed to allergens, you can opt for a portable air purifier too.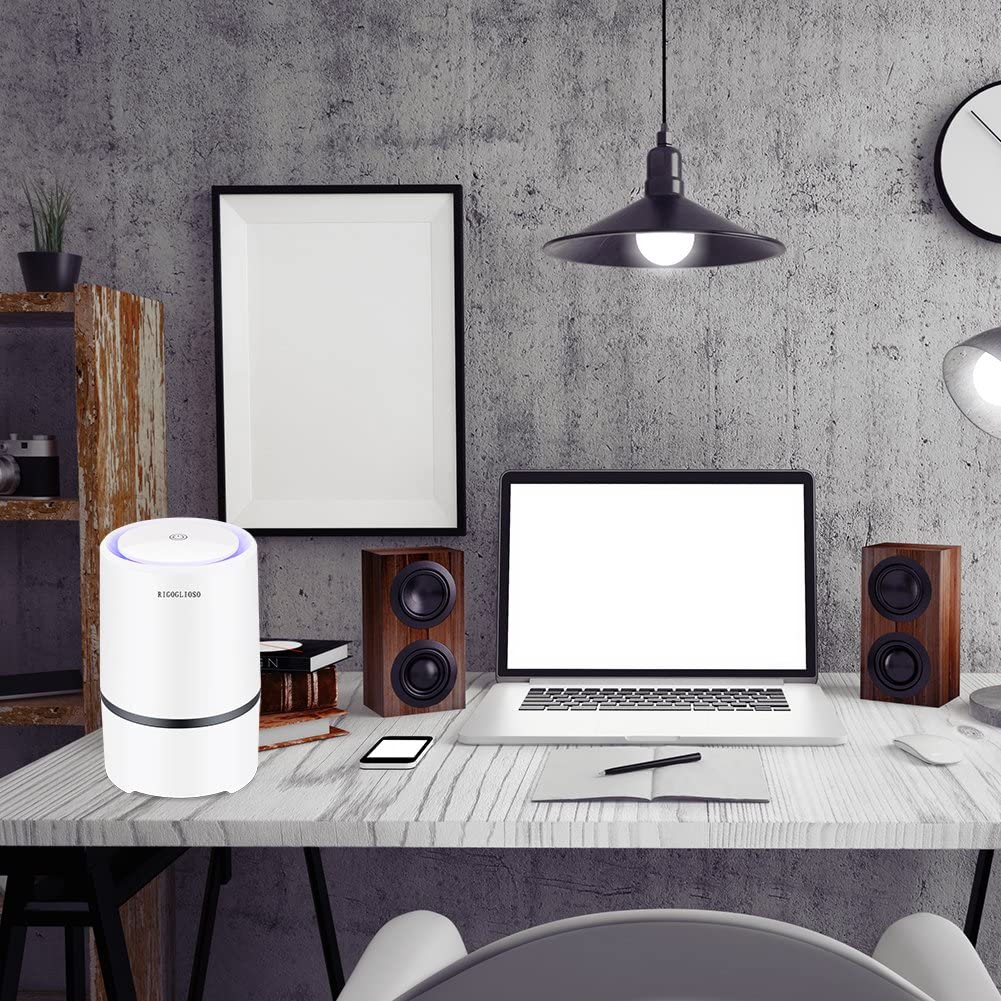 Maintenance
A good air purifier is the one that is easy on the pocketbook. Hence, it should not have a high maintenance cost.
Plus, the air filters should be readily available in the market and easy to install and replace.
Noise Level
Of course, the amount of noise your purifier makes is an optimal consideration. Consider where the unit will be used in order to find one that is sufficiently quiet.
If the air purifier satisfies you in all departments, then you should not waste a single second and buy yourself the air purifier of your dreams.
At a Glance: Our Top Picks for Quietest Air Purifiers
Review of the Quietest Air Purifiers
With a quiet air purifier, you can be sure the unit doesn't disturb your sleep or annoy you while it works to clean the air. If you're not sure of which unit to buy, have a look at these top models.
Rabbit Air BioGS 2.0
Decibel Level: 48.6 dB
# of Fan Speed Options: N/A
Coverage Area: 550 sq ft
Dimensions: 16.6 x 9.8 x 22.2″
Weight: 16.8 pounds
We may earn commission from purchases made from our links, at no additional cost to you
Review
This simple, yet stylish air purifier is one of the best out there. It is simple and offers optimum performance. The plain white exterior will complement your house or office surroundings. The greatest thing is that it combats unnecessary pollution along with being extra quiet.
The Rabbit Air BioGS has the Brushless Direct Current Motor installed. This motor with its inverter control is able to perform at five different speeds. Despite the varying speeds, its sound is even less than that of a whisper. Apart from the BioGS HEPA filtration, the charcoal-based activated carbon filter prevents the growth of bacteria and virus on the filter.
Plus, a brushless motor means it will have low maintenance costs, it will not overheat, and will be as silent as a whisper, enabling the Rabbit Air to provide greater efficiency and higher durability.
The efficient controls light up when you need to change the settings. Otherwise, they remain dim to save energy and not to disturb you.
Bottom Line
This air purifier is simple, yet chic and delivers high functionality. Its installation and maintenance are easy, and it is made for small to moderately-sized rooms. The BioGS Hepa Filter system does its job beautifully, without making much sound.
Pros
Quiet as a whisper
Pre-filters are reusable
Compatible size and easy to clean
Low maintenance cost and high filter function efficiency, up to 99.9%
Cons
Not made for larger spaces
Panel stays lit up when the device is on the auto mode and is bright enough to light a bedroom
Winix 5300
Decibel Level: N/A
# of Fan Speed Options: 5
Coverage Area: 360 sq ft
Dimensions: 14.9 x 7.8 x 23.6″
Weight: 17 pounds
We may earn commission from purchases made from our links, at no additional cost to you
Review
This sturdy, grey beast is another choice worth considering when looking for a quiet air purifier. The HEPA filters will sieve out 99.97% pollutants which include dust, mites, allergens like pollen, smoke particulates, pet dander, and much more. So, with this machine working, you can say goodbye to allergy and asthma flare-ups.
This device has a three-stage cleaning process with five settings for speed. These include sleep, low, medium, high, and turbo.
It also features the patented PlasmaWave technology which fights off odors and chemical vapors. The thrust is 236 CFM and its sound is up to 27.8 dB which is pretty low, so you can have a restful sleep. Moreover, the Winix has the auto mode for the day and the quieter sleep mode for night.
The auto mode adjusts the filter and fan speed to suit your need at the moment. Meanwhile, the sleep mode senses the lighting inside the room to gauge its fan speed. If the room goes dark, it shifts automatically to the quieter setting so that you can sleep in comfort.
In addition, it has an indicator to let you know when the filter needs to be replaced. This air purifier is simple and easy to use. You also don't need a remote to control its speeds.
Bottom Line
This Winix 5300 air purifier gets the job well done. Not only does it eradicate pollutants from the surroundings, but it also wipes out any odors or chemical vapors. Its smart sensor technology, along with its many speed settings, let you have a comfortable, flare-free time.
Pros
HEPA filters are 99.97% efficient
Covers a large area up to 360 sq. ft.
Quiet and doesn't disturb your sleep
PlasmaWave technology cuts down odor and drives off harmful chemical vapors
Cons
Mismanaged time of the odor sensor
Makes sound on a high setting; otherwise, it is quiet as a whisper
Hamilton Beach Air Purifier
Decibel Level: N/A
# of Fan Speed Options: N/A
Coverage Area: 140 sq ft
Dimensions: 10.84 x 8.08 x 16.43″
Weight: 6.3 pounds
We may earn commission from purchases made from our links, at no additional cost to you
Review
Be it air purifiers or humidifiers, these can cost a fortune, especially those with high-end maintenance costs. Some people aren't in search of fancy settings or looks. Instead, they just look for the most they can get inside their budget. The Hamilton Beach Purifier is the answer to their cries.
The Hamilton Beach Air Purifier is an air filter that is quiet, filters pollutants and odor, and has a simple design. It also offers optimum functionality while being budget-friendly.
The HEPA filtration system is 99 percent efficient. Meanwhile, the three-stage filtration system makes sure your comfort isn't disturbed. Moreover, you don't need to replace the filter every time it gets clogged up. You can just brush it off or vacuum it and it will be as good as new.
The Hamilton Beach Purifier has three settings of speed. Its sound is close to a whisper. The unit is also an ideal option for people who own pets. This comes with two zeolite filters made specifically for pet dander. You will not even notice that there are pets inside the household since it gets the finest of hair and dander.
Bottom Line
If you are a person facing sinus irritations from time to time, this air purifier is best suited for your needs. Now, your pets and family members can coexist in peace, with the Hamilton Beach Air purifier in the house. So you can say goodbye to allergy and asthma flare-ups. Plus, the ultra-quiet system fights off pollutants and odor seamlessly.
Pros
Easy to install and clean
Silent and doesn't disturb sleep
Zeolite filters ease the life of pet owners
Environment and budget-friendly as new filters aren't needed every time it gets dirty
Cons
Not suited for large spaces
LEVOIT LV- H132
Decibel Level: N/A
# of Fan Speed Options: N/A
Coverage Area: N/A
Dimensions: 8.5 x 8.5 x 14.5″
Weight: 6.5 pounds
We may earn commission from purchases made from our links, at no additional cost to you
Review
This ozone-free air purifier is perfectly suited for your bedrooms. The compatible size and ultra-quiet system let you have the awaited sleep after a long day of work.
The LEVOIT LV-H132 has a three-stage filtration system ensuring a good night's sleep. The three stages include the pre-filter, HEPA filter, and activated carbon filter. This ensemble is able to get rid of 99.97% pollutants which include dust, smoke, allergies molds, pollen, and pet dander. In fact, the filtration system is able to remove particulates as small as 0.3 microns.
The LEVOIT air purifier comes with three speed settings; low, medium, and high. Further controls include two bright night lights perfect for a bedroom setting. This is also suitable for children's bedrooms where the night light prevents them from running into sharp corners.
The compatible nature and the stylish, yet simple design make it perfect for small spaces. It also comes with replacement filters that are easily available in the market. Overall, it is cost-effective and easy to maintain, particularly because of its filters.
Bottom Line
The LEVOIT air purifier is a compatible and portable air filter with a three-stage filtration system. It traps pollutants and allergens and comes with speed settings and a night light to aid you in the dark. Just replace the filter after every six months and you will have safe air to breathe in.
Pros
Compatible and portable
3-stage filtration ensures spot-on cleaning
Variable speed settings let you be in control
Ozone free and fights off allergens and pollutants
Cons
Not suitable for larger spaces
Does nothing to fight off odors
Nightlight is blue which is known to prevent sleep
hOmeLabs 3-in-1 Compact Ionic HEPA Air Purifier
Decibel Level: N/A
# of Fan Speed Options: 3
Coverage Area: 50 sq ft
Dimensions: 6.7 x 6.7 x 7.5″
Weight: 2.84 pounds
We may earn commission from purchases made from our links, at no additional cost to you
Review
As the name suggests, this air purifier is easy to handle and can be made effective by simply placing it onto the tabletop. Its compact nature makes it portable, so it can be put to use while traveling too.This air filter manages to combat 99.9% of pollutants and allergens, making it possible for you to breathe in fresh and safe air. It removes dust, pet dander, mold, and even particulates that are invisible to the naked eye.
What makes it interesting is its four-stage purifying technology. Air has to go through four critical layers of filters. These include the pre-filter that traps the larger particles, and the HEPA, carbon, and ion-boosting filters that trap the rest.
Not only does this filter out pollutants, but it also frees the air of bad odors. The 360-degree air inlet lets in air and the ion boosters release negative ions that purify every inch of air. This air filter does not create any noise, like many others. Plus, it covers an area of 50 sq. ft.
It is simple to use. Just plug it in an outlet and you have fresh air to breathe in. The indicator light on it lets you know when the filter needs replacing. Moreover, you can customize the fan settings. So, when you are off to bed, simply choose the sleep-friendly low power setting, so that your sleep isn't disturbed at all.
Bottom Line
Overall, this unit is simple, small, and manages to get the job done. It is best for people who are always on the move and have allergies. Plus, it lets you sleep in comfort due to its quiet and subtle fan sound.
Pros
Portable
Easy to install and maintain
Gets rid of 99.9% of indoor pollutants
Pocket-friendly despite the powerful features it has
Cons
Blue light that it emits can chase away sleep
Not environmentally-friendly as new filters are needed when the old ones fill up
Pure Enrichment Pure Zone 3-in-1 True HEPA Air Purifier
Decibel Level: N/A
# of Fan Speed Options: 3
Coverage Area: 200 sq ft
Dimensions: 10.8 x 6.9 x 12.1″
Weight: 6 pounds
We may earn commission from purchases made from our links, at no additional cost to you
Review
Ready to sanitize your air? If so, the Pure Enrichment air purifier is here to do the job. It comes with a 3-in-1 filtration system including a pre-filter, activated carbon filter, and the advanced HEPA filter. The three-stage filtration makes sure that the air is properly filtered and no pollutants make it through.
The HEPA filter makes sure any particulate the size of 0.3 or more do not get through the filter. Meanwhile, the UV-C light makes sure it eliminates the germs and bacteria in the air it filters.
The system operates at a sound level of 30 dB, making sure not to disturb your hard-earned sleep. It is very easy to operate, making it fit for immediate air filtration. Moreover, the automatic filter lessens your troubles and shuts off after intervals of two, four, or eight hours, making efficient use of energy.
Bottom Line
The Pure Enrichment HEPA purifier is best for small space purification like your bedrooms and offices. This under $100 air purifier gets the job done with its three stages of filtration and automated energy efficiency. It small and simple, ensuring you have clean air to breathe in.
Pros
Automatic timer makes efficient use of energy
Quiet as a whisper, will not disturb you in your sleep
Quick installation and immediate usage make it user-friendly
Cons
Does not fight off odors
Not suitable for large spaces
Quietest Portable Air Purifier
RIGOGLIOSO Air Purifier
Decibel Level: 30 dB
# of Fan Speed Options: N/A
Coverage Area: N/A
Dimensions: 4.92 x 4.92 x 7.64″
Weight: 1.54 pounds
We may earn commission from purchases made from our links, at no additional cost to you
What Recent Buyers Report
Most buyers love the product because of its compactness and suitability for use in small rooms, its ability to clear airborne particles and improve indoor air quality within a short duration, quietness, and ease of use. The major concern for most buyers is that the light does not go off, which makes it difficult for light-sensitive sleepers to use as a bedroom air purifier despite being so quiet.
Why it Stands Out to Us
RIGOGLIOSO has a True HEPA filter that neutralizes up to 99.99% of bacteria, allergens, and dust. It has an additional activated carbon filter to handle any airborne pollutants and harmful gasses. 
In addition to the three-stage filtration system, two fan speed settings, and an air quality monitor. The design is compact and boosts its portability, making it suitable for shifting between small areas and rooms. The unit is easy to use, having only one button to perform different functions. It's an exceptionally quiet purifier, which makes it a great choice for bedroom use for anyone who isn't bothered by its persistent night light feature.
Bottom Line
RIGOGLIOSO is a compact and quiet air purifier that is highly suitable for small rooms and spaces. It has high purification performance and is easy to operate. The unit can neutralize different air contaminants such as dander, mold spores, airborne allergens, and bacteria at a 99.99% effectiveness rate.
Pros
Has a convenient small size HEPA filter
Quietest air purifier on our list operates below 30 decibels
Has a 360° purification performance for exemplary cleaning capacity
Easy to operate since it has only one big button for multiple functions
Cleans 10-30m³/h of air, which is quite powerful for a HEPA purifier of its size
Cons
Built-in nightlight cannot be switched off
Filters need replacement at least every six months
Okaysou AirMax8L
Decibel Level: N/A
# of Fan Speed Options: N/A
Coverage Area: 500 sq ft
Dimensions: 12.9 x 7.1 x 19.4″
Weight: 13.67 pounds
We may earn commission from purchases made from our links, at no additional cost to you
What Recent Buyers Report
Customers are happy with this HEPA filter because it has features that enhance the user experience, such as a filter change indicator, a timer, and a child lock. Buyers also love that the true HEPA filter can be used for different purposes such as purifying the air at an effectiveness rate of 99.97%, removing both pet odor and pet hair, and absorbing airborne pollutants.
Why it Stands Out to Us
The Okaysou AirMax8L product has been developed using Silenceboost technology that makes it operate at noise levels below 22 decibels hence reasonably quiet. It has an Airmax8L True HEPA air filter that can trap 99.97% of air contaminants for safer breathing. The unit can absorb harmful gases and break down Volatile Organic Compounds (VOCs) and toxic fumes like benzene, formaldehyde, and ammonia, making the air cleaner than happens with most ordinary purifiers. This HEPA filter has three fan speeds, a timer, a child-lock, and an indicator for filter change to enhance the overall user experience and convenience.
Bottom Line
The Okaysou AirMax8L air purifier has an Airmax8L True HEPA filter that has a high capacity to capture different air contaminants. The purifier is relatively quiet. It can be used for various purposes such as an air purifier, air deodorizer, odor eliminator, and for absorbing harmful gases within your space.
Pros
Helpful replacement filter indicators
Timers, sleep mode, and child-lock for safety and convenience
AirMax8L True HEPA filter that can trap up to 99.97% of airborne particles
Three fan speed settings that can be adjusted for optimum purification performance
3-stage filtration makes it an effective air purifier, odor remover, and to break down harmful gases like benzene, ammonia, cigarette smoke, formaldehyde, and VOCs
Cons
Lacks air quality sensors
Filters need regular replacement
How Quiet is Quiet When it Comes to These Models?
All machines having a fan or a motor are bound to make a sound, but it does not have to be loud. Air purifiers tend to let out whizzing or whirring sounds that often irritate the user. If you want an air purifier for your office or your bedroom, the most essential factor after its functionality is its sound.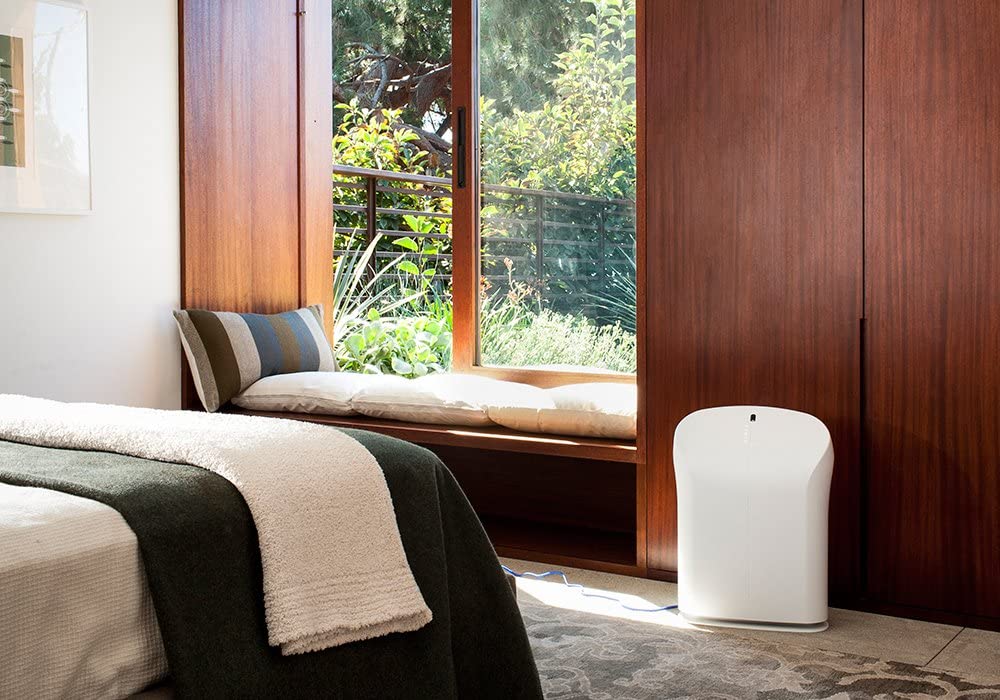 There are several quiet air purifiers in the market. In fact, some are so quiet that you will not even notice their presence. These quiet purifiers not only offer comfort, but they also reduce noise pollution. Some of the quietest air purifiers have sound ranging from 35 dB to 70 dB.
Some ion flow air purifiers in the market are almost silent in their function. These have the sound range of only 21 dB and manage to function 24/7. You have to choose an air purifier that manages to offer optimum functionality and also manages to offer the least amount of noise pollution.
How Do Quiet Air Purifiers Work?
Quiet air purifiers work by reducing the noise produced by fans during air filtration. Some of them use more efficient fans that do not make much noise during the filtration process.
In most cases, different models use silent turbine designs that increase the air inlet area, consequently reducing the noise produced by the purifier. Noteworthy though, different manufacturers use technology that they find most suitable for noise reduction depending on their unique selling points.
When Would a Quiet Air Purifier Come in Handy?
A quiet air purifier comes in handy for the purposes or situations discussed below.
Noise Reduction
Quiet air purifiers are essential if you want a device that will clean the air in your room or area 24 hours a day but with minimal noise distraction, especially while sleeping. Therefore, you might need to consider the noise level of your bedroom air purifier. This is indicated in decibels (dB). Go for one with the least count to make sure that the unit can perform optimally but at very minimal noise. 
Neutralizing Unpleasant Odors
If your space continually accumulates unpleasant smells from pet odor or an air pollutant, then an air purifier is essential. Such chemicals can present detrimental health risks if you get exposed to them for long durations, and pet odor is often accompanied by dander and allergen sources like pet hair. Therefore, having a quiet air purifier will improve the indoor air quality of your space and save you from such discomforts.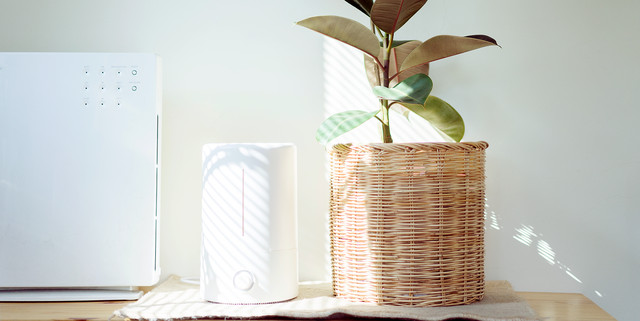 Improved Sleep
Noise can cause sleep distraction. Most air purifiers perform optimally at high fan speed settings but are usually very noisy. There is so much discomfort that comes with having a bedroom air purifier that makes noise for you as you sleep.
At the same time, it is essential to keep it on all through the night. Therefore, the quietest air purifiers can help purify the air in a room at high fan speed settings while minimizing noise. The quality of your sleep will be improved because of both the clean air and reduced ambient sound.
Aspects to Consider Before Buying
Here are some things to keep in mind as you shop: 
Types of Filters
There are three main types of filters that you can choose from when purchasing air purifiers, which include true HEPA, ionic, and activated carbon filters. All these clean the air using different mechanisms. Depending on the kind of air contamination that is present in your space, you can choose an air purifier that has the most appropriate filter for your air quality needs. An activated carbon air filter is best suited for the absorption of odors, while a HEPA filter is best for removing pet dander, mold spores, or any other airborne allergen.
Room Size
Air purifiers have been designed to have optimal performance in spaces with specific dimensions. The dimensions are usually expressed in cubic or square footage. Manufacturers indicate the specific room coverage that is appropriate for a particular model. You should compare this room coverage with the size of your space before buying one.
Washability or Replaceability
Air purifiers come with either washable or replaceable filters. Washable filters will last you a long time, but you will be required to remove them regularly for cleaning. Replaceable filters do not require regular cleaning. You are supposed to take them out and install a new one about every six months when they wear out.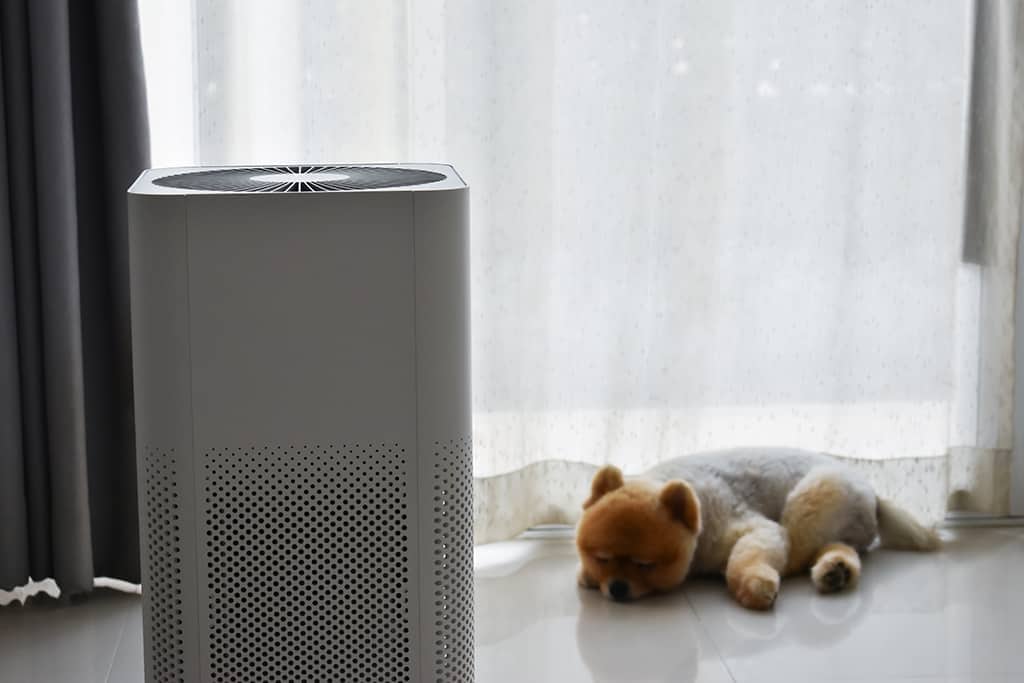 Blueair vs Rabbit Air – Comparison Overview
How do these two popular brands compare? 
Similarities
Both a Blueair air purifier and Rabbit Air purifier use a True HEPA filtration technology to capture air contaminants


The units have filter replacement indicators to show when to change the filters


Both products have activated carbon deodorization for neutralizing odors


They produce negative ions that help to freshen the air by trapping the positively charged pollutants


Blueair and Rabbit Air have a room coverage of roughly 700 sq ft.
Differences
Rabbit Air purifier has a six-stage filtration system while Blueair has a three-stage filtration system


The least noise level of Rabbit air is about 20.8dbA while that of Blueair is 17dBA. These noise levels could vary depending on the different models and sizes of the product


Rabbit Air has an automatic air quality monitoring system while the Blueair purifier lacks this feature


The power consumption for Rabbit air ranges between 8-47 watts depending on the model while Blueair consumption ranges between 4-30 watts.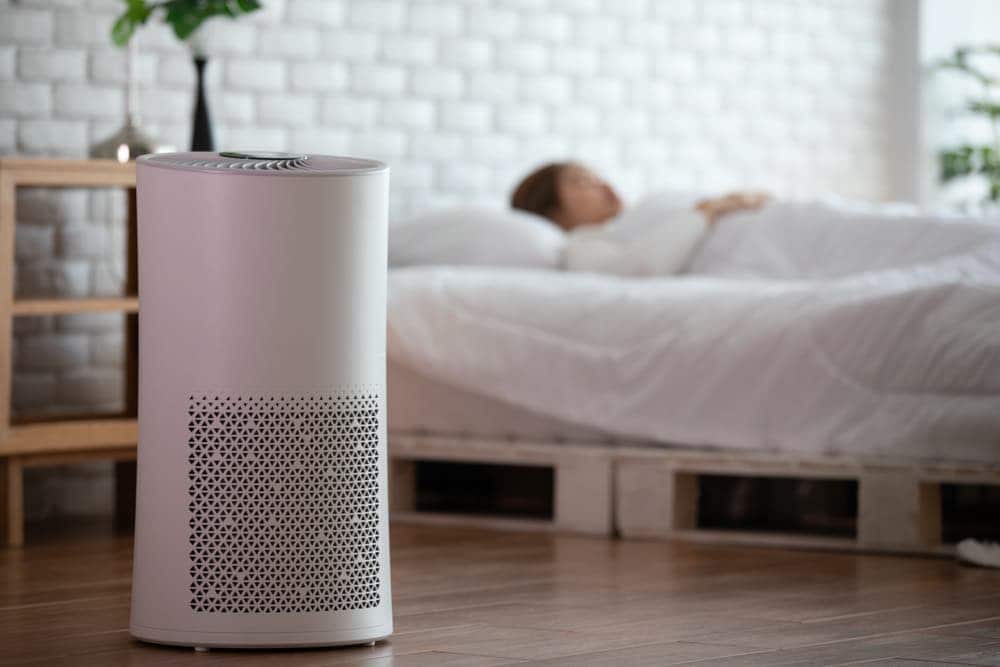 Conclusion
When it comes to buying air purifiers for home, particularly if you have kids around, buying a quiet one is essential. These air purifiers mostly work on HEPA filtrations systems with added features here and there. The unit most ideal for you is really a matter of preference, be it the room size or its air cleaning efficiency. Overall, by getting one of the quiet air purifiers mentioned above, you'll get the best value for your money.
People Also Ask
The following section features some of the common questions that people ask about quiet air purifiers. These questions will give you deeper insight into different aspects of these air purifiers to help you make an informed decision when purchasing a unit.
How Loud is 46 dB?
46dB is relatively soft according to the ratings by the American Academy of Audiology. The noise level can be compared to that of a refrigerator humming, bird calls, a library, a dishwasher, or low-volume streamflow. It is the lowest limit of the urban ambient sound.
What is a CADR Rating in Air Purifiers?
CADR stands for Clean Air Delivery Rate, which is expressed as cubic feet per minute. The unit measures the cubic feet of air contaminants that an air purifier could remove per minute within a specific room coverage. The primary purpose of a CADR rating is to show you how effective and fast your air purifier could clean air within a specific duration and room size.
What CADR Rating is Good?
The higher the air purifier scores in its CADR rating within a specific contaminant category, say pollen, smoke, or dust, the more efficient it is in removing them within a given room size. The highest possible CADR rating for pollen and smoke is 450 and 400 for dust. Therefore, the closer the CADR rating is to these numbers, the more effective the device is.
Can an Air Purifier Be Run Overnight?
It is highly recommended that you leave the air purifier running all the time, both day and night. Air purification is a continuous process given that the air quality in your space keeps changing every minute. Hence, for maximum performance and best results, keep your air purifier on for 24 hours.