Good air quality is not a luxury, it is a necessity. For some of us, it might even be crucial to clear the air of pollutants which may be injurious to health. People suffering from asthma or other chronic health issues know all too well how important good air quality can be.
However, not all of us need or can accommodate a huge industrial-sized air purifier; hence we want a small portable one.
Let's see some of the top portable purifiers you can get your hands on.
Comparison of the Best Portable Air Purifiers
IMAGE
PRODUCT

Our Top Pick

Best Portable Air Purifier Overall
Great Design Allows Excellent Circulation of Air
It Comes With Features Which Can Be Adjusted to Your Personal Preferences

View Latest Price →

Has a Three Filter Technology
Runner-Up on Our List of Best Portable Air Purifiers
Independently Tested to Remove Tobacco Smoke, Pollen, and Dust

View Latest Price →

Best Budget Option

Best for the Money
It Works on UV-C Technology
It Does Not Have Any Filter System

View Latest Price →

It Comes with Three Fan Settings
Best HEPA Portable Air Purifier
It Comes with an On/Off UV Light Filter

View Latest Price →

Best for Cars
It has a HEPA Filter and a Powerful Odor Eliminator
It Comes with Double USB Quick Charge Port to Attach to Smart Devices

View Latest Price →

Best for Cigarette Smoke
It has a Low Power Consumption
It has a True HEPA Filter Which Eliminates 99.97% of Pollutants

View Latest Price →

Best for the Whole House
It has Great Versatility and Can Work in a Number of Different Settings
It Comes with a HEPA Filter Which Eliminates 99.97% of Airborne Pollutants

View Latest Price →
How to Choose a Portable Air Purifier
So what are the things you should keep in mind to find your perfect air purifier? It surely can be a confusing thing to buy. An air purifier is a personal purchase, however, there are some factors you need to look for in a decent air purifier.
Air Cleaning Technology
There are a ton of filters that air purifiers come with, and not all are useful for you. According to the needs of your area, you should decide which filter to look for. For example, a HEPA filter is generally good for cleaning super small particles and is necessary to have in your filter. Furthermore, if one smokes, then it is important to invest in an air purifier that has a carbon filter to get rid of the smoke and odor left behind from smoking.
Size and Portability
Industrial-sized air purifying units are hard to store, hard to clean, and hard to move. Therefore, it is ideal to invest in an air purifier which is portable if you need to move it from room to room. The larger the purifier, the harder it is to blend in with your surroundings. Particularly, if you are living in a small space, it is better to invest in a portable air purifier.
Noise Reduction
It's important to choose an air purifier which produces minimal noise. Units with high fan speeds tend to produce more noise.
It can be quite upsetting for people, especially the elderly if you are placing the air purifier in their room. Thus, this is another aspect to consider before buying one.It can also disturb sleep or bother children and pets if your unit makes too much noise.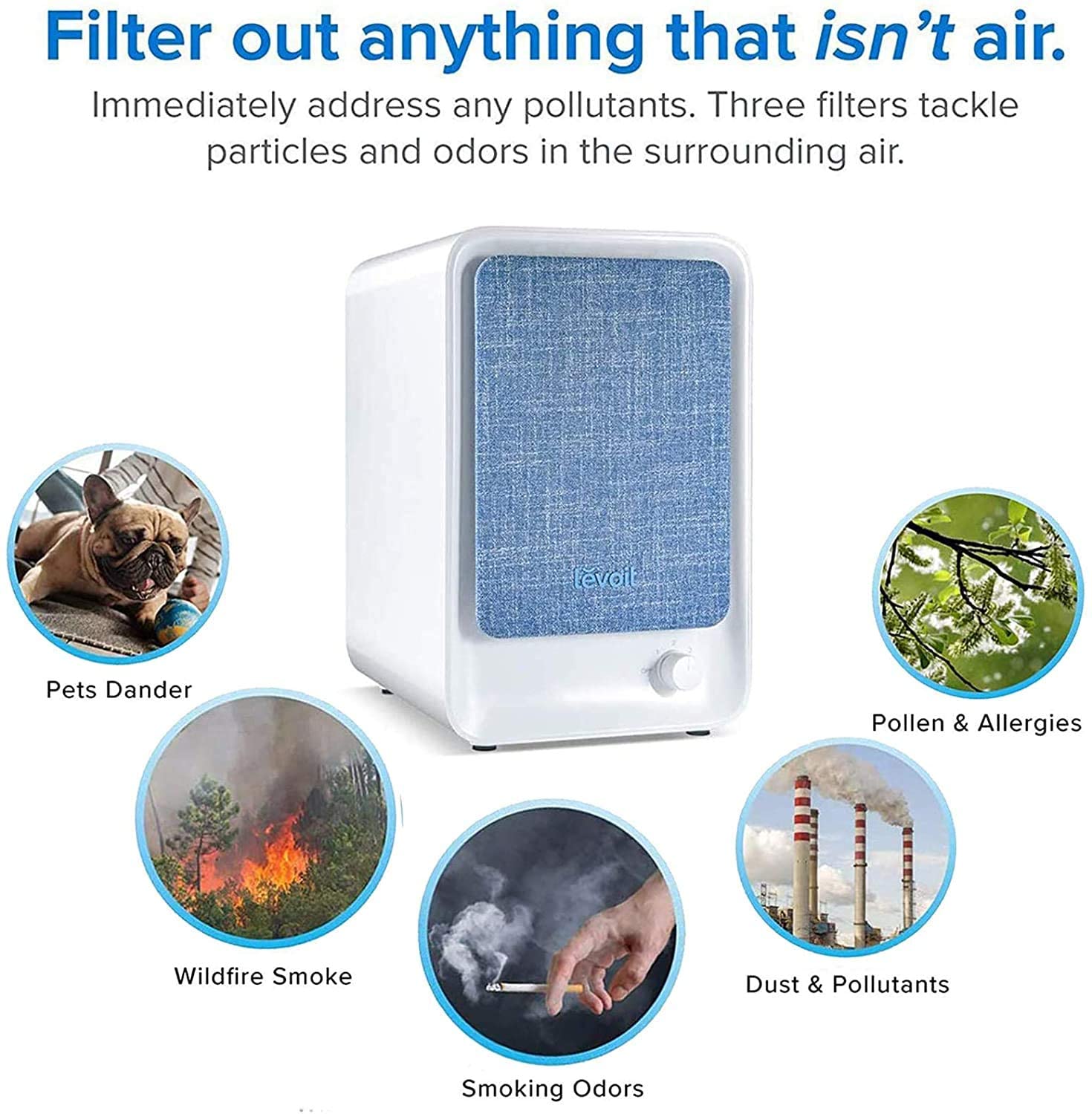 Odor Removal
Another feature to look for in an air purifier is how well it can remove odors. The ideal air purifier would be good at getting rid of unpleasant odors like those produced by pets, smoke, etc.
At a Glance: Our Top Picks for Portable Air Purifiers
Review of the Best Portable Purifiers
Buying a good air purifier can be a difficult job given the crazy number of available options. Not all are worth your investment. Buying the right one, however, could do you a lot of favors. To make it easier for you, we have assembled the top eight picks for you to choose from.
Levoit LV H-126 Purifier with True HEPA Filter
Decibel Level: N/A
# of Fan Speed Options: 3
Coverage Area: 161 sq. ft.
Dimensions: 9.65 x 6.8 x 7.9 inches
Weight: 4.85 pounds
We may earn commission from purchases made from our links, at no additional cost to you
Review
This Levoit model is a good buy. It is a great air purifier to handle acute circumstances. This means that it can be ideal for a house with multiple pets, or a nursery, overall, any place with really bad air quality.
The design is stylish and attractive which makes it a decent addition to any environment. Furthermore, it is lightweight to make it easier to carry from room to room, to travel with, or even give it as a gift. Along with being stylish and portable, it even has anti-skip pads below, making it stable to store on a desk or shelf. All of this means it has an excellent design.
However, the features are what make it the very best of its kind. This air purifier has a three-stage filtration system. The pre-HEPA, HEPA, and carbon filter all work in combination to help eliminate dust, smoke, pollen, pet dander, microbes, and odors, etc. by up to 99.9%. It can easily filter particles as small as 0.3 microns and comes with three fan settings, slow, medium, and fast. You can easily adjust the fan settings according to your preference by simply turning a dial.
Furthermore, it will require some maintenance in the form of changing filters regularly. For added convenience, it has another feature which is the filter reminder wheel. You can mark the month you put in a new filter and the month you need to change them for your convenience. Isn't that smart?
Bottom Line
This is a great device to invest in if you have pets, need to get rid of smoke, or, in general, have heavy-duty air purifying needs. Furthermore, it features excellent technology to make air quality better for you to breathe and does a great job at that.
Pros
Easy to Install
Stylish Design
Compact Size and Portable
Eliminates Dust, Pollen, Odors, Smoke, etc. up to 99.9%
Cons
Dehumidifies Air so People Living in Extremely Dry Areas May Find it Slightly Inconvenient
GermGuardian AC 4825
Decibel Level: N/A
# of Fan Speed Options: 3
Coverage Area: 743 sq. ft.
Dimensions: 10.25 x 6.75 x 21.5 inches
Weight: 8.55 pounds
We may earn commission from purchases made from our links, at no additional cost to you
Review
This is a great model by Germguardian. It is a highly efficient device overall and can handle a lot of pollutants with great ease. The very design of it is stylish and makes it good to look at. This isn't one of those bulky air purifying units which are hard to move and take up a lot of space of your room. It is, in fact, lightweight and portable. It has a 22-inch tower design which is best used for rooms up to 127 sq. ft.
Apart from the excellent design, this air purifier features technology which helps it eliminate pollutants of various kinds. The HEPA filter captures dust and allergens up to 99.97 %. This could be a lifesaver for people with allergies or suffering from asthma.
Furthermore, there is another filter, called the charcoal filter, which is ideal for capturing odors. Therefore, it would be great to keep in the kitchen or in the bathroom to get rid of the odors. Moreover, there is another optional UV-C technology which works with titanium dioxide to eliminate the bacteria, molds, and viruses.
This comes with three fan settings, therefore, it can be adjusted to your preferences. It can circulate room air 4x per hour. This unit has a CADR of 108 for smoke, 118 for dust, and 125 for pollen, which is significant. The higher the CADR, the faster the air is filtered. This also comes with an ultra-quiet mode which can be achieved by setting the fan at the lowest speed.
Bottom Line
This is an excellent buy. The design and features both contribute to it being a great investment if you can look over the slight noise issue. With this model, you can say goodbye to allergens that trigger your allergies.
Pros
Easy to Install
Portable and Lightweight Design
Can Get Rid of Dust and Allergen up to 99.97 Percent
Cons
Makes an Unpleasant Noise on Faster Fan Settings
GermGuardian GG1000
Decibel Level: N/A
# of Fan Speed Options: N/A
Coverage Area: N/A
Dimensions: 4 x 3 x 7.5 inches
Weight: 0.7 pounds
We may earn commission from purchases made from our links, at no additional cost to you
Review
Here's another great purifier by Germguardian. The brand creates some of the best air purifiers on the market and this model is none other than one of its best. The design of this is such that it works in cohesion with any environment perfectly. It has a stylish and sleek look.
It is very lightweight and can easily be traveled with or moved to from room to room. The compact build allows it to be plugged into wall sockets with ease. Furthermore, it can fit into tight spaces with ease.
More than the excellent design, the star of the show is definitely the technology it uses. This air purifier has a UV-C light technology which helps to provide cleaner, fresher air. Furthermore, this technology also aids in killing airborne germs, bacteria viruses, molds, etc. while working with titanium dioxide. Moreover, this device is filter-free and easy to maintain, so you only need to replace the UV bulb after six to eight months, depending on use.
This machine does a great job of eliminating odors. Therefore, it can be a great addition for your kitchen and bathroom where mold and mildew grow due to moisture and for pet areas which can be the source of most unpleasant odors.
This air purifier needs to be operated on 120V AC and 60 HZ only. Furthermore, it comes with a manual for any queries or problems.
Bottom Line
If you don't have extremely bad quality air and are looking just to get rid of the odors and have fresh air, then this is a great option. It might not be suitable to clean under acute circumstances, but it does fulfill its purpose.
Pros
Good-Looking Design
Great to Eliminate Odor
Lightweight and Portable
Cons
Works Well in a Humid Environment and Not so Well in a Dry Environment
UV-C Technology Tends to Produce Ozone Which is Harmful to the Environment
Best HEPA Portable Air Purifier
GermGuardian AC4100
Decibel Level: N/A
# of Fan Speed Options: N/A
Coverage Area: 78 sq. ft.
Dimensions: 7.5 x 6.5 x 11 inches
Weight: 5.15 pounds
We may earn commission from purchases made from our links, at no additional cost to you
Review
Here's yet another one by GermGuardian. By now, you must've gotten the hint that this brand makes some of the best air purifiers in the market and this one's no different. The overall outlook of this product is very stylish. This would only add to the overall aesthetic of your room and could be a great addition to it.
The design is petite and compact. Therefore, this purifier is easy to move from room to room. It can be perfect for any room and would be able to fit into even tiny spaces with ease. You can travel with it or place it in any room. In fact, it will also be perfect for your dorm room, given its size.
However, there is an even more attractive part of this device which is the technology it features. It houses a 3-in-1 filter system. The HEPA filter is great for capturing dust and allergens and cleans the air. Furthermore, more than a filter, the UV light kills the germs and airborne bacteria, viruses, etc. The third filter is the charcoal filter which easily gets rid of odors such as of smoke.
It is easy to maintain as only one filter needs changing after six to eight months depending on the use. Furthermore, it comes with a one-year warranty by the brand. It is important to use only genuine brand replacement parts when necessary.
Bottom Line
If you can get past the initial difficult installation process, it would prove to be a great purchase. It has a compact design and is rather low maintenance with having to change one filter once every six to eight months, depending upon use. It works efficiently and can do wonders in purifying the air you breathe in.
Pros
Great Design
Compact and Lightweight
Comes with a One-Year Warranty
Cons
Difficult to Install
Pure Car Air Purifier 3-in-1 HEPA Filter Ionizer
Decibel Level: N/A
# of Fan Speed Options: N/A
Coverage Area: N/A
Dimensions: 5.47 x 3.23 x 1.65 inches
Weight: 0.29 pounds
We may earn commission from purchases made from our links, at no additional cost to you
Review
If you are someone looking for a great air purifier for your car, then this one by Pure can be a great investment. This is a great purchase for anyone who needs to get rid of odors from their car which can occur if you visit the gym regularly, have kids, pets, or smoke in the car. Similarly, it is also a good option if you are allergic and need a purifier for your car as well.
Its design contributes to its excellence. It has an overall stylish design which wouldn't disturb the look of the interior of your car. It also has an all-black glossy exterior with a blue LED which adds a more modern vibe to your car.
However, it is more than just looks, it even performs wonderfully. It features a powerful odor eliminator which eliminates unpleasant odors like those of smoke, pets, and mold. It kills germs by producing safe amounts of ozone. The HEPA air filter also captures dust, pollen, germs, etc.
In fact, it eliminates pollens, mold, and bacteria with 5.6 million negative ion concentrations from the HEPA filter. It also features a quick-charge micro USB port which allows you to charge your Android and Apple devices with great ease.
The brand promises a money-back guarantee and takes full responsibility for the product. They have great customer service and are available to help if you have any queries regarding the product.
Bottom Line
It is a great investment for anyone who wants their car to smell fresh. It is a great value for the money. It can be a lifesaver for all suffering from respiratory diseases by dramatically changing the air quality. The cord in the USB is too short to be efficient; however, one can look past that given how good the purifier works.
Pros
Features a Great Design
Produces Safe Amounts of Ozone
Works Great Against Different Types of Pollutants
Cons
The Cord on the USB Port is Too Short
KOIOS 3-in-1 True HEPA Filter
Decibel Level: 25 dB
# of Fan Speed Options: 2
Coverage Area: N/A
Dimensions: N/A
Weight: N/A
We may earn commission from purchases made from our links, at no additional cost to you
Review
For all of those looking for an air purifier specifically to get rid of cigarette smoke, allergens, etc., then this is the one for you. KOIOS has created magic with this product. It features the most stunning exterior and the most amazing interior.
The overall design is great to look at and would be good for your room aesthetic. It has a stylish outlook with a white and blue rounded exterior, which makes it a great addition to any room.
This air purifier features great three-stage technology, namely the pre-filter, the true HEPA filter, and the activated carbon filter. In conjunction, this helps eliminate odors such as pet, cooking, and smoking smells with great efficiency. Furthermore, the True HEPA filter eliminates dust, pollen, smoke, and bacteria as small as 0.3 microns up to 99.97%. It isn't one of those air purifiers that does a good job at cleaning air but is harmful to the environment. It produces no harmful ozone, UV, or ions, which are environmental pollutants.
It is the perfect equipment for pet owners, babies, elderly, allergic people, etc. It comes with an easy-to-operate design which functions by just clicking a button. A single button controls the fan speed which can be adjusted to your preference. Furthermore, the device comes with a 30-day money-back guarantee. It has low power consumption and makes less noise upon operation.
Bottom Line
This is a great investment and is crucial if you smoke or have kids or pets in the house. The odor of cigarette smoke can trigger a lot of allergies and be harmful to health if left unchecked. However, this unit can help get rid of all that.
Pros
Great Value for Money
Simple and Stylish Design
Low Noise Production Upon Operation
Cons
The LED Light is Too Bright Can Be a Problem at Night
Bluedri AS550
Decibel Level: N/A
# of Fan Speed Options: N/A
Coverage Area: N/A
Dimensions: 14 x 25 x 20 inches
Weight: 41.2 pounds
We may earn commission from purchases made from our links, at no additional cost to you
Review
If you're looking for an incredible air purifier for your entire home, then this model by Bluedri is definitely the best one. The brand has done this machine some justice and created a great product. This model by Bluedri features a heavy-duty design to fight off air pollutants of all kinds. The overall exterior is blue with a bulky body.
It features a pre-filter which does the finer work, whereas the prime HEPA filter eliminates larger particles. HEPA filters are standardized to eliminate 99.97% airborne pollutants including asbestos, bacteria, germs, dust, pollen, etc. Furthermore, there is an optional carbon filter which is sold separately that eliminates odors efficiently. This is ideal for construction sites, sewerage remediation, and water and fire restoration.
It can work for a number of environments like nurseries and pet areas, given its ability to kill 99.97% airborne pollutants.
Bottom Line
This is a great investment for you if you want a filter that works all around the house efficiently! Given its industrial-strength performance, it is slightly bulky; however, the performance is top-notch. Furthermore, it cleans a wide number of pollutants efficiently. You'll notice a major difference in the air quality after using this.
Pros
Great Design
Efficiently Cleans Air
Works for a Number of Settings
Cons
Since it is a Bit Heavy, it isn't Easy to Move
Best Portable Air Purifier Necklace
Wein Minimate AS150AM
Decibel Level: N/A
# of Fan Speed Options: N/A
Coverage Area: N/A
Dimensions: 2.5 x 1.5 x 0.85 inches
Weight: 0.09 pounds
We may earn commission from purchases made from our links, at no additional cost to you
Review
This could be a great investment for anyone who has a respiratory disease such as asthma or any other chronic illness and requires a portable air purifier to help clean air of the environment with efficiency. This is a great model by Wein Minimate.
It has a super light, travel-friendly, portable design which has a black exterior and a black strap to hand around your neck. Furthermore, the lightweight, portable body makes it easy to carry.
This wouldn't clash with any of your outfits, given its simple and stylish design and is extremely wearable. Furthermore, it has a filterless, fanless, silent technology. It creates no noise and therefore is great for personal use on the go.
It has the highest personal air purifier ion wind output and propels fresh air back into your personal breathing space. It is great for movie theatres, air travel, and other confined spaces.
Bottom Line
It's a great option for anyone looking for a personal air purifier to travel with. The slight battery issue is the only drawback to this otherwise great machine.
Pros
Simple Design
Easy to Travel With
Environment-Friendly
Cons
Runs Out of Battery Quickly
Best Portable Air Purifiers for Allergies
Blueair Blue Pure 411
Decibel Level: 48 dB
# of Fan Speed Options: N/A
Coverage Area: 190 sq. ft.
Dimensions: 20.9 x 10 x 9.5 inches
Weight: 6.35 pounds
We may earn commission from purchases made from our links, at no additional cost to you
What Recent Buyers Report
Most customers loved the design, stating that the purifier works well in small rooms. They enjoyed the auto mode indicator, although one buyer mentioned annoyance at the blue sleep mode light at night. The unit is also silent, except at the highest setting.
Why it Stands Out to Us
This purifier has a lightweight design that's not too bulky. There's an outer fabric filter that you can remove and wash at any time. Underneath this layer, you'll find a particle remover and an activated carbon filter for odors and VOCs.
The CADR for smoke, pollen, and dust are 123, 96, and 107, respectively. There are five air changes per hour (ACPH) if you leave the purifier on auto mode. The light indicator at the top will let you know when you need to change any filter, while also which setting is active.
Bottom Line
The Blueair Blue Pure 411 is an excellent choice for small spaces if you want to change where you place it during the day or week. Its lovely design and fabric outer layer look pleasant in any environment while ensuring you have clean air free of pollutants.
Pros
Low noise levels
Auto mode sensor
Customizable fabric layer
Cleans air five times per hour
Fabric, particle, and carbon filters
Cons
Sleep mode emits constant blue light
Highest setting produces a slight noise
Alen BreatheSmart 45i
Decibel Level: 49 dB
# of Fan Speed Options: 4
Coverage Area: 800 sq. ft.
Dimensions: 8.5 x 15 x 25 inches
Weight: 20.8 pounds
We may earn commission from purchases made from our links, at no additional cost to you
What Recent Buyers Report
Many buyers were pleased with the smooth operation and how well it purified the air. They mentioned that it worked well in several rooms while aiding with their allergies. Of the available features, the light indicator and sensor were their favorites.
Why it Stands Out to Us
We love the slim design of this air purifier when compared to its other dimensions. Not only does it have a B4-Pure filter for reducing allergies that affect asthmatics, but it also has 45i layers for combatting germs, mold, bacteria, and fungi. There's a soothing pink noise for the evening so that you can sleep peacefully.
Instead of the standard three colors for indicating the current air quality, you'll have five at your disposal. It auto-adjusts based on the particle volume in the vicinity. If you'd enjoyed a night light, you can set it to full brightness or dim it to an acceptable level.
Bottom Line
The Alen BreatheSmart 45i is an excellent choice if you have allergies, especially ones that affect your lungs. Its slimline design makes it suitable for tight spaces, and you'll have a restful night with the pink noise. Of course, it outshines many competitor brands for air purity performance.
Pros
Elegant slim design
Dimmable night light
Pink soothing noise for improved sleeping
Five different light indicators for air quality
B4-Pure filter to remove allergy and asthma triggers
Cons
Unpleasant hum at highest speed
Replacement filter not available in some regions
Best Places to Use an Air Purifier
You must be thinking why does it matter? Well, the location where you place your air purifier matters a lot. The good thing about having a portable one is that you can use it in multiple locations. You can take it from room to room as you like.
In the Kitchen or Bathroom
Generally, the best place to use an air purifier would be the one which generates the most odors. Kitchen and bathroom are the two rooms of the house which are the source of most odors. Therefore, it is good to have an air purifier with a UV and HEPA filter. Both of these filters combined will get rid of odors and microbes that these two places of your house host.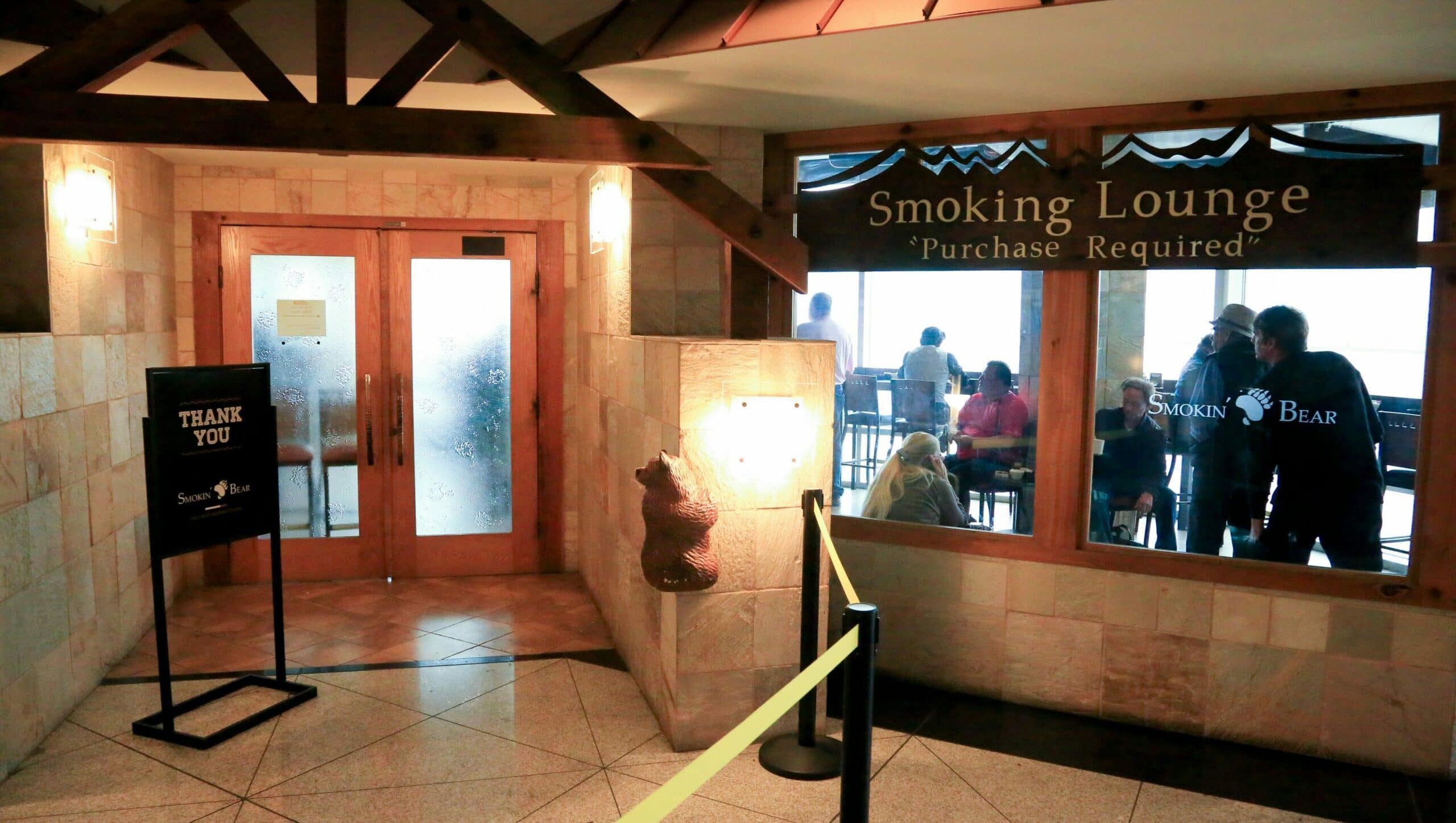 In the Smoking Lounge
This is pretty self-explanatory. The smoke lounge or whichever part of your house you smoke in would be an ideal placement for your air purifier. It is going to get rid of all the smoke and the odors as well.
Do Not Put Near Electronic Devices
This is suggested as some electronics work on similar frequencies as your air purifier and therefore, they could be a hindrance to its functionality. Thus, it would be ideal for you to place it away from your television, computers, stereo equipment, etc.
In the Pet Area
Your pets shed dander and they produce unpleasant odors. Therefore, it would be ideal for you to place an air purifier wherever your pet normally resides or sleeps within the house.
How Do Portable House Air Purifiers Work?
Air purifiers draw in the pollutants and allergens from the surrounding space, using their filters to capture and eliminate them. There are various filters for various functions. For instance, one may remove dust and VOCs while another will reduce foul odors.
Portable house air purifiers have the additional feature of easy relocation from one room to another. Most units have sensors that detect how many harmful particles are in the area and a light indicator changing colors depending on the conditions. You'll also have night mode settings for a peaceful night's sleep.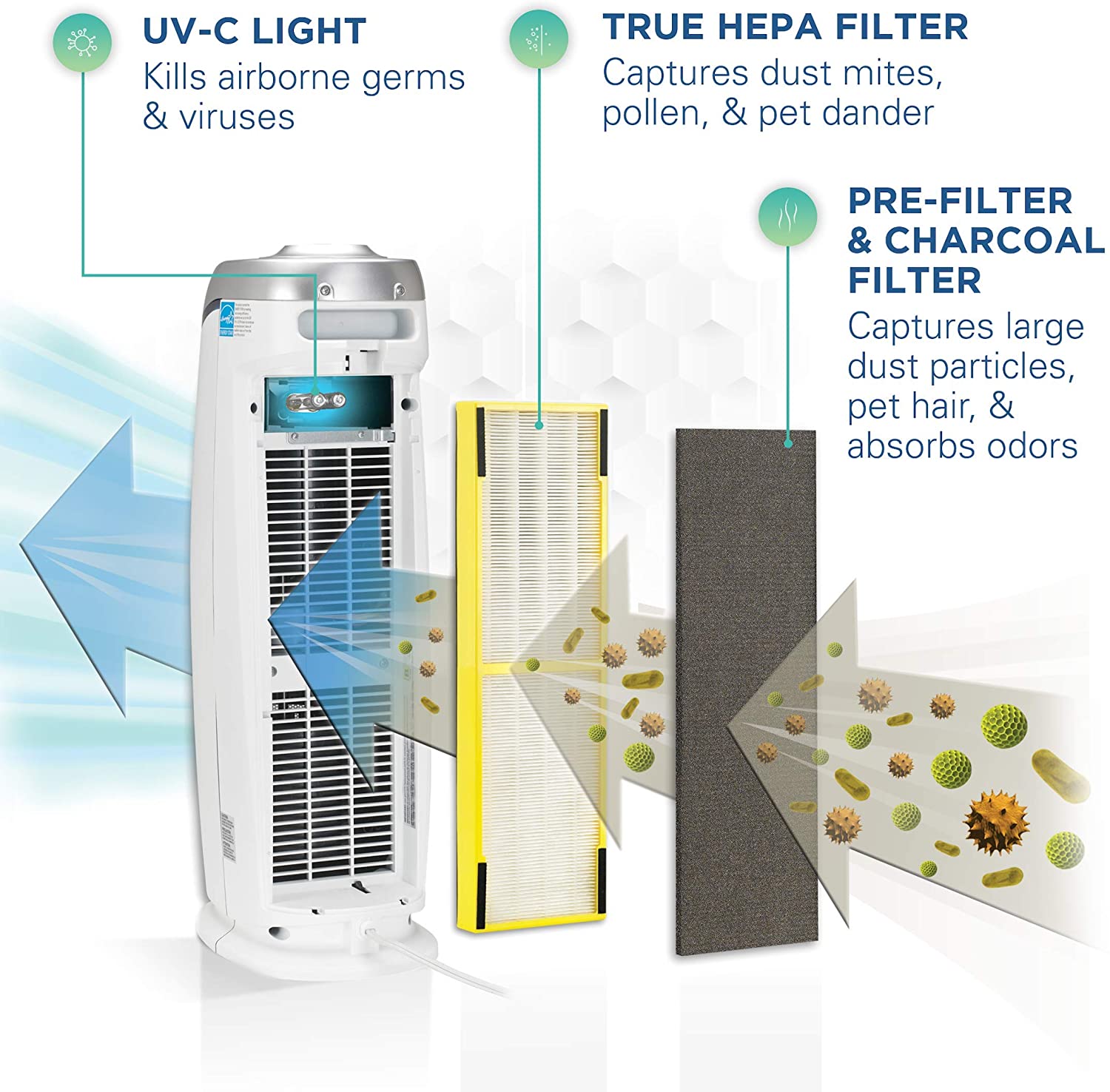 Pros and Cons of Portable Air Purifiers 
Owning a portable air purifier comes with several advantages and disadvantages. Let's look at a few of them. 
Health Benefits
One of the top benefits is to your health. With the built-in filters, the purifier eliminates air pollutants that negatively affect your lungs. If you're an asthmatic or suffer from bronchitis, these germs and particles can be detrimental to your well-being. Not only will you feel better, but your sleep will improve.
Breath of Fresh Air
Besides removing allergens, air purifiers contain filters that eliminate foul odors. These scents include tobacco and marijuana smoke, pets, and exterior pollution. These units keep the interior smelling fresh for your visitors, even if they leave some bad scents themselves.
Easy Relocation
Whether you need to move the portable air purifier between rooms in the same house or take it with you to your cabin in the woods, these units are built for easy transport. Simply uninstall it, carry it to your vehicle, and you're good to go.
Location Specific
The one downside is that the unit only caters to the area where it's located. For instance, if you have it installed in your kitchen, don't expect it to purify your bedroom's air. 
How Do Portable Air Purifiers Compare?
You may be wondering how portable air purifiers compare to other units. Well, we've looked at some of them, as you'll see in this section of our guide.
Whole House Air Purifier vs Portable
The most obvious benefit of a whole house air purifier is that it covers every room in your home, whereas the portable unit only caters to a specific area. 
Of course, the converse is true, whereby you can take your portable purifier with you to a different property. The larger device is also more expensive since it requires sensors and intakes in every space.
The installation cost isn't the only factor, as you need to look at maintenance. The portable air purifier costs more to maintain due to changing filters more regularly.
However, you'll have to pay for professional installation for the entire house unit.
Portable Air Purifier vs Ionizer
The main difference between these devices is the methods used to purify the air. With purifiers, filters trap odors and particles as the air passes through them. You'll need to change the filters regularly, depending on how often the machine needs to clean the air in your home.
Ionizers, on the other hand, emit negatively charged ions into the surrounding air. These connect with positive ions in pollutants, which causes them to stick together. However, there's the danger of introducing ozone into the air, known for irritating the lungs.
Portable Air Cleaner vs Purifier
Air cleaners are similar to purifiers but with limited functionality. For example, cleaners merely use filters for clearing dust and animal dander. Purifiers go the extra mile, taking care of those nasty germs, odors, VOCs, and allergens. Cleaners are known for their expensive filters, noisy fans, and high purchase costs. 
How to Maintain a Portable Air Purifier
Maintaining your portable air purifier depends on your model and the filters it includes. However, there are a few points to keep in mind. Here's a quick overview:
You can generally wash a fabric layer or any other pre-filter at home. Take extra care to do this regularly, depending on how often it cleans the air.


When it comes to specialized layers, such as the HEPA filter, you'll need to replace it with a new one. You can't wash these, and you'll need to find an exact match.


Some purifiers have indicators that let you know when a filter needs cleaning or replacing. Others determine the replacement date based on how long it's been operating. If you have the latter, first check to verify the filter's state before buying a new one.


A few units don't have a system to detect if a filter is clogged or the ionizer is faulty. If you notice a strange smell from the purifier, it's best to have a look and see where the issue lies.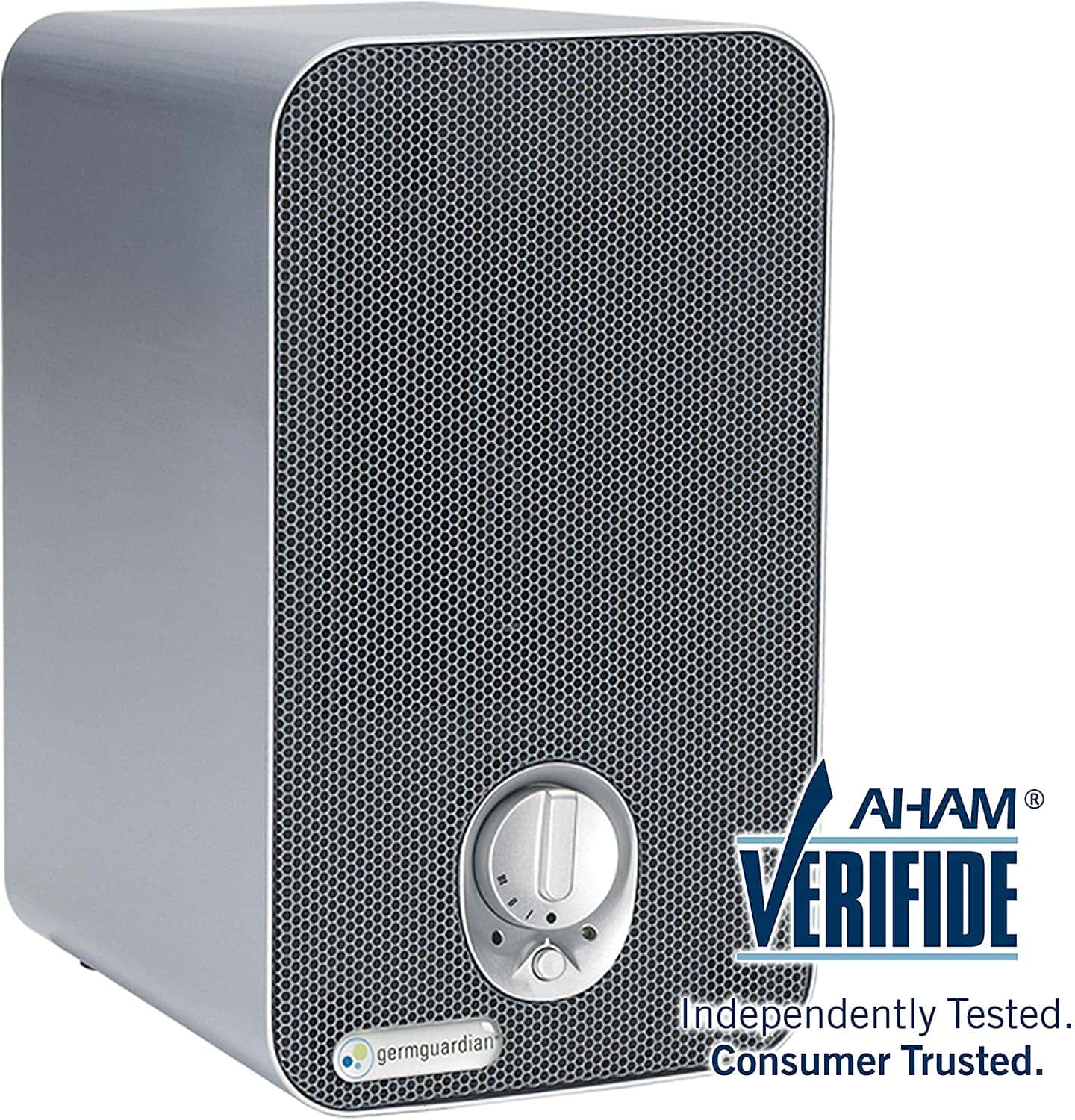 Conclusion
In general, purifiers do an excellent job of cleansing the air of dust, allergens, germs, and odors. Portable units add the ability to move the device around your home or take it with you to your country club. You may need to maintain it more often, but it's a lot cheaper than installing technology throughout your house.
With a portable air purifier, you can get clean air almost anywhere. Any one of these eight devices will be a great addition to your home, given the fact that these are some of the best out there. There is no doubt in the fact that air purifiers can be a hard choice given how many options there are in the market.
But you will always make the right decision if you know what you want out of the product. Therefore, the best advice would be to figure out your needs first and then invest in a unit.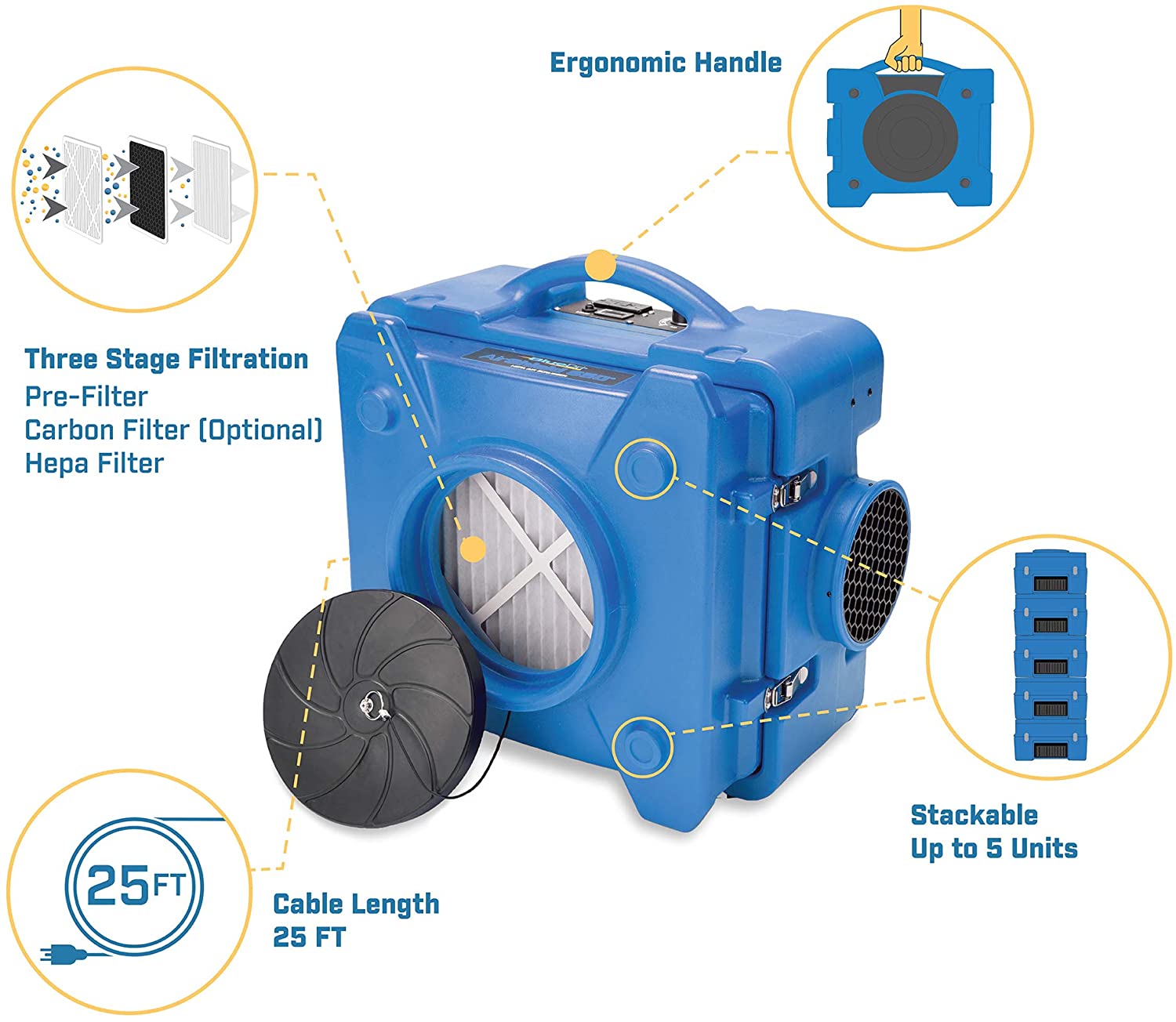 People Also Ask
If we've left you with some lingering questions, here are a few FAQs from our readers that may help.
How Loud is a Portable Room Air Purifier?
It depends on the model you buy. For instance, extremely quiet or whispering units are between 15 to 20 dB(A). A good purifier will sound at about 32 dB(A), while a standard one emits 36 dB(A).
How to Reduce Sound of a Portable Air Purifier
If your device is louder than usual, it may be that the filter needs to be changed. Alternatively, you might be able to add some soundproofing to reduce the noise. You can also look for alternative filters that produce less sound.
How Much Do Portable Air Purifiers Cost?
The price boils down to functionality, size, and coverage. You can pay anywhere between $25 and $200 or more, with some units going as high as $500 if you want exceptional performance. Ensure that you find the right balance between cost and quality.
How Long Should a Person Keep the Portable Air Purifiers On?
Some people leave air purifiers on throughout the night for a peaceful night's sleep. Of course, the more you let it run, the higher your utility costs will be. Furthermore, you need to consider that keeping it off for prolonged periods means it needs to work harder to clean the air.
Can I Use a Furnace Filter in a Portable Air Purifier?
Furnace or similar HVAC systems have a design to accommodate MERV 13 filters between one and five inches thick. You'll need to see if your portable air purifier can accommodate these layers, as most of them are designed for HEPA or activated carbon filters.
Will a Portable Air Purifier Protect Against Viruses?
Some devices can capture viruses or have unique UV lights to deal with them. You should check the specifications to ensure that the purifier you want to buy has this capability.