Whether in the office or at home, nothing beats fresh air. It is good for your muscles, great for recovery (whether from injury, disease, or just a heavy workout), and amazing for your general well being.
Getting fresh air in the house can however be a bit of a challenge, thanks to the various allergens and odors. This is why people invest in a quality ozone purifier. Ozone reacts immediately with allergens and contaminants in the air and renders them harmless. Being biocidal, ozone works on both microbial and bacterial contaminants, and this, in turn, helps with the removal of odors from your home.
If you are wondering if this is a device you should have in your home, read on to discover the uses and features of ozone air purifiers.
At a Glance: Our Top Picks for Ozone Air Purifiers
Comparison of the Best Ozone Air Purifiers
IMAGE
PRODUCT

Our Top Pick

Best Overall Ozone Air Purifier
5000 Milligrams Per Hour Production
Aluminum Alloy Casing with Insulating Rubber Handle

View Latest Price →

Second Best Ozone Purifier on Our List
The Devices Comes with a 5-year Warranty
Generates Between 3,500 and 7,000 Milligrams of Ozone Per Hour

View Latest Price →

Best Budget Option

3,500 Milligrams Per Hour Output
1 Year Quick Replacement Warranty
Best Value for Money Ozone Generator

View Latest Price →

11,000 Milligrams Per Hour Output
Up to 4,000 Square Feet Area of Effect
Best Model for Commercial Application

View Latest Price →

Best Ozone Car Air Purifier
Eliminates airborne pollutants to decrease allergies and asthma
Comes with a 2 year warranty for peace of mind

View Latest Price →

Best Ionic Air Purifier Ozone
UVGI technology kills viruses, germs, bacteria, microorganisms
Removes odors, freshens air, absorbs airborne pollutants

View Latest Price →
How to Choose an Ozone Air Purifier
There are certain things that will determine the type of ozone generator to buy. They include:
Capacity
An ozone generator designed for your home won't work the same as one intended for office use. Industrial purifiers are unsafe and energy inefficient for domestic scenarios. The best criterion is to gauge the amount of ozone generated, which is measured in micrograms per hour.
Price
Just like any other purchase, the unit cost will come into play. Some higher-end devices have more functionality and can purify a larger space. Some can even double as humidifiers. Cheaper models tend to be smaller and more useful as desktop or single-room purifiers. Their functionalities are also limited.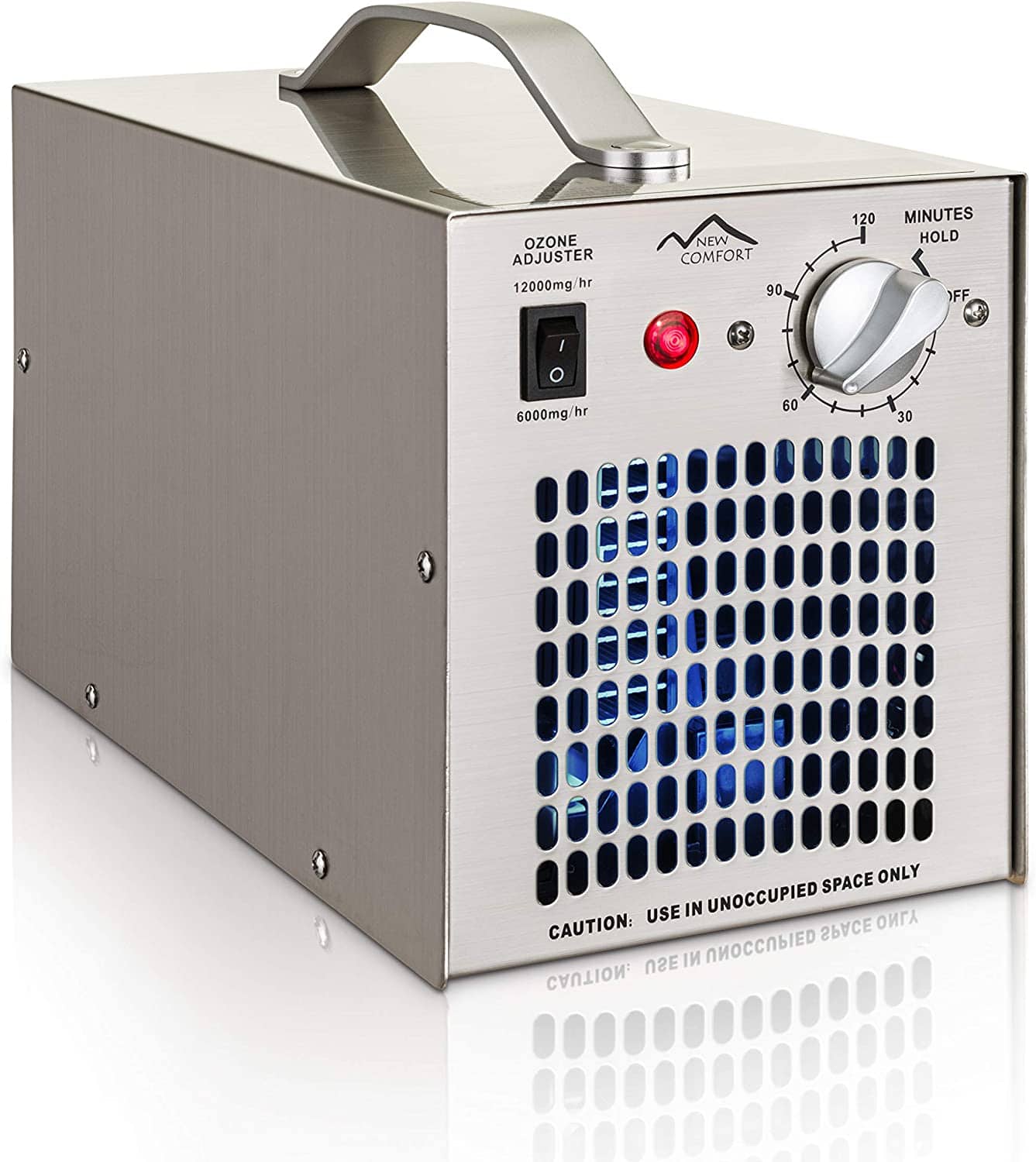 Noise
Even though room acoustics will affect noise levels, you should look for the quietest model when in operation. It's important to note that most (if not all) ozone air purifiers will make noticeable noise at their highest setting. In quality purifiers though, lower settings shouldn't produce any conspicuous sound.
Space
The space available for installing the purifier will matter. Some machines require a substantial distance between them and the wall or other objects in the room. 
Others can be placed flush against the wall, without any clearance, and still work perfectly.
Additional Function
Look for an ozone generator that has extra functionalities such as timers and pollution sensors. Timers allow you to set up your purifier, automatically turning on/off as needed. Unless you are dealing with a persistent odor source like a pet litter box, you don't really need your purifier on all the time. Pollution sensors – on the other hand – turn the machine on and adjust the speed, based on the quality of the air in the room.
Review of the Best Ozone Air Purifiers
Let's take a look at the top models on our list and what makes each unique.
Airthereal MA5000
# of Fan Speed Options: N/A
Coverage Area: 1,000 sq. ft.
Dimensions: 6.7 x 7.4 x 6.8 inches
Weight: 3.52 pounds
We may earn commission from purchases made from our links, at no additional cost to you
Review
What sets this ozone generator apart from the rest is its combination of features. To begin with, it's capable of producing an impressive 5,000 milligrams of ozone per hour. It is one of the lightest machines in this capacity, weighing a paltry three-and-a-half pounds. It's also energy-saving and, at only 50 watts, it takes 20 hours of operation to burn through a kilowatt hour of power.
It is incredibly easy to use, with a timer that can be set up to two hours. You can also use the "Hold" mode, to leave the unit on. All this is done with the help of a well-labeled dial. Turn clockwise to activate the timer mode and anticlockwise for 'hold' mode.
The timer lets you leave the unit working as you do other things. Treatment time ranges between ten minutes and an hour depending on the space being sanitized. You should make sure that neither you nor your children or pets are in the room during sanitization and remain outside of the room for at least 30 minutes after. This half-hour is important, since it's the time taken by ozone to harmlessly revert back into oxygen.
This purifier can be used in the home, including all living areas, offices, kitchens, restaurants, cars, and most importantly, smoking zones. It's best used to remove odors and bad smells by killing off the particulate bacteria that cause scent. This machine is effective for furniture, carpeting, and drapes. It's even capable of removing the odors in your basement.
Bottom Line
The combination of features really does hit the sweet spot with this one. It comes with a three-year warranty, which is a good thing to have. Always remember to only operate the unit when there's no one around, or at least leave the room until it's done.
Pros
Very fair price point
Easy to carry and move
Low energy consumption
Kills bacteria, viruses, mold, mildew, and fungus
Cons
It is not effective against dust and other particulates
New Comfort Ozone Air Purifier
# of Fan Speed Options: N/A
Coverage Area: 6,000 sq. ft.
Dimensions: 12 x 6 x 7 inches
Weight: 7.7 pounds
We may earn commission from purchases made from our links, at no additional cost to you
Review
This generator gives others a run for their money with its collection of features. At 12×6×7 inches and weighing a manageable 8.6 pounds, this is another very portable ozone generator.
It's made mainly from durable stainless steel and other ozone-resistant materials to ensure it keeps running for ages. This is why it comes with an impressive five-year manufacturer's warranty.
It's great for homes, offices and even stores, up to 6,000 square feet. The New Comfort Stainless Steel Ozone Air Purifier is one of the few on the market that allows you to customize your output, with the selection being 3,500 milligrams per hour at the low setting, and 7,000 milligrams at the highest.
You can have this unit in continuous running mode or use its timer to set it up. The timer allows you to leave the room before the machine begins operation and will automatically shut it off when the time runs out. This ozone purifier is capable of getting rid of mold and mildew, as well as harsh odors such as cigarette smoke, paint odors, pesticides, and pet odors.
The generator is also capable of removing the smell of dead and decaying matter from your house, which is a very hard task. It is also capable of removing marijuana smell from curtains, clothes, and different couch materials including leather. It also comes with a UV lamp that eliminates 99 percent of bacteria and viruses from your home.
Bottom Line
If you're looking for portable energy efficient ozone generator, this is it. You should, however, note that this unit cannot be used for homes where marijuana is growing, since it can only be used when all the plants have been removed.
Pros
Stainless steel body
Multiple run options
Adjustable ozone output
Sanitizes up to 6,000 square feet of space
Cons
Ozone generation can only be done in an empty room
Mammoth Commercial Ozone Generator
# of Fan Speed Options: N/A
Coverage Area: N/A
Dimensions: 10 x 7.75 x 8.5 inches
Weight: 9.35 pounds
We may earn commission from purchases made from our links, at no additional cost to you
Review
The combination of features at the price point is what makes the Mammoth Air Ozone Generator the best value for your money. It's a compact design encased in a durable metal outer shell. It's light at 6.75 pounds. You should, however, note that for the output, there are options lighter than this particular model. This model comes with an ergonomic handle to make it easy to move from room to room.
This air purifier is capable of producing up to 3,500 milligrams of ozone per hour and can keep going for up to 6,000 hours (approximately two years) before it requires an inspection or replacement of the ozone plate. The ozone plate is however very affordable and costs less than $25.
Coupled with the price point for the entire unit (and the fact that the machine uses up very little power) this is the most bang-for-your-buck in the ozone purifier industry. It comes with a timer that goes up to 120 minutes. This allows you ample time to leave the room before the sanitization begins, and shuts off the machine when the exercise ends.
It also has a hold button for when you want the ozone generator to run continuously. Although this purifier works in spaces of up to 5,000 square feet, it's best suited for small rooms. This is because it's able to quickly and efficiently clear the room of all bad odors, mildew, mold, and other micro-organisms. It is, however, poor with dust and other particulates such as pollen and dust mites.
Bottom Line
This is an ozone generator best suited for small rooms, because it's able to sanitize them quickly (between 10 and 30 minutes for most small rooms). Although it's made from durable metal both inside and out, the one year warranty does not inspire confidence.
Pros
Cheap replacement plate
Very affordable price point
Compact and portable design
Comes with a timer and two years ozone plate lifespan
Cons
Short warranty time at 1 year
Not as effective against dust and other heavy particulates
Enerzen Commercial Ozone Generator
# of Fan Speed Options: N/A
Coverage Area: 4,000 sq. ft.
Dimensions: 6.75 x 8 x 5.75 inches
Weight: 5 pounds
We may earn commission from purchases made from our links, at no additional cost to you
Review
This is the go-to purifier if you're working with large spaces. It's capable of producing 11,000 milligrams per hour, which makes it perfect for large houses, offices, and multipurpose working areas. It comes with a fan that's 40% larger than other machines at the same price point, enabling it to cover as much as 4,000 square feet. The timer is capable of being set up to three hours, allowing for longer treatment times.
It comes in a portable design with the ergonomic handle and finger grooves to make it easier to move around. The outer casing is a durable aluminum alloy that protects delicate internal components like the ozone filters against damage. The aluminum also contributes to keeping the unit light, and at only five pounds in weight, it has the highest production for its class.
It has ceramic ozone plates and a stainless steel filter. The filter is made to be washable and last a lifetime without replacement or wear. Ozone plates are made from a ceramic material to increase their longevity by up to three times the normal range for ozone plates. Power consumption is also pretty low and comes in at less than a 60-watt bulb. This saves you on maintenance costs as a whole and doesn't cause a spike in your power bill.
This ozone generator is effective against microbial contaminants and eliminates odors. It's also great at inhibiting the growth of mold, mildew, and fungi. It's however inefficient at handling dust, pollen, and other larger particulates.
Bottom Line
This is an ozone generator made for sanitizing large spaces in a short time thanks to its large fan. The short warranty duration and the lack of specific measurements is something worth noting.
Pros
3-hour timer
Washable lifetime filter
Durable portable design
Largest area of effect for the price point
Cons
Short 1-year warranty
Best Ozone Car Air Purifier
Craftronic NanoActive GSX87
# of Fan Speed Options: N/A
Coverage Area: N/A
Dimensions: 4.1 x 1.4 x 1.4 inches
Weight: 1.5 ounces
We may earn commission from purchases made from our links, at no additional cost to you
What Recent Buyers Report
Most users report high performance and low maintenance costs for this compact air purifier.
Craftronic NanoActive GSX87's ability to diffuse a wide range of air pollutants including bacteria, viruses, cigarette smoke formaldehyde, and also VOCs (Volatile Organic Compounds) improves air quality of the car interior for easier breathing. The pleasant scent is a major bonus for most recent users.
Why it Stands Out to Us
Craftronic NanoActive GSX87 stands out for several good reasons. This ozone air purifier is very easy to use. You only need to plug it into your 12V car socket and turn it on. It uses less power of below 0.8 watts and is very easy to charge, thanks to the dual fast-charge USB.
Is also a very portable air purifier. Apart from using it in cars, you can also use it at home and in the office. You'll only need an adapter with 12V.
The proven Negative Ionic Air Technology is used by high-end automobiles like Mercedes-Benz and LEXUS makes it stand out among other comparative models. Instead of a replaceable filter, the ionic filter uses a negative ion charge to electrify airborne particles and attract them to a positively charged ozone plate. 
The 2-year warranty, 90-day money-back guarantee in case the air purifier fails or has a manufacturer's defect, and the lifetime tech support give the Craftronic NanoActive GSX87 an edge over other electronic air cleaners.
This portable air purifier is also very sleek, and apart from making breathing easier it also adds glamour to the car interior with the illuminating blue LED light.
At 4.1 x 1.4 x 1.4 inches and weighing 1.44 ounces, the Craftronic NanoActive GSX87 ozone air purifier is very compact with no cause of worry on space in the car.
Bottom Line
Craftronic NanoActive GSX87's compact size and high-performance capability make it one of the best ozone air purifiers available for cars. It is a low-maintenance appliance and is also very easy to use. The only downside is the clicking sound produced after some time of use. However, the noise is not too loud as to create much concern.
Pros
Emits light and pleasant natural earthy rain aroma
Has blue LED light that indicates the sanitizing process and also adds glamour to the car interior
Compact yet powerful air ionizer with the capability to diffuse up to 5.6 million negative ions per cm3
Negative ion technology enhances air quality by reducing bacteria, mold, and allergens by up to 99.97%
Uses Ionic Air Purifier Technology also used by Lexus, Sharp(Plasmacluster filter), Mercedes Benz, and Panasonic
Cons
Slow air purification
Makes clicking noises after some time of use
Best Ionic Air Purifier Ozone
OION Technologies B-1000
# of Fan Speed Options: 2
Coverage Area: 2,000 sq. ft.
Dimensions: 5.5 x 6.5 x 17 inches
Weight: 3.76 pounds
We may earn commission from purchases made from our links, at no additional cost to you
What Recent Buyers Report
The whisper-quiet operation feature stands out as the top quality of OION Technologies B-1000 for many users. The electrostatic Ionizer purification works well for improved air quality. However, its space coverage is minimal, and one might need two or three of them for a larger living room.
Why it Stands Out to Us
Despite the low coverage space by the OION Technologies B-1000 air purifier, it still has admirable features that make it a go-to type of ozone air purifier.
OION Technologies B-1000 was designed with great precision and with smokers in mind. The electrostatic ionizer purification technology can attract the tiniest smoke particles that may linger around after smoking. Unlike a true HEPA filter, which is usually thrown out and replaced, the ozone plate can simply be wiped clean or washed with soap and water. The carbon filter also neutralizes any bad odors left behind, leaving fresh air that is easy to breathe.
The UV light guarantees pure air by killing mold spores, germs, bacteria, and mildew. However, these bulbs might need replacement after some time of usage.
OION Technologies B-1000 produces a controllable soothing light at night. The air purifier is highly portable with a handle at the back for this purpose.
Bottom Line
The OION Technologies B-1000 electrostatic ionizer purification technology that attracts pollutants as tiny as 0.1 micron makes it highly reliable in air purification. It is an ideal choice for those with respiratory complications like asthma. You may, however, need several OION Technologies B-1000 air purifiers if you have a bigger space to cover.
Pros
Carbon filter reduces odor
Low energy consumption at just 7.5 watts
Silent fan operation and purification process for a peaceful night's sleep
Internal UV light destroys bacteria, viruses, germs, and other disease-causing microorganisms
Better indoor air quality thanks to electrostatic ionizer purification that attracts tiny airborne particles of up to 0.1 microns in size
Cons
Not suitable for large spaces
The charged metal filter requires regular cleaning
What Are Ozone Purifiers?
Since ozone is highly reactive in the air, it's almost impossible (at least with the technology that exists today) to store it for a long time. As such, it needs to be generated on-site using highly technical machines which are called ozone generators, ozone air purifiers, or simply, ozone machines. The science is quite straightforward.
An ozone purifier takes normal oxygen (O2) from the air and converts it into Ozone (O3) by running an electric charge through it. Electricity causes the oxygen molecules to rearrange themselves into the ozone we know and love. It's actually why there's an increase of ozone in the air after lightning storms. Since the application of ozone machines range from home use to hospitals and hotels, these devices come in a variety of sizes, to cover both large and small spaces.
How Do Ozone Air Purifiers Work?
When purifiers release ozone into the air, it adheres to allergens and contaminants, such as mold or smoke. The third oxygen molecule attaches itself to the pollutant and eliminates it. This works by reacting with the bonds of bacterial walls and membranes and the protein capsid in viruses. The reaction breaks down these cell walls and causes catastrophic damage to the organism.
This ozone reaction is total and complete when dealing with microorganisms and bacteria. Ozone is such a strong germicide that only a few micrograms are required per liter for the germicidal action to occur. However, it's important to note that external factors such as humidity, temperature, pH, and of course the type of organism, all determine the kill rate and the effectiveness of ozone.
It oxidizes natural compounds such as oxalic acids, synthetic compounds found in herbicides and pesticides, and inorganic compounds such as heavy metals, sulfides, and nitrates in the air. It also slows down the ripening of ethylene gas. All these are qualities that make ozone so effective at finding and destroying the source of bad odors in your home, unlike certain common filters, ionizers, and sprays.
How Do Ozone Purifiers Compare?
Let's now see how Ozone purifiers compare with other air purification devices and processes.
Air Purifier vs Ozone Generator
Similarities
Both air purifiers and ozone generators use filters that are replaced or cleaned.





Both are capable of removing airborne particles and pollutants and improving indoor air quality.
Differences
Ozone Generators have adverse health risks due to high amounts of ozone produced to clean the air. Air purifiers on the other hand are safer and filter the pollutants in the air to give out fresher air without any harmful byproducts.




Air purifiers work

a little slower compared to ozone generators.
Ionic Air Purifier vs Ozone
Similarities
Both ionic air and ozone air purifiers produce ozone during the air cleaning process.
Differences
Ionic air purifiers remove small particles in the air, for example, those in tobacco smoke. They do not remove odors or gases, unlike ozone air purifiers that can diffuse odors within minutes.


Ionic air purifiers do not use filters, whereas ozone air purifiers use filters that need replacement from time to time.


Ionic air purifiers are less harmful to human health compared to the ozone ones that have a very high ozone output.


Ionic air purifiers produce ozone as a byproduct whereas ozone air purifiers use ozone generation directly for air purification. An ozone purifier creates a much higher ozone concentration than an ionic air purifier.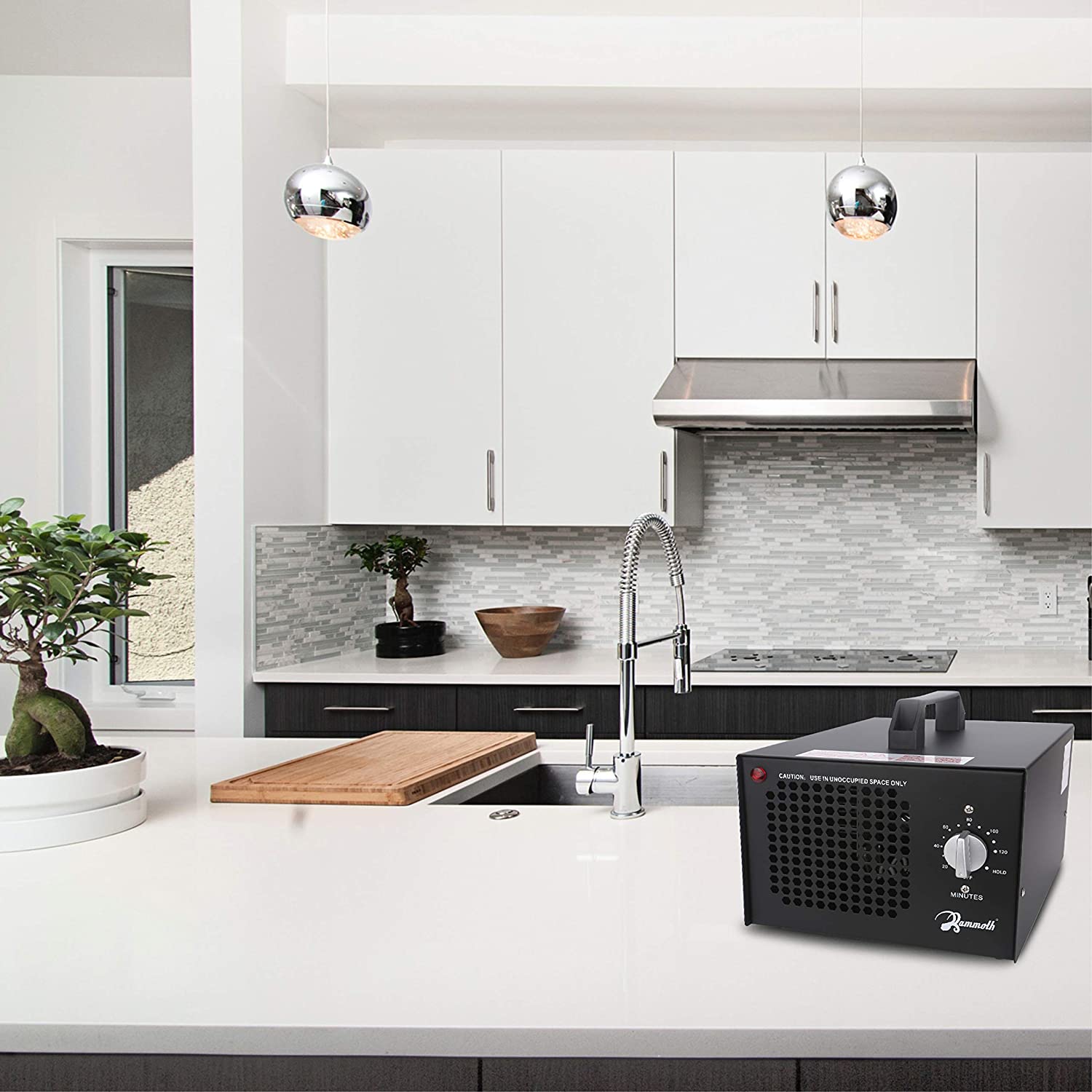 Ionizer vs Ozone
Similarities
Both types result in ozone exposure, although in varying quantities.
Differences
Ionizers operate more silently compared to ozone air purifiers.





Ionizers work by emitting electronically charged ions into the air. These ions bond with airborne particles, which then become too heavy to stay in the air.





Ozone air purifiers on the other hand work by changing chemical compositions in the air to fight odor and produce clean breathable air in a process referred to as oxidation.





Ionizers produce ozone as a byproduct while for ozone air purifiers, ozone production is the main air-cleaning mechanism.





Ionizers work faster compared to ozone air purifiers.
Benefits of Investing in a Quality Ozone Air Purifier
There are several ways you can benefit from an ozone air purifier. Here are some of them:
Removal of Pollutants
Most ozone air purifiers have a timer to guarantee pure air free from pollutants while minimizing harmful ozone exposure. The machines run while you are away to clean the air up to a set time, after which you can come in about 30 minutes later when air is safe for both you and your pets.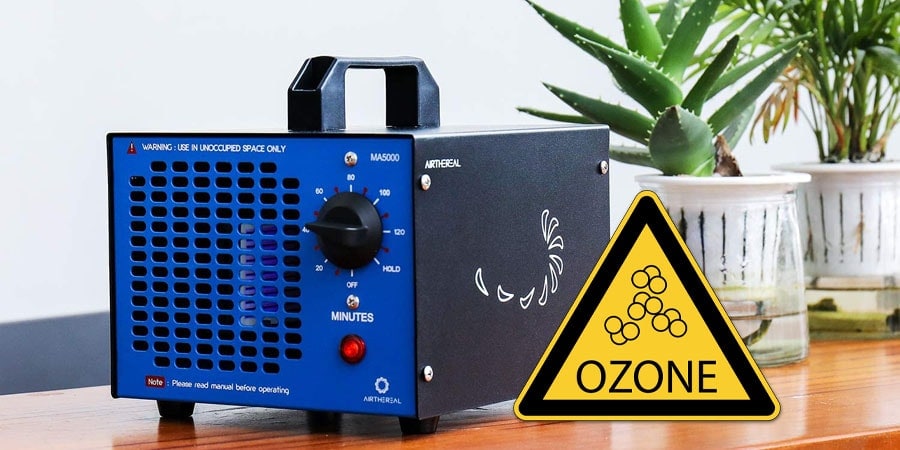 Elimination of Microorganisms
If you live in a damp area where mold growth is a concern, investing in a quality ozone air purifier would be a good solution. The large amounts of ozone gas produced will combine with the mold and kill all the mold spores hence reducing health risks associated with molds such as skin irritation and nasal stuffiness.
Elimination of Chemical Contaminants
Some companies manufacture products with high-risk chemical composition when exposed to air. Ozone air purifiers come in handy to address such concerns and ensure the air in your space is free from contaminant chemicals. 
Ozone Purifier Safety
Despite the health risks associated with the use of ozone air purifiers, there are safety measures that when properly implemented can reduce ozone exposure and the associated risk.
Run the Air Purifier Long Before You Enter the Room
To be safe with the ozone air purifier, turn it on and leave it to run for some time in an empty room without pets or indoor plants. After the set time you should stay away for at least 30 minutes to entirely get rid of any lingering ozone particles. 
Before switching on the ozone air purifier, remove or cover all the valuable items at home.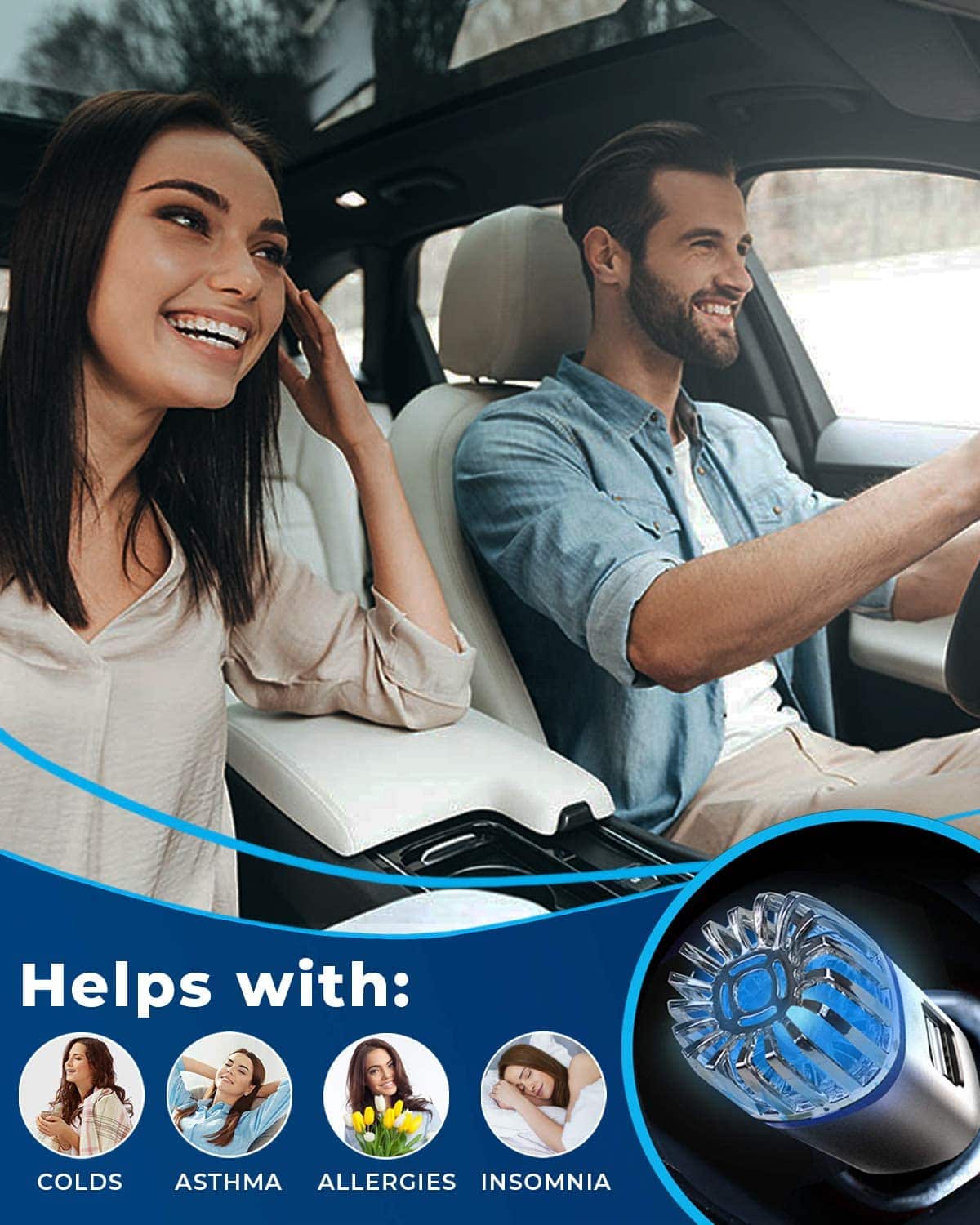 Use Low Settings
Some ozone air purifiers have low and high settings. This duality enables users to run the appliances in safe and low concentration levels as may be specified by EPA guidelines. For example, these adjustments can apply when getting rid of cigarette smoke or when using it in cars. 
Clean the Collector Plate Regularly
Another safety measure is proper maintenance by cleaning up the collector plate after 6-12 months since the trapped particles may reduce the efficiency of the air purifier. Do not run the machine in a high-humidity environment.
Are Ozone Purifiers Safe?
Ozone purifiers are mostly considered safe for industrial use where strict safety measures are put in place to manage the production and accumulation of ozone.
Although they pose serious health risks to humans and pets, they can be safe when used with great caution as we've seen above.
Pros and Cons of Ozone Air Purifiers
Different people own ozone purifiers for different reasons. There are however some universal benefits and downsides to owning one of those. Some of the pros include:
Pros
Let's start with the benefits of having an ozone purifier.
Cleaner Air
Ozone reacts with, and takes care of, all odors from the source. Depending on the ozone generator, this can be anything from the smell of cigarettes and marijuana to more exhaustive odors such as decomposing plants and animals. Removing these smells gives the air a crisp freshness that lasts. Since ozone is made from oxygen, once the sanitization process is finished, it harmlessly converts back to oxygen.
Organism Control
Having an ozone purifier is excellent at controlling the growth of mold, mildew, and other fungi. It also takes care of bacteria and other microorganisms that may exist in the air. It bonds with and removes heavy metals, sulfides, and nitrates from the air as well.
Can Be Paired with Other Cleaners
Ozone plates are safe to use with other types of filters, to make sure your air is safe and breathable. These other filters take care of the allergens and contaminants in the air that ozone may have a hard time removing. They include pollen, dust, and even pet dander. Ozone purifiers can be paired with HEPA, carbon, and even TiO2 filters.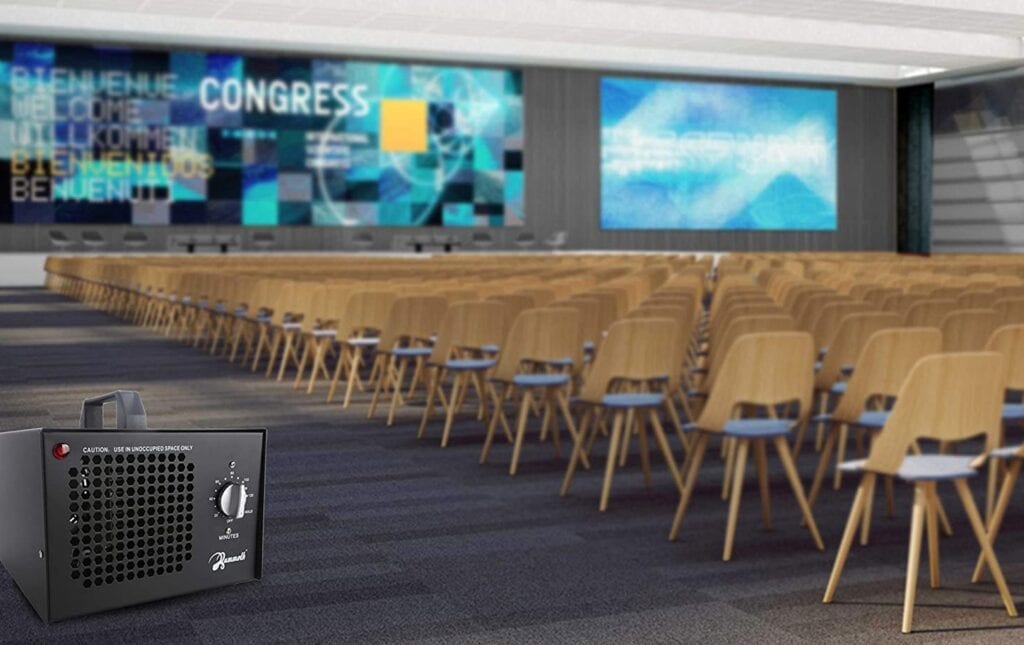 Cons
On the flip side, here's the downside of this type of air purifier.
Dangerous
There is only one major con to using ozone purifiers – ozone is actually dangerous for you. This is why you're not allowed to be in the room during purification. Ozone molecules are unstable and react with anything they touch. The same quality that makes them dangerous to odors and mildew also make ozone bad for you and your pets. If you can smell the ozone, then it's doing as much damage to your eyes, skin, and lungs as gasoline … if not more.
Conclusion
Ozone purifiers are a must-have in the home. They are essential towards stopping the growth of harmful allergens in the home and keeping your air clean and fresh. You should – however – use ozone purifiers with care. Make sure all the animals and people have exited the building before switching it on.
People Also Ask
Just before we wrap up, let's look at some frequent questions people ask about ozone air purifiers. This section will enhance your understanding of the same and help you make an informed purchase decision.
What is the Difference Between Ozone and an Anion Air Purifier?
Ozone air purifiers clean the air by releasing ozone that combines with other gases through a process called oxidation to permanently remove odor and contaminants.

Anions on the other hand are the negatively charged ions produced by ionizers or ionic air purifiers and are released to bond with harmful particles to make them too heavy to remain in the air.
How Does Ozone in Air Purifiers Affect Your Health?
Ozone when inhaled has adverse repercussions on ones' respiratory system and can seriously damage the lungs. Shortness of breath, chest pains, coughing, and throat irritations are among the complications most associated with inhaling ozone. Underlying respiratory diseases like asthma may worsen and the body's ability to fight respiratory infections may also be compromised.
How Long to Run an Air Purifier With Ozone?
The time required to run an air purifier with ozone to a greater extent depends on the manufacturers' specifications. But, depending on the size of the room, it might take between 3 to 10 hours. In case you are disinfecting the entire home, it might take a sustained output of ozone for as long as 30 hours to achieve the desired fresh air. It is important to wait for some time between 30 to 60 minutes after the purification process to allow all the produced ozone particles to dissipate.
Do Air Purifiers Produce Ozone?
Any air purifier that exclusively uses a high-efficiency particulate air filter (HEPA filter) is also an ozone-free air purifier. However, some air purifiers like ozone generators produce ozone in high amounts, since this is the mechanism they use to disinfect the air.

Ionic air purifiers also produce ozone, but in very low quantities as a byproduct.