We all want to breathe clean air and stay healthy, right?
You will need certain machines (air purifiers and humidifiers) to clean the air and prevent dust mites, pollen, smoke, and mold from potentially causing allergies, sinus issues, dry skin, chapped lips, and asthma attacks in your household.
But instead of buying these devices separately, you can opt for an air purifier and humidifier combo. As the name states, they purify and humidify the air!
This article is going to help you understand what an air purifier and humidifier combo offers, as well as some of the best models available in the market.
Comparison of the Best Air Purifier and Humidifier Combos 
IMAGE
PRODUCT

Our Top Pick

Best Overall
Large Room Coverage at 540 Square-Feet
Very Easy to Maintain With Dishwasher-Safe Components

View Latest Price →

Runner-up
Has HEPA as Well as an Activated Carbon Filters
Features Ionizing Technology to Maintain Suitable Humidity Levels

View Latest Price →

Features a Compact Size
It is Very Quiet While Operating
Is a Good Option if You Want to Save on Electricity Bills

View Latest Price →

It is Very Quiet While Operating
Offers Good Area Coverage for Medium-Sized Rooms
Features a Filtration Process Consisting of Seven Stages.

View Latest Price →
How to Choose the Ideal Model
So, you are interested in buying this type of product?? Where do you begin? What are the factors you need to keep an eye out for to choose an excellent option for yourself?
Let's answer these questions and more!
The features you should be looking for when shopping for an air purifier and humidifier are:
Efficiency
You will need to look into how efficient the unit is. The efficiency, in this case, means the extent to which a model can get rid of smoke, odors, allergens, etc and also add moisture into the air.
Generally, a combo unit boasting 90% efficiency is good for handling cooking smoke, pet dander, and odors. However, if you are interested in something stronger, a unit boasting 99% (or higher) efficiency is ideal for getting rid of allergens and certain pollutants to ensure the safety of your household.
Filtration System
Related to efficiency is the filtration system featured in the combo unit. A good start is a combo unit with a HEPA filter. However, you will also find ones that have carbon filters and electrostatic filters. Depending on the kind of filter being used, the air purifier and humidifier will offer different benefits.
HEPA and activated carbon are great for removing up to 99.97% of air contaminants found indoors and can keep odors away from your nose. Similarly, UV sanitizers zap viruses and bacteria by using UV light. 
If someone in your household has serious medical issues (especially breathing problems and allergies), you should talk to your doctor about what kind of filtration system you should opt for.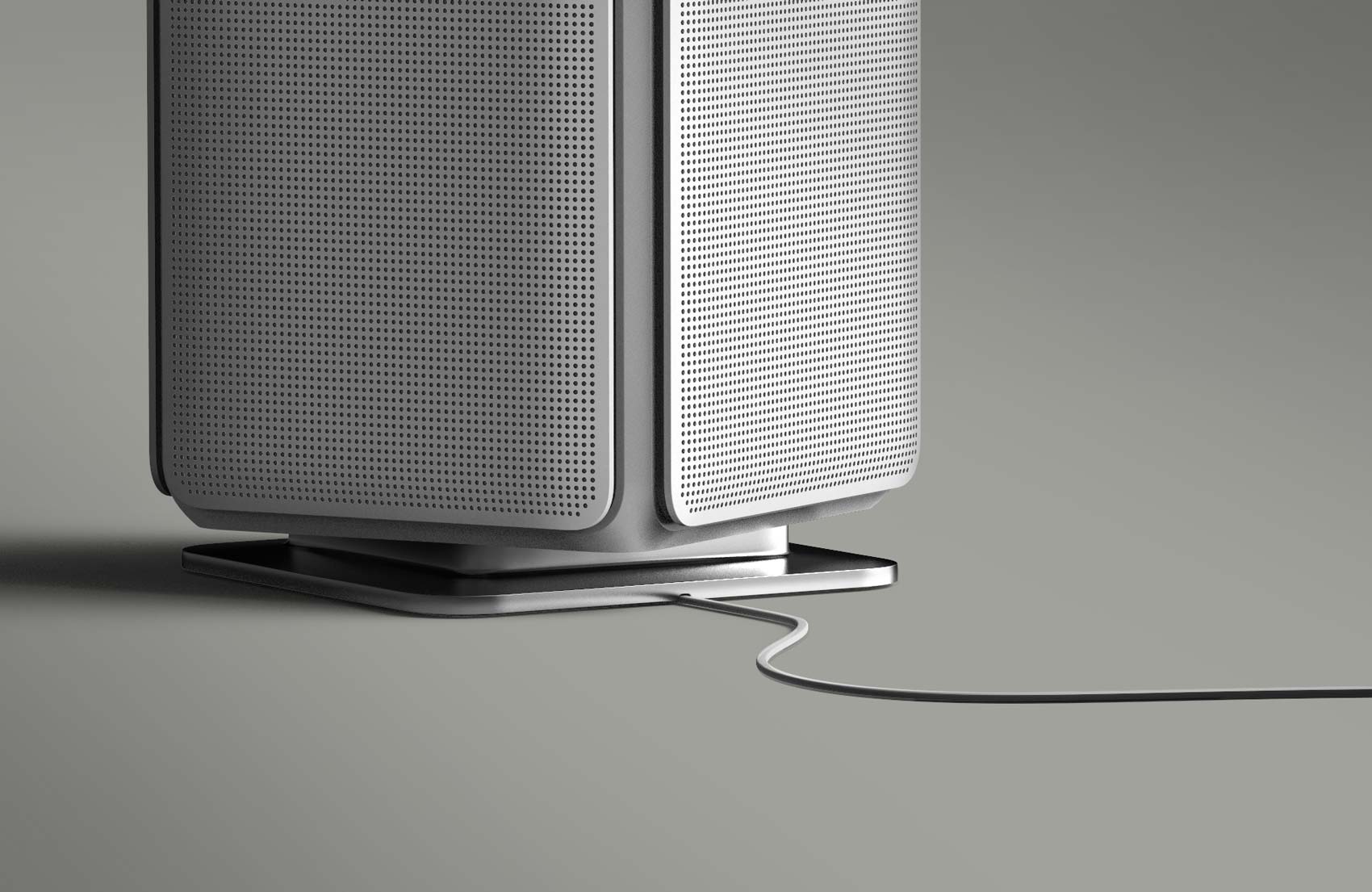 Area Coverage
An air purifier and humidifier isn't going to do you much good if it doesn't cover the amount of area you need. It will also be a waste of money.
A good way to make sure you purchase the right combo unit is by measuring the room (in square feet) you want to cover and then seeing which device can cater to your needs.
Noise
No one likes noisy machines. However, these units are known to produce noise because a single device is doing the work of two. But that doesn't mean you won't be able to find a unit that makes as little noise as possible.
So, before you decide on a purifying and humidifying combo unit, you can test it out to see the level of noise it produces. If you are shopping online, you can also go through the reviews to see what others have said.
Maintenance
When it comes to investing in technology, you want your life to become more comfortable. The same holds true for when you are out looking for a combo unit to purify and humidify the air.
Try and opt for a unit which is easy to maintain. It shouldn't require you to change the filters too often. It should also be easy to clean. Again, reading through reviews can help.
At a Glance: Our Top Picks for Air Purifier And Humidifier Combos
Review of the Best Air Purifier and Humidifier Combos
Now that you have learned what is meant by an air purifier and humidifier, as well as the features you should look for before making a purchase, here is a list of some of the best combo units available.
These reviews are well-researched, to help you make an informed decision.
BONECO 2-in-1 Air Washer W200
Decibel Level: N/A
# of Fan Speed Options: N/A
Coverage Area: N/A
Dimensions: 11 x 11 x 16″
Weight: 11.2 lbs
We may earn commission from purchases made from our links, at no additional cost to you
Review
If you are looking for a stylish and efficient air purifier and humidifier combo, it doesn't get better than the BONECO 2-in-1 Air Washer W200. That is why it is our best overall choice on this list.
It will look great in any room. Furthermore, it features a simple black control knob which you can use to switch between the device's two mist output levels.
This unit draws air in through specially textured evaporative mats. These mats turn in the water, adding moisture to the air as well as removing pollutants. With a coverage capacity of 540 square-feet, it more than makes up for the price tag.
Also, this combo unit allows you to add essential oils to the mist being produced! You can easily make sure your household remains healthy throughout the year with this device. It is also effortless to maintain. Some of the parts are dishwasher safe. Talk about convenience! This device doesn't make a lot of noise during operating hours.
Now, this wouldn't be a proper (and helpful) review if we don't talk about some of the drawbacks of the BONECO 2-in-1 Air Washer. When it comes down to it, this combo unit isn't the best at getting rid of odors and smoke. So, while it can help you keep humidity levels in check as well as use essentials oils in the mist to aid with relieving certain ailments, it doesn't offer much in terms of odorless air for breathing.
Bottom Line
The BONECO 2-in-1 Air Washer W200 is the best overall choice on this list. This is due to its design, easy maintenance, and low noise production. It also offers large area coverage and allows you to use essential oils in the mist.
Pros
Doesn't Produce a Lot of Noise
Knob Allows You to Set This Device in the Manner You Want
Sleek Design Allows This Unit to Go Well With Almost Any Décor
With Some of the Parts Being Dishwasher Safe, Maintaining this Combo Device is Going to Be Quite Easy for You
Cons
Isn't Good at Getting Rid of Odors and Smoke
Sharp KC-850U
Decibel Level: N/A
# of Fan Speed Options: N/A
Coverage Area: 254 sq ft
Dimensions: 14.87 x 10.5 x 23.11″
Weight: 20.5 lbs
We may earn commission from purchases made from our links, at no additional cost to you
Review
The Sharp KC-850U is the runner-up on our list. This unit is another option for you to consider. It can work quite effectively and will cater to your air purifying and humidifying needs without trouble. A remarkable thing about this combo unit is that it features a HEPA as well as an activated carbon filter.
The HEPA filter used in this device is more than capable of getting rid of 99.97% of pollutants (at least .3 microns) in the air. This means the HEPA filter helps this unit get rid of bacteria, smoke, and dust. As for the odor, this is where the activated carbon filter will help. Such a filter can absorb the VOCs (Volatile Organic Compounds) which produce odor.
Furthermore, the Plasmacluster technology featured in this unit keeps humidity levels in check. Water molecules are split into negatively and positively-charged ions. They are then spread across the room to make it fresher.
With the Sharp KC-850U, you get both automatic and manual operation. There is also an indicator for clean/dirty air. You can choose from the three fan speeds to set the humidity levels. This device's automatic setting will adjust the machine itself after sensing the condition of the room. It doesn't produce a lot of noise. Do keep in mind it doesn't come with a remote control.
Bottom Line
The Sharp KC-850U is our runner-up air purifier and humidifier choice. It features a HEPA filter to get rid of close to 100% of air pollutants. It also has an activated carbon filter, which ensures the room is odorless. This combo unit is easy to use and maintain.
Pros
Elegant Design
Good for Getting Rid of Odors From a Room
Works Well to Get Rid of 99.97% of Pollutants in the Air
Has 3 Fan Speeds to Maintain the Type of Humidity You Prefer
Easy to Use by Offering Automatic as Well as Manual Operation
Cons
Doesn't Come with a Remote Control
Noise Might Not Be Low Enough for Some Users
Venta LW25
Decibel Level: 44 dB
# of Fan Speed Options: N/A
Coverage Area: 430 sq ft
Dimensions: 11.8 x 13 x 11.8
Weight: 8.5 lbs
We may earn commission from purchases made from our links, at no additional cost to you
Review
The next device we have on our trusty list is the Venta LW25. This air purifier and humidifier works by drawing air over a set of disks. These disks rotate slowly and trap air pollutants. This device can help get rid of pollen, as well as dust from indoor air. The water inside this device then cleans the discs. This process leaves you with clean mist.
This unit is also fairly quiet during operation. It offers three output levels so you can get the level of humidity you want.
Another great feature about the Venta LW25 is that it doesn't require a lot of maintenance. You will only need to clean it once or twice a month. Don't be fooled by the compact size. This unit will cover an area of up to 400 square feet. It also doesn't use up a lot of energy. So, you will be able to save on energy bills that way.
However, there are certain drawbacks you should be aware of. This purifying and humidifying unit doesn't have a timer or a humidistat. And while the air-washing with water can work, it can't compete with an actual HEPA filter. Furthermore, it doesn't do a great job when it comes to getting rid of odor from a room and won't allow you to use essential oils in the mist.
Bottom Line
This unit requires little maintenance but also lacks features of other combos, such as a timer and humidistat. Also, this does not use filters to capture the pollutants. This unit is great for humidifying and does clean the air to an extent. It may be a great option for your needs.
Pros
Offers You Heavy-Duty Humidification
Doesn't Consume a Lot of Electricity While Operating
Very Low-Maintenance Air Purifying and Humidifying Unit
Doesn't Make a Lot of Noise. So, it Can Be Used in Rooms for Kids
Cons
Doesn't Have a Timer or a Humidistat
Isn't Great When it Comes to Cleaning Indoor Air of Pollutants
How Does an Air Purifier and Humidifier Combo Work?
It isn't unusual for people to purchase an air purifier as well as an air humidifier. But why invest in two separate devices when one can do the job?
Of course, a few years back, the air purifier and humidifier combo didn't exist. However, now you can easily find them in the market. Some people still don't know such a combination is available. So, hopefully, this article has made you a more informed person.
An air purifier and humidifier combo works by not only purifying the air (by removing certain particles and contaminants) but by also making sure the humidity in an area remains at a healthy level.
This means that not only will your household be breathing clean air, they will also not have to worry about poor humidity-related issues such as dry skin, rashes, and an aggravation of certain ailments.
When humidity levels are low, the mucous membrane becomes irritated and loses its effectiveness. This leads to increased chances of falling ill due to a particular bacteria or virus. Proper humidity levels also help keep colds away during winter.
With an air purifier and humidifier combo you are:
Breathing Clean Air


Keeping Your Immune System in Check


Getting Rid of Certain Viruses, Bacteria, and Contaminants


Reaping the Benefits of Two Machines Through a Single Device


Saving Space
As there are quite a number of these models out there, you should do your research to see which are the best.
We hope to share such valuable information with you through this article.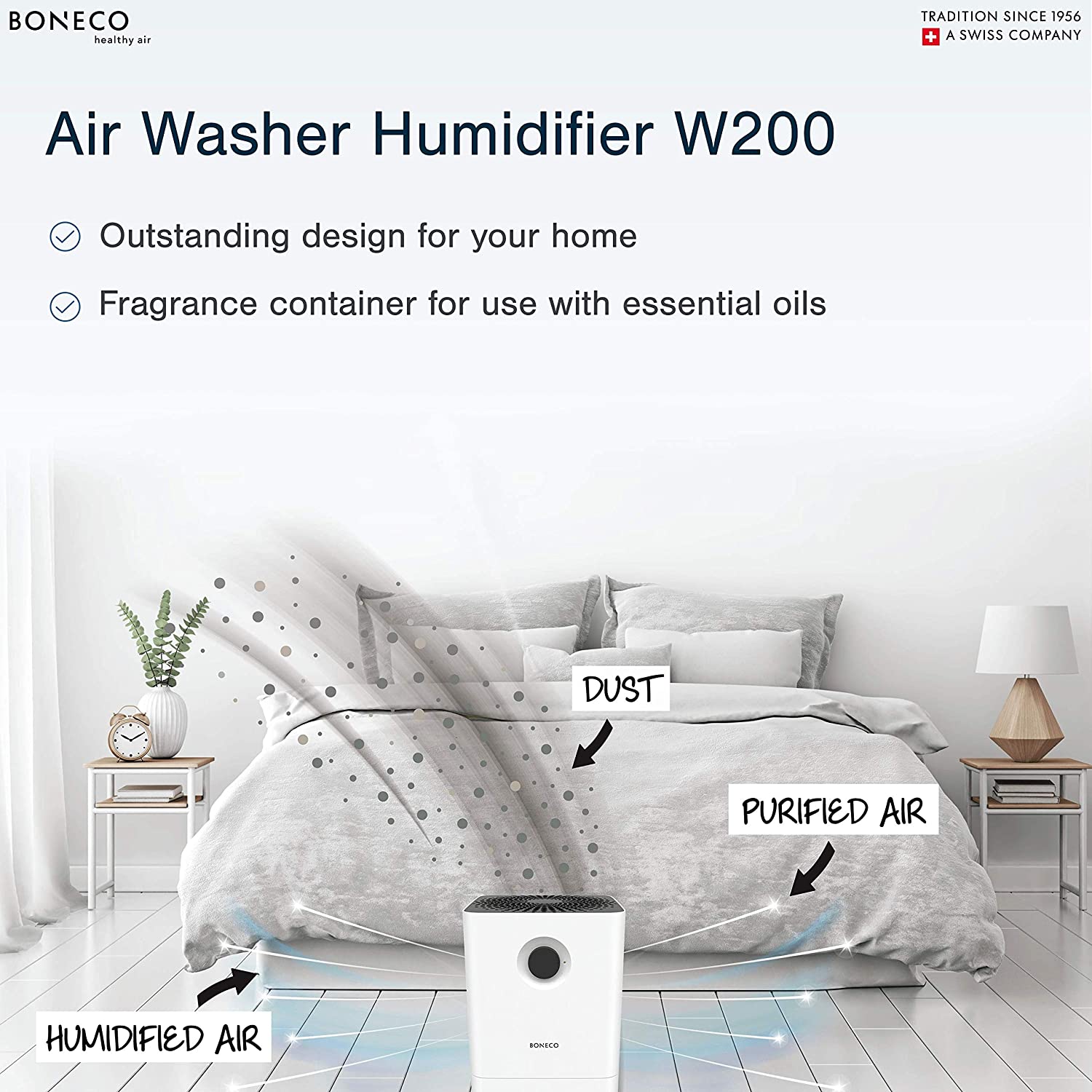 To make an informed buying decision, you need to know about specific features and specifications that matter when selecting such an air purifying and humidifying unit.
Are All Air Humidifier Combos The Same?
There are various air purifier humidifier combos in the market. Although these combos provide the same services in improving indoor air quality, they're different in many ways.
Some combos have more advanced features that make them more efficient and effective in terms of air purification. The best air purifier and humidifier combos also vary in terms of the warranty, cost, and features like timers and humidistats.
When Would an Air Purifier and Humidifier Combo Come in Handy? 
Air purifier humidifier combos are beneficial in numerous ways. You can use them in all situations to remove airborne particles and other air pollutants. Here are some of the ways a combo unit can come in handy.
To Relieve Symptoms of Common Colds, Allergies, and Asthma
The best air purifier and humidifier combos reduce the environment's triggers for those who have allergies or asthma much more effectively than a normal air filter or humidifier filter.
While an air purifier can help prevent common colds by trapping the particles in the air, a humidifier can help relieve your stuffy nose and most other discomforts when you have a cold. A humidifier also comes in handy when you have nasal passage irritation due to overly dry air. Having the two in tandem is key to removing harmful particles and maintaining a satisfactory humidity level.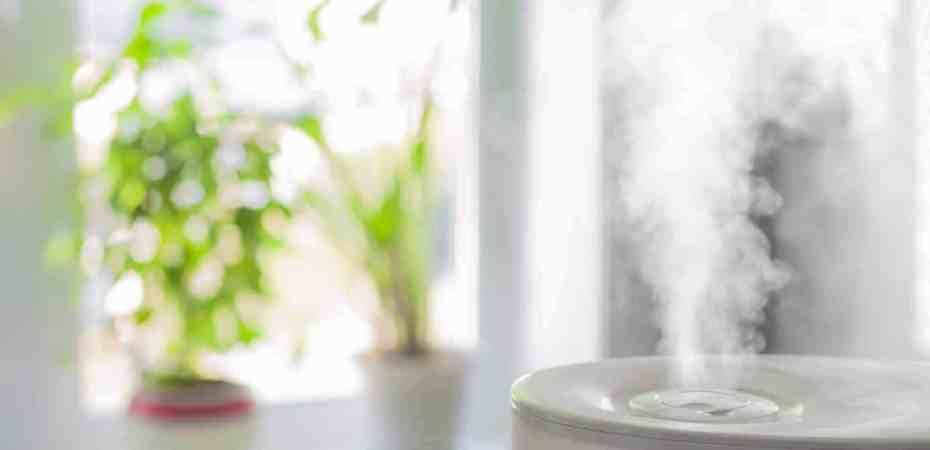 To Get Rid of Specks of Dust, Contaminant, and Odor from The Air
A combo unit can help you get rid of bad smells in the house, dust, and any other contaminants that may make the air in your house unhealthy. It does this by trapping smells via the unit's filters, adding moisture to the dry air through the humidifier to deal with dust, and cleaning the air via the air purifier.
Better Air Quality for Children
A combo unit will especially come in handy if you have a baby or small child in the house. If your infant is having a difficult time breathing due to dry air, or overall poor air quality, in the nursery, this unit will remove unwanted particles like pet dander to give you peace of mind and your child a healthy environment.
What Size Air Purifier and Humidifier Combo Do I Need?
Air purifier humidifier combos come in all sizes. It's dependent on how much space you want the unit to cover. A device covering over 800 sq. ft. might be best for you if you're hoping to use it for numerous rooms. However, a combo unit of about 150 or 200 sq. ft. is great for covering one or two rooms.
Benefits of Investing in a Great Model From Our List
We hope you have now become familiar with the kinds of air purifying and humidifying combo units available in the market. Our well-researched list has been created to help you make an informed decision.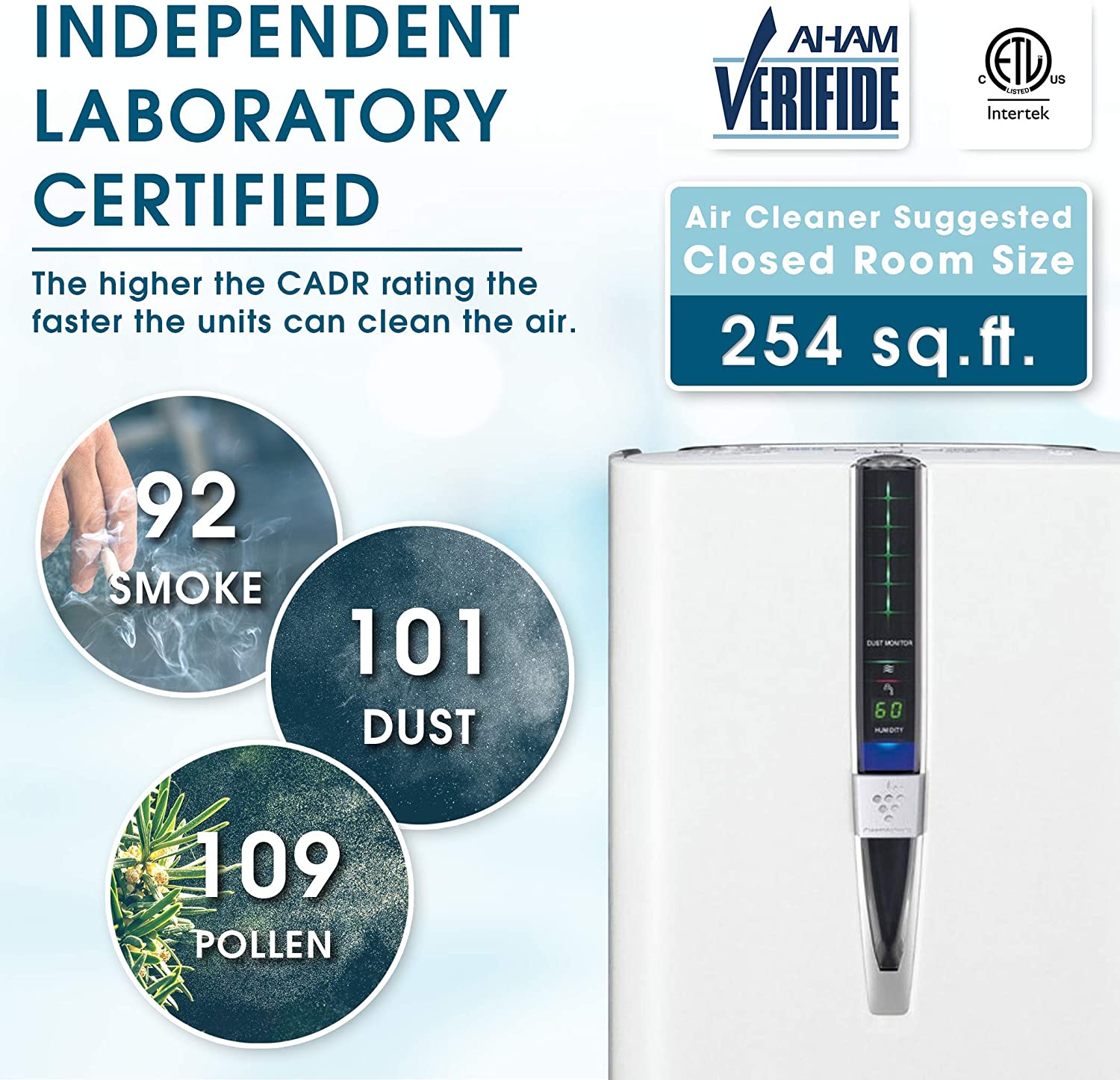 By selecting a model from our list, you will be able to experience several benefits.
The BONECO 2-in-1 Air Washer W200, our Best Overall selection, offers significant area coverage. It is also easy to maintain and ensures good air quality.
The Sharp KC-850U features HEPA and Activated Carbon filters to give you the best air quality. It also provides you control over humidity levels.
As for the KLARSTEIN Monaco Ultrasonic Humidifier (being the Best for the Money), Venta LW25, and the Dreval D-950, each combo unit will serve you well.
The models featured on our list are here to make your life easier. They also ensure your household stays safe from bad air quality and allergens throughout the year.
How to Maintain an Air Purifier Humidifier Combo
It's important to maintain your combo unit for better efficiency. For instance, if you use the Venta LW25 Airwasher 2-in-1, you may need to clean it at least twice every two weeks. Here's how you do it:
1. Dampen a sponge in water and wipe out the lower housing of the unit.

2. Use a soft brush on the disc stack or rinse it with a damp sponge.

3. Replace fiberglass filters every month and high-end, pleated filters every two months.
Note: Ensure that no water gets into the motor while cleaning the unit.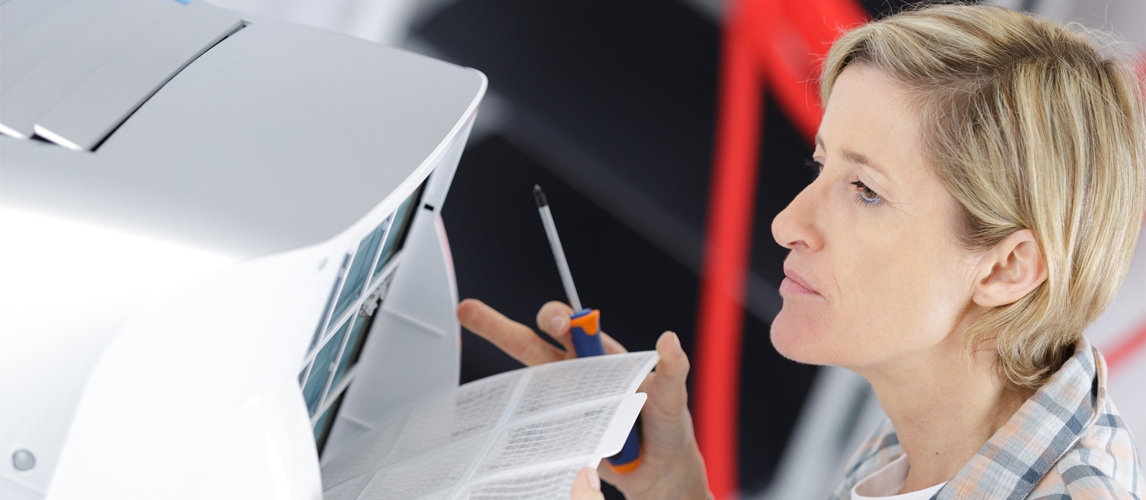 Conclusion
A good quality air purifier and humidifier combo promotes health in the household. Impressive air purifier technology gets rid of pollutants and allergens. The humidifier technology does away with chapped lips, dry skin, and specific breathing issues.
So, go ahead and select a recommended combo unit to ensure a better quality of life in your house all year long.
People Also Ask
Here are some of the most typical questions people ask about the air purifier humidifier combo.
Do Humidifiers Help With Dust?
Yes. Humidifiers dampen the dry air by adding moisture. Afterward, the dust particles absorb humidity in the air and become too heavy to float. Plus, the humidity can give dust an adhesion effect and prevent it from stirring up into the ambient air.
Is an Air Purifier the Same as a Humidifier?
No. Air purifiers get rid of or neutralize air pollutants and contaminants. Humidifiers add moisture to otherwise overly dry air. Choosing the best air purifier and humidifier combos will provide you with the benefits of both.
Will an Air Purifier Humidifier Combo Get Rid of Cooking Smells?
You can use your air purifier humidifier combo to remove odor from the kitchen if it has an activated carbon filter. Activated carbon filters can neutralize the smell by locking or trapping the odor. You can use it to get rid of the smell of trash, mixed leftovers, and fried or spicy foods.
How Much is an Air Purifier Humidifier Combo?
Most devices cost around $439.99. However, it's possible to get one that's more affordable while also being efficient. Be sure to look into the features and capabilities of an air purifier humidifier combo before making a decision.