In some parts of the world (like China), air quality is so low that people routinely walk around in breathing masks. Even Californians had to wear them for a few weeks during the disastrous wildfires of 2018.
Fortunately, once you're safely in the confines of your home, you can purify the air you breathe without beauty-blocking, sweat-inducing respirators and dust masks. Ideally, you want an air purification system with a built-in UV mechanism for better results.
So, let's dig into exactly what these air purifiers are, how they work, and which brand is best for you.
At a Glance: Our Top Picks for Uv Air Purifiers
Comparison of the Best UV Air Purifiers
IMAGE
PRODUCT

Our Top Pick

Fitted with a triple-powered filter
Purifier comes with a 5-year warranty
Voted best overall air purifier by our team

View Latest Price →

Voted first runner-up by our team
Purifier comes with a 5-year warranty
Purifies your air in 4 cumulative stages

View Latest Price →

Best Budget Option

Has a CADR rating over 100
Has a 3-year limited warranty
Offers the best value for money

View Latest Price →

Has a distinct cylindrical shape
Can purify areas of up to 500 square feet
Best model among purifiers with HEPA filters

View Latest Price →

Best purifier with whole-house capacity
The unit comes with a 2-year limited warranty
Easy to install using included instruction manual

View Latest Price →

Best model manufactured by Therapure
Attractive color scheme and tower design
Contains a patented hemispheric HEPA filter

View Latest Price →

Best Filterless Silent UV Air Purifier
Removes 99% of odors, allergies, germs, mold, contaminants
Comes with a lifetime warranty for peace of mind

View Latest Price →
How Do I Choose an Air Purifier With UV?
Before you shop for an air purifier with UV, you need to determine the most important things that you will need from your air purifier. Below are the key features you should consider.
Design and Ease of Use
Choose an ultraviolet air purifier that will integrate with your daily routine without interruption. You may choose a purifier that matches your home décor or one that you can set up and forget about. Some of the factors to look out for include the setting options, the dimensions of the air purifier, and the size of the room in which you will place the purifier.
Noise Level
Choose an air handler that will enable you to relax in your room with minimal noise disturbances. Ensure you buy a purifier with a low dB rating. Keep in mind that a suitable low sound level rating is 30 dB while ratings above 70 dB are well on the higher side.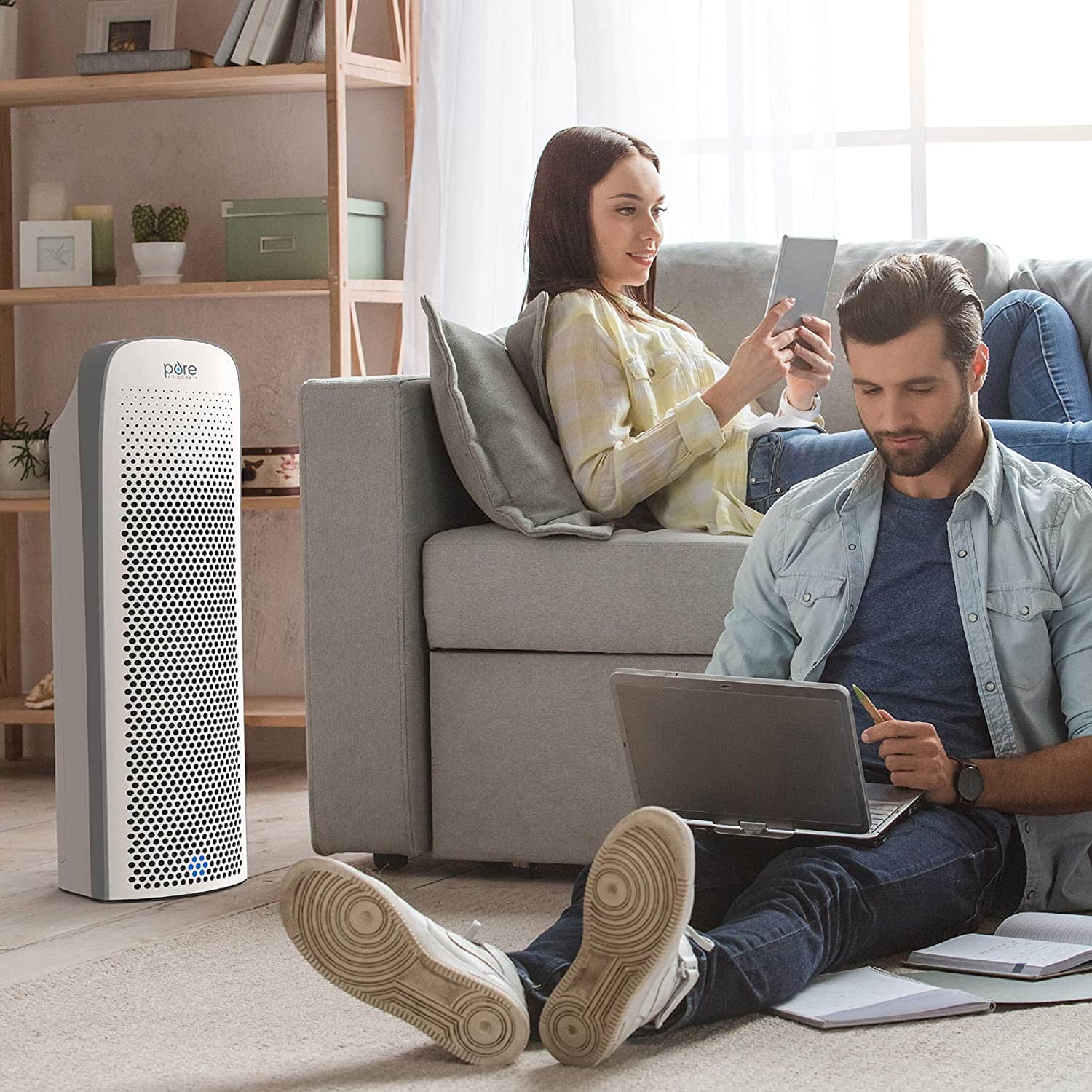 Energy Consumption
If you are not keen on the purifier's energy consumption, you will be slapped with massive electricity bills. To ensure that your energy costs are low, look for units that consume less than 100 watts. For example, the Oasis 1000-G3 consumes only 45 watts. 
Cost of Maintenance
While the UV bulb shouldn't require replacement, and an ionizer just needs semi-regular cleaning, if your air purifier includes a true HEPA filter you will need to replace it regularly.This can range from 1-12 months depending on the type of HEPA filter the air purifier uses. Some HEPA filters can even be vacuumed or washed clean to extend their lifespan to years. Make sure you consider the average cost of replacement,  taking note that some purifiers have multiple filters that need to be replaced frequently.  
Light Intensity
While the filtration membrane does play a part in cleaning your air, the bulk of the work is done by UV light. And given that your air will spend less time in it (as opposed to the duration of water in a UV humidifier or swimming pool), the light needs to be sufficiently powerful. The extra wattage could make the difference between dead germs and sluggish ones, so be sure your UV light is sufficiently powerful for the job.
Review of the Best UV Air Purifiers
Now that you have a basic idea of the features you should be looking for, let's get into some of our preferential models.
Pure Enrichment 3-in-1 Air Purifier
Decibel Level: N/A
# Fan Speed Options: 3
Coverage Area: N/A
Dimensions: 10.8 x 6.9 x 12.1
Weight: 6 pounds
We may earn commission from purchases made from our links, at no additional cost to you
Review
A lot of products market themselves as 3-in-1, but the Pure Enrichment purifier truly is a triple-threat to contaminated air. Apart from its UV-C bulb, the device has three separate filters. The first pre-filter traps basic dust and allergens.
The second perforated filter is made of activated carbon, and it traps noxious gases like benzene and formaldehyde. The third filter is a HEPA filter, and it stops smoke, pollen, and anything else that made it through.
Micro-germs that survive all three filters will be immobilized by your UV-C bulb. It looks tiny, but it's powerful, destroying 99.97% of harmful micro-organisms. The purifier doesn't have to run interminably – you can program it to shut itself off after 2, 4, or 8 hours to prevent power wastage and ozone overload. That said, it's possible to run the purifier continuously if you'd prefer 24/7 filtration. Leaving it on won't affect performance.
It's a quiet purifier emitting barely 30db on low and 50db on high. And in case of any issues, you can reach customer care daily, including weekends. The Pure Enrichment 3-in-1 is easy to operate, thanks to its touchpad and clear functions.
It has a three-speed fan, and its triple-filtration-plus-UV-C is effective on micro-germs as tiny as 0.3 microns. You don't even have to worry about over-using your filters, because the device alerts you when it's time for a replacement. It filters air in areas up to 200 square feet.
Bottom Line
UV-C lights and filters are both useful purification tools, but neither is adequate on its own. This Pure Enrichment model has both a light and three filters, so it gives you the best shot at pure air.
Pros
Light, compact, and portable
Easy to dismantle for cleaning
Has power-saving functionality for lower utility bills
Cons
Both the filters and the bulbs require replacement
Pure Enrichment PureZone Elite Air Purifier
Decibel Level: 60
# of Fan Speed Options: 3
Coverage Area: 190 (sq ft or cubic feet)
Dimensions: 9 x 7 x 25
Weight: 9.3 pounds
We may earn commission from purchases made from our links, at no additional cost to you
Review
4-in-1 sounds like a gimmicky, impossible promise, but this Pure Enrich purifier holds up. Like its 3-in-1 sibling, it has a pre-filter for dust, an activated carbon filter for gaseous toxins, and a HEPA filter for pollen, spores, and other micro-organisms.
This purifier takes those three layers … and raises you a fourth photocatalyst filter that works with the UV-C bulb. That final filter has an ionizer inside it. As ions are released, they attach to pathogens and allergens in the room.
By 'joining' themselves to pollen, dust, and other contaminants, these ions neutralize the 'dirty' particles by making them heavier. The weighed down dirt is then dragged to the ground and other surfaces, where it can be swept, mopped, wiped, or hoovered away.
Meaning even though those particles haven't gone into the purifier (yet), they've begun their cleansing process. And you don't have to 'listen to your lungs' to gauge air quality. Just use the indicator light.
It's positioned near the base of the purifier, and it glows red for low-grade air, yellow for average air, and blue for high-quality air. The purifier has a 3-speed fan, and you can make your selection based on how fast you want the air to freshen up.
You don't have to though, because the air monitor has the capacity to adjust fan speeds automatically in response to air quality. That said, all these automated features come with noise problems – your purifier can be as loud as 60.2db.
Bottom Line
If you're looking for fancy features and you don't mind some noise, the Pure Enrichment 4-in-1 purifier is a good purchase. Just be sure to give it adequate floor space, and wipe down your surfaces regularly to get rid of your ionizer's effluent.
Pros
Purifies the entire room
Has a conveniently angled handle
Color-coded monitor for testing air quality
Cons
Too large for a counter-top or bed-side dresser
GermGuardian AC4825
Decibel Level: N/A
# of Fan Speed Options: 3
Coverage Area: 743 (sq ft or cubic feet)
Dimensions: 10.25 x 6.75 x 21.5
Weight: 8.55 pounds
We may earn commission from purchases made from our links, at no additional cost to you
Review
For the gadget-loving home, the GermGuardian is a dream, and not just because it looks so futuristic. Despite its exterior robotics, it has a surprisingly analog dial with three settings. The dial sits at the top of the purifier, and still on that top surface, about an inch below (or in front of) the dial, there's a green indicator light. When the filter needs replacing, the light turns red in warning. Oddly, although it's a 3-in-1 filter, only one of the filters has to be changed.
This is probably because the HEPA filter and the activated carbon filter are merged. At the outermost filtration layer, there's a charcoal pre-filter that doesn't have to be changed. This layer is especially helpful for combatting bad smells, whether it's from smokers, diapers, or pets.
For consumers worried about ozone, the UV-C light is optional and can be left off. When it's on, it works in combination with titanium dioxide for deeper disinfection.
The purifier's Carbon Air Delivery Rate (CADR) protects against smoke at CADR 108, dust at CADR 118, and pollen at CADR 125. However, the purifier is calibrated for 120V, so get the necessary adaptors if needed. The GermGuardian cleans areas of up to 167 square feet.
The device is AHAM Verified, and every hour, the air in the room is circulated through the GermGuardian 4 times or more. Other quality measures include California Air Resources Board (CARB) compliance and Energy Star certification.
Bottom Line
GermGuardian, true to its name, uses a mix of charcoal pre-filters, combined HEPA functionality, optional LB4000 UV-C bulb, and titanium dioxide to offer triple purification.
Pros
Offers triple-powered filtration
Has a high-tech robot aesthetic
Indicator flashes red to remind you to change the filter
Cons
Filter has to be replaced regularly (every 6 to 8 months)
SilverOnyx Air Purifier
Decibel Level: N/A
# of Fan Speed Options: N/A
Coverage Area: 500 (sq ft or cubic feet)
Dimensions: 10.5 x 10.5 x 16.5
Weight: 5.1 pounds
We may earn commission from purchases made from our links, at no additional cost to you
Review
All the purifiers we've looked at so far had (a series of) flat fans. By tweaking this gadget's design, the purifier itself – as well as its fan – evolved into a cylindrical layout. This not only made the purifier attractive but also increased the surface area of the filter by 60%, meaning it cleanses your air 60% faster and 60% more effectively. But size alone doesn't cut it. SilverOnyx has also enhanced efficacy by inserting 5 levels of filtration.
It's the same filtration system that many other purifiers have, but the order is slightly shifted. The outermost shell is a mesh pre-filter, followed by a HEPA filter, followed by the activated carbon filter (which holds the second position in most devices, sitting ahead of the HEPA layer.) The last two filtration layers are reversed too, with the ionizer sitting in front of the UV-C bulb rather than behind it. The purifier has its own 5-speed fan to match the 5 filtration layers.
As a bonus feature, the SilverOnyx is fitted with a sensor for particulate matter (PM2.5). When it detects foreign bodies in the air, it will automatically adjust fan speed, depending on how 'dirty' the air is and how fast it needs to be cleaned.
Your circular filter offers 360º cleaning action, but you do have to wash it every week and replace it twice a year to keep your purifier 'happy'. Turn off the device, unplug it, turn it upside down, and unscrew the bottom to access the filter.
Bottom Line
If you're looking for a powerful purifier with dark good looks and some tricks up its sleeve, go for the 5-in-1 SilverOnyx. As a smoker, you may not feel the need for it, but your houseguests and housemates will enjoy this new, fresher-smelling space.
Pros
Has 5-in-1 purification functionality
Has 60% more filtration surface area than other brands
Is effective against household odor, including smokers' residue, kids, and pets
Cons
Needs to be cleaned every week
OdorStop UV Air Treatment System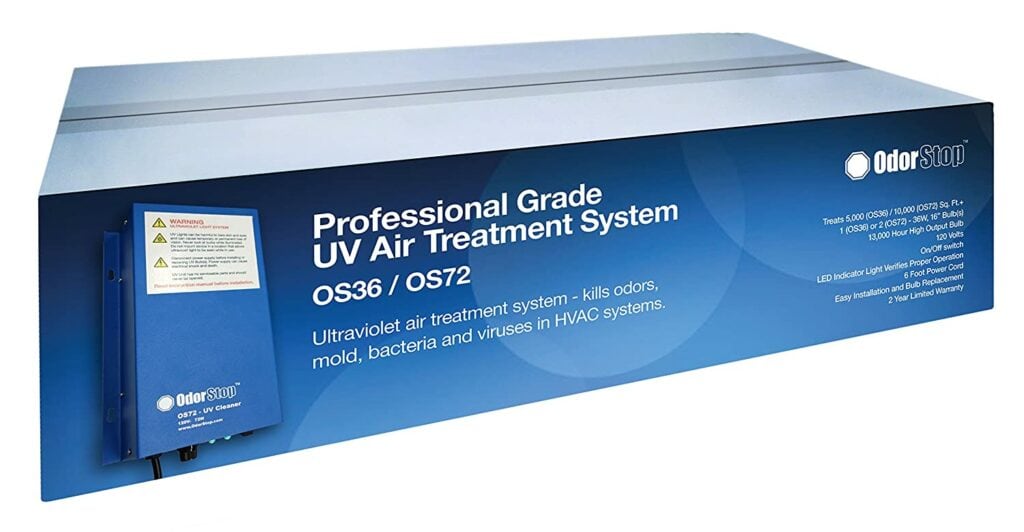 Decibel Level: N/A
# of Fan Speed Options: N/A
Coverage Area: 10,000 (sq ft or cubic feet)
Dimensions: 2 x 6.5 x 10
Weight: 3 pounds
We may earn commission from purchases made from our links, at no additional cost to you
Review
OdorStop is aptly named, but it's not just about eliminating smells. The UV-C rays also kill bacteria, viruses, mold, spores, and other micro-germs. This model differs from others because it specifically targets your cooling coil. This is arguably the most sensitive section of your HVAC, and because it's constantly moist, it's susceptible to mess and mold. OdorStop should be installed directly above the cooling coil, so it can clean any contaminants on the way down.
If you opt for a pro model as opposed to a regular one, the lamp will automatically switch itself on or off in accordance with the rest of your AC. It has an air-flow sensor built in, so the lamp will only light up when it comes into contact with moving air. This saves a lot of power and lowers utility bills. OdorStop comes in one-bulb, two-bulb, or four-bulb configurations.
Be careful while installing though, because the edges of the holes can get sharp. Also, the bulbs will extend out into the air duct, so pick the right size. There should be at least an inch of empty space between the tip of the bulb and the far end of the duct. Otherwise, the bulbs could shatter. On the other hand, if there's too much room between the bulb and the wall, then a lot of air will flow past untreated, so stick to the one-inch-window.
Bottom Line
While the visuals aren't as good as some UV lamps, the OdorStop offers added protection not just to your air, but also to your cooling coil and HVAC mechanics. You can install the lamp yourself, but in case you don't have a power outlet within six feet, be sure to call in a professional electrician for the socket installation.  
Pros
Pro model has a built-in air sensor
Cleans the whole house up to 5,000 square feet
Comes with all the necessary mounting components
Cons
Mounting process needs gloves and ear protection
Envion Therapure TPP240
Decibel Level: N/A
# of Fan Speed Options: N/A
Coverage Area: 343 (sq ft or cubic feet)
Dimensions: 7.9 x 26.1 x 9.6
Weight: 9.6 pounds
We may earn commission from purchases made from our links, at no additional cost to you
Review
Therapure's tower purifier is nice to look at and easy to use. On its top surface, there's a digital display with all its functionalities. It has a 24-hour timer and is best for rooms that measure roughly 500 square feet. Aside from eliminating pollen, pet dander, and other micro-germs, Therapure can extract potential toxins from paint, household chemicals, and rising carpet fumes. It contains a UV light, ionizer, and photocatalytic filter in addition to its HEPA layer.
This system is calibrated to circulate air through its filters up to three times in an hour. The ioniser is optional. Dirty air first passes through the HEPA filter, then flows past the UV-C bulb, before finally being fed through the VOC filter. The final filter is what extracts toxic paint and carpet fumes (aka volatile organic compounds).
Therapure weighs about 10 pounds and stands 10 inches high, so it can be positioned on a table-top as needed. The filter may be permanent, but you do need to change the UV bulb once a year or so. And while some users prefer to wash the filter and dry it in the sun, it's not necessary (or advisable, according to the manufacturer). Vacuuming the filter is beyond adequate.
Bottom Line
We loved this purifier at first sight – it has gorgeous aesthetics. It helps that the filter has the potential to be permanent, but if it does get damaged, you can buy a replacement on Therapure's website. Don't forget to add the filter to your vacuuming routine though.
Pros
Is certified by Energy Star
Has a built-in 3-speed fan
Filter doesn't necessarily need replacement, but you do have to vacuum it regularly
Cons
Carries a warning for potential mercury exposure
Best Filterless Silent UV Air Purifier
Air Oasis 1000-G3

Decibel Level: 30
# of Fan Speed Options: N/A
Coverage Area: 300 (sq ft or cubic feet)
Dimensions: 4 x 4 x 14.13
Weight: 6 pounds
We may earn commission from purchases made from our links, at no additional cost to you
What Recent Buyers Report
Buyers love the Air Oasis 1000-G3 for its compact size that makes it suitable for use while traveling. They also acknowledge that it easily complements house decor due to its artistic aluminum material. This UV air purifier is silent and does not cause excessive noise.
Why it Stands Out to Us
If you have been using a traditional air purifier in your home, it is time you purchase an Air Oasis 1000-G3 for the following reasons:
The appliance is made of artistic aluminum that can easily blend with any décor especially in the living room.
The Air Oasis 1000-G3 can easily cover a large area. If you run it in an 800 square feet area, you will notice the difference after a few hours. Given additional time, the purifier can cover up to 1000 square feet.
The Air Oasis 1000-G3 uses UV C light that can easily kill airborne bacteria, pollutants, and airborne viruses with 99% efficacy.
The Air Oasis isn't only an ultraviolet air purifier. It also has an air ionizer that handles super fine contaminants like volatile organic compounds (VOCs), smoke, and odor.
Bottom Line
If you are seeking to eliminate pollutants, germs, viruses, and mold spores from your home, you should purchase the Air Oasis 1000-G3. However, the purifier's availability may be limited. Ordering well ahead is recommended.
Pros
Small and easily portable
Consumes less than 45 watts of energy
Six filtration stages for optimum air purity
Made of quality aluminum metal to last for a long time without getting damaged
Extremely quiet air purifier hence usable in a room or office without being a noise nuisance
Cons
Produces ozone that is unsafe for human health when inhaled
Not available for use and sale in California as it does not meet the state's requirements
Best Sanuvox Ultraviolet Air Purifiers
Sanuvox Biopur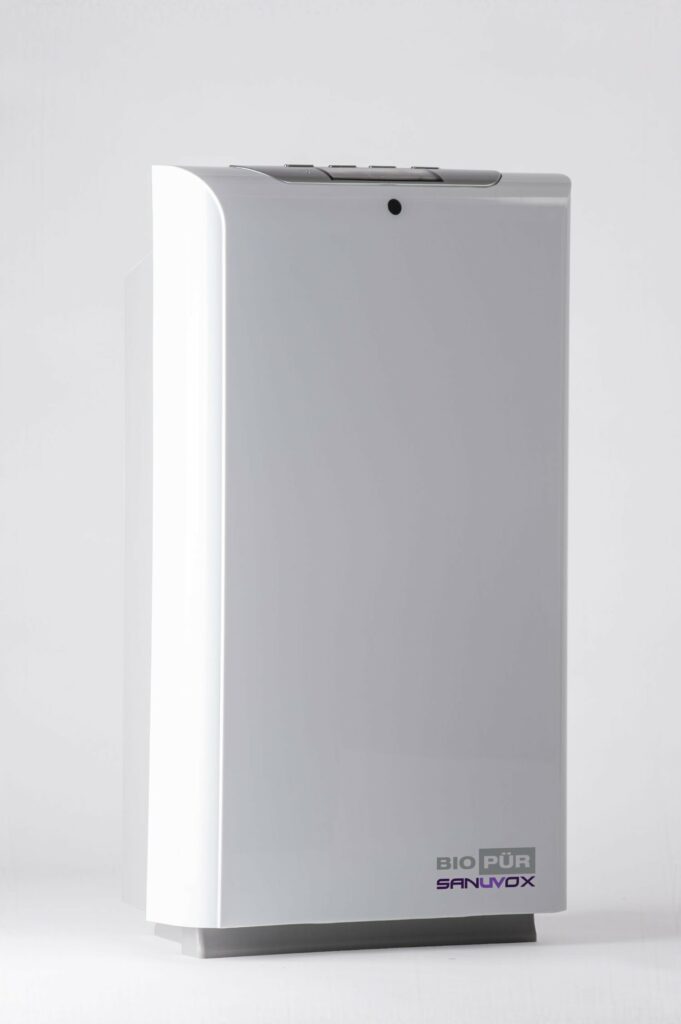 Decibel Level: 58
# of Fan Speed Options: N/A
Coverage Area: 800 (sq ft or cubic feet)
Dimensions: 9.25 x 13.23 x 23.43
Weight: 13.2 pounds
We may earn commission from purchases made from our links, at no additional cost to you
What Recent Buyers Report
Unlike basic HEPA filter purifiers that only eliminate dust particles, the Sanuvox Biopur is a combined ultraviolet air purifier, HEPA filter, and carbon filter that removes bacteria and gases from your rooms.
Most buyers love that it is a portable air purifier that can easily be moved to different parts of the house as needed. They also acknowledge that the UV c light filter consumes low energy.
Why it Stands Out to Us
It is efficient and covers a large area of up to 800 square feet at 99.5% efficiency in eliminating mold, odors, pollen, smoke, and all other common forms of indoor air pollution.
The Sanuvox Biopur purifier is easy to operate. It comes with a remote that can be operated by anyone including children. You can also set the air purifier on automatic mode to work 24/7.
This UV air purification system is easily portable and can be continuously moved to different areas where it is needed.
The UV bulb is 99% efficient and only consumes 50W of electricity. This is easily affordable in most households.
Bottom Line
The Sanuvox BioPur Air purifier works well in large areas and easily destroys dust, mold, and pollen. However, at high speeds, it can be noisy, causing disruptions at night. Even so, for those with allergy problems caused by dust and mold, it is a good investment.
Pros
Low energy consumption
Has a 1-year warranty against factory defects
The portable air purifier can be easily shifted from room to room
Covers a large area and can easily purify up to 800 square feet or more
Consists of a UV lamp that can be used to destroy bio-contaminants such as mold
Cons
Noisy hence can cause some disturbances at night
Produces ozone that may cause itching, breathing difficulties, or coughing
Honeywell RUVLAMP1/C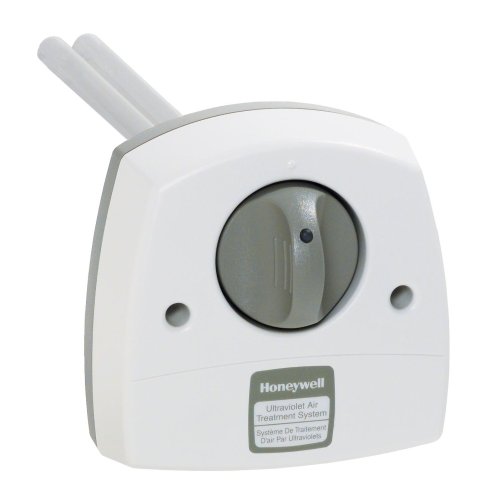 Decibel Level: 48
# of Fan Speed Options: N/A
Coverage Area: N/A (sq ft or cubic feet)
Dimensions: 12.5 x 11.25 x 5.5
Weight: # pounds
We may earn commission from purchases made from our links, at no additional cost to you
Review
At first glance, the Honeywell RUVLAMP1/C doesn't look very helpful. But that's because it's only a partial system. It's basically the undressed UV-bulb portion of a regular filtration device, except the Honeywell slips right into your ducts, so it doesn't need external casing or filtration layers.
You simply find a convenient location on your ducts, cut holes for the dial and screws, and secure it in place using a power drill. The pack comes with clear instructions, and you can also follow Honeywell's step-by-step tutorial, available on YouTube.
As you decide where to plug in your UV lamp, ensure you have at least 8 inches of hollow space inside the duct so that the bulb has enough room. Also, make sure there's a 120V power outlet nearby.
The lamp will need this port to plug into your electrical system. Unfortunately, because the lamp lacks filters, its UV light will only destroy 70% of germs. Also, while UV light isn't visible to the naked eye, it can harm your eyesight, so never look inside the duct while it's on.
You may be worried about tracking the lamp, now that its illumination is hidden and risky to spy on. Fortunately, the lamp as a blue indicator light on the visible portion of its dial, so you can always tell at a glance whether it's working or not. As air flows through the system, the UV-C light emitted by your RUVLAMP will kill contaminants.
Once installed, the dial sits vertically, and only the control unit is visible. The protruding bulb is hidden inside the duct. Extract and clean the bulb every three months or so, using unscented glass-cleaner and a damp cloth.
Bottom Line
If you're already using ducts for your heating and cooling needs, you might not want an independent filtration device. The Honeywell RUVLAMP1/C works because you can attach it to your HVAC in a safe, low-fuss way.
Pros
Convenient positioning for added safety
Bulb is easy to replace – just twist and shift
Offers consumers protection against UV damage
Cons
Doesn't have its own filtration membranes
What is an Air Purifier With UV?
A UV air purifier is one that emits UltraViolet light that is used to destroy pathogens and microorganisms such as bacteria, mold, and viruses. The UV purifier consists of a bulb that produces electromagnetic energy to destroy the DNA of microorganisms such as mold, viruses, and bacteria. Once the UV light is directed towards the mold, microorganisms are destroyed within a short time.
The major disadvantage of this purifier is the formation of ozone, which can be a health risk to your family. However, you can overcome this by leaving the room and only returning about one hour from the time the unit stops. By this time the ozone particles will have dissipated or reverted to oxygen molecules.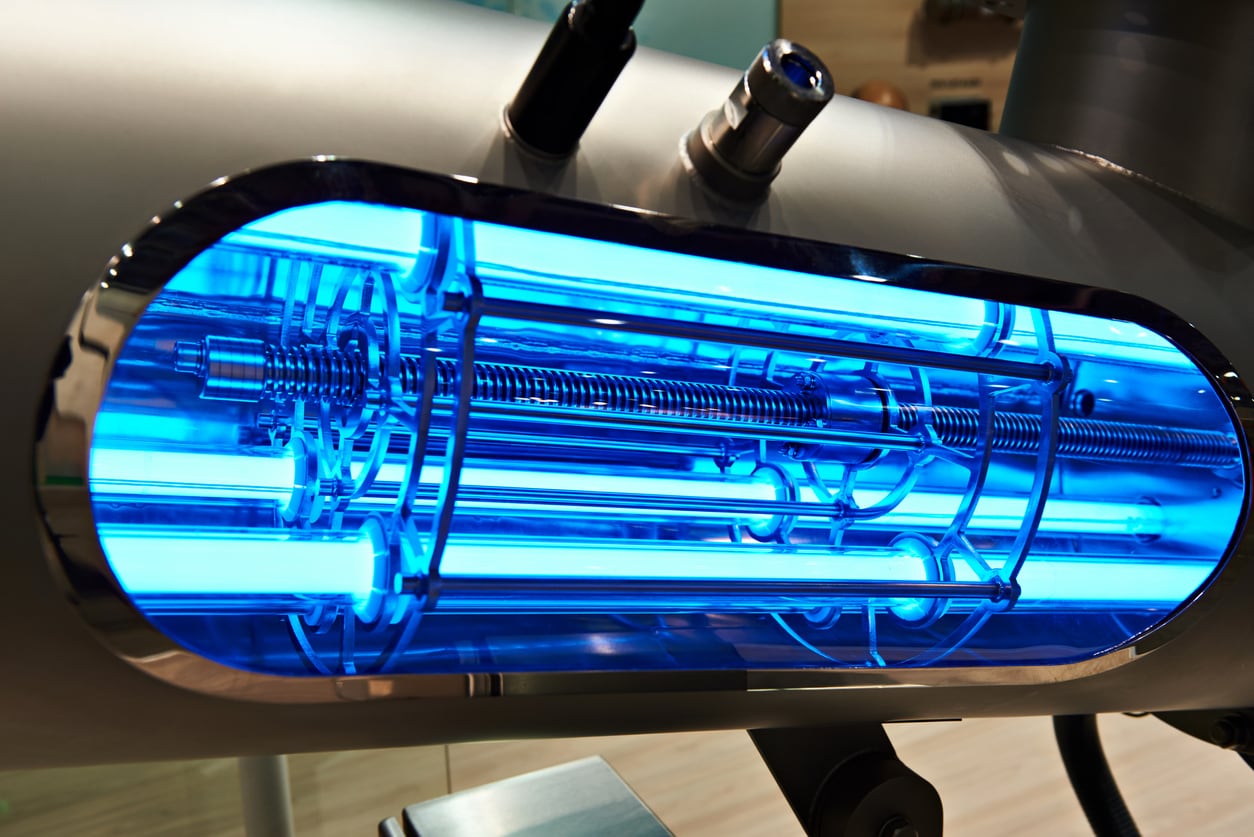 What Does a UV Light Do on an Air Purifier?
Ultraviolet light is the harmful kind. It's what we use sunscreen to protect ourselves from and use wax sealants and paint protectant to guard our cars against. But in a purifier, it's a good thing. Not because it's any less dangerous, but because its powers of destruction are channeled towards germs. As air gets sucked into your air purifier, it passes through ultraviolet light that kills all harmful micro-organisms, releasing cleaner, safer air back into your home.
You can't see UV light with your naked eye because its wavelengths are too short for our eyes to recognize. There are three kinds of UV light: UV-A, UV-B, and UV-C. UV-C disinfects your air by breaking the genetic code of microscopic organisms.
Ordinary filters just trap the germs and keep them from going back into your room's circulation. UV-C gets into the cell and makes it dormant by damaging its reproductive elements. This means the germs can be revived later, so you still have to discard your filters or combine UV-C with another form of anti-microbial substance.
Aspects to Consider Before Buying
After reading the paragraphs above, you may be unsure about having UV devices in your home or office. Luckily, UV-C doesn't pass through human skin, so it's safe for you, your kids, and even your pets. But it's murder on micro-bugs, so you definitely want some UV-C in your HVAC. What factors should you add your shortlist, aside from the presence of a UV-C generator?
HEPA Filter
High-Efficiency Particulate Air filters are an essential addition to your UV air purifier. As we've seen, dormant germs can still re-activate under the right circumstances, so your HEPA filter prevents these 'sterilised' germs from re-entering your space.
HEPA filters are also helpful for trapping the (in)visible toxins in second-hand smoke, as well as dust, mold, and allergens. Many UV purifiers come with HEPA functionality but you should always double-check.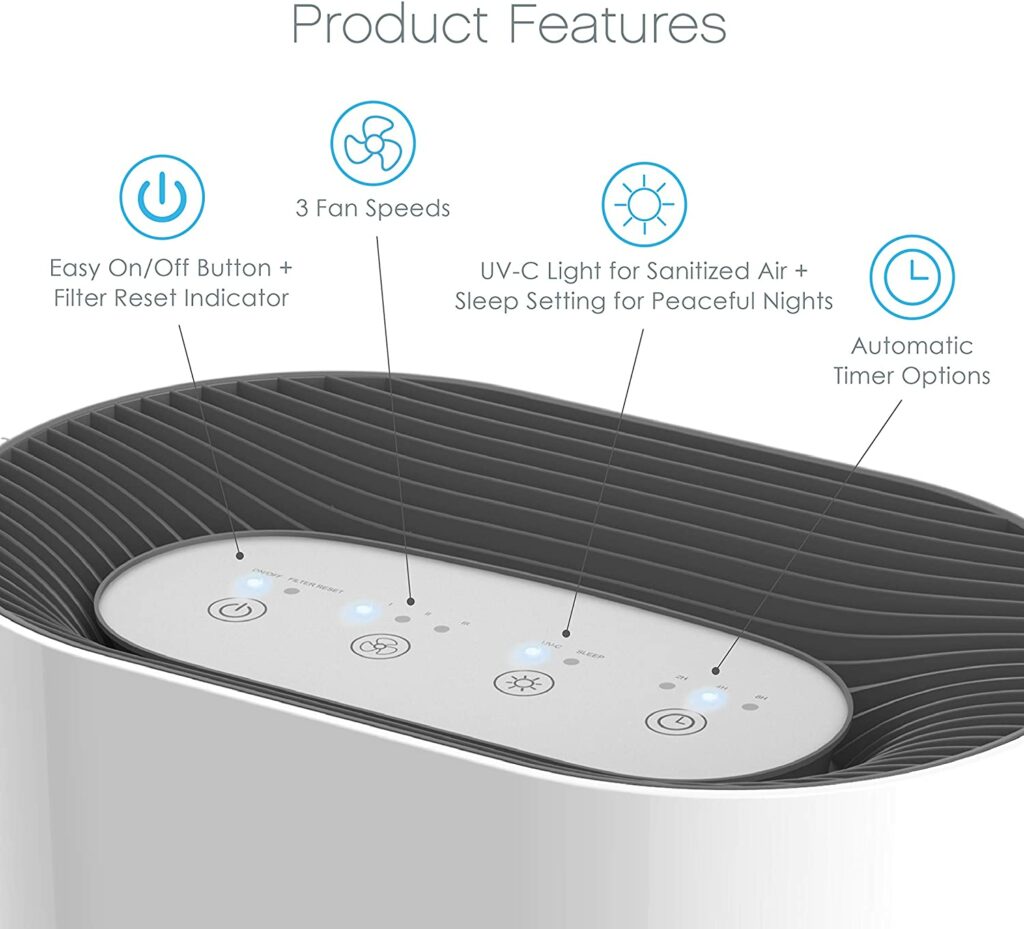 Air Flow Speed
Ordinarily, you want your air in and out of the filter as quickly as possible, because this minimizes your exposure to tainted air. Unfortunately, when you're using a UV purifier, speed is the enemy. Air needs to stay in the purification chamber long enough for the UV-C to work.
In a swimming pool filter, it takes about half an hour to kill everything in the water. In air filters, this isn't feasible.
It helps if your filter has some mechanism to extend purification time though, allowing the air to pass through more slowly (or more frequently) to fully experience UV-C exposure.
UV Air Purifier Types
There are three main types of purifiers, discussed below.
UV-A Air Purifier
This type of UV-Air purifier has a wavelength of 320 to 400nm. It is considered the safest and most efficient type of light as it kills 99% of bacteria and viruses.  
UV-B Air Purifier
This purifier has a wavelength of 280 to 320nm. It is also efficient in killing microorganisms but can lead to cancer with prolonged exposure. 
UV-C Air Purifier
A UV C light has a wavelength of 200 to 280nm. The wavelength is invisible and is used to kill pollutants in the atmosphere and denature viruses that cause allergic reactions. It is important to note that the intensity of the UV is enough to prevent molds from developing in homes and industries.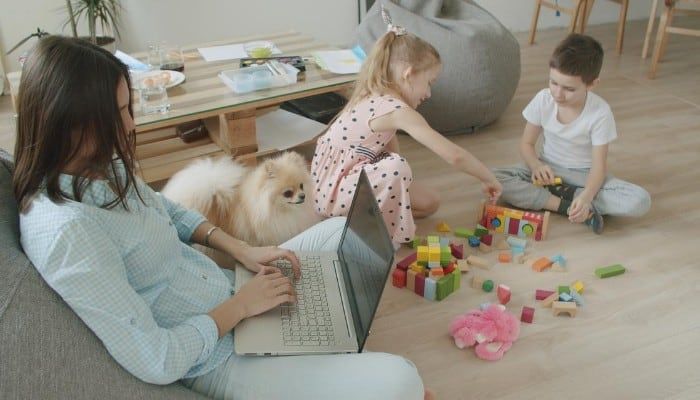 How Do UV Air Purifiers Compare?
There are a lot of devices that claim to do similar things. So what's so special about UV air purifiers?
Ozone Air Purifier vs UV Air Purifier
Similarities
Both devices produce ozone.
Differences
UV air purifiers clean the air by using UV light to kill microorganisms while ozone air purifiers clean the air by changing the chemical composition of substances in the air


Air purifier ozone does not remove particles such as pollen and dust from the environment while the UV air purifier removes such particles


UV air purifiers are safe to use indoors as they only produce small amounts of ozone while ozone air purifiers produce ozone in large enough quantities to pose a serious health risk
Air Sanitizer vs Air Purifier
Similarities
Both remove contaminants from the air.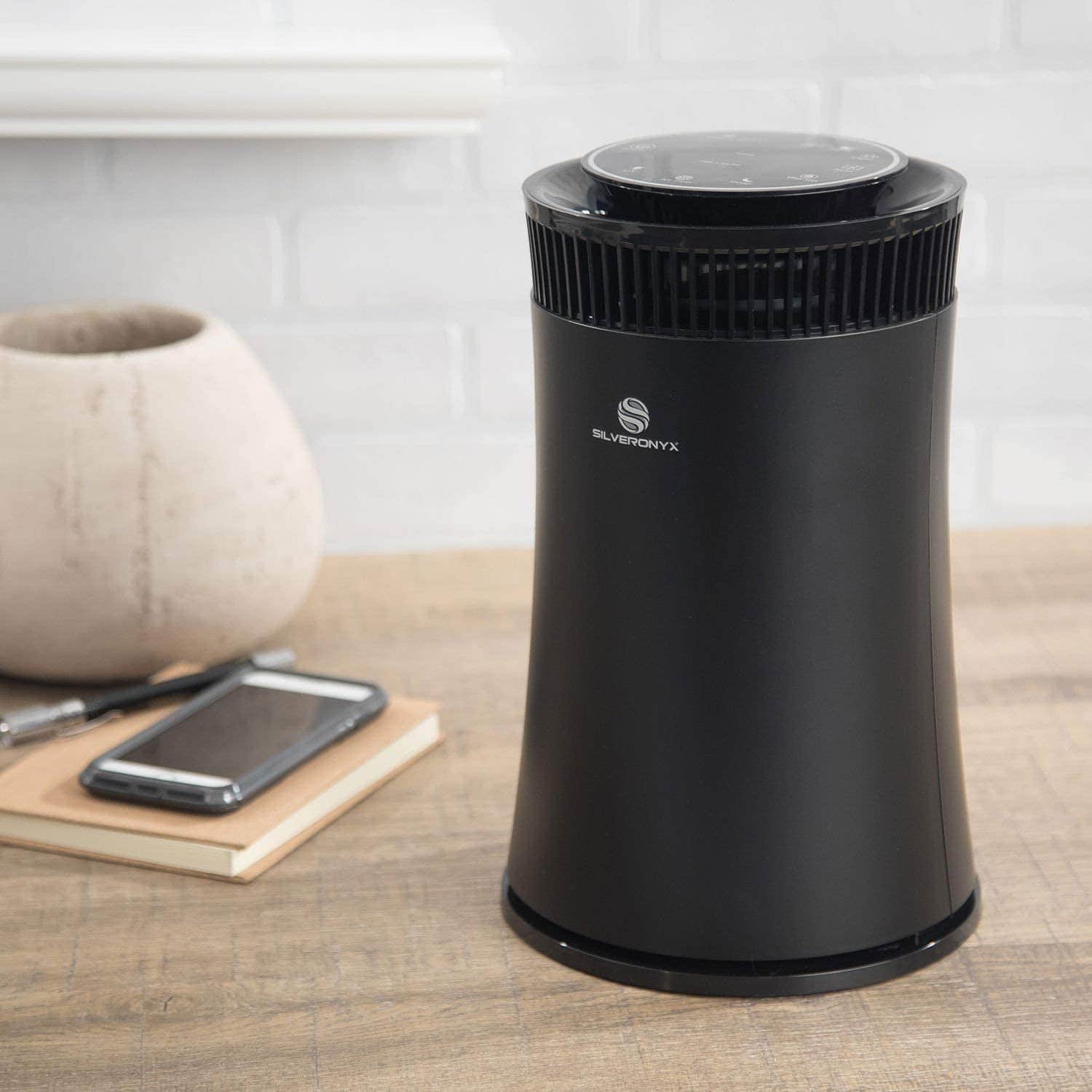 Differences
Air purifiers trap particles while air sanitizers act on microorganisms


Air purifiers are made up of filters that trap particles and pollutants while air sanitizers are disinfectants that reduce the growth of microorganisms such as bacteria


While air purifiers filter particles on an air circulator, air sanitizers act on microorganisms in open space



Some air purifiers such as ozone generators may emit dangerous gases. On the other hand, air sanitizers do not produce any carcinogens that may harm your body





Air purifiers are expensive and require regular servicing while air sanitizers are a one-time investment that doesn't require heavy maintenance
UV Light vs Ionizing Air Purifier
Similarities
Both purifiers remove contaminated air from the environment.  
Differences
UV air purifiers use  UV light to kill microorganisms while ionizing air purifiers use negatively-charged particles to trap pollutants





UV air purifiers are safe to use indoors while ionizing air purifiers are less safe as they produce more ozone





Ionizing air purifiers only eradicate particulate pollutants while UV light purifiers remove both particulate pollutants and mold spores
UV-C vs UV-A Air Purifier
Similarities
Both help in improving air quality and neutralizing microbes using UV light.
Differences
The wavelength of the UV-A ranges between 320 to 400nm while the wavelength of the UV-C ranges between 200 to 280nm


The UV-C air purifier should be handled with extra care as it produces more ozone while the UV-A is the safest UV air purifier.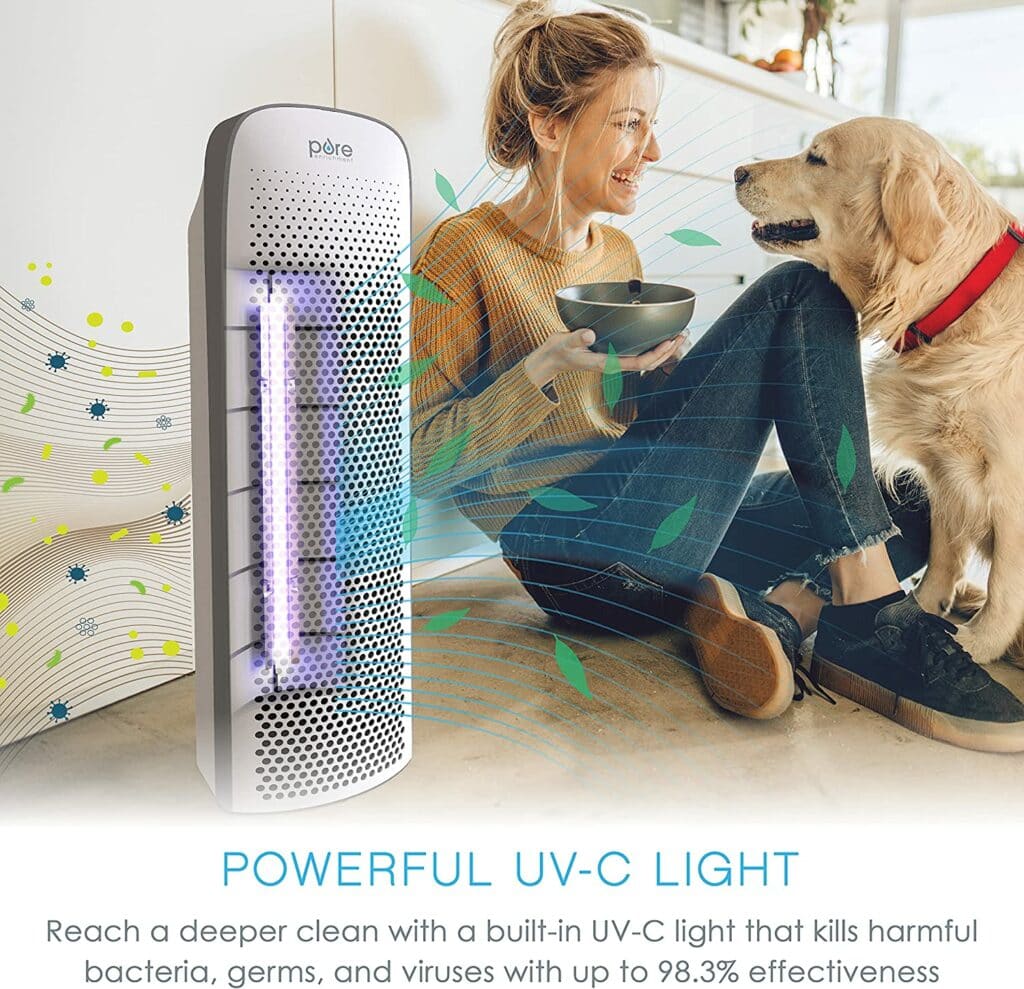 Pros and Cons of UV Air Purifiers
Even the best things in life have their downsides and vice versa. Let's dip into some of the pros and cons of installing a UV air purifier.
Pros
Below some of the pros:
Minimizes Allergies
People who have respiratory problems are easily affected by dead skin cells, pet dander, dust mites, pollen, mold, and other particles that constantly surround us. Your UV air purifier will kill or cripple those germs and trap the rest, reducing allergic reactions and potential infections.
Fresher Air
When you travel in the mountains, stroll among some greenery, or even drive through a part of town with a higher altitude, you feel the difference. You can't quite put your finger on it, but it's probably because the air is cleaner and fresher. UV filters help you reproduce this effect indoors.
Cons
Below are some of the cons:
Ozone Can be a Health Risk
In the right amounts – and in the right places – ozone (O3) can be a good thing. It's great for atmospheric shielding (in outer space), purifying air, sterilizing swimming pool water, and deodorizing unpleasant car smells. But it can also cause respiratory problems and lung tissue irritation, so be careful not to over-expose yourself.
Your Bulb Needs Changing
Not often – UV-C bulbs last a lot longer than regular bulbs. You do need to keep an eye on the bulb's performance though and swap it out every year or two. Fortunately, they're not too expensive, though they do cost a lot more than regular light bulbs.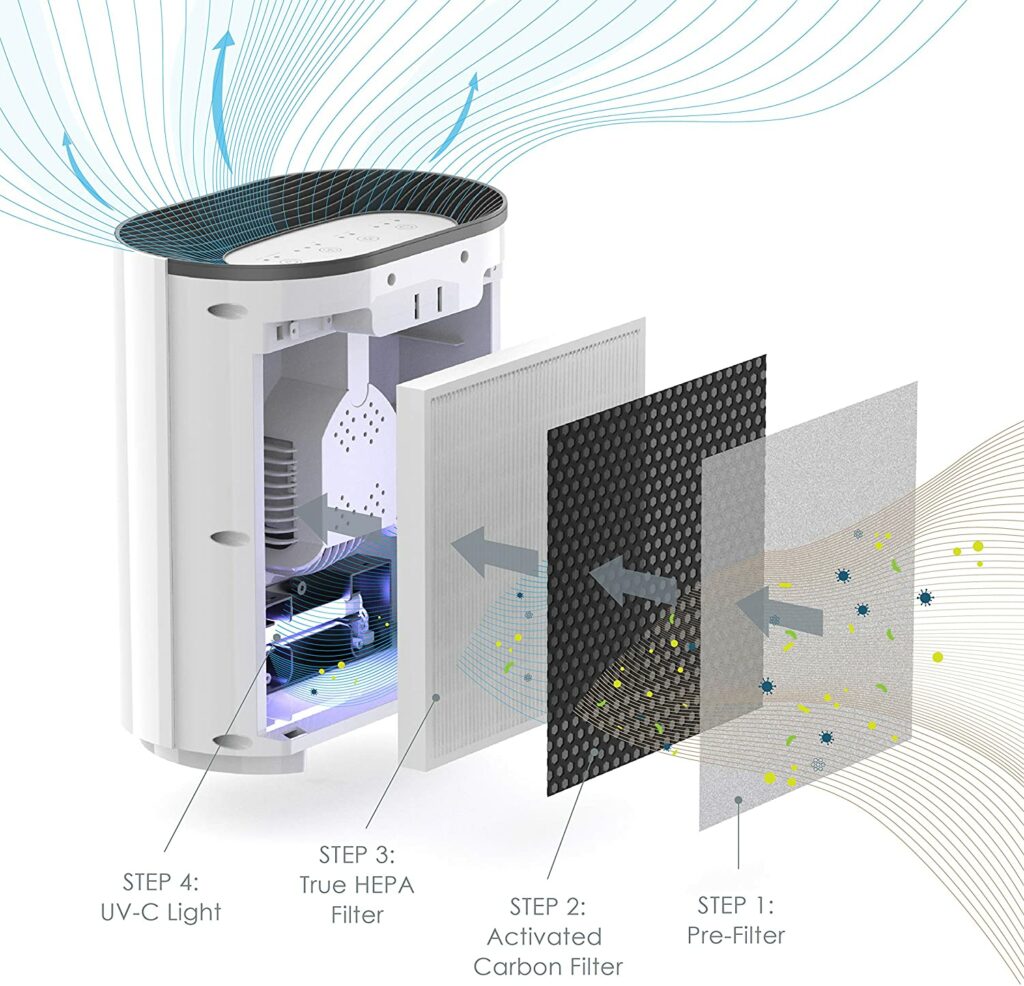 Conclusion
You definitely need a UV air purifier in your life, and we gladly swear by Pure Enrichment's 3-in-1 air filter, especially if your household has smokers. Your purifier can offer added protection to the non-smokers, muting the effects of second-hand tar and nicotine. Plus, between the touch-screen controls and filter-replacement indicators, maintenance is quick and simple.
People Also Ask
Just before we wrap this up, let's consider some of the common questions people ask about UV air purifiers to help widen your knowledge on the same.
How Much Energy Does an Air Purifier Use For a UV Light?
When purchasing an air purifier, it is important to consider the UV light spectrum. The wider the spectrum, the more electricity the air purifier will consume. Further, if the UV air purifier consists of air filters then it is likely to consume more energy as compared to filterless UV air purifiers. Go for a device that consumes between 45 and 100 watts. 
How Effective Are UV Air Purifiers For Smoke?
Smoke is made up of particles that are 0.1 microns in size. Therefore, you can only best clear out smoke using activated carbon filters or HEPA filters. The UV light is only most effective in eradicating bacteria and mold.
Why is UV With Titanium Dioxide Better in Air Purifiers?
According to scientific experiments, Titanium Dioxide removes bad odor and kills microorganisms that go through it. The killing process involves destroying the walls of the microorganisms through the production of species such as hydrogen peroxide.

When the UV is combined with Titanium Dioxide, the killing effect gets stronger hence the ability to kill more microorganisms faster.
When to Use a UV Air Purifier
UV air purifiers are properly designed to deactivate mold, bacteria, and viruses. Normally, mold and bacteria in the air are resistant to traditional air purifiers. They require a huge amount of UV dosage. If your home is heavily infested by mold and other ordinary air purifiers have failed, you can use a UV air purifier to damage the microorganisms.
Is UV Light In an Air Purifier Safe?
UV light in an air purifier is safe since it is only produced as a byproduct in low quantities that easily and quickly dissipate or revert to oxygen molecules. To reduce the chances of inhaling the ozone, ensure that you leave the room and only come back about 60 minutes after the air purifier has stopped working.
Do UV Air Purifiers Kill Viruses?
UV air purifiers kill viruses in the air, but they tend to be a bit slow. You are therefore required to have an additional form of protection to prevent you from acquiring the virus. For instance, if you are exposed to the coronavirus, switch on the UV air purifier and also remember to maintain cleanliness by regularly disinfecting surfaces and your hands as well. You can also use the UV air purifier alongside other virus control devices like air sanitizers and HEPA air purifiers.