As the winter temperatures go down, we turn our thermostats up. Unfortunately, the combination of already dry winter air and the added heat from furnaces and fireplaces create an environment that, quite literally, sucks the moisture from our bodies.
From dry, itchy skin to static shocks and even nosebleeds, the lack of humidity in the air during winter months can make life miserable in many different ways.
It doesn't have to be that way, though. A good humidifier can put an end to all of those symptoms and turn your home into the winter wonderland you've always wanted.
At a Glance: Our Top Picks for Humidifier For Winter
Comparison of the Best Humidifiers for Winter
IMAGE
PRODUCT

Our Top Pick

Best Overall Winter Option
Ultrasonic Cool Mist Operation Generates Humidity Without Heat
Night Light and Automatic Shut-Off Make it Perfect for Kids' Bedrooms

View Latest Price →

Best Budget Option

Our Selection as Best For The Money
No Filter Required so No Parts to Re-Buy and Replace
Runs Up to 20 Hours on One Tank With Automatic Shut-Off Feature

View Latest Price →

Our Selection as Best For Winter Dry Air
Dual Function Winter Humidifier and Air Purifier in One
Huge 2 Gallon (9-Liter) Tank Means Long Operation Without Refilling

View Latest Price →

Our Selection for the Most Portable Winter Humidifier System.
One Gallon (4.5-Liter) Tank Provides Up to 24 Hours of Operation
Warm Mist System Produces 95% Bacteria-Free Mist for Medium-Sized Rooms

View Latest Price →
How to Choose a Winter Humidifier
There are plenty of different options available when it comes to home humidifiers. There are so many, in fact, that it can get downright confusing. A wrong choice could mean spending money only to continue suffering the symptoms of too-dry air, or worse, you could end up over-humidifying your home, causing mold in warm areas and ice in cold areas—bringing on a whole new set of problems.
Size of the Room or Home
The most important factor to consider is the size of the area that needs to be humidified. No matter what type of humidifier you decide to buy, it needs to have the power to treat the area where you intend to use it. Make sure the unit you choose can handle the work you need it to do.
Automatic Functions
Some humidifiers are completely manual, relying on you to turn them on and off, while others will operate on a timer or even via a humidistat. Then, there are some that use no power whatsoever, taking advantage of science and evaporation. You'll need to decide which type of system is going to fit your price point and meet your requirements.
Easy to Clean
All humidifiers will need to be cleaned regularly to keep bacteria and mold from growing within the unit. It's important to investigate how easy it will be to clean any model that you might be considering. You should also look into whether or not it will require any replacement parts such as water or air filters.
Review of the Best Humidifiers for Winter
Below, we've compiled a list of five of the top home winter humidifiers. No matter what you're looking for, be it overall power, the best price, or just whisper quiet operation, one of these models will fit your needs perfectly. All are available for online ordering and can be in your hands and humidifying your home in no time.
Pure Enrichment MistAire Humidifier
Decibel Level: N/A
Coverage Area: 250 sq ft.
Tank Size: 0.4 gallons
Dimensions: 8 x 6 x 9 inches
Weight: 1.35 pounds
We may earn commission from purchases made from our links, at no additional cost to you
Review
The Pure Enrichment MistAire Humidifier comes as the runner-up on our list. With thousands of reviews from consumers who have purchased this humidifier, buyers over overwhelmingly positive about this unit.
Several features make the Pure Enrichment MistAire perfect for overnight use in any bedroom. It has a 1.5-liter tank and two operating speeds. You'll be able to run this humidifier for up to 16 continuous hours on just one tank of water. The automatic shut-off feature will turn the unit off when either a low water level is detected or the tank is removed. It also includes a night light feature to calm the kids or just give your own room a soft glow to help you relax.
And you won't have to worry about being woken up in the middle of the night since it does its job in virtual silence. It's so quiet, you'll forget it's there.
Bottom Line
The Pure Enrichment MistAire humidifier is a great choice for those who want to be able to turn on their humidifier and forget about. It's especially well-suited for night time use or to be placed in children's bedrooms. With cold mist, automatic shut-off, and even a night light, you can confidently fill it, turn it on, and leave it to do its job.
Pros
Ultrasonic ultra-quiet operation makes it perfect for nighttime use in bedrooms
With up to 16 hours of use on one tank, it only needs to be refilled once per day
Stylish design allows it to be placed in open areas without sacrificing visual appeal
Cons
Tight spaces inside the unit can be difficult to clean by hand
Some parts are delicate and may break if cleaned too vigorously
Using unfiltered or hard water can result in a need for more frequent cleaning
Honeywell HUL520R Humidifier
Decibel Level: N/A
Coverage Area: N/A
Tank Size: 0.5 gallons
Dimensions: 8.5 x 8.5 x 9.5 inches
Weight: 3 pounds
We may earn commission from purchases made from our links, at no additional cost to you
Review
As our Best For The Money selection, the Honeywell HUL520R Humidifier provides excellent value and performance versus cost. It is nearly silent when running and provides up to 20 hours of service from just one .5 gallon (2.25 liter) tank.
It also comes in several different colors to match the decor of any room. This humidifier is also especially easy to clean. It has a large open design that lets you reach all internal areas with ease.
This product provides a cool mist that poses no risk of burns to you or your children. When you account for the automatic shut-off feature and nearly silent functioning, it makes this unit perfect for children's rooms or nurseries. With the well-known quality of Honeywell, you can feel confident that the HUL520R will meet the needs of you and your family.
Bottom Line
The Honeywell HUL520R humidifier provides very good value but should be considered as a light-duty winter humidifier for your home. It is designed to humidify small areas and certainly not an entire home or apartment. In exchange, you get a small, lightweight device that requires little water and has one of the longest operational durations available. If you want to humidify a small room or office, this Honeywell humidifier could be exactly what you're looking for.
Pros
Very easy to clean when compared to other offerings
With up to 20 hours it has one of the longest operational durations available
A broad choice of colors allows you to match the unit with your home's style
Cons
Overall design is not especially attractive compared to others
Recommended for small areas and not as powerful as some other units
With no internal filter, prefiltered or distilled water is required for best operation
Venta LW25 Airwasher 2-in-1
Decibel Level: 45 dB
Coverage Area: 430 sq ft.
Tank Size: 2 gallons
Dimensions: 11.8 x 13 x 11.8 inches
Weight: 8.5 pounds
We may earn commission from purchases made from our links, at no additional cost to you
Review
The Venta LW25 Airwasher uses a cold water evaporation system that requires no filters and no heat. With three fan speeds, it can reliably humidify an area of up to 400 square feet. The Airwasher also cleans the air in your home by removing dust, bacteria, and pollen from the air as it moves through the unit.
Since the Airwasher 2-in-1 works through an evaporation system, it also completely eliminates the possibility of over-humidifying your home and causing other problems. No steam or mist is forced from the unit. The air in your environment will simply absorb the necessary moisture naturally. This also prevents the system from expelling any substances such as the white dust that users of other humidifier systems sometimes complain about.
Bottom Line
The Venta LW25 Airwasher can operate for long periods without the need to refill the reservoir and is capable of humidifying large areas. It could be the perfect humidifier for those with a large living room or master bedroom where smaller humidifiers just don't cut it.
The system has several advantages over cool mist or hot steam humidifiers but may not be able to keep up with the needs of extremely dry environments. It will also require a bit more intense cleaning since it does actively remove particulates from the air as part of its function.
Pros
True filterless operation doesn't require any filters or distilled water
Full reservoir will last from one to three days depending on air conditions
Actively removes harmful bacteria and particles from the air as it humidifies
Cons
Fan is powerful but noisier than some other winter humidifier systems
Doesn't require frequent cleaning but cleaning can be somewhat difficult
May not release sufficient moisture fast enough for extremely dry environments
Most Portable Winter Humidifier
Vicks 1-Gallon Warm Mist Humidifier
Decibel Level: N/A
Coverage Area: N/A
Tank Size: 1 gallon
Dimensions: 12 x 7.88 x 14.25 inches
Weight: 4.75 pounds
We may earn commission from purchases made from our links, at no additional cost to you
Review
The Vicks 1-Gallon Warm Mist Humidifier will provide enough vapor to keep a medium-sized room comfortable for up to 24 hours with just one gallon of water.
For those days when you or your children are feeling under the weather, it can also be used with Vicks VapoSteam for a medicated mist that will help soothe coughs, congestion, and cold symptoms. There are two output settings and the simple but stylish design will fit right into any room.
Bottom Line
The Vicks 1-Gallon Warm Mist Humidifier is a great option when used in line with what it was intended to do. With a warm mist system, it is much easier to generate too much mist and create more humidity in a room than you actually need. This type of system, however, is excellent for relief from allergies or colds—especially when used with products such as VapoSteam.
The sleek design, small size, and long operational duration make this a great choice for anyone who wants to be able to use their humidifier for both environmental and medicinal purposes. It will most certainly help you maintain comfortable levels of humidity and can be easily moved from one room to another if someone in your household gets sick.
Pros
No need to constantly monitor water levels with up to 24 hours of operation
Heated mist system helps kill any germs or bacteria that may be in your water
Provides powerful operation but small enough to easily move from room to room
Cons
Heat system can cause a bubbling noise as the water begins to boil
Possibility of over-humidifying an area is greater with a warm mist system
Must be kept very well out of reach of children because of the warm mist system
Benefits of Having a Humidifier in the Winter
Having a winter humidifier in your home can benefit you in several ways:
Proper Air Humidity Levels Are Good for Your Health
When humidity levels drop, we are all much more likely to suffer from allergies, nosebleeds, dry skin conditions, and other problems. Your body will actually give up its own moisture to air that is too dry, causing your skin and mucous membranes to dry out and become irritated.
The results can range from itching and irritation to excessively delicate skin and membranes that bleed more easily.
Dry Air Enables Dust and Static
The dry air creates the perfect environment to both create dust and allow it to move more freely through the air and throughout your home. If you've ever suffered from dust allergies, you should know how dry air can aggravate your symptoms.
Dry air also creates conditions that allow static electrical charges to build up. You are much more likely to get those painful and annoying shocks when the air in your home is too dry. Maintaining the proper level of humidity will reduce or even eliminate many of these symptoms.
Your Home and Furniture Suffer Too
When the air in your home is too dry, you're not the only one who suffers. Everything from wood in the structure of your house to the fabric on your furniture dries out and becomes more brittle.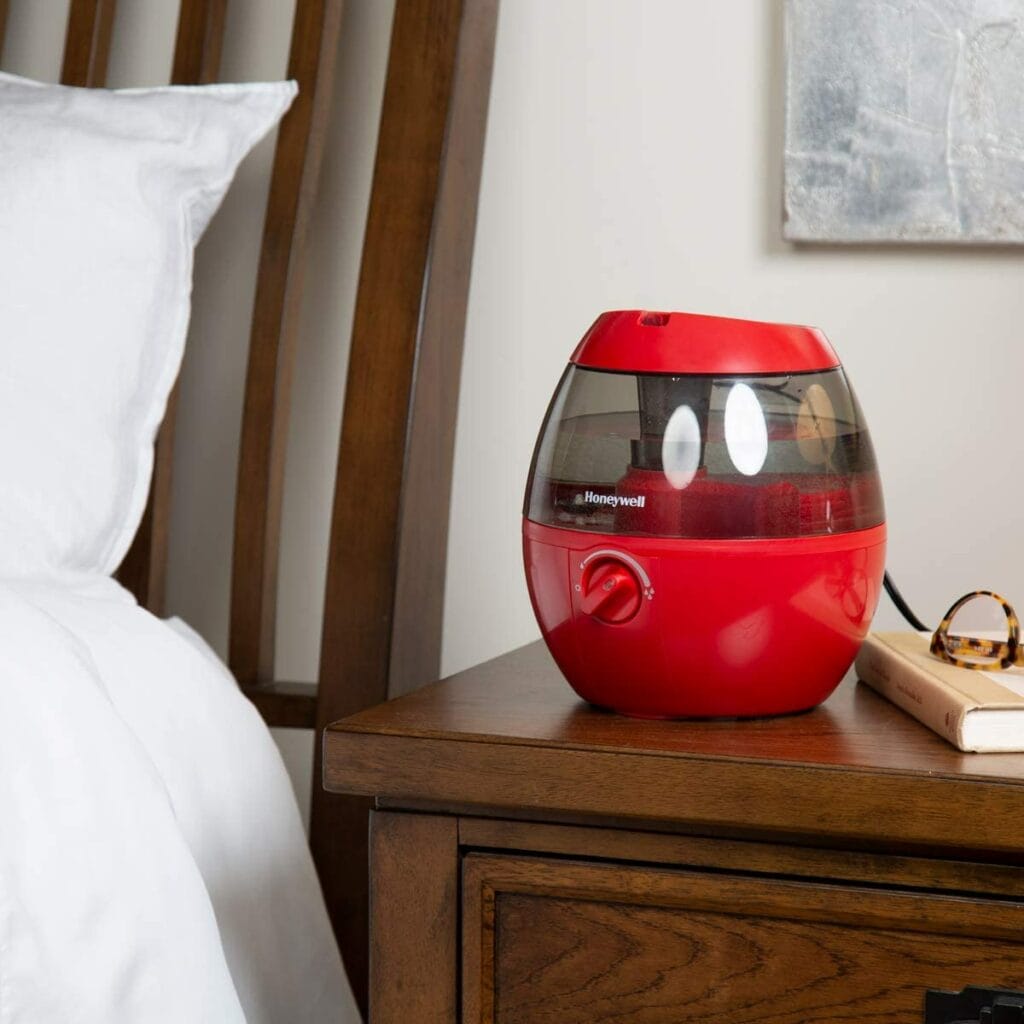 You are much more likely to develop cracks in walls or tears in furniture when the air in your home is overly dry for extended periods of time. Maintaining proper humidity levels year-round can extend the life of many of your most precious investments.
Conclusion
If you've ever found yourself suffering from any of the symptoms we've mentioned during the winter months, a humidifier could make a significant difference in your life. It may sound too good to be true, but something as simple as maintaining proper levels of humidity in your home can have profound effects on how you feel—and how much you enjoy the winter season!