Humidifiers are essential in dry atmospheres, as this type of environment can lead to enhanced allergic reactions, dry skin, cracked lips, asthma flares, and much more.
If you wish to make your home a better place to breathe in, away from such atrocities, buying a quiet humidifier is the best option.
With many humidifiers, the problem is that they make excessive noise, making it harder to sleep. For this reason, what you need to look as is quiet humidifiers. Here, we have compiled a list of some of the best on the market.
At a Glance: Our Top Picks for Quietest Humidifiers
Comparison Chart of the Quietest Humidifiers
IMAGE
PRODUCT

Our Top Pick

Purifies Air of Pollutants
Filters Down to 0.3 Microns
Best Overall on Our List of Quietest Humidifiers

View Latest Price →

Runner-Up in Our Guide
Charcoal-Based Activated Carbon Filter is More Efficient
BioGS HEPA Filter Entraps All That May Cause You Harm in the Air

View Latest Price →

Best Budget Option

Best for the Money
Easy to Fill, Clean, and Install
Cold Evaporation Technology

View Latest Price →

Best for Bedrooms
Ultrasonic Humidification
Can Add Water While it is Still Functioning

View Latest Price →

Best for Whole House
Advance Evaporative Technology With Wicking Filter
Keeps Air Warm and Humid to Combat Dryness and Static Issues

View Latest Price →

Quietest Warm Mist Humidifier
1-Gallon Tank Stretches for 24 Hours
Best for Relief of Cough and Congestion

View Latest Price →

Automatic Shut-Off
Suitable for Small Rooms
Quietest Cool Mist Humidifier

View Latest Price →
How Quiet is 'Quiet' When it Comes to These Humidifiers?
When buying a humidifier, one needs to make sure it does not have that annoying whizzing sound. A humidifier is a machine and, as such, it is meant to make some noise. So, you have to choose the one that makes the least noise.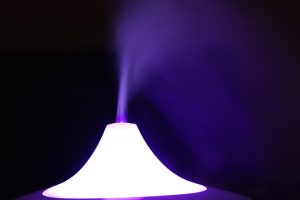 A standard cool mist humidifier makes the sound somewhat similar to running water as the machine's fan whizzes and throws out cool air.
There are ultrasonic humidifiers on the market that make next to no sound. These use high-frequency sound waves that vibrate a metal diaphragm, creating a fine mist at ultrasonic frequencies. The ultrasonic humidifier has a higher frequency than sound, rendering it almost inaudible.
How We Chose These Humidifiers
There are many aspects to look into when purchasing a humidifier. Firstly, one needs to ask and answer the main question; do they actually need a humidifier? If the atmosphere where you live has an overall dry impact, then you need this to combat the above-mentioned problems.
Benefits
Our bodies need humidity, and if it's not provided, they suffer. Not only do our bodies react to dryness, but it also has an impact on the flooring and wallpaper in our homes, leaving them cracked and ruined.
Location, Location, Location
Next, you need to decide the place, size, style, and space you would use for a humidifier. Is it needed mostly in one room or the whole house? Will owning a humidifier make your living space more compact? Can it be accommodated on a table or does it need to be mounted?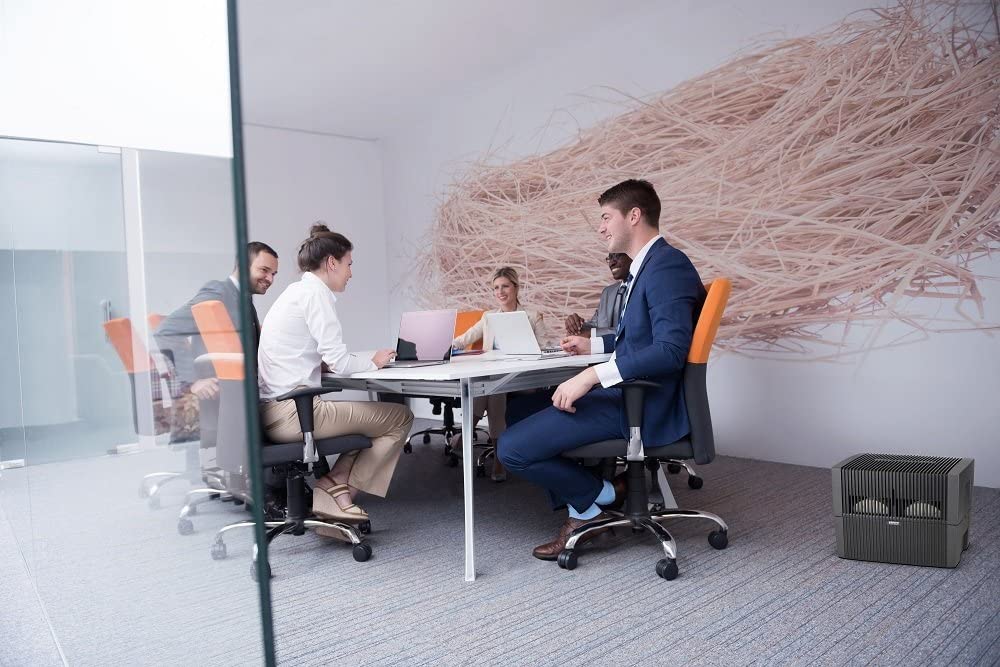 Type
There are different types of humidifiers ranging from the cool mist, warm mist or ultrasonic humidifiers. It solely depends on the person's priorities and where they live.
Maintenance
The last thing is maintenance. You need to have an acceptable difference in purchasing cost and maintenance cost. Moreover, how many times the humidifier needs to have maintenance is another key concern. This can include purchasing filters and cleaning frequency.
Keeping all these factors in mind, we've collected some of the best quietest humidifiers and reviewed them for your convenience.
Review of the Quietest Humidifiers  
Once you have decided to buy a humidifier, the difficult journey to choosing the right one starts. There are many humidifiers present in the market. You have to choose the one that suits your needs best. Your humidifier should not get in the way of your daily chores and it shouldn't add any liabilities that need extra care. Your decision should be in line with affordability, health benefits, and convenience.
Venta LW45
Decibel Level: 45 dB
Coverage Area: 600 sq ft.
Tank Size: 3 gallons
Dimensions: 11.8 x 13 x 17.7
Weight: 13 pounds
We may earn commission from purchases made from our links, at no additional cost to you
Review
The Venta Airwasher 2-in-1 is here to stay. This comes in three sizes being 200, 400, and 800 square feet. The Vent LW 45 humidifies the room and simultaneously purifies it too. The dry air entering goes through the Airwasher unit, passing over the moistened rotating disc stacks. It then falls down into the basin. Following this, only the clean air evaporates, leaving the impurities behind.
Due to the evaporation method, over humidification is not possible. This is because the humidifier doesn't push the air out, but lets it evaporate. Due to this cold evaporation technology, the Venta LW 45 does not require any filter changes. This simple design is also environment-friendly, as resources aren't wasted on the changing of filters.
The Venta LW45 comes in a black color. It is capable of purifying pollutants down to 0.3 microns in size. Other humidifiers produce a white dust, which is quite common as they heat the water, causing the mineral content to separate. This, along with the bacteria and other pollutants, cause a threat to the user. However, cold evaporation technology makes sure this doesn't happen. This humidifier is the safest, easiest option to keep your humidity levels in check.
This product is not like the old school humidifiers that caused condensation and wood warping. It keeps you and your surroundings in check.
Bottom Line
The Venta LW45 is simple and easy to use. It applies cold evaporation technology. It also needs very low maintenance as there is no filter change needed.
Pros
Easy to Clean
No White Dust Accumulation
No Filter Needed for This Unit
Quiet, Runs Between 25 dBA and 42 dBA
Environment-Friendly While Providing a Pollutant-Free Environment
Cons
Fan Speed is Low
Plastic Isn't Impact-Proof
Rabbit Air MinusA2
Decibel Level: 45.6 dB
Coverage Area: 700 sq ft.
Tank Size: N/A
Dimensions: 24 x 23 x 10
Weight: 23.9 pounds
We may earn commission from purchases made from our links, at no additional cost to you
Review
The Rabbit Air MinusA2 reflects style, class, and function, all combined. It is quite efficient and looks attractive compared to the other plain air humidifiers. This product makes the air in your home more breathable as it comes with a customizable filter to fit your personal requirements. These include the toxin absorber filter that removes volatile organic compounds and added chemicals, and the germ defense filter which fights off bacteria transmissible by air.
It also defends against the spores or pollen in the air. Moreover, it also has a pet allergy filter that can make the lives of family and pets easy. Now, your pets and family can live and prosper in peace. The odor remover filter reduces the bad smell coming from pets, cigarette fumes, or any cooking.
The Rabbit Air MinusA2 comes with the BioGS HEPA filter. This entraps pollutants down the size of 0.3 microns and traps allergens and particles up to 99.97%. It doesn't get cleaner, crisper, and safer than this! Not only does it entrap particles, but it also prevents the buildup of dust mites, viruses, mold, or pollen in your house and on its filter. If the filter stays clean, it offers optimal hours without needing maintenance.
Bottom Line
The Rabbit Air MinusA2 exudes style and functionality. It can be placed according to your convenience and comes with filters suiting your needs. Moreover, it is highly efficient and doesn't need frequent filter changes. Overall, it is a smart and economical investment.
Pros
Very Customizable
Adaptable, Can Be Mounted or Left on a Desktop
Economical Since Less Maintenance of Filters is Needed
Ultra-Quiet With the BLDC Motor. This makes 20.8 to 45.6 dBA of Noise
Automatically Goes into Sleep Mode When its Light Sensor Detects Darkness
Cons
Settings Are Lost if it Loses Power
Not Capable of Removing Harsh Odors
Honeywell HCM350W
Decibel Level: 29 dB
Coverage Area: N/A
Tank Size: 1.1 gallons
Dimensions: 17.9 x 9.37 x 11.4
Weight: 8.36 pounds
We may earn commission from purchases made from our links, at no additional cost to you
Review
If you are running on a budget, the Honeywell HCM 350W might just be right for you. It is easy, functional, and is not heavy on the pocket. This cool mist humidifier throws cool mist into your surrounding air without causing much hassle. It uses a gallon of water and utilizes it over a period of 24 hours. This is the perfect humidifier for your bedroom or any medium-sized room. The UV technology installed into the Honeywell kills off 99.9% of bacteria in the water.
It doesn't thrust the water out a nozzle but uses the advanced evaporative technology. The moisture is blown off of the wicking filter. This way, the evaporation is made quicker. The Honeywell does not over-humidify your room due to the advanced evaporative technology. When the air can no longer retain moisture, the evaporation gradient will hinder over-humidification.
At an optimal 40 to 60% of humid air, the Honeywell battles nasal congestion, dry skin, and makes sleeping and breathing easier. This Humidifier aids well with babies, especially in the spring season when pollen and certain allergens are on a roll.
The Honeywell works on a four-step plan. The water flows through the UV path, ridding it of 99.9% bacteria. It then flows into the base, where the wicking filter absorbs water. Due to the difference in the concentration gradient, the water from the wicking filter evaporates towards the surroundings, where the water vapor gradient is low.
Bottom Line
The Honeywell humidifier is handy and affordable. It uses evaporation technology, making sure white dust doesn't accumulate.  It is easy to install, use, and clean. The filter and tank have a long life and need low maintenance. Overall, it is ideal for small rooms.
Pros
Very Affordable
Reduces Cough and Congestion
Quiet and Offers No Disturbance
Easy to Carry and Convenient to Use
Cons
Not Suitable for Bigger Halls or Rooms
Filling the Tank With Water to the Top is Hard
Miro Humidifier – NR07G
Decibel Level: N/A
Coverage Area: 600 sq ft.
Tank Size: 1 gallon
Dimensions: 13.6 x 12.5 x 12.5
Weight: 7.33 pounds
We may earn commission from purchases made from our links, at no additional cost to you
Review
The Miro Humidifier, as the name suggests, is best for small spaces like a single bedroom. It is quite easy to install and carry, given its size. It has no tank installed; rather there is a clean pot that is afloat in a bowl. You do not need to switch the humidifier off and take it apart to put more water in. Just add water to the reservoir while it is still functioning. This simple device also has a humidification control knob to set the intensity. To clean this product, just take it apart and clean each part. There is no need for any filter or fan change. A factor that makes this humidifier so much more interesting is that you can customize the types of vapors that you prefer. The interchangeable vapor caps let you switch between a 'Volcano' or 'Tea-Kettle' shaped vapor cap.
The ultrasonic humidification provides comfort without any signs of heat generation. The tank is sufficient to last overnight to keep you comfortable while you sleep. If the unit does run out of water, it will shut itself off to prevent any damage to the device. 
Bottom Line
If you don't want the added responsibility of changing filters and going through the installation process, this micro humidifier is the best option out there for you. The ability to clean all of it's parts allows you to be certain you aren't putting contaminants back into the air. This is a great little unit for keeping a bedroom humidified any time of the day or night. 
Pros
Economical, No Extra Filters or Tanks Needed
Nearly Silent as There is No Motor or Fan Involved
Every Part That Comes in Contact With Water is Visible and Can Be Hand Washed
Cons
Has No Filter to Trap Pollutants
Powerful Fan May Put Out Too Much Mist
Honeywell Cool Moisture Console Humidifier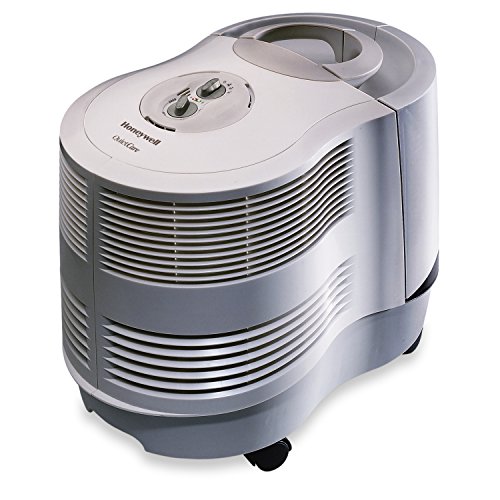 Decibel Level: 50 dB
Coverage Area: N/A
Tank Size: 3 gallons
Dimensions: 23.15 x 14.96 x 17.48
Weight: 19.95 pounds
We may earn commission from purchases made from our links, at no additional cost to you
Review
If you have a whole family to take care of, this Honeywell humidifier aids well in the purpose of humidifying the whole household. If you want a humidifier for a house with many large rooms, the three-gallon Honeywell with the easy-fill tank will be best-suited for your use.
This humidifier comes with an auto shut-off option that aids in controlling humidity. This can keep working continuously for 24 long hours. It also comes with the advanced evaporative technology that averts white dust accumulation. Meanwhile, the included wicked wicking filter takes in moisture and lets it evaporate into the surrounding air, leaving it impossible to over-humidify your air.
This product lets your air have around 40 to 60% of moisture and makes the air feel warmer and easier to breathe in. It combats dust allergy flares, dryness of skin and nasal passages, and the annoying static charges everywhere.
Moreover, it comes with an adjustable humidistat, catering to your specific needs. It has three speed settings managing its output. The automatic light system indicates when the humidifier needs a tank change or upon reaching maximum humidity. It has two water tanks so that you don't have to change its tank time and again. Plus, the quiet care system makes sure there is no whizzing or whirring sound to cause any sort of discomfort.
Bottom Line
This Honeywell humidifier is best suited for families with many large rooms. This device can cater to many rooms at once with its three-gallon, two tank system, with the help of evaporative technology.
Pros
Has an Easy Fill Console
Caters to Large Rooms Easily
Evaporative Technology Ensures No White Dust Buildup
Cons
Honeywell Does Not Have Replacement Filters For Sale
Does Not Filter Away the Pollutants and Allergens From the Air
Quietest Warm Mist Humidifier
Vicks 1-Gallon Warm Mist Humidifier
Decibel Level: N/A
Coverage Area: N/A
Tank Size: 1 gallon
Dimensions: 12 x 7.88 x 14.25
Weight: 4.75 pounds
We may earn commission from purchases made from our links, at no additional cost to you
Review
The Vicks Warm Mist Humidifier is suited well for bedrooms, nurseries, or any kids' room to increase the comfort of people when they sleep at night. It is not only restricted for these places; any place you feel discomfort, the easy-to-handle Vicks humidifier comes in handy.
As the name curtails, Vicks Vaposteam gives out medicated vapors you can put into effect using this humidifier. Its non-filter, one-gallon tank can humidify your room for up to 24 hours. The humidifier is suited well for children because of its ability to effuse out 95% bacteria-free warm mist into your surroundings. So, the Vicks humidifier not only lets you sleep well, but it also lets you sleep safely. Due to its ability to cater to Vicks Vaposteam, people with coughs and congestion can get relief with this humidifier.
The Whisper system in this humidifier doesn't cause any disturbance. Its cleaning process is quite hassle-free too. The tank is translucent, making it easier to know when a refill is needed. If you still forget to refill, it has an auto shut-off to take care of the situation.
For added comfort, just add the medicine cup, and it will start to give off a vapor steam. Plus, the easy design and two output settings make it really easy to handle. Moreover, the low weight makes it portable to any room of your choice without any inconvenience.
Bottom Line
This humidifier is a portable, easy-to-use device. It works on warm mist technology and aids in treating coughs and congestion and fights off 95% bacteria.
Pros
Lightweight and Compact, Making it Highly Portable
Has the Ability to Give Off Vicks Vaposteam When Required
Filter-Free, Taking Away the Hassle of Changing the Filters Frequently
Cons
Doesn't Humidify to its Full Capacity
Water Often Starts to Leak From the Tank
Quietest Cool Mist Humidifier
Crane Ultrasonic Cool Mist Humidifier
Decibel Level: N/A
Coverage Area: 500 sq ft.
Tank Size: 1 gallon
Dimensions: 8.6 x 13.4 x 8.6
Weight: 4.5 pounds
We may earn commission from purchases made from our links, at no additional cost to you
Review
The sleek and stylish Crane humidifier is another unit in the long line of humidifiers. If you do not prefer a warm mist and need hassle-free humidity, then this humidifier is for you. It gives a cool and fine mist of vapors that provide relief to the people battling nasal congestion due to flu and cold. The sleek teardrop design comes in an array of colors.
The Cool Mist tank has the capacity of 0.9-gallons of water, thrusting moisture into the air for up to 24 hours. You don't need to worry about keeping track of the water running out. It has an automated shut-off system that'll stop the unit from working once the water runs out.
The Cool Mist Humidifier can cover a room up to 250 square feet in size. This humidifier battles the growth of bacteria, giving you a safe surrounding to breathe in. The pinpoint nozzle, 360-degree lid gives you the cold mist. You don't need to worry about filter change and maintenance, as this requires no such thing.
The cool mist ensures that your room temperature stays down.  This is also the best for children as the heat can prove to be harmful to them. If the kids manage to get to the filter and cause havoc, you don't need to worry about them hurting themselves. There is no bulky filter system or one with warm mist or steam that may harm the kids.
The no-filter option makes it environment and pocket-friendly.
Bottom Line
This chic and functional humidifier is best for small spaces. It is also best for those who want easy handling and low maintenance. The cool mist and vibrant colors make it great for kids' rooms.
Pros
Environment-Friendly
Easy to Use, Clean, and Transport
Very Economical and Cost-Effective
Safe for Kids' Rooms and Nurseries
Cons
Inaccurate Auto Shut-Off
Tricky Design Leads to the Device Being Prone to Slipping
Quietest Ultrasonic Humidifier
Pure Enrichment MistAire Ultrasonic Cool Mist Humidifier
Decibel Level: N/A
Coverage Area: 250 sq ft.
Tank Size: 0.4 gallons
Dimensions: 8 x 6 x 9
Weight: 1.35 pounds
We may earn commission from purchases made from our links, at no additional cost to you
Review
This modish Cool MistAire Humidifier has game-changing abilities. From its attractive design to its convenient use, it is above many others. It thrusts ultrasonic cool mist into your air, making it easier for you to sleep and tackle everyday allergens. Its advanced technology humidifies your air for 16 straight hours. It comes with added high and low-speed controls to let you take the wheel in the humidification of your air.
The Cool MistAire Humidifier comes with a 1.5-liter water tank. This gives the perfect amount of humidification for spaces like your bedrooms or offices. It offers automatic shut-off when the water level is low or empty. It has a simple cleaning procedure. Just use the disk cleaning brush that comes with it. This device also has a built-in nightlight, so no one knocks into the humidifier in the late hours. It also comes with a 360-degree nozzle diverting the mist to areas that need it the most.
Its uncomplicated design and function make it very easy to install. There is no filter system, so you don't need to worry about changing the bulky filters. It's simple, does its job, is lightweight, and is good looking.
Bottom Line
This easy-to-use and handle humidifier is best suited for people who want humid air in their homes but without the complications. It simply gets the job done.
Pros
No Filters Needed
Pocket and Environment-Friendly
Easy to Handle, Install, and Clean
16 Hours of Continuous Working Ability
Cons
Plastic Cracks on Small Impacts
No Filters Present to Prevent Bacteria, Dust, and Pollutants
Benefits of Investing in a Quiet Humidifier
Nobody likes the whizzing or whirring sounds of machines. While many of us are used to general noise pollution, a good amount of people still face disturbed sleep at night. A quiet humidifier makes sure there isn't an added burden of noise pollution. It keeps your abode calm and quiet. If you invest in something that causes you insomnia, then your money has simply gone to waste.
You humidifier must provide convenience to you, not added discomfort. Having to combat dry atmosphere is already a hurdle. A quiet humidifier also makes sure that your sleep is as peaceful as possible. While the humidifier combats cough, congestion, allergies, and asthma flare-ups, a quiet humidifier does all that and provides the added feature of serenity to help you relax. After all, a good night's sleep is vital for your body.
Investing in a quiet humidifier like one with an ultrasonic high-frequency fan will provide optimal humidification with no additional discomfort.
Conclusion
This article summarizes everything from what you must know when buying humidifiers to some of 2019's best humidifiers on the market. Just check on your requirements and your budget. List down the available space and the dynamics and needs of your household before deciding to invest in a humidification unit.