When the air in your home is too dry, it can cause a great deal of discomfort and even trigger health problems. Many people know that a humidifier is the best solution to combat the symptoms brought on by arid air in the home but don't want to use a traditional humidifier that boils water to produce steam and do its job. Some don't want the risk of a hot device near their children. Others don't like how a hot steam humidifier can make the air feel sticky and wet rather than comfortable.
If you're suffering from over-dry air in your home because of an arid climate or common wintertime drops in humidity, an ultrasonic humidifier could be the perfect solution. Ultrasonic humidifiers don't produce any heat and give off a cool, comforting mist. There is no risk of burns to you or your children and they are much less likely to over-humidify the air—which causes that sauna-like damp feeling in the air. And best of all, modern ultrasonic humidifiers are virtually silent. You'll forget it's even there.
If you want to know more about how these devices can benefit you and your family, keep reading. We also review the best products on the market to help you in your decision-making.
At a Glance: Our Top Picks for Ultrasonic Humidifiers
Comparison Chart of the Best Ultrasonic Humidifiers
IMAGE
PRODUCT

Our Top Pick

Our Choice as Best For The Money
Easy Touch Panel Controls for All Settings
Ultra-Quiet Sleep Mode With Automatic Shut-Off

View Latest Price →

Hard Water Treatment Accessories are Included
Our Choice for Best Ultrasonic Cool Mist Humidifier
Large Five-Gallon Tank Covers 600 Square Feet for 24 Hours

View Latest Price →

Super Long Run Time up to 65 Hours on One Full Tank
Our Choice for Best Ultrasonic Humidifier by Homedics
Includes Demineralization Cartridge to Help Eliminate Hard Water Problems

View Latest Price →

Anti-Microbial Materials and Filter-Free Operation
Our Choice for Best Ultrasonic Humidifier by Crane
Up to 24 Hours of Operation With Automatic Shut-Off

View Latest Price →
How to Choose an Ultrasonic Humidifier
There are several factors to be considered before making your final decision and purchasing an ultrasonic humidifier. It's not just about the quality of a product, but what you expect that product to do for you. Different humidifier models will be a better fit for different people and places.
Consider The Area To Be Humidified
Your biggest overall consideration should be the area where you intend to use your new ultrasonic humidifier. Will it be a child's bedroom or a couple's master bedroom? Will it be a small enclosed office or a large open living room?
Each model of humidifier will be rated to work properly within a certain amount of space. One that is too powerful will create too much humidity. One that is too weak won't help with your dry air problems.
It's important to get a unit that is rated for the area where you want to use it. Don't assume that a more powerful unit will always work better.
And on the other side of the coin, don't go too small trying to save money. In either case, you won't get the results you're looking for. To help you find the most suitable size, use the calculator below.
Potential Operation Period On A Single Tank
There are plenty of different humidifiers with plenty of different tank sizes and they all function for widely varying periods of time. You may think that a humidifier with a larger tank will naturally work longer without a refill than a unit with a smaller tank. That isn't always true, however.
The actual run time you'll get out of a single tank of water depends on more than just how big the tank is. A less powerful humidifier designed for a small room might run for 24 hours on a single two-liter tank while a more powerful unit might run for only 12 hours on a four-liter tank. The deciding factor is a combination of the tank size and the power of the humidifier.
Think about how long you'll need the humidifier to operate without your intervention.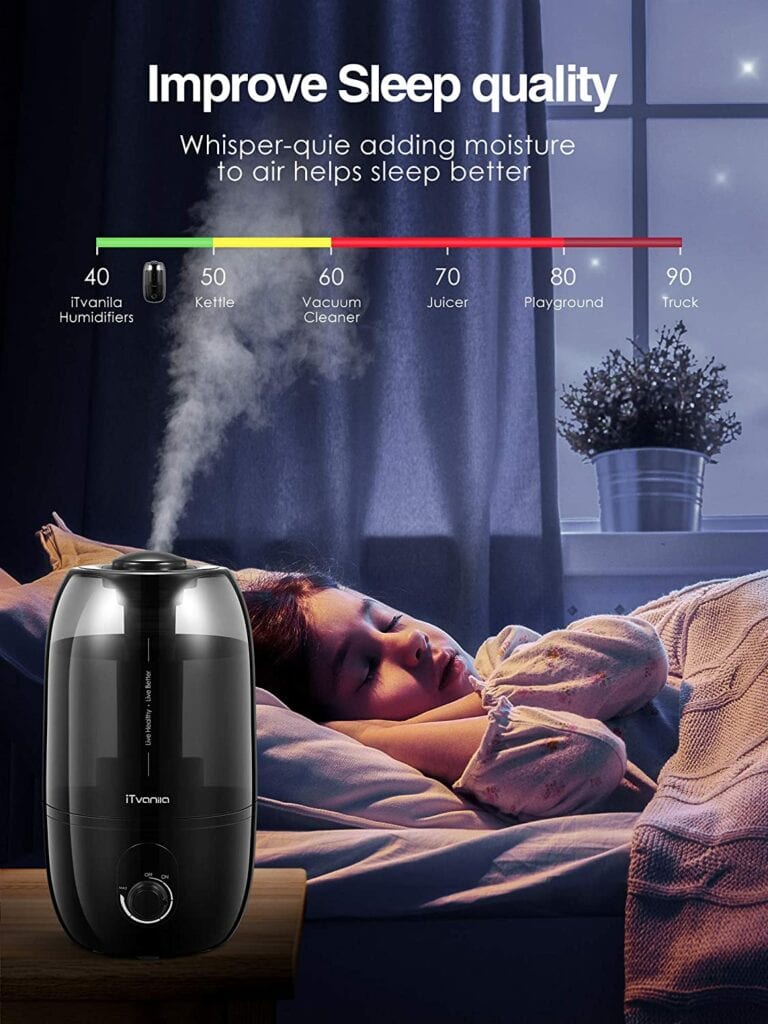 Maintenance Requirements
All humidifiers require regular maintenance and cleaning, whether they are ultrasonic or not. That's just a fact. The effort needed to clean and maintain a particular humidifier, however, can vary greatly.
A smaller unit may be easier to hide or fit onto a shelf, but it may also be more difficult to get your hands inside to thoroughly clean all of its parts. On the other hand, larger units may require more intense cleaning more often to be sure that the water standing in the tank doesn't generate bacteria or mold.
Review of the Best Ultrasonic Humidifiers
We've done the research and put together six of the top ultrasonic humidifiers on the market today. From economical and efficient to powerful and prolonged operation, one of the following models is sure to match up perfectly with your needs. All are available for immediate order and delivery. You don't have to put up with the problems caused by dry, arid air in your home any longer.
iTvanila Cool Mist Humidifier
Decibel Level: N/A
Coverage Area: 360 sq ft.
Tank Size: 0.7 gallons
Dimensions: 6.3 x 6.3 x 11.5
Weight: 2.2 pounds
We may earn commission from purchases made from our links, at no additional cost to you
Review
The iTvanila Cool Mist Humidifier offers an excellent combination of economy and value. Its classic black design allows it to fit into any decor without standing out the way many white humidifiers do.
It has a 2.7-liter tank and is recommended for medium-sized rooms or offices. It also features a special sleep mode which runs ultra-quiet—generating less than 35 dB of noise—and turns off indicator lights to make sure absolutely nothing disturbs your sleep.
This humidifier is particularly easy to use. The water tank is semi-transparent, so you'll always know exactly how much water is left. The nozzle rotates a full 360-degrees, allowing you to aim the soothing cool mist wherever it works best for you. Then, the responsive touch panel controls make it a breeze to adjust any setting.
Bottom Line
The iTvanila Cool Mist Humidifier is an excellent choice for those who need a humidifier for a small to medium-sized room or office. It comes with just the right amount of options to allow you to get the results you want without overcomplicating things. It's quiet enough to sit in your bedroom or keep in your office without causing a disturbance. It may require a bit of extra effort when it comes time to clean the unit, but the tradeoff for good performance is worth it.
Pros
Clear, Easy to Use Touch Panel Controls
Perfect for Bedrooms With Sleep Mode and Automatic Shut-Off
2.7-Liter Capacity Allows for a Full Day of Operation on One Tank
Cons
No Choice of Colors Other Than the Standard Black
Tank Opening is Small and Can Make Cleaning Inside Difficult
May Require Constant Use on Highest Setting to Work Well in Large Rooms
BONECO/Air-O-Swiss Warm or Cool Mist Ultrasonic Humidifier
Decibel Level: N/A
Coverage Area: 600 sq ft.
Tank Size: 2.51 gallons
Dimensions: 23.6 x 11.5 x 14.3
Weight: 18.4 pounds
We may earn commission from purchases made from our links, at no additional cost to you
Review
The BONECO 7147 Ultrasonic warm or cool mist humidifier comes with hard water treatment accessories from Air-O-Swiss. It's the perfect choice for anyone who has experienced "white dust" emissions when using an ultrasonic humidifier because of minerals in their tap water (hard water). A separate activated carbon filter goes one step farther to keep the water and the resulting mist fresh and free of microbes and odor.
The huge 2.5-gallon tank and powerful mist function will disperse your choice of warm or cool mist with the ability to maintain humidity levels in spaces up to 600 square feet. Let the ultrasonically generated mist flow at its natural temperature or select warm mist mode to adjust the output temperature to 104℉. Mist is heated as it leaves the humidifier. Water is never boiled to generate steam. It also includes a programmable hygrostat, timer, automatic shut-off, and cleaning indicator.
Bottom Line
The BONECO/Air-O-Swiss Warm or Cool Mist Ultrasonic Humidifier is a great choice for someone looking for versatility and the ability to program their humidifier. It is designed to work with—and comes with everything needed to treat—hard water, so it can be used virtually anywhere. Cool mist can help you cool off in the summer and warm mist can help maintain comfortable temperatures in the winter. The programmable hygrostat will allow you to set your preferences, fill the tank, and let the unit work in fully automatic mode.
Although the regular replacement of water treatment accessories might seem like an extra cost, they are considerably cheaper than constantly purchasing bottled or distilled water to avoid hard water problems.
Pros
Programmable Automation Based on Time or Humidity Levels
Your Choice of Hot or Cold Mist Emitted Through Dual Nozzles
Hard Water Treatment and Filtering Products Included With the Unit
Cons
No Way to Turn Off LED Lights on the Control Panel
Regular Replacement of Treatment Filters Will Be An Extra Cost
High Capacity Tank Can Be Awkward or Difficult to Move When Full
Homedics Cool Mist Ultrasonic Humidifier
Decibel Level: N/A
Coverage Area: N/A
Tank Size: 1.4 gallons
Dimensions: 12.1 x 13.94 x 8.39
Weight: 4.42 pounds
We may earn commission from purchases made from our links, at no additional cost to you
Review
The Homedics Cool Mist Ultrasonic Humidifier boasts one of the longest potential run times of any ultrasonic humidifier on the market. It's possible to get up to 65 hours of continuous cool mist from a single tank. It can be used to maintain humidity levels in areas up to 300 square feet.
The unit works as both a humidifier and air purifier, preventing the build-up of "white dust" that some users of other humidifiers experience because of hard water. The 1.4-gallon tank is easy to fill and clean.
It features automatic shut-off when the water level gets low, as well as a built-in night light, making it perfect for use in a child's room. A demineralization cartridge designed to reduce problems caused by hard water is also included.
Bottom Line
The Homedics Cool Mist Ultrasonic Humidifier works best in smaller rooms or offices. The run time can be extended to an amazing 65 hours if it's placed in a properly small and enclosed environment. In larger areas, the operational time you will get from a single tank could be considerably less.
The tank and inner parts of the humidifier are treated to prevent the growth of microbes and bacteria. The included demineralization cartridge will also help with common problems that can be caused by using hard water. If you do have minerals in your tap water, the demineralization cartridge will need to be replaced regularly.
Pros
65 Hours of Operation on a Single 1.4-Gallon Tank of Water
Designed to Avoid Common Problems Caused By Hard Water
Dual-Function Humidification and Air Purification Increases Health Benefits
Cons
Some Inner Parts Can Be Difficult to Reach for Cleaning
Mist Output Level Must Be Very Low to Achieve 65-Hour Run Time
Demineralization Products Will Need to Be Repurchased Periodically
Crane Ultrasonic Cool Mist Humidifier
Decibel Level: N/A
Coverage Area: 500 sq ft.
Tank Size: 1 gallon
Dimensions: 8.6 x 13.4 x 8.6
Weight: 4.5 pounds
We may earn commission from purchases made from our links, at no additional cost to you
Review
The Crane Ultrasonic Cool Mist Humidifier is designed to provide maximum health benefits. The unit itself is made from anti-microbial materials designed to reduce bacteria and mold growth by up to 99.96%. It runs filter-free, so there are no parts to be replaced. You can, however, purchase optional demineralization filters if you experience any problems because of hard water where you live.
The unit has a one-gallon tank and can run for up to 24 hours without refilling. It can maintain proper humidity levels in areas of up to 500 square feet. The output nozzle can be rotated a full 360-degrees and it also features an automatic shut-off function when the water level gets too low.
Bottom Line
The Crane Ultrasonic Mist Humidifier works well and is easy to use. It works best in small to medium-size rooms. The anti-microbial materials it is built with will make cleaning a bit easier when compared to other humidifiers without such a feature. There's also no need to worry about regular costs associated with replacing filters. It is most suited to someone who wants a humidifier that doesn't complicate things and will run reliably with the most common and basic features.
Pros
Super Quiet Operation Suitable for Overnight Use in Bedrooms
Capable of Humidifying Large Rooms of Up to 500 Square Feet
Anti-Microbial Materials Reduce Build-Up and Make Cleaning Easier
Cons
No Handle on Tank to Make it Easier to Carry When Full
Tank Size is Small if Unit is Used for Largest Suggested Spaces
Bottom-Fill Tank Does Not Sit Flat When Inverted, Making it Awkward to Fill
Pallas 5L Cool Mist Ultrasonic Humidifier
Decibel Level: N/A
Coverage Area: N/A
Tank Size: 1.32 gallons
Dimensions: 13.6 x 8.7 x 8.7
Weight: 3.84 pounds
We may earn commission from purchases made from our links, at no additional cost to you
Review
The Pallas 5L Cool Mist Ultrasonic Humidifier comes with all the right features. With its large five-liter (1.1-gallon) tank, it can run continuously for up to 20 hours without needing a refill. It has a 360-degree rotating nozzle to make sure that the soothing mist is distributed evenly around the area where it's placed.
While it's running, the activated carbon filter helps to remove impurities from the water and mist so you get the maximum health benefits. There's also an automatic shut-off feature to make sure the unit stops when the water level gets low, even if you're not around.
The small 8×8 inch footprint makes this unit perfect for any room, able to sit on the floor or fit on a table or shelf. With its ultra-quiet operation, you can also use it in the bedroom overnight without fear of being woken up. And, of course, since it delivers a cool mist, there's no risk of burns to you, your children, or your pets.
Bottom Line
The Pallas 5L Cool Mist Ultrasonic Humidifier is a powerful humidifier that works especially well in extremely dry climates. With no need for any filters other than included carbon filter, there are no extra parts to continually replace. It provides a long operating duration with a relatively small amount of water. It is important, however, to monitor this unit the first few times you use it because it is possible that it will produce too much mist and cause condensation in the immediate area until you find the proper setting.
Pros
Large, Open Design Allows for Especially Easy Cleaning
Activated Carbon Filter Reduces Harmful Particles in Water and Mist
Large Tank Allows for Powerful Mist Production Without Sacrificing Run Time
Cons
Not Designed for Homes With Large Open Layouts
Carrying Handle Can Be Difficult to Release From the Closed Position
Powerful Mist Can Produce Condensation in Some Areas if Not Monitored
Proaller Cool Mist Ultrasonic Humidifier
Decibel Level: N/A
Coverage Area: N/A
Tank Size: 0.13 gallons
Dimensions: 6 x 8 x 9
Weight: 3.44 pounds
We may earn commission from purchases made from our links, at no additional cost to you
Review
The Proaller Cool Mist Ultrasonic Humidifier was a close runner-up in our choice for the best overall ultrasonic humidifier. This unit is packed with wonderful features that make it safe and easy to use in any room of your home.
With an extra-large five-liter tank, you'll get up to 30 hours of continuous operation from a single fill. There are three mist level settings and a built-in humidity monitor so that you'll always know the exact humidity level in your home in real-time. Set your desired humidity level and the Proaller will do the rest. There is also a convenient timer to let you shut the unit off automatically whenever you like. Simple touch screen controls make everything easy to set.
Built-in safety features will also shut the Proaller ultrasonic humidifier off if water levels get low or if the unit is moved.
Bottom Line
The Proaller Cool Mist Ultrasonic Humidifier is the perfect device for someone who wants a humidifier they can set and forget. It can be set to shut off based on time or humidity level, or just left to run until water in the tank is exhausted. It works best in enclosed rooms and will maintain good humidity levels in areas of up to about 300 square feet.
Pros
30 hours of operation on one tank means refilling less than once per day
Humidity Monitor Allows You to See the Exact Quality of Air in Your Home
Automatic Timer Eliminates the Fear of Over-Humidifying Your Room or Home
Cons
Temperature Readings Appear Only in Celsius Scale
Humidity Level Can Sometimes Read Artificially High Because of Falling Mist
May Not Have Sufficient Power to Work in Homes With Open Design Layouts
What is an Ultrasonic Humidifier and How Does It Work?
Ultrasonic humidifiers produce vapor from water using high-frequency sound waves. Similar to a dog whistle, the soundwaves are far too high for the human ear (or your pets) to detect. The vibrations they produce, however, are capable of splitting water molecules to create a fine, cool mist.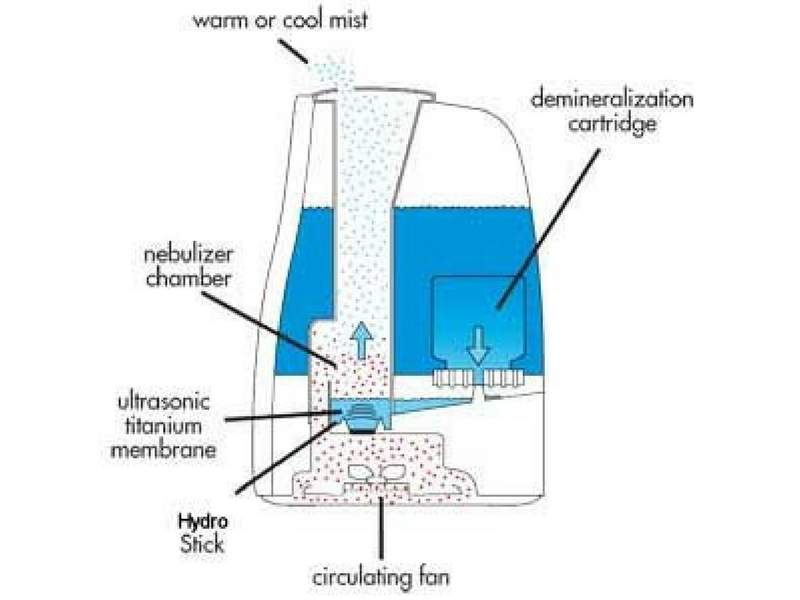 Inside an ultrasonic humidifier, there is usually a small metal plate in a reservoir which is fed by the water tank. That metal plate gets bombarded with the high-frequency soundwaves. The soundwaves cause it to vibrate at such a fast rate that when water comes in contact with it, the molecules are instantly split apart, changing state from a liquid to a mist. The mist is generated without heat and even forced out of the humidifier without a fan. This is why ultrasonic humidifiers are virtually silent.
Benefits of Investing in a Great Ultrasonic Humidifier
There are several benefits you'll gain from using a humidifier in your home, and especially from a good ultrasonic humidifier.
Relief From Respiratory Problems
When the air in the environment becomes too dry, it literally sucks the moisture from your body. The result is dry skin, throat, nose, and eyes. It can lead to allergy symptoms, aggravate asthma conditions, and worsen illnesses like colds or the flu. Maintaining proper humidity levels in your home will reduce or even eliminate all of these symptoms.
No Risk of Burns
Ultrasonic humidifiers are especially family-friendly because they generate room-temperature mist using ultrasonic waves rather than boiling water to create steam. There is no heating element and no hot steam output. This makes them safe for use around children and pets. You don't have to worry about anyone getting burned.
Energy Savings
Traditional heated steam humidifiers consume a lot of power to keep the heating element hot and the steam output flowing. In comparison, ultrasonic humidifiers use very little power. They won't put as much stress on your home's electrical system and you'll save some money, too.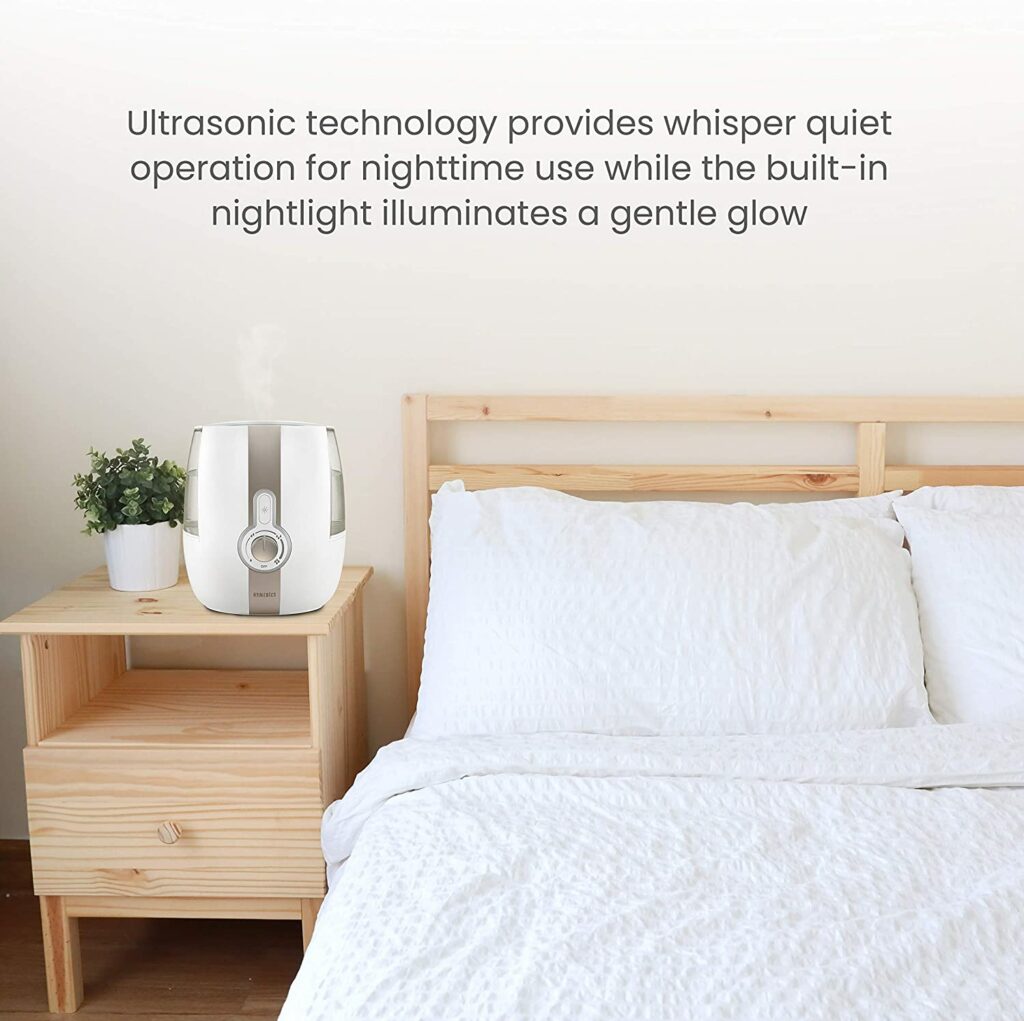 How to Clean an Ultrasonic Humidifier
In order to prevent the build-up of bacteria or molds in your humidifier, you should clean it thoroughly about once a week. Follow the process below and you should get great results for your ultrasonic humidifier for a long time to come.
Turn off your humidifier, unplug it, and disassemble the tank, nozzle, and base.


Drain all water from all parts.


Fill the water tank halfway with warm (not hot) water and add either one tablespoon of bleach or two tablespoons of white vinegar.


Place the cap firmly on the water tank and shake it vigorously for about 30 seconds.


Allow the tank to sit for about 30 minutes to disinfect the inside.


Shake the tank again for 15 to 30 seconds and then drain and rinse completely with plain water.


Drain all water and allow the tank to air dry.


Put a similar mixture into the base of the humidifier and let it sit for about 30 minutes.


Rinse with plain water and dry with a towel or allow it to air dry. Important: Never submerge the base or power cord in water. The cleaning mixture should be carefully poured into the basin and rinsed out.


Pour some of the cleaning mixture through the nozzle(s) and let it sit for a few minutes. Then, rinse thoroughly and allow to air dry.


Conclusion
A good ultrasonic humidifier can do a lot to improve the quality of the air in your home while eliminating the risks associated with traditional hot steam humidifiers. Their whisper-quiet operation makes them perfect for use in bedrooms for adults and children alike.
If you've ever suffered from symptoms like allergies, nosebleeds, dry cough, irritated eyes, or dry, itchy skin caused by arid air, an ultrasonic humidifier could make a world of difference. There's no need to put up with these symptoms when the seasons change and humidity levels drop.