When it's scorching outside, you gladly dash indoors to soak up some AC. And in the winter, you can't wait to shed your layers and crank up the thermostat. But whether the weather is sizzling or freezing, HVAC systems tend to suck up the moisture in the room. This dries out your skin, air, and even your nasal passages, causing all kinds of health (and beauty) problems.
In the winter-time, the cold weather already means humidity is low, because cold air can't hold as much moisture as warmer air. So when this low-moisture content from outside gets into your home, the higher indoor temperature produced by your furnace dries out the air even more. Ideally, you want your home's humidity levels to hover at 40% to 60%.
Winter weather is often below freezing, which means your indoor humidity lowers to nearly 20%. A humidifier is the best way to resolve this issue, regardless of the season. It introduces additional moisture to the room, raising relative humidity levels. The two main kinds are cool mist and warm mist humidifiers. Cool mist humidifiers are our preferred option.
At a Glance: Our Top Picks for Cool Mist Humidifiers
Comparison of the Best Cool Mist Humidifiers
IMAGE
PRODUCT

Our Top Pick

Services a whole house up to 3,600 sq. ft.
Humidistat for automatic humidity level control
3.6 gal. tank supports up to 36 hours of runtime

View Latest Price →

Activated carbon cotton filter cartridge
Ultrasonic technology provides silent operation
360-degree rotating nozzle ensures even humidification

View Latest Price →

Best for Babies
Features auto shut-off and refill light
Variable mist control allows adjustment of humidity

View Latest Price →

Best Without Filter
Operates quietly at 32dB
1-year replacement and 60-days money-back guarantee

View Latest Price →

Best Ultrasonic Model
Suitable for rooms as large as 600 sq. ft.
Digital display and programmable hygrostat

View Latest Price →

Best for Large Rooms
Suitable for aromatherapy
Timer for up to 12 hours and auto shut-off

View Latest Price →

Best for Bedrooms
Optional blue night light for kids
Removable power adapter ensures safety when refilling

View Latest Price →
Aspects to Consider Before Buying a Cool Mist Humidifier
Most people focus on price when they're shopping, but in reality, price is the least informative factor. It doesn't tell you anything about the product's quality or value. So in the area of humidifiers, let's look at some elements that matter more than price.
Room Size
Some humidifiers can service the whole house. Others fill a single room with moisture, while still others have a limited radius of one or two feet. If your humidifier's specs don't indicate how much area it covers, you'll have to make a guesstimate based on the size of the humidifier.
Purpose
This may seem obvious, but beyond moistening the air, you might want your humidifier for particular reasons. A sick child – for example – might need their medication fed into the humidifier as they sleep. Or you might want stimulating scent therapy to boost your memory as you study for an exam. In these cases, you need humidifiers that won't be damaged by additives.
Maintenance
Humidifiers sometimes have filters, and depending on the kind of filter, it may need regular cleaning. Certain models need a filter replacement every few months. Other humidifiers must be cleaned each time they're used. Also, does the humidifier need to be monitored? If it has its own internal hygrometer, it can adjust moisture levels unattended.
Sound Levels
Impellers can get noisy, because of their spinning disc. Ultrasonic humidifiers are quieter, because the sound waves used are beyond the range of human hearing (though cats and dogs may give it the stink eye). So if you need peace and quiet – to work, study, or sleep – think about potential disruption that may break your concentration or startle you awake.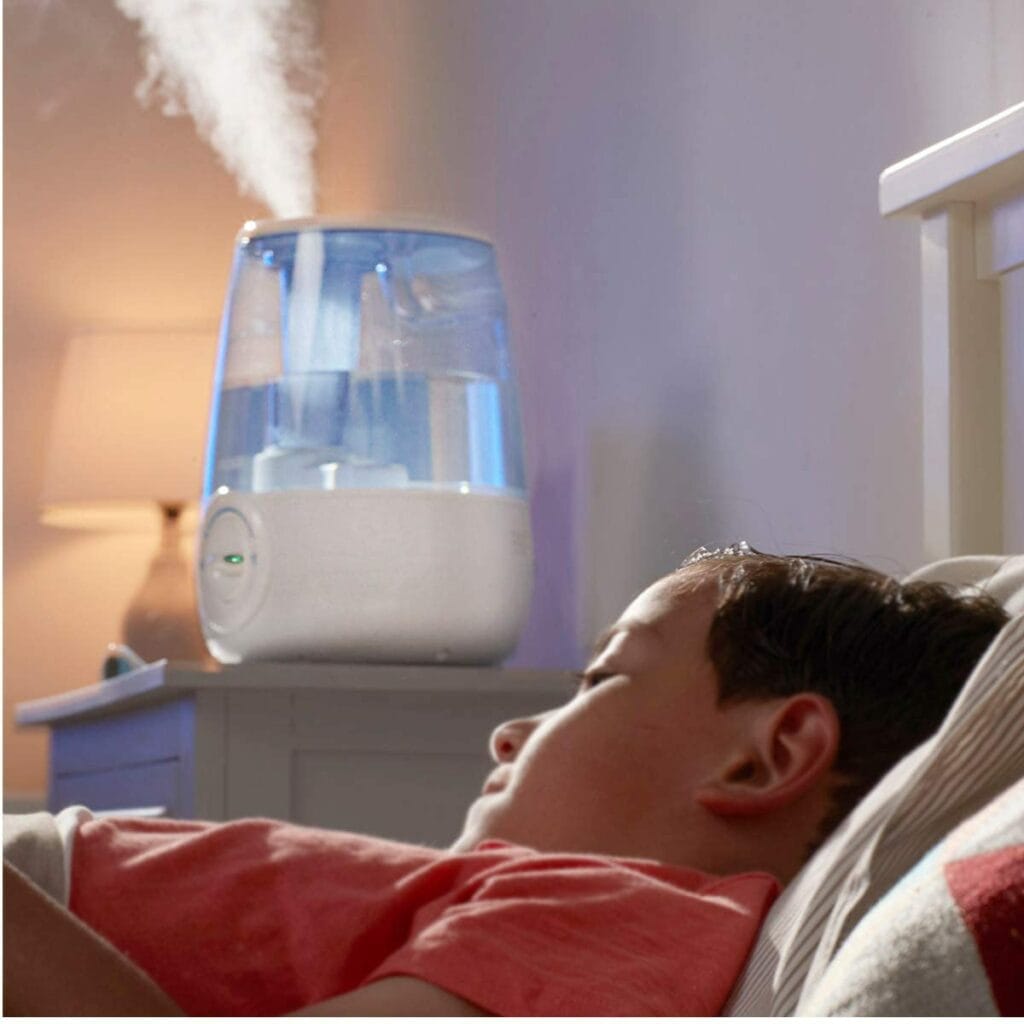 Location
Related to noise volume, you have to think about where you'll position your unit. Small units are fine for table-top placement or for bed-side dressers. Centrally located humidifiers can be larger, and if your preferred humidifier is really loud, you could camouflage it with a louder device like a fridge, fish tank filter, or washer and dryer.
Capacity
The water in your humidifier needs to be topped off from time to time. And if your area uses hard water, you'll need to be on the lookout for lime and scale. That said, if you need your humidifier to run overnight – or during the day while you're out, its water reservoir should be large enough to last until you get back (or wake up).
Review of the Best Cool Mist Humidifiers
In theory, knowing the specific qualities you're looking for should make shopping easier. But it can still be overwhelming when you're faced with hundreds of alternatives. To help you avoid paralysis by analysis, we've broken down our top picks by category.
AIRCARE MA1201
Decibel Level: N/A
Coverage Area: 3,600 sq ft.
Tank Size: 3.6 gallons
Dimensions: 14.5 x 21.5 x 20.5 inches
Weight: 14 pounds
We may earn commission from purchases made from our links, at no additional cost to you
Review
There's a misconception that whole-house humidifiers have to be massive. Or that they need to be internally located within your HVAC system. In reality, portable humidifiers sometimes have adequate reach. AirCare's humidifier can be moved to any part of the house without limiting its radius. It's U.S.-made, with assembly, parts, and design sourced locally (though it does have a few imported bits). And it's pretty too.
It can be hard to tell when the air is too dry or moist. With AirCare, you can set your preferred humidity and the device will self-regulate, increasing or reducing moisture to match your specs. With a 13.6-liter water tank, Aircare can run uninterrupted for up to 36 hours. Like many evaporative cool mist humidifiers, any dirt in the air gets trapped in the wick, so your air is left fresher and more breathable.
The device's digital display has three color-coded buttons for easy operation. Air is pulled into the humidifier using a four-speed fan, with an extra auto-setting if you prefer. Your wick filter will need replacing though, depending on how often you use it. Also, the humidifier has a filter gauge so you know when it's time to top up your water. Check it once a day, just to be sure.
While the device will shut itself off once it runs out of water, the dry filter can start to smell or develop mold. Some users like to wash the filter in a vinegar bath, just to get rid of any accumulated scale. But even with vinegar washes, the wick still eventually needs replacement. Some owners change theirs once a month, others once a year. We recommend once in three months.
Bottom Line
If you want a convenient, U.S.-made device that's good with kids, pets, and sniffles, this AirCare is your best bet. Plus, its aesthetics make it an attractive addition to your home décor.
Pros
Digital display for easy read-outs at a glance
Humidistat automatically controls humidity levels
Can service the entire house (up to 3,600 square feet)
Reduces dust and pet dander by keeping their skin supple and moist
Cons
Evaporative wick needs regular replacement
Pallas 5L Cool Mist Ultrasonic Humidifier
Decibel Level: N/A
Coverage Area: N/A
Tank Size: 1.32 gallons
Dimensions: 8.19 x 8.19 x 12.4 inches
Weight: 3.84 pounds
We may earn commission from purchases made from our links, at no additional cost to you
Review
When you're studying the specs on a product pack, you need to know how to interpret them. For example, the Pallas 2019 humidifier is slated as having 133 hours of run time per refill. But its actual operating time depends on the size of the room. Its tank holds 5 liters and after 20 hours, you have to shut it off to avoid overworking it, assuming your room is 300 square feet. A smaller room of 100 square feet can maintain the machine's operation for up to 60 hours at a go.
However, if you run the Pallas at its lowest setting, you get another 30 hours of service for a total run-time of 90 hours. It releases 320 ml of mist every hour via 1.7 million ultrasonic vibrations. Its cylindrical design and spinning nozzle mean it gets moistened air to all parts of the room, even the corners and crevices. Its filter is organic, which means it can block out negative ions and potentially harmful microorganisms. The filter is green and biodegradable.
Pallas designates their humidifier as '100% worry-free' and are good about replacements and/or refunds. They offer a lifetime guarantee, but you have to activate the warranty within a month of purchase. Otherwise, you risk voiding the said warranty. Some users complain that the Pallas produces a mist that 'sinks' and moistens the surface around the humidifier. This happens with many cool mist humidifiers (as opposed to warm mist humidifiers, whose air shoots upwards).
Bottom Line
When you're looking for sweet sleep uninterrupted by snoring, sniffling, or whirring, opt for the soundless Pallas 2019.
Pros
Runs up to 20 hours at a time
Uses silent ultrasonic technology
Rotating nozzle for 360º dispersion
Contains an activated carbon cotton cartridge filter
Cons
Cumbersome to carry around
Can't be loaded with aromatic oils
Safety 1st 360 Degree Cool Mist Ultrasonic Humidifier
Decibel Level: N/A
Coverage Area: N/A
Tank Size: N/A
Dimensions: 7.5 x 7.25 x 10.25 inches
Weight: 2.20 pounds
We may earn commission from purchases made from our links, at no additional cost to you
Review
The Safety 1st ultrasonic humidifier can run for 24 hours at a time and makes minimal noise. This marks it as a perfect choice for your sleeping baby's room. Its water tank (which comes in blue and raspberry) lets you gauge the water level at a glance. But on those occasions where you've bravely resisted the urge to peep into the nursery every few minutes, the humidifier will automatically shut down to prevent lack-of-water damage.
Its cute design includes two angled nozzles that can both turn 360º. They spin independently, so they can face different directions, a useful feature if your kids share a room. This humidifier is on the smaller side–a baby device for a baby consumer. It stands just under a foot high and is 8.5 inches wide, with a 2.5-liter tank. Its egg-like shape and broad base make it less likely to tip, and it's recommended as Hospital's Choice and Amazon's Choice for infants.
While the absence of a filter makes the device quieter, it leaves the humidifier susceptible to hard water. So you may have to add a tank cleaner to your shopping cart, though a white vinegar soak will do the trick. Rinse thoroughly to remove that vinegar smell. Some users also like to add antimicrobials to the water. On a more relaxing note, you can add a few drops of soothing essential oils to the tank. They'll calm your baby without damaging the humidifier.
Bottom Line
Avoid the drama of de-gunking your baby's nose (and the terror of hearing them try to breathe) by running this humidifier in your baby's room. Keep it on 24/7 … but don't forget to refill!
Pros
Limited warranty of one year
No filter means less maintenance
Auto shut-off plus warning light when the water gets too low
Variable mist options allow you to change its direction, intensity, and volume
Cons
Humidity levels have to be set manually
UCareAir Cool Mist Humidifier
Decibel Level: 32 dB
Coverage Area: 200 sq ft.
Tank Size: 0.5 gallons
Dimensions: 8.03 x 5.98 x 9.09 inches
Weight: 1.5 pounds
We may earn commission from purchases made from our links, at no additional cost to you
Review
Filters are expensive and cumbersome, so if you'd rather avoid the hassle, UcareAir is a good choice. It holds 2 liters, which can comfortably mist your room through the night. This is especially useful for kids, because while its ultrasonic mechanism won't disrupt their sleep (it only emits a 32db gurgle every half hour), its night-light will help them scare the nightmares away. The light does have an off-switch though, so as they get older and braver, you can leave them in the dark. Don't add any essential oils though, as they'll damage the tank.
The humidifier can function continuously for eight hours–ten hours if you leave it at its lowest setting. If you forget to turn it off when you leave the house, it will shut off automatically. And when you get back, the red warning light will remind you it's time to refill it. There's also a consistent blue light to indicate the humidifier is working as it should, so there are three lights in play.
At the top of the device, the mist expulsion spouts can spin 360º, so you can point it in the direction you prefer. The entire ergonomic see-through top pulls off, making it one of the easiest humidifiers to fill up. The humidifier contains its sound by pushing air through a partially muffled tunnel. Its vibrating ultrasonic plate converts water into mist particles of between one and five micrometers. All its curves can be cleaned with vinegar and the little bottle brush in the pack.
Bottom Line
This is a good option for growing kids. When they're younger the night-light soothes them. As they get older, assign them the chore of refilling it whenever the blue light turns red.
Pros
1-year replacement warranty
60-day money-back guarantee
Attractive broad-based egg-shape
See-through tank plus warning light
Cons
Sometimes makes the floor damp
BONECO/Air-O-Swiss 7147 Ultrasonic Humidifier
Decibel Level: 25 dB
Coverage Area: 600 sq ft.
Tank Size: 1.5 gallons
Dimensions: 14 x 11.56 x 11.56 inches
Weight: 9 pounds
We may earn commission from purchases made from our links, at no additional cost to you
Review
The main disadvantage of ultrasonic humidifiers is their inability to deal with lime deposits and scale. In other humidifiers, these alkaline particles are blocked by the filter. In this particular Boneco unit, a built-in hydro cell deals with water-borne contaminants. It also has a de-mineralization cartridge and comes with its own cleaning pack of EZCal for descaling. This should be applied every two weeks. The cartridge needs replacement every two or three months, while the activated carbon hydro cell can run a month or two before you need a new one.
But the Boneco isn't just beautiful and clean. It's labor-saving too. You can input your setting manually or you can choose to run it in auto-mode. The humidifier has an internal hygrostat, so when you set it to auto, it will assess the room's relative humidity, then release less or more moisture to achieve desired results. This essentially means your humidifier can run without human intervention, though you do have to refill it.
The top part comes clean off for an easier refill. The device can be pre-heated when you want warm mist, or run as-is to produce a cool mist. It covers a larger area than other humidifiers, and it's Swiss, so you're assured of precision and quality. The danger is getting too used to auto-mode and forgetting to top up the reservoir, which could damage your machine when it dries out.
Bottom Line
This humidifier looks great in any room, and in auto-mode, it barely needs attention. But with no built-in filter, its hygiene regime can be punishing. Replacing the 'cleaning kit' can get pricey as well. A box of EZCal has three packs, and you use one pack for every wash, so you essentially go through eight boxes a year, not counting the hydro cell and demineralization cartridge.
Pros
Has a sleek, dark, masculine design
Uses a titanium membrane that won't corrode
Built-in hygrostat to monitor the room's current humidity
Optional auto-mode when you don't want to run it yourself
Cons
Doesn't have an auto shut-off function
LEVOIT LV600HH Warm and Cool Mist Ultrasonic Humidifier
Decibel Level: N/A
Coverage Area: 753 sq ft.
Tank Size: 1.5 gallons
Dimensions: L x W x H
Weight: 4.85 pounds
We may earn commission from purchases made from our links, at no additional cost to you
Review
For lovers of all things high-tech, the Levoit humidifier is a dream. Where some humidifiers have cool and warm mist, the Levoit has three settings for each. You can operate it using the touchscreen on the side of the device or you can use the remote control. At 500ml per hour, it's almost twice as fast as the average humidifier, and it's pretty quiet too. If you need to mist the house while you're away (or asleep), you can set a timer for up to 12 hours.
When you're using the humidifier to get over a cold, engage warm-mode, because that way, it will boil the water, killing all germs and leaving your recovery room free of pathogens. If you'd like to add any healing oils, there's a specially designed aroma box loaded with absorbent pads. A few drops of oil on said pad and you can enjoy relaxing, medicinal, mood mellowing infusions. Just remember to never mix your oil with your water or you'll ruin the humidifier.
The product pack says the Levoit humidifier is easy to clean but it's a drawn-out process. You have to take it apart, use vinegar to soak the mist tube, air flume, and water tank, rinse with cold water, and dry the insides with a rag. Then brush off the residue, all while keeping the air vent completely dry. This cleaning routine happens once a week, so this humidifier isn't faint-hearted. That said, the ABS plastic water tank is solid, and the humidifier works best on raised surfaces. If you must have it on the (wooden) floor, place a towel beneath it to soak up the dampness.
Bottom Line
If you're looking for speed and versatility, go Levoit. You'll reach your preferred humidity level 25% faster and you have six misting levels (three warm and three cool) for added flexibility.
Pros
Comes with a 2-year warranty
Designed in California for American conditions
Digital screen shows real-time humidity reading
Suitable for aromatherapy through essential oils
Cons
Complex cleaning procedure
Not recommended for wooden floors
Anypro Cool Mist Ultrasonic Humidifier
Decibel Level: 36 dB
Coverage Area: N/A
Tank Size: 0.5 gallons
Dimensions: 8.15 x 7.13 x 7.13 inches
Weight: 1.34 pounds
We may earn commission from purchases made from our links, at no additional cost to you
Review
Egg-shapes and rotary mist spouts seem to be common features on humidifiers, but this Anypro mini-designer device is a little different. At eight inches by seven inches, it's definitely on the petite side, but its ABS plastic construction gives it a strength that belies its size. It's not an intuitive device: when you want to fill it up, you lift to screw off the top half, turn it upside down, then pour 2 liters into the hole. It won't spill though, as long as you screw the cap securely over the hole.
While the Anypro is running, it's 'softer than a whisper', barely reaching 30dB. Its misting reach is average – 350 square feet. Like many ultrasonic humidifiers, the Anypro doesn't have its own filter so you need to clean it every week. You might reduce your workload by only using distilled water, but that raises your maintenance expenses as well. Also, don't let water sit in the humidifier too long or it could develop bacteria.
Anypro does have some little things going for it. Its two-pronged power plug is detachable, for example. And you can switch off the night light by long-pressing the power button. The humidifier doesn't work with 'flavourings' though, so don't add in any essential oils or other additives. And because it has just one button and so many functions, there's a bit of a learning curve as you figure out how to do what…so don't throw away the owner's manual!
Bottom Line
The cute, portable Anypro is convenient on the go, so you can take it to work and back home every day. Just make sure you carry all of its parts– as the cord and tank lid often get lost in transit. Also, its (lack of) size and design mean you're more likely to have it up on a table rather than on the floor, so be careful not to drop it.
Pros
1-year warranty and free replacement
Optional night light for the little ones (blue)
High/low mist options from the 360º nozzle
Removable power cord to prevent electrocution while refilling
Cons
Single button for all functions–which can get confusing
Honeywell Mistmate Cool Mist Humidifier
Decibel Level: N/A
Coverage Area: N/A
Tank Size: 0.5 gallons
Dimensions: 8.5 x 8.5 x 9.5 inches
Weight: 2.61 pounds
We may earn commission from purchases made from our links, at no additional cost to you
Review
You want one basic thing from your humidifier – increased (indoor) atmospheric moisture. Everything else is a bonus. Honeywell's humidifier–in this sense– feels like the ideal entry-level model. It's nice to look at, but it doesn't have the bells and whistles. Instead, it focuses on practical things, like a tank with a wide mouth, so that it's easier to clean and refill without wastage and spills, or the clear tank that lets you assess water levels without a fancy gauge.
The Honeywell Mistmate has a single dial for high or low humidity. Its misting nozzle is stationary, but the humidifier itself is light, so you can easily lift and turn it to point the nozzle wherever you want it. Mistmate's compact size makes it convenient to carry around in the car or place on a small dorm room desk. It doesn't have its own hygrometer though, so it's often sold with accessories like Honeywell humidity monitors.
Mistmate doesn't have a filter, but because it also lacks high-tech components, you can easily flush it out with vinegar and freshwater. Do it often–once a week is good. It prevents white dust from piling up and becoming more difficult to remove. It's also helpful to remember this model doesn't take additives, so no essential oils, disinfectants, or other foreign matter. Just water. If possible, distilled. Also, this humidifier's simplicity prevents wet patches on the floor.
Bottom Line
When your focus is on comfort rather than specs, Honeywell is a good choice. It doesn't have any fancy features, but it will moisten your space enough to combat allergies and snoring.
Pros
Easy to fill and clean
Ultra quiet while running
Works well in small rooms
Translucent tank for convenient water monitoring
Cons
Frequently bundled with a humidity monitor
Vicks Filter-Free 1.2 Gallon Cool Mist Humidifier
Decibel Level: N/A
Coverage Area: 400 sq ft.
Tank Size: 1.2 gallons
Dimensions: 10.87 x 9.45 x 13.46 inches
Weight: 4 pounds
We may earn commission from purchases made from our links, at no additional cost to you
Review
Growing up, Vicks was offered as a solution for everything. Runny nose? Dry cough? Broken heart? Just rub a lot of Vicks on your throat and chest. We'll never fully know how much of it was a placebo effect, but it did seem to work, and those harsh fumes can still induce both relief and horror in grown men (and women). This humidifier is a slightly gentler way to administer Vicks. No-filter humidifiers don't usually work with essential oils, but the Vicks model is built for that.
On the side of the device, there's a little compartment where you can stash one or two menthol pads at a time. These Vicks VapoPads will then leach into the water, releasing Vicks-enriched mist into your room and stinging significantly less than direct application of vapor rub. Apart from menthol, you can also find VapoPads in rosemary, eucalyptus, and lavender. They clear stuffiness, soothe allergic reactions, and help you sleep better.
Keep in mind the Vicks humidifier is specifically designed to work with Vicks VapoPads. Don't use other essential oils in the device or it's likely to get damaged. Not even cotton pads soaked in aromatic products. Stick to branded Vicks pads. The humidifier itself has a dial to control the amount of mist output. It's filter-free, so it needs weekly washing and rinsing. (White vinegar and water are adequate).
Bottom Line
Believers in Vicks are already sold on this product, but if you want a simple, convenient, no-frills humidifier with just a hint of menthol kick, this is the gadget for you.
Pros
Covers areas of 100 to 400 square feet
Noiseless operation for startle-free sleep
Shuts off automatically when the water is gone
Loads Vicks VapoPads for up to 8 hours of mentholated relief
Cons
No warning lights or night lights
What Is a Cool Mist Humidifier?
The role of a humidifier is to add moisture to the air, usually in the form of water vapor. Most humidifiers work by heating a reservoir of water. Cool mist humidifiers do the opposite. Instead of boiling the water to release heat, the device breaks water into teeny-tiny particles, releasing it as a fine mist. These humidifiers are sometimes called impellers, because the impeller blades push water into diffusers, which then break down the water into mist.
Cool mist humidifiers use kinetic energy rather than heat, meaning the gadget itself doesn't heat up. It's the main reason these humidifiers are recommended if you have kids or pets. (The other types of humidifiers – the ones that utilize heat – can easily scald your little ones or burn your pets.) Cool mist humidifiers are also generally more affordable than other kinds.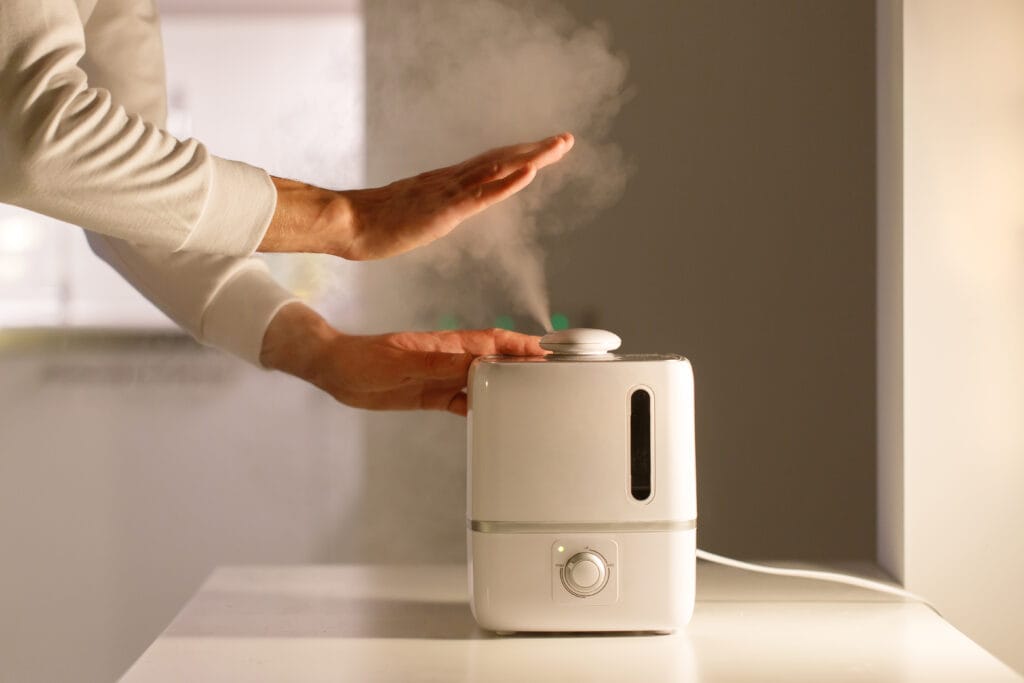 When you're reviewing your cool mist humidifier, ask if it's an impeller or ultra-sonic. It's important to check this twice, because some ultrasonic humidifiers are actually warm-mist devices, so there's potential for heat damage. Ultrasonic humidifiers use sound wave vibration (rather than rotating impeller blades and diffusers) to break down water molecules.
There's a third type of cool mist humidifier – the evaporative. It has a wick that's saturated with moisture, and it has in-built fans. The fans pull dry air into the device and pass the air through the wick, where the air absorbs moisture. The now-humid air is released back into the room. In addition to the wick, this type of humidifier often has a dust filter, resulting in cleaner air.
Benefits of Investing in a Quality Cool Mist Humidifier
Humidifiers, in general, have a proven advantage. But in what specific ways is a cool mist humidifier better than any other kind?
Affordability
Cool mist humidifiers are generally more pocket-friendly than warm mist humidifiers. It's one of the reasons impellers are the most common kind. In part, it's because you need less power for the cool mist rotary impeller or metallic atomizer than you do to produce steam in warm mist humidifiers. Unrelated, humidifiers can prevent furniture from drying and cracking, which would result in pricy repairs–another way of saving you money.
Safety
The surfaces of warm mist humidifiers get hot in the process of heating water. The water itself, as it leaves the humidifier, is at boiling temperature. Meaning if your kids or pets get too close, you could end up in the emergency room. You don't get this problem with cool mist versions, since they're powered by rotation or vibration instead of heat.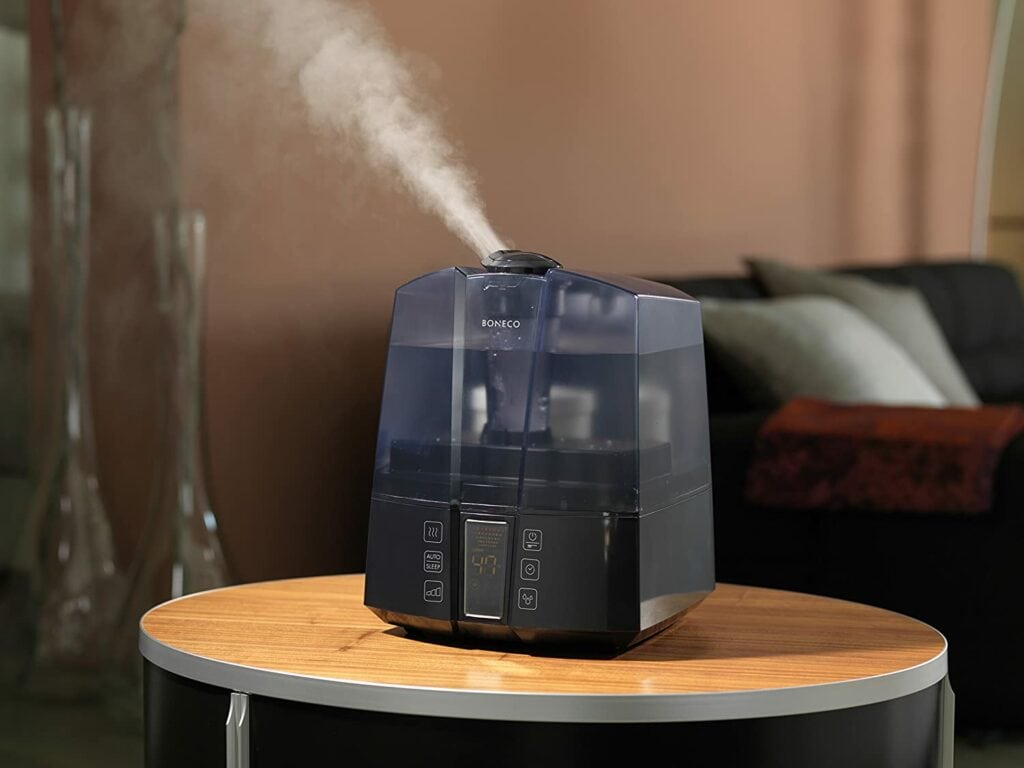 Health
Dry air can make your lips crack and your nose bleed. It's harsh on your skin and hair, so you'll spend more on beauty products and it increases static electricity. Humidifiers resolve all this by carefully introducing moisture into your living spaces. They also lower the risk of infections. When you do fall ill–especially for respiratory problems–calibrated moisture helps your body heal faster by keeping your nose, mouth, and throat tissues moistened.
Comfort
Whether it's keeping your house-plants healthy, managing allergies so you can sleep, protecting your appliances from static electricity damage, lowering your power bill by 10%, or lacing your diffuser with calming essential oils, the right humidifier makes your home more pleasant to be in. And that makes all the difference during both dreary winters and scorching summers.
Conclusion
Your choice of humidifier will be driven by lots of different things. You've probably generated a list of bare minimum features. Things like spinning nozzles, humidity gauges, automatic off switches, recyclable filters, and night lights for the babies each appeal to different people.
All taken into account, Aircare MA is still our top pick. It can moisten the entire house in one go, or you can use its little wheels to take it from room to room, humidifying each one in turn. Plus, aside from making life easier for you, it improves living and breathing conditions for plants, pets, and potty training toddlers.