Humidifiers are known to be incredibly useful products for homes, particularly if any of your family members suffer from allergies or respiratory issues. With a humidifier, you can maintain an adequate amount of moisture in the air while also fighting off dust, dry air, and bacteria accumulation.
The humidifier brand you choose plays quite an important role and must be thought out well while shopping for a good humidifier. There are many brands that can manufacturer high-quality, state-of-the-art humidifiers, and one such brand is Honeywell.
There's no doubt that Honeywell is one of the most famous brands of humidifiers available in the market today. With its long history of manufacturing humidifiers, the company has successfully earned itself a good reputation as well as the trust of many customers across the globe.
At a Glance: Our Top Picks for Honeywell Humidifiers
Comparison of the Best Honeywell Humidifiers
IMAGE
PRODUCT

Our Top Pick

Comes with a 0.8-gallon tank
Best overall Honeywell humidifier
Long battery life, can work for up to 18 hours

View Latest Price →

Best Budget Option

Best budget Honeywell humidifier
Allows the customization of mist flow
Ideal for rooms measuring 650 square feet

View Latest Price →

Best whole house humidifier
Puts out up to 16 gallons of moisture
Can handle areas of 3000 square feet

View Latest Price →

Ultrasonic humidifier
Best cool mist humidifier
0.5-gallon tank ideal for small rooms

View Latest Price →

Honorable mention
Can kill 99.9% bacteria
1.1-gallon tank covers spaces up to 500 square feet

View Latest Price →
Who is Honeywell?
Honeywell is known to be one of the most respected and largest companies that focus on engineering and electrical technology. Moreover, the brand's history can be traced back to the end of the 19th century. With over 130 years of experience in the industry, Honeywell produces unrivaled top-of-the-line home appliances. It not only puts out great humidifiers, but it also has a wide range of products ranging from security systems to thermostats.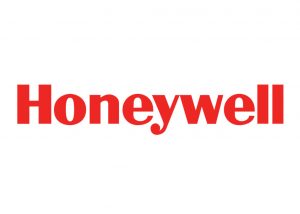 The brand carefully picks out the features that users would greatly benefit from and eliminates those that are highly unnecessary, thus resulting in the best products. Apart from manufacturing well-made products, Honeywell also stands behind their craftsmanship by offering a warranty on their humidifiers.
How Does Honeywell Compare to the Competition?
Installing a humidifier by Honeywell can be quite instrumental in combating various negative aspects of the environment, particularly in the cold months. Extremely effective and highly affordable, these humidifiers offer numerous benefits that greatly assist homeowners in establishing a healthy home environment. Honeywell outperforms many competitors for many reasons. These include:
Relieving Dry and Itchy Skin
With the wonderful cold winter months come skin agitation, which can cause a series of uncomfortable and painful conditions like chapped lips and cracked skin.
Plus, such skin ailments can worsen for homeowners living in areas surrounded by insufficient moisture. However, a Honeywell humidifier adds the right amount of moisture into the air, efficiently helping to combat itchy and dry skin.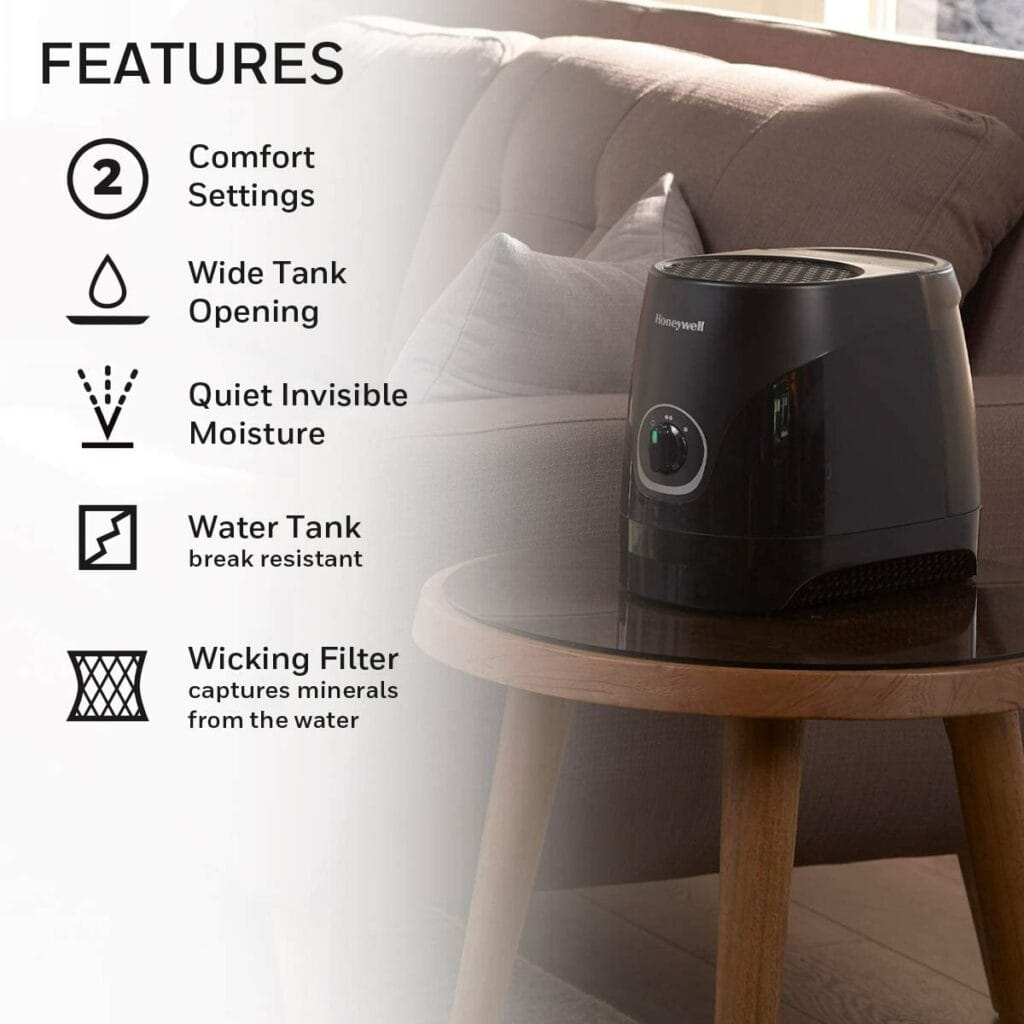 Creating a Comfortable Breathing Environment
Pollution and cold weather can both cause extreme mayhem with the respiratory system, particularly if the winters are dry. As winter comes, flu and cold attacks become more common than ever. As a result, bitter air significantly weakens the immune system and aggravates the sinuses. Honeywell offers numerous humidifiers that can act as the remedy for problematic and disastrous winter air. With a Honeywell humidifier installed, you can enjoy a new level of protection from discomfort and illness.
Protecting Your Furniture
In addition to posing a threat to the wellbeing of homeowners, cold, dry weather also has the potential of damaging the interior of a household. The constant presence of frigid air causes wood to naturally shrink. Moreover, an inadequate amount of moisture can cause the wood to splinter and the paint to smear. These outcomes can ultimately add up to a hefty amount of housing repairs. However, with a Honeywell humidifier installed, you can add some moisture to the dry air that causes cracking woodwork and carpet shock.
Review of the Best Honeywell Humidifiers
Honeywell humidifiers are available in various sizes ranging from large to small. Each humidifier employs different methods and technologies for creating vapor for your house.
Choosing the right one can come down to your room size or even the features and specifications of the unit. Regardless, one thing is for sure; the following reviews can guide you on your mission to find the best Honeywell humidifiers.
Honeywell Cool Moisture Humidifier
Decibel Level: N/A
Coverage Area: N/A
Tank Size: 0.8 gallons
Dimensions: 6.8 x 12.8 x 10.2
Weight: 6 pounds
We may earn commission from purchases made from our links, at no additional cost to you
Review
This one-of-a-kind humidifier features a wicking filter that removes the minerals and impurities from water and lowers the amount of white dust present in the environment. Meanwhile, the humidifier offers a cool invisible fog of mist that works to humidify your room to a comfortable level.
Moreover, the tank of the humidifier has a capacity of 0.8 gallons and it is made using break-resistant material. There's a big opening at the top to make refilling the tank with water as easy as possible. Moreover, there are two speed settings you can choose from, depending on the humidity level you prefer.
At the lowest setting, this unit can work for up to 18 hours. Moreover, it has a quiet operation so that you can enjoy a good night of sleep without any disturbance. In addition, the humidifier is easy to clean and hardly leaves any deposits. Overall, it is ideal for homes with both children and pets.
Bottom Line
Given its tank size and ability to produce mist, this unit is best for small and medium-sized houses. It has an incredible design that will complement various decors. Plus, its wicking filter and other capabilities make it a good choice.
Pros
Extremely quiet while functioning
Lasts a long time at full effectiveness
Wide-mouth filler cap makes filling the tank easy
Cons
Design makes it difficult to clean all components of humidifier
Honeywell HUL535B
Decibel Level: N/A
Coverage Area: N/A
Tank Size: N/A
Dimensions: 8.5 x 8.5 x 13.5
Weight: 3.8 pounds
We may earn commission from purchases made from our links, at no additional cost to you
Review
Yet another great product by Honeywell is the HUL535B. With the help of ultrasonic technology, this unit helps to release cool mist that in turn works to humidify the room. Directional nozzles let you adjust the direction of flow of the mist and you can even choose whether you want the mist to flow in one direction or two. Thanks to this innovative technology, this device has a significant humidification impact.
In this unit, you'll find two different speed settings: slow and fast. When operating at the highest speed, the unit can convert two gallons of water into cool mist in a mere 24 hours. This high-speed setting makes this humidifier the perfect addition to rooms measuring roughly 650 square feet. Meanwhile, the low-speed setting best caters to smaller rooms. In addition, the unit comes with an auto-shutoff feature that powers it down once the tank is empty.
Moreover, it uses minimal electricity and efficiently adds moisture to your surroundings while operating quietly, ensuring your sleep is not disturbed. Since this is an ultrasonic humidifier with a design that reduces the risk of accidental burns, it is ideal for homes with pets and children.
Bottom Line
Overall, this unit is a very efficient humidifier that is appreciated across the globe for its speed, convenience, and quiet operation. Plus, its compact size allows you to place it anywhere in your room without having to make room for it specially.
Pros
Easy to clean
Has a simple yet understated design
Tank only requires refilling once a day
Spinning directional nozzles allow you to change the humidifier's direction
Cons
Slightly noisier than some units on the market
Only available in black, which can be quite dull
Best Whole House Humidifier
Honeywell Whole House Humidifier
Decibel Level: N/A
Coverage Area: 3,000 sq ft.
Tank Size: N/A
Dimensions: 15.75 x 9.5 x 15.75
Weight: 5 pounds
We may earn commission from purchases made from our links, at no additional cost to you
Review
This Honeywell whole house humidifier has a flow-through design. Apart from its design that provides various benefits, the unit is quite feature-rich. Suitable for houses as big as 3000 square feet, it releases up to 16 gallons of moisture daily. Its flow-through design ensures that it stays free of microorganisms that are removed by draining and rinsing routinely.
Moreover, this unit features an evaporation pad that filters out all hard water minerals and impurities. As a result, you're left with cleaner moisture. In addition, the PerfectFLO system works to ensure optimal water use as well as energy efficiency.
Ultimately, the humidifying process is environmentally-friendly and low-cost. Since it is a whole house humidifier, this unit ensures that the humidity level throughout the house is maintained. Perhaps the greatest benefit is that it is quite easy to install thanks to the DIY installation kit and instructions it comes with.
Bottom Line
This bypass whole house humidifier can handle houses as large as up to 3000 square feet. One thing that makes this humidifier stand out is its easy mounting. Overall, it is a good option if you want pure moisture to be added to your environment. Another great thing about this unit is that it doesn't need to be cleaned very often.
Pros
Can significantly reduce your gas bill
Provided instructions make installation extremely easy
The kit comes with all the things needed for installation
Cons
Makes noise after a few months of use
Best Cool Mist Humidifier
Honeywell HUL520L
Decibel Level: N/A
Coverage Area: N/A
Tank Size: N/A
Dimensions: 8.5 x 8.5 x 9.5
Weight: 3 pounds
We may earn commission from purchases made from our links, at no additional cost to you
Review
If you want a small humidifier to adjust the moisture level in the air around you, the Honeywell HUL520L Mistmate is a good option. While it's a little bigger than a personal humidifier, it can handle a space of roughly 150 square feet. Plus, its slightly larger size allows you around 20 hours of runtime on just one tank on the lowest speed.
Like the HUL535B, this one also features ultrasonic technology to create humidity. This means that while operating, the unit hardly makes any noise. While you might notice a little humming, you're going to find it comforting rather than annoying. So, placing this by your bedside or anywhere within your room won't be such a bad choice.
Perhaps the greatest benefit of this humidifier is its low price point. People on a budget wanting to humidify rooms up to 250 square feet in size can find this to be a suitable option. Plus, with its 0.5-gallon tank, the unit is perfect for bedside tables or desktops.
Bottom Line
All things considered, this unit is a budget-friendly choice. Not only is it effective and quiet, but it is also compact enough for use without being too distracting. All in all, if you're looking to humidify only a small part of your house, this could be a great option.  
Pros
Easy to use
Works very silently
Emits vapor quite effectively
Compact size that can run all night long
Cons
In excessively dry weather, the unit might need to be filled twice a day
Honeywell HCM350w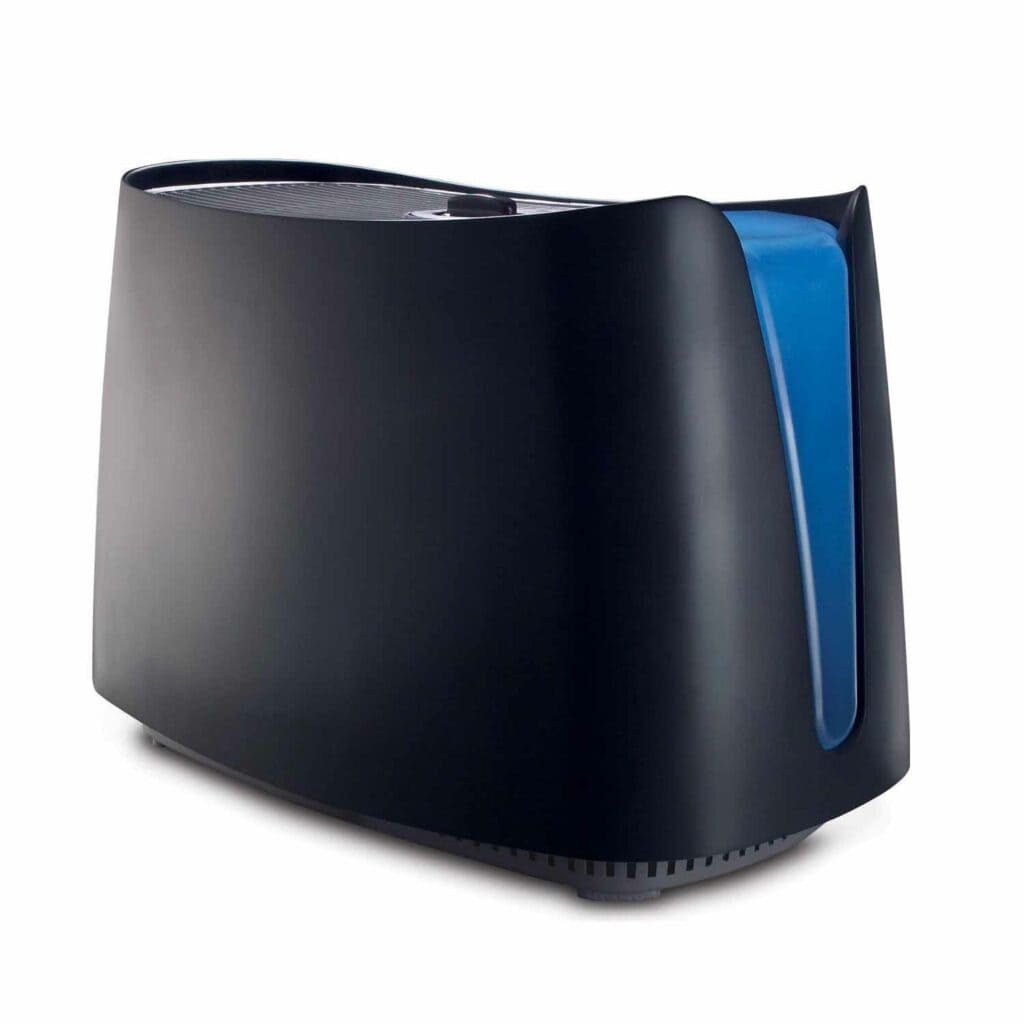 Decibel Level: N/A
Coverage Area: N/A
Tank Size: 1.1 gallons
Dimensions: 17.9 x 9.37 x 11.4
Weight: 8.36 pounds
We may earn commission from purchases made from our links, at no additional cost to you
Review
To date, the HCM350w is one of Honeywell's most loved humidifiers. With a 1.1-gallon tank, the unit is able to cover an area of up to 500 square feet. It is an affordable and robust cool mist humidifier that makes use of an evaporative system. One of the greatest features of this unit is the UV light feature that can eliminate 99.9% of bacteria, mold, and germs. It also prevents them from mixing up with the water, thus ensuring that the mist is completely clean. Moreover, its self-regulating evaporative system reduces the risk of over-humidifying a room.
So, you can use this unit without any worry around small children overnight. Since it is an evaporative humidifier, it doesn't leave a film of white dust when it is used with hard water. Another strong suit of the unit is its ease of use as well as the simple control. There's just one dial that allows users to choose from three fan speeds.
Plus, the tank is quite easy to fill thanks to the large filling hole. The large hole also means that cleaning the tank is simple. Lastly, the unit accompanies an easy-to-grip handle which makes it super easy to carry the tank.
Bottom Line
The patented ultraviolet technology of this unit helps to kill up to 99.9% of virus, fungus, mold, and bacteria in the water. Thus, the unit emits moisture that's free from germs. Overall, it is suitable for medium and small sized rooms both.
Pros
Easy to maintain
Large tank that is dishwasher safe
Doesn't need to be cleaned frequently
Highly durable unit that can work for many years
Cons
Lid of the tank isn't easy to clean
Makes noise even on the low setting
Honeywell Cool Moisture Console Humidifier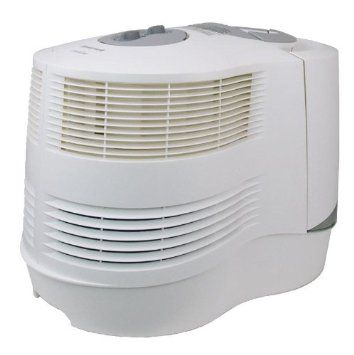 Decibel Level: N/A
Coverage Area: N/A
Tank Size: 3 gallons
Dimensions: 23.15 x 14.96 x 17.48
Weight: 19.95 pounds
We may earn commission from purchases made from our links, at no additional cost to you
Review
Most commonly, humidifiers are designed to add moisture to only one room of the house. However, with this console humidifier, you can increase the humidity level of your whole house. This is a large unit that comes with dual tanks capable of holding three gallons of water. Moreover, it is rated to cover a space of up to 1900 square feet, which is more than what many portable humidifiers have to offer.
With its 3-gallon tank, this humidifier can work for up to 24 hours so you can enjoy the perfect humidity level throughout the day. In addition, this unit comes with a humidistat that senses when the moisture level in your room is low. Once the moisture level is up to where you want it to be, the humidifier stops; it's just that smart! Another important feature of this unit is Evaporative Technology.
This unique technology blows the moisture off of a wicking filter, rapidly evaporating it into the air. With this technology, over-humidifying your air is impossible since the technology avoids adding in more moisture than the air can handle. To keep the humidifier running, you'll have to change the filters. Plus, the unit is easy to clean and can be simply done with a vinegar wash or additives.
Bottom Line
This is the ideal option for those looking for a whole house humidifier but don't want to install anything on the furnace or water lines. Plus, its evaporation technology and the 3-gallon tank provides the ideal humidification for 24 hours.
Pros
Pushes a great deal of air out
Can humidify a very large area
Tank can hold up quite a large amount of liquid
Automatic shutoff feature adds to the unit's security
Cons
Tends to rattle and vibrate
Honeywell does not have its own replacement filters
Conclusion
Buying a reliable humidifier becomes quite easy once you've built confidence in a brand that is simply outstanding. There's no doubt that Honeywell humidifiers are excellent appliances you can purchase for maintaining the ideal atmosphere in your home. It is not only popular among families and homeowners, but it is recommended by doctors as well. We hope that this article has helped you make a more informed buying decision regarding your new Honeywell humidifier.