Investing in a humidifier is one of the simplest and most effective ways to help mediate allergy symptoms that are worsened by dry air.
By using one in your home, you can improve the overall air moisture and quality to protect you and your family against airborne allergens and pathogens.
If you are not sure how to choose a humidifier or even if you need one in the first place, we are here to help.
At a Glance: Our Top Picks for Humidifiers For Allergies
Comparison of the Best Humidifiers for Allergies
IMAGE
PRODUCT

Our Top Pick

Has a Great Evaporation Capacity
Can Operate in Either Automatic or Manual Mode
Whole House Humidifier With Easy and Simple Installation Process

View Latest Price →

Efficient and Extremely Quiet Operation
One Refill Supports Up to 18 Hours of Runtime
Automatically Shuts Off When Water Level is Too Low

View Latest Price →

Best Budget Option

Includes Three Different Mist Settings
Efficient and Long-Lasting Model Available at a Low Price
Noiseless 30 Hours of Runtime Produces One Gallon of Moisture

View Latest Price →

Doesn't Need to Be Refilled Too Often
Strong Circulation Capability With Three Power Settings
Easy to Operate and Set Up (Includes Clear Instructions)

View Latest Price →

Purifies Air by Trapping Airborne Pollutants
Comes With Three Different Output Levels for Customization
Cold Evaporation Technology Prevents the Production of White Dust

View Latest Price →
Aspects to Consider Before Buying
Humidifiers come in a range of types and sizes with many different features that can impact how helpful they are. Before investing in one, consider the kind you want, how much space it can cover, and how easy it is to use and clean.
Type
There are four main types: warm mist, cool mist, whole house, and ultrasonic humidifiers.
Warm Mist
As the name implies, warm mist humidifiers produce a warm mist that can be very soothing if you are under the weather. They tend to be quiet and usually produce clean air but require more maintenance.
Cool Mist
Cool mist humidifiers have a filter that traps minerals and pollutants. They output a very fine, cool mist and generally have better coverage. They are easy to clean but the filters need to be replaced regularly.
Ultrasonic
Ultrasonic humidifiers work by vibrating a metal diaphragm at an ultrasonic frequency, which generates water droplets that are then output into the air using a fan. These models are basically noiseless and are relatively easy to clean.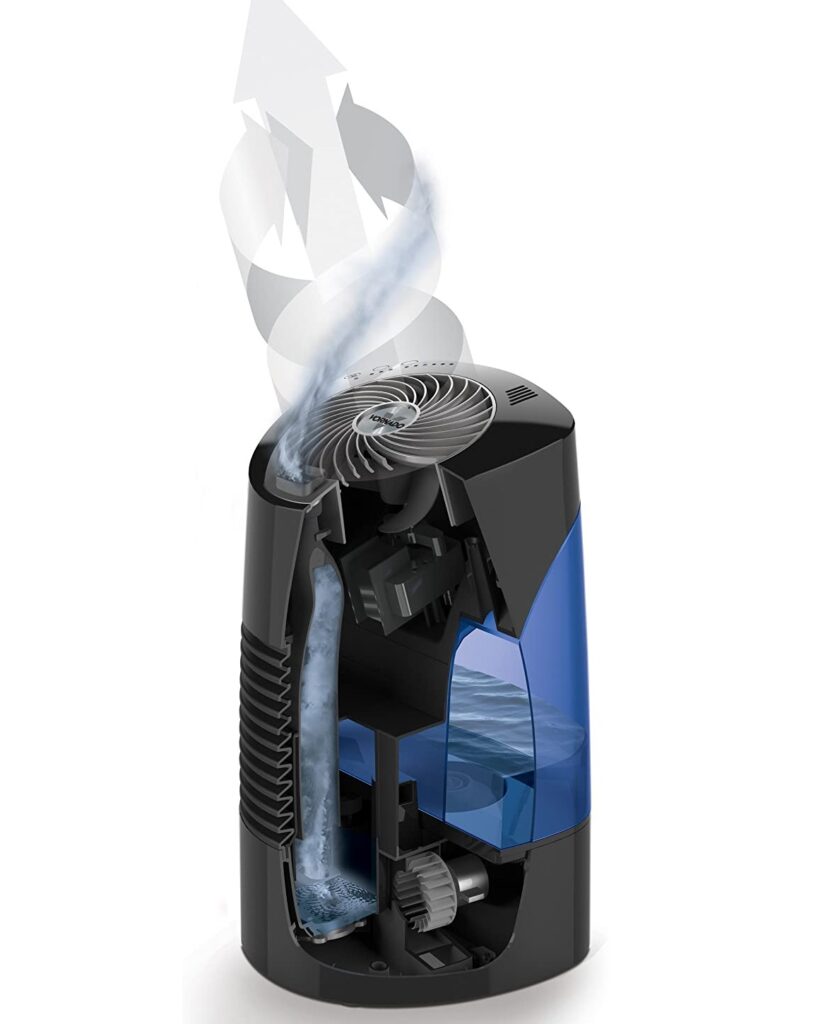 Whole House
Whole house humidifiers are the most heavy-duty option. They are designed to cover large spaces and often use tanks that only need to be refilled every few days. They can be pretty complicated to install, but once they are set up, they are an effective and efficient way to humidify the entire house with minimal maintenance.
Coverage
Each model should tell you its coverage capability in square feet. Most single-room models can reach between 200 and 500 square feet, while some whole house humidifiers can reach over 4,000 square feet.
Sanitation
Keeping the humidifier clean is extremely important. If it is not properly maintained, mold and bacteria can build up and be dispersed into the air with moisture. Some products use UV or Silver Clean Protection technology to help prevent bacteria growth.
Home Design
The way your home is designed factors into your decision. The square footage, layout, and occupied space will dictate the type and size of the product you need. Here is a helpful calculator to give you an estimate of what size you need.
Review of the Best Humidifiers for Allergies
The ideal model will depend on your allergies, sensitivity, and the design of your home, so it is important to consider these factors before selecting a humidifier.
Aprilaire 700 Automatic Humidifier
Decibel Level: N/A
Coverage Area: 4,200 sq ft.
Tank Size: N/A
Dimensions: 16 x 11 x 18 inches
Weight: 15 pounds
We may earn commission from purchases made from our links, at no additional cost to you
Review
At the top of our list is this automatic model from Aprilaire. It has one of the highest evaporation capacities of any humidifier, with the ability to evaporate up to .75 gallons of water per hour.
It is a whole house humidifier and is suited for spaces up to 4,200 square feet. Many whole house humidifier systems can be tricky to set up, but with this model, the process is fairly fast and straightforward.
Because it is automatic, it adjusts itself throughout the day and doesn't need to be monitored or set. However, if you prefer to customize the settings yourself, there is a manual mode as well that allows you to change the temperature and relative humidity indicators. It operates quietly without a disturbing humming or mechanical sound.
This humidifier is also fairly compact. It measures 16x11x18 inches in size and weighs about 15 pounds.
Bottom Line
This model has an impressive evaporation capacity and reach that drastically improves the air quality in your home. Installing whole house humidifiers can be a little intimidating if you haven't done it before and some may still prefer to have the help of a professional, but if you are up for it, this is a great one to start with because it provides clear and specific directions.
Pros
Quiet operation
Automatic and manual modes
Compact unit with impressive reach
Easy to set up with detailed instructions
0.75 gallons per hour evaporation capacity
Cons
Some installation tools need to be purchased separately
Optimus 1.5-Gallon Cool Mist Ultrasonic Humidifier
Decibel Level: N/A
Coverage Area: N/A
Tank Size: 1.11 gallons
Dimensions: 11.4 x 8.4 x 13.5 inches
Weight: 24 pounds
We may earn commission from purchases made from our links, at no additional cost to you
Review
Very close behind the Aprilaire version is the Optimus Ultrasonic Humidifier, which is perfectly suited for combatting the dry air and conditions that come along with the winter season.
The water tank has a capacity of 1.11 gallons that can turn into 1.5 gallons of moisture. There is an auto-shut-off switch that shuts down the unit and turns on a notification light when the water needs to be refilled. It also has a built-in handle. Each tank-fill generates about 18 hours of runtime so you can leave it on overnight without a problem.
Because of its Ultrasonic design, this humidifier is extremely quiet and creates virtually no noise.
Bottom Line
This humidifier operates almost soundlessly with the capacity to produce 1.5 gallons of mist over a course of 18 hours. It is a great option for dry winter months and you can keep it going all night long without any issue. The curved shape of the tank makes it difficult to refill and reach every corner when cleaning, which is something to keep in mind.
Pros
Easy to use
Glows blue at night
Noiseless operation
Auto shut-off feature
1.11-gallon water tank capacity with 1.5-gallon moisture output
Cons
Tank shape is challenging to refill and clean
PureGuardian H940
Decibel Level: N/A
Coverage Area: 350 sq ft.
Tank Size: 0.5 gallons
Dimensions: 7.32 x 7.32 x 13.75 inches
Weight: 2.15 pounds
We may earn commission from purchases made from our links, at no additional cost to you
Review
This humidifier is a great value with a low price tag and an efficient operation. The half-gallon tank allows it to run for 30 hours, so you can keep it going for an entire day without needing to worry about a refill. In those 30 hours, it outputs about one gallon of moisture.
It is designed to be used in small rooms and covers about 210 square feet. At such an affordable price, you could easily buy one for multiple rooms to battle the dry air and its effects throughout your whole home. The tank is embedded with Silver Clean Protection to prevent mold and mildew from growing on its surface.It has three different settings ranging from the soothing low setting when you would like a little extra moisture to a high setting for when you need faster or stronger results.
Like the Optimus model, it is an ultrasonic humidifier and produces a thin mist with almost no noise whatsoever, making it the perfect option for night use. There is even an optional night light. It also has an auto-shut-off feature and refill indicator light.
Bottom Line
Overall, this model is a compact and affordable option that works well for combating allergens and dry air in small spaces. When it is on the low setting, it can run quietly all night without needing a refill. The embedded Silver Clean Protection makes it super easy to clean and prevents the buildup of dangerous mold that can make allergies worse for many people.
Pros
30-hour runtime
Great value option
One-year warranty
Silver clean protection technology
Very compact and lightweight design
Auto shut-off and indicator light for refills
Cons
Limited reach
Highest level sometimes produces heavier condensation instead of thin mist
Best Cool Mist Humidifier for Allergies
Vornado Ultra3
Decibel Level: # dB
Coverage Area: 600 sq ft.
Tank Size: 1 gallon
Dimensions: 9.73 x 9 x 15.83 inches
Weight: 7.1 pounds
We may earn commission from purchases made from our links, at no additional cost to you
Review
If you have bad allergies, a cool mist humidifier can help alleviate some of your symptoms. The Vornado Ultra3 uses a quiet and efficient ultrasonic system that can humidify up to 600 square feet. It has a one-gallon tank that can produce up to two gallons of mist throughout a 24-hour period.
It has an electronic humidistat and three different fan settings, including low, high, and automatic, so you can adjust it to fit your preferences or the conditions each day. The push-controls are backed with LED lights, so they are always easy to see and use. The unit comes with clear and detailed instructions to guide you through each step of setup and operation.
This model is also quite compact and lightweight. It measures 9.7x9x5.8 inches and weighs a little over seven pounds, so you can easily move it as needed. It has a long cord as well for added convenience.
Bottom Line
This model is able to output and circulate up to two gallons of fine mist in just 24 hours, making it an excellent option for those with bad allergies. It also has an impressive reach and is able to effectively humidify larger spaces. It does not have an auto-turn-off feature, but with a one-gallon capacity, you can use it for an entire day before having to refill.
Pros
Great circulation
Includes long cord
Noiseless operation
Five-year limited warranty
Clear instructions and easy to use
Cons
No auto turn-off function (fan continues to run even when water tank is empty)
Best for Allergies and Asthma
Venta LW25
Decibel Level: N/A
Coverage Area: 430 sq ft.
Tank Size: 2 gallons
Dimensions: 11.8 x 13 x 11.8 inches
Weight: 8.5 pounds
We may earn commission from purchases made from our links, at no additional cost to you
Review
For those with both allergies and asthma, dry conditions are frustrating at best and life-threatening at worst. To help protect yourself from allergens and dry air, use a model like the Venta LW25. It purifies and humidifies the air and does not produce any ions, ozone, or white dust. It offers extra protection against common allergens like dust, pollen, and pet dander because the pollutants are trapped by the rotating disks and stay in the water.
It is built to humidify up to 400 square feet, so it can work in larger rooms in your home like the living room or a master bedroom instead of just regular-sized bedrooms. Its two-gallon water tank allows you to run it for extended periods of time without needing a refill.
This model is very portable and compact. It weighs about 13 pounds. It also has three output levels so you can adjust it based on your own needs and preferences
Bottom Line
With its cutting-edge features and Cold Evaporation technology, this product is perfect for those with allergies and asthma because it not only humidifies your home but also purifies the air and protects against airborne pollutants.
The main issue you might have with this model is its old-fashioned design. It is a little clunky and does not have a humidistat, but despite these minor design flaws, it is a very effective humidifier and air purifier.
Pros
10-year warranty
Portable and lightweight
No white dust, ions, or ozone
Filter-free and quiet operation
Extra protection against air pollutants
Cons
No humidistat
Slightly bulky and basic design
Best for Allergies and Sinus
Honeywell HCM350W
Decibel Level: N/A
Coverage Area: N/A
Tank Size: 1.1 gallons
Dimensions: 17.9 x 9.37 x 11.4 inches
Weight: 8.36 pounds
We may earn commission from purchases made from our links, at no additional cost to you
Review
This cool moisture humidifier is an excellent way to counter dry air and its negative effects on the body.
Not only does it efficiently humidify the space surrounding the unit, but it also uses UV technology to kill 99.9% of the bacteria and mold in the water, so you are breathing cleaner, safer air. It is also effective at removing airborne pollutants and allergens like dust particles and pollen, which will be a great help to those who suffer from allergies. It includes pieces that are dishwasher-safe and an antimicrobial-treated filter to make cleaning as simple and easy as possible.
When it is on the low setting, the humidifier can run consistently for 24 hours and can cover up to 500 square feet. The one-gallon tank allows it to output 2.3 gallons of moisture daily. It has an automatic control system that maintains a consistent rate of moisture output and prevents over-humidifying.
Bottom Line
The dedication to safety and sanitation is what sets this model apart. It is highly effective at humidifying the air to help protect your skin and sinuses in dry conditions and also has many features in place to protect against bacteria.
If you are especially sensitive or suffer from allergies, this humidifier will help in multiple ways by removing mold spores and airborne pollutants from the air in your home. It is an automatic system, so it does not have adjustable output settings or an auto shut-off feature but does include a substantial one-gallon tank and is easy to operate.
Pros
Great coverage
Quiet operation
Three-year limited warranty
Does not produce white dust
Kills bacteria and mold in water
Easy to clean (includes dishwasher-safe parts and antimicrobial-treated filter)
Cons
No auto shut-off feature
Non-adjustable output settings
Pros and Cons of Using a Humidifier for Allergies
When it comes to humidity, balance is key. Using a humidifier to help protect against the uncomfortable symptoms of dry winter air is very effective. However, if you overuse it and create too much moisture, it can lead to different negative effects. For the best results, keep your home's overall humidity level between 40-60%. Here are some of the pros and cons to help you in deciding if this is right for you.
Pros
Using a humidifier has many benefits. It can help the air feel warmer, prevent nasal irritation and dry skin, and improve your breathing comfort and sleep.
Improves Health
When the humidity level is lower than 40%, it can cause many annoying cold-like symptoms, including sinus congestion, runny nose, dry throat, and cough. Dry air can even lead to an actual cold because it makes it harder for your body to produce a healthy layer of mucus in your nose and throat, which helps protect you from infection.
Reduces Allergies
Some humidifiers are also able to trap and block airborne pollutants, such as pet dander and pollen, so they are less prevalent in your home. This is very helpful to anyone who suffers from allergies or asthma.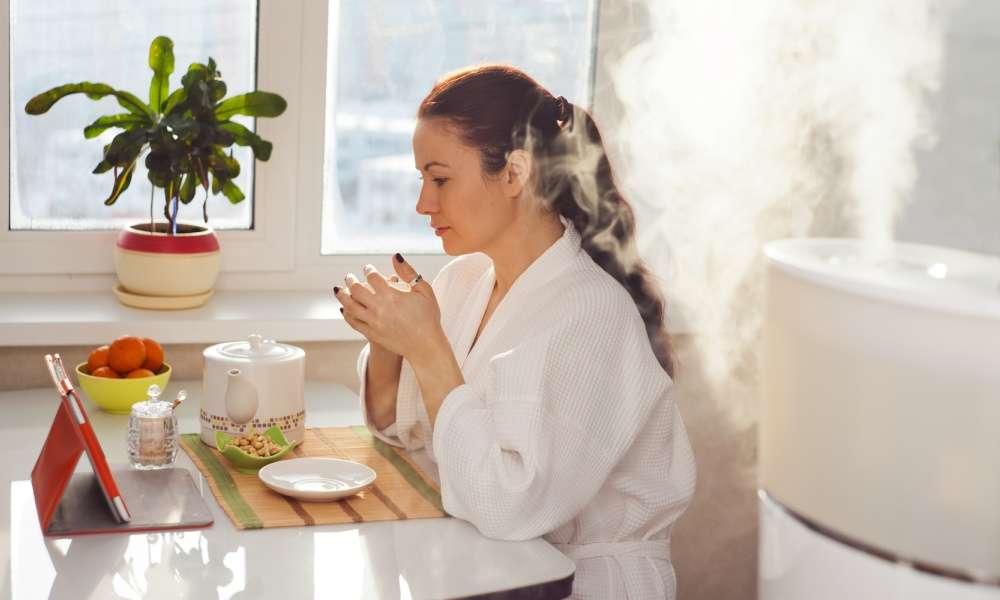 Reduce Energy Usage
Using a humidifier helps the air in your home feel warmer, allowing you to set your thermostat to a higher temp in the winter and save electricity.
Cons
Below are some of the most common drawbacks:
Allows Growth of Dust Mites
If there is too much moisture in the air, it can create the perfect environment for dust mites and make it easier for them to grow. Dust mites are one of the most common indoor allergens, so fostering an environment where they can thrive can be very detrimental to those with allergies.
Maintenance
It is best to fill your humidifier with distilled or demineralized water if you can. Sometimes minerals in tap water can encourage bacteria growth. Make sure to consistently clean all parts of your humidifier and monitor it for mold. If bacteria or mold spores are given the chance to grow inside the water tank, the humidifier will then be spreading those harmful particles throughout your home.
Conclusion
When used properly, humidifiers can help alleviate the symptoms of asthma, allergies, and sinus sensitivity. Once you have the right model, it will greatly improve your overall health and comfort during the dry winter months.
People Also Ask
Still have questions? Scroll down to see our answers to FAQs on this subject.
How Often Should I Clean My Humidifier?
Humidifiers need to be cleaned regularly to prevent the growth of bacteria. If the humidifier has a filter and you use it every day, the filter should be changed weekly. If it does not have a filter, it is ideal to clean the humidifier after each use or daily, if you use it all the time. At the minimum, it should be thoroughly cleaned every 2-3 days.
Why Dry Air Is Bad for Allergies and Sinus Issues?
Dry air can make it more difficult for your body to produce healthy mucus in your nose and throat, which help keep your sinuses working correctly and protect against airborne pathogens and allergens.
Do Humidifiers Really Help with Allergies and Sinus Problems?
As long as the overall humidity level does not exceed 60%, using a humidifier can be very effective in mediating the symptoms of allergies and sinus issues. If the level goes above that, it can begin to cause other problems.