We all try saving money wherever we can, especially when we buy something for our house. One such thing is an air purifier.
With the popularity of air purifiers constantly on the rise, people now look for models that offer the perfect balance between features and their budget. Luckily, you'll find purifiers costing under $300 and even those that cost just $50.
Despite their low prices, they are just as effective as more expensive models. So, if you've been planning to purchase an affordable air purifier, here is all you need to know!
Comparison of the Most Affordable Air Purifiers
IMAGE
PRODUCT

Our Top Pick

Space-Saving Design
Two Excellent Modes; Auto and Eco Mode
Best and Most Affordable Air Purifier Overall

View Latest Price →

Lightweight and Compact
Can Clean Spaces Up to 100 Sq. Ft.
Most Affordable Air Purifier Under $50

View Latest Price →

3-Stage Filtration Process
Can Handle Space Up to 155 Sq. Ft.
Most Affordable Air Purifier Under $100

View Latest Price →

Innovative PlasmaWave Technology
Most Affordable Purifier Under $150
Can Purify Space as Big as 360 Sq. Ft.

View Latest Price →

4-Speed Settings
Patented PlasmaWave Technology
Best Affordable Purifier Under $200

View Latest Price →

HEPA filter with activated carbon removes pollutants
Operates at a whisper quiet level of 38 - 59 dB
Filter only needs to be replaced every 3 - 6 months

View Latest Price →

Ideal on-desk unit works in areas up to 160 sq. ft.
Removes 99.9% of pollutants as small as 0.3 microns
Operates at a super quiet level of 32 dB

View Latest Price →
What Makes a Great Budget Air Purifier?
What are the most important things to consider when looking for an inexpensive air purifier while still ensuring it accomplishes what you want?
Ability to Clean Small to Medium-size Spaces
Before you buy a great budget air purifier,  you should consider the size of the space you want to place it. There are specific air purifiers that are ideal for both small and medium spaces like living rooms, bedrooms, and offices. Models that include an activated carbon filter are slightly more expensive, but they have the major advantage of removing unpleasant odors.
Efficiency
You should consider the CADR rating to gauge the efficiency before making a purchase. An efficient CADR rating means that the air purifier should have a power that is twice the highest fan speed it offers. This way, it can efficiently clean all the harmful particles like dust, pollen, smoke, or mold. If the CADR rating is too low, the fans won't be able to draw in enough air to effectively capture airborne particles from your space.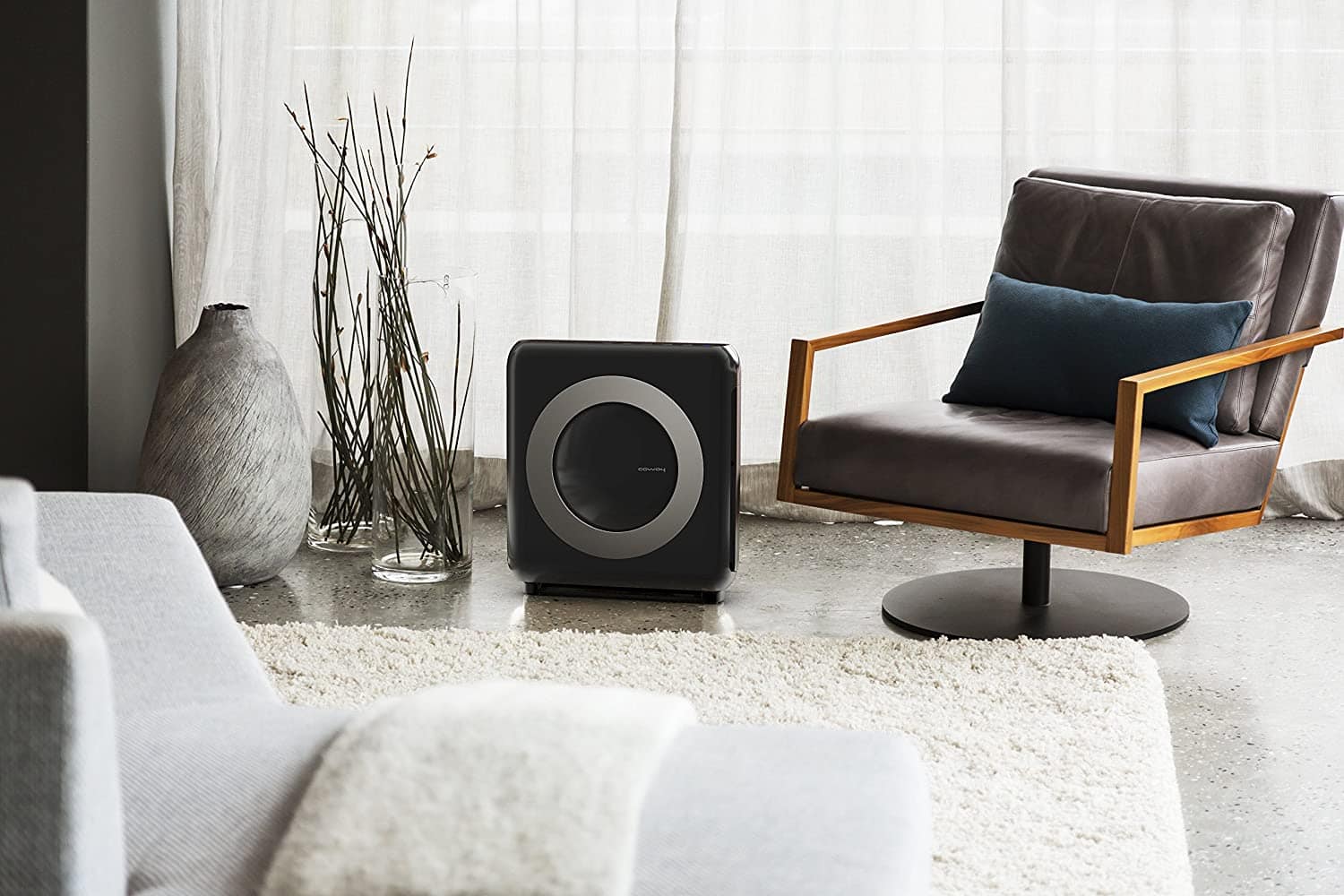 Size and Portability
You should pick a purifier that is in the right size for your needs. Are you looking for a subtle purifier? Then a small size will be appropriate. If you are going to use it for air filtration of a big room, consider a large model that can be placed on the floor. Large purifiers should be placed on a flat surface to ensure that they are well-grounded for safety purposes. On the other hand, small and portable purifiers can be used on top of surfaces. You can place them at the top of your desk or your bedside table for sound sleep. 
At a Glance: Our Top Picks for Affordable Air Purifiers
Review of the Most Affordable Air Purifiers
As mentioned earlier, you can easily get the benefits of fresh and clean air without spending too much cash. To do so, you need to get one of the best and most affordable air purifiers. Some great options include the following:
Coway AP-1512HH
Decibel Level: N/A
# of Fan Speed Options: 4
Coverage Area: 361 sq ft
Dimensions: 16.81 x 9.57 x 18.31″
Weight: 12.35 lbs
We may earn commission from purchases made from our links, at no additional cost to you
Review
Like many air purifiers available on the market, the AP-1512HH features a true HEPA filter as well as a carbon filter. However, it also has two additional steps for purifying the air that most others miss out on. There are a micro-mesh layer and an ionizer that add to the effectiveness of the unit.
The carbon layer catches large particles like dust bunnies and cleans up the air of unpleasant smells. Meanwhile, the true HEPA filter is responsible for filtering out most of the particles including smoke, dust, and pet dander. Moreover, made of metal, the purpose of the micro-mesh layer is to catch pet hair, large particles, and dust. The last step is the ionizer which also works to reduce dust.
The Coway 1512HH comes with an auto mode that adjusts the fan speed depending on how contaminated the space is. On auto mode, when the unit detects pure and clean air for half an hour, it then switches to eco-mode to help conserve energy. There's also a light on top which informs you of how dirty the air around you is. Similarly, there's a timer that you can run for given time periods and it will shut off automatically.
One other great feature is its design. The unit draws in from the bottom and front sides and shoots it out from the top. So, you don't need to make space for it specially.
Bottom Line
Thanks to its auto mode, this air purifier is ideal for those wanting to save money on their utility bills and don't want to worry about constantly fiddling with the unit's settings. Plus, thanks to its design, you don't need to worry about where to put it.
Pros
Hardly Makes Any Noticeable Noise
Construction is Good, Making it Durable
Replacement Filters Aren't Too Expensive
Cons
Takes a Lot of Pollutants for the Sensor to Go Into Auto Mode
Holmes Small Room 3-Speed HEPA Air Purifier
Decibel Level: N/A
# of Fan Speed Options: 3
Coverage Area: 109 sq ft
Dimensions: 14.6 x 7.2 x 11.3″
Weight: 5.84 lbs
We may earn commission from purchases made from our links, at no additional cost to you
Review
Don't be fooled by the unit's low cost, it is as effective as any other good air purifier! While this model comes with a HEPA type filter, it can be upgraded with an advanced Holmes Aer1 filter that targets particular airborne pollutants.
Despite its small size, it has multiple air filtration stages. These include a pre-filter which captures the large particles, which in turn, allows the HEPA filter to work more efficiently. Meanwhile, the ionizer works to add a boost of additional cleaning power against airborne contaminants that are not collected by the HEPA filter.
The unit can filter particles that are as small as two microns, which is enough for general household filtration. Plus, with three different speeds, you can set the purifier lower or higher according to your preference.
Of course, as a small room model, it can only clean up to 100 square feet. Moreover, as you might expect, the purifier is very light, weighing under six pounds. Plus, its small size also makes it convenient for putting it on a desktop or tabletop.
Bottom Line
The Holmes small three-speed air purifier is suitable for those individuals looking for an affordable and basic purifier. It is ideal for places where there's limited space such as your office or bedrooms. Plus, for the user's convenience, you can place the unit horizontally or vertically without sacrificing on performance.
Pros
Highly Durable and Can Last a Long Time
Thanks to its Small Size, You Can Place it on the Nightstand
Makes it Much Easier to Breathe and Promises a Good Night's Sleep
Cons
Strongest Setting Has a Noticeable Hum
GermGuardian AC4825
Decibel Level: N/A
# of Fan Speed Options: 3
Coverage Area: 371 sq ft
Dimensions: 10.25 x 6.75 x 21.5
Weight: 8.55 lbs
We may earn commission from purchases made from our links, at no additional cost to you
Review
With its unique tower shape, the GermGuardian AC4825 works well in small areas and is a great option for those on a small budget. It is effective for spaces as large as 155 sq. ft. As mentioned earlier, having a multi-filter air purifier is important and this one is no different. It has a carbon filter that helps it get rid of the small particles.
The second filter is the true HEPA filter. Then comes the third layer of the purification process which is a bacteria and virus-fighting UV-C light. This third stage helps to eliminate all the elements that negatively affect your health. Apart from that, the unit can also handle different household odors as well as unhealthy gaseous compounds.
It has a few more excellent benefits. These include its slender design, low weight, portability, and excellent energy efficiency. Despite all the advantages, you will surely feel the lack of some features most expensive purifiers generally have. These include a filter change indicator and an air quality indicator.
However, overall, the unit is a high-quality and reliable purifier that works without any of the fancy features. At such a low price, you can't really ask for anything else!
Bottom Line
This GermGuardian purifier is a basic, yet excellent air purifier. Weighing just 8.5 pounds, it is quite portable, too so those wanting a lightweight and slender model will love this quiet device. Plus, since it is energy efficient, it can help save money in the long run. It's an efficient purifier with no frills that does all the essential cleaning of the air within your house.
Pros
Replacing the Filters is Easy
Very Quiet With a Fan That Runs Strong
Promises Very Good Filtration, Particularly for Dust
Cons
Circuit Board Tends to Burn Out After a Few Months of Use
Winix 5300
Decibel Level: N/A
# of Fan Speed Options: 5
Coverage Area: 360 sq ft
Dimensions: 14.9 x 7.8 x 23.6″
Weight: 17 lbs
We may earn commission from purchases made from our links, at no additional cost to you
Review
The Winix 5300 is one of the top rate purifiers because of its patented PlasmaWave technology, which is not present in other cleaners. This innovative technology has the same advantages that an ionizer has without producing ozone or other harmful side effects. In fact, PlasmaWave is considered to be the safest technology of this kind.
The unit comes with a true HEPA filter which removes 99.97% of allergens and dust from your house. Plus, the PlasmaWave technology takes cleaning one step further and eliminates other contaminants. This is a safe method of killing viruses and bacteria that don't irritate asthma or allergy symptoms, making it better than purifiers equipped with ionizers.
Like most purifiers, this one also has a carbon filter which helps to reduce smoke and smells. However, the most notable feature is the smart sensor which monitors the air quality in the room and adjusts itself automatically to maximize the cleaning power. Furthermore, the Winix model is suitable for handling rooms as large as 360 sq. ft., making it ideal for many office settings and home applications.
Bottom Line
Overall, this model is designed to tackle any home environment and can help you get rid of VOCs, household odors, mold spores, smoke, pollen, dust, and pet dander. Plus, it is Energy Star certified, making it highly efficient.
Pros
Even on Full Speed, it is Very Quiet
Available at a Very Affordable Price
Smoke Filter Efficiently Gets Rid of the Smoke
Cons
Air Quality Sensor is Highly Insensitive
Winix 5500
Decibel Level: N/A
# of Fan Speed Options: N/A
Coverage Area: 360 sq ft
Dimensions: 15 x 8.2 x 23.6″
Weight: 15.4 lbs
We may earn commission from purchases made from our links, at no additional cost to you
Review
The Winix 5500 is another powerful model with a four-stage filtration system. There is a pre-filter which handles all the large particles like pet hair and dust pieces. The filter is washable and traps the particles inside, allowing the filters to work longer and efficiently. Then there's the AOC carbon filter which deals with other chemicals, VOCs and odors, making it ideal for smokers. This layer is washable too.
Next comes the true HEPA filter which filters out up to 99.97% contaminants that are 0.3 microns in size. This layer takes care of mold spores, pet dander, and allergens. Finally, PlasmaWave technology comes into play. As talked about in the previous model, this makes the air fresh and clean. Plus, since it's an optional feature, you can switch it on and off using a separate button. There's a check filter button as well which informs you of when it is time to replace the carbon and HEPA filter.
Moreover, this model has a sleek design, making it look great in almost all environments. Plus, its black color makes it slimmer than it really is. In addition, the control panel is straightforward and discreet. You can also control the purifier by using the remote control.
Additionally, the unit has many smart options which are quite impressive, given the moderate price. Such features include a light sensor, air quality sensor, timer, sleep mode, and auto mode.
Bottom Line
Overall, the Winix 5500 is characterized by a convenient and powerful filtration system. Plus, most of its filters are washable, which means that this is a highly efficient air purifier.
Pros
Auto Mode Allows Hands-Off Operation
Has a Sturdy and Durable Hard Plastic Body
You Get Many Features at a Considerably Low Cost
Cons
Doesn't Deal With Small Particles Very Well
PARTU HEPA Air Purifier
Decibel Level: 59 dB
# of Fan Speed Options: 3
Coverage Area: N/A
Dimensions: 7.5 x 7.5 x 13.8″
Weight: 3.13 lbs
We may earn commission from purchases made from our links, at no additional cost to you
What Recent Buyers Report
According to recent buyers, PARTU HEPA Air Purifier is an amazing machine with a filter change reminder feature that alerts you when the filter needs changing. For most users, this is important as it means eliminating the guesswork and ensuring the filter is changed regularly to maintain optimum HEPA filtration. The purifier also comes with a timer and child lock features.
Why it Stands Out to Us
PARTU HEPA Air Purifier stands out because of its unique features that are not common to other air filters. When the sleep mode is activated,  the indicator lights are dimmed to let you enjoy uninterrupted sleep throughout the night. It has a CADR rating of 135 CFM, which means it delivers the best air cleaning performance in small-size rooms.
Bottom Line
This HEPA filter air purifier is one of the best inexpensive air purifier models on the market. It comes in a black sleek design that is stylish and will blend with most home and office setups. The purifier delivers improved indoor air quality without producing any ozone.
Pros
Has a sleek design that's easily tucked away
Three-step filtration system for efficient purification
Approved by ETL and FCC for being a hundred percent ozone-free
Has an activated carbon filter for clearing odors and musty smells
Has a fragrance sponge that you can pour essential oils on for scented air
Cons
Replacement filter can be hard to find
Some people find it noisy for use in offices and bed
LEVOIT HEPA Air Purifier
Decibel Level: N/A
# of Fan Speed Options: 3
Coverage Area: 161 sq ft
Dimensions: 9.65 x 6.8 x 7.9″
Weight: 4.84 lbs
We may earn commission from purchases made from our links, at no additional cost to you
What Recent Buyers Report
According to recent buyers, LEVOIT air purifier gets rid of bad odors within minutes when turned on. It is ideal for cleaning out smoke and getting rid of pollen in large rooms. It is perfect for pets because it can simultaneously take care of pet odor, dander, and pet hair. The purifier is easy to set up for most buyers and doesn't necessitate the help of a trained HVAC technician.
Why it Stands Out to Us
The LEVOIT is an affordable air purifier that is compact and powerful. In a small room, you only need to have it on for about thirty minutes to notice the difference in air quality. Its design allows you to use it as an air cleaner in different spaces like in the bedroom, dorms, or office. It is a relatively cheap air purifier, and unlike some brands that mark up filter prices, the replacement filters are very affordable. For light sleepers, this air purifier is ideal because of the low noise levels of only 32 dB. You can set it at the lowest mode to ensure that it does not distract you as you sleep or work.
Bottom Line
If you are looking to buy a purifier that is budget-friendly, compact, and powerful for use in small spaces, this LEVOIT air purifier will serve you well. You will not only have better indoor air quality but also experience noise-free air purification in your desired room.
Pros
Filters are budget-friendly and last for 6-8 months
Noise levels of 32 decibels to ensure sound sleep
High safety standards as approved by CARB, ETL, and FCC
Comes with a dual activated carbon filter for better absorption of odors
Removes airborne allergens such as dust, pet dander, and pollen by 99%
Cons
Becomes noisy after replacing the filter
Replacement filter is hard to find in some states
Does Price Equal Quality?
When buying an air purifier, a cheaper model isn't always going to be the right answer. With a cheaper model, you might have to miss out on some advanced features, such as more cleaning power, features, and room coverage.
However, in terms of quality, a lower price doesn't always mean cheap quality. Even at an affordable price, you can get your hands on some high-quality air purifiers like the ones we've reviewed below. So, there's no need to spend a ton of money when you can get a highly effective air purifier without it being a burden on your pocket.
Aspects to Consider Before Buying
When looking for a low cost, affordable air purifier to purchase, you must consider a few key features. You must ensure that paying less doesn't mean sacrificing these important features.
Multi-Stage Air Purification
Manufacturers tend to cut corners when designing an inexpensive air purifier. In doing so, they exchange multi-stage purification with a single stage one.
As a result, these devices are nowhere near as effective as the expensive models. With a single stage air cleaner, you get just one type of filter that works to get rid of just a small set of toxins from the air.
On the other hand, multi-stage air purifiers combine different types of air filters. Thus, they are able to provide excellent protection against various harmful airborne particles. In short, such air purifiers give you the most value for your money. And having multiple filters gives it a more comprehensive cleaning ability.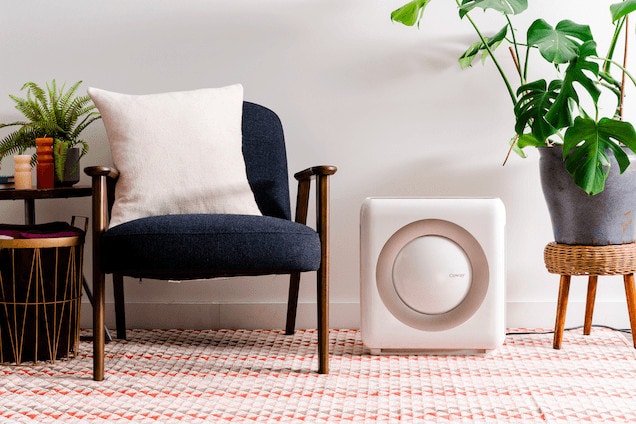 Replacement of Filters
Another factor to consider is how often the filters need to be replaced. While an air purifier might seem to be the perfect pick, with time, the cost of replacing the filter can make it quite an expensive long-term investment.
In fact, with some models, you might have to change the filter after every one to three months, which really adds up the expense. So, when purchasing an affordable air purifier, make sure to check the description for such details. This way, you'll avoid falling into the money trap!
Can You Really Find a Quality Air Purifier That's Affordable?
You can find an inexpensive air purifier easily, but it takes some work to research which ones reliably deliver quality filtration. Most of the best air purifiers are costly.  However, some excellent air purifiers cost less than $100.  You might be surprised that there are some purifiers that go for less than $50!
Even though they might be smaller in size,  they get the job done. If you are looking to buy an air purifier that suits a limited budget,  you should consider buying the small-sized ones. Despite the common notion that cheap products are of poor quality, you can still find a true HEPA air purifier with as much as 99% efficiency in removing airborne allergens like dust mites and pollen. 
Cautious Considerations to Keep in Mind
With a purifier, there are a few things you need to be aware of. 
Excessive Noise Levels
Noise rating is one of the factors to consider before making a purchase. Some purifiers have high noise levels that might be disruptive. You should settle for a unit that runs quietly to avoid being frustrated by the noise. To determine the noise level, you should check the decibel number. Units with high fan speeds may be too noisy up to over 70 dB.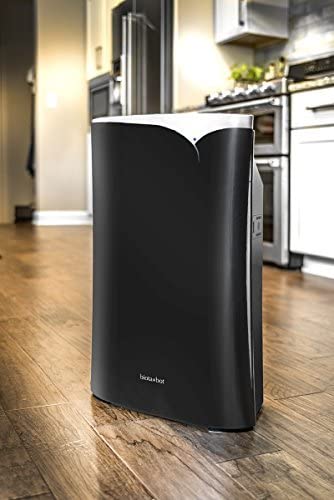 Scarcity of Filters
Filters come in different types. You should be cautious about the model you are buying to ensure that you get the most out of it. There are carbon filters as well as HEPA filters. Other models also come with filters that can not be replaced.
Look for a model that has the option of replacing filters and ensure that they are easily accessible. You do not want to buy a unit that has scarce filters.
Exposure to Ozone
There has been a surge of complaints concerning ozone air purifiers. A downside of using these types of purifiers is the ozone gases they emit. When you are exposed to these gases, you are likely to experience symptoms like chest pains, coughing, and shortness of breath. 
Therefore, you should consider choosing a purifier that is 100% ozone free. If you go for the ozone air purifiers, ensure you don't enter the room for about 60 minutes after the purifier has stopped working. This is meant to allow all the produced ozone to dissipate.
How to Clean an Air Purifier
Your purifier will not be effective if it is dirty. There are different models of air purifiers and they require different approaches when cleaning them. To clean your air purifier, you should adhere to the process described below.
Unplug your air purifier from the power source.


If you are using a purifier with a reusable filter, you should clean it using a vacuum brush before replacing it. To do this, disconnect the filter from the purifier.


Use a vacuum brush to clean out all the particles on the filter before putting it back in.
If you are using a model that has a permanent filter,
Unplug the air purifier from the power source.


Remove the filter from the unit.


Take the purifier outside the room.


Using the brush attachment in your vacuum cleaner, brush and then vacuum both sides of the filter.


Put it back in place. You're all done! It is now ready for use.
For models with a prefilter, remove it and clean it using a vacuum brush. In some instances, prefilters need to be replaced every three months. 
Other air purifiers have washable permanent filters. Here's how to clean them:
Remove the filter from the purifier once you unplug it from the power source.


Soak the debris collecting plates in mild detergent for about ten minutes.


Gently scrub using a soft brush.


Let it dry completely before replacing it in the unit.
For a full overview of this process, be sure to check out the video below.
Conclusion
Air purifiers are excellent for those wanting to reduce their exposure to pollutants and enjoy fresher and purer air. Indoor air quality is more crucial than outdoor air quality since we spend a bigger part of our day inside. So, having clean air around you indoors is imperative.
With the best air purifier, you can reduce airborne particles such as volatile organic compounds, cleaning agent toxins, dust, mold, pet dander, fungi, virus, smoke, bacteria, odors, and allergens, so that don't harm your throat, eyes, or lungs.
People Also Ask
You might be wondering, what is a CADR rating? How do I find the best budget air purifier? Some of these questions are common for people who are looking to buy air purifiers and have no proper information to enable them to make informed decisions. 
In this section, we will discuss some of the questions new users ask to help deepen your knowledge on air purifiers. Let's get to it! 
What is a CADR Rating?
CADr rating is the metric used for measuring the effectiveness of air purifiers. It stands for Clean Air Delivery Rate. You should focus on this rate when buying a purifier because it shows the purifier's effectiveness in removing air pollutants such as smoke, pollen, mold, and dust from indoor air.
What is a Good CADR Rating?
A good CADR rating should be more than two-thirds of the maximum amount of airflow. You should choose one that is double the power of the highest fan speed. For instance, if the fan speed is 100,  you should go for an air purifier with a CADR rating of at least 200 CFM (Cubic Feet Per Minute.)
How Much Are Air Purifiers?
The cost of air purifiers differs across models. However,  most of the models that are recommended by experts range from a minimum of $200 and a maximum of $900. Some small and portable models range between $50 and $100. Be sure to choose the one that best suits your budget, the size of your space, and the nature of the contaminants you intend to clean from the space. While small budget models work perfectly well in a small bedroom, they will not be effective at removing airborne pollutants from an open concept living space.
How Often Should You Change the Filter on an Air Purifier?
According to manufacturers,  you are supposed to change your filter every 3 to 6  months. Changing the air filter regularly ensures that the air purifier optimally does its job. If you have asthma or allergies,  you should change your filter every 30 to 60 days. An old, dirty filter is not effective for allergen or pollutant control, and it may worsen symptoms until changed.
How Long Do Budget Air Purifiers Last?
Budget air purifiers have a  lifespan of three to five years. If you take good care of your air purifier, it can serve you beyond five years.  However, if you use your air purifier in places where there is a lot of airborne particles or cigarette smoke, it can last for only two to three years.
Are Washable Filters Better Than Replacement Filters?
Compared to replacement filters, washable filters are considered to be more cost-effective. However, washable filters tend to lose their efficiency with time. Since they are cleaned via a vacuum, debris and dirt are often left behind which, in turn, clogs the filter.
If I Use My Purifier in a Room Larger Than The Recommended Size, Will It Still Work?
Of course, the unit will work, but its effectiveness will be reduced. Remember, that if you place it in a room that is twice the size stated by the manufacturer on the unit, then your purifier will be only half as capable. However, the air inside the room will still be cleaner than before.