Pellet stoves are a great alternative to wood stoves. They are used primarily for heating purposes thanks to their economical operation, environment-friendly design, and ease of use.
The best part about these stoves is that they can be controlled remotely using a thermostat.
In this guide, we'll be talking about some of the best thermostats that you can purchase for your pellet stove.
At a Glance: Our Top Picks for Best Thermostats For Pellet Stoves
Comparison of the Best Thermostats for Pellet Stoves
IMAGE
PRODUCT

Our Top Pick

Very durable and easy to handle
Compatible with heating, cooling and heat pumps
Features various display options

View Latest Price →

Has a beautiful and contemporary design
Has very accurate temperature readings
Features permanent and temporary hold modes

View Latest Price →

Best Budget Option

Best for the Money
Reliable and very high quality
Only suitable for heating

View Latest Price →

Best Pellet Stove Wireless Thermostat
Features a touch-screen interface
Very easy to use

View Latest Price →

Best Wifi Thermostat For Pellet Stove
Features a customizable touch screen
Flexible programming options available

View Latest Price →
How Does a Pellet Stove Thermostat Work?
It is quite evident that pellet stoves are perfectly designed for controlling room temperatures. They do so by using the thermostat that configures temperature control. 
Pellet stoves operate efficiently using a simple process. A thermostat is connected to the stove to determine the desired temperature. With a wide range of temperature controls, you can adjust the temperature on the control board. Once set, the unit will then operate at the selected heat range setting. Consequently, the stove will continue to operate until the desired room temperature is met.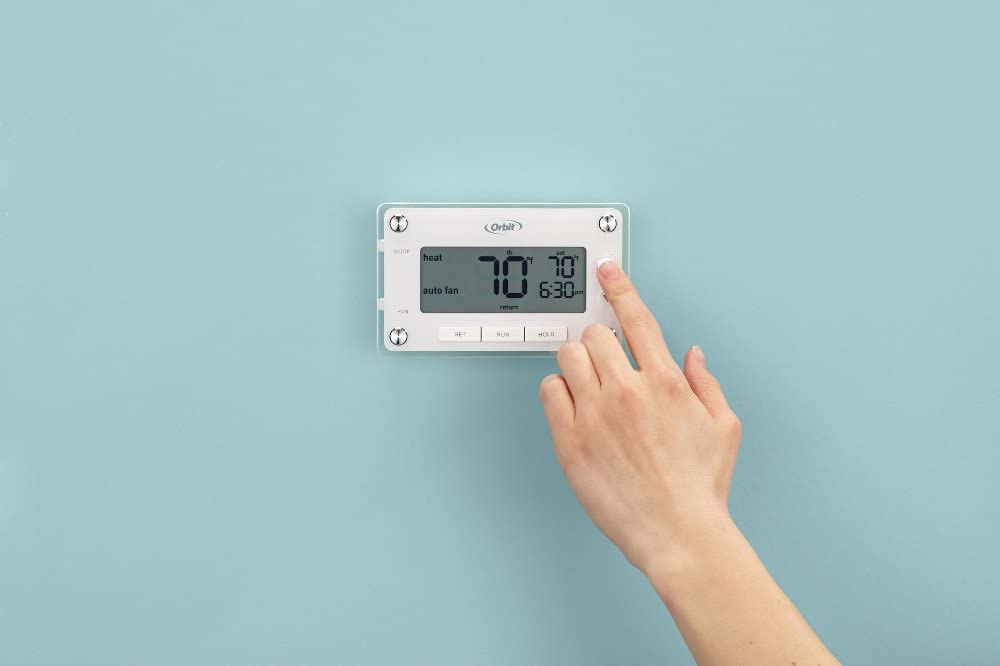 When Is It Time to Replace My Pellet Stove Thermostat?
The lifespan of a pellet stove thermostat cannot be specified. However, a decent quality unit can serve you effectively for approximately ten years. After a decade of operation, the unit might malfunction due to dust accumulation or aging wiring. A faulty thermostat will show signs like abrupt temperature changes, inaccurate readings, or even coolant leaks. When you come across these, you know it is time to change the thermostat. 
Can Any Thermostat Be Used on a Pellet Stove?
Not all thermostats can be used on a stove. Some stoves come pre-packaged with a thermostat to control the temperature. They are not only compatible with the unit, but they also are easy to use.
However, some models don't come with a thermostat and require you to purchase one separately. As a result, you might face compatibility issues.
Some pellet stoves feature multiple-stage heating that requires specific thermostats to operate effectively. Pairing such models with a conventional thermostat can cause malfunction, or they might not function at all.
Therefore, you must purchase the right type of thermostat for your device. You can figure out the compatibility by either checking the manual that comes with the stove or ask the seller at the time of purchase.
Review of the Best Thermostats for Pellet Stoves
Finding the best thermostat for your pellet stove is no less than a challenge. Opting for a quality model from a wide range of products is both difficult and time-consuming. To save your time and money, we have listed some of the best products you can purchase for your stove.
Honeywell RTH221B1021
We may earn commission from purchases made from our links, at no additional cost to you
What Recent Buyers Report
Recent buyers seem to be quite impressed with this product. They believe that it's a high-quality thermostat that delivers everything you can ask for. It is not only easy and simple to use, but it also delivers superior quality and performance. Users also appreciate the accurate temperatures and programmable nature of this desirable unit.
Why it Stands Out to Us
There are a handful of features that appeal to us about this product. The device features a digital display that allows you to view valuable information. It is quite easy to use and offers a reliable experience. The build quality of the product is decent, with a sturdy design that is convenient to handle.
Moreover, the unit is fully compatible with heating, cooling, and numerous other heat pumps. The temperature displayed on the digital screen is pretty accurate and allows you to monitor it at any instant. Besides, it is quite easy to install and comes pre-programmed from the manufacturer for reliable use.
Bottom Line
There is no doubt that this is one of the best models available on the market. It has all the features of a high-end product and offers great reliability to the user. It is also user-friendly and promises great compatibility, reliability, and performance.
Pros
Quite sturdy and easy to handle
Very easy to use with its digital display
Offers accurate temperature control in all conditions
Easy to install and comes pre-programmed for convenient use
Highly compatible with heating, cooling, and various heat pumps
Cons
Display doesn't light up
Not compatible with electric baseboard heat
Orbit 83521
We may earn commission from purchases made from our links, at no additional cost to you
What Recent Buyers Report
A large number of buyers' reports back up this product for its outstanding quality and performance. They believe that they have found the best model available, particularly due to its attractive design and a multitude of features. Like any other high-end model, this unit also features programmable nature while having an attractive appearance.
Why it Stands Out to Us
The overall design of this model is what appeals to us the most. It is a beautifully crafted device that is designed perfectly to match your interior. The aesthetic design looks extremely attractive and will go well with any interior. Talking about features, it has a large display with a backlight that allows you to view the information quite easily.
The unit is also fully programmable with seven-day programmability, which provides great versatility and peace of mind to the user. Now, you can easily program your device according to your needs without any hassle. Besides, this one-stage thermostat is compatible with oil, gas, and electric furnaces as well.
Bottom Line
Overall, this is a quality device that is designed for any advanced and updated stove. You can enjoy many features with this model, including its brightly lit digital display and user-friendly programmable settings.
Pros
Large display with backlight for convenient viewing
Beautiful aesthetic design that blends well with most interiors
Quite simple and easy to use with reduced programming times
Promises seven-day programmability to provide flexibility to the user
Features a one-stage starting up that works with most oil, gas, and electric furnaces
Cons
Requires batteries for use
Lux T101141SA
We may earn commission from purchases made from our links, at no additional cost to you
What Recent Buyers Report
A majority of the buyers are quite pleased with their purchase. They are happy about the performance and quality that it delivers. However, its cost-effective nature is the main selling point for most people. Users regard it as a user-friendly model that is free from mercury, allowing them to be safer with this unit.
Why it Stands Out to Us
What strikes us most about this product is its reliable performance backed by a user-friendly design. This is a mechanical thermostat that is tailored to provide swift operations with consistent performance. The quality is great as well and is far more superior to traditional units.
The best part about it is its user-friendly design. It features a mercury-free construction that is suitable for everyone. The price is quite reasonable, considering the handful of features it delivers. Also, it performs effectively to keep you warm during extreme climates.
Bottom Line
If you are looking for a model that offers value for the money, then this is your go-to option. It delivers all the features of a premium model while being extremely cost-effective. The design of the unit is also user-friendly.
Pros
Mercury-free and is user-friendly
Available at a reasonable price tag
Perfect for heating operation during cold winter
Offers reliable quality as compared to conventional units
Features mechanical thermostat designed to provide consistent performance
Cons
No on/off switch present
Offers a single 'heating only' option
Best Pellet Stove Wireless Thermostat
Lux TX9000TS
We may earn commission from purchases made from our links, at no additional cost to you
What Recent Buyers Report
An overwhelming response from the buyers backs this product. Buyers seem to be quite satisfied with the purchase, primarily due to the consistency of temperature and ease of adjustment it offers. They are convinced that the product operates flawlessly with an easy-to-use design.
Why it Stands Out to Us
The product stands out to us in many ways. Out of the many, the simplicity and the ease of use it provides to the user are worth mentioning. Featuring a touch-screen interface, the model provides a simplified solution to monitor and control your room temperatures. Also, it has promising seven-day programmability that can be used to customize the pellet stove for more convenience.
Now, you can program it according to your needs and forget about adjusting the settings continuously. The unit arrives pre-programmed from the factory and is quite energy-efficient. A filter-usage monitor also comes in this unit.
Bottom Line
You are looking for the best thermostat for pellet stoves, right? Well, here is one to take care of all your temperature control needs. With a premium design, the unit is manufactured to deliver easy and simple operations with minimum power consumption.
Pros
Designed for cozy households
Very easy to use with its touch-screen interface
Provides seven-day programmability for reliable use
Comes pre-programmed with energy-efficient operations
Features a filter-usage monitor to set filters from zero to 720 hours of use
Cons
Not easy to re-program
LCD contrast is quite weak
Best Wi-Fi Thermostat for Pellet Stove
Honeywell Home RTH9585WF1004
We may earn commission from purchases made from our links, at no additional cost to you
What Recent Buyers Report
Nearly all positive reviews for this model suggest that it has superior build quality and functionality. Users share their successful experience using the product, suggesting that it works really well in all types of homes and extreme winters. Customizations, programmability, and wireless connectivity are the most popular features among buyers.
Why it Stands Out to Us
There is no doubt that this model is one of the best thermostats you can purchase. With its wide range of features and dependable quality, it is second to none. This model's customizable nature is quite attractive as it allows you to match it with your interior. There also exist several programming options that allow your unit to adjust automatically.
It also features a bright display that is easy to read and view with its bright illumination. You can also get weather forecasts on display, including humidity levels, both inside and outside your living space. It is also capable of wireless connectivity and can be controlled conveniently using the Total Connect Comfort App.
Bottom Line
If convenience is your utmost priority, then this model is just for you. With wireless connectivity and customizable nature, you can easily control and customize your device. You can also find several other features that most traditional units do not offer.
Pros
Promises flexible programming options
Bright display that is easy to read and view
Offers customizations to match with your interior
Features weather forecast, including humidity levels
Wi-Fi capability enabled with the Total Connect Comfort App
Cons
Wall mounting plate is quite flimsy
Higher-end model comes at a hefty price
Best Pellet Stove Programmable Thermostat
Robertshaw RS6110
We may earn commission from purchases made from our links, at no additional cost to you
What Recent Buyers Report
There are a huge lot of highly positive customer reviews that tell us that the unit is exceptionally well-designed. Recent buyers are convinced that it is one of the best thermostats that you can find on the market, primarily due to its lightweight construction and advanced digital display.
Why it Stands Out to Us
Robertshaw's programmable unit is one of the best thermostats without a doubt, thanks to its programmable design that makes it extremely efficient and easy to use. The soft-touch keys found on the device ensure a convenient experience, unlike any other model. A copy command also makes programming much easier.
The best part about this model is its capability to automatically switch between heating or cooling functionality. Besides, the bright backlight display enables convenient viewing and comes with a nightlight option. The batteries in the device can be removed and replaced quite easily.
Bottom Line
To conclude, if you are looking for an all-round performer, this Robertshaw model is the ideal pick. It has a wide range of features that cater to your needs. The unit's design is quite simple, and the ease of use makes it a highly recommended product.
Pros
Batteries can be easily removed and replaced
Bright backlight display with a nightlight option
Programmable design with soft-touch keys for a reliable experience
Features a copy-command function that makes programming easier
Capable of automatically switching between heating or cooling operations
Cons
Build quality is a little flimsy
Very bright light can cause inconvenience
Types of Thermostats for a Pellet Stove
You can pair different types of thermostats with your pellet stove, provided they are compatible with each other. There are various thermostats available that can work effectively with your model. Some common types include:
Non-programmable Thermostats
Non-programmable units are one of the most basic ones that you can pair with your pellet stove. These units lack programmable nature. Instead, they use manual controls to effectively adjust the desired room temperatures.
With just a few button presses, you can easily control and monitor your room temperature. The simplicity and energy-efficient operation are the two areas where these units perform well. 
Programmable Thermostats
Unlike non-programmable models, these units can be programmed efficiently. They either come pre-programmed from the manufacturer, or you can program them yourself, according to your needs. 
Programmable units work great if you want temperatures to adjust automatically during the day or night. If you are living in an area with sudden temperature changes, then programmable units are the perfect option.
Wi-Fi Thermostat
Wi-Fi thermostats feature wireless connectivity that allows you to remotely control your device. They operate efficiently using a remote or app that features all the controls you require to control room temperature. These units are high in demand due to their ease of use and convenience.
Pros of a Remote Thermostat With a Pellet Stove
Investing in a quality thermostat will always benefit you in the long run. To ensure the reliable quality and performance of your stove, you must buy a quality device. Here's why doing so is beneficial:
Consistent Performance
With a quality remote thermostat, you can enjoy reliable performance. Temperature control would be quite effective and consistent over the period. A quality unit will provide you with highly accurate information and further enhance your experience.
Ease of Use
The best part about using a remotely controllable unit is the convenience it provides. Rather than controlling room temperatures manually by getting up and adjusting the settings yourself, you can do it remotely from a distance away from the stove. It is not only more convenient but also quite simple and easy.
Increased Lifespan
There is no doubt that quality units tend to last longer. If you own a high-quality thermostat, you might benefit from it quite longer than you expect. Remote thermostats are technically advanced, and therefore are equipped with better components and build quality. With proper maintenance checks, a good device can serve you for more than a decade!
How to Hook up a Thermostat to a Pellet Stove
Installing a thermostat to a pellet stove is quite simple and easy. However, there is some sort of knowledge and understanding of the unit required to successfully perform the installation.
To ensure you do it properly, we have listed a step-by-step process:
First, unplug and power off your unit.


Remove the screws from the exhaust outlet cover using a wrench.


Now, loosen the screws that hold the back panel in place. Don't forget to remove the strain relief for the power cord.


Once the screws are removed, you can easily remove the back panel out of its slot.


Locate the thermostat connect block found on the rear of the control board. You can find a small wire jumper that is pre-installed from the factory.


Remove the jumper using the screwdriver and insert the thermostat wires in place of the jumper.


Tighten the screws back once the wires are connected to the respective terminals. Note that it doesn't matter which wire goes in either terminal.


Reinstall the back panel and set up the thermostat by following the product's manual instructions.


The control board will automatically read the thermostat and will be ready for operation.
If you are still uncertain about the process, refer to the video below for a detailed demonstration.
Conclusion
Installing a thermostat to your pellet stove is worth the money if you want a controlled climate inside of your home. These units not only allow you a convenient use but also perform effectively for a long time.
If you are looking for a high-quality unit for your stove, don't forget to consider important factors like the display quality and user-friendliness of the thermostat.
People Also Ask
People are sometimes indecisive about whether to install a thermostat in a pellet stove or not. Meanwhile, some users might face troubleshooting or compatibility issues with such devices. To ensure you are left with no uncertainty about thermostats, we have compiled a few commonly asked questions.
What Would a Bad Thermostat Do to a Pellet Stove?
Pairing a bad thermostat with a pellet stove can result in negative consequences. If there is a compatibility issue, there is a high chance that it won't get detected by the control board. In other cases, a faulty thermostat can result in malfunction, rapid temperature changes, and even coolant leakages.
What Kind of Thermostat Do I Need for a Pellet Stove?
Different types of units are readily available for purchase. It usually depends on your individual preferences and needs. A programmable thermostat can be used if you want your stove to operate automatically in climates with rapid temperature changes. 

A non-programmable unit is perfect for energy-efficiency, while a Wi-Fi thermostat will provide maximum convenience. So compatibility with the stove and your personal preferences are determinant factors here.
How to Check a Thermostat on a Pellet Stove?
Most thermostats come with a large LCD that allows you to monitor your room temperatures. You can also find a wide range of settings that you can control manually or using a remote. To check a thermostat on a pellet stove, refer to your unit's control board with multiple settings.
How to Check a Limit Control Thermostat on a Pellet Stove?
Limit control thermostats feature a bi-metal disc on the inside that opens normally closed contact with the temperature rise. These units are designed to interrupt the power of the stove once the highest possible temperature is reached. You can check it by referring to the user manual or the control board of your unit.
How to Tell if a Thermostat Is Pellet Stove Compatible?
To find out whether the thermostat is compatible with your device, it's better to refer to your stove's manual. It usually mentions the types of thermostats supported, which can help you decide the right one for yourself.
How to Bypass the Thermostat on a Pellet Stove?
Bypassing a thermostat is pretty easy, provided you do it correctly. All you need to do is take a piece of wire and rip off its insulation from both ends. As a result, a jumper wire is created. Install the jumper wire in the unit's jumper by loosening the screws and placing the wire in both terminals. Once done, you can successfully bypass your thermostat.
Other Related Guides
Here is some other content that might interest you: