A warm and comfortable home is something we all need on a cold winter day. Electric heating is a popular choice these days because it is safe and easy to use, but it costs the most. 
Keeping your home warm can be a costly endeavor, especially if you live in a cold area. Of all the different types of fuels used for heating, pellets are one of the cheapest, making pellet stoves and pellet stove inserts cost and fuel-efficient heating solutions.
You might not know how they work and why you should use them. This article will explain everything you need to know about pellet stoves and the best ones that you can buy on the market. 
At a Glance: Our Top Picks for Pellet Stove Inserts
Comparison of the Best Pellet Stove Inserts
IMAGE
PRODUCT

OUR TOP PICK

Heats up 28,000 square feet
Has very large viewing area
Features a 110V powerful blower

VIEW LATEST PRICE →

Heats up 22,000 square feet
Bin allows for large refills
Has 60 pound hopper bin

VIEW LATEST PRICE →

BEST BUDGET OPTION

Best for the Money
Fuel feed system eliminates burn back
Features a front controlled manual damper

VIEW LATEST PRICE →

Best Wood Pellet Stove Insert
Enables you to set operational modes
Designed to be easy to clean

VIEW LATEST PRICE →

Best Small Pellet Stove Insert
Heats up to 2,000 square feet
Very efficient 110V stove

VIEW LATEST PRICE →
Characteristics of Our Favorite Pellet Stove Inserts 
All the models mentioned on our list have some common features that make them the best of the best. These include:
Cheap Fuel
Pellets are the third-cheapest fuel options for a heating stove. They cost about $180 to $240 a ton. How many pellets you need for a year depends on many variables, including your home's size and the temperature of the city you live in. On average, you will need about seven tons for one season, which costs $1,750 a year. It costs three times lower than electric heating.
Automation
Normal wood-burning stoves require you to keep an eye on the heat being produced and add more wood as needed. It cannot keep burning forever, so there are different types of wood and wood placing techniques that make sure it burns longer. 
With pellet stove inserts, you don't have to worry about the stove going out and your room going cold overnight. There is a thermostat inside the stove that checks the temperature, and when it goes too low, there is a mechanism to automatically add more pellets as needed. You can also control the heat by changing the fan speed and heat settings.  
Safety Features 
Pellet stove inserts don't have chimneys, which makes them safer. They also have an electric ignition, which is a much faster and easier way to operate.
The thermostat also has a safety feature that stops more pellets from burning when the desired temperature is reached, so no accidental fires. Some models also have an automatic shutoff feature that stops the fire when the front door is open, or the temperature is too high.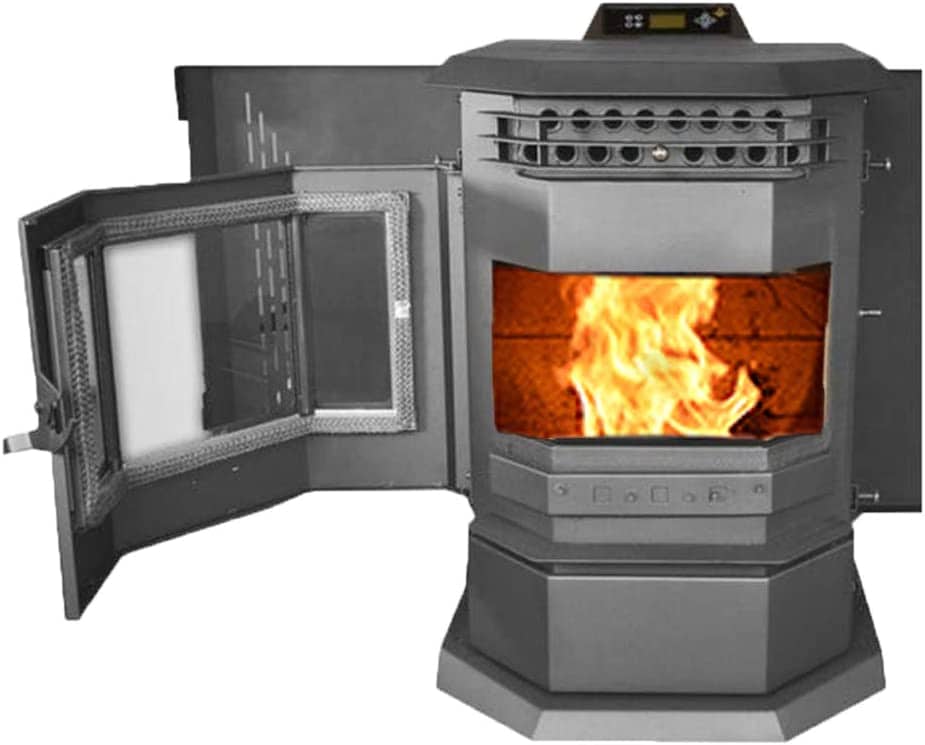 Review of the Best Pellet Stove Inserts
Because of the efficiency, safety, and ease of use, pellet stove inserts are becoming a popular heating option. This is why there are many options available on the market for you to choose from. Deciding on the right choice can become difficult, so we have listed the best pellet stove inserts for you to start your search.  
Comfortbilt Pellet Stove HP22
Heat Output (BTU/h): 50,000
Heating Capacity (sq ft): N/A
We may earn commission from purchases made from our links, at no additional cost to you
What Recent Buyers Report
The stove is very low maintenance. By using a regular ash vacuum, cleaning the stove is simple. It creates a very cozy ambiance, and there is little to no noise from the blower so you can sleep peacefully. This produces enough heat to warm up a place even in very cold winters. 
Why it Stands Out to Us
HP22 might not have the biggest pellet hopper to store the fuel, but its 55-pound capacity is still enough to last 16 to 18 hours of constant burning. It has a 50,000 BTU output that can effectively heat up a 2,800 square feet area. This area can be visualized as a large three-bedroom apartment.
To create the ambiance and look of a fireplace, it has a large viewing area with glass and a carbon black finishing color. It uses a powerful blower to provide heat for combustion and to vent gases outside. 
Given its high-efficiency, it is certified by the Environmental Protection Agency. The programmable thermostat and auto-ignition give the user even more control over the heat. You can set the temperature limit you want, and it will stop burning when the unit reaches it. The auto-ignition means you just have to press a button, and the stove does the rest.       
Bottom Line
This product gives one of the highest BTUs and covers the most area with its heat. That, combined with its reasonable pricing, makes it deserving of the top position on our list. ComfortBilt is known for making stoves with heavy gauge steel efficient burning, and this model is no different.  
Pros
Easy-to-use automatic ignition
Can heat up to 2,800 square feet area
Has a large viewing area for ambiance
A programmable thermostat to control the heat
Certified by the Environmental Protection Agency
Cons
Pellet hopper size is small
Breckwell SP24I
Heat Output (BTU/h): 50,000
Heating Capacity (sq ft): 2,200
We may earn commission from purchases made from our links, at no additional cost to you
What Recent Buyers Report
Buyers state that this heater is highly durable and dependable. Even after years and years of use, it still heats effectively. It is easy to maintain, and given the top feed design, it is less complex to use. You will definitely feel a reduction in your fuel costs if you have been using electrical heating before using this stove.
Why it Stands Out to Us
This stove insert has a large pellet hopper that can accommodate 60 pounds of fuel at a time. So it can run for almost a whole day without needing to be refilled, which reduces maintenance problems. That, combined with the automatic ignition process, makes it a user-friendly product.
It comes with its own log kit and brick wall panel. These accessories are installed to give it a more traditional fireplace look and make it seem like you are burning wood. This builds a cozy environment that you want from such a heater. The black design of the stove insert is elevated with a gold door outline and handle. 
There is an electric control key-pad from which you can run diagnostics on the device, turn it on and off, and switch to manual. It also has a thermostat and heat range settings, which you can control.
Bottom Line
The large hopper size and traditional design make this product stand out from others. Its 50,000 BTU capacity can heat up to 2200 square feet easily. Its completely automatic function and electric console make starting a fire a quick and easy feat.  
Pros
Five different heat settings
Large pellet hopper capacity
Comes with a log kit and a brick wall panel
Has an LED keypad for controlling the stove
Automatic ignition system for safe and easy startup
Cons
Large flashing costs extra money
US Stove Multi-Fuel Fireplace Insert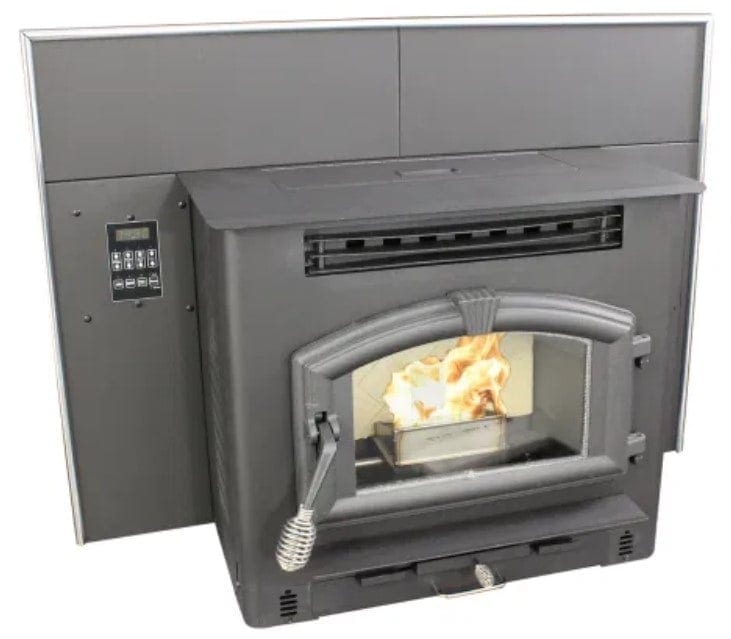 Heat Output (BTU/h): 52,300
Heating Capacity (sq ft): 2,000
We may earn commission from purchases made from our links, at no additional cost to you
What Recent Buyers Report
According to buyers, this is one of the simplest-to-install-and-use stove inserts. Its advanced features reduce the fuel cost even further than what you would expect. This product is something anyone looking for a greener fuel source should consider. A lot of "green" products can be inefficient, but this one produces just the right amount of heat for a comfortable space.  
Why it Stands Out to Us
The thing that makes this product stand out is the diversity of fuel sources. Pellets are not the only things you can use. Other suggested fuel items are corn, soybeans, olive pits, bio mass fuel grains, and cherry pits. A lot of these are what you will easily find in your kitchen, so you won't have to go through the hassle of fuel running out.
There is a manual damper at the front through which you can control the air going into the firebox and hence controlling the fire and amount of heat produced. To make sure that the fuel burns up completely and no unused bits are left, there is a burn pot agitator. This helps get rid of burnt residue from the burn pot.
The digital control has options for diagnostics and start-up operations and gives a user-friendly interface. Its highest BTU output is 52,000, but you can reduce it if you need to. There are five heat settings to choose from. For maintenance, there is an air wash system with the ceramic glass that is meant to purify the surrounding air and get rid of any smell or bacteria.      
Bottom Line
To sum it up, this product comes with everything you can imagine – alternative fuel sources and how to make sure they burn properly, fool-proof operation, getting rid of clinker, controlling air supply, and durable construction. This is everything you need from a modern and easy-to-use stove insert.   
Pros
Has a limited lifetime warranty
Digital control with diagnostics
Five different heat settings that you can control
Burn pot agitator helps burn the fuel completely
Integrated air wash removes bacteria and smells from the air
Cons
Not certified by Underwater Laboratories for safety
Best Wood Pellet Stove Insert
Castle Pellet Stoves 12327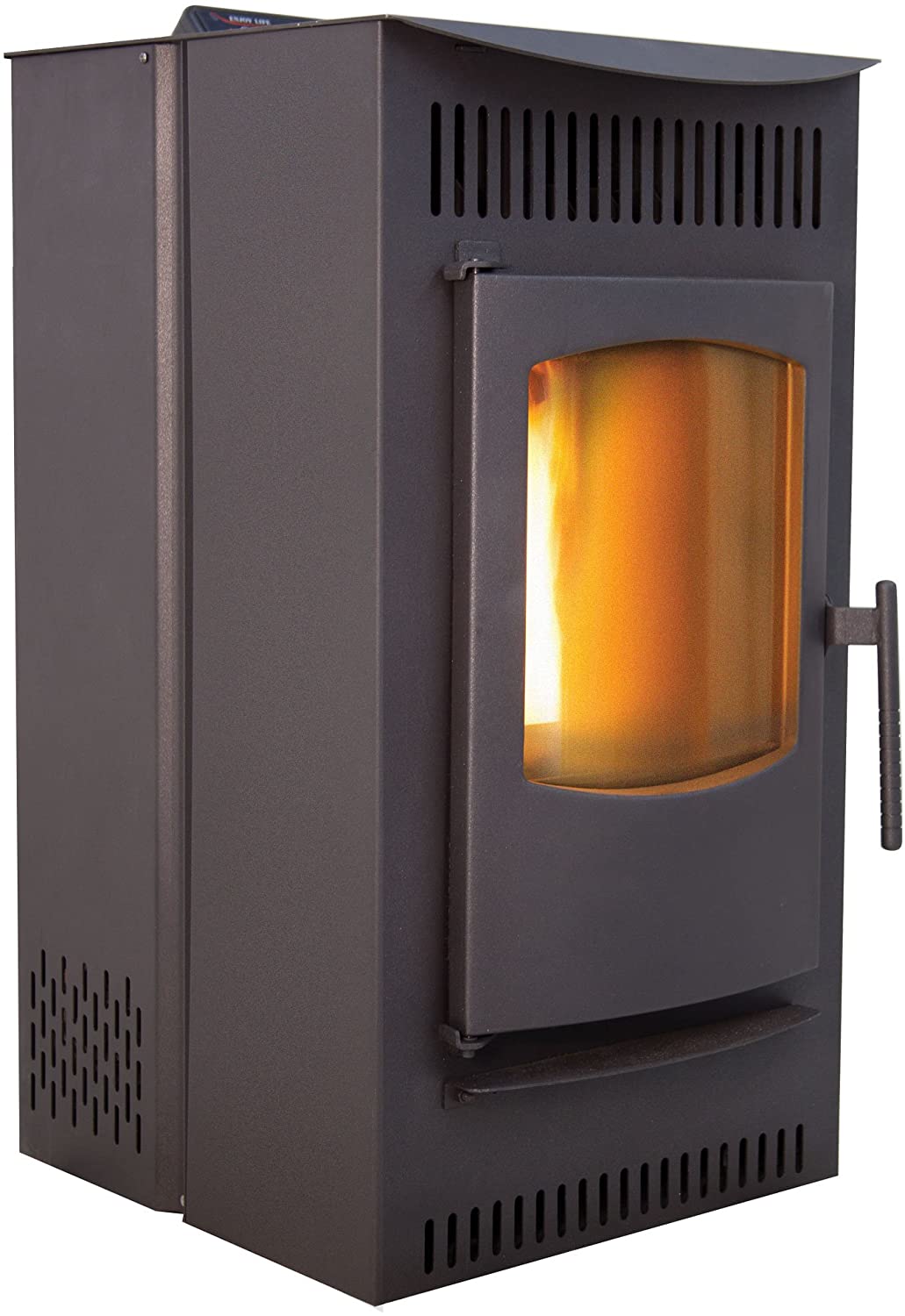 Heat Output (BTU/h): 31,960
Heating Capacity (sq ft): 1,500
We may earn commission from purchases made from our links, at no additional cost to you
What Recent Buyers Report
Working within a budget can be difficult, so this low-priced and efficient solution is a great option. It is very well-made and sturdy. Its remote control is very straightforward and easy to use. The rectangular and compact structure makes it easy to install anywhere you want.
Why it Stands Out to Us
This pellet stove is very easy to install. The user manual is very easy to read and helps you install it within two hours. The compact design means it can be installed anywhere, including a moving home like a trailer.
There is a smart controller on the top of the stove which you can program for weekly cycles and thermostat settings. You can set timings for when to turn the stove on and off. There is also a removable ashtray and easy-to-access firepot that makes cleaning and maintenance easy.
The heat exchanger is designed after an air-cooled engine that has 2.5 square feet of additional space to facilitate more efficient heating. At low heat settings, the fuel can last for a whole day. It is also certified by EPA (environmental protection agency) and ETL (Edison testing laboratories) for efficiency and safety.  
Bottom Line
This is a smaller pellet stove not meant for larger homes. For small and movable homes, it is highly efficient and can heat effectively. It is a very practical choice for people working on a budget and only needing to heat limited areas.
Pros
Has thermal overload protection
Can be installed in mobile homes
Has five controllable blower speeds
Programmable controller with thermostat settings
It is certified by EPA and ETL for safety and efficiency
Cons
Does not heat up large rooms efficiently
Best Small Pellet Stove Insert
Comfortbilt HP22i
Heat Output (BTU/h): 42,000
Heating Capacity (sq ft): 2,000
We may earn commission from purchases made from our links, at no additional cost to you
What Recent Buyers Report
Users state that this is a sturdy and effective pellet stove. It can heat up a large home quickly and efficiently. The installation is not too difficult either as it fills right into the fireplace. It also comes with options for piping kits. Given the quality, the price is very reasonable too. 
Why it Stands Out to Us
It has a 50,000 BTU output, and it can effectively heat up to 2800 square feet area when the weather outside is cold. It can heat up even more when the temperature is not too low. It has a design that radiates heat in three directions for more effective heating.
It is certified by the Canadian Standards Association (CSA) and the Environmental Protection Agency (EPA). This means it complies with national and federal emission standards.
The ashes of burnt pellets fall into the ashtray automatically for cleaning. You can control the heat and reduce or increase it as needed. You can also adjust the thermostat settings to lower the heat limit, which in turn turns off the stove when the limit is reached.
Bottom Line
The HP22I comes in both free-standing and insert versions. It uses heavy gauge steel, carbon-steel doors, and ceramic glass for durability. It is all automatic with electronic ignitors and a control pad and is an overall great investment.
Pros
Installation is very easy
Has adjustable heat settings
A large viewing area for aesthetics
Comes with a free vacuum cleaner
Radiates heat in three directions for efficient heating
Cons
Has a low BTU output
What is a Pellet Stove Insert? 
Pellet stove inserts are heating appliances that are inserted into an already-built fireplace. What differentiates them from other inserts, like those for fireplaces and wood stoves, is the fuel type and the fact that they don't need chimneys to release exhaust gases. They can be vented through sidewalls.   
It uses pellets as fuel. Pellets are made of compressed organic matter or biomass. It is an environment-friendly fuel because it uses by-products and waste materials.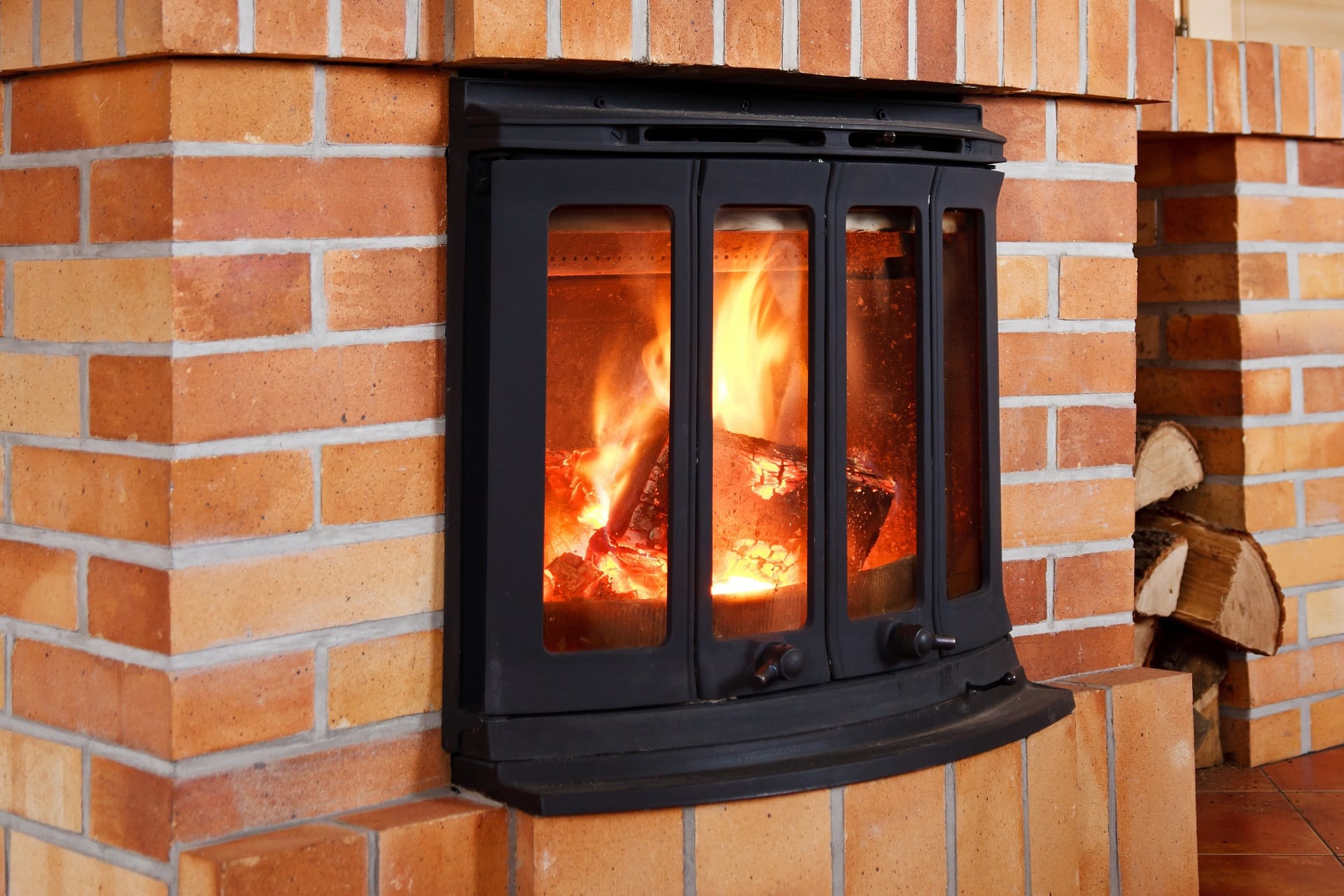 How Does a Pellet Stove Insert Work? 
One of the major plus points of a pellet stove insert is automatic fuel insertion. You don't have to keep feeding the stove with more pellets to maintain the fire. It has a storage unit called a pellet hopper that keeps all the pellets. These are carried to the burn pot by the auger driven by an electric motor. 
The burn pot is where a small fire burns, which is then increased using an electric blower. The blower adds air to the fire to increase its intensity. The used air is then vented out. Then there is a heat exchanger above the heating compartment that carries the heat from the stove and disperses it. 
It works via a series of tubes that catch the heat and a fan that circulates the heat through the tube and into the room. An internal thermostat keeps check of the temperature. When it gets too low, new pellets are added from the pellet hopper via the auger.     
What are the Benefits of a Pellet Stove Insert? 
Some people might say that a wood-burning stove gives more heat than a pellet stove insert. So why would anyone opt for the latter? Well, there are many benefits that accompany the use of pellet stoves, some of which are explained below: 
Efficiency
Its average fuel efficiency is 85%, which is more than that of wood stoves and traditional fireplaces. Fuel efficiency is the capacity to obtain energy from the fuel. The more efficient the stove is, the less fuel is wasted.
Inefficient fireplaces or stoves run out of fuel very quickly because most of it is wasted in exhaust gases and very little remains as usable heat. As a result of the high efficiency of pellet stoves, the fuel cost goes down considerably. They cost 47% less on fuel than electric heaters. Some newer and more advanced pellet stoves can even burn at the efficiency of 95%.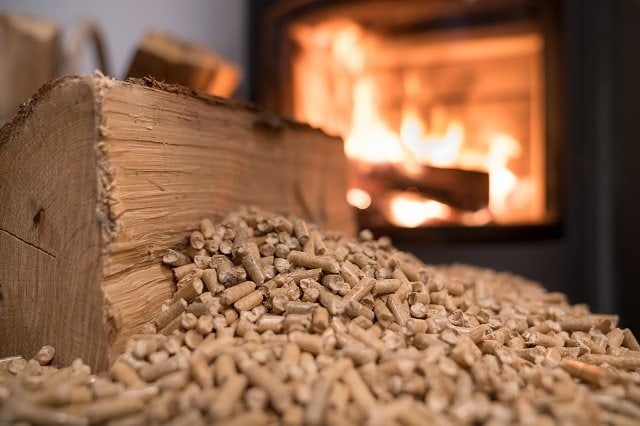 Environmentally Friendly 
Pellets are made from recycled and waste material of the agriculture industry, used/waste paper, and sawdust, etc. These are things you find abundantly in society and nature. Instead of the waste products of different agricultural and industrial processes ending up in the oceans or landfills, they can be converted into useful things. This reduces your carbon footprint on the world. 
Pellet stoves, in fact, produce little to no carbon into the air when burning. All this does not affect their heating capability.
Low Maintenance 
These stoves don't have a chimney, so there is one less thing to maintain. Their maintenance is actually quite simple. The most frequent maintenance task that you will be performing is refilling the pellets. Because of the removable ashtrays, cleaning out ash is easy. Just remove the tray and tip out all the ash. You also don't have to worry about adding more fuel every other hour. 
Comparison Overview 
When it comes to heating appliances, pellet stove inserts are not the only option. Here is a detailed comparison of some of the other popular choices.
Wood Stove Insert vs Pellet Stove Insert
A wood stove insert is very similar to a pellet stove insert in terms of appearance. They both go into the already-existing fireplace in a house. But there are major differences in both.  
Fuel
One obvious difference is the type of fuel used. You use logs and smaller twigs to start the fire in a wood stove. However, a pellet stove uses pellets that are small and cylindrical and are not necessarily made of sawdust or other wood by-products. But pellets generally cost more than wood if you compare it to the amount of heat they produce. 
There are some disadvantages to wood, though, which includes its storage. You need to store wood in a dry place. Wet wood does not burn efficiently. Pellets can also be loaded in bulk to the stove, while wood has to be added gradually as needed.  
Style
In the looks department, both these stoves are pretty much the same. However, within this area, there are different types, like traditional or modern. Traditional stoves are often made of cast iron and have a black finish, while modern stoves are smaller and more streamlined. 
But both kinds of insert follow the same design philosophy. They both try to give the look and feel of a fireplace and create the ambiance you get from a burning fire. 
Cost
Wood stoves are difficult to install because they need a chimney, so you will have to hire a professional, and hence you will have to pay extra. If your house already has a fireplace and chimney, the cost will be cut down considerably, but it will still be higher than the installation cost of a pellet stove insert. 
Pellet stoves can be vented through a sidewall by creating a small hole, giving them more placement flexibility. The cost of wood stoves is around $3000 to $5000 with the installation, while the cost of a pellet stove is around $3500 to $4000 with the installation.   
Efficiency
Different models will have different efficiency ratings, and sometimes the efficiency is also affected by the type of wood or pellets you use. In the case of older and used stoves, efficiency also depends on how well you have maintained your product. But on average, a wood stove has an efficiency of around 70% while a pellet stove enjoys an efficiency of at least 83%. 
Gas Fireplace Insert vs Pellet Stove Insert
Of all the different fireplace options, the major difference between the two is their fuel source. This is what makes their efficiencies lower or higher and what changes their cost. Here's a more in-depth comparison:
Fuel
Gas fireplace inserts burn natural gas or propane instead of wood or pellets. To give the proper look of a fireplace, ceramic logs are placed in the firebox. You can use your house's gas connection for this. Natural gas is one of the lowest costing fuel you can use for a heater. Wood pellets cost relatively more.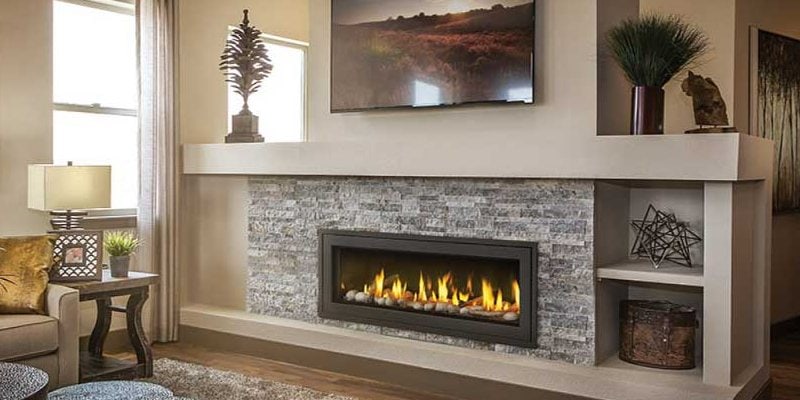 Cost
There are some very cheap options and then some very expensive options when it comes to installing and buying gas fireplace inserts. They can cost anywhere from $2300 to $10,000. Meanwhile, pellet stoves, as mentioned before, cost $3500 to $5000.
Efficiency
Gas fireplaces are probably the most efficient of all. Their average efficiency is 90%. Their heating capacity is also high at 70,000 BTU. Pellet stoves have the upper hand here because they can produce 90,000 BTU of energy. This, of course, depends a lot on the model you are using.  
Pellet Stove Insert vs Freestanding
You can add pellet stoves to your home in different ways. They come in portable models, large free-standing models, and inserts that go into the fireplace and don't require much effort to install. This feature does not really affect the efficiency of the stove but rather depends on your style choice. Here's a comparison between the two variants:
Style
The style of an insert and freestanding pellet stove is similar when it comes to the firebox. It is the same style as a wood stove. The difference is in the size and placement. An insert is designed to fit perfectly into the house's existing fireplace. Meanwhile, a freestanding pellet stove can be placed anywhere and in any room of the house with a fireproof pad at the bottom to protect the floor. 
Cost
The overall cost, including the cost of installation of an insert, is higher than that of a freestanding stove, even when you buy new vent pipes and pads for the latter.  
When it comes to these two options, it really depends on your preference. If you already have a fireplace in your home, you will be better off with an insert, and if you don't, then a freestanding model will be less costly.   
Installation 
Installation of a pellet stove insert is more difficult than that of a freestanding model. This is because you might need to add extra venting to it. You will also need to add a panel around the firebox on the outside of the fireplace. You will need to make a hole in your wall from where you intend to vent the stove for a freestanding model. 
How to Install Pellet Stove Insert
People recommend using professional help when installing pellet stoves, but since there's no need to make holes in the wall to add chimney pipes for inserts, you can install it ourselves. It still requires you to carefully follow the steps because it is a fire product you are dealing with. 
First, take out all the stove insert components, including the liner, and then straighten it out.


Measure the chimney's length and mark where to cut the liner (it will be a little longer than the chimney).


You can use pliers to cut through the pipe.


Next, insulate the liner to reduce creosote buildup.


You need a half-inch pro-foil liner insulation and multi-purpose foil tape.


Wrap the insulator around the liner and put tape on it to secure it.


Go to the rooftop and put the liner in the chimney. Use a helper for this.


Down in the fireplace, attach the stovetop adapter to the liner and tighten the clamp around it. Make sure it is completely sealed.


The top of the firebox will have a vent hole. Attach it to the stovetop adapter and tighten it.


On the rooftop, put the top plate over the liner and drill in the screws to secure it.


Apply silicone around the liner and the top plate to seal the space between the two.


When it dries, clean off the residue.


After that, attach the chimney cap on top and tighten the clamps.
If you want more tips and information, you can watch the video below.     
How to Clean a Pellet Stove Insert
Keeping a stove clean improves its life and reduces the risk of fire and damage. Proper maintenance is very important when it comes to things like fireplaces and fireplace inserts. Here's how you can clean the insert:
Before doing any maintenance, make sure the stove is off and cooled down.


Remove the ashtray from the bottom and throw the ash into a trash can.


Take a soft clean cloth and spray a non-abrasive cleaner on it.


Open the glass door and wipe the cloth on both sides.


Don't spray directly on the glass.


Check the door seals for any leaking or damage.


Using a vacuum remove ash from the log set and the firebox.


A fire-pot cleanout tool comes with stove inserts. Use that to clean out the excess build-ups.


Make sure to clean out the air holes inside the firebox.


At the lower front of the stove of some models, there will be a firepot cleaning lever. Pull it, and it will empty the firepot debris into the ashtray.


If there are any unburned pellets in the tray, make sure to remove them.


To clean the heat exchanger, you will need a screwdriver. 


There will be a baffle at the back end inside the firebox with slots for latches at the top corner.


Place the screwdriver there and push down so that it falls off and then remove the baffle.


Using a vacuum, clean the back wall, heat exchanger fins, and the floor.


Place the baffle back into place and, using the screwdriver, place the latch back up.


From the side of the firebox, remove the exhaust motor mount. 


Use a seven-millimeter nut driver to loosen the nuts on the exhaust motor.


Remove the blower and vacuum the blower's fins and the inside of the vacuum.


Place the blower back in place and tighten the screws.


Put the exhaust motor mount back, and the maintenance is done.
Refer to the video below for more help on pellet stove maintenance:
Conclusion
That is all you need to know about pellet stove inserts, its fuel, and benefits. The products in our list take into consideration budget, efficiency, ease of use, and safety. A stove insert is the best option for a house with an already built fireplace, but you need to make sure you choose wisely! 
People Also Ask
Pellet stove inserts are similar in design and function to a couple of other products. So there are many questions about these products that users have to help decide what to choose. If you are curious as well, read the following frequently asked questions.
How Much is a Pellet Stove Insert? 
Pellet stove inserts cost $1000 to $3000. Some higher-end models can cost more.  
How Much Does it Cost to Install a Pellet Stove Insert?
Depending on the model and several other factors, the installation cost can be as low as $800 and as high as $4000.
Are Pellet Stove Inserts Efficient?
Pellets are one of the cleanest burning fuel sources, and pellet stove inserts have an efficiency of 85% and more.
What is the Life Expectancy of a Pellet Stove?
The durability of pellet stove inserts is about 15 to 20 years, on average.
How Do You Put Pellets in a Pellet Stove Insert?
There are two versions of pellet stove inserts, i.e., top feed and bottom feed. In the former, you pour the pellets from the top into the pellet hopper. In the latter, you add the fuel horizontally from the bottom.