Hot sunny days are about to end, and cold, long winter nights will soon start their reign on us. Just like every year, this year, we will also prepare to ward off the cold with our reliable heating devices. 
One such device is pellet stoves. They utilize shavings and cuttings leftover from wood manufacturing as fuel to produce heat. This makes them an economical and eco-friendly way of combating the cold winters.
Ashely Hearth is one of the oldest and reliable names in the stove market. Their pellet stoves are definitely worth talking about. If you are interested in installing one of these, we highly recommend you get one from Ashley. This article discusses some of the best units. Read on to find out more. 
At a Glance: Our Top Picks for Ashley Pellet Stove Reviews
Comparison of the Best Ashley Pellet Stoves
IMAGE
PRODUCT

Our Top Pick

Made from high-quality stainless steel materials
A large storage capacity hopper is included
Very easy to install and operate

View Latest Price →

Comes with large hopper for pellets
Can heat a space of 2200 square feet
Made from strong and durable materials

View Latest Price →

Has a hopper capacity of 130 pounds for pellets
Will easily heat a space of 2500 square feet
Comes with a safe air ventilation system included

View Latest Price →

Will easily heat up a space of 2200 square meters
Top mount controls for easy access and adjustments
Side panels can be removed to easily clean and maintain

View Latest Price →
Who Is Ashley Hearth Products?
Ashley Hearth first originated as a small business that produced heating stoves. Afterward, it was first purchased by Martin Industries and then by the United States Stove Company (USSC). Today, it operates as a brand under their umbrella and continues to produce high-quality and reliable heating devices. 
They offer a vast selection of hearth stoves, wood furnaces, pellet stoves, coal furnaces, and stoves running on multi-fuel. Their appliances are mainly targeted at homeowners. They also manufacture a comprehensive range of direct vent heaters.
The company has earned a solid reputation for itself not only in the US, but it is also one of the premium companies in Canada. There, it is known for its commitment to delivering safe and environment-friendly heating solutions.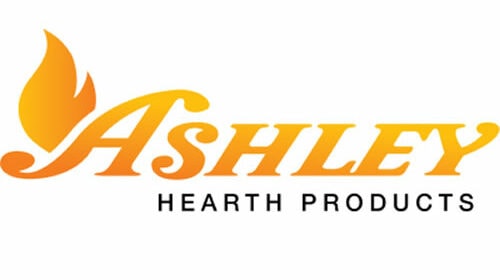 What Makes Ashley Pellet Stoves Stand Out from the Competition?
Ashley Pellet has been around for decades. It is the oldest name in stove manufacturing. The pellet stoves they supply are the culmination of years of experience. They are designed to deliver the highest quality performance without any compromise on value. Compared to the models from competing brands, they come at a relatively affordable price, making them a preferred choice.
The manufacturer clearly understands the importance of competitive marketing, so they strive hard to provide their homeowner audience with models that are high in quality yet affordable in pricing. Furthermore, the vast range of designs, heat output, and hopper capacity is comprehensive enough to have something for everyone. Now, that is something we can hardly find in the pellet stoves of any other brand!
Best Ashley Pellet Stoves
Ashley is the oldest name in the stove market. It manufactures a variety of wood and pellet stoves. Below we have reviewed some of the best Ashley pellet stoves to help you pick out a suitable one for yourself. These models are specially chosen for their high efficiency, output, and durability while maintaining a distinctive styling in design and functioning with quality craftsmanship. 
USSC AP5780SS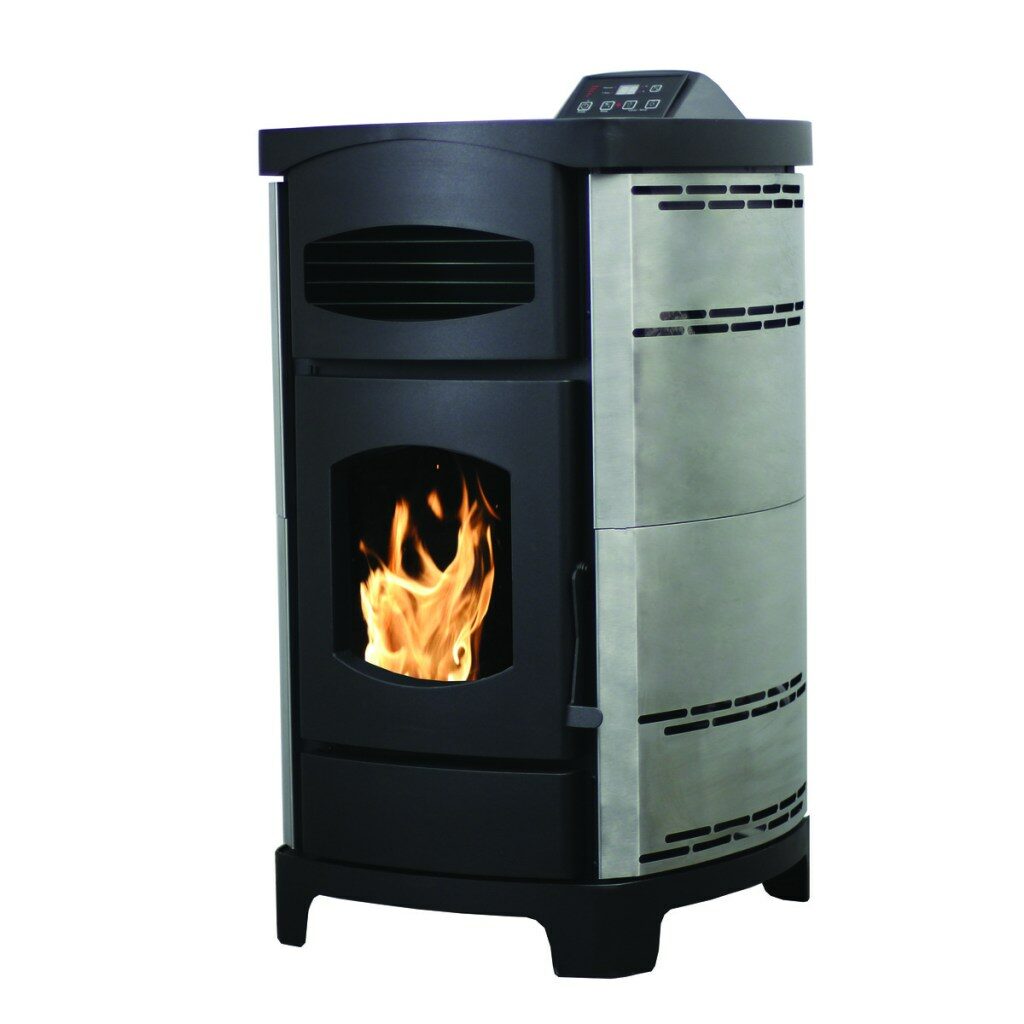 Heat Output (BTU/h): 48,000
Heating Capacity (sq ft): 2,200
We may earn commission from purchases made from our links, at no additional cost to you
What Recent Buyers Report
Buyers find it an economical and budget-friendly heating unit. They report that their propane bills have gone down noticeably once they started using this stove. The compact unit produces enough heat to warm a large room. 
What the users really like is that the unit itself does not take up too much space. The clean lines and gentle curves actually make it appealing. 
Why it Stands Out to Us
We think that it is one of the best pellet stoves available on the market. The stylish exterior is pleasant to look at. Add the good looks with the brushed stainless steel finish, and it does not look out of place in any interior décor. The slimline design can easily adjust into tight spaces, yet it does not fail to produce the same amount of heat as any full-sized unit. 
It is one of the easiest-to-use units in the market. The fully digital interface not only allows you to control it, but it also displays the temperature. It also comes with remote control if you want to make simple adjustments. 
The hopper has a vast capacity of 46 pounds, which allows it to burn up to 24 hours. Additionally, the unit is equipped with software that ensures the precise delivery of a predetermined amount of fuel from the hopper to the burn chamber. The entire machine works in a very efficient manner to evenly distribute heat throughout the room. 
Bottom Line
If you are looking to cut down your home's heating costs, this pellet stove is surely worth serious consideration. It comes from a renowned name in the market, so there is no doubt about its quality. The unit is compact in size yet very powerful in functioning. And trust us, once you start using it, you will never want to go back to your old ways. 
Pros
Hopper has a capacity of 46 pounds
Easy to operate with an all-digital control system
Active combustion of the pellets results in very little ash
Utilizes an electrical heating element to ignite the pellets  
Boasts an amazing burn time of 24 hours between fillings 
Cons
Requires regular cleaning and maintenance
Some users have had issues with auger jams 
USSC AP60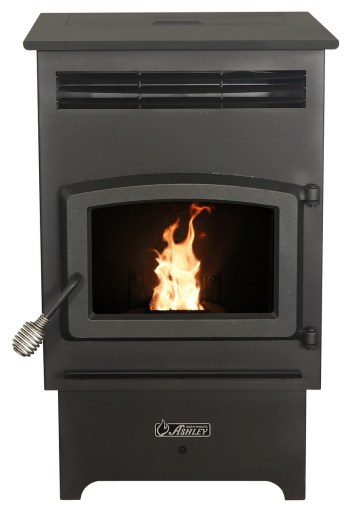 Heat Output (BTU/h): 48,000
Heating Capacity (sq ft): 2,200
We may earn commission from purchases made from our links, at no additional cost to you
What Recent Buyers Report
Judging from the great feedback following this stove, we can safely say that it is a good performer. People really appreciate it for its ease of installation and operation. They absolutely love the wireless operation that allows them to control it without having to move from their recliner. The aesthetic look paired with its ambient heating flames has managed to capture the heart of its audience. 
Why it Stands Out to Us
The USSC AP60, also known as the Ashley Hearth AP60, is a great unit to own. It is very easy to use with its completely automatic functionality. All you need to do is load the hopper with pellet fuel and turn it on. The auto-ignition utilizes an electrical heating element to initially light up the pellets. There is no fire starter required. 
It features easy-to-adjust controls along with the advantage of wireless remote operation. It is also equipped with an exhaust blower to capture and eliminate smoke and an automatic blower for even heat circulation. You can also hook it up with a wall-mount thermostat for better temperature regulation. 
Apart from the sleek appearance, this heating unit has an astounding hopper capacity of 60 pounds. This enables it to last for up to 30 hours. Purchasing this unit will enable you to play your part in conserving energy resources. 
Bottom Line
We think that this unit is a worthy choice for our list. It is economical, eco-friendly, and very easy to use. The design blends in well and the stove is perfectly capable of heating medium to large rooms with ease. It is a great way of heating your home without having any adverse effects on your budget. 
Pros
Built to last for a longer time
Fully automated pellet stove with auto ignition
Sleek design blends nicely with any room settings
Equipped with an exhaust blower for negative draft  
Comes with wireless remote control for easy adjustability
Cons
Does not clean itself automatically
Has a bit of a learning curve for operation
USSC AP130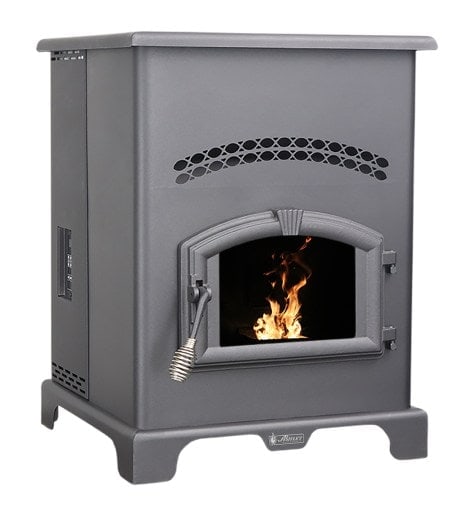 Heat Output (BTU/h): 48,000
Heating Capacity (sq ft): 2,200
We may earn commission from purchases made from our links, at no additional cost to you
What Recent Buyers Report
Users really appreciate the automatic ignition that saves them from the trouble of manually building up the fire. They also like the user-friendly digital interface. It not only makes it easy to make adjustments but also displays a clear temperature output. They report that the excellent ventilation system ensures that no smoke or ash spills inside your home. 
Why it Stands Out to Us
This is one fantastic heating product from Ashley Hearth. It heats up the large area very well and offers great value for its cost. With an immense hopper capacity, this pellet stove is powerful enough to heat up rooms that are spread over an area of up to 2500 square feet. 
It eliminates smoke spillage with an exhaust blower, while the auto circulation blower is responsible for distributing heat evenly. You can also use it with Ashley Hearth's Fresh Air Intake Kit sold separately. 
The installation is a fairly easy process. The digital controls are very easy to use, and the automatic ignition truly saves you from a lot of trouble.
Bottom Line
If you are looking for a pellet stove that you can continue to burn for days at a time without having to clean frequently, this is a great choice. It is a greener way of heating your home without resorting to the overuse of energy resources. The design is great, and the finish is impeccable. Finding a comparable unit at such a price will indeed be a tough task. 
Pros
Full digital controls are very user-friendly  
EPA certified for being safe for the environment
Burning and heating processes are clean and efficient  
Hopper has an impressive fuel capacity of 130 pounds 
Boasts a generous heating capacity of up to 2500 square feet  
Cons
Overall size is quite large
Viewing window is somewhat small
USSC AP5780B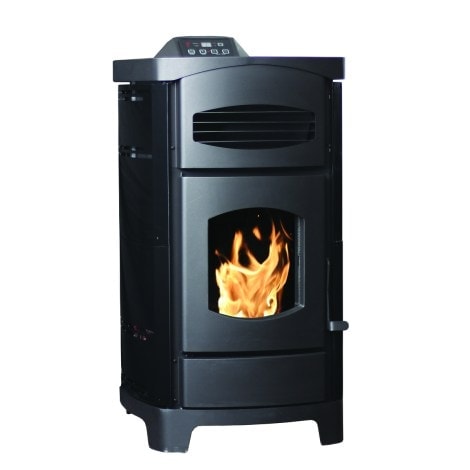 Heat Output (BTU/h): 48,000
Heating Capacity (sq ft): 2,200
We may earn commission from purchases made from our links, at no additional cost to you
What Recent Buyers Report
Buyers have somewhat mixed reactions towards this unit. What all users agree to is that the removable side panels are certainly helpful. They not only add an element of design but also make cleaning effortless. Consumers also reported it to be highly efficient. The fully digitized control panel is a huge hit as well.
Why it Stands Out to Us
If you doubt this Ashley Hearth unit because of its small footprint, we have some news for you. This is an extremely powerful pellet stove that can easily heat up an entire house of up to 200 square feet. It has a hopper capacity of 46 pounds that allows it to burn for up to 20 hours and delivers up to 48,000 BTUs of heat.
This stove is a head-turner with its sleek and stylish design. The curved glass black sides and flat black accents surely add to its appeal. The design is not just about the looks alone; the side panels are removable so you can easily access the access auger and hopper to clean and maintain. 
The all-digital control panel makes it very simple to control. It comes with remote control and a digital temperature readout for better regulation. 
Bottom Line
All in all, if you want a compact yet powerful pellet-burning heat source, look no further than this unit. It has a small footprint with a slim design, yet it spreads warmth effectively and evenly. The solid construction and appealing design make it a worthy contender in our eyes, so we will highly recommend you to look into purchasing it for yourself. 
Pros
Delivers up to 20 hours of burn time 
Engineered to fit in small tight spaces
Features a fully digitized, user-friendly control panel
Side panels can be removed for maintenance purposes 
Small and slim unit can deliver up to 48,000 BTUs of heat energy 
Cons
Operation is a bit noisy
Does not come with an ash bin to collect ash
Ashley Pellet Stove Problems
We clearly understand that nothing is perfect. Ashley pellet stoves are certainly of high-quality, but no one can guarantee that it will never malfunction. They are fire-operated heating devices, so you are bound to have a problem or two while using them. 
You might have it blow out automatically or have some difficulty resetting it. Sometimes, the glass blacks out, the stove starts making strange noises, or overheats. If you are facing any of these issues, don't worry. Believe us; these are not pressing matters. 
Here are some of the common problems Ashley users experienced, accompanied by their solutions. 
How to Reset the Error on an Ashley Pellet Stove 5790
The user manual that comes with the Ashley Pellet Stove 5790 is very detailed in explaining installation and troubleshooting. We understand that the first reaction to a problem is calling for help, but the manual will guide you in resolving and resetting minor issues. We strongly recommend that you read the manual carefully prior to resetting the error on your 5790.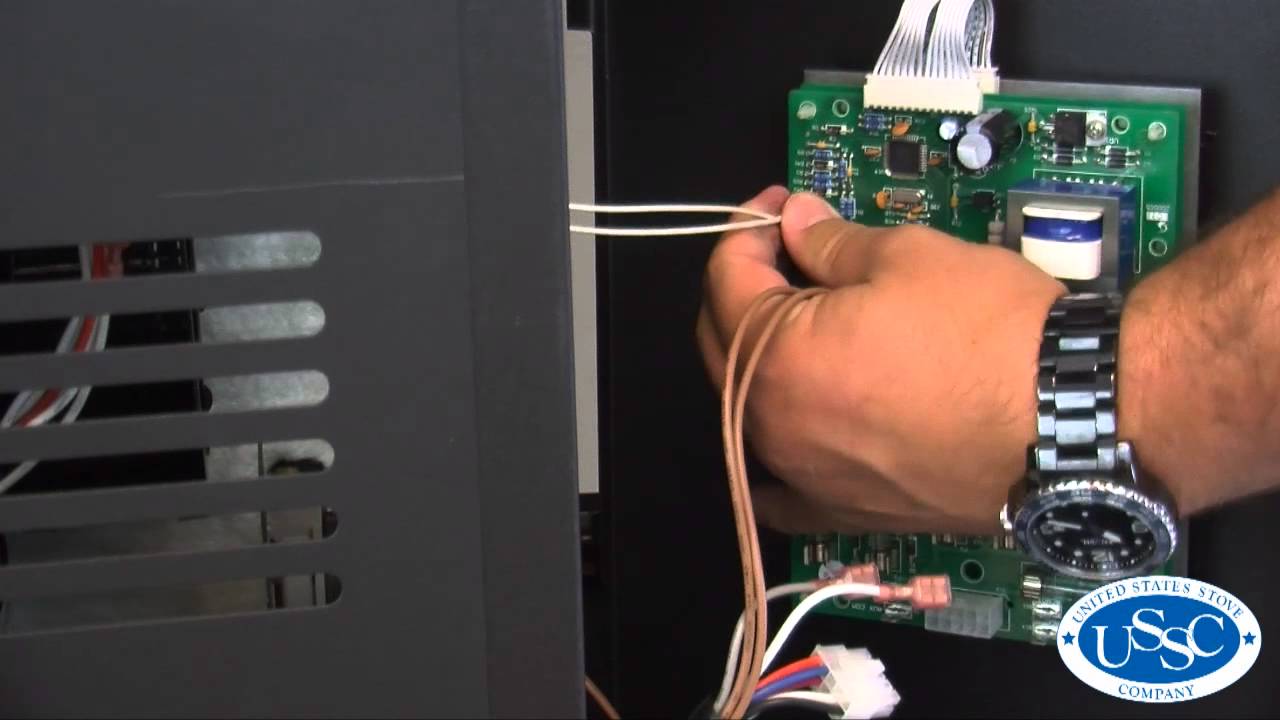 What Does E2 Mean on an Ashley Pellet Stove?
The E2 Error code on an Ashley pellet stove means an automatic shutdown because the stove does not detect a fire. It simply means that the stove has run out of fuel. To eliminate this error, all you have to do is load the pellet fuel inside the hopper and start it all over again. 
Why Does My Ashley Pellet Stove Keep Overheating?
Ashely pellet stoves are quite resistant to overheating. But if such an issue is arising with your unit, the most likely culprits are improper blower settings, a dirty heat exchanger, or the dirty unit itself. This is not a big issue and can be resolved by giving your stove a thorough cleaning. 
Why Is My Ashley Pellet Stove Thumping?
An Ashley pellet stove thumping, i.e., emitting metallic sounds, is nothing to be concerned about. The stove has a metallic structure, and metal tends to contract or expand as it heats up or cools down. The sounds are caused by the stove or ductwork expanding or contracting as they heat or cool. 
Ashley Pellet Stove vs. Vogelzang – Comparison Overview
While Ashely Hearth prides itself on being the oldest stove manufacturer, Vogelzang is the top seller in the wood stove market. Both companies have manufactured some amazingly useful pellet stoves to help you keep your homes warm. Here is how they compare with each other. 
Similarities
Ashley Hearth and Vogelzang are both the brands of the same United States Stove Company.


Both produce high-quality pellet stoves that are durable, reliable, and long-lasting.


Their products are also known for their affordable price tags. 


Their replacement parts and aftermarket accessories are easily available.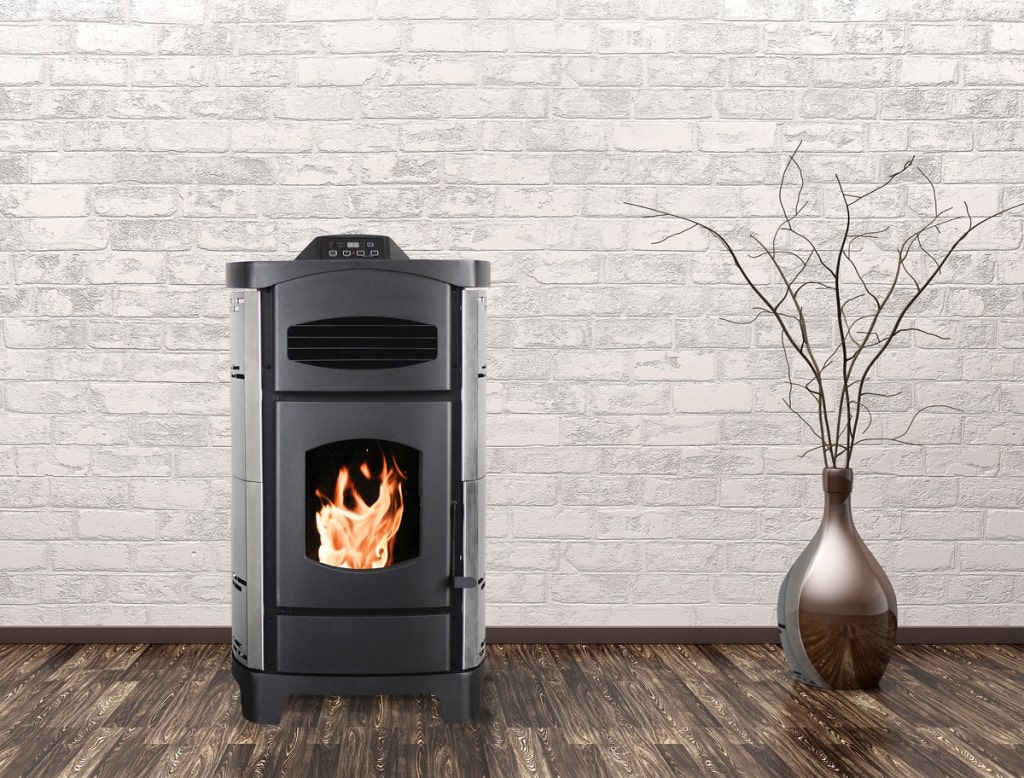 Differences
While both brands are reliable names for pellet stoves, we find Ashley Hearth to be on a higher level in terms of sturdiness and overall performance. 


Vogelzang representatives cannot always pinpoint the issue despite being responsive. On the other hand, Ashley has a very competent and professional team that is always willing to solve their customer's problems. 
How to Start and Run an Ashley Pellet Stove
An Ashley Pellet Stove is an economical, efficient, and environment-friendly way of heating your home during the long cold months. Starting and running one is fairly easy. You just need to know what you are doing. Below is a step by step recount of how to start and run your unit: 
It is always a good idea to carefully read the instructions manual before operating the equipment.


Open up the hopper located at the back of the stove.


Feed the pellets into the hopper until it is three-fourths filled. 


Close the lid of the hopper.


Plug the stove into a power outlet to power it up. 


Locate the control panel and press the 'on' to turn it on. You will see that the automatic ignition will start burning the pellets. 


Wait until the pellets are fully ignited, and the stove starts to heat up. The flames should be bright yellow in color.


Now, turn on the stove fan to start cycling the air inside your stove for more efficient heating. 


You can also regulate the temperature with the options provided on the control panel.
You will notice that the provided instruction manual explains the procedure in great detail. So, if you are confused, you can refer to that, too.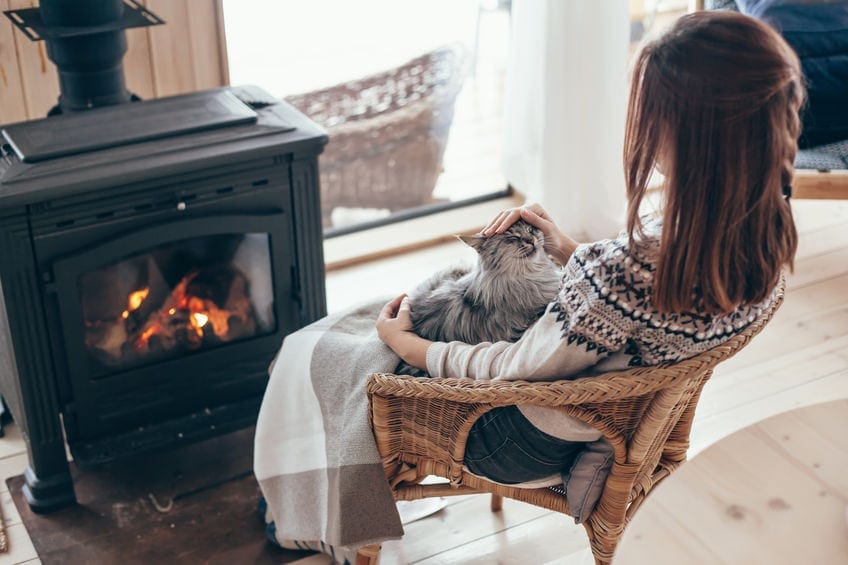 Conclusion
Ashley pellet stoves are known for offering a good combination of features, efficiency, and heat output. We have listed the best Ashley Pellet Stoves for you to choose from above. Though these are all excellent performers, choosing the right one for you depends on your needs and budget. 
You should also know that installing these is not a big issue. It is a very straightforward procedure, but we would still recommend that you hire a professional to do it for you. 
People Also Ask
Pellet stoves have started to replace wooden ones. Ashley Hearth is a reliable name for both pellet and wood stoves. We did try to clear any ambiguities with the detailed information provided above. If you still have some confusing thoughts clouding your mind, here are some frequently asked questions to clear your doubts. 
How to Open Glass Door on My Ashley Pellet Stove?
The glass doors on Ashley pellet stoves have a simple lever mechanism to open them. Just press the lever and pull the door to open. You should know that some models have pressurized fireboxes that cannot be opened during operation. 
How to Hook up a Thermostat to an Ashley Pellet Stove?
Nearly all Ashley pellet stoves support optimal thermostats to help regulate the heat output. Here is how to hook up one to your units:

1. Unplug the stove from its power supply. 

2. Open the right panel, and you will have access to the rear of the control panel. 

3. Remove the insulation from thermostat wires.
 
4. Connect the bare wires to the screw terminal visible on the rear of the control panel.

These are the general directions for installing a thermostat to Ashley pellet stoves. For a more detailed and model-specific method, refer to the user manual supplied with the unit. 
How to Clean an Ashley Pellet Stove?
Compared to a wood stove, pellet stoves are easier to clean. They don't produce as much ash, so cleaning them is not very messy. Here is how to do it.

1. Remove the pot that collects ash and empty it.

2. Next, use the supplied cleaning tool to scrape carbon deposits.

3. Now clean the exchanger tube to rid it of carbon deposits as well.

4. Wash the glass window carefully with a sponge and soapy water.

5. Dry it with a soft cloth to avoid water stains.
Where Are Ashley Pellet Stoves Made?
Being a part of the United States Stove Company, Ashley pellet stoves are manufactured at their facility. The company is headquartered in South Pittsburgh and has a manufacturing plant in Industrial Park, South Pittsburgh. This is where Ashley pellet stoves are made. 
Who Makes Ashley Pellet Stoves?
Ashley Hearth started as a small business. Martin Industries bought the original company and continued to make the stoves till 1990. The United States Stove Co. then purchased it and still continues to manufacture quality pellet stoves under the same brand name. 
Who Owns Ashley Pellet Stoves?
Ashley pellet stoves are owned by United States Stove Company, a privately-owned business that is a reliable name on the pellet stove market. It has been manufacturing both pellet and wood stoves for almost 150 years. So it is a name we can all trust. 
How Long Has Ashley Been Around?
Ashley Hearth is a brand of United States Stove Company and was originally established as Wetter Manufacturing in 1846. The company later purchased Perry Stove, reorganized, and made a comeback as United States Stove Company. So technically, it has been around for almost 150 years. 
Why Are Ashley Pellet Stoves So Popular?
Ashley pellet stoves are so popular for several reasons. They are aesthetically pleasing, easy to program and use, have a power modulation, and come with automatic ignition. They are compact yet very powerful. If you have a huge place to heat but are short on space, Ashley pellet stoves will do a good job for you. 
What Kind of Warranty Does Ashley Offer?
Ashley Hearth is a brand of privately-owned United States Stove Company. It produces a wide range of wood and pellet stoves that are backed up by extensive warranties. The warranty conditions include:

* Three-year warranty coverage for firebox/firepot, heat exchanger, and door

* One-year coverage for cabinets, trim, and gaskets

* One-year coverage for ceramic glass and agitator