Wood stoves make your life easy when you want to go camping or if you have a movable home. 
With wood stoves, you don't have to carry around fuel tanks. They are also popular due to their multiple uses, which we will discuss later. 
This article will discuss and review some of the best portable wood stoves that don't require professional installation.  
Comparison of the Portable Wood Stoves
IMAGE
PRODUCT

Our Top Pick

Best Overall and Best Small Portable Wood Stove
Made from sturdy stainless steel
Very lightweight and easily collapsible

View Latest Price →

Unique design making burning efficient
Very lightweight and easily collapsible
Made from sturdy and stable materials

View Latest Price →

Best Budget Option

Best for the Money
Grate folds are multi-functional
Featured a hinged top grate

View Latest Price →

Best Portable Wood Stove For Camping
Made from a stable and strong material
Very lightweight and easily collapsible

View Latest Price →
When Would a Portable Wood Stove Come in Handy? 
Portable wood stoves are lightweight, easy to use, and easy to install. Therefore, they find many uses in our recreational and daily life. These include:
Camping
One thing you always hear when buying wood stoves is that they need ventilation. When going camping, that won't be a problem. You can use them both inside the tent if your tent has a chimney opening and outside for cooking up a quick meal. These stoves don't require you to carry gas tanks or coals along with other camping essentials. The only thing they require to produce heat is wood.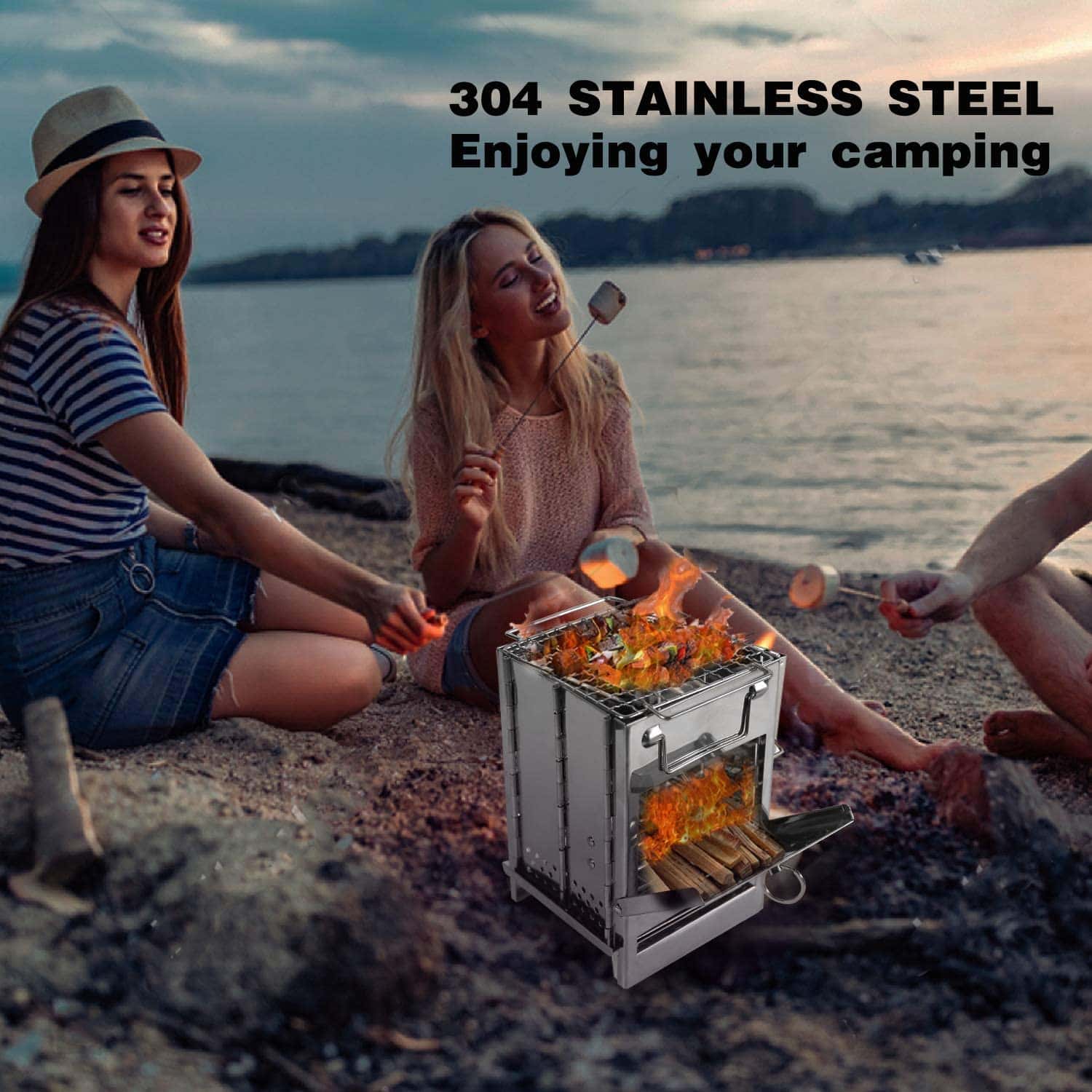 In a Trailer
When installing anything in a trailer, you need to be careful about the weight and size. If it weighs too much, it will affect the trailer's speed when moving, and you don't want your space to get too cluttered with a big unit. This is where these portable wood stoves come in handy. They are not too heavy and come in varying sizes from small to large, depending on the area you want to heat. A trailer doesn't require a large stove.
Cooking and Heating Anywhere
The obvious purpose of a wood stove is to keep you warm and comfortable, but it is often used for cooking as well. The flat surface on the top of the firebox is used to boil water, make tea, and cook light meals. 
What Should I Look for When Buying a Portable Wood Stove? 
When buying a fire-related product that you use indoors, you should first do your research and check its quality. There are many things to consider when buying a portable wood stove, which includes: 
Weight
The stove's weight should be enough that you don't have trouble carrying it yourself, and your vehicle should have room for it. 
Normally, wood stoves weigh as little as five pounds or as high as 24 pounds. You will find that they are mostly made of stainless steel but depending on the design and number of components, the weight varies from company to company.
Efficiency 
The latest standard of fuel emissions set by the environmental protection agency is 2.5 g/h. You should try and find stoves that meet these standards. You should also check the unit's BTUs or the heat it can produce and check if it meets your requirements. 
BTU is the amount of heat needed to increase the temperature of one pound of water by one degree Fahrenheit. You might have to cook a large meal, so the stove should be able to produce a stable, even, and high enough fire for that.
Safety
Check for UL certification, which is a nationally recognized laboratory that checks if a product meets the national standards. Before burning the wood, check if the stove has any cracks, etc.
The top area that is used for cooking food should have a stable base to put the pot or kettle on so that it doesn't fall off. Stoves with a chimney should have spark arrestors, and they should all be used in a well-ventilated area.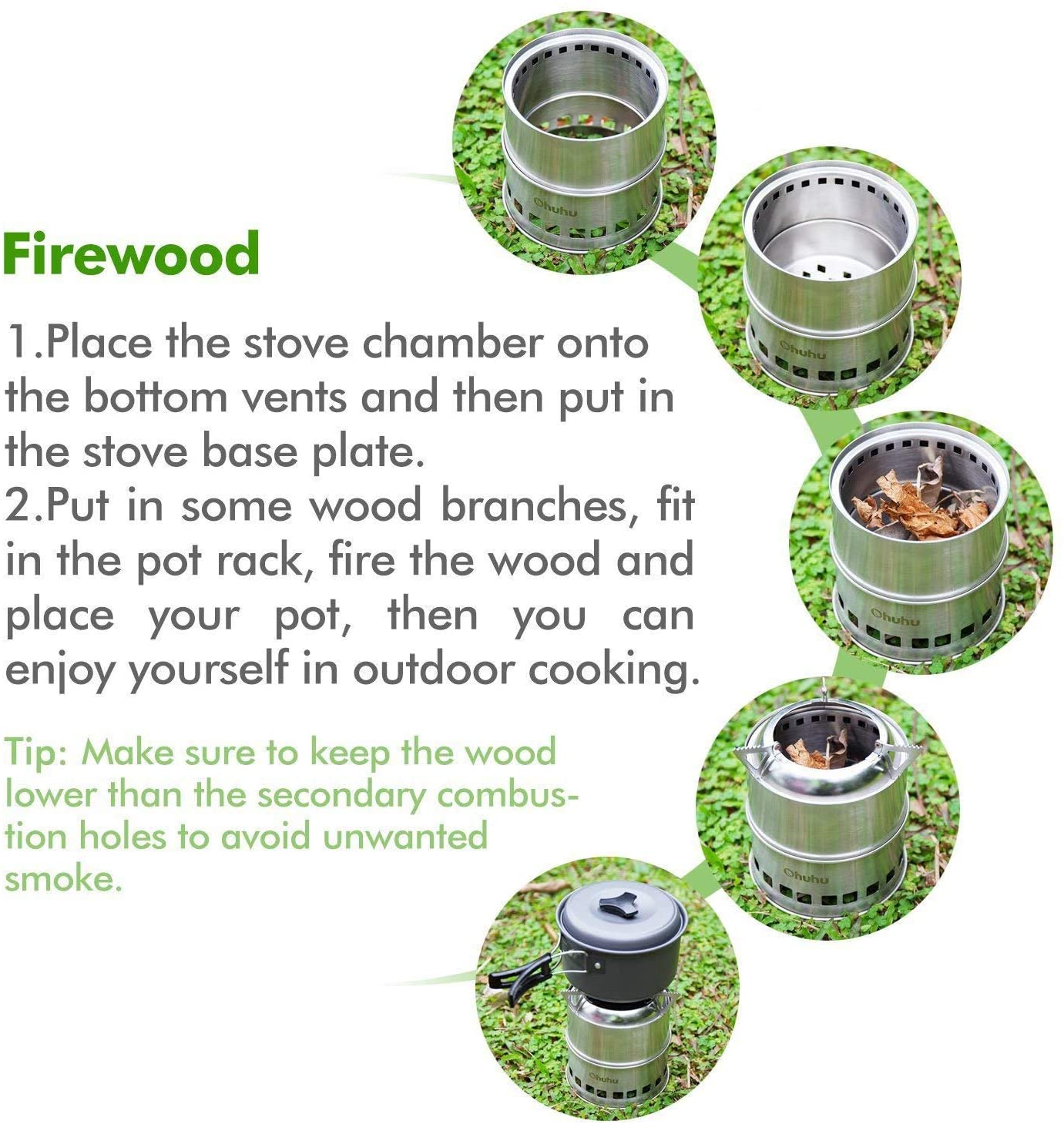 At a Glance: Our Top Picks for Portable Wood Stoves
Review of the Best Portable Wood Stoves 
The best portable wood stove for you will depend on your preferences, i.e., the size, color, design, heating capability, etc. However, some basic features cannot be compromised. Our list of the best products has been compiled considering all the factors mentioned in the previous section.
Best Overall and Best Small Portable Wood Stove
Ohuhu Camping Stove
We may earn commission from purchases made from our links, at no additional cost to you
What Recent Buyers Report
Buyers loved that this stove required no installation. Setting it up takes minutes rather than hours. Another great thing is that you don't need to buy fuel. You can just take some leaves, pinecones, etc. form the garden or the campground, and you are good to go. It is preferred by people who require a cooker and not particularly a heater.   
Why it Stands Out to Us
This stainless steel stove has a very compact design that further collapses down when you need to store it. It even comes with a mesh carrying bag. 
You can complete your outdoor trip with a barbeque using this stove. By removing the top half, you can put in the grill and use it for barbecuing. Due to its three-arm base support, your food will be placed on a very stable area to keep it from falling over.
It uses high-quality stainless steel in its construction that gives it corrosion-resistant properties and makes it durable. When it comes to fuel, there is no restriction. You can use different things, including wood, leaves, twigs, and pinecones – things that you can easily find around you. It is also an environment-friendly product as it does not require fuel canisters or alcohol.       
Bottom Line
Whether you are planning a short camping trip or a picnic, you need a way to cook your food. This lightweight and portable wood stove do just that. It can give you stable and high heat that cooks evenly.  
Pros
Comes with a barbeque grill
Setting up and usage is easy
Easy to store and lightweight
Twigs and leaves etc. can be used as fuel
A stable three-pronged base for holding cooking pots
Cons
Mostly suitable for cooking and not heating
TOMSHOO Camping Stove C2I_INV_B078RK5MJ2_R
We may earn commission from purchases made from our links, at no additional cost to you
What Recent Buyers Report
According to buyers, this stove is very lightweight and easy to carry, which is something you need when traveling. Using it is pretty straightforward, and it makes adding more fuel easy through the large hole at the top. This gives you more control over the heat.  
Why it Stands Out to Us
The great thing about this product is its compact size and lightweight. It can be collapsed down to carry in your bag. It comes with everything you will need to use, including accessories like a barbeque grill and a mesh bag.
The stove also has a one-year warranty in case anything goes wrong. You can also put small items like a bottle on top to heat water. There is a serrated cross stand that you place on top and then place your pot or kettle on that. It has a double-walled design that heats up cold air coming from the bottom faster.  
Bottom Line
To sum up, the stainless steel construction of this wood stove makes it durable and rust-resistant. It can handle the weight put on it as well as the constant contact with high heat. Considering all its features, it is not high-priced at all; rather, it is an investment that pays off as it requires little to no expenses for the fuel.  
Pros
Has high efficiency
Only weighs one pound
Vents at the bottom for air supply
Made of high-quality stainless steel
Accommodates small mugs and bottles to heat 
Cons
Stand for cooking is not very stable
TMS Military Camping STOVE-2346
We may earn commission from purchases made from our links, at no additional cost to you
What Recent Buyers Report
This is a portable heater in the heavier weight range. Despite its greater weight, it is not expensive, and it provides more heat. The only problem people seem to have with it is the paint burning off. But that is not a deal-breaker as the product itself is durable. You can just replace the paint; it does not affect the heating capability. 
Why it Stands Out to Us
We like that this is a heavy-duty stove with two cooking tubes. It produces enough heat to keep your tent warm and cook your food at the same time. When you move the top grate aside, you get a smooth cooking surface, and you can hang your socks and gloves on it to dry as well.
For safety purposes, there is a spark arrester at the top of the chimney. Spark arrestors are used to keep flammable debris from going in the air and causing a fire hazard. There are two airflow regulators; one at the front and one at the back. The latter gives control over the air that is allowed to the fuel – more air means more fire. There is a removable ash-tray, too, which makes cleaning it very easy.
For moving and storage, you can fold the grate and use it as a carrying handle. The legs are removable as well. This will make carrying it in a car easier. There are some tools for using the stove and a stovepipe included with the product too. 
Bottom Line
If smaller stoves do not work for you and are planning on going out in winter, this stove will do the job. It can be used inside a tent with a chimney hole to warm up the place.
Pros
Removable legs for storage
Chimney has a spark arrester for safety
Removable cooking tubes for ease of cooking
Some tools for using the stove are also included
Two airflow regulators to give better control overheat
Cons
Paint is of low quality
Best Portable Wood Stove For Camping
REDCAMP Stainless Steel Camp Stove
We may earn commission from purchases made from our links, at no additional cost to you
What Recent Buyers Report
If you want something that requires minimum hassle in carrying and setting up, then this is the right product for you. It is very compact and easy to use. You don't need to worry about buying the fuel as you can use twigs and leaves, etc. You do have to take care of and remove the grill and bottom plate before storing it. 
Why it Stands Out to Us
This stove has a unique design that can fold down to about 1.5 inches wide, and it can be placed neatly in its storage bag. Its foldable nature comes from the use of 430 stainless steel. This type of stainless steel has good ductility. Other than being corrosion-resistant, it is also resistant to chemical attacks.  
It comes with a stainless steel grill that you put on the top and place your food on. The fuel area is very easy to access through the door. The bottom plate or ash-tray is also removable. This makes cleaning easy. Folding it is also easy; you just need to remove the ashtray and grill and just fold it up. 
The types of fuel it can use include leaves, wood, twigs, coal, spirit burner, and solid fuel tablets. 
Bottom Line
A 360-day manufacturer warranty with a full money-back guarantee shows you the company's trust in its product's quality. It can be used when you are going camping, hiking, or just making smores in a bonfire. It requires little hassle in carrying so it can be taken anywhere.
Pros
Only weighs 1.9 pounds
Accepts different kinds of fuel
Easy access fuel compartment
Can be folded down for easy storage
Has a 360-day manufacturer warranty
Cons
Too small to heat a tent
Safety Considerations for Portable Wood Stoves
There are a few things to keep in mind when using anything with a burning flame. If you don't use it properly or if you buy a low-quality product, you will cause harm to yourself and others around you. 
Ventilation
If you are using the stove inside a tent, then make sure your tent is made of cotton or some breathable fabric; otherwise, too much smoke might accumulate inside and cause harm. It will not be a problem if you are using the stove outdoors for cooking.
Material
The stove needs to be made of a material that can resist high and constant heat. Bigger stoves are often made of cast iron or steel. For corrosion resistance, stainless steel is used.
The handle to the fuel area should not be too hot as you will need to access it to add more fuel. For portable stoves, the carrying handles should also be cool to touch. 
Placement 
Keep anything that is flammable at a safe distance away from the stove. Don't place it on top of any cloth and do not sleep near it. If your tent is small, then don't buy a large stove. Instead of keeping it on the highest heat, use airflow regulators to control it. 
Using a Wood Burning Stove Inside a Tent
A tent is a small, enclosed space, which is something that doesn't go together with fire. But considering the need for heat in the outdoors, some tents can be used with wood-burning stoves. Here are some guidelines to follow when using wood-burning stoves in tents: 
First, check if the tent has enough room for the stove.


Your tent should be single-walled and made of breathable fabric.


The tent's top should have a fireproof stove jack through which the chimney will exit the tent.


Use a floorless tent or fold back the tent's floor because you don't want to put the stove on a fabric.


You should know how to start and maintain the fire in the woodstove and have the required fuel at hand.


Have a carbon monoxide detector for safety.


Don't put wet wood in the stove as it produces more smoke than dry wood, which is never recommended.
Refer to the video below for more details of safely using wood-burning stoves in tents.    
How to Light a Portable Wood Stove
Working with fire can be intimidating, especially if you have never done it before. You need to know the kind of fuel your stove takes and how much you should add at a time. It is actually not too difficult once you get the hang of it.
A Swedish fire lay involves laying three logs of wood at a finger-width apart at the firebox's bottom. This creates a layer of insulation for the rest of the wood. This is helpful in cold weather conditions.


On top of that, place 1.5 to 2-inch wide sticks starting from the left at a 10-degree angle. Then do the same starting from the right, making a criss-cross.


This gives a balance between the closeness of the wood for producing heat and the distance between them for oxygen to go around.


Use dry grass or newspaper on top of the wood.


Put some pencil-sized wood sticks on top of the grass.


Check if the damper is running vertically, i.e., it is open. If not, then open it.


Use a match or a lighter to light the fire.


Shut the door but leave a small space open about half an inch to allow some oxygen in.


Once the fire starts to pick up, you can open the door completely if needed and add more sticks.
The video below will explain the steps and more tips in detail.   
Conclusion 
Wood burning stoves are a great thing to have with you on your camping or hiking trips. When used right, they will have little to no effect on the environment. You just have to use the right wood and kindling. They are very environment-friendly and a cheap alternative to gas-based and electric stoves and heaters.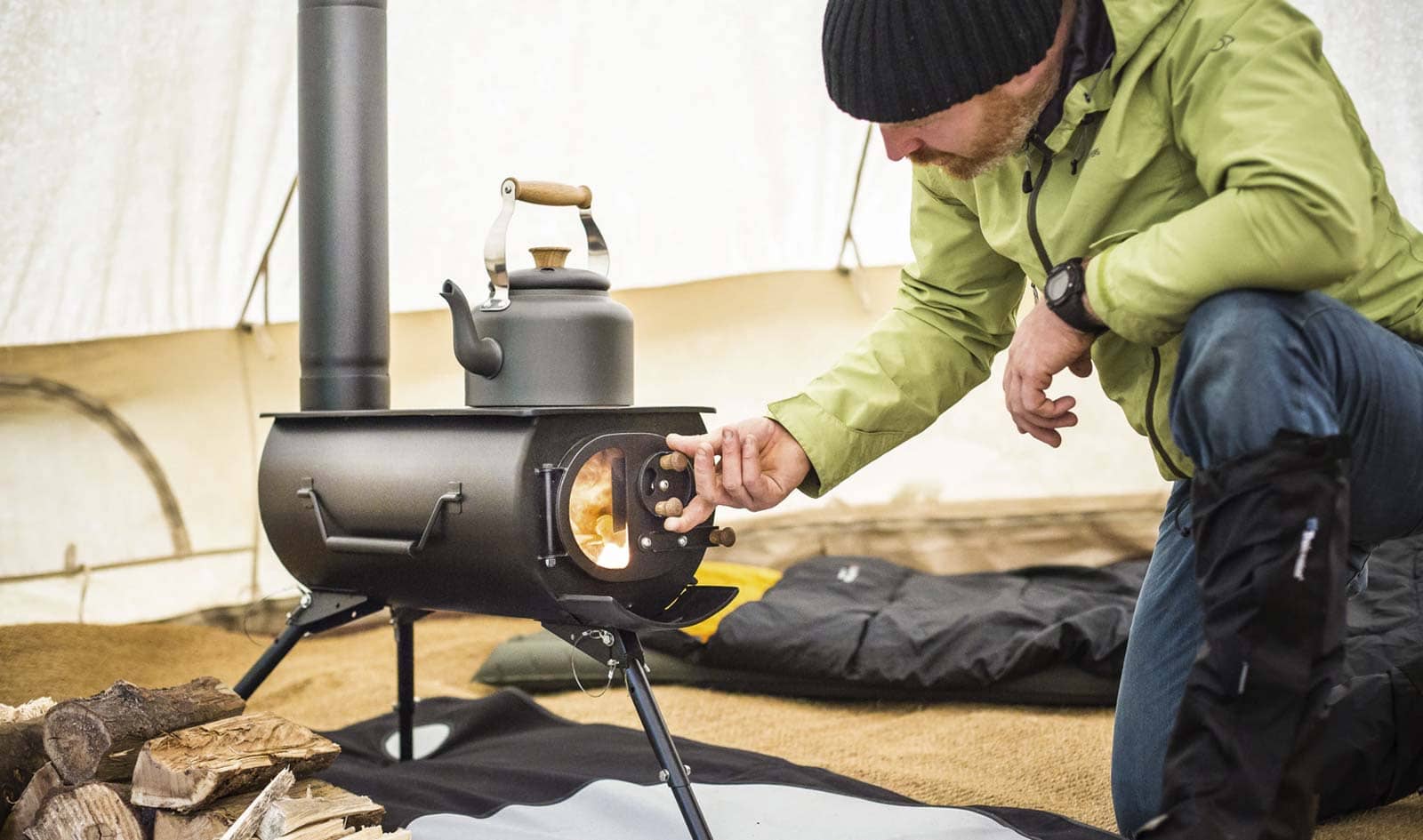 People Also Ask
Other than the quality of the woodstove, there are many things associated with these products. Their usage is not as simple as pressing a button, which is why you can have some problems getting started. Here are some of the frequently asked questions for help. 
Can You Grill on a Portable Wood Stove?
Some portable wood stoves come with a barbeque grill. So yes, you can grill on a portable wood stove.
What Can You Cook on a Portable Wood Stove?
You can make tea or coffee on the stove and warm up pre-cooked meals. They can also be used to cook meat, potatoes, and vegetables, etc.
Is There a Portable Wood Stove You Can Use in the House?
Yes, there are plenty of portable wood stoves that can be used in the house, just like those that you would install in a tent. You just need good ventilation and a place for the chimney to exit from.
Will a Portable Wood Stove Keep You Warm?
There are two kinds of portable wood stoves; smaller ones that don't have a chimney are not really used for warming a space, but the bigger ones can be used to warm you up. They double as a heater and a stove and are used by mountaineers and campers alike to keep their tents cozy and comfortable. 
Will a Portable Wood Stove Fit in a Backpack?
This depends on the size of the stove. Some stoves are very small and can be carried in a backpack. Others have a collapsible design and removable legs that help in carrying. Portable stoves are made to be easy to transport, but some models can be too big for a backpack; it depends on the model.  
Are Wood Tent Stoves Safe?
They are safe if you use them properly. The tent should be single-walled and floorless. For further safety, you should use a carbon monoxide detector and keep the firebox door close when sleeping.
How Do You Keep a Tent Stove Burning All Night?
When the stove has been burning for some time, it will have created some coal. Push that coal to the front of the firebox and place about six or seven big logs at the back close to each other. They should last you all night.   
Why Does My Wood Stove Burn so Fast?
This can happen due to multiple reasons. If the fire gets too much oxygen, it will burn more and hence consume wood faster. Check to see if the doors to the ash-tray and fuel area are tightly locked. If you want to slow down the burning, then close the vents fully once the fire has fully started. 

If you have been using the stove for some years, then it is a good idea to do some maintenance. Check to see if the door seal is working correctly and look for any cracks or broken pieces. Also, check the wood you are using. Softwood burns at a fast rate. 
Other Related Guides
Here is some other content that might interest you: