Pellet stoves prove to be highly effective and environment-friendly. There are many aesthetic units available, from wall-mounted stoves to glass windows.
Out of several brands, Pelpro is one company that has set a high benchmark on the market.
In this article, we'll review some of the best Pelpro pellet stoves available on the market. All models reviewed stand out in unique and different ways. Let's take a look.
At a Glance: Our Top Picks for Pelpro Pellet Stoves
Comparison of the Best Pelpro Pellet Stoves
IMAGE
PRODUCT

Our Top Pick

Heats up to 2,500 square feet
Includes a 265 CFM blower
Hopper features a 130 pound capacity

View Latest Price →

Heats up to 1,500 square feet
Speed blower features various settings
Approved for mobile home use

View Latest Price →

Best Budget Option

Best for the Money
Heats up to 2,200 square feet
Hopper features a 90 pound capacity

View Latest Price →

Heats up to 2,000 square feet
Hopper features a 70 pound capacity
Speed blower features various settings

View Latest Price →
Who is Pelpro?
There are several brands out there who specialize in making pellet stoves. However, when winters approach and a pellet stove is required, Pelpro is one of the most trusted brands to turn to.
Pelpro gained popularity quickly and established itself as the face of the best pellet stoves on the market since the mid-'80s. The company's product-line includes budget and high-end variety. It always makes groundbreaking products that withstand the toughest weather conditions.
Moreover, Pelpro makes readily available spare parts. Therefore, buying their units offers a bunch of benefits.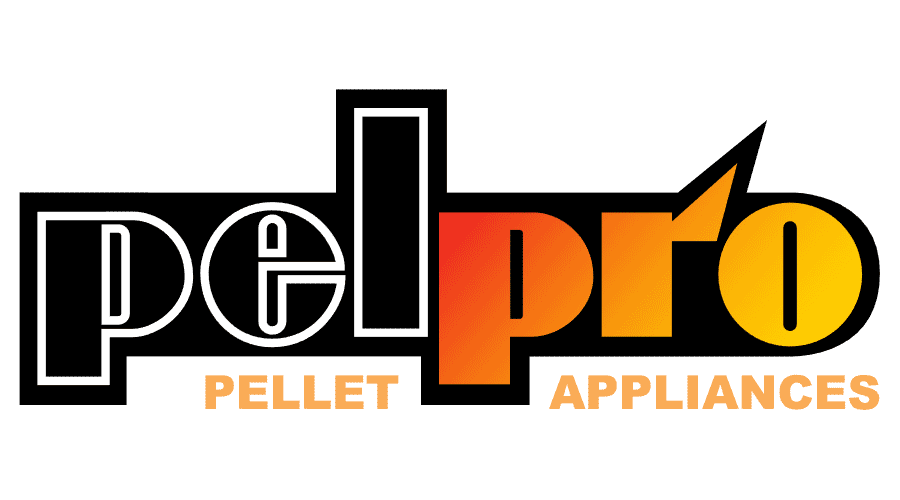 What Makes Pelpro Pellet Stoves Stand Out From the Competition?
Pelpro, as a brand, has gained the trust of its customers because of its integrity, quality, and everlasting products. More reasons why this brand is so outstanding are discussed below:
Durability
Once a unit from this brand is installed at your place, all you need to worry about is the gas/fuel. Everything else has been taken care of by Pelpro. Their products are built to last for generations, and that too without any serious maintenance.
Servicing
Unlike other brands, this company makes spare parts readily available, which further increases the product's lifespan. You can choose to service your unit yourself or hire an HVAC technician to do it for you, all at low rates.
Pelpro Pellet Stove Reviews
It is hard to find a pellet stove that suits your needs and lifestyle since numerous options are available on the market. However, below are reviews of the best products available from Pelpro. These reviews will assist you in making a better decision.
PP130 Pellet Stove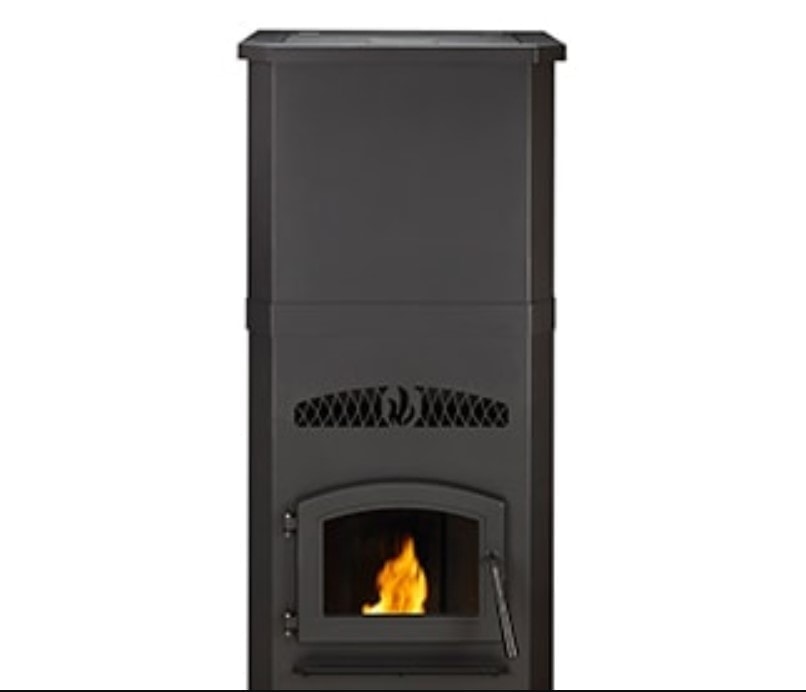 Heat Output (BTU/h): Value (incl. units)
Heating Capacity (sq ft): Value (incl. units)
We may earn commission from purchases made from our links, at no additional cost to you
What Recent Buyers Report
Customers praised the efficient performance of this unit. Many buyers stated that it only required one bag of pellets to work effectively. They also liked the ease of use and its ability to ignite and turn off automatically. Some reports showed that it heated their entire house, which many pellet stoves failed to do.
Why it Stands Out to Us
As compared to various products on the market that require tons of adjustments to get started, this unit is a lot more user-friendly. With just one rotary dial, all its functionality can be controlled. Unlike the traditional furnace, the stove cycle doesn't go on and off.
The control board in this unit is also remarkable. All you need to do is set the dial to your requirements and the control board will handle the rest. The fans can also be adjusted using the gauge featured below the dial control. The fuel economy of the PP130 unit is also great.
Bottom Line
This unit is easy to install and operate. Not only that, but it delivers as much heat as a freestanding pellet stove. It also does not consume a lot of fuel and hence saves on fuel costs.
Pros
Doesn't require much cleaning 
Low noise output even with the fan on
Heats up the room effectively and quickly
Extremely easy to install, maintain, and clean
Top and sides remain cold to provide extra safety for kids and pets
Cons
Optional hopper is unnecessarily tall
Can only be kept on a non-combustible surface, like floor and tile
PP60 Pellet Stove
Heat Output (BTU/h): Value (incl. units)
Heating Capacity (sq ft): Value (incl. units)
We may earn commission from purchases made from our links, at no additional cost to you
What Recent Buyers Report
Many buyers stated that they were looking for a Pellet Stove unit for their small place, and this was the perfect option they could find. It works exceptionally well for smaller rooms with low ventilation. People found the unit easy to install, as well.
Why it Stands Out to Us
Most pellet stoves are designed fairly tall and large. However, PP60 has a smaller footprint. It can fit inside smaller rooms that are less than 1,500 sq. ft. 
The installation process for this stove is the same as other units. You need to find the perfect place, so that exhaust pipes can make their way out. It features the same control board found on other Pelpro units.
It offers ten-speed controls along with a 60-lbs hopper capacity. Cleaning is relatively easy as compared to its taller counterparts. The small and compact structure makes it suitable in terms of portability too.
Bottom Line
Not everyone wants to have a large unit installed in their room. For those who'd like to have an efficient heating system in their smaller rooms or houses, PP60 might be the best fit for them. It saves fuel and provides the best heating at an affordable price.
Pros
60-lbs hopper capacity 
Fan speed can be adjusted
Installation process is easy
Efficient heating and low fuel consumption
Straightforward process to clean and maintain
Cons
Requires a hearth pad to work on carpets
Not operational in areas more than 1,500 sq ft.
PelPro Cast Iron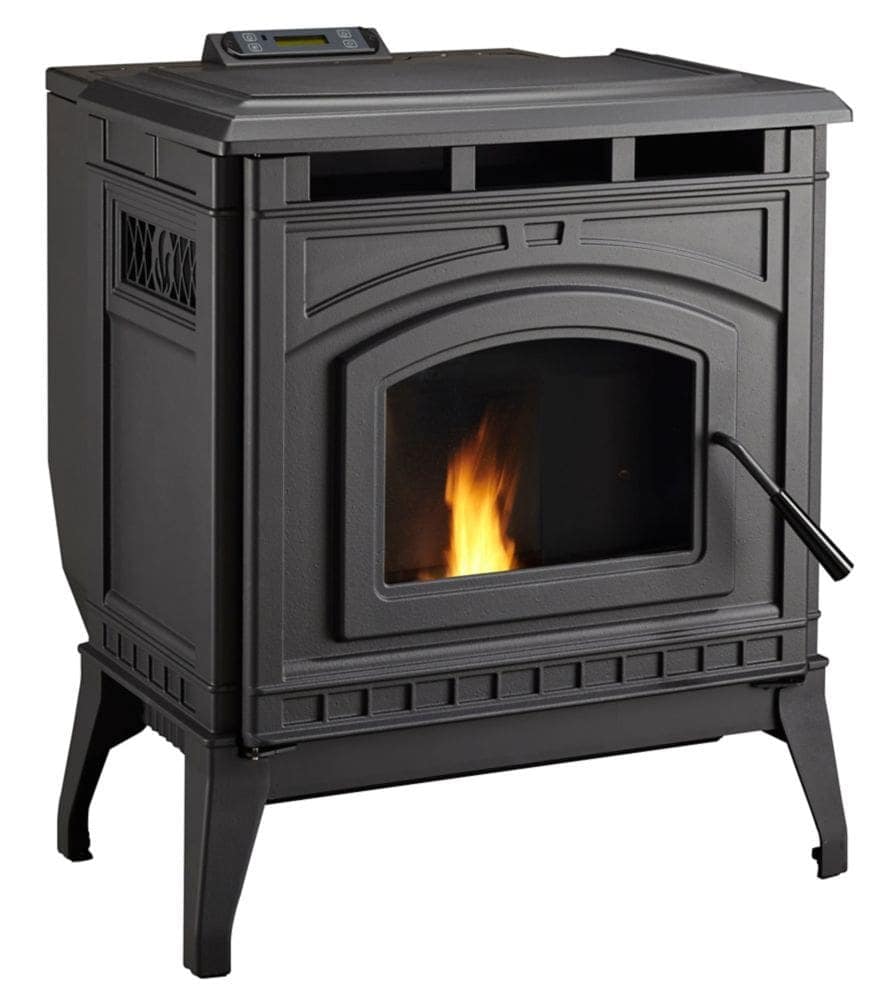 Heat Output (BTU/h): Value (incl. units)
Heating Capacity (sq ft): Value (incl. units)
We may earn commission from purchases made from our links, at no additional cost to you
What Recent Buyers Report
Buyers of this unit liked its compact and sleek structure. They were impressed by how consistently and efficiently it heats a medium to large-sized room. Customers also liked that servicing it was easy, and it was able to provide 50,000 BTUs of heat energy while remaining efficient.
Why it Stands Out to Us
Don't let the small size fool you into thinking that this unit is not sufficient enough for larger areas. It actually performs way more than its weight and doesn't struggle a bit at all.
It has a 90-lbs hopper capacity, which is more than enough for most homes. It can be installed easily. However, because of its smaller height, special care must be taken when installing the exhaust pipelines.
In addition, the control board is pretty intuitive and has a built-in thermostat, which can detect room temperature and be programmed.
Bottom Line
Smaller pellet stoves are becoming more common due to their ease of use and storage too. The PelPro Cast Iron model does more than you can expect from a unit that weighs this much. It is excellent for anyone looking for a compact pellet stove.
Pros
90-lbs hopper capacity 
Intelligent control board
Compact yet sleek design
50,000 BTU heat energy output
Can heat up large rooms as large as 2,200 sq ft
Cons
Blower isn't of great quality
Control board might need to be replaced frequently
PP70 Pellet Stove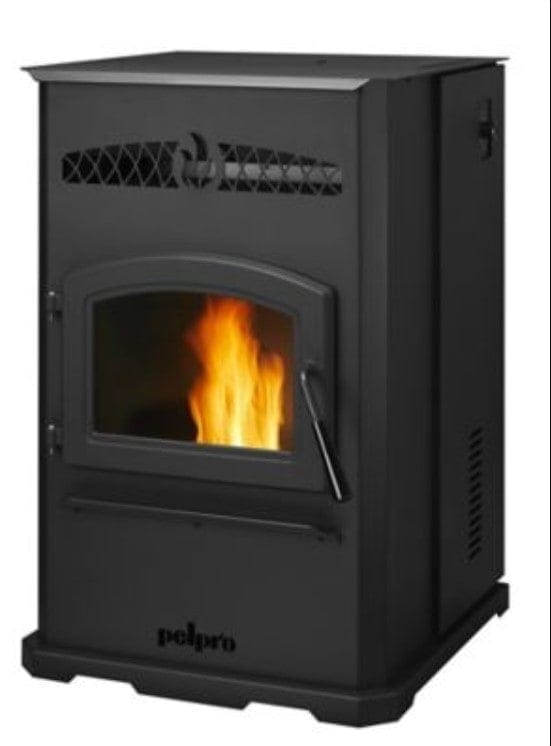 Heat Output (BTU/h): Value (incl. units)
Heating Capacity (sq ft): Value (incl. units)
We may earn commission from purchases made from our links, at no additional cost to you
What Recent Buyers Report
Buyers reported that the control board on this stove is pretty intelligent and can automatically control the fan speed. They also reported that it consumed a very low amount of pellets despite its large structure. Moreover, it generated very low levels of noise as well.
Why it Stands Out to Us
PP70 has to be the most practical pellet stove unit on the market. It doesn't have any fancy features like a thermostat, but it manages to impress us with its minimalistic design. The intelligent control board unit can be programmed according to your liking.
If you attach a thermostat to it, it can automatically adjust and maintain the room temperature you've programmed. You can also tinker with the fan speeds and adjust them.Installing it is fairly easy; all you need is access to a wall where exhaust pipes can go through. PP70 requires servicing every month or so, and it can be done easily at home.
Bottom Line
There are only two things required by a person when the night gets cold and dark: comfort and warmth. This unit is an ideal choice to provide you both. This stove is exceptional at heating a medium-sized house. It can easily and quickly heat up one hall and two rooms, that too silently.
Pros
70-lbs hopper capacity 
Easy-to-use dial control
42,500 BTUs of Heat Energy
EPA certified with 88.5% efficiency rate
Low emissions per hour, making it eco-friendlier
Cons
Fans are difficult to adjust
A thermostat isn't included
Comparison Overview
Pelpro might be popular, but it has some serious competition as well. Here's how it stands in the market with its competitors.
King Pellet Stove vs. Pelpro
King is a renowned brand that manufactures world-class pellet stoves. Following is a comparison between King  and Pelpro as brands.
Servicing
Pelpro is the largest manufacturer of pellet stoves; hence, most HVAC technicians know how to install and maintain their units. However, the same can't be said for King.
Spare Parts
Spare parts for Pelpro units are readily available via major HVAC supply dealers and can also be ordered online. However, King is gradually making its spare parts more accessible to the users, so you might not find the one you need easily.
United States Stove KP60 King 48,000 BTU vs. Pelpro PP130 Pellet Stove
United States Stove and Pelpro are well-known manufacturers when it comes to pellet stoves. Both of their top-range pellet stoves are compared here:
Capacity 
KP60 King has only 60lbs of capacity for pellets. Meanwhile, the PP130 has a 130lbs carrying capacity.
Energy Efficiency
The KP60 can deliver up to 48,000 BTUs of heat energy while maintaining a fairly moderate efficiency rate. On the other hand, Pelpro PP130 has an output of 50,000 BTU, while remaining extremely energy-efficient.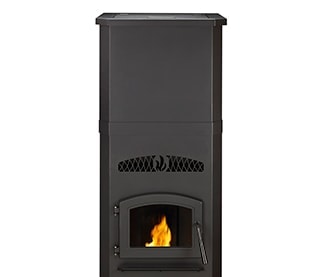 How to Install a Pelpro Pellet Stove in My House
Installing your Pelpro unit might not be the easiest job. However, if you've got the time and energy, then it is better to do it yourself. You have to take care of certain things such as wearing gloves and keeping yourself secure from sharp edges. After taking all the safety precautions, here's what you need to do:
Remove the right-side panel first, so you can access the bolts that mount the unit to the pellet.


Carefully remove all the bolts and then close the right-side panel again. Repeat the same procedure on the left side as well.


Make sure to place your Pelpro unit on the perfect spot, where there's room for ventilation. You can either do the piping for ventilation vertically or horizontally, depending on your place's dimensions.


Seal all the piping thoroughly to make sure there's no leakage of ash.


Install the exhaust pipes carefully, making sure that they sit firmly lined in together with your Pelpro unit exhausts.


Connect your unit with the power supply, and go for a test burn. If it runs perfectly and no black fumes form anywhere, then you're all set. If you're having issues, then it is better to contact an HVAC technician or look at the exhaust pipes.
Here is a visual representation of these steps mentioned above to help you out!
How to Start a Pelpro Pellet Stove
Pelpro pellet stoves come with the Acutron control boards, which makes operating them straightforward. However, you'll have to take some special measures.
Open the top-lid and take away all the manuals inside your Pelpro unit. Leaving them inside can be hazardous. Also, make sure that your unit is currently unplugged.


Now push the Air Inlet Damper inside all the way, and then pull it halfway through. You can adjust it later according to your room conditions.


Make sure you're able to see the igniter through the hole present in the burn pot. If you're unable to see it, then reposition the burn pot.


Put the pellets inside and close the top-lid. Now, head over to the control board and press the OFF button for a few seconds. It will demonstrate how the burn modes are represented on the LED lights.


Light one and two represent thermostat mode, three and four represent high-low mode, and one and four are manual modes. Pressing the OFF button will let you cycle through these modes.


When your desired mode is indicated through the lights, press the start button, and your control board will be programmed.
Conclusion
Pelpro pellet stoves are synonymous with warmth in long and cold winter nights. Their Pellet Stoves are built to last, and customers don't have to invest in fancy equipment. They are easy to set-up and maintain. Hopefully, this article helped you pick the best unit that can keep you warm and cozy all winter long!
People Also Ask
Pelpro's popularity can't be undermined, but there are still many first-time users out there. You might be one of them and have unanswered queries in your mind. We have answered some most frequently asked questions to help you out.
Is Pelpro a Good Pellet Stove?
Yes, in fact, Pelpro makes the finest pellet stoves out there. Their products are guaranteed to last long, have supreme build quality, and are backed by the perfect warranty and repair services.
Where Are Pelpro Pellet Stoves Made?
Their units are made and assembled in Lakeville. Everything required for its construction is brought from reputed suppliers in the US.
Who Makes Pelpro Pellet Stoves?
Pelpro units are made by the Pelpro manufacturing plant located in Lakeville, Minnesota. Engineers are hired to make sure the design for the latest Pelpro product is groundbreaking and, in many cases, the best on the market.
Who Owns Pelpro?
They are owned by Hearth and Home Technologies® (HHT). 
How Long Has Pelpro Been Around?
Pelpro has been around since 1980. They stepped in with their revolutionary pellet stoves and changed the face of the market. Even the oldest unit manufactured by Pelpro still functions normally to this day. Pelpro first started manufacturing on a smaller scale; however, soon, the company expanded. 
Why Are Pelpro Products so Popular?
People love reliable and quality products. They don't want something that'll go out of fashion or stop working after a few years. Pelpro products tick all of the above boxes and hence remain popular.
What Kind of Warranty Does Pelpro Offer?
The company offers amazing warranty policies. For one year, all the electrical parts are covered by the brand. For the first five years, all the mechanical parts are covered. For 90 days, all the replacement parts are covered.
Why Would a Pelpro Pellet Stove Overheat?
By default, these units won't overheat. However, if it is set to manual mode and the user tinkers with the fan settings, then there's a high possibility of overheating. It can also overheat as a result of a blocked exhaust. Poor installation, maintenance, and mishandling are some other causes.
What is Recommended For Battery Backup For a Pelpro 130 Pellet Stove?
The best backup power for your Pelpro 130 pellet stove is a sine wave inverter. This will allow you to use your battery as a backup in case of a power outage. UPS systems are also fairly easy to install and can be used.
How Often Should I Clean the Burn Pot on My Pelpro Pellet Stove?
It depends on you and your usage. For an average household, you may want to clean it bi-monthly to make sure it functions at optimum levels without any hindrance.

However, you can also choose to clean it every season. Pelpro units require low maintenance and can be cleaned easily.
How Do I Clean the Auger in a Pelpro Pellet Stove?
The process is simple. Open the right and left side covers with a screwdriver. Make sure you have unplugged everything at this moment. Now, look for the cover inside, which is secured by screws.

After removing this cover, you'll have access to the auger, and you can clean it easily using soap and water.