In extremely cold countries, homes that don't have a central heating system suffer greatly and aren't considered very comfortable. A good way to ensure you always have the right temperature in all corners of your house is to install a gas furnace.
Compared to other alternatives like an electrical or an oil furnace, gas units are more affordable in the long run and provide good overall efficiency. Moreover, they tend to have a good shelf life, which saves repair and replacement costs to a high degree. 
In this guide, you will not only find a list of the top products in the market, but you will also find all the relevant information needed to make a wise decision. Things like installation, maintenance, safety, and FAQs have been discussed in detail for your ease. Since there is a lot to cover, let's get started.
At a Glance: Our Top Picks for Gas Furnaces
Comparison of the Best Gas Furnaces
IMAGE
PRODUCT

Our Top Pick

Built in thermal start helps in energy saving
You get a limited warranty of 10 years
Insulated cabinet ensures your ductwork receive continous heat supply

View Latest Price →

Remote control helps in easy controlling and monitoring
Uses accuLink communicating system to communicate with other systems
Quiet operation and uniform air distribution from its fun monitor

View Latest Price →

Best Budget Option

Best for the Money
Dual stage heating that regulate the heat output
Heat exchanger has a stainless steel construction for increased durability

View Latest Price →

Best High Efficiency Gas Furnace
Incorporates heat exchange module and maximum airflow reducing energy consumption
LED display makes control and monitoring effective

View Latest Price →

Best Goodman Furnace
Lifetime furnace warranty and 10 years warranty on parts
Mounted with one stage gas valve and low voltage terminals

View Latest Price →

Best Rheem Furnace
Modulate operation system which maintains optimal indoor environment
Drain sensor triggers a shut down in case of blockage

View Latest Price →

Best Bryant Furnace
Heating effeciency adding to 96.5% AFUE
Fan on technology helps in selecting the right fan speed

View Latest Price →
How to Choose a Gas Furnace 
Gas furnaces play an essential role in maintaining the comfort of your home. Therefore, you must choose the product after some due consideration. Here are some of the features that you need to look out for if you want your money's worth.
Life Expectancy
Gas furnaces might seem a tad bit expensive at first, and you might even be inclined to buy a relatively cheaper product. This will often result in you buying a low-quality product. It is, therefore, important that you buy a brand with a high lifetime value. This will produce lower and consistent electricity costs in the long run. Such a brand will also require less frequent maintenance.
Higher AFUE Ratings
This rating is extremely important because it will ensure a more environment-friendly unit that consumes less energy. The rating is the ratio of the amount of fuel used to the amount of heat produced. Any good brand should provide a rating between 80% and 99%. A higher rating also comes with other benefits like good life expectancy, good durability, and lower utility costs.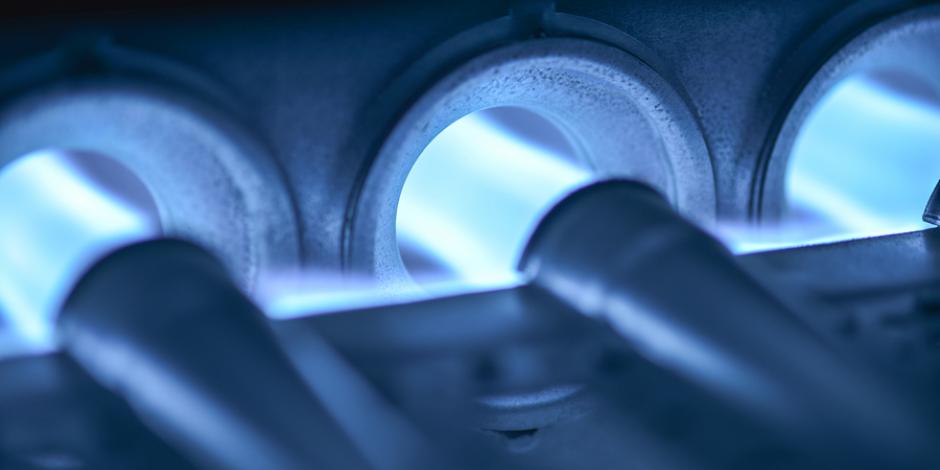 Warranties
When you look at some products, you might be convinced to buy them even if they don't offer a good enough warranty. This is never a wise decision because you want to ensure proper repairs and replacements for your product. Most good quality brands offer a 10-year warranty. This is usually provided on faulty or failed parts. Not only that, but this also covers many additional expenses like labor costs needed for fixations.
Performance
The performance and efficiency of gas furnaces depend on their modes of function. You can buy either a single-stage product or a double-stage one. The former is cheaper and offers less efficiency. The double-stage furnace is more likely to provide a much better performance and heating quality, especially in extremely harsh weather.
Review of the Best Gas Furnaces 
Like thousands of people, if you too are frustrated with the sheer amount of choice on the market, then you have certainly come to the right place. We scoured the internet to find you the best gas furnaces, so you don't have to go through all the trouble. All you have to do now is compare these products against their features and find the right one for yourself.
Heil Ion Series G97CMN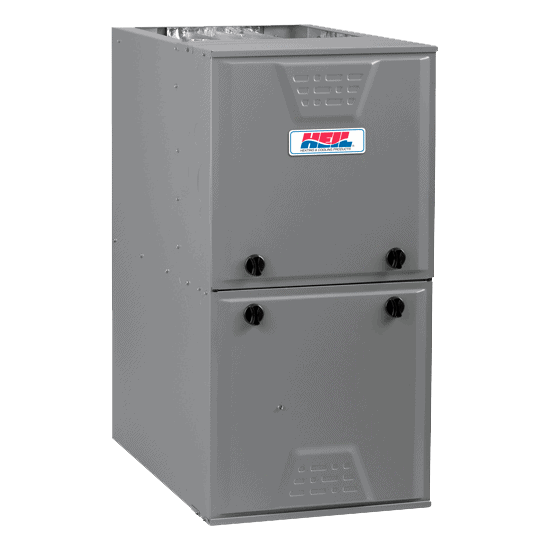 Energy Efficiency (AFUE): 98%
Parts Warranty: 10-Year Limited Warranty
Unit Warranty: 10-Year No Hassle Replacement™ Limited Warranty
We may earn commission from purchases made from our links, at no additional cost to you
What Recent Buyers Report
Buyers are fine with spending a couple of extra bucks on this model if it means they will get their hands on the best brand in the market. Heil Ion series boasts an amazing efficiency rating and a higher BTU that provides faster and more effective results. Buyers are also pleased with the greater variety in speeds available. This gives them more control over their system.
Why it Stands Out to Us
Air leakages are certainly the last thing you will worry about this model. Equipped with a durable design, the model is made with hard and reliable aluminum steel that offers greater durability. This not only adds to the overall life of the product but also makes its installation easier. 
Moreover, the smooth cabinets allow easy access to the blower so that cleaning can be done more frequently and with ease. But the reason everyone is so impressed with the model is its diversity. It doesn't restrict users because the system can be used with both single and two-stage compressors easily.
Bottom Line
There is a reason why a Heil product sits at the number one spot, and that reason is quite obvious. The overall strength of the model means that you can use the system for more than 15 years and still not feel the need to replace any of the components. So if you want a good investment, make sure you make a wise decision.
Pros
Comes with a very robust roll-out sensor
Has 98% AFUE ratings for higher efficiency
Can support both single and two-stage systems
Allows variable speed operation for moderation
Equipped with an effective communicating control system
Cons
Requires frequent maintenance
Not suitable for very small houses
American Standard Platinum 95 Furnace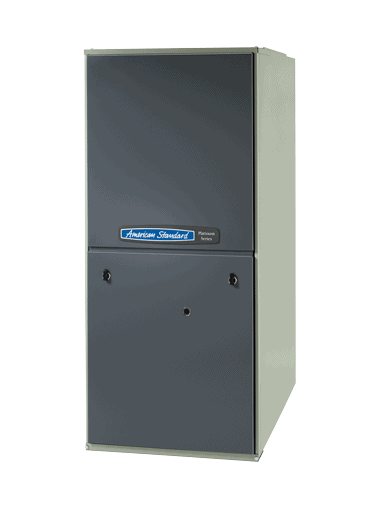 Energy Efficiency (AFUE): 97.3%
Parts Warranty: 10-Year Limited Warranty
Unit Warranty: Lifetime Unit Replacement Limited Warranty
We may earn commission from purchases made from our links, at no additional cost to you
What Recent Buyers Report
Users are in awe of this amazing unit. With the AccuLink Communication system, the model is best equipped to deal with any gaps within your home appliances. Moreover, buyers have also complimented the use of ComfortR technology that not only increases efficiency but also reduces the overall humidity inside, thus ensuring greater comfort.
Why it Stands Out to Us
Any product as essential as this one needs to come with a long shelf life. American Standard furnaces are known for their high durability and strength. Their cabinets are made with heavy steel insulation that provides a good output on the heat. This not only requires fewer repairs but also ensures less frequent maintenance. 
Another thing that makes this product unique is its extra quiet technology. You wouldn't want to enter your home and get disturbed by all the noise the unit is producing. Lucky for you, this wouldn't be the case. American Standard units come with a strong yet powerful motor that ensures a completely peaceful environment.
Bottom Line
With a large operating tendency between 40 and 100%, this furnace ensures that your utility bills are kept to a bare minimum. The appliance easily shifts between power usages to ensure that no electricity is wasted. Moreover, it also surpasses any government efficiency standards for the emission of greenhouse gases, thus making it a very desirable model.
Pros
Reduces greenhouse emissions
Operates between 40 and 100% of firing rates
Can convert more than 94 percent of fuel into heat
Cabinet is made of heavy steel thus providing high durability
Ability to automatically communicate with many other home appliances
Cons
Installation costs are high
Armstrong A962E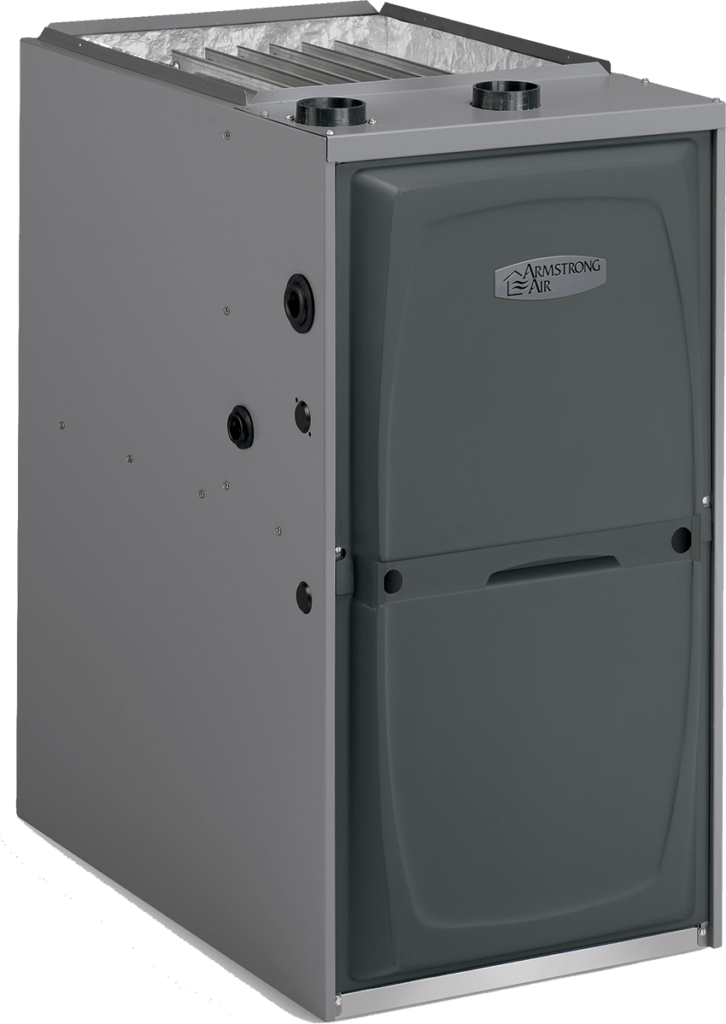 Energy Efficiency (AFUE): 96%
Parts Warranty: 10-Year Limited Warranty
Unit Warranty: Limited Lifetime Warranty on the stainless steel heat exchanger
We may earn commission from purchases made from our links, at no additional cost to you
What Recent Buyers Report
Heat exchangers are crucial to the working of any gas appliance, and the inclusion of a reliable and advanced system is what makes buyers love this model. The exchanger is made with the best quality stainless steel that offers greater strength and durability. The whole system is welded with heat therapy, thus ensuring greater tensile strength. Buyers have also appreciated the patented design that sets the model apart from all others.
Why it Stands Out to Us
With a very high AFUE rating, it is no wonder that this model is so high up on our list, but that is not the only reason for its popularity. Armstrong can convert 96% of your overall fuel into heat. This, when compared to many old models, is an amazing upgrade. It can also save you thousands of dollars in the long run. 
But one thing that is unique to the model is its brilliant and constant torque motor. This is not only extremely durable but also produces higher overall speeds. You will also notice consistent temperature all day long with the help of this smart motor. Moreover, the energy star certified motor is also known for providing quieter operation and constant airflow.
Bottom Line
Two-stage heating appliances are excellent in ensuring the right adjustments to heat output. They automatically sense the temperature inside the room and shift their speeds accordingly. So, if you want a product with a relatively high torque power and efficiency, then this is the model for you.
Pros
Comes with an AFUE rating of 96%
Offers two-stage heating for greater efficiency
Made from stainless steel thus providing additional strength
Constant torque motor provides relatively lower operating costs
Can automatically adjust heat settings according to the room conditions
Cons
Repairing of parts is expensive
Does not offer a very good warranty
Best High-Efficiency Gas Furnace
Rheem R98VB085M521USA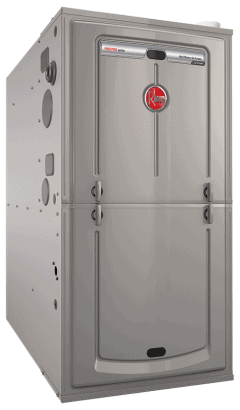 Energy Efficiency (AFUE): 98%
Parts Warranty: 10-Year Limited Warranty
Unit Warranty: Lifetime Unit Replacement Limited Warranty / Limited Lifetime Warranty on the heat exchanger
We may earn commission from purchases made from our links, at no additional cost to you
What Recent Buyers Report
Many people want to ensure that everything from installation to warranty is perfect in their products, and they get this when they invest in this Rheem gas furnace. The model comes with a perfect water management system that can shut off your system automatically whenever it senses a blocked drain. This ensures safe and easy disposal of any water that is accumulated in the pipes. The buyers are, therefore, at ease with the overall functioning of their appliance.
Why it Stands Out to Us
You can buy the best possible product, but without easy and effective installation, it won't be of much use. Rheem is mostly known in the market for its simplistic yet brilliant design. Unlike most other models, the manufacturers haven't overtly complicated the design and have kept it pretty conventional. All this hence ensures a much easier installation. You won't have a hard time deciding on the vents, ducts, and the areas to make holes for pipes. 
Moreover, screws can be placed inside effectively and without the use of any unnecessary tools. But what helps with easy installation is the Plus One Diagnostic mechanism. This is added to the system to make service calls both easy and quick. The seven-segment LED display also aids in the process.
Bottom Line
Overall, this Rheem model is not your ordinary appliance. It comes with a majestic AFUE rating of 99%, which ensures the best efficiency. The motor is also very durable and offers an overall quieter environment that also ensures consistent airflow. But what makes it truly exceptional is the inclusion of the spark ignition system. You would have to use the system to understand the full grandeur of the last feature.
Pros
Has a 99% AFUE rating
Easy to install thus saving your time
Offers a completely quiet environment
Comes with the very reliable spark ignition system
Provides greater consistency than most other products
Cons
Only suitable for extremely harsh climates
Goodman GMSS960803BN
Energy Efficiency (AFUE): 98%
Parts Warranty: 10-Year Limited Warranty
Unit Warranty: Lifetime Unit Replacement Limited Warranty / Limited Lifetime Warranty on the heat exchanger
We may earn commission from purchases made from our links, at no additional cost to you
What Recent Buyers Report
Individuals often put ease of usage above all other features while evaluating any product, and this is exactly why Goodman is a favorite of many. Its blower comes with a solid and airtight bottom and easy cut tab technology that allows for easy and effortless removal of the blower while cleaning.
Why it Stands Out to Us
It is extremely important, especially in the modern world, for appliances to produce fewer greenhouse gases. Many people feel hesitant about buying products that don't fit this criterion. 
This Goodman model is manufactured, keeping the modern needs of the users in mind. It comes with an excellent heat exchanger that produces fewer exhaust fumes. This feature also helps in the effective conversion of propane to heat, which is then circulated evenly all around the room. 
Another notable feature is the single-speed blower that comes with aluminum coverings. This not only provides added strength but, in the long run, also ensures lower operating costs.
Bottom Line
If there is one thing that you will love about this Goodman unit, it is its simple and powerful design. It provides an excellent BTU rating with its tendency to heat a larger room with less power. It also produces less overall waste, which makes it more environmentally sound. So if you want all these things together with an excellent warranty, then this unit should be the final choice.
Pros
Comes with a very good warranty
Provides an excellent BTU of 80,000
Single-stage component reduces the cost
Produces fewer exhaust fumes thus reducing waste
Easy to maintain and clean because of the simple design
Cons
Not available in many sizes
Not suitable for smaller homes
Rheem R97VA085M521KSA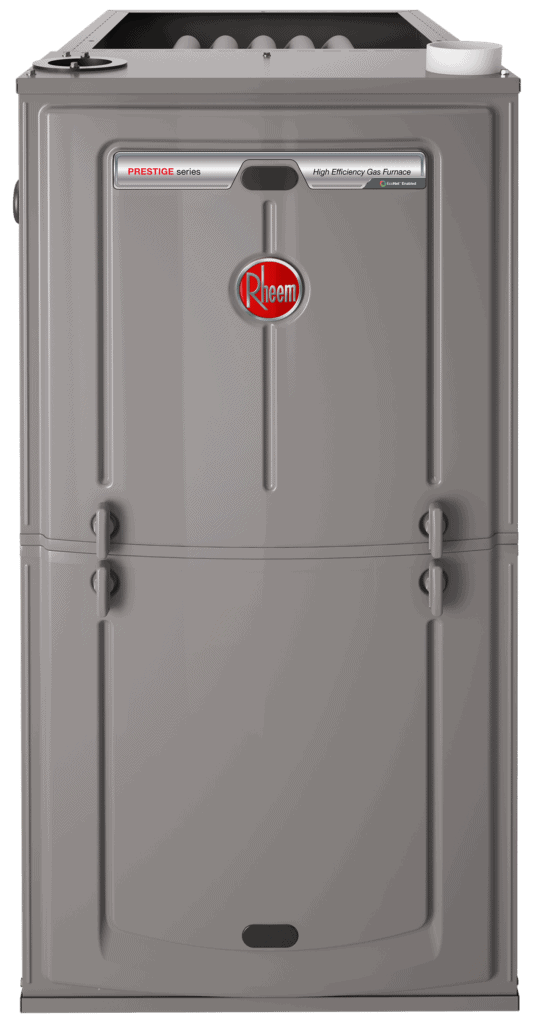 Energy Efficiency (AFUE): 97%
Parts Warranty: 10-Year Limited Warranty
Unit Warranty: Lifetime Unit Replacement Limited Warranty / Limited Lifetime Warranty on the heat exchanger
We may earn commission from purchases made from our links, at no additional cost to you
What Recent Buyers Report
People usually invest heavily in central heating systems so they can provide a comfortable environment for both themselves and their families. A product that produces too much noise hinders that dream. Therefore, this Rheem unit has been manufactured with a very robust motor that does not produce any sound, even at extremely high speeds.
Why it Stands Out to Us
A good water management system is important to ensure the safe and long-lasting operation of a gas unit. Rheem appliances come with a modern system that allows instant shutting off of the unit if there are any water leakages from the pipes. This not only adds to the overall safety of your household but also saves on repairs and replacements of parts. 
Moreover, other features like a modulation operation system are also noteworthy to discuss here. These allow for consistent airflow that is in line with the outside temperature. You won't feel too hot or too cold inside because your appliance will know when to shift the speeds and settings automatically.
Bottom Line
It has already been established that Rheem is one of the most reliable manufacturers in the market, but its praise doesn't end there. This particular model comes with an extra-strong and robust motor with an ECM design. This, coupled with a perfect modulation system and advanced ignition system, makes this a must-have furnace for your home.
Pros
Provides a smooth ignition system
Does not produce sound during operation 
Comes with a strong and robust ECM motor
Has modulation operation for higher efficiency
Eco Net-enabled thus providing greater E-protection
Cons
Does not offer many speed options
Heat exchanger requires greater power
Bryant Preferred 96 926T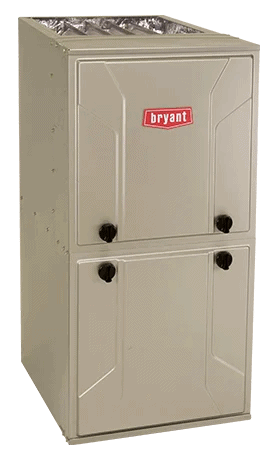 Energy Efficiency (AFUE): 96.5%
Parts Warranty: 10-Year Limited Warranty
Unit Warranty: Limited Lifetime Warranty on the heat exchanger
We may earn commission from purchases made from our links, at no additional cost to you
What Recent Buyers Report
Reviewers are very content with their decision to invest in Bryant. After using the model, they have discovered newer and better features that they weren't aware of before. These include automatic temperature adjustments, quiet operations, and, most importantly, ease of cleaning and vacuuming. All this, coupled with the two stage-operation systems, makes the model a truly brilliant one.
Why it Stands Out to Us
The cabinets inserted inside the design are multifunctional because they provide insulation, better heat conversion, and assist inconsistent airflow, among other things. It is, therefore, essential that they can withhold any type of situation. In extreme weather where the unit needs to work at a quicker pace and produce a greater amount of heat, these durable cabinets usually come in handy and provide additional support. 
Moreover, the use of a very good exchanger means that the task of producing heat doesn't put too much load on the system. Another feature that makes this Bryant model stand out is its excellent warranty. This ensures that the unit can last for a very long time.
Bottom Line
Bryant is now a household name, with millions of people investing their hard-earned money in their central heating system. The surge in the brand's popularity is a testament to the huge improvements that they have made to their design. Available in many different sizes, this gas furnace comes with an excellent AFUE rating and a two-stage operation system known for faster results. 
Pros
Comes with an excellent warranty
Can adjust the temperature automatically
Provides an excellent AFUE rating of 96.5%
Two-stage operation provides greater efficiency
Cabinet comes with double insulation for better conversion
Cons
Two stage-operation system makes it expensive
Rods can heat up quickly and can be dangerous
Trane XC95m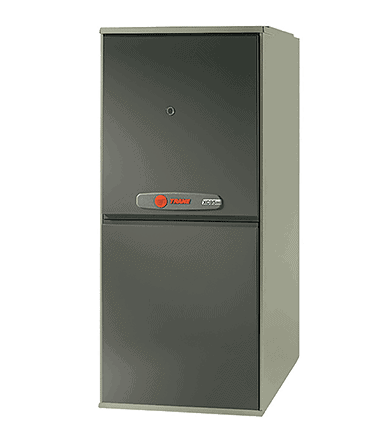 Energy Efficiency (AFUE): 97.3%
Parts Warranty: 10-Year Limited Internal Parts Warranty
Unit Warranty: Lifetime Limited Heat Exchanger Warranty
We may earn commission from purchases made from our links, at no additional cost to you
What Recent Buyers Report
If there is one thing that captured the buyer's attention the most, it was certainly the mesmerizing ComfortLink technology. This allows all key components of your system to connect instantly and work in absolute sync to ensure a healthy internal environment. Moreover, buyers also appreciate the option of varying speeds, which makes operations more suitable.
Why it Stands Out to Us
For effective usage of any product, air filtration systems must work with excellent precision and accuracy. Trane has revolutionized the market by introducing an excellent air filtration system that captures and removes any unnecessary pollen, dust, or debris entering the system. But its job doesn't end there as the accumulation of these substances can lower efficiency and hence hinder performance. 
The system is also very easy to clean. When you remove the blower to reach the air filtration system, you will notice the added durability of the parts, which not only makes the system accessible but also allows for the easy reinstallation of the parts.
Bottom Line
Affordability and higher customization come together to make this a perfect household system. You will undoubtedly get healthier and cleaner air, that too at a much affordable rate. The air filtration systems are easy to install and ensure that no harmful gases enter your house.
Pros
Provides an efficiency of 97%
Installation cost is relatively less
Comes with an advanced air filtration system
Offers variable speeds for greater customization
Has excellent communicating capability that connects all components of the home
Cons
BTU rating is slightly less
Air leakage system requires extra care
Carrier Infinity 98 59MN7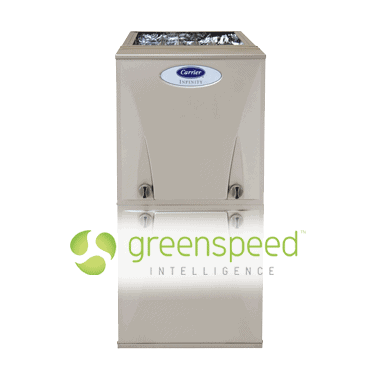 Energy Efficiency (AFUE): 98.5%
Parts Warranty: 10-Year Limited Warranty
Unit Warranty: Limited Lifetime Warranty on the heat exchanger
We may earn commission from purchases made from our links, at no additional cost to you
What Recent Buyers Report
Users couldn't be more pleased with the performance of their new gas furnace. Most of their pleasure is because of the relatively less cost of the product. Moreover, buyers also save more cost on installation, which is another reason they don't regret their decision at all. 
Why it Stands Out to Us
It is almost impossible to hint at one single feature that makes Carrier Infinity stand out in the crowd. Its easy installation means that you don't have to spend a huge amount of money on repairs and replacements. Moreover, since it provides varying speeds, you can rest assured that you will get only the amount of heat necessary to warm your entire room. You can also keep the speeds low to limit the operating cost of the unit. 
But more importantly, the model ensures greater protection. The design is made in a way that restricts it from using oxygen inside the room. If proper ventilation is not provided, or there is a problem with the ducts and drainage system, the system will automatically shut off rather than causing any hazard.
Bottom Line
With its variable speed tendency and its high varying capacity, this model is already making a strong mark in the industry. It allows for greater environmental protection by restricting the number of greenhouse gases emitted during operations. Moreover, it allows for greater safety. But the best thing is that consumers get all these features at a much affordable rate.
Pros
Provides varying speeds
Installation takes less time
Provides greater environmental protection
Does not consume internal oxygen in any circumstance
Saves on operating costs with its varying capacity of 60%
Cons
Initial setup is expensive
Does not offer a very good warranty on some parts
Lennox ML195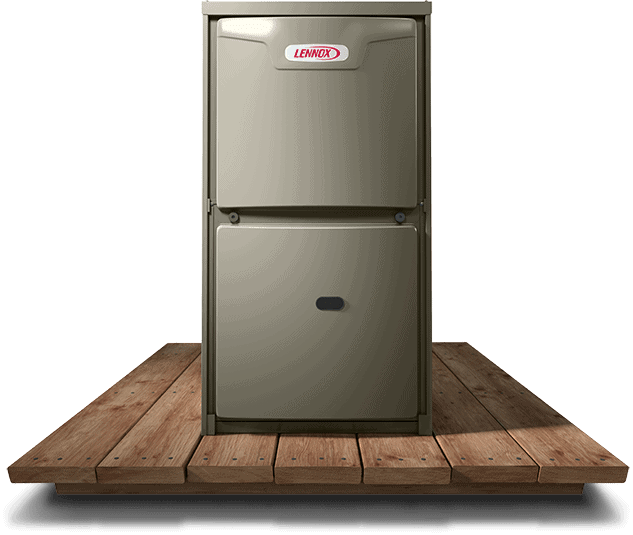 Energy Efficiency (AFUE): 96%
Parts Warranty: 5-Year Limited Warranty on covered components / 10-Year Limited Extended Warranty
Unit Warranty: 20-Year Limited Warranty on heat exchanger
We may earn commission from purchases made from our links, at no additional cost to you
What Recent Buyers Report
Any company that offers such an excellent warranty deserves the respect and trust of consumers. And people have had no regret placing this trust. The noise-free and peaceful air rotation has provided buyers with excellent comfort in their own homes. The product is also available in a range of sizes and BTU ratings, something that the buyers appreciate.
Why it Stands Out to Us
A good leakage system is essential to the proper functioning of any product, and Lennox Manufacturers understand that. This model comes with high durability and strength and can retain the toughest of the conditions. 
You will also find a very powerful motor that produces higher torque and ensures a consistent airflow at all times. This provides a unique benefit. The people sitting at different corners of the house or the room will feel the effects of warm air equally. This ensures maximum comfort for all members of the family. 
But that's not all; once you have purchased this Lennox furnace, you won't have to worry about very high utility bills.
Bottom Line
Getting a 20-year warranty on a product such as this should be reason enough for strong consideration, but that's only one of the reasons Lennox is a force to be reckoned with. With the greater variety and an excellent leakage system, the company has done justice to its promise of efficiency and better performance. So if you are looking to get wowed, make sure you buy this product at your earliest.
Pros
Operating costs are low
Comes with a 20-year warranty
Ensures no air leakage from the system
Available in 3 different types for greater choice
Does not produce any noise even at high speeds
Cons
Cleaning requires greater effort
Heat exchanger is not very durable
What Is a Gas Furnace and What Is It Used for?
A gas furnace is a specialized home heating appliance that uses natural gas. These come with burners that contain metal tubes. Natural gas travels through it and is heated. Gas furnaces are popular in areas with extreme winter seasons. These not only make you survive harsh weather conditions but also ensure relatively lower electricity costs. 
Although they are more expensive than electric models, the monthly operating bills are really low, making up for the initial high cost. Once you buy the product, you will have to take care of installation, maintenance, and safety. Regular cleaning will also be required if you want efficient heating for a long time.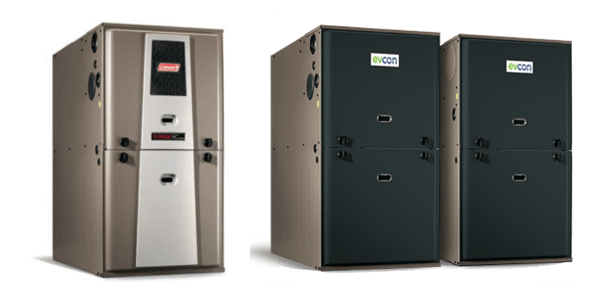 How Does a Gas Furnace Work? 
The working of a furnace is pretty simple, and it is due to this simplicity that the cost of maintenance is extremely low. The unit will heat your room through a predetermined heating cycle that takes in natural gas, mostly in the form of propane. This is one of the lightest gases out there and provides good efficiency.  
Propane enters the furnace and is ignited inside the burner. The flames that are produced as a result will heat the metal exhaust and exchanger. The latter then heats the heat entering the unit. This process usually remains consistent and doesn't take much time.
The furnace's blower then puts the air forcefully inside the ductwork and then distributes it evenly in your house. As your room gets warmer, all the cold and dense air will move towards the unit, and the same process will be carried out. This provides you with a continuous supply of hot air.
Comparison Overview
Most people, even today, find it hard to choose between a plethora of similar products. The internet is bombarded with unnecessary information that makes it almost impossible to find anything useful. Here, we will summarize all you need to know regarding your favorite products.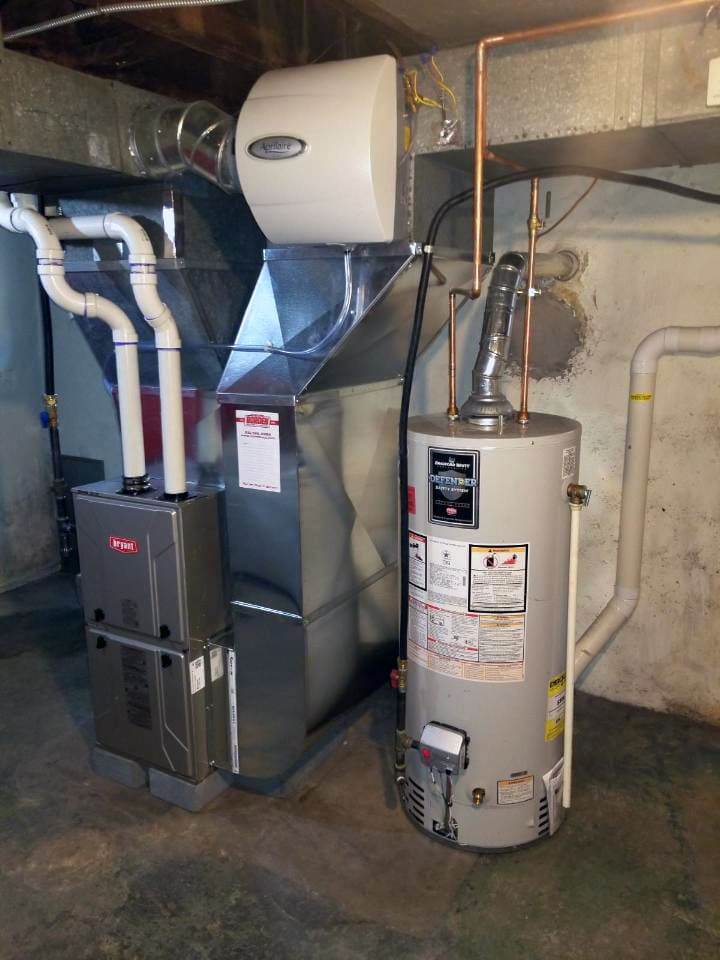 Heat Pump vs Gas Furnace
Gas furnaces produce heat, whereas heat pumps have to simply transfer it. This means that the latter is much more efficient in terms of both time and energy consumption. Under the ideal conditions, your heat pump will transfer 300% more energy. On the other hand, a gas furnace would produce only 90% of this energy.
Electric vs Gas Furnace
When comparing the initial costs of the two, you might find an electric furnace to be the cheaper of the two, but that's pretty much the only edge it has. In the long run, a gas furnace will be more cost-efficient as it ensures lower utility bills. Gas units will also heat your home more quickly than electric units.
Oil vs Gas Furnace
This is a pretty simple comparison because gas furnaces take the lead in almost all major departments here. Where oil units have 80% to 90% AFUE ratings, gas units can have more than 95% rating. The higher rating translates to much higher efficiency. The only downside to this is the relatively high initial cost of the gas products.
High-Efficiency Gas Furnace vs Regular Gas Furnace
The major difference between the two is the efficiency, but this too comes at a cost. Most products with high AFUE will be expensive as compared to the ones with lower ratings. High-efficiency products offer 90% heat production, and regular units provide around 80%. The extra 10% and 20% respectively are expelled as exhaust fumes.
Gas Furnace Safety Tips
Unlike electrical furnaces, gas ones can be slightly dangerous. But this is no cause of alarm. Like with most products, you simply need to take care of a couple of things, and you are good to go. Here are the top safety tips for you to consider. Good attention to these will keep you safe at all times.
Vacuum
Any dust or lint that accumulates will be a hazard, and hence you need to avoid this build-up as much as possible. You can do this by vacuuming inside and around your furnace every once in a while. You can do this either once or twice a month. If you haven't done this for a long time, then you should call a professional to do it properly. This is to avoid any fire hazard.
Airflow
It is important to remember that without proper fresh air, your furnace cannot work properly. If the air is constricted, then the unit will be forced to consume the oxygen inside your home.
This can cause a lot of damage. To avoid any such thing, make sure your room is properly ventilated. Moreover, you can cater to the issue by clearing any obstructions inside the floor registers.
Overheating
These units aren't very dangerous normally, but every once in a while, the rods can become hot and cause damage.
It is, therefore, important that children don't play around gas furnaces. They should be properly taught to avoid any such issue.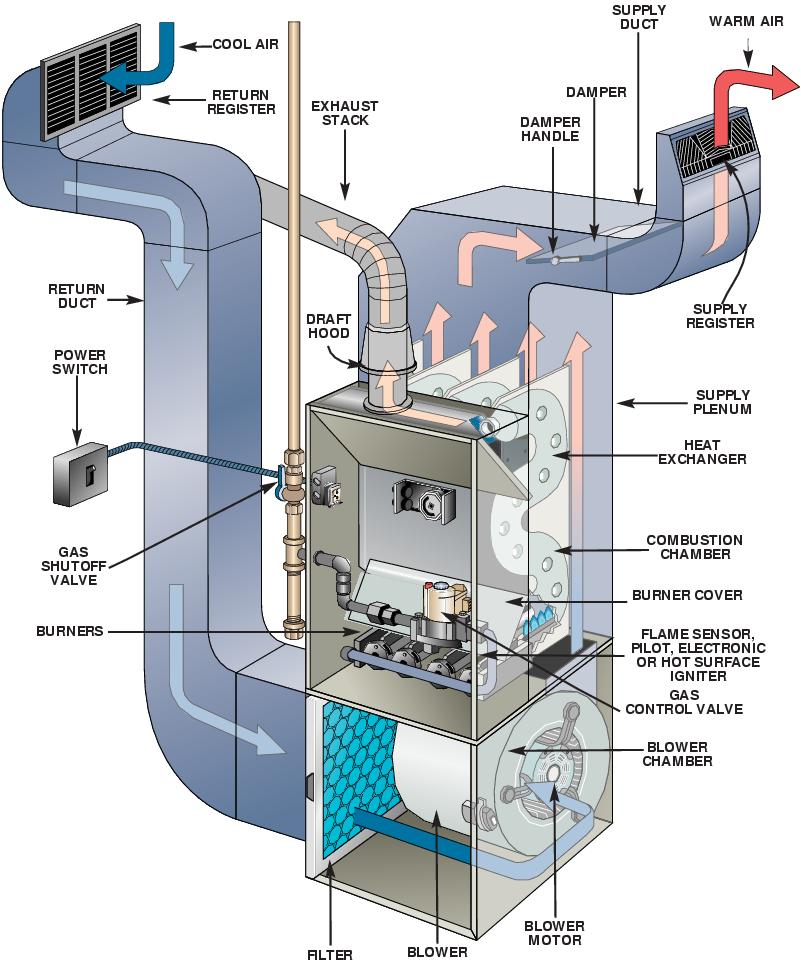 Keeping Flammable Items Away
Many items can instantly catch fire when exposed to heat. Thus, you need to keep flammable items far away from your unit. Some people use furnace rooms for different purposes, and if that is the case at your house too, you need to keep the space as organized as possible. Things like old rags, gasoline, paint, wood scraps, and papers should be kept away from the appliance.
What Size Gas Furnace Do I Need?
Getting the right-sized furnace is key to achieving the best possible results. You don't want to end up with either a very large unit that causes high utility bills or a small appliance that doesn't heat your room properly. You can keep these things in mind while deciding the size.
Home Size
A 1500 sq. ft. room would require 1.5-2 tons of an appliance. Similarly, an 1800-2500 sq. room would require a much larger unit. You can get either a 2.5 ton or a 3-ton appliance. As you go higher, the size, as well as the cost of your unit, increases.
BTU
This is the British thermal unit, which is used to define the amount of heat necessary to raise the temperature of exactly one pound of water by exactly one degree Fahrenheit. The larger the size of your house, the larger will be the BTU value.
Climate
This is extremely important and often overlooked by potential buyers. You can't expect a small unit to produce the maximum heat in both Canada and London. So before you decide on the BTU, make sure you check the climate of the place. Very cold areas require appliances with a BTU higher than 60,000.
How to Install a Gas Furnace
Once you have used all the above information to find yourself a good furnace, it is now time to install it. Now, there are a couple of ways to go about it. You can either call a professional or get your unit fixed, or you can follow a few simple steps to do it yourself. In either case, here is what needs to be done.
The first step is to find a suitable location for installation. You need to find a large enough space that houses your appliance comfortably. There should also be ample space for ventilation. 


Then you need to decide the exact spot where your ducts and drains will run. The return ducts can be placed on either the sides or the bottom of the gas furnace. This requires a hole to be cut.


Next, decide which side is more appropriate for the condensate drain to run through.


Place your equipment in position and level it with a slight slope that is directed towards the drain exit.


Connect it to the home's ducting system and make sure you attach any loose ends with either metal foil tape or a duct sealant.


Next, you have to connect the vent pipes by joining the intake and exhaust pipes together. Make sure this is at an angle so that drainage can occur safely.


Check for leaks and ensure that there is adequate room for ventilation and shutoffs.


Connect your unit to a gas and an electric supply. Many units might require just one connection, but that will be specified on the product.


Then you need to connect the condensate drain. This will usually be via a drain hole.


The final step is the most important as it requires you to check all your work. Turn on your furnace and run a complete heating cycle to ensure everything is in order. 


Make sure you give it an hour or two to ensure a proper runtime. If there are any leaks or unchecked drains, make sure you contact a professional and take some guidance.
A much detailed process is explained in this video. Make sure to check it out to clear any ambiguities.
How to Clean a Gas Furnace
The safe and effective running of your gas furnace depends on how frequently and properly you clean it. Contrary to what you think, a gas furnace doesn't need to be cleaned every other day. You can clean it once or twice a month, and you are good to go. Here is the proper way to achieve your task.
The first step is to always switch off the power of the furnace. You can either switch off the electrical power or give the gas valve a swift ¼ turn.


You need to clean the exterior surface of your appliance with a damp rag. You can do this by removing any dirt or debris accumulated on the top.


Remove the door by lifting it in an upward and inward direction. You can also loose screws and remove the burner cover if your product has one.


Then, with the help of a vacuum, clean the interior of the burner and the base of the furnace. You can also use extensions to reach difficult places.


You need to also lift the blower door and then vacuum the insides of the compartment. If there is any soot present, then you need to do a more thorough cleaning. 


Then unscrew the control panel and let it hang. This is only necessary if the panel is blocking the blower. You can also use a ratchet and socket to carefully remove the bolts. 


You need to be gentle and soft while cleaning the blower. You should not disturb any wirings or fan blades. You can even use a small brush to reach the interior section.


Next, clean the igniter and the pilot by blowing off all the accumulated dust with a low-speed vacuum. Remember that a dirty pilot often gives off a false reading.


Then put the flame sensor down carefully and lightly clean it using a cloth. After you are done, inspect the drive belt to see whether it is working perfectly.


Then comes lubrication. You need to clean the oil caps and oil the motor and the shaft bearings. Don't overdo this step and apply only a few drops.
Once you are done, place everything as it was. If you are still unsure of some of the steps, make sure to check the video given below.
Conclusion 
Gas furnaces proved to be a breath of fresh air when they entered the market. Compared to some older versions, these were more cost-effective and provided greater efficiency. Today, the markets are flooded with all kinds of products. The units vary in terms of sizes, BTU, and AFUE.
To ensure that you get a warm house at all times, you need to invest in the right product. Make sure you check out all the variations of gas furnaces listed above. But before you decide on the right unit, you need to have the proper measurements of your house; the bigger the house, the larger should be your furnace.
People Also Ask
We tried our best to incorporate all important information in the buying guide above, but we understand that people still have many queries when it comes to furnaces. Here is our honest attempt to answer as many of those queries as possible.
How Much Does It Cost to Replace a Gas Furnace?
Furnaces don't usually require replacements unless you have had one for a long time. A new unit will cost $1500-$5000, with the average cost being $2500. The cost also depends on the size of the unit. A two-ton product will cost relatively less than a three-ton unit. Moreover, if your product has a higher BTU, the chances are that it costs more too.
How Long Does a Gas Furnace Last?
People usually don't replace their gas furnaces in their lifetimes. This is because most good quality products have a long life. Typically, a gas furnace will last for more than 20 years. This number is bound to increase if you take care of the product and put some effort into maintaining and cleaning it frequently.
When Should You Replace Your Furnace?
If you maintain your equipment diligently, then you won't have to replace it for a long time. However, there might be instances when replacement becomes necessary. When your unit reaches the age of 20, it is time to replace it. This is because you can get the latest model that is bound to be more environmentally sound and energy-efficient.
How Do You Know Your Furnace Is Dying?
It is very easy to know when your unit is dying. Foremost, you should be able to note the changes in its heating ability. If the product is no longer operating ideally, then the chances are that it's probably dying. Other things that hint at its death are increased heating bills, old age, strange noises, high accumulation of dust, and, most importantly, the emergence of a yellow pilot light.
Can a Gas Furnace Explode?
Many people feel scared of installing a gas furnace because they fear an explosion. But research and statistics suggest that these units are very rarely the cause of explosions. There are very rare instances where your product can either catch fire or completely explode. If you think that your unit is behaving strangely, you must switch it off and call for HVAC help.
How Many Amps Does a Gas Furnace Draw?
Since gas units don't require electricity for most of their operation, it is safe to assume that they use up a very little amount of electricity. A 2-2.5 unit will use less than 600 watts of electricity. This translates into less than 15 Amp of an electrical circuit.