Vaping is something that has been around for quite a while now. It is not only done by smokers that have taken a resolve to quit smoking but also done simply for fun, especially by the younger generation.
Vaping may be not as harmful as smoking, but it too can be irritating. A good air purifier can get rid of the problem for you, though.
This article will help you pick the right air purifier for vaping and end your struggle with it once and for all.
At a Glance: Our Top Picks for Air Purifiers For Vaping
Comparison of the Best Vape Air Purifiers
IMAGE
PRODUCT

Our Top Pick

Best Overall
SmartSensor Allows the Device to Communicate the Real-Time Air Quality of the Room
WhisperMax Technology Reduces the Noise Produced by the Device to Maintain a Peaceful Environment

View Latest Price →

Runner-Up Option
Features an AOC Carbon Filter That Aids in Removing Stubborn Odors
A Smart Sensor, an Auto Mode, and Sleep Mode for Added Convenience

View Latest Price →

Best Budget Option

Best for the Money
Recommended for Rooms Sized up to 322 Square Feet
Smart Auto Mode Won't Only Indicate the Real-Time Air Quality but Also Suggest the Right Mode

View Latest Price →

Best by Honeywell
Uses Certified HEPA Filters, Known for Their Benchmark Filtration
Efficiently Reduces Allergens From the Air, Ensuring Easier Breathing

View Latest Price →

Honorable Mention
3-Stage Filtration for Optimal Air Filtration
100% Ozone-Free Functioning of the Device

View Latest Price →

Best Car Air Purifier for Vaping
Eliminates airborne allergens and pollutants
Comes with a 2 year warranty for peace of mind

View Latest Price →

Powerful filtration for rooms up to 1,125 sq. ft.
HyperHEPA filter removes pollutants to 0.003 microns
Air filtration is medical grade proven quality

View Latest Price →
How to Choose the Perfect Air Purifier for Vaping
Choosing the perfect model for yourself can be tricky, but not entirely impossible. All that you need to do is consider the right aspects and you're sure to end up with the right pick.
Size of the Room
Before you consider buying an air purifier for your room, you need to keep in mind the size of the room where you intend to use the device. Some devices are designed to function better in normal-sized rooms while others work just as efficiently in extra-large ones. Make sure the model that you choose is recommended for the size of the room you want to use it in.
Consider One That Deals With Odors Well
The greatest issue with vaping is the odor that it leaves behind, so while buying an air purifier, make sure that the one you're choosing is capable of getting rid of odors well. What's the use of an air purifier for vape if it can't clear its odor?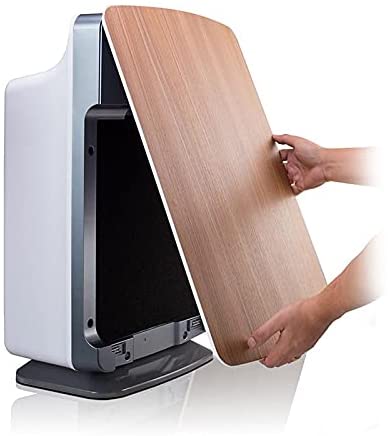 Cheap Filter Replacement
The vapor produced by vaping is heavy and dense as compared to the smoke produced by cigarettes and cigars. This can cause the filter in your air purifier to get clogged up faster. As a result, you might have to invest in a replacement filter more often. It is, therefore, wise to choose an air purifier whose filter replacement won't cost you a fortune.
Review of the Best Vape Air Purifiers
Now that you know what aspects you need to focus on to pick the right air purifier, you can proceed to look at various air purifiers. Going through every product you come across can also be a painstaking task, so we've reduced the work for you by reviewing the best air purifiers for vaping.
Alen BreatheSmart
Decibel Level: 48.7 dB
# of Fan Speed Options: 4
Coverage Area: 1,100 sq. ft.
Dimensions: 10 x 17.75 x 26.75 inches
Weight: 21 pounds
We may earn commission from purchases made from our links, at no additional cost to you
Review
Fight the resulting vapor with the BreatheSmart Air Purifier by Alen that will not only clear the air around you, but will also get rid of all other unwanted particles and pollutants that can be harmful to your health.
Designed to cover a space of up to 1100 square feet, the device is perfect for large-sized open concept rooms and living rooms. Even in these large rooms, the air purifier works efficiently with its HEPA pure filter, removing most of the dust, allergens, and most importantly, the smoke from the air.
The device is completely customizable and can be set to match all your needs. It does so by offering four different filter types that will accommodate the air quality of the room and 14 diverse panel colors that cater to the interior decor of your room. All in all, the device ensures that all your requirements are fulfilled.
Bottom Line
This model features all the things you could ask for in an air purifier that you need for vaping. From efficiently clearing the smoke to getting rid of odors well, this device does it all, putting it on the top of the list.
Pros
Four different types of filters allow optimal air filtration
Works efficiently in large-sized rooms, filtering the air just as well
Wide range of available panels ensure that the device matches your interior
Equipped with a system to produce the least amount of noise and reduce disturbance
Cons
If the pre-filter isn't cleaned every 10 days, its functioning declines
On the red mode, the device produces a considerable amount of noise, despite the WhisperMax technology
Winix 5500
Decibel Level: 27.8 dB
# of Fan Speed Options: 4
Coverage Area: 360 sq. ft.
Dimensions: 15 x 8.2 x 23.6 inches
Weight: 15.4 pounds
We may earn commission from purchases made from our links, at no additional cost to you
Review
The Winix 5500 comes to a close second with its true HEPA filter that functions to provide you with cleaner and fresher air to breathe in, therefore increasing the quality of your life. The benchmark HEPA filter will get rid of up to 99.97% of the unwanted particles from the air that may pose a health risk for all the people breathing in that air. With that said, this air purifier can be counted upon to eliminate all sorts of dust mites, pollens, and all irritants you no longer want to deal with.
This air purifier is equipped with an AOC filter. This special filter is specifically designed to make this model capable of removing general household odors and other stubborn ones too. The filter is made up of special activated-carbon granular. The best part about the design is that these are washable. So, you can say goodbye to the cost of buying a new filter every time. Just wash and reuse when the need be.
One of the best things about this model is its PlasmaWave feature, serving as the device's permanent filter. This feature not only breaks down all the odor around the room, but it furthermore makes sure to get rid of all the chemical vapors present or other pollutants that pose a health risk.
Bottom Line
Winix has made its name in the industry putting out one amazing product after the other and this one is the perfect example. From a washable filter to odor removing capability, this air purifier has everything that you want for your vaping situation.
Pros
Works very quietly and offers no disturbance
Advanced technology offers absolute air filtration without any ozone
Filter is washable and can simply be reused, saving cost of buying new ones
Very efficient at removing the greater part of the pollutants and unwanted particles from the air
Cons
Sensor is a little too sensitive and is set off inaccurately
Cord is a little too short, restricting it to proximity to power outlets only
LEVOIT LV-PUR131
Decibel Level: 27 dB
# of Fan Speed Options: 3
Coverage Area: 900 sq. ft.
Dimensions: 14.5 x 7.2 x 18.5 inches
Weight: 11.22 pounds
We may earn commission from purchases made from our links, at no additional cost to you
Review
This smartly designed air purifier will work wonders for all the vapor smoke that you have hanging around your room, all the while making sure that it does not weigh too heavy on your pocket. So you get a solution for your vapor smoke and odor, and a device that gives you a run for your money!
The device offers three-stage filtration, and is equipped with a pre-filter, a true HEPA filter, and an activated carbon filter. Air, after passing through these three filters, will be sure to be pure from any unwanted and harmful particles. So all you get is fresh and vapor free air to breathe in.
The device works efficiently without any ozone or using any UV or ions that may be capable of producing harmful ozone. One of the best features of the device is the smart auto mode that truly makes this a smart device. This feature allows the model to evaluate and indicate the air quality of the surrounding air. But it doesn't stop there. It further suggests the right mode to accommodate the real-time air quality of your room.
Bottom Line
This product will allow you to deal with all the vapors and odor around while not making you go out of your budget. Some drawbacks might be associated with it, but they have no impact on all the features that you would need to consider to buy an air purifier for vaping.
Pros
3-stage filtration system ensures optimal air purification
Efficiently works to filter the air even in large-sized rooms
Filters particles as small as 0.3 microns, ensuring removal of all the vapor smoke from the air
Sleep mode allows the device to turn to the lowest Setting, producing minimal sounds for minimal sleep disturbance
Cons
Creates a lot of noise on the higher settings
May produce an unpleasant smell upon the first use
Honeywell True HEPA Allergen Remover
Decibel Level: N/A
# of Fan Speed Options: N/A
Coverage Area: 463 sq. ft.
Dimensions: 9.25 x 20 x 22.25 inches
Weight: 21 pounds
We may earn commission from purchases made from our links, at no additional cost to you
Review
Honeywell has made its name distinct when it comes to air purifiers, satisfying its customers with the best of models. The brand features purifiers that are ideal for almost every situation, just the way this model is for vaping.
With its three different air cleaning levels and the special turbo cleaning setting for cleanest possible air, this air purifier will ensure air filtration to suit all your needs, be it getting rid of simple dust particles or the stubborn odor left behind by vaping, this air purifier will do the job. And quite efficiently so.
The best feature of this air purifier is its ability to efficiently clean the air from any sort of allergens, making it ideal for those who suffer from allergies as well. The device manages to circulate and filter all the air about five times in a room as big as 465 square feet, in just an hour.
Bottom Line
Honeywell is a well-known brand that produces many wonderful products to better our lives. With a unit from Honeywell, you can be sure that it will live up to the quality this brand is known for. This unit is able to purify rather large spaces and is also great for allergies. Even though there can be a few minor drawbacks, they are not significant and this product is sure to work well in whatever room you put it in.
Pros
Greatly helps people with allergies, providing relief and better quality of life
Can function efficiently in extra-large-sized rooms, filtering the air just as well
Filters particles up to 0.3 Microns, hence purifying the air from most of unwanted pollutants and particles
Cons
Turbo speed is too noisy and creates a lot of disturbance
First use of the model may produce an unpleasant burning smell
LEVOIT LV-H132
Decibel Level: 50 dB
# of Fan Speed Options: 3
Coverage Area: 129 sq. ft.
Dimensions: 8.5 x 8.5 x 14.5 inches
Weight: 6.5 pounds
We may earn commission from purchases made from our links, at no additional cost to you
Review
LEVOIT is one of those brands that has aided a number of households with fresher and cleaner air to breathe. Of such models by LEVOIT that provide efficient air filtration, the LV-H132 is one, featured as a model designed to provide your lungs with more comfortable breathing.
Its HEPA filter purifies the air, making a difference that you can feel for yourself. And all of the purification occurs without any ozone or the use of any UV or ion that can possibly create any ozone. Its air purification takes place through a three-stage filtration system that is equipped with a pre-filter, a true HEPA filter, and an activated carbon filter.
The air purifier also gives you control to choose between three fan speed settings to adjust the device according to the surrounding air quality. It is designed to ideally fit seamlessly into any household and provide its function flawlessly.
Bottom Line
This LEVOIT model will give you all the features that you need and then some more. It provides effective air filtration and cheap filter replacement, and those two features alone are enough to be the deciding factors when considering an air purifier for vaping.
Pros
Filter replacement is much cheaper compared to other brands
With the three speed settings, you can adjust the device according to your need
Pre-filter, true HEPA filter and activated carbon filter all function together to provide enhanced air purification
Cons
Makes a lot of noise on the high-speed setting
A high pitched noise is produced upon pressing the buttons of the device which may be annoying
Best Car Air Purifier for Vaping
Craftronic NanoActive Air Purifier
Decibel Level: N/A
# of Fan Speed Options: N/A
Coverage Area: N/A
Dimensions: 4.1 x 1.4 x 1.4 inches
Weight: 1.5 ounces
We may earn commission from purchases made from our links, at no additional cost to you
What Recent Buyers Report
Many customers found the Craftronic NanoActive Air Purifier to be efficient in the killing, neutralizing, and removing any allergen, odor, pollutant, airborne article, or bacteria to improve the air quality and make the air more breathable. There was a positive reaction toward the product's real-time performance and quality. However, some customers feel the price is a bit too much.
Why it Stands Out to Us
The Craftonic NanoActive Air Purifier comes from a well-known company in the industry. It features unique technology only available in leading brands like Mercedes-Benz to enhance user experience and improve its efficiency in making the air cleaner. Accordingly, this air purifier is designed with NanoActive technology that produces more than 5 million negative ions that eliminate smoke in less than 10 seconds. 
The powerful Craftonic NanoActive Air Purifier is designed to reduce food odors, kill bad bacteria and viruses, eliminate cigarette smoke, and trap dust. Additionally, the air purifier improves body functions, cell-rejuvenation, and mental clarity.
Bottom Line
The Craftonic NanoActive Air Purifier features an excellent design and the latest technology. The product is highly efficient and performs above expectations. You're guaranteed a happier, healthier lifestyle with this product.
Pros
Approved to increase blood circulation
Highly effective and carries no side effects
Features industrial-grade technology for improved efficiency
Reliable in eliminating harmful bacteria, cigarette smoke, and dust particles
Comes with NanoActive technology that produces millions of ions to eliminate smoke in real-time 
Cons
Purifier is costlier 
Application limited to specific areas
IQAir GC MultiGas
Decibel Level: N/A
# of Fan Speed Options: N/A
Coverage Area: 1,125 sq. ft.
Dimensions: 16 x 15 x 28 inches
Weight: 29 pounds
We may earn commission from purchases made from our links, at no additional cost to you
What Recent Buyers Report
This product's quality and efficiency as an air filter have garnered a high level of customer satisfaction. In comparison to other sub-$300 air purifiers, buyers recommend the IQAir GC MultiGas to remove odor, dander, pet hair, dust, and floating fumes. 
Why it Stands Out to Us
This product is highly efficient for removing chemical sensitivities and tobacco smoke. Its proven medical-grade air filtration system generally makes it better than a HEPA filter. With HyperHEPA filters, this product is designed to offer high performance in large, stuffy rooms. Some outstanding features in this air purifier include noiseless action, 320-degree air delivery, and airtight seals.
Its 3D UltraSeal design ensures it seals the filter frame to eliminate draft and improve quality filtration. Accordingly, this air purifier combines the best media in the industry with superior filter designs to offer top protection against gases, odor, and chemicals. 
Bottom Line
The IQAir GC multiGas is a top air purifier designed with sophisticated filter technology. The new-edition fan and maintenance-free motor ensure it delivers up to 300 cfm to filter the air in your entire room.
Pros
Multi-control system
Superior filter design 
Features triple-sealing technology to eliminate air leakage
Comes with a new-edition fan and maintenance-free motor
Proven medical-grade air filtration with more than 100 times effectiveness
Cons
Costlier than most air purifiers
Sophisticated controls make it hard to use in different modes
How Does An Air Purifier Help with Vapor?
So how does an air purifier actually help with vapor? We all know that vaping comes without the harmful effects of smoke, but it has its own unique odor which certain people may find very unpleasant. An air purifier can help clear the odor that is left behind through vaping.
Besides the unpleasant odor, vapor can be very harmful and dangerous for those with asthma as it can trigger a number of symptoms. Using an air purifier can, therefore, help decrease these triggers, ensuring better health.
Vapor can also cause a great amount of build-up on walls and windows. This build-up is not noticeable immediately, but when it is, there is nothing that can be done. Using an air purifier can prevent this build-up and save you the cost of getting it fixed.
What Makes an Air Purifier Great for Vaping?
Certain qualities are required when filtering the smoke produced by vaping. These include:
HEPA Filtration 
The HEPA filtration system consists of dense filter traps that remove airborne contaminants in the air. True HEPA filters make air purifiers great for vaping because they can remove up to 99.97% of particulate matter. Accordingly, these filters can trap 0.3 microns of allergens, dust, particulate matter, smoke, mold spores, and pet dander.
Carbon Filtration 
Carbon filters are made of highly absorbent activated carbon particles that trap small gas particles and chemicals. These filters also remove toxic substances from the air, leaving your room smelling fresh.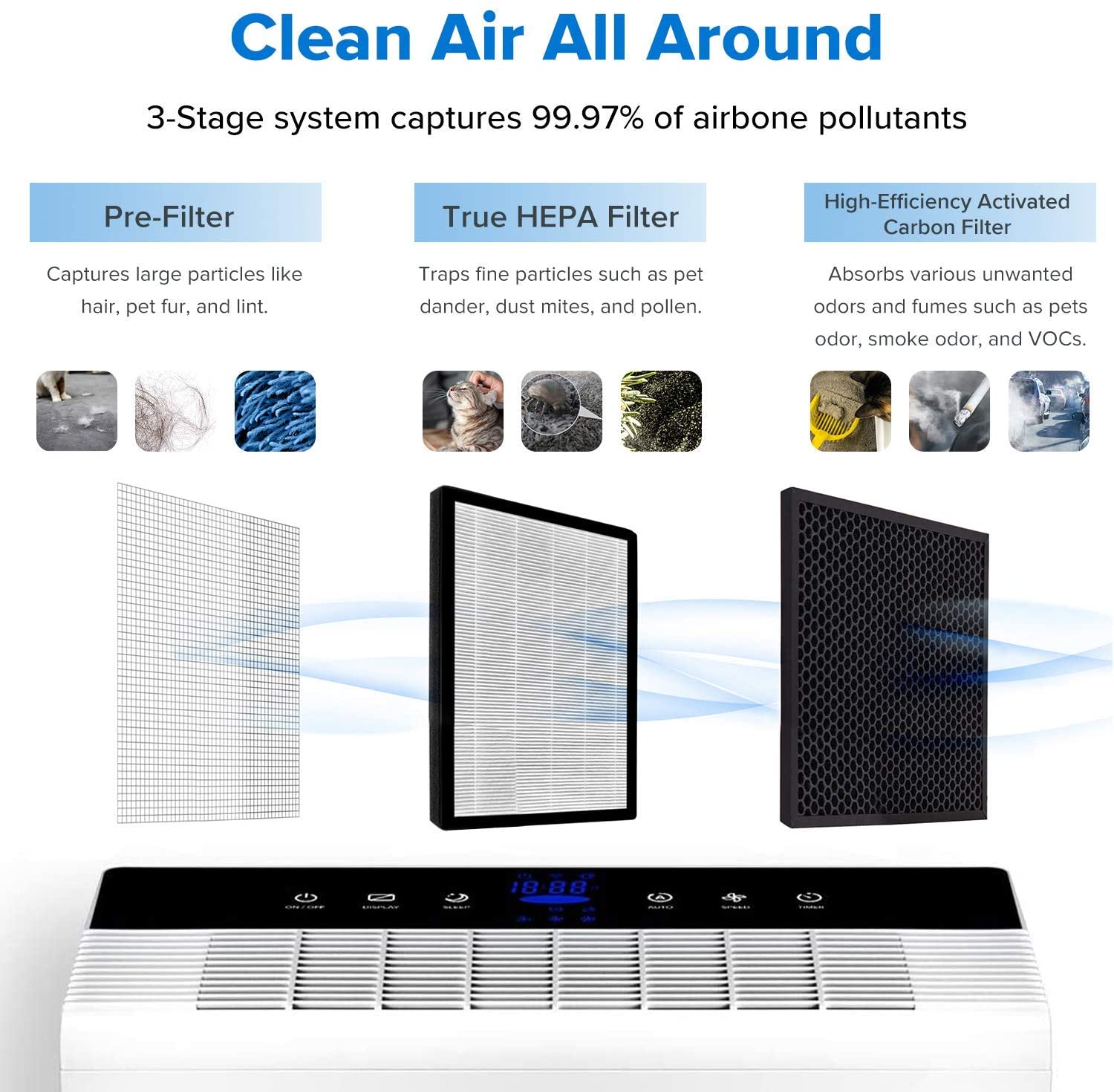 Ionizers
Ionizers are an air-cleaning technology that releases negative ions into the air to trap airborne particles.  Ionization weighs down particles in the air to make them easy to trap using air filters. Accordingly, negative ions make smoke particles stick to surrounding surfaces before falling. Ionizers can remove particles as small as 0.01 microns.
Ultraviolet Light Technology
Ultraviolet light technology is used to kill bacteria, viruses, and airborne molds. This technology works by altering the molecular DNA structure of particulates. As air goes through the air purifier, the ultraviolet light breaks down microorganisms to leave your atmosphere sterilized and spotless. The best air purifiers for vaping should have this feature.
Air Purifier vs Dehumidifier for Vape – Which is Better?
The most notable difference between an air purifier and a dehumidifier is that an air purifier cleans the air by circulating and trapping pollutants through filters. In contrast, the dehumidifier sucks in moisture.
An air purifier would be great for you if:
You have a medical condition such as allergies, asthma, or any other respiratory ailment


You want to remove allergens and pet dander from your air


You want the best dust and particle removing machine that gives you a cleaner, healthier environment


You want to remove odors caused by pets, smoke, and mold 
A dehumidifier would be great for you if:
You want to remove a musty smell


You want to prevent the spread of dust mites


You have respiratory conditions that worsen in humid conditions


You live in a highly humid area and want to moderate house temperature without using an air conditioner


You want to remove mold growth
How to Get Rid of Vape Smell
Vaping is less risky and potent compared to cigarette smoking. The process doesn't involve many chemicals, though it can still cause an odor in your room and clothes. Here's how you can remove the vape smell: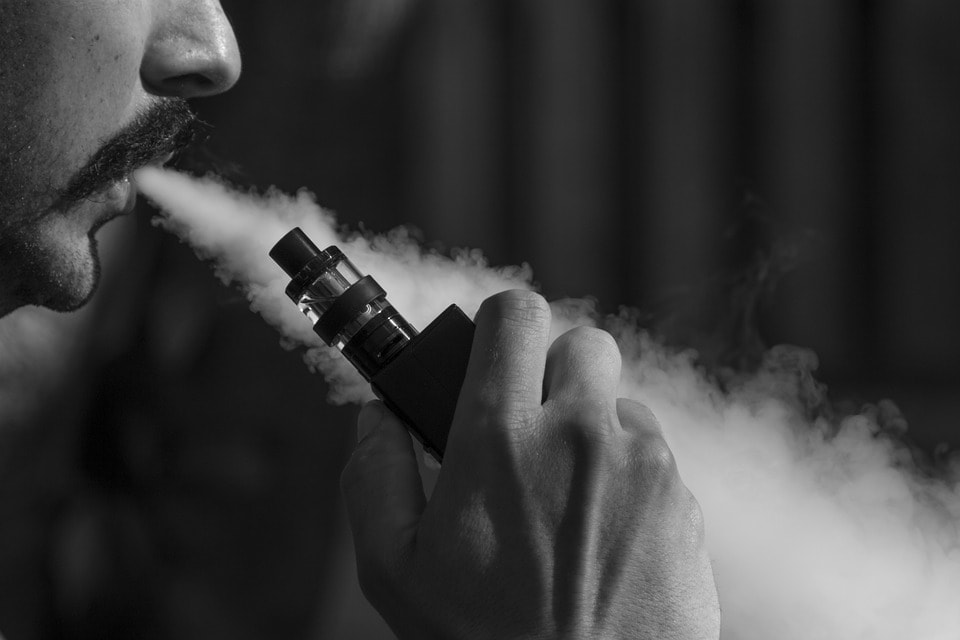 Use a Vape Juice with Low VG
All vape juices have a VG/PG ratio labeled. VG is much thicker than PG and produces thick clouds. You can avoid the strong smell by choosing vape juice with more PG because it's thinner and its smell dissipates faster from the air.
Use Vape Juice With a Mild Flavor 
Different vape juices have varying scents. Some are stronger than others. If you want to remove the vape smell, use a mild flavor.
Vape Using Low Heat
Vaping at higher heat produces a large cloud of smoke and smell. You can reduce this by using low heat.
Use a High-Quality Air Purifier
Some air purifiers, especially those with a true HEPA filter, can get rid of the vaping smell. HEPA filters are great at removing micron-sized particles that come from the vapor.
Use Air Fresheners
You can remove the vape smell in your room by using strong air fresheners. Air fresheners get rid of the smell impact.
Benefits of Investing in a Quality Model From Our List
Sure, you are not obliged to pick from the products that have been reviewed on this list, but doing so would definitely have its perks.
Save Time
Choosing from this list would give you the greatest benefit of saving time. Going through individual models on the internet can be a painstakingly long process and one that can tire you out really quickly.
So instead of giving up in the end and choosing anything that comes in front of you, pick one from the list of best-reviewed models.
Outlined Features
This list outlines all the important and main features of each mentioned product, giving you a clear idea of what the product is like and how well it works. If you choose an item from this list, you will know all the features that you will be signing up for.
Advantages and Disadvantages
Just knowing the basic features of an item is not enough to make a decision. You need a deeper insight into what the advantages would be of buying that product and what the drawbacks of it would be.
Our list provides you with both of those, telling you what is good about the model and what isn't.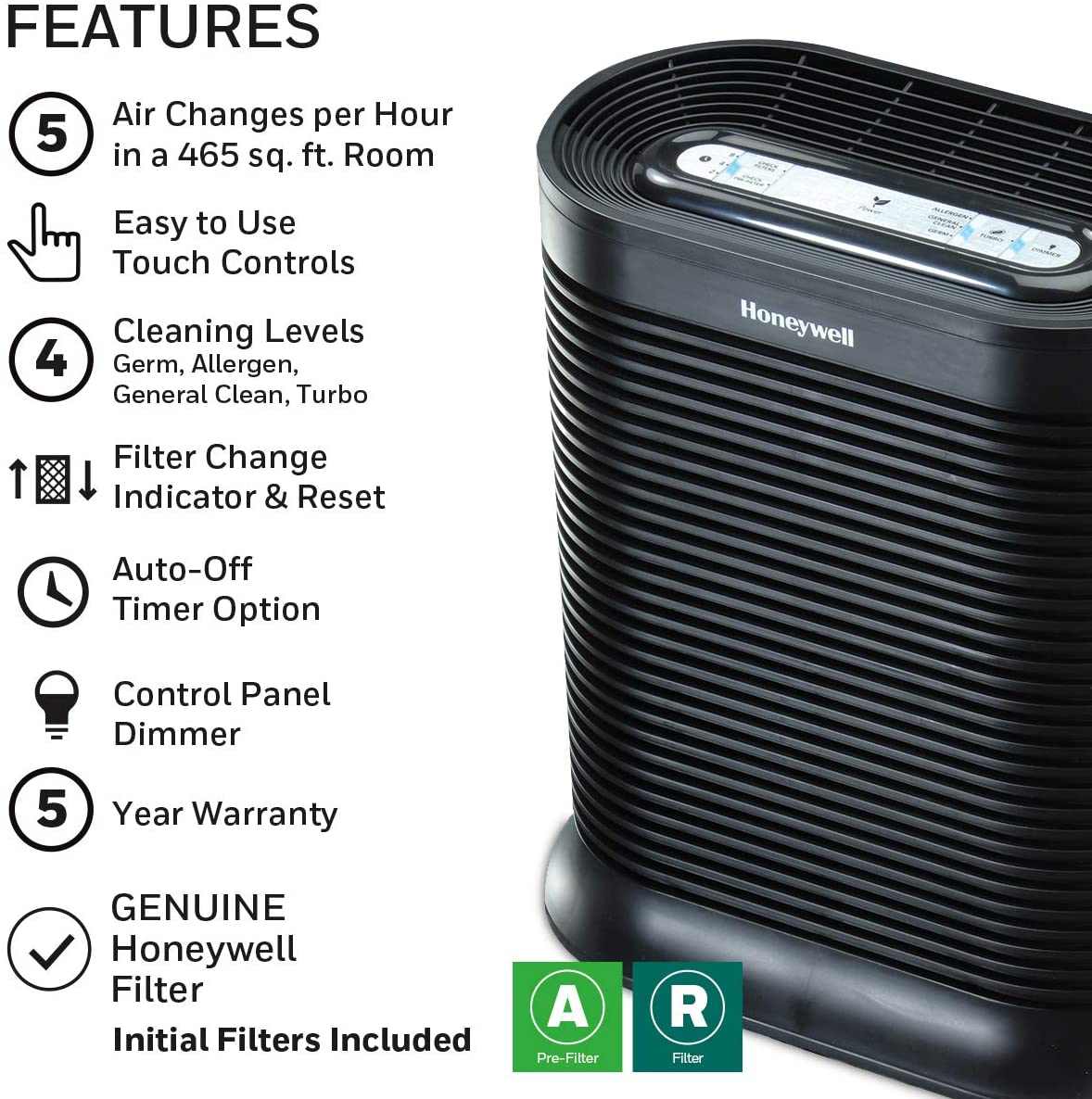 Conclusion
Vaping may present to you with a couple of issues like the vapor smoke and the build-up on walls and windows. But these issues can be managed with a good, and rightly picked air purifier. The key is to know what aspects to look at while buying one for vaping and you'll be good to go!
People Also Ask
Air purifiers are increasingly becoming a household item. However, not everyone understands the fundamental aspects and distinct features of vaping air purifiers. Here are our answers to the most commonly asked questions about air purifiers.
Do Air Purifiers Remove Vape Haze?
Yes, and the benefits are myriad. They can drastically reduce the contaminants in your room. The removal of vape haze from your house will likely improve your health by reducing allergy symptoms and improving air quality.
How Often Should You Replace the Filter in Your Air Purifier when Vaping?
It depends on the type of filter. Many HEPA filters can last up to five years if used properly. Carbon filters can last between three-to-five years. However, the most realistic duration is two-to-three years.
How Long Do Air Purifiers Last?
It depends on the air purifier's size. However, you can always improve its durability by frequently changing its air filters. How often you need to replace your air filters will also depend on their size and how you use them.
How Much Does an Air Purifier for Vape Smoke Cost?
These products come at a wide range of prices. You can pay as little as $19.95 or find one for slightly above $300.
Does Vape Smoke Cause Discoloration on Walls or Clothes?
Yes. However, the resulting stain isn't as damaging as cigarette smoke. Vape smoke takes longer to stain your walls due to its reduced nicotine levels.