Is your water heater broken down?
Purchasing a new house, perhaps? Whatever the reason you're looking for a water heater, gas water heaters are a great option for producing hot water efficiently.
As gas is available in most homes in the US, gas water heaters are a popular choice. However, with so many choices to pick from, it can be difficult to decipher the difference in the brands. Here's a quick guide to help you get to grips with what you're looking for.
What are Gas Water Heaters?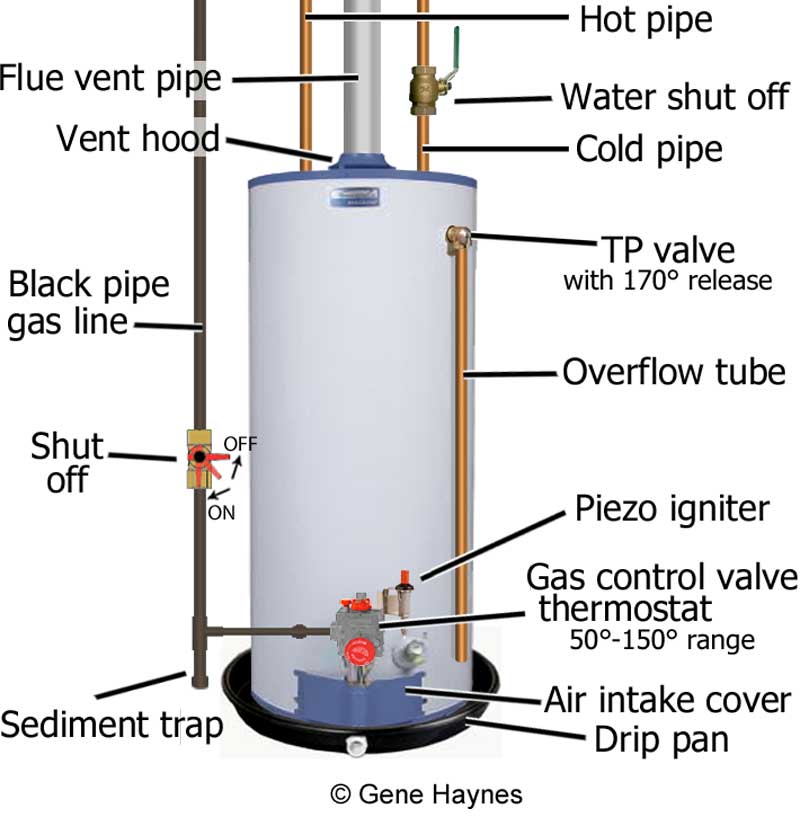 A gas water heater is a device that heats the water in your residential or commercial property using natural gas or LP gas. It is one of the more efficient ways of heating water, especially over electric water heaters – the second most common fuel for water heaters.
There are two main types of gas water heaters: conventional tank heaters and tankless. Conventional gas water heaters have a tank that stores water, which is heated from the bottom of the tank. Hot water is stored in the tank until it is needed. It is then piped to the device that needs it, whether that be a sink, shower or dishwasher.
Tankless gas water heaters are often referred to as "on-demand heaters." They only heat water at the exact time it is being used. Gas rapidly heats the water as it flows through the heater, which stores no water at all.
What We Look for in a Gas Water Heater Brand
When you're looking for a brand of water heaters to match your requirements, you need to consider how the brands you're looking at serve to help your needs. Are you worried most about cost? Is eco-friendliness important to you? Do you need large amounts of hot water? Understanding your lifestyle needs will help you to find a brand that offers just the right product.
Size
Size is important when choosing a water heater as the capacity of the water heater will be determined by what you and your family do with the hot water. If you're running two showers at the same time, and the dishwasher on a frequent basis, you're going to need far more hot water than someone who showers for five minutes once a week!
Different brands carry different capacity gas water heaters. Tankless heaters have a GPM (gallons per minute) value which shows how much can be heated in a minute. Tank water heaters measure the same capacity with FHR (First Hour Rating), which is how much hot water can be delivered within the first hour. You need to know your water usage to know which brand carries the right size for you.
Type
The type of heater you use depends on a few different things. If you're replacing an existing system, you may not want to switch from tank to tankless or vice versa. If you are buying a new water heater, you may be concerned with space or energy efficiency. Tankless water heaters tend to be more energy efficient, taking up less space. Tank water heaters are a simple retrofit, last a long time, and can heat very large amounts of water.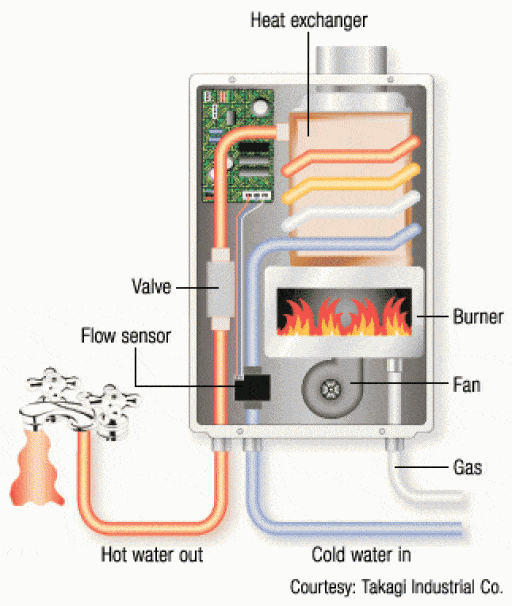 Some brands don't stock all types. Many of the more environmentally driven brands don't stock tank heaters. On the other hand, some of the more traditional brands don't stock tankless heaters that perform as well as their tankless heaters.
Energy Efficiency
Gas water heaters that are super efficient carry an Energy Star seal, which takes into account different input and output levels to determine which heaters perform far above their market standard. While often being more expensive, these models will save money wasted on energy bills and reduce your carbon footprint.
Some brands have a huge focus on environmental impact and, as eco-friendly companies, aim to reduce your fuel usage. This makes their products usually very energy efficient. Equally, make sure to look for the Energy Star or their percentage efficiency rating. A gas water heater that is 95% efficient means that it only loses 5% of the fuel in the gas to heat transfer. That's very efficient!
Warranty
While most brands boast about the durability and longevity of their products, sometimes faulty devices slip through, or components become broken quickly after installation. For this reason, a warranty can help you determine the quality of the product while also covering your back. If a brand is willing to give a long warranty, it means it has confidence in the quality of the product. However, if there is a problem, you don't have to shell out extra cost.
Most water heaters seem to offer around 6 years as standard, but some can extend to 10-12 years. Always make sure to check what these warranties cover and if they cover all parts. Brands' limited warranties will vary, so make sure to read the small print.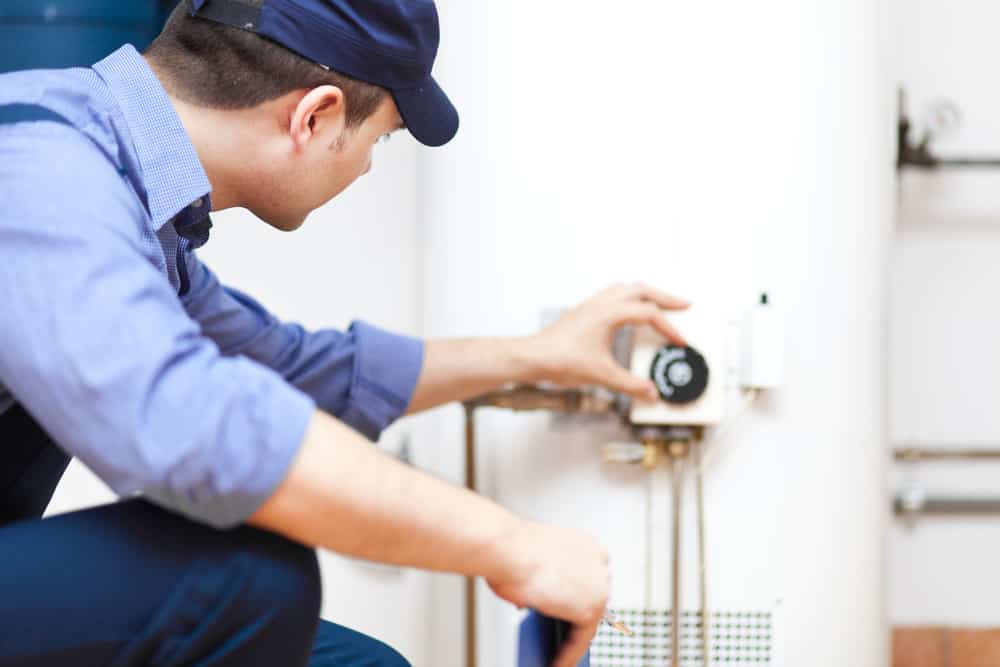 Cost
Cost can refer both to the upfront value and the running costs of a water heater. The upfront value of a water heater refers both to the price and the installation. Say you want to pay a professional to install a tank system, it is going to be far more expensive than installing a tankless system. Consider both how much the system will cost and the extra to have it put in. The varying brands will have fluctuating costs with each model, but also check how much it costs to install as some brands and designs may be pricier than others.
The cost also refers to the running costs. As noted above, energy efficiency and size will help to determine the running cost of your water heater. Make sure to find the brand with the size and efficiency that suits you.
Reputation
Checking out customer reviews will help you to determine the reputation of a brand, not just the quality of the product, but also customer service and aftercare. Reputation can make or break a company, so the recognition from customers demonstrates the real-life experience.
Equally, certifications from organizations to do with safety, such as ECL certified products, and energy efficiency, like Energy Star, show how well the brand compares to their peers in the eyes of officials. It is also a good indication of brand quality.
Brands in Review
Take a glance at these brands known for their high-quality products and diverse ranges. Check them out to see if they have what you are looking for.
Bradford White

We may earn commission from purchases made from our links, at no additional cost to you
Founded in 1881, Bradford White has grown as a company to become one of the top water heater manufacturers. They pride themselves on innovative technology, with a cutting-edge research facility to improve their products. They develop commercial, residential, and industrial heating products and are headquartered in Philadelphia.
Bradford White is known for its exceptional engineering and manufacturing. Their heaters are extremely durable, and many customers report having had their gas water heater for many years without an issue. The tanks are lined with enamel which helps to prevent corrosion from occurring and shortening the lifespan of the tank.
Bradford White is also focused on safety and reports having 75% fewer NOx emissions than their competitors due to their Eco-Defender Safety System. Their models also have Flame Vapor Ignition Resistance to add to the safety of their products.
Their water heaters come equipped with digital settings that give 10 different indicators and show how the water heater is functioning. It helps to keep your water heater in the most efficient setting for your household. The microprocessor inside helps to keep the settings stable to ensure that fuel is burning consistently and the hot water is not interrupted.
Marey

We may earn commission from purchases made from our links, at no additional cost to you
Founded in 1955, Marey is the vision of the Puerto Rican entrepreneur, Mariano Reyes. He was passionate about the development of tankless water heaters, dedicating his life to this endeavor until he succeeded in making the point-of-use shower heater. Nowadays, Marey has a very wide range of water heating products driven by the passion for innovation and dependability. From their tankless water heaters through their whole range, they focus on durability and consistency for high customer satisfaction.
Marey prides itself on its customer-focused service. Designing with the customer in mind, Marey's customer service mimics the quality of the products. They are revered for helping solve problems as well as directing customers to their needs. They also offer comprehensive warranty schemes that cover a great deal more than their competitors.
It is important to consider that these gas water heaters are mostly designed to serve tropical countries. While they are dependable and have great technology, they're not the most powerful vessels. They are more suited to lighter climates and less strenuous usage.
Marey specializes in tankless water heaters, so if you're looking for a tank, they are not for you. They offer three types of tankless water heaters: duct exhaust, force exhaust, and portable water heaters.
Navien

We may earn commission from purchases made from our links, at no additional cost to you
Navien manufactures commercial, residential, and professional water heater products, and is one of the top brands for innovation and efficiency. Having been established in 1978, Navien made itself a name in Asia before spreading to Europe and the USA. Navien only produces tankless water heaters, so they're not the right brand if you need a tank.
According to Navien, their energy efficient designs cut your energy bills by 20% while reducing greenhouse gases. Many of their products are Energy Star rated showing their exceptionally impressive energy efficiency, and have an efficiency rating of up to 95%.
The warranty scheme that Navien has is very impressive and shows the confidence they have in their engineering. Some of the water heaters come with a warranty of up to 15 years! It is one of the longest warranties on the market.
These models are slightly larger than other tankless gas water heaters. While it may not be an issue if you have space, it could take up a lot of room in small apartments without as many nooks and crannies. The size is in relation to the capacity though, and Navien models produce a lot of hot water and can cope with a high demand.
Noritz

We may earn commission from purchases made from our links, at no additional cost to you
Not as well known as some of the other brands. Noritz is a Canadian brand of gas water heaters. They pride themselves on quality craftsmanship and a high level of customer service that keeps everyone satisfied.
Noritz models are easy-to-install due to their compact size. They can fit easily in small spaces, which makes them a great apartment choice. Both vent and ventless options help to increase versatility in installation ability.
Unlike newer models that have to be replaced if broken, Noritz is far less consumptive. Each part can be easily repaired making it far simpler to maintain while cutting back the costs on replacing it. It also makes it much more environmentally friendly.
With that in mind, the use of the latent heat and the condensing technology in Noritz products makes them highly energy efficient. Noritz focus on the reduction of carbon emissions which, combined with the green technology, makes this brand a great eco-friendly choice.
Noritz dedicates itself to customer service. They have a very friendly approach when you deal with them, and aim to provide products that are designed for the whole family to experience consistent hot water and quality manufacturing.
Eccotemp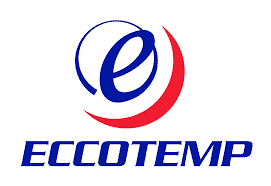 We may earn commission from purchases made from our links, at no additional cost to you
Established in South Carolina in 2004, this family business is one of the newer brands on the market. They aim to provide family-focused solutions to energy efficient and comfortable water heating. They provide both propane and gas tankless water heaters, making them unsuitable for those looking for a brand with tank water heaters.
Eccotemp only offers tankless water heaters as they have a focus toward being ecologically conscious. This is why they tend to build their products based on the principles of durability and energy efficiency. For their products to have a long lifespan, Eccotemp employs a variety of technologies to keep their water heaters hardy. For example, outdoor models come with anti-freeze technology while ventilation systems install a powerful fan to cool down the components inside. Many of Eccotemp products also have Energy Star ratings that show their high level of efficiency.
Eccotemp has a very diverse range of tankless water heaters that can be installed in a vast number of ways and be applied to many water demand situations. Their wide range is due to them having the customer in mind when designing, providing you with a myriad of options for installation of their products within your family home.
Whirlpool

We may earn commission from purchases made from our links, at no additional cost to you
Whirlpool is an American company that provides appliances internationally. They manufacture and distribute water heaters as part of their long line of home products. They focus on designing dynamic products that suit the everyday life of the household owner, while teaming innovation with style, making their products stand out in the home.
Whirlpool has an interesting range of products that incorporate smart features. These features automatically note down your hot water usage and adjust the system accordingly to save on fuel consumption and carbon emissions. It also saves you money and ensures consistent water temperature. There is also a reduced-energy setting that enables the water to sit in the tank when you are out without freezing in cold weathers.
Their tanks are generally aesthetically pleasing and also offer compact solutions to both tank and tankless water heaters. If you are limited by space, Whirlpool has some great options, especially for people looking to install a tank system.
Whirlpool isn´t particularly well-renowned for their customer service. In fact, some customers have complained that despite the products being of high quality, their customer service experiences may lead them to another brand in the future.
Takagi

We may earn commission from purchases made from our links, at no additional cost to you
The first company to specialize in tankless water heating in North America, Takagi is a legendary brand with 60 years of experience and innovation behind it. The range comprises of both residential and commercial gas water heaters, but all are tankless. This brand isn't the one for those looking to implement a tank system.
With innovation at the forefront of their minds and quality to support this, Takagi has had many 'firsts' in history. They were the first tankless water heater brand to have an energy efficiency rating that surpassed 95% as well as the first brand to put forward the vent convertible tankless water heater.
As innovative as they are in design, Takagi also feels this way about the environment, hence the push to provide more eco-friendly models of water heaters. Takagi is also renowned for the customer service, with offices spread around the globe. Their helpful team of staff can help whenever needed and is very knowledgeable about the products and installation processes.
Richmond

We may earn commission from purchases made from our links, at no additional cost to you
Manufactured by Rheem, Richmond has a reputation led by this highly revered brand of innovation and quality. They provide both tank and tankless gas water heaters and offer both commercial and residential ranges of products. They are energy efficient and have a strong emphasis on durability and longevity, focusing their technological development to upholding these values.
Their tankless model has a high energy efficiency rating. While not as high as some of the other products, it has still been awarded the Energy Star rating for its capacity to efficiently operate. A little cheaper than the competition in upfront price, while it isn't as energy efficient as some of the other models, it is an affordable brand for quite an impressive rating.
The EverKleen Self Cleaning systems which can be found in their water heaters help with maintenance, cutting down on human labor and preventing the buildup of sediment and dirt inside the water heaters. This gives them a long lifetime and keeps the parts in better conditions. In fact, their LIFEGUARD stainless steel heating elements also give their products high durability as they are ultra-resistant to the buildup on limescale. This increases the lifetime of the inner components and the longevity of the overall products.
Lastly, the Integra System is a uniquely designed technology that helps to prevent the detrimental effects of lint, dust, and oil, which helps to really preserve the life of Richmond water heaters.
A Guide to the Right Maintenance of Gas Water Heaters
Maintenance is key to preserving the life of your gas water heater.  While certain brands may boost longevity, if we don't take care of the water heater, we'll end up with scale buildup and leaky pipes. Here are some key steps for maintaining your gas water heater.
Know how to turn it off. Although this may seem obvious, you need to know how to turn your water heater off in times of emergency or fire risk. Equally, you'll want to turn it off while you're giving it a good once over.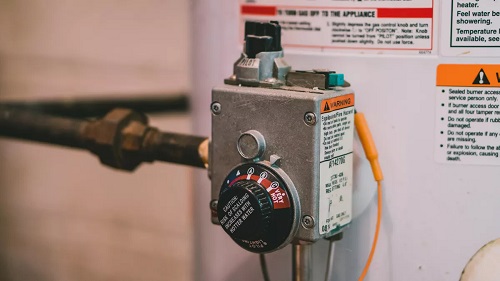 Keep the area clear. Gas is dangerous and keeping the water heater cluttered, especially if it's a tank variety, poses both a fire risk and a carbon monoxide risk. Gas tanks need a good flow of oxygen for complete combustion. If the combustion isn't completed properly, this doesn't only increase the risk of carbon monoxide forming, it also decreases the fuel efficiency and leaves carbon buildup. None of these things are good for keeping your water heater in good working order.
Get it looked at. Have a professional come to inspect your gas water heater once a year. Having help from someone who knows what to look for can help prevent wear and tear on the water heater. It also ensures it is running smoothly and to its highest capacity.
Flush it. If you have a conventional gas water heater, you'll need to drain the tank once in a while. Our wells and main water lines bring in sediment in tiny particles that are unnoticeable. This gets filtered through the tank and settles at the bottom. You want to get rid of this sediment by draining it and flushing through with the cold water valve. Keep doing this until the water runs clear.
Conclusion
Choosing a brand doesn't have to be so difficult if you know what you need to look for. Understanding your requirements is the first step to discover the best brand match for you. Don't jump at the first cheap gas water heater in sight. Take time to look for an affordable model with the right energy efficiency and capacity, and then source the brand that can produce the product, and has a history for quality.