Propane heaters are an efficient way to produce warmth, using a relatively clean-burning energy source. Depending on your requirements, you can find propane heaters suitable for internal or external use, and sometimes both. Familiarize yourself with your needs and check out this information to work out which heater is going to work best for your needs.
At a Glance: Our Top Picks for Propane Heaters
Comparison of the Best Propane Heaters
IMAGE
PRODUCT

Our Top Pick

Radiant heater with 4000 to 9000 BTU that can heat up to 225 sq. ft.
With clean burning, it's almost 100% efficient
Shuts off automatically when tipped over or when it detect low levels of oxygen

View Latest Price →

Adjust heater up to 2890 BTU with the control knob
Fold-away plastic base can be opened to give stability and ensure safety
Steel carry handle allows you to use it in different places easily

View Latest Price →

Infrared heating efficiently warms objects in a 1000 sq. ft. room
Vent-free technology does not require flue or chimney
No electricity required makes it ideal for emergencies

View Latest Price →

Indoor safe unit that can run for up to 5.6 hours
Features auto shut-off, accidental tip-over switch, and low oxygen sensor for increased safety
Portable heater can heat rooms measuring up to 95 sq. ft.

View Latest Price →

Provides 360-degrees of radiant, infrared heat that covers up to 1000 sq. ft.
Given its small size and portable design, it can be used at different places
Mercury-free tip-over shut-off and rust-resistant chrome emitter guard ensure safety

View Latest Price →
How Do You Choose a Propane Heater?
The first and perhaps most important consideration is size. When looking to heat a space, you must know its dimensions first, to understand what capacity the propane heater will need to have. Larger rooms will need a higher BTU (British Thermal Unit) rating than smaller rooms. As a general rule of thumb, you will need around 35 BTU per square foot of space.
Secondly, consider the energy efficiency of the model you are looking at. In particular, choose the right BTU and ensure that it has a temperature control will help to ensure you have a more energy efficient option.
Consider the price of the model you are purchasing. It may come with all the bells and whistles, but is it more than you need? Are you shelling out a lot of money only to realize it is far more than you require for your given space? If this is the case, you'll end up paying much more in operation than you originally planned.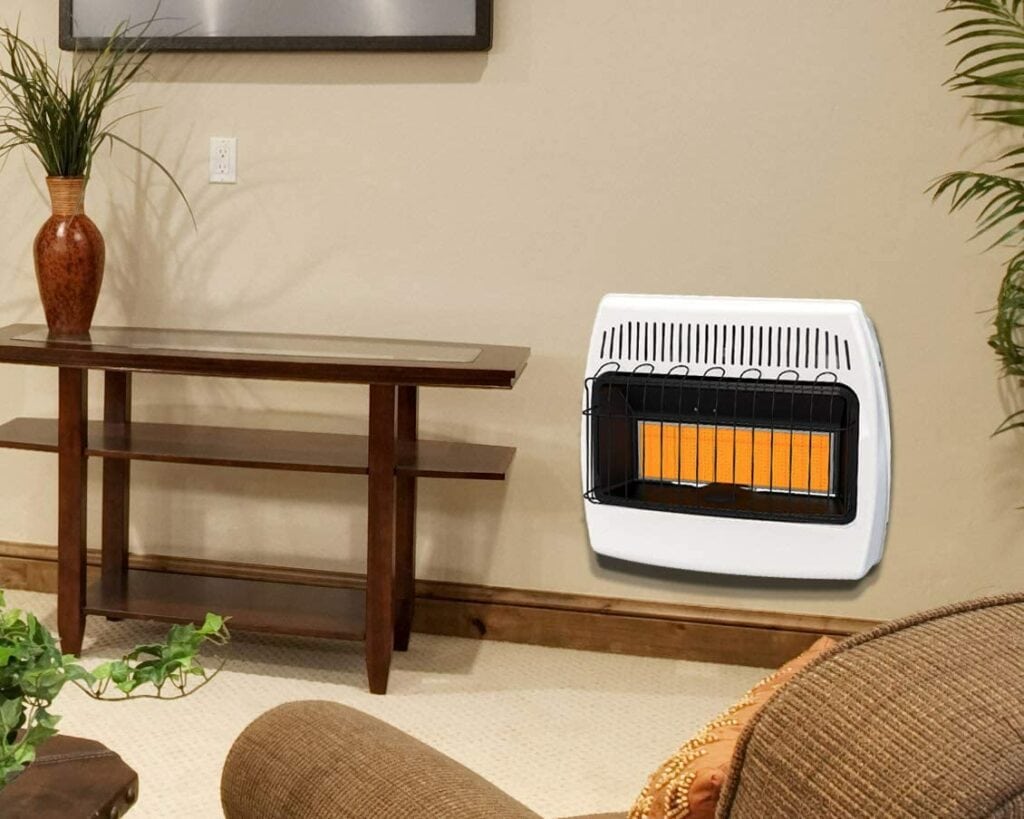 In terms of safety features, you want to look for two main things: tip-over and overheat shut-off. Tip-over shut-off will kick in, if the heater or gas tank falls over, which can prevent a fire. The overheat shut-off will turn the heater off when it reaches a certain temperature, protecting it from becoming too hot. Having an oxygen measure is a bonus as it can prevent the production of carbon monoxide. Moreover, cool-touch exteriors are important, especially if you have children and pets.
Be aware that some propane heaters need electricity to function as their ignition mechanism can be a continuous electrical ignition. In this sense, it prevents the heater from going out but will need to be plugged in.
Reviews of the Best Propane Heaters
If you are looking to purchase a propane heater, understanding your own requirements will help you make the best choice. Here are a few of the best propane heaters on the market, to give you an idea of what you are looking for:
Mr. Heater F232000 MH9BX Buddy
We may earn commission from purchases made from our links, at no additional cost to you
This model is a 2000-4000 BTU radiant heater able to heat spaces up to 225 square feet. It shuts off if the pilot light goes out, if it tips over, or if it detects low oxygen. It has a fold-down handle for easy portability. This is a great outdoor heater and provides efficient warmth for a good price. The only issue is its lack of stability.
Pros
Easy to carry around and simple to use
Very fuel efficient making it quite cheap to run
Can be used both inside and outside and is extremely effective in both environments
Has a great range of safety features to combat carbon monoxide poisoning and fire risk
Cons
Does not work well at high altitudes, of 7000 feet above sea level
There is an exposed flame which makes it a little bit of a risk for children and pets
Texsport Portable Outdoor Propane
No products found.
We may earn commission from purchases made from our links, at no additional cost to you
This outdoor heater works by blowing heat with a fan. It has a maximum capacity of 2890 BTU, and it automatically shuts off if the flame goes out. It has a large paddle base for stability and a reflector to reflect heat outwards.
Pros
Powerful and will keep smaller tents quite cozy and warm
Easily portable because it is lightweight and has an aluminum carry handle
Can last for 4-6 hours on only 1 pound of fuel, and 6-8 hours on a pound of fuel if on low mode
Cons
You cannot use it inside
Some users have said that it can be difficult to turn on again when it goes out
Does not have tip-over shut-off and is not the most stable heater, making it hazardous around pets and children, and in strong winds
Dyna-Glo IR30PMDG-1 Liquid Propane Infrared Vent Free Wall Heater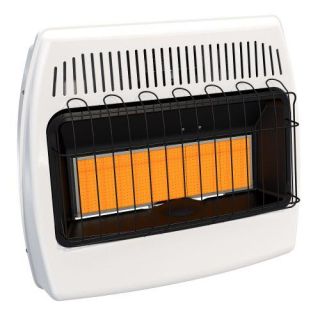 We may earn commission from purchases made from our links, at no additional cost to you
This wall heater uses infrared technology powered by propane. It has a 3000 BTU rating and can heat up to 1000 square feet of space. It has a battery powered piezo-ignitor, and the temperature is manually adjustable. There is a built-in oxygen depletion shut-off mechanism, though it has 99.9% efficiency. It has a sleek design and is a good fit for those looking to save space. Efficient and effective, this heater works well heating big and small spaces. There's no thermostat, which is inconvenient.
Pros
Easy to install and simple to use
Heats rooms very efficiently and to a high temperature
Doesn't take up much space as it is installed into a wall recess
Infrared technology is an extremely efficient way of heating objects in a room
Cons
The instructions are not clear, which can confuse you on the first attempt at firing it up
Doesn't have a thermostat and the manual temperature control can be inconvenient
Mr. Heater F215100 MH4B Little Buddy 3800-BTU Indoor Safe Propane Heater
We may earn commission from purchases made from our links, at no additional cost to you
With a low-oxygen sensor, automatic tip-over, overheat shut-off, and a cool-to-touch exterior, this little heater is both safe and effective. It can heat rooms up to 95 feet squared and has a simple on/off button.
It is a great little heater for indoor or outdoor heat. It is surprisingly powerful for its small size but isn't adjustable in temperature.
Pros
You can use it indoors and outside
Very efficacious for a small heater
Lightweight, making it easily portable
The heating surface is coated in porcelain to spread the heat and distribute it 
Cons
There is no temperature control; it is either on or off
Difficult to clean, which according to the company, is a common complaint
Dura Heat TT-360 Propane(LP) 360 Degree Tank Top Heater
We may earn commission from purchases made from our links, at no additional cost to you
This model provides 360-degree infrared radiant heat and can operate for up to 14 hours on a 20-pound tank of propane. It has tip-over and accidental shut-off and lights using a match.
It is a good model to use outside, on working sites or in construction zones. It radiates heat in all directions but needs to be brought inside after a while.
Pros
Very powerful heater designed to heat construction sites and outdoor settings
Made from high-grade steel and is rust-proof
The reflectors help to direct the heat outwards in an efficient manner.
Good safety features, in case it falls over or overheats
Cons
Though it is for the outdoors, you cannot leave it outside for a long time
Difficult to turn it on
How Does a Propane Heater Work?
A propane heater works by burning propane. An ignitor, usually a piezoelectric igniter, sparks the fuel. These are often made of quartz. The fuel passes over an element, often porcelain, which distributes the heat by spreading the flame out into a pattern.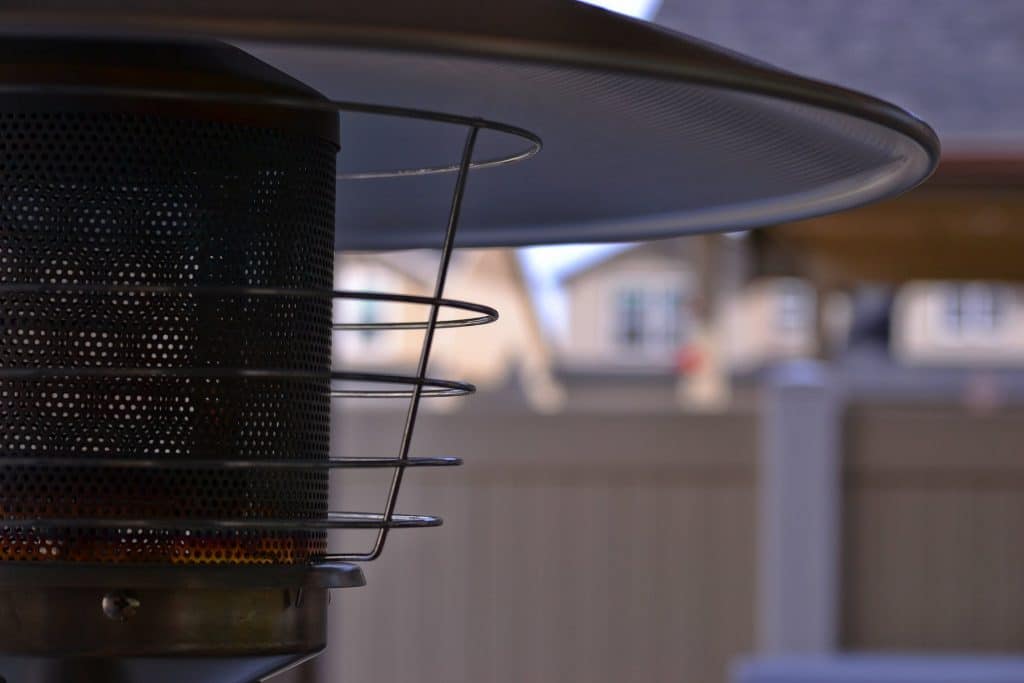 Most often a propane heater will have a pilot light which will be used to relight the fuel if it goes out, instead of having to light it from scratch each time. Most heaters are adjustable in temperature, with many having thermostats for automatic temperature balancing.
Propane Heaters vs. Electric Heaters
Firstly, propane heaters are very reliable. Electrical heaters need a strong power source such as the main electricity grid, which is not always an option for everyone. If you live in rural areas or are traveling in a motorhome, the likelihood is that an electrical heater puts far too much strain on the electricity supply.
Propane is quite energy efficient as it contains a high percentage of energy per pound of fuel. That is why it is relatively cheap to run; far less expensive than electricity. Although electric heaters are less expensive in upfront costs, propane is a more economical fuel in the long run. Equally, propane heaters tend to heat air to a warmer temperature than electricity.
Propane heaters are more environmentally-friendly than electric heaters. Long known as the green energy, propane uses less fuel, and the heater generally lasts longer due to higher durability.
One problem with propane is safety. Propane canisters can prove to be an issue if knocked or pierced. Equally, unvented propane heaters are dangerous inside. So make sure to use a vented propane heater when inside if possible. Carbon monoxide poisoning can be a real risk if propane is not burnt efficiently and with enough oxygen. Ensuring that your propane heater has the mechanisms to detect this, will help to prevent it from occurring.
Conclusion
When choosing your propane heater, it is important to ensure that you have the right heater for your circumstance. If you are looking for something to go inside your home, never choose an external heater as they do not have the safety mechanisms and vents to deal with carbon monoxide.
Equally, you'll find that indoor heaters are designed to cope with interior spaces better. Always bear in mind your own needs, and find a heater that suits you.
People Also Ask
Propane heaters are characterized by their use of a clean-burning source. Now that you have gone through the top models you can go for, it's time to clear up any confusion so that you can be confident in your purchase.
Are Propane Heaters Safe for Indoors?
There are specifically designed propane heaters for the indoors. These are not only safe but also come with additional safety features, including low oxygen-level detectors. Despite that, it's essential to take necessary precautions while using these indoors.  
How Long Will a Propane Heater Last?
A propane heater with a standard 20-pound tank can last for 10 hours. However, the number of hours can vary depending on the BTU of your unit.
Do You Need Ventilation for a Propane Heater?
Since propane heaters work by using up the oxygen in the air, ventilation is necessary if you want to use a propane heater. If not, then the unit will eat up all the oxygen, putting you at risk.
Do Indoor Propane Heaters Need to be Vented?
Yes, indoor propane heaters must be vented. This is because propane heaters can serve to be carbon monoxide hazards if they are used without sufficient ventilation in place.
How Long Will 100 Gallons of Propane Last?
One gallon of propane has roughly 91,500 BTU's of heat. So, when you do the math, 100 gallons would have roughly 9,150,000 BTU's. Now, when it comes to how long so much propane will last, it all depends on the BTUs that your unit requires. For instance, if you have a large heater with more BTUs, then 100 gallons of propane will be used up relatively quickly.
Can You Get Carbon Monoxide Poisoning From a Propane Heater?
As they burn, propane heaters release carbon monoxide, which means such units are both fire and health hazards. They can also lead to CO poisoning in just minutes, leading to death in a very short time.
Is it Safe to Use Propane Heater in a Tent?
No, it's not at all safe to use a propane heater inside a tent, because of several reasons. Firstly, a tent is closed and can easily catch fire. Secondly, it produces an excessive amount of CO, which is dangerous for your health.