A dedicated camper does not let snow or low temperature deter them from staying indoors. But they also know the struggle of twisting and tossing around to get some warmth even after donning every single clothing article they have with them. Such conditions call for a tent heater.
Tent heaters follow closely behind the tent and the sleeping bag on the list of camping essentials. Like any other heating device, they also pose some risk. But with proper usage, the risk can be eliminated. Also, the modern devices manufactured these days are as safe as they get. 
This article talks about some of the best tent heaters. The included list of top picks features high-quality units that are easy to use and safe as long as you strictly adhere to the manufacturer guidelines. 
At a Glance: Our Top Picks for Tent Heaters
Comparison of the Best Tent Heaters
IMAGE
PRODUCT

Our Top Pick

Portable design with fold out handle and swivel out regulator
Highly efficient and fuel conservative design
Made with auto shutoff switch for tip-over and low oxygen safety

View Latest Price →

Made with enhanced safety features and comfortable control
Provides 360 degree radial heat with energy efficient heating system
Compact, portable design with easy-grab cool touch handle

View Latest Price →

Best Budget Option

Best for the Money
Low wattage design to save and conserve energy
Quiet, quick performance with full safety features

View Latest Price →

Best Propane Tent Heater
Small and supremely compacted design optimized for mobility
Highly efficient with tip-over and low oxygen safety switch

View Latest Price →

Best Electric Tent Heater
Quiet and fast heating dual purpose heater and cooler
Equipped with a multi-protection system safe against overheating and tip-over

View Latest Price →

Best Catalytic Tent Heater
Designed to be wall mounted or used as a portable unit
Wave heater technology provide extremely silent operation

View Latest Price →

Best Backpacking Tent Heater
Made from stainless steel to provide life-long service
Light-weight construction with no requirement for fuel

View Latest Price →
What Makes a Heater Great for Use in a Tent?
Although tent heaters are not a part of your regular camping gear, certain conditions call for you to use one. Believe it or not, people do love camping in winter. And for them, a heater is a necessary purchase. Here are some features that make a heater great for use in a tent. 
Size 
The freezing temperatures may tempt you to purchase the biggest heater you can get your hands on. But don't rush into purchasing one just yet. Keep your space constraints and type of usage in mind, and you will learn that a small and portable unit is a far better choice to use in your tent. 
Heat Output 
The heat output of any heater is measured in BTUs. The higher the BTUs, the more heat will be generated. For use in a tent, a heater with an output between 1,000 to 5,000 BTUs is sufficient for keeping it warm throughout a chilly night.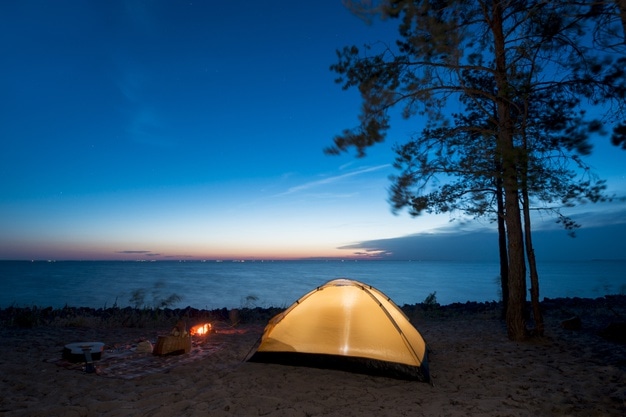 Safety Features 
Safety is the number one priority while using a heating appliance. Regardless of the type, a good tent heater features a number of safety features to keep its user safe. These include an automatic safety shut-off, a tip-over guard, a protective grill, or a carbon dioxide detector. These features come in handy if an accident happens. 
Quality Construction
A heater is a device that poses some risks, so it is best to invest in a quality unit. A tent heater is also carried on a bumpy off-road ride or a hike, so it has to be sturdy enough to withstand the tough conditions. A low-quality or fragile unit does not stand a chance in such situations. 
Review of the Best Tent Heaters
Tent heaters come in all shapes and sizes. From the fuel they consume to the BTUs they are capable of, their differences are tremendous. So with the multitude of products scattered all over the market, how will you choose a suitable one for yourself? It's simple: by going through the review of the best tent heaters we have provided below. 
We have included some of the absolute best, so rest assured that there is no doubt about their quality and functionality. 
Mr. Heater F232000 MH9BX
Coverage Area (sq ft): 200
Power (watts): N/A
Dimensions: 7.7 x 13.4 x 15
Weight: 9 pounds
We may earn commission from purchases made from our links, at no additional cost to you
What Recent Buyers Report
Consumers are very satisfied with it. Like its name, this heater has served them as a buddy by keeping them warm on the coldest of nights. From RVs and hunting to camping trips, and even tailgate parties, people have been using it without facing any issues. They like the ease of setup and operation.
Why it Stands Out to Us
We think this is one of the safest units to warm up your tent. A multitude of features offers a safe heating experience, especially in confined spaces like tents or RVs. It has an anti-tip-over guard that prevents it from tipping over. The safe-to-touch grill is also there to prevent objects from coming in direct contact with the burner. It is also equipped with a carbon dioxide detector that shuts it off when the oxygen concentration is low.This is a one hundred percent efficient machine whose source of operation is very clean. Compact and portable, it can easily produce 4,000 to 9,000 BTUs of thermal energy. This is not that great under normal conditions, but for warming a small enclosed space like a tent, it is more than enough.
Bottom Line
Overall, this versatile unit is very reliable for several applications. It may look like a large investment upfront. But in the long run, it will prove to be one of the most worthy investments you have ever made. Apart from your camping needs, this space heater will serve you in various other situations.
Pros
Setup and operation are very easy
Ceramic burner tile is easy to replace
Comes with a one-year warranty coverage
Equipped with a number of safety features
Features a sturdy yet lightweight construction
Cons
Cannot be used at high altitudes
The included one pound canister drains quickly
Honeywell HHF370B
Coverage Area (sq ft): N/A
Power (watts): 1500
Dimensions: 8.1 x 7.9 x 11.2
Weight: 4.3 pounds
We may earn commission from purchases made from our links, at no additional cost to you
What Recent Buyers Report 
People really love this little piece of technology. They are not only happy with their performance but also find it very easy to use, especially those who have kids or pets. They really applaud the added safety features. The remote control feature is the cherry on top. Buyers highly recommend it as it is one sturdy and effective heater to use anywhere. 
Why it Stands Out to Us
The Honeywell HHF370B is a 360-degree digital surround fan-forced heater. This means this electric heating appliance can disperse heat from all directions using a powerful fan. It features a digital interface that is very easy to use. You can use it to program the thermostat according to your needs. The improved engine design ensures superior and efficient heating.
It features a contemporary design that is very pleasant to look at. The sleek cylindrical device does not look like a heater at all. 
The cool-touch handle makes it very easy to move from one place to another. Set it in the center of the room, and you will feel the radiating towards every nook and corner. You can also set the timer, and it will automatically shut-off. 
Bottom Line
To sum up, this is an amazing little invention that can single-handedly warm an entire group of people who sit around it. The aesthetic design adds a classy touch to the décor to your tent. It is great for medium to large-sized tents. You can really rely on its safe design to avoid any mishaps. 
Pros
Heat is dispersed from all sides
Cool-touch handle adds easy portability 
Finishing is modern, compact, and aesthetic 
Programmable 360-degree heating is very convenient
Automatic shut-off feature ensures maximum protection
Cons
Consumes a lot of power
Control seems to be limited in low-temperature settings
Brightown Mini Desk Heater
Coverage Area (sq ft): 100
Power (watts): 400
Dimensions: 6.3 x 3.15 x 6.3
Weight: 1.44 pounds
We may earn commission from purchases made from our links, at no additional cost to you
What Recent Buyers Report
Despite its obvious use, people have been using this unit for a number of purposes. They happily report that it has exceeded all their expectations. The size underestimates its actual power. It pushes out an intense heat where it is put. The bright color is easy to spot, and the nicely compact size prevents anybody from knocking into it.
Why it Stands Out to Us
We find that this is an amazingly inconspicuous device that will warm up your tent while staying out of sight. It has a very small footprint. Its total height is just a bit higher than a playing card. But even with size this small, it packs a punch of great power. It can heat up any small to medium-sized tent very easily. The small and lightweight heater is very portable. You can easily pick it up and carry it anywhere with you. The bright orange color is pleasing to look at. It is very cute and minimalistic, yet it is equipped with some features that make it safe. It has an anti-tip-over and overheats protection that automatically trims it off if such situations arise.
Bottom Line
If you want a heater that is small and portable, look no further. The Brightown Mini Desk Heater is designed to fulfill all your heating needs, be it in an office or inside a tent. It is safe and easy to use, with a number of protective features in place.
Pros
Housing is cool to touch
Very efficient yet powerful
Miniature design is easy to transport
Bright color complements various décor
Features a compact and low-profile design
Cons
Does not have an auto shut-off timer
Some users experienced a burning smell upon the first usage
Mr. Heater F215100 MH4B
Coverage Area (sq ft): 95
Power (watts): N/A
Dimensions: 6.3 x 3.15 x 6.3
Weight: 1.44 pounds
We may earn commission from purchases made from our links, at no additional cost to you
What Recent Buyers Report
Though it takes some time to get started, users say that it puts out some serious BTUs. The tilt heating surface design is not only stylish but also very functional. People have been using it to heat various spaces, and they report that it works amazingly well in enclosed spaces. It also does not hurt that the low oxygen and tip-over sensor make it one of the safest units on the market. 
Why it Stands Out to Us
This little unit from Mr. Heater packs a ton of features inside its small profile. Perfectly capable of heating smaller tents, this device delivers high-quality service very efficiently. Not only is the tilting design great, but the noiseless operation also makes it stand out to us as one of the best tent heaters. 
The stylish unit is very simple to use. The controls are pretty basic, and the single propane tank loads and unloads effortlessly. It is also equipped with both a low-oxygen sensor and a tip-over sensor, which automatically turns it off if any accidents happen. You can easily use it around small children and pets.
Bottom Line
Overall, if you are a person who appreciates simplicity, then this is a perfect match for you. The controls are simple, and the design is fully functional. Use inside a tent or at your campsite; you won't be disappointed with its performance. Once you start using it, you will be surprised at how you used to manage without it. 
Pros
Features a large heating surface
Well-made unit is durable and sturdy
Foldable handles make it easier to carry
Suitable for both indoor and outdoor usage 
A 45-degree angle delivers wide heat radiation
Cons
A bit difficult to start
Propane tank is not included
Best Electric Tent Heater
Brightown Portable Electric Space Heater
Coverage Area (sq ft): 200
Power (watts): 1500
Dimensions: 6.2 x 7 x 9.2
Weight: 3.54 pounds
We may earn commission from purchases made from our links, at no additional cost to you
What Recent Buyers Report
From what we have read so far, this little unit is brimming to the top with high-quality features. Buyers really like the safety sensor located underneath the unit. It turns the device off once it loses contact with the floor. The added safety precautions, along with the multiple settings and oscillating radiation, surely made it a great purchase for most of its buyers. 
Why it Stands Out to Us
We find the Brightown Portable Electric Space Heater to be a versatile unit. With its three operational modes, it can easily keep up with your heating demands. At high settings, it will function to heat your tent. Meanwhile, at low, it will oscillate to maintain a constant temperature. And the fan feature is great for circulating hot air around when you don't need the heat. 
It is cleverly designed to be safe with a sensor located underneath that detects contact. Once it loses contact with the ground, the sensor will prompt it to shut off. In addition, it comes with a six feet long cord so you can easily connect it with the power supply even if it is located a bit far. 
Bottom Line
To sum up, if you are minimalistic, then you will really appreciate this small yet powerful unit. It is safe to operate, efficient at heat generation, and noiseless. All of these make it a good option in our eyes. Additionally, it comes at a really low price, so you will really be missing a good bargain if you skip it. 
Pros
Comes at a very affordable price
Boasts a completely noiseless operation
Equipped with an automatic shutoff feature 
Heat level can be controlled with the thermostat
Can function on the different operational settings 
Cons
Does not look very sturdy
Cannot cover a large area
Best Catalytic Tent Heater
Camco 57331 Olympian Wave-3
Coverage Area (sq ft): 100
Power (watts): N/A
Dimensions: 14.50 x 11.75 x 4.88
Weight: 6.89 pounds
We may earn commission from purchases made from our links, at no additional cost to you
What Recent Buyers Report
Buyers of this Camco appliance are quite happy with their purchase. They report that they could get it up and running in no time. It heats up space efficiently and effectively. The solid construction makes a long-lasting unit; some buyers have had it for as long as eight years without having a single complaint about its performance. 
Why it Stands Out to Us
The Olympian Wave-3 left out nothing in terms of great features. It may give a bulky first impression, but actually, it weighs merely a pound. The slim design gives you the choice of deciding how you want to use it. You can just place it on the ground or install it on a wall mount. No matter what you choose, rest assured its heating potential won't be affected in any way.
It operates without any noise, and with a number of safety features, it ensures that you are safe at all times. These include an automatic shutoff and no carbon monoxide production. It utilizes catalytic heat that has a better conversion to energy. So it is just the right choice to warm up your tent nicely and safely. 
Bottom Line
We think that high-quality construction makes it a great unit that will deliver excellent performance over a long period. The slim and lightweight design is not only portable but also very efficient. This heater is especially useful in situations where you need to quickly heat up a small space. 
Pros
One of the most efficient units
Does not produce carbon monoxide
Can function on high altitudes as well
Boasts a quiet and noiseless operation
Versatile unit can be used on the floor or mounted on the wall 
Cons
Cannot set the desired temperature
Base and wall mount are not included 
Best Backpacking Tent Heater
VGEBY1 Camping Mini Heater
Coverage Area (sq ft): N/A
Power (watts): N/A
Dimensions: 11.5 x 14.5 x 4.5
Weight: 15.2 pounds
We may earn commission from purchases made from our links, at no additional cost to you
What Recent Buyers Report
Users report this to be an environment-friendly alternative to any other heater. They really like the simple design that makes it very easy to set up and use. Once lit up, it starts spreading heat within a minute. The design is convenient, and the heat quality is exceptional, so users are happy at making such an affordable purchase.
Why it Stands Out to Us
Unlike all the other heating appliances on our list, this model uses natural fuel such as wood, twigs, and leaves to produce heat. It does not require any connections or cords to operate. Just fill it with the fuel and light it up to enjoy instantaneous warmth.
The stainless steel construction is incredibly lightweight yet sturdy. Although it is thin, it can easily handle high temperatures for a long time. It is also equipped with a handy handle that enables you to lift it up even when it is on fire. While it does not have any bells and whistles of any modern unit, it makes up for it by being very cost-effective and environment friendly. Furthermore, if you want, you can also use it as a stove to cook food.
Bottom Line
All in all, this is a great unit for everyone who loves the environment. This is a greener way to heat up your tent and not feel guilty about it. It comes at a very low price and does not cost anything after that, so it is a great choice for campers on tight budgets.
Pros
Comes at a very lucrative price
Highly suitable for budget campers
Extremely cost-effective and eco-friendly
Lightweight and very easy to carry around
Uses twigs and branches as fuel to function
Cons
Does not have anything to regulate temperature
Best Portable Tent Heater
Mr. Heater F274800
Coverage Area (sq ft): 450
Power (watts): N/A
Dimensions: 18.5 x 18 x 11.4
Weight: 2.75 pounds
We may earn commission from purchases made from our links, at no additional cost to you
What Recent Buyers Report
This unit has thousands of great reviews following it. Buyers simply cannot stop talking about its great features. They like it for its smooth operation, quick heating, and responsiveness. Although it is a bit heavy, the handle is sturdy enough to handle its weight. The high-quality construction is also celebrated as some users have had it for years and it is still up and running solidly. 
Why it Stands Out to Us
True to its name, Mr. Heater has created Big Buddy to facilitate consumers who own large-sized tents. With its efficient heat dispersion, this unit is suitable for both indoor and outdoor usage. On a camping expedition, you can use it to warm the inside of the tent. While outside, it will keep you warm and cozy while you enjoy nature. 
We think that the heavy unit is hard to knock over as is. But if something happens, the automatic shutoff will instantly switch it off to ensure safety. This safety feature also intervenes when it detects a low oxygen level or if the pilot goes off. With all these safety precautions in place, who can ignore a great appliance like this one? 
Bottom Line
To conclude, if you have been evading purchasing a tent heater due to safety concerns, then this is the unit you should definitely look into. It is one of the safest units in the industry that also holds the reputation of being a highly efficient appliance. Leave your fear behind, buy this unit, and forget the struggle of trying to sleep while shivering in a cold tent. 
Pros
Works both efficiently and noiselessly
Highly secured against accidental mishaps
Suitable for both indoor and outdoor usage
One of the most powerful heaters on this list
Offers adjustable, varying temperature settings
Cons
Heaviest unit on our list
Fan is not included in the package
What Are the Best Uses For a Tent Heater?
A tent heater is a versatile piece of gear in your winter camping supply. Although its main purpose is to keep you warm within the confines of your tent, it can also serve some secondary purposes. The best uses for a tent heater are:
Warmth
The first and foremost use of a tent heater is its capability to regulate the temperature in a comfortable range. It can easily heat up a tent set up in the coldest environments. We all know the struggle of trying to sleep when your feet are getting frosty. Heaters save you from that.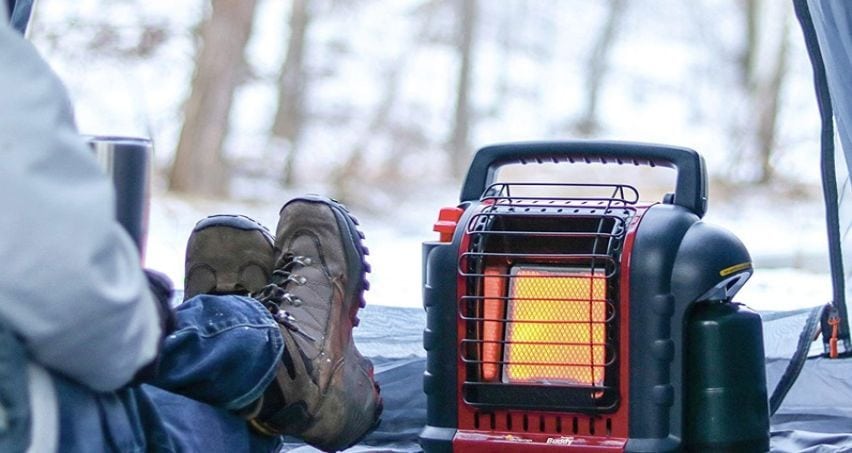 Decoration
A number of heating appliances are created in eye-catching designs. Such models add a touch of finesse to the décor of your tent. For example, halogen heaters serve the multiple purposes of lighting, heating, and décor. Just be sure not to step beneath one. 
Indoor and Outdoor Usage
Some tent heaters are designed for both indoor and outdoor usages. Electric fan heaters especially excel at this. You can use it inside a tent, on a kayak, or set it up by your side while you are ice-fishing. Nothing beats the warmth in cold freezing temperatures.
What Size Tent Heater Do I Need?
If you want to heat up your tent effectively, you have to choose the right size heater for it. Suppose you have a full-sized tent; you certainly won't be able to warm it up with a small heater and vice versa. 
The size of a heater is directly proportional to the heating capacity it possesses. To figure it out, consider the area of your tent. The bigger the size, the powerful the appliance you will need. Similarly, a unit with fewer BTUs is enough to heat a compact tent. 
How Big of a Tent Will a 5000 BTU Heater Heat?
This question is a bit tricky to answer because a number of factors directly affect the heating capacity of a heater. Things like surrounding temperature, fuel type, and placement of the heater contribute to how effectively it can heat up the tent. Roughly, it is estimated that a 5000 BTU tent heater is highly suitable for 150sq ft. It can heat up a medium-sized regular or a 10'x10' cabin tent.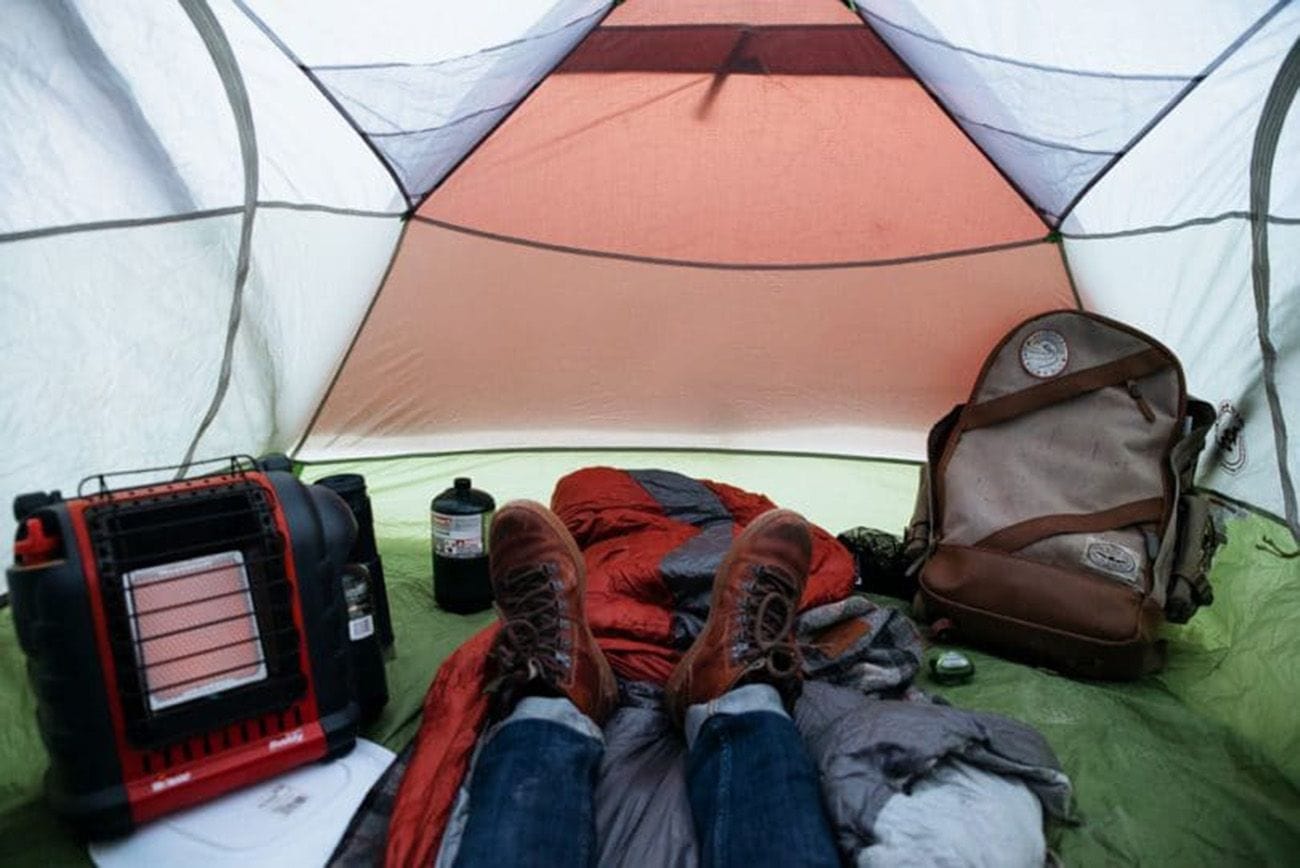 What Kind of Heater Can You Put in a Tent?
The first thing to do before you head towards the market is to decide on the type of heater you will be buying to heat your tent. Knowing about the different kinds certainly helps to pick up the right one. The list provided above features units from each kind. So you can easily choose a model that is more suitable for your needs. Here are the different kinds of heaters that you can put in a tent.
Gas Heaters
Gas heaters use propane gas for heating purposes. That's why they are also known as propane heaters. They are cheaper to purchase, yet they may cost you more in the long run because the gas needs to be refilled often. You also have to be careful about keeping the tank away from flammable objects, and you must place it on a flat surface. They are most efficient as they fill the tent with conditioned air and can reach temperatures higher than any of their counterparts. 
Electric Heaters
As the name suggests, electric heaters use electricity to deliver warm air. They are the most expensive of all the types listed here. They need an electric connection to function. That can come through a campsite hookup, your car, or a generator if you have brought one along. Other than that, they are very easy and simple to use. They also feature a safety auto-shutoff to prevent fire outbreak if they ever fall over.
Battery-Powered Heaters
These are the least powerful tent heaters. They utilize batteries as fuel and can be recharged once out of power. Their biggest advantage is portability. Being a versatile unit, you can use one anywhere. Just be sure to fully charge it before setting out.
Can You Use a Propane Heater in a Tent?
Yes, you can use a propane heater in a tent. And if truth be told, using a propane heater is better than an electric one. This is because they are more portable and don't need to be plugged into anything to function. They are also healthier for the environment as contrary to the dry air electric heaters produce, propane-powered ones keep the air around you conditioned. Unlike their older versions, modern units have come a long way. They are safer, more reliable, and convenient. 
Using a Heater in a Tent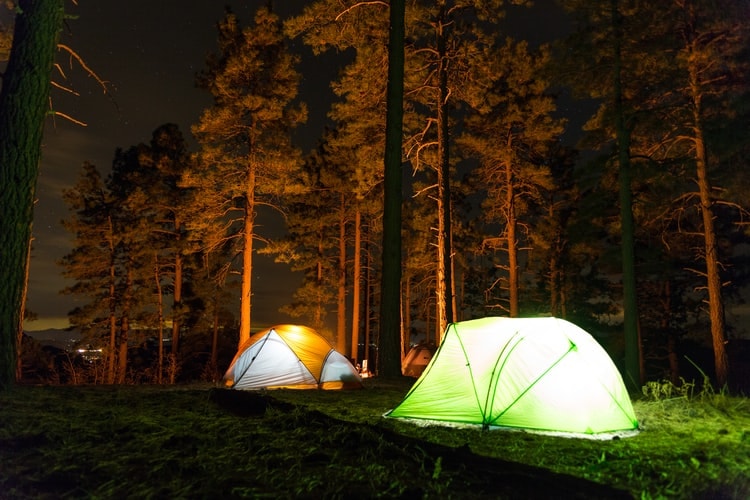 If you are amongst the people who are putting off using a tent heater because of the dangers associated with it, it's time to change things. The heating devices used these days are far more developed and safe than they were about a decade ago. Of course, low-quality units still pose a significant threat. But higher-quality machines are designed to provide a reckless and soothing experience. 
Here are some tips on using a heater safely in a tent. 
Build
For the most part, the build of a gadget determines how well it will perform. No matter the type, the heater you use must be of high quality with a number of safety features in place. These include auto-shutoff, carbon dioxide detector, anti-tip guard, protective grill, etc. 
Placement 
While setting up the heater in the tent, be sure to choose a smooth, even surface. This is important because the uneven ground can cause it to tip over, which can become hazardous. You can also place a canvas sheet underneath it. This is a safety measure that comes in handy if the heater tips. 
Since the canvas is more resistant, it is less likely to catch and spread the fire. Also, be sure to place it below the highest ceiling, so the heat has more space to disperse. Otherwise, it can damage the tent's interior with its intensity.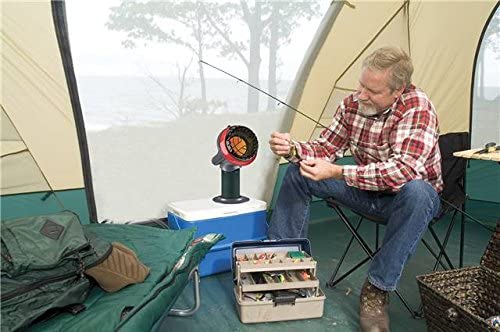 Ventilation 
It is important to operate a heater in a ventilated space. This means that your tent should have a window or any other panel open to let some fresh air in, especially if you are using a propane heater. These heaters release carbon monoxide and other dangerous gases that can cause serious illness and even death when deposited in toxic levels inside an enclosed tent. Be sure to keep an opening open to allow airflow inside the tent 
Don't Sleep With the Heater on 
This is the oldest advice. Since old truly is gold, this piece of advice still holds as much value as it did back when heaters were first introduced. Several things can go wrong with machinery items. A heater is a useful yet somewhat risky appliance that needs to be watched. So it is best to operate it while you are awake. Once the desired temperature is reached, you should switch it off. 
Operation 
Improper operation is a major cause of heaters causing damages. Once you have the heater of your choice, we urge you to stick to the manufacturer's guidelines. They are the developers; they know what is right and what is wrong. Just follow their instructions, and you won't face any issue with your heating appliance. 
These were some precautions to keep in mind while using a tent heater. If you still have some queries, here is a video to address your issues. 
Conclusion
Now you have all the essential knowledge about tent heaters and their operation. We have also presented you with some worthy candidates in our list of the best tent heaters. All camping enthusiasts who like spending cold nights in the comfort of their toasty tents will benefit from purchasing a unit from this list. If you fall into this category, be sure to check out all the products, and you will definitely find your perfect match.
People Also Ask
Planning for a camping trip in cold seasons is all fun and games until you realize that the biting cold is there to get you, especially at night. A tent heater is a great device to keep you warm. But with the stigma surrounding them, you will have some doubts that need clearance before you purchase a good unit. Here are some commonly asked questions to help you out.
How Well Do Tent Heaters Work?
Let's face it; even the warmest jacket cannot generate heat on its own. You need something more to heat up yourself and the inside of your tent. Tent heaters are designed to bring up the cold temperature inside your tent. They are a surefire way of retaining your body heat.
Are Tent Heaters Dangerous?
No matter the type, every tent heater has its own dangers. The subpar quality greatly enhances the risk. Improper usage is also a major cause of tent heaters, causing fires or suffocation hazards. We urge you to be extremely careful about using them, especially if you have small children with you.