Heat pumps are all-purpose performers. They're capable of functioning as either a heater or air conditioner, depending on the season.
But like any heating or cooling appliance, they require a thermostat to function properly.
Fortunately, thermostat technology has advanced by leaps and bounds over the past several years, giving you, the consumer, a number of intriguing energy-efficient options to consider.
At a Glance: Our Top Picks for Thermostats For Heat Pumps
Comparison Chart of the Best Thermostat for Heat Pumps
IMAGE
PRODUCT

Our Top Pick

Voice Command and Control Through Amazon Alexa, Apple Homekit, or Google Assistant
Fully Customizable Touchscreen that Changes Color to Blend With the Surrounding Décor
Total Connect Comfort App for Programming and Monitoring From Anywhere in the World

View Latest Price →

Automatic Programming Based on Homeowner's Previous Heating and Cooling Preferences
Mobile Apps for iOS or Android Allow for Remote Control of Thermostat and HVAC Equipment
Nest's Patented Farsight Technology Makes Display Face Readings Visible From Across the Room

View Latest Price →

Low-Cost Smart Thermostat Sells for Less than $60 Retail
Full Touchscreen Programmability for All Modes, Settings, and Functions
Weekly or Daily Programming Options, Depending on the Degree of Flexibility Required

View Latest Price →

WiFi Monitoring and Full-Access Programming From Even the Farthest Locations
Compatibility with Amazon Alexa (and Other Popular Smart Platforms) for Voice Control
DIY Install With Written and Video Instructions Included on the Emerson Sensi Mobile App

View Latest Price →

Best Budget Option

Easy-to-Read Temperature and Temperature Setting Displays
Basic Switch-and-Button Functioning for Temperature-Controlled Heating and Cooling
Heat Pump-Only Design With "Emergency Heat" Setting for Models With Auxiliary Heating

View Latest Price →
How to Choose a Thermostat for a Heat Pump
No two thermostats are exactly alike. Here are some important factors you should consider before you purchase one to manage your heat pump's output:
Compatibility
Some thermostats are compatible with heat pumps and some are not. Before you buy any thermostat, you must confirm with a sales representative or from reading the specifications that it will actually work with your HVAC appliances.
Compatibility With Auxiliary Heating
Heat pumps installed in climates with subfreezing wintertime temperatures usually include an auxiliary or emergency heating function. If you have such a model, you should be aware that not all heat pump-compatible products feature auxiliary heating modes. Needless to say, you should look for one that does.
Technological Sophistication
Do you want the simplicity and basic functioning offered by a mechanical thermostat, or its electronic equivalent? Or, do you want the ability to program your device ahead of time? And if it's the latter, do you want to wireless internet access and remote programmability? Or, is programming from a touchscreen on the thermostat itself the only capability you require?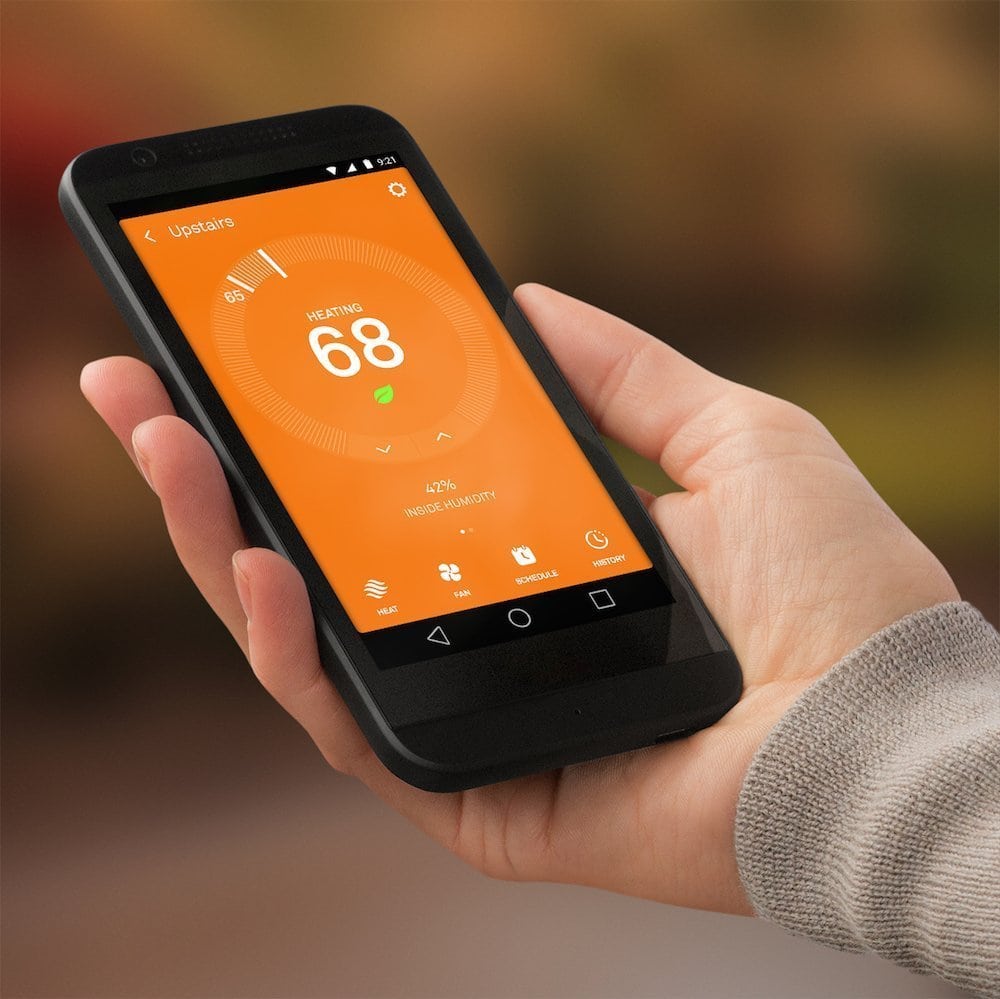 These are the questions you must keep in mind as you evaluate the possibilities. Generally speaking, the more features it has the more it will cost, and that is something to keep in mind as well.
Review of Best Thermostats for Heat Pumps
When you go thermostat shopping you'll find no shortage of intriguing products. To help you navigate through the various promises, claims, and counterclaims, we've compiled a list of the very best thermostats available to heat pump owners in 2019.
There are other excellent products out there as well. But after extensive testing and analysis, we've been able to identify these as "the best of the best" in our opinion.
Honeywell TH9320WF5003
We may earn commission from purchases made from our links, at no additional cost to you
Review
If you're looking for an impressive package of terrific features at an affordable price, the Honeywell TH9320WF5003 WiFi 9000 should be right up your alley. Indoor climates become fully customizable when you hook your HVAC system up to this ingeniously designed smart thermostat, which can smoothly integrate with all types of heat pumps. Wireless internet access and programming are available through the Total Connect Comfort app, which complements the multifaceted touchscreen.
Bottom Line
The best offerings include multiple features, yet are easy to program, monitor, and control. The Honeywell TH9320WF5003 WiFi 9000 hits all the right notes, but it won't cost you an arm and a leg to purchase and install.
The performance of your heat pump will be significantly enhanced if you choose this thermostat, which has earned accolades from satisfied customers and HVAC experts alike. Honeywell has hit the jackpot with the TH9320WF5003 WiFi 9000, and you'll hit the jackpot, too, if you purchase this product.
Pros
Comes with five-year warranty
Priced at less than $200 (below many similar models)
High definition touchscreen display is easy to use and read
Includes 'Change Filter' alert to help keep HVAC system clean
Includes an Energy-Saver Mode for automatic power use reduction
7-day programmable capacity from touchscreen or WiFi connection
Total Connect Comfort app accessible by smartphone, tablet, laptop, or PC
Air circulate option automatically switches fan on and off at regular intervals
Can be integrated with other smart home devices and home automation networks
Indoor and outdoor temperatures and humidity levels prominently displayed on-screen
Cons
Requires professional installation
Moderately priced but not the cheapest option available
Needs a special C-Wire (common wire) installed to connect with HVAC equipment
Nest T3017US Learning Thermostat
We may earn commission from purchases made from our links, at no additional cost to you
Review
In comparison to standard models, the Nest T3017US Learning Thermostat is light years ahead. This 3rd generation cutting-edge device has been painstakingly crafted for convenience in use and for superior energy efficiency.
As you learn about the Nest T3017US it is also learning about you, and the "relationship" you form with it can be seriously beneficial to your home comfort level and your bank account. Once the Nest T3017US learns your habits and preferences, it can take over programming functions automatically, keeping you comfortable and happy in all weather conditions.  
Bottom Line
When you purchase the Nest T3017US Learning Thermostat, you are doing more than just buying a well-manufactured product. You are also making a significant investment in energy efficiency.
Studies have shown this innovative smart thermostat with learning capacity can save you 10-15 percent on your heating and cooling bills annually. You can program it yourself or let it program itself for you—either way, it will save you money without forcing you to sacrifice on comfort.
Pros
Powered by a rechargeable lithium-ion battery
Quick and easy installation (in 30 minutes or less)
Can be voice-controlled by alexa or other similar platforms
Energy Star Certification indicates significant energy-saving potential
Compatible with virtually all types of HVAC equipment, plus dehumidifiers
Turns HVAC system on or off auomatically based on home occupants' locations
Bright display face featuring temperature, clock, and outdoor weather conditions
Auto pogramming can be deactivated in favor of manual programming (if preferred)
Built-in alert system lets homeowner know when HVAC equipment is malfunctioning
Home automation-friendly: can communicate with any other smart devices in the house
Sleek, stylish, attractive device available in four colors (stainless steel, black, white, copper)
Motion sensor and phone proximity sensors let thermostat know if anyone is home or arriving
Cons
Smartphone-dependent devices can be confusing for some people
Automatic programming not ideal when home occupants have divergent comfort standards
Honeywell RTH7600D
We may earn commission from purchases made from our links, at no additional cost to you
Review
For those who want optimum touch-screen programming, the Honeywell RTH7600D is like a gift from heaven. Everything you could ever want or need is accessible and visible on the display screen.
With just a few quick touches, the Honeywell RTH7600D can be programmed to function precisely as desired for weeks at a time. This product is compatible with heat pumps, furnaces, and air conditioners, yet it requires no special wiring to connect or operate.
Bottom Line
Honeywell is a prominent name in the smart thermostat genre. This is a testament to the quality and variety of thermostats they produce. The Honeywell RTH7600D is an ideal choice for those who want to program their HVAC system but have no need or desire to do it remotely.
It offers pinpoint indoor temperature control in a digitalized package that will not overwhelm you with its complexity. This product is low-priced, given its advanced technological features, and that is yet another reason why it has become a highly popular model.
Pros
Needs no special wiring to be installed and connected
Green, backlit digital display easy to read in all conditions
Provides "Filter Change" reminder to help protect indoor air quality
All programmable settings featured prominently on thermostat screen
Clock feature included, with automatic changes for daylight savings time
Can be set to change HVAC system from heating to cooling automatically
Smart response technology learns to anticipate when you'd like heating or cooling turned on
Cons
Comes with only a one-year warranty
WiFi programming and monitoring is not available
Smart response technology isn't popular aith all users, who prefer to do it themselves
Emerson Sensi WiFi Thermostat for Smart Home
We may earn commission from purchases made from our links, at no additional cost to you
Review
The Emerson Sensi WiFi Thermostat for Smart Home was honored by USA Today as the Best Value Thermostat of 2018. One year later, this device's reputation for affordable excellence has only grown, to the point where it is now one of the most popular programmable thermostats sold on the Amazon website.
Featuring a delicious menu of digital programming appetizers, this WiFi-compatible device from Emerson lets users customize indoor climate conditions right down to the minute. Installation is strictly on a DIY basis, saving you the cost of having a technician do it for you.
Bottom Line
The Emerson Sensi WiFi Thermostat for Smart Home will make your HVAC equipment more controllable and responsive. It can be programmed by the hour, day, week, or month to produce exactly the temperatures you desire, whether you are home or away.
This product makes a fine addition to any home's HVAC system, including those that rely on a heat pump to handle most of their heating and cooling requirements.
Pros
WiFi access available through apps for android or iOS
Usage statistics provided to track energy consumption patterns
ENERGY STAR-Certified for its ability to slash electricity consumption
DIY install guided by mobile app usually takes only 30 minutes to finish
Voice control available through alexa, Google assistant, Apple Homekit, and Wink
Separate C-wire (common wire) installation not required for most HVAC appliances
Smart alert feature triggers alarm if temperatures or humidity levels become extreme
Geofencing feature adjusts temperatures automatically as homeowner leaves or arrives
Cons
A few users report periodic loss of WiFi connection
Emerson's DIY thermostats come with just a three-year warranty
Some programming options available only through the mobile app
Does require a C-wire for the installation of a heat pump without auxiliary heating
Honeywell RTH3100C1002/E1
We may earn commission from purchases made from our links, at no additional cost to you
Review
Many people appreciate the no-frills approach of the old-fashioned mechanical thermostat. While it is still classified as electronic, the Honeywell RTH3100C1002/E1 Heat/Cool Pump Thermostat is a fascinating hybrid that combines accurate digital displays and measurements with and basic on/off, mechanical-style functioning.
This device has no advanced programming features, which makes it popular among those who prefer the straightforward approach. It is designed specifically for use with heat pumps, erasing any compatibility questions you might have.
Bottom Line
The Honeywell RTH3100C1002/E1 Heat/Cool Pump Thermostat features no bells and whistles. But for those who prefer to stick to the basics, this heat-pump exclusive thermostat rings the bell of excellence. Its brightly-lit digital displays and smooth modern design identify it as a 21st-century device. But it retains the 20th-century practicality that made mechanical thermostats so simple to use and understand.
This product is ideal for both older and newer heat pumps, including those that have auxiliary heating coils. For a cost of less than $50, it is a budget-friendly product that will get the job all year long.
Pros
Requires no special wiring to install
Fan switch has both "On" and "Auto" functions
Compatible with all types and styles of heat pumps
Push-button temperature settings for fast and convenient changes
Priced at half the cost of a typical electronic programmable thermostat
Installation is fast and easy (comes with illustrated, detailed instructions)
Backlit digital display face is easy to see and read in the daytime or nighttime
Cons
Includes no advanced programming features of any kind
Unlike many modern smart thermostats, does not offer WiFi accessibility
Despite incorporation of digital technology, will not provide any usage data
Types of Thermostats for Heat Pumps
There are two basic categories of thermostats: mechanical (non-programmable) and electronic (programmable). The former was the standard in the HVAC industry for many years. But they've now been largely replaced by electronic thermostats with a much wider range of features.  
Mechanical thermostats require the user to switch the device on and pick a specific temperature setting. Once this is done, it will turn the heat pump on and off as often as necessary to reach and maintain that number. No programming options are available beyond the basic temperature setting, which must always be altered manually.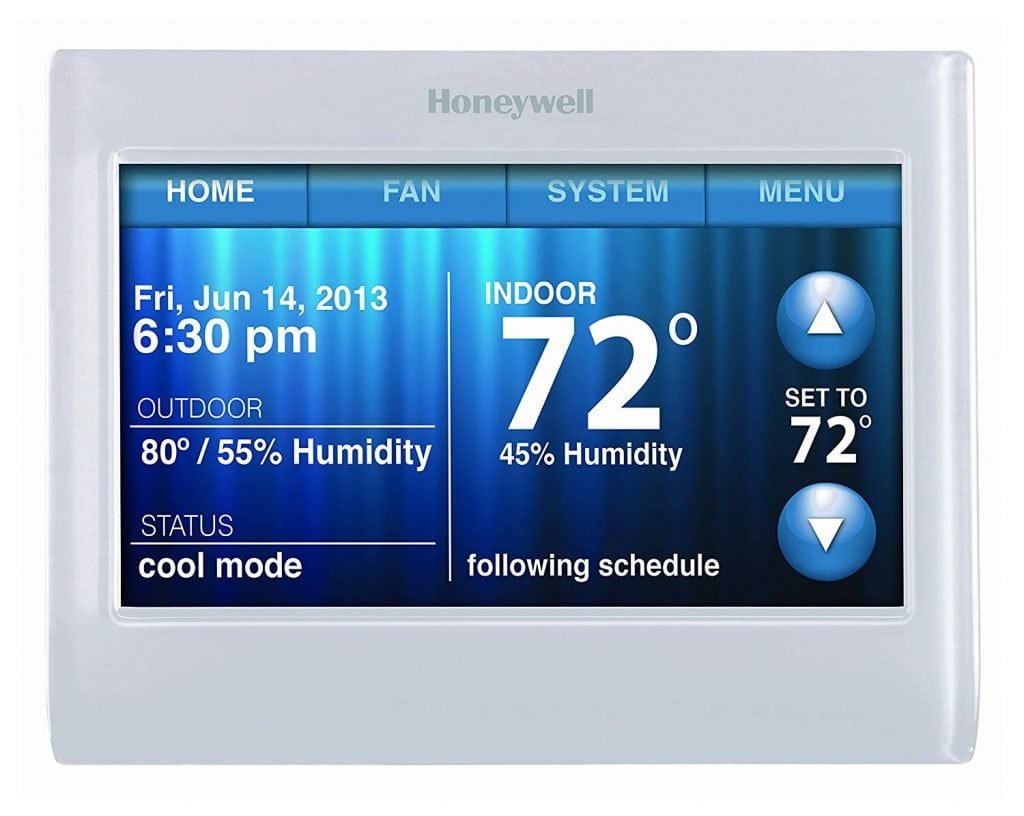 In contrast, electronic thermostats are programmable by the hour, day, or week. Within the programmable category, electronic thermostats are divided into those that are programmed exclusively by touch and those that come with WiFi compatibility. The latter can be programmed from anywhere in the world at any time, through the use of a downloadable mobile app. These types of devices are sometimes called smart thermostats, in recognition of their advanced digital capabilities.
Are All Thermostats the Same When It Comes to Heat Pumps?
Your choice for your heat pump will be determined by many factors. These may include:
Price
Appearance
Length of warranty
Programmability
WiFi accessibility
Installation requirements
Compatibility with other HVAC equipment (if you have more than just a heat pump)
The heat pump thermostats currently available on the market are a diverse lot. As you look more closely at the models reviewed here, and at others as well, you should make your own list of 'pros' and 'cons' (from your perspective) before you make a final decision. After all, you're the one most qualified to identify the perfect product for you, your home, and your family.
Thermostats were once the height of simplicity. But the integration of digital technology has changed the game forever.
Conclusion
You may or may not want one with a high degree of programmability, or that can be controlled through a mobile app. But you shouldn't avoid a more advanced model simply because you've never used one before. Even the smartest, most elegant, and most sophisticated thermostats can be easy to program and control, once you learn how to use them.
People Also Ask
What Is the Purpose of a Thermostat?
Thermostats regulate indoor temperatures by turning HVAC equipment on and off based on pre-selected temperature settings. Without a thermostat, the owner of a heat pump, furnace, or air conditioner would have to switch the appliance on and off manually.  
How Does a Thermostat Work?
A thermostat is a temperature measuring and maintenance device. It is connected to HVAC equipment by wiring. When temperatures depart from programmed targets, it will send out an electric signal that triggers heat pumps and other such appliances into action.
What Are the Symptoms of a Bad Thermostat?
The signs of a faltering thermostat include:

• Heat pump sometimes refuses to start, even when temperatures are falling or rising.

• The heat pump runs constantly and will not shut down.

• New batteries don't change outcomes.

• Hot and cold spots appear in different parts of the home.

• The device is unresponsive and will not start.

When a thermostat goes bad, it actually gives you an opportunity to upgrade to a superior, energy-efficient model.