Sitting huddled around a fire in cold winter nights can be dated as far back as the civilization of man. Not only is it a great way to bond and keep the temperature warm, but studies have shown health benefits such as a decrease in blood pressure after relaxing around a fire.
Today, we can bring these fires in our living rooms because of fireplaces and stoves; however, searching for the perfect one can be difficult.
We've made this tedious job easier for you by formulating a list of some of the best stoves by Lopi, one of the most renowned manufacturers in the heating industry. These stoves will not only look great, but they will also keep your home extra cozy in the cold winter season. 
At a Glance: Our Top Picks for Lopi Stoves
Comparison of the Best Lopi Stoves
IMAGE
PRODUCT

Our Top Pick

Premium materials are used in construction of unit
Will heat up a large room of up to 2000 square feet
Will easily burn up to 10 hours for continuous heating

View Latest Price →

Will heat up a space of 1400 square feet easily
Quickly and easily heats up to the maximum heat
Comes with a nice display for better decor

View Latest Price →

Best Budget Option

Best for the Money
Has a hopper capacity of up to 80 pounds
Will keep burning for up to 47 hours without interruption

View Latest Price →

Best Lopi Wood Stove
Low emissions of around 2.45 grams per hour
Will easily heat a space of up to 2000 square feet

View Latest Price →

Best Lopi Pellet Stove
Can easily heat a space of up to 2000 square feet
Large hopper capacity of up to 80 pounds

View Latest Price →

Best Lopi Gas Stove
Heat output of up to 40000 BTUs
Has a heat efficiency of up to 80 percent

View Latest Price →
Lopi Stove Basics
Lopi has always put immense focus on both performance and commitment towards its valuable customers. Let's have a look at some of the company basics:
Where Are Lopi Stoves Made?
Lopi stoves are fabricated and assembled at the company's factory situated in Mukilteo, Washington.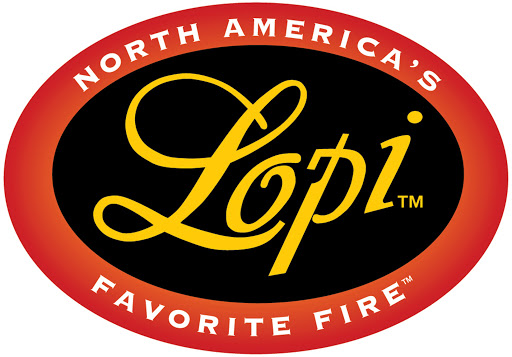 What Kind of Warranty Does Lopi Offer?
With a Lopi stove, you'll be able to enjoy a five-to-seven-year warranty on materials and workmanship from the date of purchase. A comprehensive two-year limited labor and parts warranty also backs the appliance and includes trims and faces as well.  
How Long Has Lopi Been Around?
Lopi has been around the market for over 40 years and is known for constructing premium wood stoves. Corroborating reliability and resilience, the company has made its way into almost every North American's hearts.
How Do You Pronounce Lopi?
Lopi is pronounced as low-pie. The name signifies beauty and strength. 
What Makes Lopi Stoves so Popular?
Lopi stoves are manufactured and hand-assembled at their state-of-the-art factory, so you can be absolutely certain they present excellent composition, functionality, and design. This reputation has eventually been sealed in place after years of hard work and solid craftsmanship. It's not every day that you find a company boasting such impeccable heating efficiency coupled with low emissions.
All their appliances are EPA-certified and showcase either the hybrid-Fyre or Nex-Gen-Fyre technologies. The award-winning hybrid fyre technology ranks as one of the highest in the heat out-turn. The green smart lighter and wood moisture meter all account for some category of wood-burning technology.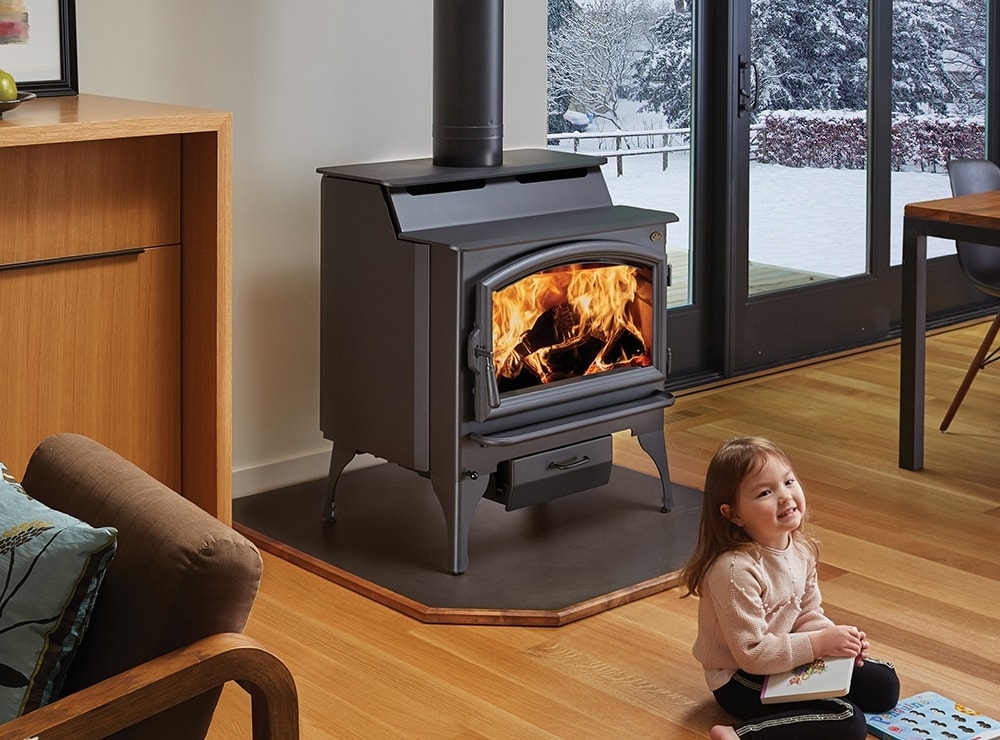 Furthermore, the designs that fashion NexGen-Fyre confirms a higher BTU range than normal, ensuring longer burning times and impeccable features, making the company unique in all its product offerings. 
Customer satisfaction has always remained the utmost priority, which is why the company offers an extensive five-to-seven-year warranty covering different aspects. 
The stoves' superior construction from steel and cast iron make them one of the most polished yet fuel and operationally-efficient designs out there in the market today. Cast iron is famous for longevity, while steel is popular due to its quick heating time. Hence, the high-quality materials embedded in the core structure substantiate any doubts you might have about the quality.
Review of the Best Lopi Stoves 
Lopi has been around for a while and has an extensive range of products, making it difficult to pick the best one. We have reviewed some models that offer the best in terms of money, fuel, and variation to help you out. Enjoy!
Rockport Hybrid-Fyre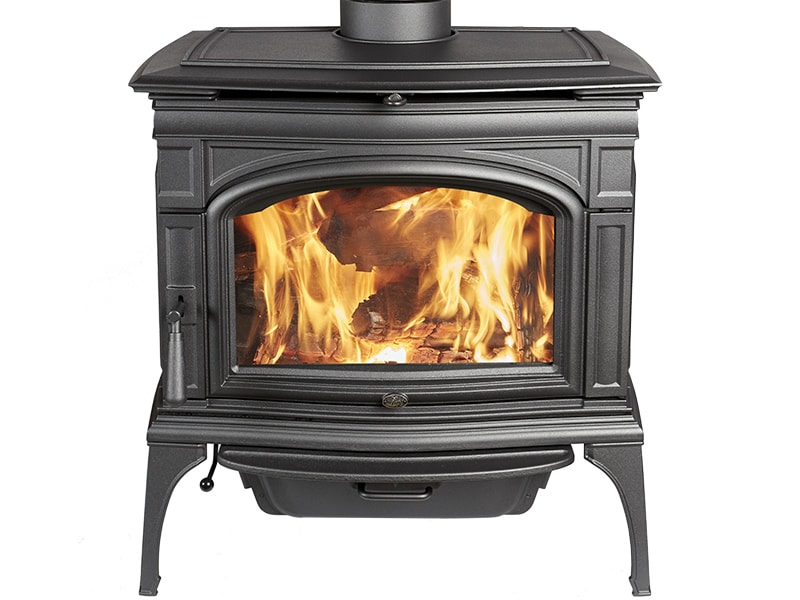 Heat Output (BTU/h): 55,466
Heating Capacity (sq ft): 2,000
We may earn commission from purchases made from our links, at no additional cost to you
What Recent Buyers Report
Buyers who have purchased and used this product report back by saying this is an excellent investment. With however much they've used it, they say it has raised the bar quite high for all other competitors. The ashtray situated at the bottom of the stove is extremely easy to use, facilitating the whole cleaning process. 
Why it Stands Out to Us
This is one of the best free-standing wood-burning fireplaces that has been manufactured to date. Hybrid-Fyre technology means that this model uses less wood for burning while maximizing each cycle's length, providing heat for longer. 
The construction encompasses first-class materials like iron steel and masonry brick in the basic construction with an added crystal-clear ceramic glass for beauty. This is an excellent fusion of elegance and durability. 
The Rockport has a massive capacity of heating up to 2000 sq. feet so rest assured that your house will stay warm and toasty all day long. With an efficiency of 78.4%, the stove definitely corroborates heating dependability for longer periods. 
Bottom Line
All in all, this stove is an amalgamation of elegant European castings and stellar performance. The solid cast iron construction, coupled with a mid-sized assembly, makes sure that the Rockport finds the perfect spot to keep you and your family cozy for years to come. 
Pros
Features hybrid-fyre technology 
Made from high-quality cast iron
Up to 2000 sq. feet heating capacity 
Gliding ash pan to facilitate the cleaning process 
Showcases a standard bypass damper for easy start-up and reloading 
Berkshire Radiant MV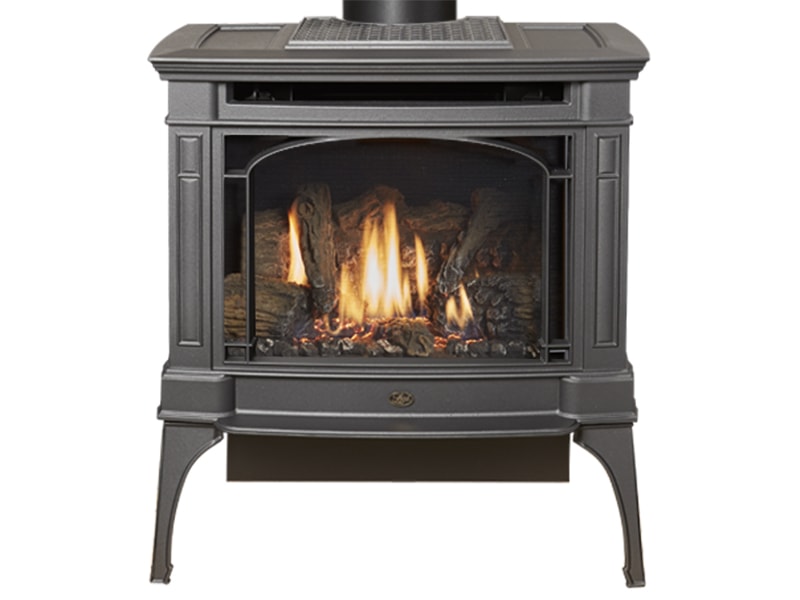 Heat Output (BTU/h): 31,000
Heating Capacity (sq ft): 1,400
We may earn commission from purchases made from our links, at no additional cost to you
What Recent Buyers Report
Users seem to be happy with their purchase and claim that even though the price is a little on the higher side, it's a great tradeoff for the functionality and performance that it offers. Some users tried the unit without the blower to see how well it performed without it, and it performed pretty well. 
Why it Stands Out to Us
The Berkshire Radiant MV stands out to us due to its excellent construction. First of all, the unit has a solid cast iron composition on the outside to ensure that your unit lasts a long time as your loyal warming companion. Furthermore, the inside constitutes a steel firebox for durability. 
Coming on the aesthetics, this unit showcases an extremely elegant Ember-Fyre burner with a highly detailed log set that's realistic yet alluring to give you an experience as close to reality as it can get. On top of it all, the large viewing area makes sure that nothing goes unseen, and you can have the best view of the fireplace from all angles. 
Bottom Line
Overall, this stove is a classic unit that will brighten and warm up any home. Turn your stove on first thing in the morning, and you're all set for the day. With the built-in battery backup, you can be sure it won't turn off when you're not around, and the power goes out. 
Pros
Has an input of about 31000 BTUs 
Heating capacity of up to 1,400 sq. feet
Burner system features a dancing fyre log set 
Features a cast iron construction to corroborate longevity 
130 CFM fan comes with the appliance to amplify the natural circulation of heated air 
Cons
Less heating capacity than other designs
Design is not ideal for small or individual rooms
FoxFire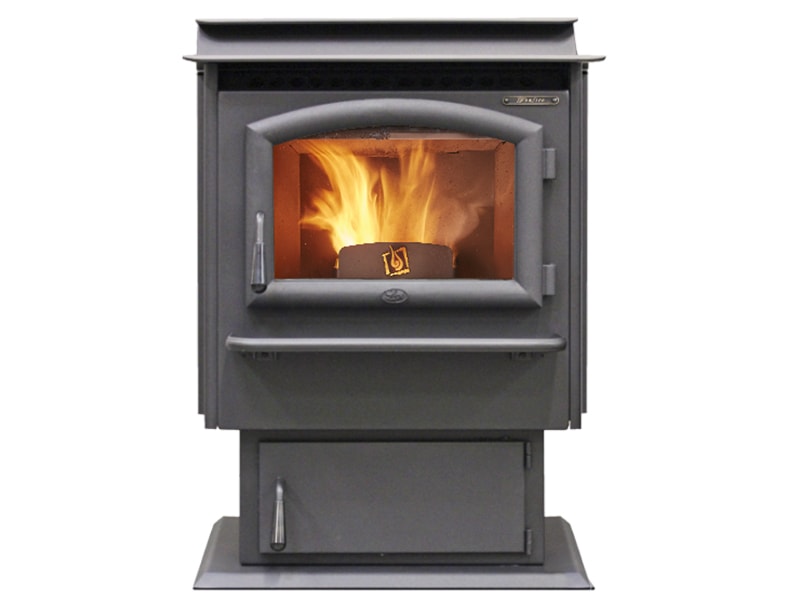 Heat Output (BTU/h): 38,263
Heating Capacity (sq ft): 2,500
We may earn commission from purchases made from our links, at no additional cost to you
What Recent Buyers Report
Individuals who purchased this product were pleased with its performance, considering the sturdy cast iron construction and the insides lined with removable stainless-steel panels. They claimed that it really helped hold the heat in and burn for longer periods of time, saving them the considerable time they would otherwise have to spend to maintain the stove. 
Why it Stands Out to Us
The FoxFire is a unique step top design lending itself to a taller hopper, enabling you to put more fuel in it to keep it running. 
What we love about this model is the digital control board located at the top; you simply wave your hand over it, and it tells you the current setting of the unit. With ten different heat settings for input and ten different levels of fan operations for output, you can sync the fan directly to the heat input, and it will adjust automatically. 
Furthermore, the configuration includes a built-in thermostat that regulates your fuel and shuts the stove down when the thermostat does not call for heat and then turns itself back on when it needs it. 
Bottom Line
With a finned cast iron heat exchanger, this stove can essentially capture all the heat and spread it through the entire room, so you don't have to waste any time maintaining the stove. Moreover, the heavy cast iron design ensures that it lasts a very long time, which is exactly why this unit is one of our top favorites. 
Pros
Heating capacity up to 2500 sq. feet 
Showcases an impressive 80-pound hopper capacity
Design showcases a large capacity than other models 
Comes with a touch smart controller for maximum heat and flame control 
Installed with air washed system to keep the glass looking clean and winsome 
Cons
Not the best option for small areas
Answer NexGen-Fyre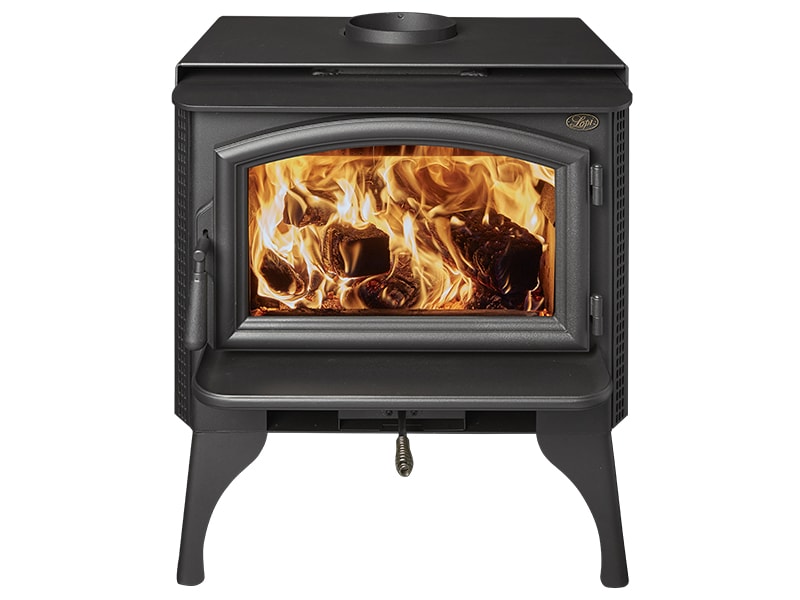 Heat Output (BTU/h): 59,527
Heating Capacity (sq ft): 1,400
We may earn commission from purchases made from our links, at no additional cost to you
What Recent Buyers Report
Dealers and customers, both, are fans of the Answer NexGen-Fyre wood burning fireplace. Buyers love its versatility since it can be used as a free-standing or an insert model. The newer model showcases a cast-iron retainer that hides the gasket, which users reported previously to cause annoyance. Now, after the update, not only do new buyers have been extremely happy with the new update, but the sales for the nex-gen have elevated beyond expectations. Users claim that it's refreshing to see that their complaints are being taken seriously.
Why it Stands Out to Us
The newer and latest Answer Nexgen Fyre is a class apart. The viewing area has increased by 19 percent, so you have a larger view of the fire. Next, the air-wash is arched to not only keep the glass squeaky clean but also to provide a larger view of the fire without any hindrances. Moreover, the compression door seal is locked in place to compress the gasket on the top, front, and bottom.
The cast-iron retainer on the back of the door and the opening of the stove with eight-point fastening enable a much more positive fastening and hide the gasket altogether. The door opens to about 180 degrees instead of 90 degrees, which we really like because it offers great convenience when you're loading in the wood. It also saves you from the hot surface.
Bottom Line
Lopi has tried its best to give an elegant look to a traditional-looking stove and what it has achieved is a smashing new design that really takes care of all customer complaints while adding newer features to enhance the final experience. Overall, this is an excellent source of heat for specific rooms and smaller homes.
Pros
Features nex-gen fyre technology 
Heat capacity of up to 2000 sq. feet
Excellent for small spaces or single rooms 
Constructed from premium-quality steel plate 
Design displays a 5-sided convection chamber to facilitate even distribution of warm air 
Cons
Only suitable for small homes
AGP Pellet Stove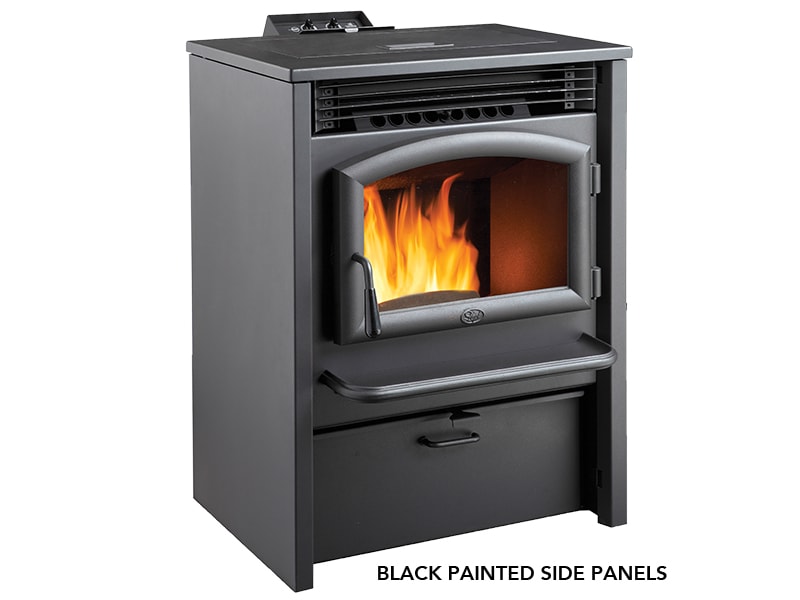 Heat Output (BTU/h): 41,000
Heating Capacity (sq ft): 2,000
We may earn commission from purchases made from our links, at no additional cost to you
What Recent Buyers Report
Users of this product seem satisfied after using it. Some claimed that after shifting to this stove from another company, they realized what they were missing out on. They report that this unit, in particular, burns much less fuel with better results in terms of performance.
Why it Stands Out to Us
This AGP (all grade pellet) stove showcases some of the most advanced features fashioned by any wood burning stove on the market. The body has an 80-pound hopper capacity, will heat up to 2000 sq. feet, and has 41000 BTUs. 
The stove incorporates a self-ignitor for push-button start and a giant ash pan to facilitate the emptying process. The ash, thus, needs to be emptied only once a week. With a simple installation process and no chimney requirement, it's a class apart when it comes to user facilitation. The stove can be vented right out of the wall. 
Bottom Line
With facets like self-cleaning, easy installation, HRD rotatory disc feed system facilitating the efficient burning of all grades of wood, and the EPA certified tag; you really can't go wrong with this stove. It's easy to use and easier to live with. 
Pros
Heating capacity of around 2000 sq. feet 
Compact size makes it excellent for small spaces
Self-cleaning feature for an effortless cleaning procedure every time 
Produces only 1.8 grams of emissions per hour, ensuring clean burning 
Installed with an HRD rotary disc system that can burn virtually all grades of wood 
Cons
Produces more emissions per hour as compared to other designs
Cypress Gas Stove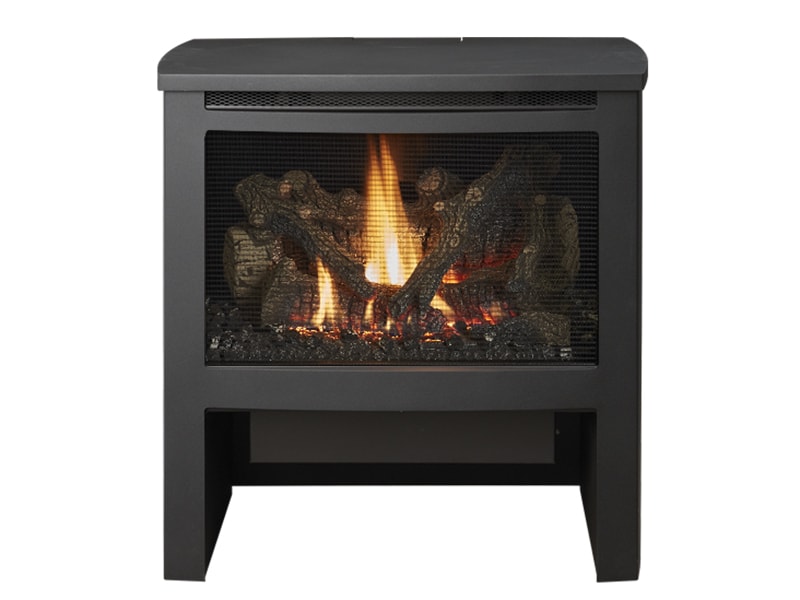 Heat Output (BTU/h): 40,000
Heating Capacity (sq ft): 2,000
We may earn commission from purchases made from our links, at no additional cost to you
What Recent Buyers Report
It isn't surprising that customers enjoyed buying this product. Buyers generally praise not just this innovative stove but also the company as well. The smart remote features are the highlight of this product. And although this amount of manual control and versatility seems complex at first, according to users, it is what makes the Lopi Cypress shine.
Why it Stands Out to Us
The Lopi Cypress Gas Stove has an elegantly minimalist design that provides a compact functionality and is aesthetically-pleasing for the eyes. The remote interface is user-friendly, and features such as smart mode make it incredibly easy to get the desired temperature. You can even manually control the flames, fans, light, and the rear burner, which will not only give you control over the climate but also the ambiance of the atmosphere. 
Furthermore, the smart system will help conserve gas when the room is at the desired temperature using automatic fluctuation of gas intake according to the drop or rise in temperature. The installation process is quite straightforward, as it is a freestanding unit with a top or a rear venting system as suitable. Lastly, the child lock protection is an excellent and essential feature which should be highlighted.
Bottom Line
This unit will cost a pretty penny, but, in our opinion, it seems worth it for everything you will be getting. The functionality and features are suitable for all seasons and 365 days a year. Lopi Cypress would make an incredible addition to your lounge, and it will keep the area toasty. 
Pros
Up to 2000 sq. feet heating capacity1 
Maximum BTU input of about 40,000 (NG/LP) BTUs/Hour
Overhead accent lighting for enhanced aesthetic and fire display 
Comes with a green smart remote to control the amount of fuel to burn each day 
Design is open and three-sided for a unique presentation of fire you can enjoy from any angle 
Cons
Manual control is a little complex and may take time to get used to
Types of Lopi Stoves
Lopi makes three different variations in stoves; these constitute wood, gas, and pellet stoves. Each category then fashions a range of models within it as well. 
Wood Stoves
Lopi wood stoves are subdivided into steel wood and cast-iron wood stoves. Models include the Lopi 1250 wood stove, 1750, Endeavor, Liberty, and Cape Cod. Both variants offer optimum performance and solid construction that's built to last. Steel and iron are premium materials ensuring years of constant warmth for you and your family. 
Wood stoves are an obvious choice if you want the view, sound, and smell of a real fire, and you want to utilize renewable fuel resources for your stove. Moreover, you will enjoy a constant source of heat that's not dependent on local utilities.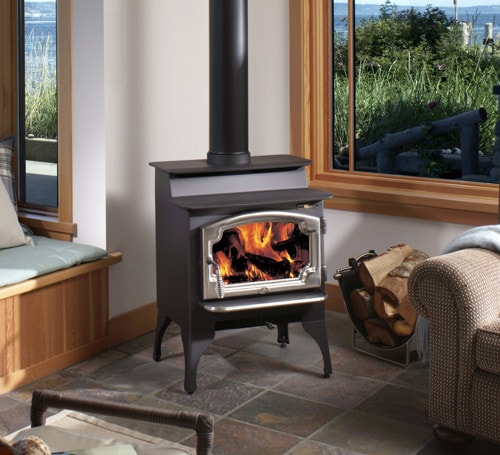 Gas Stoves
Lopi's gas-powered stoves showcase designs made of steel, premium cast-iron, and radiant plus cast iron. All deluxe units feature unique specifications and quality facets for every home. You should consider buying a gas stove if you want a cost-effective model that uses readily available and easily accessible fuel. You will reap the benefits of a real flame from a clean-burning fuel and obtain heat at the touch of a single button. 
Pellet Stoves
The company's pellet stoves constitute designs categorized based on size for different gatherings. The AGP model is ideal for medium family rooms while the FoxFire and Deerfield are perfect for large gatherings. 
All pellet stoves endorse compact construction that is easy to use and high in quality. Pellet stoves make for a fine choice since they're easy to store and load, offer a thermostat option, and include a wide range of control features. Moreover, they are environment-friendly because they make use of renewable fuel made from wood waste. 
Comparison Overview 
Lopi isn't the only company in the industry manufacturing stoves; the market is far more saturated than you can imagine. Let's do a comparison overview of this company with other brands to see how Lopi does in comparison to competitors. 
Lopi vs. Harman Pellet Stove
Harman has been specializing in the art of making stoves for around 35 years while Lopi takes the crown and has a history dated back to about 40 years.
Efficiency
Lopi stoves showcase an efficiency of 76-83 percent while Harman stoves' efficiency ranges from 70-82 percent.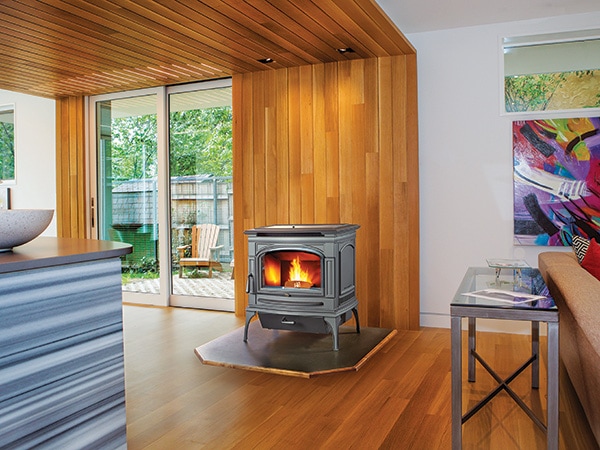 EPA-Certification
Only some Harman pellet stoves are EPA certified while all stoves manufactured by Lopi are certified by EPA. 
Temperature Control Technology
Some Harman stoves are embedded with a temperature control unit to control the temperature. Lopi stoves, on the contrary, feature green smart technology for their temperature controlling procedure. While both companies are similar in the sense that they provide their customers with a digital built-in control feature, the latter is far more advanced and has a lot more features than the former. 
Quadra Fire vs. Lopi
Quadra Fire was first introduced in 1986 by introducing the innovative 'quadra burn' system. Lopi was two years ahead of the company as it first came into being in 1984. Here's a comparison between the two: 
Combustion Mechanism
Quadra Fire uses a special burning mechanism called quad burn four-point system, which comprises four different combustion cycles, thus maximizing the conversion of fuel to heat. This is achieved by burning and then re-burning the wood, gases, and smoke up not once but four different times. 
Lopi, on the other hand, makes use of hybrid fyre technology. This technology encompasses a blend of wood combustion, stainless steel secondary combustion air-tubes, and technology for catalytic assistance.
EPA-Certification
Both Lopi and Quadra Fire stoves are EPA-certified, which is great for users of both products. 
Control Technologies 
Quadra Fire stoves are equipped with smart burn technology with programmed thermostats that give you the authority to control heat and make different heating schedules to comply with your activities. 
Lopi stoves, on the other hand, incorporate the green smart technology encompassing a wide range of innovative top-of-the-line features like green smart remote control, accent lighting, smart thermostat mode, comfort control, remote blower option, and drop-down & glide away doors. 
The thermostat mode is special because of its automatic adjustment in terms of heat output according to your chosen temperature settings. This enables the flame to modulate up and down (high and low) instead of shutting down altogether and getting back up. 
Lopi vs. Jotul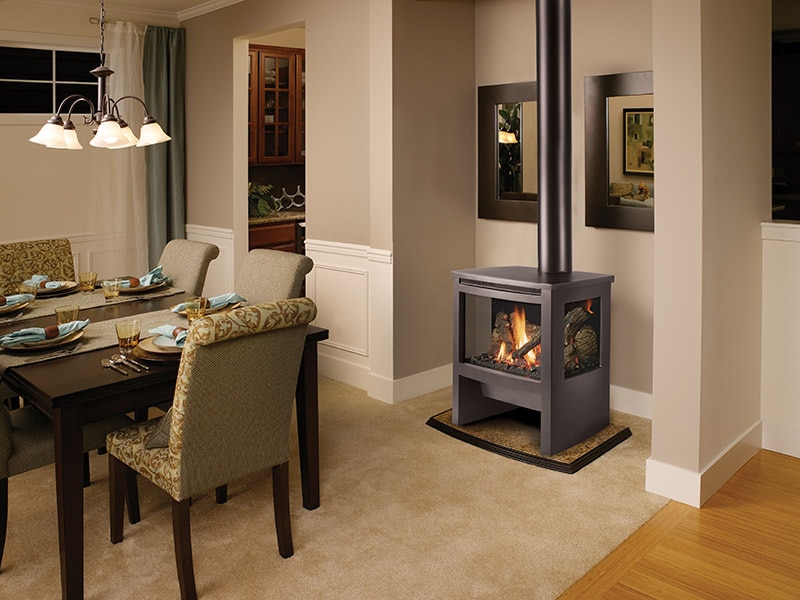 Jotul has been manufacturing stoves for over 160 years, while Lopi has been around for about 40 years. The following are some differences and similarities between the two:
Construction
All of Jotul's stoves are constructed from cast iron, while Lopi offers variations in this area by giving consumers the option to choose either a steel or a cast-iron constructed stove. 
Types of Stoves
Both Lopi and Jotul offer a range of models, including gas stoves, log burners, and multi-fuel stoves.
Technology
Lopi, as mentioned, uses a hybrid fyre technology in some of its stoves while Jotul uses a clean burn technology with closed combustion. This pertains to air being introduced inside the stove and then circulated to burn off more smoke and gas. This makes this system highly efficient and facilitates easier fire control. 
Warranty
Jotul offers a 25-year warranty on its exterior parts while Lopi offers a five-to-seven-year warranty covering materials and workmanship.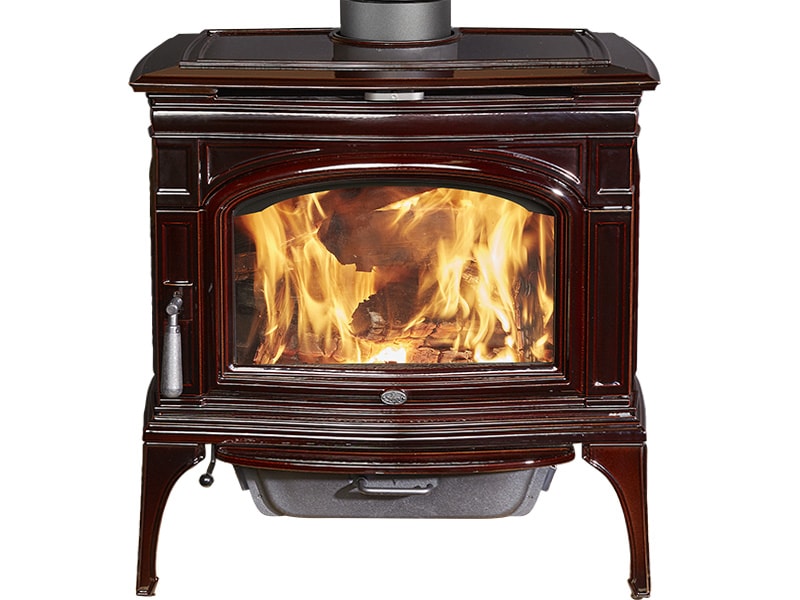 Lopi Pellet Stove Troubleshooting
Nothing is perfect, and the same goes for our trusty Lopi fireplaces. Below, you'll find a selection of problems one might encounter provided they own this stove. But you need not worry; we have a fix for every one of them. 
Poor Burn Quality
It's highly likely that you might experience poor burn quality from your pellet stove. The likely culprits behind this are dirt and contamination. In order to rectify this, make sure you regularly clean your stove and keep your manufacturer's recommendations in mind while cleaning. 
Blackened Glass
This might happen if your burner is on low. You can adjust this by switching the heat setting to medium or high. 
Igniting Difficulty
This problem might arise due to the air-to-pellet ratio and can be adjusted by reconfiguring the airflow, thereby increasing it.
Extortionate Ash and Creosote Build-up
An excessive ash build-up might result due to a short pellet. This needs to be amended by reducing the rate of feed going into the stove. Formation of tar and other organic vapors combined with expelled moisture form a substance called creosote. The flue and chimney pipe should be checked for creosote and cleaned as necessary. Inspections are recommended once every two months. 
Conclusion 
Lopi stoves are a classic choice in every home for anyone and everyone looking for premium quality, optimal performance, and intense heating capacity. With such advanced features and a warranty that covers them all for up to seven years, this is an excellent choice if you're looking for a reliable company to warm up your everyday affairs. We recommend this company to you with full confidence that it won't let you down.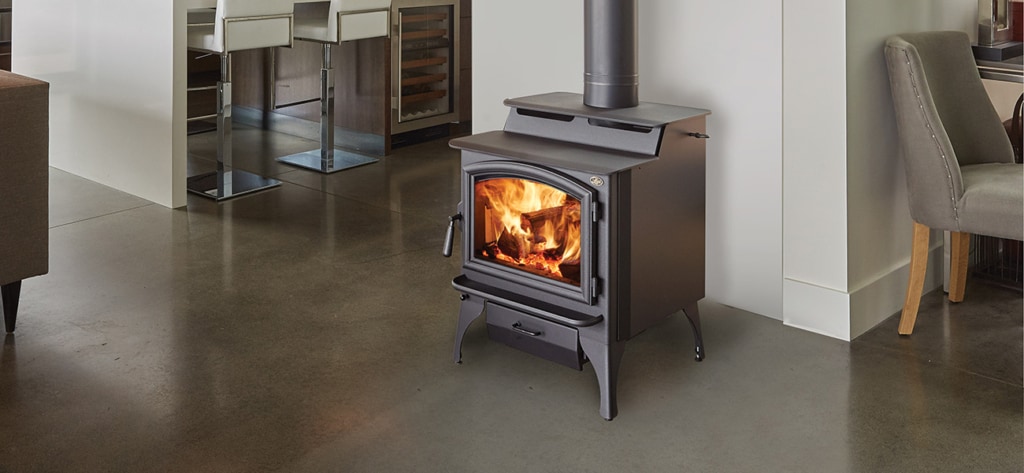 People Also Ask
Buying a stove is a big investment, and it is only natural to have questions in mind. The following are some common questions along with their answers so that there are no ambiguities left in mind regarding Lopi stoves. 
Are Lopi Stoves Good?
Lopi stoves are an excellent choice for anyone looking for a high-quality and reliable stove. They're EPA-certified and have the capacity to warm up about 2500 sq feet. Installed with premium features like a bypass damper to prevent the buildup of smoke and minimize the frequent rekindling of fire, they're sure to deliver beyond expectations.
How Much Are Lopi Wood Stoves? 
Lopi stoves come in a variety of different models, but the general range where all of them fall is between $3000 and $4500. 
How to Clean a Lopi Wood Stove
The maintenance of stoves is not only a tough job, but if not done, it can seriously harm your appliance, reduce its life, and slow down the burn rate. Hence, daily and regular maintenance is crucial. 

In order to remove ash build-up, let the stove cool completely, at least two hours before you start the cleaning process. Next, put a cloth or cardboard or any protective material over the hearth to catch the ash and prevent the stove from enduring any scratches. 

Finally, open the door, start taking the ash out and dispose of it. The ash should be collected in a metal container and kept far from all combustible materials.

Even though the appliances come with an air wash preinstalled, if you still want to clean the glass on your stove, again, let it cool. Once completely cooled, open the glass and apply glass cleaner, ammonia, and water solution or soapy water as needed. Wipe it away with a newspaper or paper towel. 

All Lopi wood burners showcase an easy gliding ash pan to remove excess ash in the easiest way possible. 
What Size Logs Does a Lopi Answer Stove Take?
Lopi stoves offer a wide door design, and the recommended log length for most models is about 18 inches of wood; however, some designs can take around 20 inches as well. 
How to Light a Lopi Gas Stove
Start by opening the wood burner and putting the coals in a formation at the front of the stove. Next, tightly place about five to seven logs behind the coals. Shut the door when you're done. After a few moments, the fire will start and spread from the front to the back. Now all you need to do is sit back and enjoy.