A humidifier can help to ease the symptoms you or those around you go through during dry climate conditions, such as congestion, sore throat, cracked skin, coughs, and excessive snoring.
Apart from the dry air outside, your air conditioner or furnace might also contribute to the dry environment in your house.
For this reason, you need to choose a high-quality humidifier, and one choice you cannot go wrong with is Pureguardian!
At a Glance: Our Top Picks for Pureguardian Ultrasonic Humidifiers
Comparison of the Best Pureguardian Ultrasonic Humidifiers
IMAGE
PRODUCT

Our Top Pick

Best Overall Choice
One Gallon Tank Runs for 70 Hours
Provides Daily Humidity Output of 3.17 Gallons

View Latest Price →

Best Cool Mist Option
Runtime of 100 Hours on One Tank
Comes With a Large 1.5-Gallon Water Tank

View Latest Price →

Best 14-Hour Option
Cool Mist Humidifier
Made Especially for Nurseries

View Latest Price →

Best 90-Hour Option
Has a Quiet Operation
Huge, Easy-to-Fill Top-Fill Tank

View Latest Price →

Can Cover Large Rooms Up to 650 Sq. Ft.
Large Tank With Daily Output of 2.5 Gallons
Best 120-Hour Pureguardian Ultrasonic Humidifier Model

View Latest Price →
Who is Pureguardian?
Based in Ohio, Guardian Technologies is a home appliance manufacturer featuring cutting-edge technology. Despite being relatively new to the industry, the brand has been able to establish itself as a top producer of innovative home appliances.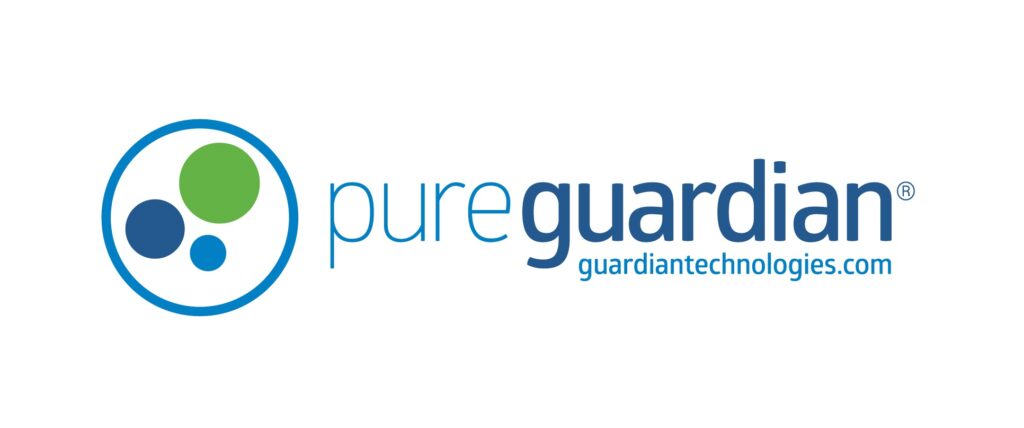 Their products all aim to provide affordable solutions for various issues within the home, such as poor air quality. Guardian Technologies is quite well-known for its remarkable ultrasonic humidifier line, which are sold under their PureGuardian brand.
How Does Pureguardian Compare to the Competition?
Since Pureguardian humidifiers have made quite a name for themselves, they have been able to leave many competitors behind.
The question is, what makes them so different?
Highly Efficient Ultrasonic Technology
Guardian Technologies only focus on those products that help individuals have a healthier home environment via innovative technology and small home appliances.
Ultrasonic technology enables users to enjoy the same efficacy as that of a warm mist or vapor humidifier or a vaporizer.
However, it takes away the danger of having hot parts and boiling water around, increasing the chances of burning someone. Moreover, humidifiers featuring ultrasonic technology make less noise compared to an evaporative cool mist humidifier.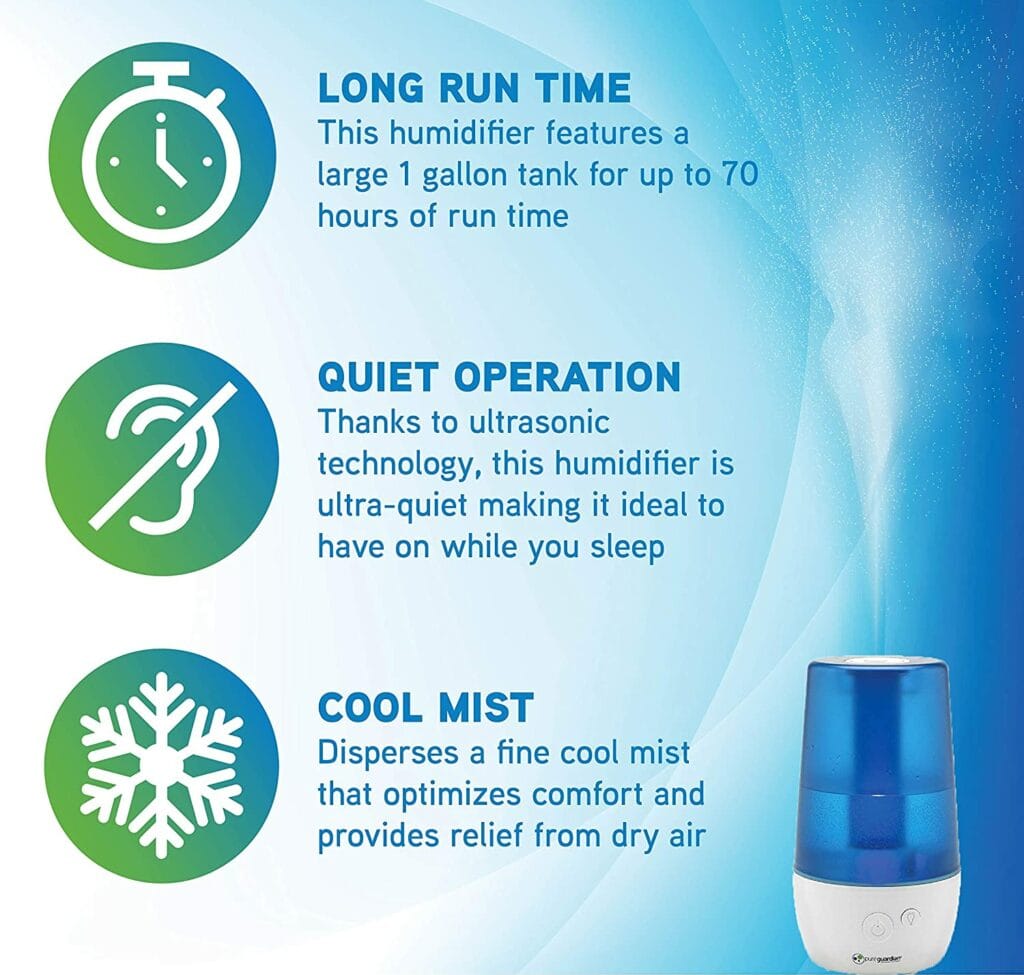 Keeps Your Environment Bacteria-Free with Innovative Technology
Apart from being ultrasonic, Pureguardian humidifiers come with silver clean technology that helps to fight the growth of mildew and mold in the water tank of the humidifier. As a result, the humidifiers are always kept clean, making sure that the health of your family members isn't compromised at all.
You'll Surely Find a Unit for Yourself
These ultrasonic humidifiers are available in a variety of sizes so that you can choose one which your house can accommodate easily. Similarly, these humidifiers come with different special features that cater to your specific needs. Rest assured, you will find a unit perfect for yourself and your family!
Review of the Best Pureguardian Humidifiers
By now you already know that Pureguardian humidifiers are high-quality, yet cost-effective humidifiers that have been able to gain unparalleled popularity. We've cherry-picked some of the best Pureguardian ultrasonic humidifiers to help you in making an informed choice.
PureGuardian H965
Coverage Area: 320 sq ft.
Tank Size: 1 gallon
Dimensions: 8.5 x 8.5 x 14.25 inches
Weight: 2.4 pounds
We may earn commission from purchases made from our links, at no additional cost to you
Review
If you're looking for a mid-range, ultrasonic cool mist humidifier that is also not too heavy on the pocket, then the H965 is the one to go for. While the unit is only rated for covering small to medium-sized rooms, it surely doesn't lack performance or power. It can constantly work for 70 on hours on one filling and delivers a daily humidity output of 3.17 gallons.
Like all Pureguardian humidifiers, the H965 also features the silver clean antimicrobial treatment in its water tank, inhibiting the growth of mold. Moreover, it's very simple to operate and hardly makes any noise while working, making it a good unit for those looking for a humidifier to add to their bedside table.
With the help of its ultrasonic technology, the unit emits a fine and soothing cool mist that provides relief from dry air. Plus, it comes with an optional nightlight, making it a suitable option for kids' rooms too. There's also a low water indicator which tells you that it's time to refill the tank. Moreover, using the aromatherapy tray option, you can add in your favorite essential oil and create a fully relaxing environment.
Bottom Line
With this Pureguardian humidifier's high and low cool mist settings, you can optimize your environment and make it highly comfortable. Plus, this humidifier helps those suffering from dry skin, allergies, and colds.
Pros
Simple, elegant, and sleek product
Despite its large size, the tank is very light
Two output settings allow you to set the mist to how you desire
The lightweight mist is easily picked by air currents and doesn't wet the surrounding area
Cons
There's no carry handle on the tank
The blue LED can interfere with sleep
PureGuardian H3200WCA
Coverage Area: 440 sq ft.
Tank Size: 1.5 gallons
Dimensions: 10 x 10 x 23.3 inches
Weight: 6.35 pounds
We may earn commission from purchases made from our links, at no additional cost to you
Review
The Pureguardian H3200WCA is a sleek and attractive humidifier that's not only powerful but also adds to the décor of your house. Plus, since it is a tower-shaped cool mist humidifier, it can be utilized anywhere around the house without being an eyesore or being in the way.
Capable of covering a space of up to 400 square feet, this ultrasonic humidifier is ideal for large rooms. It comes with a huge tank with a capacity of 1.5 gallons of water. As a result, the H3200WCA can work for a hundred hours on just one filling.
Moreover, this premium Pureguardian ultrasonic humidifier features the brand's signature silver clean protection. This antimicrobial treatment works to keep the growth of mold nearly non-existent.  And of course, its ultrasonic technology hardly makes any noise, making it one of the best options for the bedroom.
As a Pureguardian humidifier, you can expect it to be highly feature-rich. Apart from a 12-hour timer, it comes with variable mist control and a nightlight. In addition, an indicator light informs you of when it is time to fill up the tank again. Another important feature is the auto shut-off feature. Once the humidifier is empty, the unit shuts down.
Bottom Line
Overall, for large rooms, the HW200 is a great option. It is a high-end cool mist humidifier which is not only full of innovative features, but is also powerful with an elegant design.
Pros
Can easily cover a large room
Silent yet effective ultrasonic humidifier
Refilling as well as reattaching the tank is very easy
Cons
Not too durable and can leak after a few uses
PureGuardian Nursery Humidifier
Coverage Area: 210 sq ft.
Tank Size: 0.21 gallons
Dimensions: 4.33 x 6.3 x 8.4 inches
Weight: 1 pound
We may earn commission from purchases made from our links, at no additional cost to you
Review
As the name suggests, this humidifier is the ideal option for nurseries. In fact, it will also make a great nightstand humidifier. At the lowest setting, it can run for up to 14 hours, ensuring that your kids get the best night's sleep. Since it is a cool mist humidifier, there are no burn hazards, and you can expect efficient results.
Despite the humidifier having a small size, it is very easy to clean and fill. While these features might not seem to be so special, they are in reality, important since you'll have to refill the unit at least once daily in the dry season. Similarly, you'll have to clean the humidifier at least once a week.
When you use the unit with distilled water, you'll hardly notice any buildup of hard water. Plus, the antimicrobial treatment done on the water keeps the mold at bay much longer than other humidifiers on the market. Like other units on this list, this one is super quiet which means that it will make a great addition to your bedroom.
Overall, with cleaner air in your bedroom or nursery, you and your kids can have a good sleep without having dust or other allergens cause irritating symptoms.
Bottom Line
For a humidifier that's not only easy to fill, but also affordable, this is the one to pick. Despite producing some white dust, it is efficient at what it does and can easily meet your needs.
Pros
Tank is quite easy to fill
Available at a relatively low price
Treated plastic inhibits the growth of mold and bacteria
Cons
Tends to produce white dust
PureGuardian H1175
Coverage Area: 390 sq ft.
Tank Size: 1.5 gallons
Dimensions: 8.31 x 9.92 x 11.88 inches
Weight: 3.45 pounds
We may earn commission from purchases made from our links, at no additional cost to you
Review
The H1175 is another mid-range, cool mist humidifier that is suitable for covering small and medium-sized rooms. While it is rich in features, one key feature is the convenient water tank. Since it is a top-fill water tank, refilling it is a breeze. Of course, like all Pureguardian models, this too comes treated with the silver clean protection, making sure you stay away from the harmful effects of mold growth.
With its large 1.5-gallon tank, this cool mist ultrasonic humidifier can run for up to 90 hours and provide sufficient protection against dry air in your home. Using its ultrasonic technology, the unit disperses an adequate amount of cool mist into the air. Thanks to the same technology, the unit hardly makes any noise, so you can have it on at night without having it disturb your sleep.
The humidifier also comes with an optional aromatherapy tray, allowing you to make a relaxing atmosphere by adding a few drops of your most loved essential oil. Moreover, with the variable mist control, you can customize the mist. There's also a nightlight as well as a low water indicator so you can easily know when you need to pour water into the top-fill tank.
All in all, with this Pureguardian humidifier, you can make a better environment that alleviates your family's symptoms of allergies, dry skin, and colds.
Bottom Line
The H1175 is a premium and robust humidifier that can be easily described in two words; simple and convenient. As a bonus, there's a scented pad slot as well which you can use to diffuse your favorite essential oils in your room.
Pros
Very easy to clean including the tube
Blue light makes this an ideal option for kids' rooms too
Cons
Motor tends to get a little loud
PureGuardian H4810AR
Coverage Area: 600 sq ft.
Tank Size: 2 gallons
Dimensions: 7.75 x 15.03 x 12.48 inches
Weight: 5.55 pounds
We may earn commission from purchases made from our links, at no additional cost to you
Review
The 4810 is one of the pricier models that Pureguardian has to offer. This is a dual-mist humidifier which can easily handle space of up to 650 sq. ft., making it a large room humidifier. Given its capability, it is no surprise that it has a large frame and is a little heavy.
However, it makes up for its large size with several excellent qualities. Apart from a huge water tank that reduces the hassle of frequent refilling, the H4810 has an impressive daily cool or warm mist humidity output of 2.5 gallons each day. Despite being such a large and powerful humidifier, this unit runs quietly and ensures you have a sound sleep at night.
Aside from the option of choosing between cool and warm mist, users can also choose from three different output levels. Safe to say, this unit allows a truly customizable experience. Moreover, it features a 12-hour timer which means that you can have it on at night without having to get up from bed just to switch this off.
Bottom Line
If you're extremely tired of having to refill the water tank of your current humidifier constantly or if you want to customize your humidifying experience fully, the H4810 is the best option. With three speeds and the option to choose cool or warm mist, you can optimize and personalize your comfort.
Pros
High humidity output keeps the room adequately humid
Thanks to the large size, the humidifier doesn't need to be filled often
More efficient and well-built than many other units in the same price range
Cons
Using it with tap water results in white dust
Conclusion
Guardian Technologies has been putting out small appliances to tackle indoor air quality problems since 2002. Despite being comparatively new to this industry, the company has established itself as a force that shouldn't be reckoned with. Their wide range of Pureguardian humidifiers is quite varied and is designed to meet different needs. So, you'll have no problems finding the ideal Pureguardian humidifier for yourself.