When considering installing heating options in your home, electric wall heaters are an excellent solution to consider. Enabling direct heat in zonal areas of the house while saving space with on-wall or in-wall installation, electric heaters of this type can serve as a versatile solution to a cold home.
However, make sure to consider the best options for you and the space you intend to heat.
Here's a little information on how to go about making the right choice.
At a Glance: Our Top Picks for Electric Wall Heaters
Comparison of the Best Electric Wall Heaters
IMAGE
PRODUCT

Our Top Pick

Surface-mount design which is simple and elegant
Perfect solution for supplemental heat in rooms that do not get enough heat
Downdraft design and build-in thermostat provides maximum comfort

View Latest Price →

Best Budget Option

Energy-saving heating supplement the helps lower energy costs
One-piece design using baked enamel finish ensures durability
Various safety features and UL listing ensure a reliable product

View Latest Price →

C-Frame motor and dual wattage design adds comfortable warmth to your living space
NiChrome heating element ensures heat even in the draftiest locations
Smart Limit Protection safety shutoff feature gives the users complete peace of mind

View Latest Price →

Pic-A-Watt element allows you to tailor the heat setting
Powerful Whisper Quiet Fan ensures comfortable comfort
Heavy-duty steel blower and heating element allow years of reliable operation

View Latest Price →

White grille with downflow louvers provide an effective heating supplement
Can be surface-mounted or recessed for a quick and easy installation
Temperature can be easily adjusted with the help of a front-mounted thermostat

View Latest Price →

Best Electric Wall Fireplace Heater
Can be build into the wall to safe space
It can be used for a variety of heating applications

View Latest Price →

Best Energy Efficient Electric Wall Heater
Uses an energy-saving feature to save electricity
Can be easily mounted on the wall

View Latest Price →
How to Choose the Best Electric Wall Heater
When choosing an electric wall heater, you need to first take into account the space you will be heating. If you are looking to have more on-the-spot heat blasting, then you are more likely to consider a forced-fan heater. However, if you are looking for a smoother whole-room heat, a convection heater is far more suitable for the task.
Secondly, it is important to consider the heating capacity. If you don't have the correct heating capacity, you'll find that the heater will struggle to bring the room to a comfortable temperature. As a general rule of thumb, 10 watts will heat one square foot of space. Make sure to measure your room first to ensure that you are selecting a heater with enough power.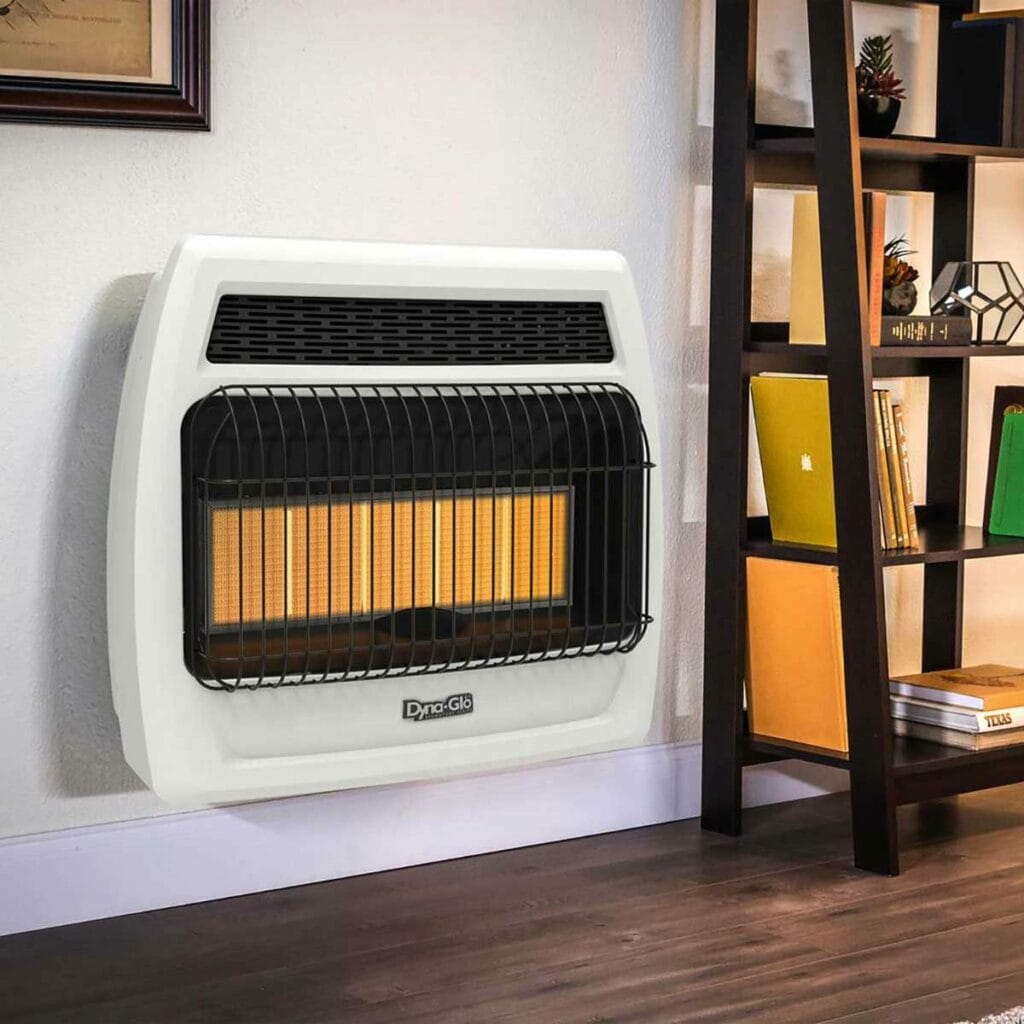 Next, consider the utility of the room. If it is a sleeping area, you will have to take into account the noise of the heater. Forced-fan heaters can be a little loud and therefore not so suitable for light sleepers. However, if you are not worried about noise, if it's in the garage, try a forced-fan heater. Safety features are also vital to consider, especially if you have children. Some manufacturers have tip-over switches that turn the heaters off if they fall over. Moreover, you'll find models that have cool-to-touch exteriors, as well as safety switches that automatically turn heaters off to prevent overheating, decreasing fire risk.
Lastly, make sure to think about energy efficiency. Currently, there is no standardized measure for energy efficiency of electric heaters, but often you will find a rating to give you an indication of this.
Reviews of the Best Electric Wall Heaters
If you're looking to install an electric wall heater in your home, you may want to consider the following products, some of the best on the market. Here are a few reviews to help you understand if they're a good fit for your requirements.
Best Wall-Mounted Electric Heater for Bathroom
Stiebel Eltron CK Trend Wall-Mounted Electric Fan Heater
Coverage Area (sq ft): 215
Power (watts): 2000
Dimensions: 5.13 x 10.88 x 15.75 inches
Weight: 5.5 pounds
We may earn commission from purchases made from our links, at no additional cost to you
Review
This heater operates at 49 decibels and features a 'downdraft' design to enable even heating. There is a built-in thermostat and a booster setting to enable quick heating for up to 60 minutes. It features 2000 watts of power and only weighs 5.5 pounds.
A sleek design that can distribute even heating in a small room or a supplement source of heat in a larger area. The bonus features enable it to heat quickly and quietly. It is not suitable as a standalone product for large spaces. Users may need help getting it up and going, but once they do it, it works very well.
Pros
Very quiet, therefore, you can use it in the bedroom
Frost protection is included to prevent from getting too cold
The downdraft design means that it produces a more evenly distributed heat
Very light, and you can install it without having to reinforce the wall or find a stable one to put it on
The booster enables users to set the heater at a higher temperature (for up to 60 minutes) before the thermostat restarts. It allows heating a room more quickly
Cons
The wire is very prominently which is quite ugly
It isn't as easy as it claims to install and many users needed help as the instructions weren't clear
Can heat up to 200 square feet. It is an auxiliary heater and is not suitable for heating large spaces
Broan 174 Wall Heater
Coverage Area (sq ft): 150
Power (watts): 1500
Dimensions: 15 x 11.06 x 6.06 inches
Weight: 5.97 pounds
We may earn commission from purchases made from our links, at no additional cost to you
Review
Made of heavy 20-gauge steel, this model has downward-facing louvers for more evenly distributed heat. It has a baked enamel finish to increase durability while reflecting heat. It is factory wired at 1500-watts, at 120-v-AC, and can be easily converted to 750-watts at 120-v-AC or 1500-watts at 240-v-AC for added versatility. It can be recessed or mounted at the surface and comes with a built-in thermostat.
This heater is a great supplement to heat your home, but you can't use it on its own. However, it has different wattage and voltage, coupled with both surface and recess options, making it a versatile heating model.
Pros
Alloy heating element means it heats a room very quickly
Versatile wattage and voltage options enable installation in all different homes
Blower wheel is highly efficient and pushes air quickly around the room for better heat distribution
Can be installed at the surface or recessed into the wall for greater versatility and space-saving solutions
Cons
Only useful as a supplemental source of heating and isn't designed to take the place of a heating system
Users have complained that the thermostat sets the temperature too low and automatically shuts off before it heats a room
King Electric W2420 Electric Wall Heater
Coverage Area (sq ft): 200
Power (watts): 2000
Dimensions: 16 x 11.9 x 5.1 inches
Weight: 8.26 pounds
We may earn commission from purchases made from our links, at no additional cost to you
Review
It is a forced-fan electric heater that features an efficient impeller-style fan with a nickel and chrome heating element. It has 2000 watts of power and can be installed into a wall-mounted recess cage in less than 30 minutes.
This heater is a great supplement to a heating system, with even heating technology. It is a bit loud, but a great option if you don't want a heater with a thermostat.
Pros
The downdraft provides even heating throughout the room
Easy enough to install if you have some experience and a wall recess ready for it
Features Patented Smart Limit Protection, which means that it disconnects the motor and the heating element if it overheats
Heats up very quickly, and the fan is powerful enough to push heat around the room, and increase the temperature in very little time
Cons
Can be a little loud
Doesn't have a thermostat, so you need to connect it to an external one
Best Small Electric Wall Heater
King PAW2422 Wall Heater
Coverage Area (sq ft): 400
Power (watts): 2250
Dimensions: 6.13 x 12.5 x 4.44 inches
Weight: 9 pounds
We may earn commission from purchases made from our links, at no additional cost to you
Review
This force-fan heater enables you to choose the wattage for the specific heating requirements you have, from 500-2250 watts. It has easy installation for wall recess mounting. It features Smart Limit Protection and downdraft louvers.
It is a very high-rated model, that can be used to heat a room without another source of heat. However, remember that you need an external thermostat, otherwise you will need to turn it off manually, which can be inconvenient.
Pros
Very quiet
Variable wattage to provide versatile heating solutions
The Smart Limit Protection makes it a safety device to prevent overheating
Downdraft louvers enable more even distribution of heat in a larger space
You can use this model as a primary source of heat due to its high power capacity
Cons
Needs an external thermostat to control the temperature
Some users have found that the spot welding on the housing wasn't of high quality
Broan 170 Wall Heater
Coverage Area (sq ft): 100
Power (watts): 1000
Dimensions: 3.75 x 7.75 x 10.25 inches
Weight: 7.1 pounds
We may earn commission from purchases made from our links, at no additional cost to you
Review
With versatile voltage and wattage, it can reach 500 or 1000 watts. It features downward louvers and is made from durable 20-gauge steel coated in enamel. This device has an alloy heating element, and you can mount it as a surface heater or in a wall recess.
This heater has some great reviews and works well as a supplemental heater. It does not heat as high as other heaters but is easy to install and has variable options.
Pros
Versatile wattage that enables different power settings to increase heating
Easy to install and can be put inside a recess or simply on the surface of a wall
Worth paying for in comparison to some of other more expensive models
Cons
Thermostat is not very precise
Thermostat is close to the heater, meaning that sometimes it shuts off too early
Best Electric Wall Fireplace Heater
Touchstone 80001
Coverage Area (sq ft): 400
Power (watts): N/A
Dimensions: 50.4 x 5.5 x 21.65 inches
Weight: 46 pounds
We may earn commission from purchases made from our links, at no additional cost to you
What Recent Buyers Report
The majority of customers have been pleasantly surprised by this product. Its aesthetics have really impressed buyers. Almost all of the customers have expressed excellent after-sales customer services if any issue was faced with the original product and confirmed free replacement delivery. 
Why it Stands Out to Us
In addition to being an effective supplementing heat source, the visual effects of the product seem to have wowed its users, particularly because it has a very attractive design. Easy installation is just another added benefit of this product. The overall performance and the extra thought that the manufacturers put into making this product stand out caught our eye. 
Bottom Line
The product is great for what it is designed to do. It is equally relevant for home and commercial use but with specific conditions. People requiring an additional heating source on relatively colder nights or those who want something for their restaurants due to its visual appeal will find this to be a strong contender.
Pros
Allows versatile use
Can be remote controlled 
Being electric, it is safe to use
Very easy single-person installation
Gives an aesthetic enhancement of live fire but without smoke
Cons
Can only be used as a supplementary heat source
Best Energy Efficient Electric Wall Heater
EconoHome Wall Mount Space Heater Panel
Coverage Area (sq ft): 120
Power (watts): 400
Dimensions: 23.5 x 23.5 x 0.25 inches
Weight: 17.8 pounds
We may earn commission from purchases made from our links, at no additional cost to you
What Recent Buyers Report
Customers have mixed reviews for the product. Most of the recent buyers consider it as an excellent product with great value for money. While few have reported relatively slow response to the after-sale customer services, the occurrence of any problem itself has an extremely rare chance as many reviews boasted about its durability. 
Why it Stands Out to Us
The energy efficiency, combined with the latest technology, makes it environmentally safe, which is not something you will find easily in this price range. This is what drew us towards this. Moreover, customer satisfaction seems to be their top priority as they added stellar features to this heater and made sure that it can match modern room decor. 
Plus, we loved that anyone with an allergy can still use this. 
Bottom Line
To sum up, this is definitely a great product that provides great value for money. Home users requiring a primary heat source for their rooms not larger than 120 sq feet will be particularly interested in it.  
Pros
Extremely easy to install
Updated crack-resistant version
Known to be highly energy-efficient 
Ideal for allergy sufferers as there is no fan
Exterior panels can be repainted with matching colors to enhance room decor
Cons
Warranty information for the product is not mentioned upfront
Needs additional HeatGuard panels to protect from burns if touched accidentally
Best Electric Panel Wall Heater
De'Longhi Mica Thermic Panel Heater
Coverage Area (sq ft): 250 – 500
Power (watts): 1500
Dimensions: 27 x 10 x 22 inches
Weight: 15.43 pounds
We may earn commission from purchases made from our links, at no additional cost to you
What Recent Buyers Report
This product has received great appreciation from its users who have left very positive and great remarks about it. They loved the large control dials, lengthier cord, and wheel assembly that is much more sturdy. Moreover, its non-freeze feature that can be used for cold storage units was another thing that customers were grateful for. 
Why it Stands Out to Us
The technology used in the product is great and provides a good heating source, making it ideal as a backup unit. Home users requiring an additional heat source for their rooms can seriously consider this product. It has great features that add significantly to the user's comfort. 
Bottom Line
De'Longhi has created a name for itself in the market due to its consistent performance and amazing products, and this unit doesn't fall short of this standard. If you are looking for something to keep you warm and doesn't give you much trouble, this is it. 
Pros
Portable and sleek look
Offers a convenient installation
Can be used as a primary heat source
Backed by a one-year limited warranty
Adjustable thermostat for personalized comfort
Cons
Unable to operate on max power for more than a few minutes
Internal transformer makes a loud noise when operating at max power
Best Electric Radiant Wall Heater
Heat Storm Deluxe
Coverage Area (sq ft): 200
Power (watts): 1000
Dimensions: 13 x 3.63 x 16.5 inches
Weight: 7.48 pounds
We may earn commission from purchases made from our links, at no additional cost to you
What Recent Buyers Report
The product has received excellent reviews from recent buyers, which wasn't much of a surprise for us, given its superior design, construction, and performance. All buyers have reported positive attributes for the product, explaining that it exceeded expectations and, in some instances, even surpassed the claims made by the manufacturer.
Why it Stands Out to Us
We like that the energy-efficient heating technology of this product makes it capable and fit to be used as a primary heating source. This is something that you don't ordinarily expect from an infrared radiation heat source, but this product transcends your expectations. Moreover, it takes care of your safety as well, which is why it comes with a safe-touch grill. 
Bottom Line
The product is impressively designed, and the customers have been greatly impressed with it. Keeping in mind the durability, portability, and compatibility of this product, it is fit to be used to keep the house toasty. 
Pros
Has a safe touch grill
Allows for easy installation 
Offers effective and quick heating
Features a modern and compact design
Adjustable thermostat included with LED display
Cons
Since it is an infrared heater, it can only be used as a supplemental heating source in a small space
Warranty is provided for one year, but the product will be repaired and not replaced in case of a defect
How Does an Electric Wall Heater Function?
Electric heaters function in two main ways: forced-fan heaters or convection heaters. Forced-fan heaters tend to be very quick at heating a room due to their technology. A forced-fan heater works by moving the air in the room over a heating element.
This heating element heats the air, which is then forced out by the fan to circulate around the room. As they heat the area very quickly, they are a great addition to areas that are not used so often, such as garages or workshops.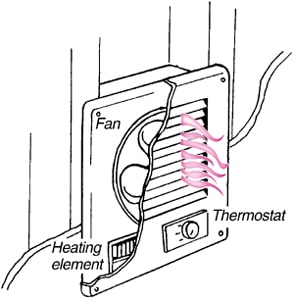 Convection heaters work slightly differently, which makes them a little quieter than forced-fan heaters. Convection heaters draw cool air into the bottom of the heater. The air passes over a heating element, and its displacement causes it to move naturally, pushing hot air out as a replacement of cool air. Hot air rises, heating the whole space.
Although they don't heat a room up as quickly as a forced-fan heater would, these heaters are lower maintenance and far quieter. Taking this into account, people often use conventional heaters in sleeping areas as there is less disturbance.
Benefits of Electric Wall Heaters
Electric wall heaters have a plethora of benefits, including, first of all, their ease of installation. With gas heaters, often you will need professional installation to hook it to the gas lines. With an electric wall heater, you can plug it into the socket, and it will work instantly. Often mounting brackets are easy to install and take no longer than 15 minutes to put up.

Electric heaters tend to have excellent safety features that prevent combustion. The tip-over and over-heat switches prevent it from getting too hot to cause damage, and most will shut off if something gets too close to it.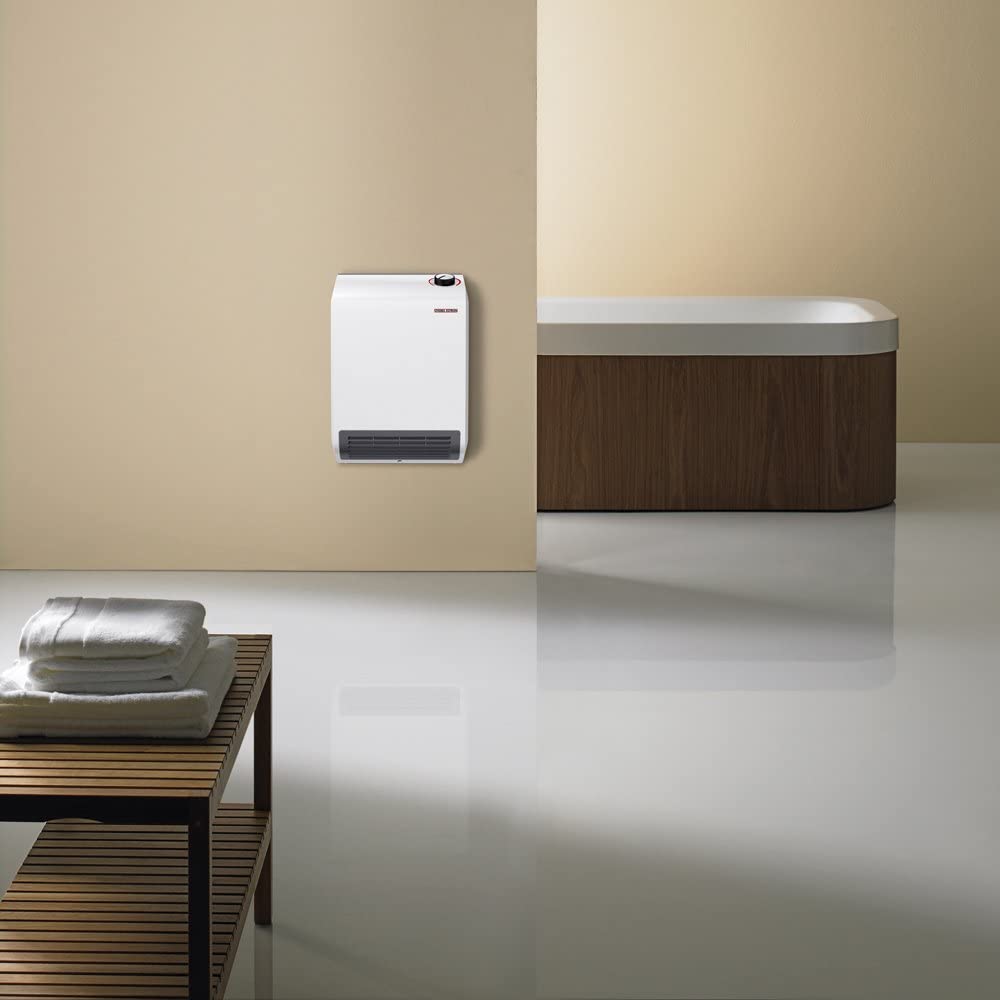 Electric heaters don't tend to take up much space. This makes them a great space-saving option, even in the smallest homes. Moreover, an electric wall heater saves space by being mounted on the wall, so it doesn't take up valuable floor space. Equally, due to them being mounted on the wall, they heat the space much more quickly than heaters that are on the floor.
Regarding costs, electric heaters tend to be cheaper than other heaters in terms of upfront payment. They are very durable and often have a lifespan of 8-12 years.
Electric Wall Heaters vs Central Heating
Central heating systems are installed house-wide and allow for whole-house heating in one go. Central heating works with vents of radiators in each room, which serves to heat the whole house. Most systems of this kind run on gas and need to be installed by professionals, which increases the cost of implementing a system like this.
Electric wall heaters are mounted in each room and work by room basis, allowing for zonal heat. Whereas central heating only allows you to set the heat at one temperature across the whole house, electric wall heaters enable the temperature to be set per room, being much more versatile.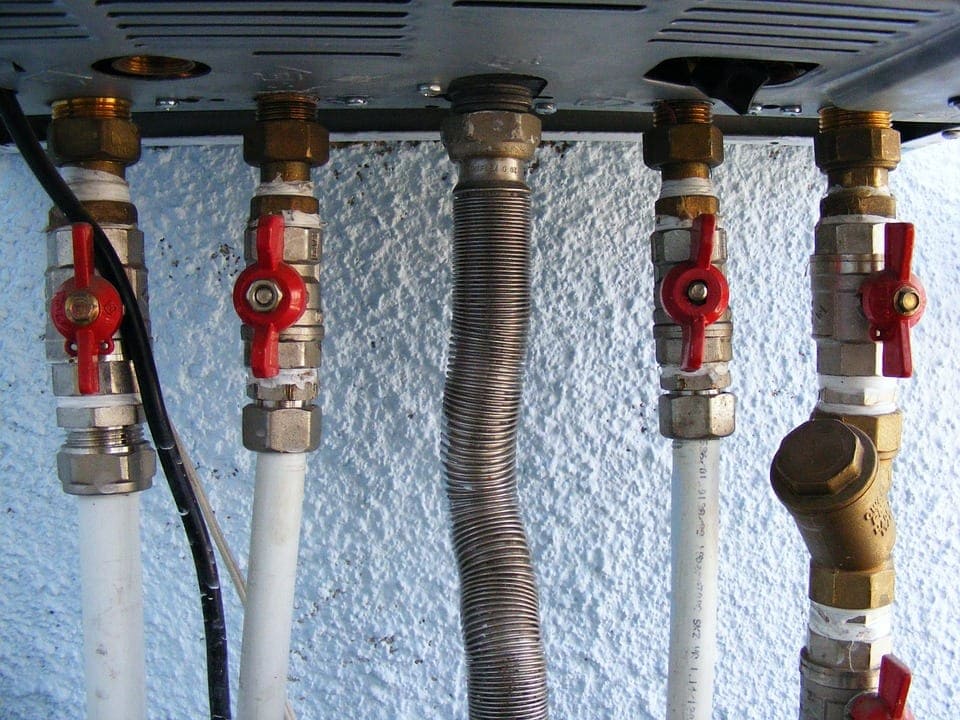 Equally, electric heaters are far easier to install with no need for professional help. As wall heaters are room-specific, you'll find that you can only heat the area you are using, making it more energy-efficient to use electric wall heaters. In the long run, you may also see your utility bills decline.
The better option relies more on how you operate in your home. If residents tend to be spread around the house and don't control heat, central heating is a good option. For those who want more control and versatility, or spend time in specific areas of the house, electric wall heaters are a better option.
Types of Heaters
The advancement in technology has brought great innovation in this sector as well, and we can now buy heaters, ranging from an advanced HVAC system to an automatic electronic heating unit conveniently. However, there are different types of heaters available in the market. These include:
Next, consider the utility of the room. If it is a sleeping area, you will have to take into account the noise of the heater. Forced-fan heaters can be a little loud and therefore not so suitable for light sleepers. However, if you are not worried about noise, if it's in the garage, try a forced-fan heater.
Fan Forced
This type of heater employs a fan-forced electric heater to push the air above a hot heating device. Resultantly, you feel a gush of air that is warm and comfortable. Due to its wind blowing effect, it is also referred to as a blow heater.
Panel
These are also known as micathermic wall heaters. They use a highly energy-efficient model to produce heat in two distinct ways. Once it is turned on, it uses the electric current passing through the resistor into heat. As the heating process builds up, this heat is pulled in by mica in the coils. Mica is a silicate rock (mineral) that has properties of retaining and transferring heat. 
Convection
Most wall heaters work through this mechanism. These use convection currents in the room and depend on the proper circulation of air inside the room. Cooler and denser air is absorbed into the heater and is circulated over a heating element. This is then pushed outside and circulated into the room again. 
Comparison Overview
If you find yourself wondering whether a wall heater is the right fit for you or if you are better off looking at other types, then you will find this section particularly helpful. We have compared a wall heater with different types of heaters so that you know exactly what matches your needs. 
Space Heater vs Wall Heater
A space heater is generally a portable standalone unit, which dissipates heat in a small area. It is more effective for places that are not well-insulated or large as it focuses on providing heat to objects close to it often through a fan, which also makes it noisy. 
Although space heaters are much cheaper to buy, they certainly are a bit risky if you have kids in the house and can only be used when you are in the same room as well. Since leaving space heaters in empty rooms can be extremely dangerous, they carry safety concerns that other types such as baseboard or wall heaters do not. 
On the other hand, a wall heater is more efficient for well-insulated places as it heats up the air in its surroundings, providing heat to the entire room. Although they do not carry the same safety concerns as space heaters and can be used as the primary heat source as well, they take up much more space on the walls. You also need to be careful with the furniture and other objects placed close to them. 
Baseboard Heater vs Wall Heater
Baseboard heaters are normally installed in places from where the cold air is expected to enter, such as underneath the exterior windows. This is because it promotes convection of heat. The heating process is carried out by passive convection as the hot air moves upwards without the help of a fan. This mechanism is monitored and regulated by the thermostat attached to the unit or on the wall which maintains the temperature of the room.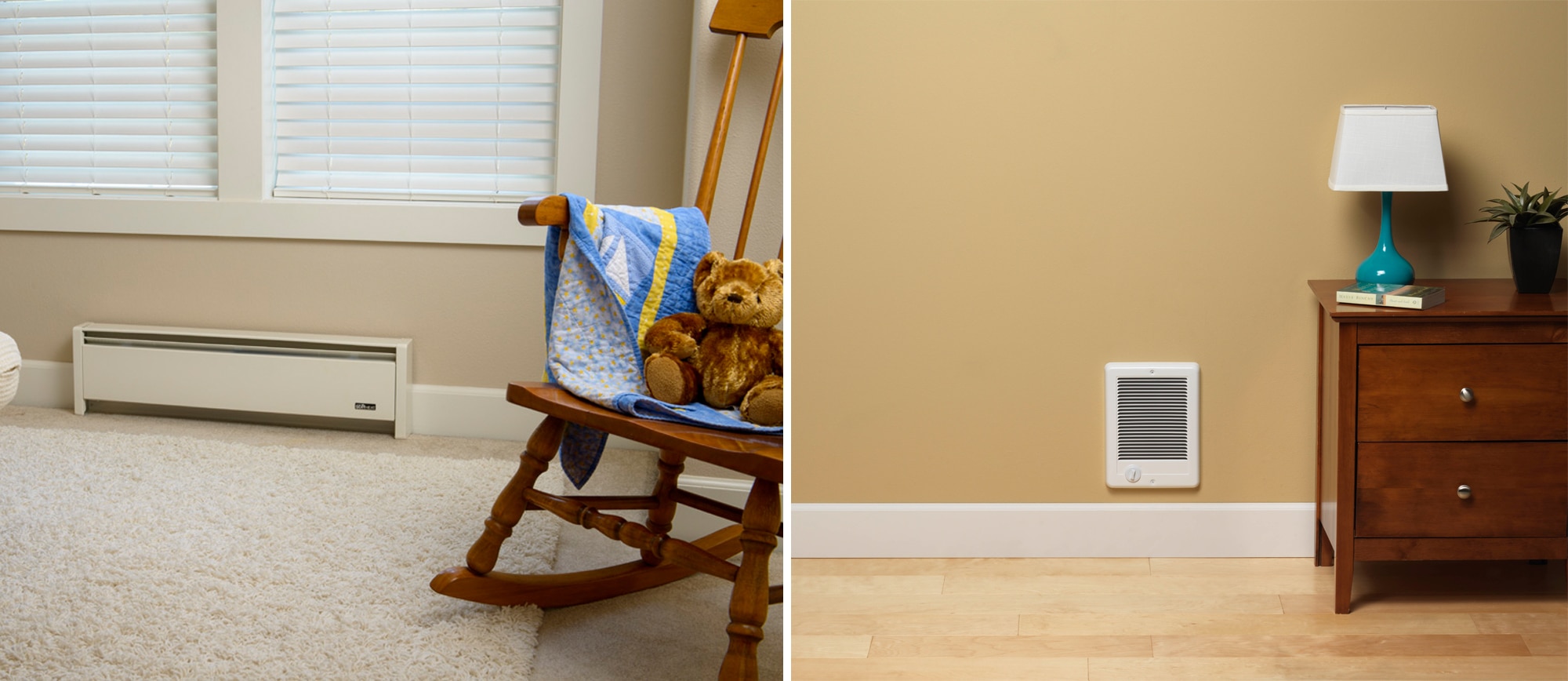 This type of heating solution is particularly a more suitable solution if your house does not have space available for ducting. It can easily be installed on appropriate selected locations without any ducting requirement. 
Baseboard heating is only considered efficient if it is operating continuously as only then can it manage the temperature effectively. Be mindful that your furniture and textiles are kept at a significant distance from the unit to ensure its efficient functionality and to avoid any fire hazards. Moreover, rugs or thick carpets can be an obstruction for the electric baseboard heater. 
Comparing the two, we can conclude that although baseboard heaters generally take much more time to heat the room initially than wall heaters, they are comparatively safer. They operate at a much lower temperature, and their surfaces are much cooler to the touch as compared to wall heaters. 
Meanwhile, wall heaters take up much more space and require space for ducting as well, which is not well-suited for old houses. Lastly, the lifespan of baseboard heaters is almost twice that of most wall heaters. 
Blue Flame vs Infrared Heater
As evident from the name, a blue flame heater uses a flame to heat up the heating element and subsequently, the air around the heating element. Meanwhile, infrared heaters use electromagnetic radiation to heat up the objects close to it rather than heating up the air around it. 
Although the latter is considered more energy-efficient as it directly provides heat energy to the object nearby without wasting any energy to warm up the air around it, this is only true for small enclosed places where it is used for shorter periods. 
In conclusion, both types of heaters are designed for different purposes and are great in what they are designed to do. However, we recommend a blue flame heater for well-insulated places as it is safer and creates more encompassing warmth around you.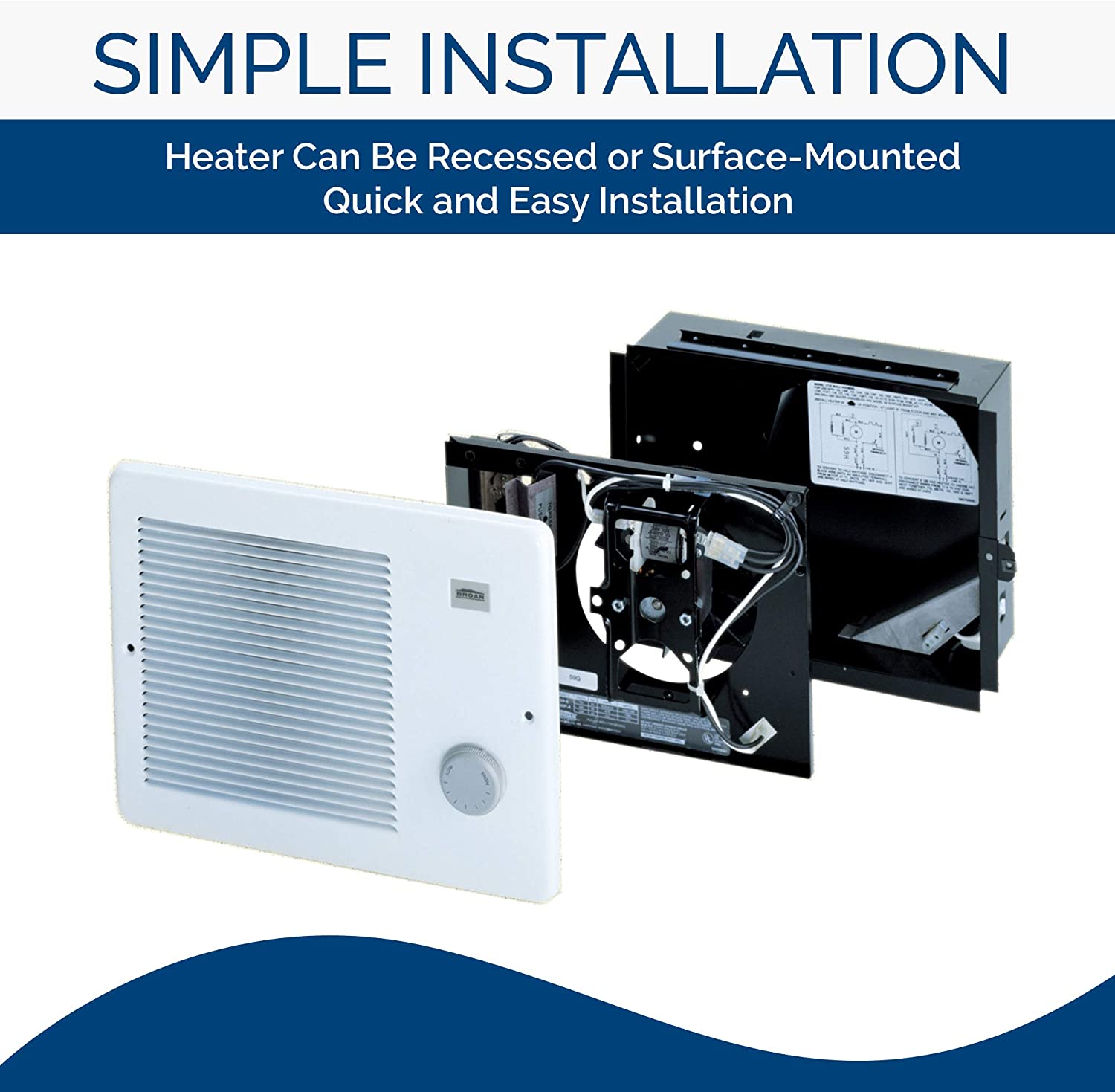 How to Install a Wall Heater
If you are new to this or don't know how to install a wall heater, then keep on reading. This section will talk in detail on how to go about this process. 
Drill a hole in your wail beside the stud. Ensure that the hole you cut isn't too big so that the line is aligned with the stud.


Mark an outlined boundary for the wall heater in its dimensions and cut it out using a drywall saw.


To run the circuit, set up a line in your panel, and from the breaker, route electrical supply wires to your wall where the heater will be mounted. Ensure that your breaker is turned off before doing that.


Fasten the side of the wall can that goes against the stud and the foam pad together.


Take the knockout off from the wall can.


Put a cable clamp on your wires. Make sure to leave six to seven inches of wire so that heater connections can be made.


Now connect the wall can and the cable clamp together. 


Drill the wall can into the stud.


To wire the connections, leave out about half an inch of covering at the top and cut through the insulation to get to the wires and take the insulation off.


Make sure that the voltage in your wire matches the voltage of your heater.


Wrap the white wire with black tape to notify anyone that it is hot for 240 volts. If it were 120 volts, you would leave it as it is as it's then a neutral wire.


Fasten the grounding wire and screw together.


Make a connection between supply wires and heaters with the help of wire connectors. For 120 volt, the white heater wire is to be connected to the neutral supply wire.


Lastly, mount your grill.
Reading something and watching it are two different things. Hence, if you would like a visual representation of what we just explained, then be sure to check out this video.
Conclusion
Choosing the right electric wall heater for you depends on your needs. Consider whether you want something that needs to be installed into a recess or simply a surface heater that plugs and plays.
It is imperative that you measure the room to understand the capacity you need, as well as thinking about what you use the space for. Don't be caught short with a supplemental heater if you're looking for a primary source of heat!
People Also Ask
If you're interested in space-saving and convenience features when looking for heaters for your home, electric heaters are the best solution for you. This portion is mentioned to clear out any questions you may have regarding the safety and electricity bills of an electric heater.
What Is a Wall Heater?
These are heating devices that can be mounted into your wall directly. People living in close spaces, studio apartments, or smaller rooms tend to go for these as they produce sufficient heat to ensure that the room is warm and cozy. The best thing is that they do not take any extra room on the floor.
How to Turn on a Wall Heater
Turning on a wall heater is extremely easy. Just look for the power button or the knob that starts it. Rotate the knob towards 'pilot' and then keep on pressing on the 'ignite' button. When the pilot light lights up, keep on holding the ignite button for an additional ten to fifteen seconds. Lastly, choose a temperature setting that you want.
Why Does My Wall Heater Make Noise?
If a clanging sound is heard only when the fire is started or immediately after the hot air is no more being pushed out, then that means that it is due to the expansion and contraction process. The metal parts inside the heater can make banging and knocking noises as they expand and contract on heating up and cooling down.

However, it is still advisable to get the noise checked out by an electrician to rule out any dysfunction. 
How to Reset a Wall Heater
There are different mechanisms for different brands to reset a wall heater. There might be a switch or other settings. Go through the instruction manual of your device, and you will find it there or call up the customer service department of your brand. 
Can I Leave Electric Wall Heater on All Night?
If your heater runs on electricity or even gas, it is never advised to keep it running all night since it can get attracted to flammable items nearby and start a fire. It can also dry your skin and your nasal passage, and pose safety risks.
Are Wall Heaters Safe?
While they do offer a great deal of convenience, there are safety concerns in the heating coil that cannot and should not be ignored. However, the product is pretty safe, provided you use it accordingly, and with proper care. Make sure your furniture and curtains are away from the unit, and you do proper maintenance. 
Are Electric Wall Heaters Efficient?
Electric wall heaters may have easy installation and convenience; however, they are not efficient. They take up a lot of energy to function and emit heat. If they are powered on electricity, they do tend to consume lots of it and cool down quickly when turned off, unless you purchase an energy-efficient electric wall heater.
How Far Should Furniture Be From Wall Heater?
Curtains, furniture, drapes, or any other material with combustive properties should have a minimum distance of six inches from every side of the wall heater. While wall heaters are designed to have their ends touch the baseboard wall trim, this holds true only to the edge of the unit. 
What Size Room Will a 1500-Watt Heater Heat?
A 1500-watt heater can effortlessly heat up a small space or area. It can create and release up to 5100 BTUs of heat per hour and 34 BTUs of heat per square foot. 34 BTUs are equal to 10 watts, and so, a 1500-watt heater can warm an overall 150 square feet of coverage. 
Do Wall Heaters Use a Lot of Electricity?
Electric heating is expensive compared to gas heating. If you take a 1200-watt wall heater and keep it turned on for a few hours every day, it can mount up to $30 on your electricity bills, and if you increase the hours to 12, it will add up to $120! This is also the cost of just one heater, which is really pricey.