Baseboard heaters are a great way to employ zonal heating in your house. Neatly tucked behind furniture and low down, baseboard heaters can provide a less visually interruptive form of heating with relatively high energy efficiency.
Available both as electric heaters or as hot water heaters attached to central heating, baseboard heaters are quite flexible in design, making it easy to find one that suits your requirements.
At a Glance: Our Top Picks for Baseboard Heaters
Comparison of the Best Baseboard Heaters
IMAGE
PRODUCT

Our Top Pick

25 Gauge Steel and 20 Gauge Junction Box with ground
UL listed heater make this a completely safe product
Requires a thermostat for measuring the temperature

View Latest Price →

Hydronic design makes it safe around children and pets
Absence of exhaust fan or blower prevents the allergens and dander from blowing around
Baseboard model boosts noiseless operation and worry-free heating

View Latest Price →

Perfect for personal use and small room
High setting of 1,000 watt and low setting of 500 watts lets you choose your level of comfort
Safety features such as tip-over switch and thermal cut-off provide complete peace of mind

View Latest Price →

1500 watt convection baseboard heater is perfect for medium-sized rooms
Stylish and dent-proof construction ensures long time use
Quiet operation ensures that you will not be disturbed

View Latest Price →
How Do You Choose a Baseboard Heater?
Firstly, think about the way it looks in the room. Aesthetically, baseboard heaters are quite convenient as they can be hidden behind furniture, whereas other types of heaters installed on walls are very visible.
Secondly, you need to take into account the installation. If you already have a central heating system, employing hot water baseboard heaters isn't too much of a struggle. However, you will need professional installation to do this. Electric baseboard heaters are far easier to install and work with a simple plug and play system.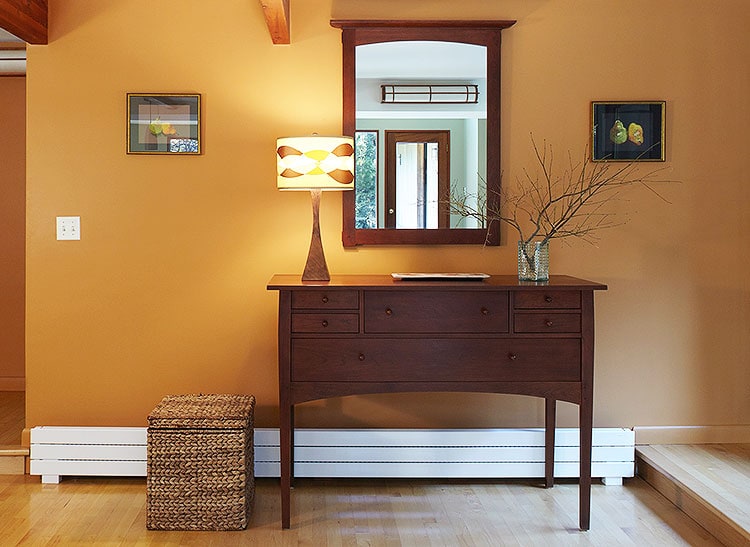 In terms of energy efficiency, gas is far more energy-efficient than electric heating systems. However, if you are considering an electric baseboard heater, you may want to think about the size of the room you want to heat, to find a heater with the right capacity, and that is energy efficient at the same time. Electric baseboard heaters will either show you the BTU/hour (British Thermal Units) or the wattage. In general, you need 10 watts per square foot or 34.12 BTU per square foot. A heater without enough capacity will not heat the room properly, and you will end up using it far more often and at much higher temperatures. Some heaters even come with 'eco' settings to help conserve energy.
In this sense, the cost comes into play. Electric baseboard heaters are relatively inexpensive to run but can be a little more expensive than other options. They are cheaper to buy than convection heaters but make sure you buy one with the right heating capacity to ensure you're not paying extra for inefficiency.
You must consider the safety of a baseboard heater, especially if you have small children or pets. Baseboard heaters tend to heat up quite hot, making the casing untouchable. Try to look for safety certifications, such as UL, in order to ensure it meets the regulations for safety. Some models also come with tip-over shut-off and thermal cut-off to prevent overheating.
Reviews of the Best Baseboard Heaters
Here are some of the best baseboard heaters, featuring some of the top safety features, energy efficiency ratings, and heating capacities.
CADET 9954 Baseboard Heater 1000W
Coverage Area (sq ft): 150
Power (watts): 1000
Dimensions: 4 x 48.3 x 7 inches
Weight: 8.2 pounds
We may earn commission from purchases made from our links, at no additional cost to you
Made of 25 gauge steel, this UL-listed baseboard heater is very slimline and sleek in design. It has 1000 watts of heating capacity and needs to be hardwired. This model needs an external thermostat.
Simple to use and install, this baseboard heater lasts a long time and doesn't need much maintenance. You will need to install a thermostat to manage the temperature.
Pros
Extremely easy-to-install
Very low maintenance and extremely durable
The UL listing means that this heater has been certified as a safe-to-use product
Aesthetically, this heater is very slim and therefore doesn't take up much room and is less noticeable
Cons
Quite expensive to run
No thermostat so an external one needs to be incorporated
Only provides supplemental heating and struggles when temperatures are very low
Fahrenheat PLF1004 Hydronic Baseboard Heater
Coverage Area (sq ft): N/A
Power (watts): 1000
Dimensions: 8 x 3 x 46 inches
Weight: 16.52 pounds
We may earn commission from purchases made from our links, at no additional cost to you
You can mount this UL-listed baseboard heater on any floor tile or carpet. The heating element is immersed in a heat transfer liquid for better heat distribution and efficiency. It features a cut-off for the eventuality that the airway becomes blocked and has 1000 watts of heating power.
It is a great heater for smaller rooms, providing an easy-to-install, durable solution. It is generally silent, but the noise of turning it on or off makes a little disturbance.
Pros
Provides a great deal of heat, even at low-temperature settings
The quality of the materials is excellent, making it extremely durable
Very easy-to-install if you are working with 240-volt lines and it comes with very clear instructions
The wide slots from baseboard heaters mean that items can easily fall in them. The cut-off feature helps to counteract the fire hazard of this
Cons
Makes quite a loud expansion noise when you turn it on or off
Better for heating smaller rooms and has difficulty heating large rooms
Best Electric Baseboard Heater
Heat-Wave EB98937 Convection Baseboard Heater
Coverage Area (sq ft): N/A
Power (watts): 1000
Dimensions: 25.2 x 8.7 x 5.2 inches
Weight: 4.89 pounds
We may earn commission from purchases made from our links, at no additional cost to you
This 1000 watt heater comes with two heat settings and an adjustable thermostat. It comes with tip-over shut-off and a thermal cut-off mechanism. It can heat a room of up to 400 square feet.
This heater is very highly reviewed and provides a lot of heat even on its lowest setting. The safety features prevent it from being a fire hazard. However, the thermostat is a little inaccurate which can affect when it kicks in.
Pros
Completely silent
Cheaper to run than a gas heater due to its efficiency
Extremely powerful and provides good heating capacity at the lowest setting
The safety features are excellent. The tip-over shut-off turns the heater off if it falls over, while the thermal cut-off stops it from overheating
Cons
Some users have complained that it lets off a strong odor
The thermostat doesn't seem to be as accurate as it could be
Comfort Zone Low-Profile Baseboard Silent Operation Heater CZ600
Coverage Area (sq ft): N/A
Power (watts): 1500
Dimensions: 30 x 6.69 x 10.63 inches
Weight: 6.22 pounds
We may earn commission from purchases made from our links, at no additional cost to you
A dual wattage heater, functioning on both 750 and 1500 watts, this baseboard has an overheat protection and a tip-over shut-off mechanism. It has a heavy gauge heating element to ensure silent heating and comes ready to plug and play. It features a timer setting.
The timer setting and portability make it a very convenient heater. It is completely silent and very durable. However, its high heating capacity makes the casing very hot, which can be a hazard to small children and pets.
Pros
Both easy to operate and easy-to-install
Doesn't make any noise whatsoever
Kicks out a great deal of heat, even on its lowest setting
Easily portable and you can move it from room to room
Has a timer setting which will automatically turn the heater off, increasing convenience
Cons
Gets very hot, especially when on high heat, which is a little dangerous for animals and children
If connected to the same circuit as other heating products, such as microwaves, it can short the circuit
Fahrenheat PLF2004 240-volt Hydronic Baseboard Heater
Coverage Area (sq ft): N/A
Power (watts): N/A
Dimensions: 94 x 8 x 3 inches
Weight: 36.8 pounds
We may earn commission from purchases made from our links, at no additional cost to you
With thermal cut-off and UL certifications, this very safe heater has a 2000 watt heating capacity. The heating element is situated in formulated heating transfer liquid. It is very slimline and you can install it on tile or carpet.
This heater is great for large rooms and lowers your heating bills. However, it seems that there are a few flaws in the design that can lead to faulty products being delivered out.
Pros
Completely silent
Very high wattage, providing a great amount of heat for larger rooms
Heats a room very quickly, efficiently, and evenly leading to lower heating bills
The thermal cut-off will turn it off if it overheats or if the airways become blocked
Cons
Some users have complained that the high-temperature cut-off is not very good
The wiring can be a little fragile, and any big knocks seem to break the soldering
Best Portable Baseboard Heater
Fahrenheat FHP 1500TA
Coverage Area (sq ft): N/A
Power (watts): 1500
Dimensions: 58 x 6 x 8.42 inches
Weight: 11.9 pounds
We may earn commission from purchases made from our links, at no additional cost to you
What Recent Buyers Report
This product has received quite positive reviews from recent buyers. They report that it is perfect for their needs and keeps a room comfortable and warm for long. Moreover, it is quiet and evenly heats the room. Storing it is very easy, and transporting it from room to room is not a hassle. 
Why it Stands Out to Us
The reason why it stands out to us is that it has a built-in thermostat, which prevents overheating. The heating element is stored in the form of a pipe and evenly heats the room. It is safe to use for people who have lung issues or breathing problems such as asthma.
Bottom Line
The Fahrenheat FHP1500TA is a gentle heater that provides maximum efficiency. It has a smart design that is easy to store and carry. Being cool to touch, it is safe to be kept around children and pets. Most importantly, it keeps the room comfortable without making any unwanted noise.
Pros
Light in weight and can be stored anywhere
Provides gentle heating with maximum efficiency
Being cool to touch, it is safe to use around children and pets
Won't make annoying noises and works with extreme efficiency
Because of its low-profile design, it can be used anywhere you want
Cons
Might emit noxious fumes
May provide extremely dry heat
How Do Baseboard Heaters Work?
Using heating elements that are enveloped in sheaths of metal, electric baseboard heaters use aluminum blades that help to distribute the heat around a room. People typically install them under windows. Baseboard heaters work as zone heaters as they heat the air that rises and offset the cool air from the window glass that moves in a falling motion.
It generates a circular motion of air movement, known as convection. The cooler air is pulled into the bottom of the heater and then heated. This hot air rises out of the heater. The displaced hot air creates a vacuum which sucks more cool air into the bottom of the heater. The casing and heating element are directly hot, which also causes extra heat to radiate from these components.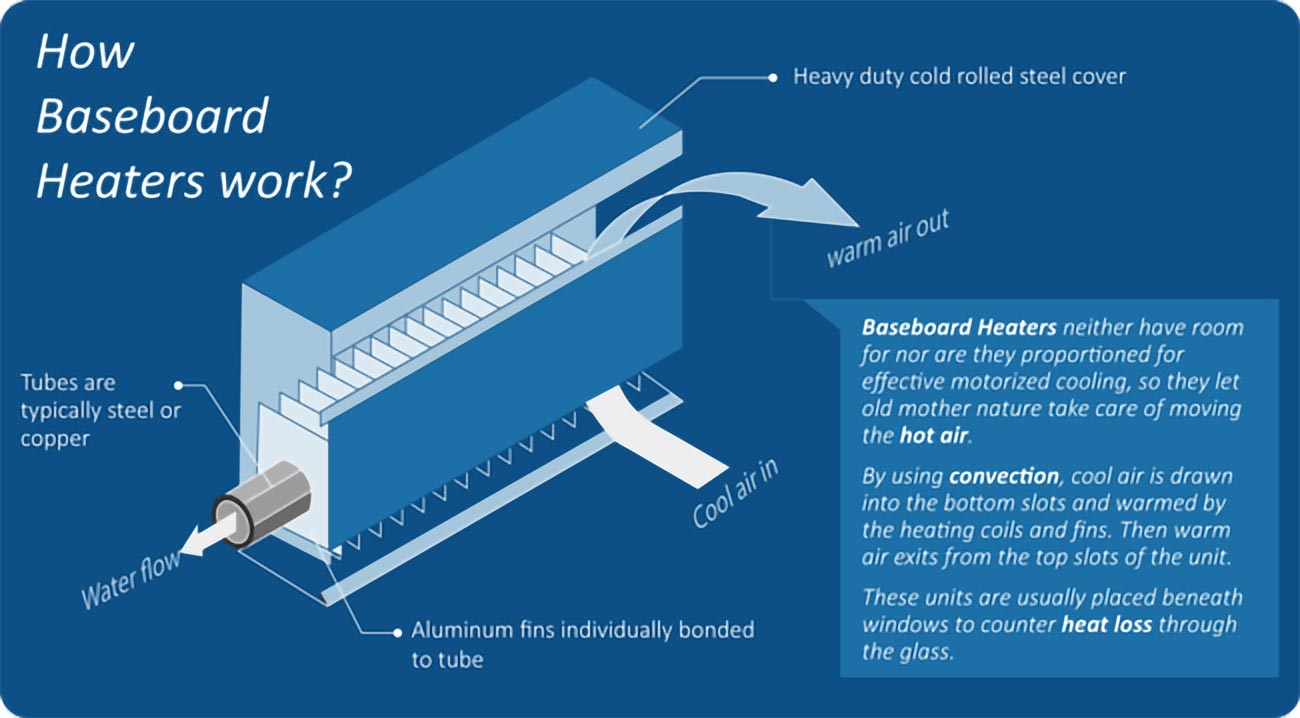 In general, electric baseboard heaters are controlled by thermostats that help to manage and maintain constant heat within the room.
Hot water baseboard heaters work with central heating. Water is heated using gas and then transferred to baseboard heaters around the home through pipes. Each heater takes a little of the hot water before it gets distributed to the next heater. These types of heaters work by radiating heat around the room.
Baseboard heaters work on a room-by-room basis, making them ideal for zonal heating of a household. Heating a basement is a good example of this.
Baseboard Heating vs. Convection Heating
Convection heating and electric baseboard heaters work similarly. Convection heating works by sucking air into the bottom of the heater and heating it; then the air is pushed out of the grill on the heater. The hot air rising causes air displacement, and as the air cools down, it falls and is sucked back into the bottom of the heater.
While electric baseboard heaters are similar, primarily working on convection, they also radiate heat. The casing and the heating element tend to give off a significant amount of heat which also provides radiation heat to a room, as well as the convection current. Electric baseboard heaters are heated by passing air over an element which heats due to an electrical current passing through it.
Hot water baseboard heaters work with radiation and not convection. By heating water inside, the baseboard heaters become hot, and heat radiates outward to warm the room.
Convection heaters can be placed anywhere in the room. Typically baseboard heaters are placed next to windows in order to create a balance with the cool air that comes from them. It adds an extra level of efficiency, as baseboard heaters suck in the cool air and heat it, also preventing cool air from managing to radiate across a room.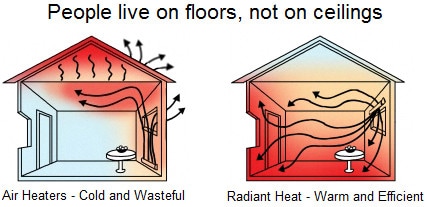 Which Size Baseboard Heater Do I Need?
The size of the baseboard heater depends upon your needs. If you want to install one to heat up your whole room, you may need to install more than one. The general rule is that for every square foot of your room, you need ten watts of heat output. This calculator can help you size your heater.
So, if you want to cover a hundred square feet, you will need enough heaters to give a thousand watts of heat output. It is not quite possible to find a baseboard that will fit your entire room or a baseboard large enough to cover a wall of your room. Therefore, you might need to invest in more than one unit.
Comparison Overview
It is quite apparent that customers may easily get confused between the various types and varieties of heaters. You might even question the difference between a baseboard and other heaters. To make things easier for you, the following is a comparison between a baseboard and other types of heaters available in the market.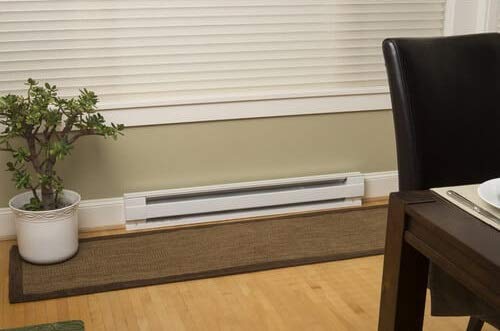 Baseboard Heater vs. Space Heater
The main difference between a space heater and a baseboard heater is the amount of heat outflow. The former will be perfect if you want to heat a small area of the room. It can heat up the area you want efficiently and keep it warm and comfortable.
But if you want overall even heating of the entire room, then a baseboard heater is the best option as it is longer in size as compared to space heaters, which are portable and petite and give out more heat. It is also safer to use than a space heater because it won't burn anything and is quite cool to touch.
A similarity between the two products is that they can be energy-efficient and do not overheat.
Hydronic vs. Electric Baseboard Heater
A hydronic baseboard heater contains a fluid in its unit which heats up and radiates warmth out to the atmosphere. This way of radiating heat keeps the room warm and comfortable for a longer time than an electric baseboard heater. 
A room heated by an electric baseboard heater cools down very quickly as it has metal fins. These fins radiate heat, but when the heater is shut off, they quickly cool down, thus making the room cold quickly.
A similarity between the two is that both of them are baseboard heaters and are mounted on a baseboard with the same process.
Electric Fireplace vs. Baseboard Heater
An electric fireplace is used to heat up a room evenly. This is similar to a baseboard heater, which also evenly spreads out heat in a large room. Both of them come in varying forms of wattage. 
Another similarity between them is that both of them are mounted on a wall of a room: the fireplace can be mounted on any part of the wall while the baseboard heater is mounted on a baseboard only.
A baseboard heater is a less expensive alternative to an electric fireplace. Typically, you can get a baseboard heater for half the amount of a fireplace. However, both consume a lot of electricity.
Infrared Heater vs. Electric Baseboard
Infrared heaters involve radiating heat by providing electromagnetic induction. This offers sustainable warmth, which lasts for a longer time period as compared to an electric baseboard.
An electric baseboard has metal fins that cool off quickly, and the warmth subsides. 
Infrared heaters are more efficient and safer as compared to an electric baseboard heater. Moreover, they maximize the floor usage and heat a large room evenly and efficiently.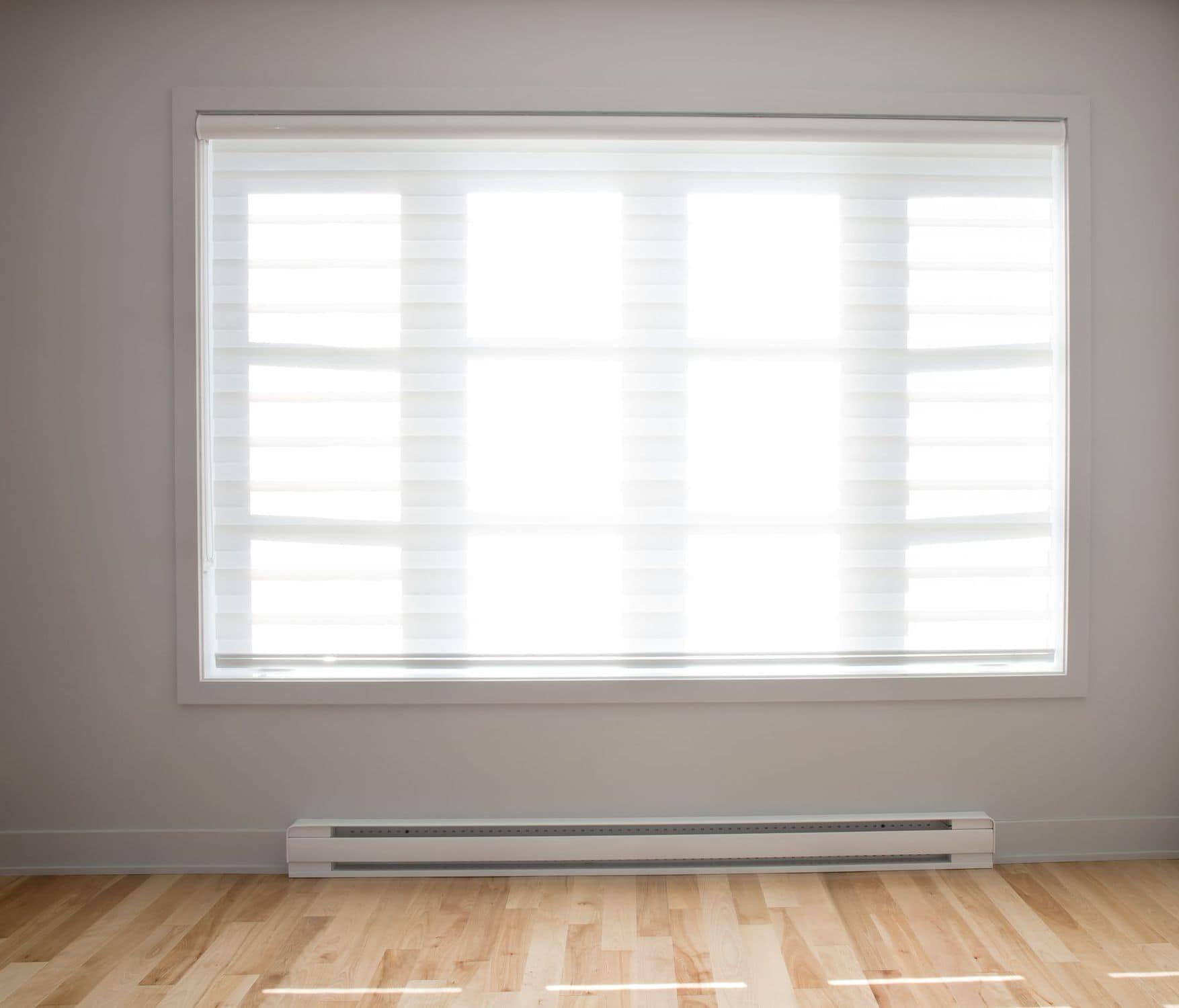 How to Use a Baseboard Heater
Following are the steps that you need to follow to operate a baseboard heater:
Turn on a Baseboard Heater
To turn on a baseboard heater, you need to turn the Power Control dial to ON and turn the dial clockwise or counterclockwise to adjust the temperature.
Turn Off a Baseboard Heater
Once you are done using it, you can turn the Power Control dial to the OFF position before unplugging your heater. 
Bleed a Baseboard Heater
To bleed air out of a baseboard, you need to open up the lower part and turn the cap of the bleeding valve to eject water and excess gas out of it.
How to Install a Baseboard Heater
To install a baseboard heater, here's what you need to know:
Measure the size of your room by multiplying the length and width of the room together.


Check the insulation of your entire room to see if it is good enough to stop heat from escaping. 


Check whether the windows of your room have a single pane or double. Rooms with single-pane windows lose heat quickly.


Figure out the amount of heat you require. For example, for every square foot, you need ten watts of heat output. 


Next, figure out a place to mount the thermostat. The thermostat should be 60 inches from the floor. To ensure that there is a two-wire circuit running through it.


Place the heater where you want to install it and carefully connect and install it according to the provided instructions on the instruction panel.


Replace the covers to ensure that they are safe and secure and that they cannot be pulled off.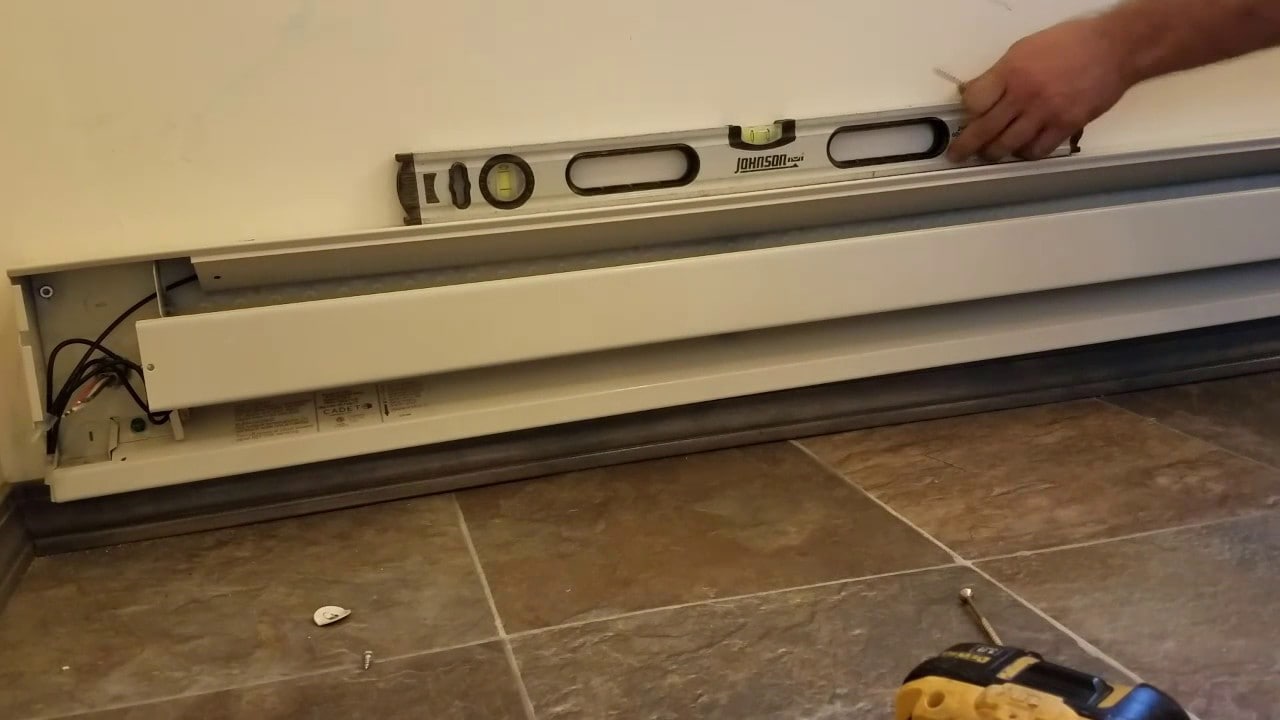 How to Wire a Baseboard Heater
Wiring a baseboard heater involves the following steps:
Make holes in the wall to pass electric wires through them


Unscrew the baseboard heater to run the supply wire through it and use nut bolts to tighten them up


Connect the same colored wires of the supply wires and the wires present inside the baseboard heater


Connect the ground wire with the supply wire


Screw the baseboard back up after leveling it to the ground  
How to Clean a Baseboard Heater
Cleaning appliances of use is quite important for their long-term working. Not maintaining an appliance will damage it and shorten its lifespan. The same is the case with baseboard heaters; it will not fulfill its purpose and will expire soon. Therefore, you must clean your unit often. The following steps outline how you can do so:
Begin by turning off the Power Control of the heater and letting it cool fully before you begin.


Carefully take off the heat cover.


Remove the dirt or debris present inside the unit.


Use a small vacuum cleaner to clean inside the unit.


You may also use other cleaners such as a pressure cleaner but with precaution to avoid damaging the floor or the inside of the unit.


Finally, wipe down the cover before putting it back and covering the unit.


Keep the airflow free from any obstructions to maximize it.
Conclusion
Baseboard heaters are a great way to add silent heat to your home. They provide an energy-efficient way to zonally heat your house and are aesthetically unobtrusive.
However, before considering a baseboard heater, think about the safety features, especially if you have children and pets. Indeed, the casing becomes quite hot which can be a hazard, so the tip-over cut-off is very important in case of danger of it being knocked. Remember to always measure a room first to ensure you know the size of the heater you will need.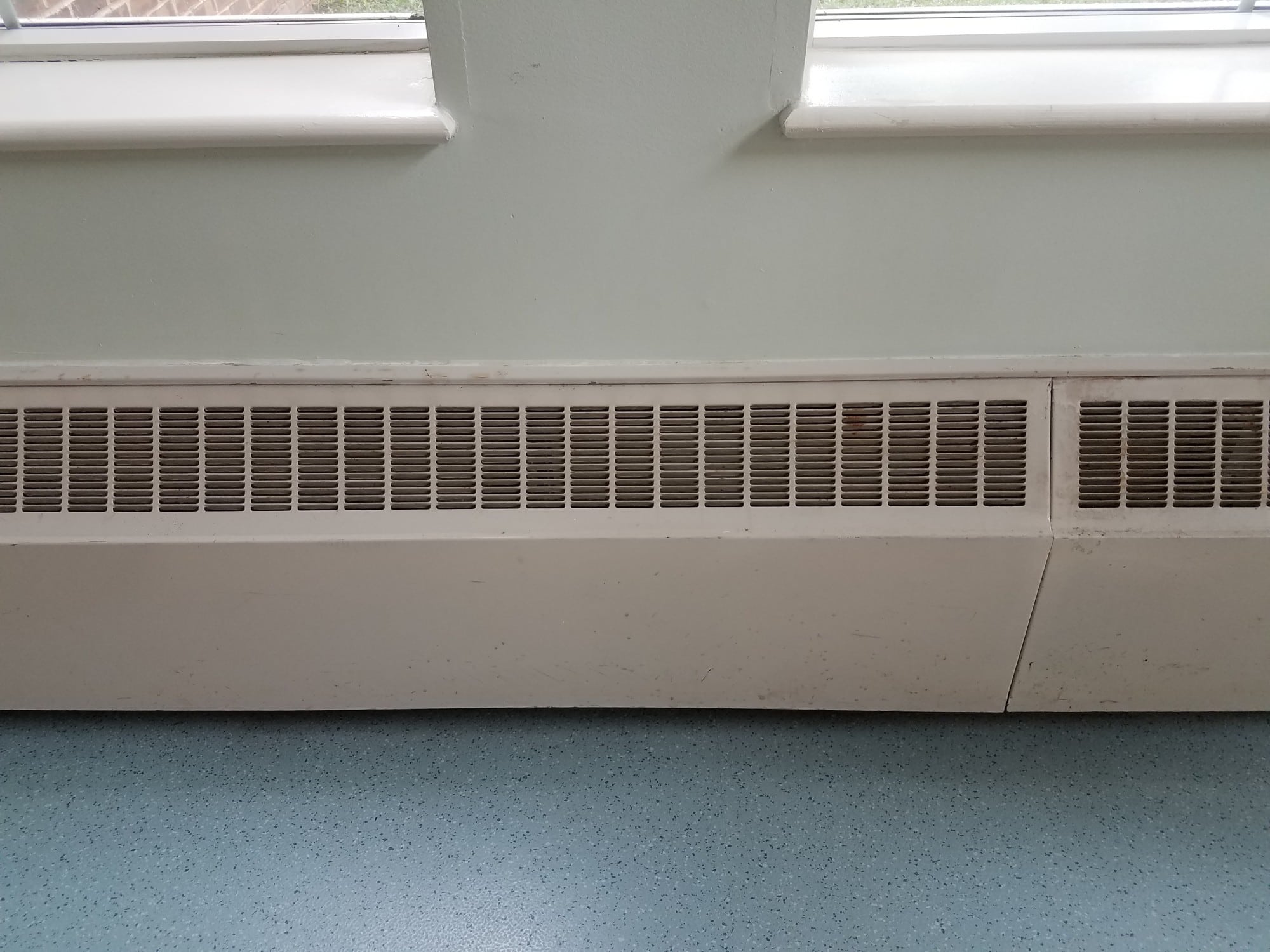 People Also Ask
If you are looking for a sleek, invisible way of heating your home, baseboard heaters are the way to go. Here are a few customers' frequently asked questions, which will provide you with a rough idea of how these baseboard heaters operate. 
How Many Square Feet Does a Baseboard Heater Heat?
As a rule of thumb, a square foot space needs ten watts of heat to keep warm. So, a 1500-watt heater will heat a 150 square feet area. The answer to this basically depends upon the watts of your baseboard heater. 
What is a Baseboard Heater?
Baseboard heaters are usually attached to your baseboards and are longer in size than other heaters. They are used to provide supplemental heating to an area where extra heating is required. They warm up a room or garage, wherever you want to install it. It is usually installed on the coldest wall of your room.
How Much Electricity Does a Baseboard Heater Use?
Typically, baseboard heaters need 225 watts per foot. If you have a four-foot-long baseboard heater, you will need to multiply four with 225 to calculate the consumed wattage. Accordingly, you can easily calculate the electricity consumed by your baseboard heater.
How Do I Know if My Baseboard Heater is 120V or 240V?
To check whether your baseboard heater is 120V or 240V, you will need a multimeter. Turn the circuit breaker switch, connected to the baseboard, on and touch the multimeter leads to each connected wire. The voltage of your heater will be displayed on the voltage meter. If it is between 110V and 125V, then the heater is 120V, whereas a 240V model will show voltage between 220V and 250V.
Is Baseboard Heating Expensive?
Baseboard heaters are one of the priciest kinds of heating techniques that you can use to warm your home. In order to generate a million BTUs, prices are up to $35 approximate if you decide to use a baseboard heater. 
What Type of Heat is Baseboard Heater?
There are two different kinds of baseboard heaters: electric and hydronic baseboard heaters. The former works with radiation and circulation and draws in cold air to convert it into warmth.
Meanwhile, the latter has metal sheathes which are filled in heat transfer liquids and wrapped in copper tubes with aluminum fins to provide the most heat transfer. 
Why Do Baseboard Heaters Smell?
Baseboard heaters can accumulate an ample amount of dust when they draw in cold air from the room, which can result in bad odors. This usually depends on the amount and the elements in the dust particles that can make the heater smell. 
Is a Baseboard Heater Better Than Forced Air?
Yes, they are better than forced-air heating systems as they do not make any noise pollution. They are soft and function silently, compared to forced air heaters, which are noisy. Moreover, they do not require any sort of ductwork, which is another bonus advantage compared to forced air heaters.
Can You Put Furniture Against a Baseboard Heater?
You can put furniture against a baseboard heater, but only if you give it a distance of at least a foot or 2 inches as a safety precaution so that there is no fire hazard. Usually, it is unsafe to put furniture in front of any heater because they can cause safety issues. 
How to Remove Baseboard Heater
1. Turn the power off of your heater


2. Unscrew the places which hold the heater in place


3. Pick up the heater carefully, so you don't destroy the walls


4. Cut off the wires which connect the heater with a wire cutter
What is a Hydronic Baseboard Heater?
Hydronic baseboard heaters make use of water to turn it into heat to warm up the rooms. Their purpose is to emit heat for each room separately, and every room can control its heat levels according to their preference.