If comfort and convenience had another name, it would most definitely be a good heat pump, especially in chilly winters. These small units keep your home not only warm but also extremely comfortable. They are energy and cost-efficient and come with many innovative mechanisms of modern times. And one brand that offers all these features and much more is definitely American Standard.
Its heat pumps are known to be one of the best ones in the market. They come in a range of different shapes and sizes, but more on that later. This review is a complete guide for everything related to heat pumps.
How Does American Standard Compare to the Competition? 
Even with so many brands coming into the market, American Standard has always retained its place at the very top. The brand is highly recommended by recent buyers. Not only this, it has received amazing reviews online, which is a testament to how amazing the brand is. But to keep it short, here is how American Standard compares to its competition.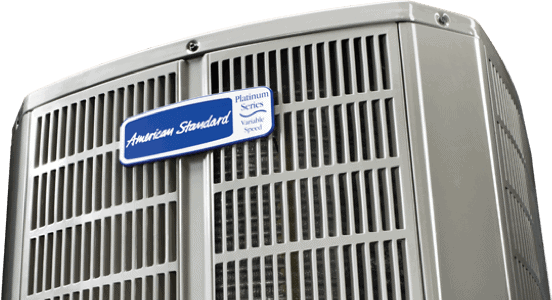 Energy Efficiency
Energy efficiency is the most important feature of any heat pump because it not only determines the cost but also influences the overall energy output. American Standard has always come up with excellent SEER, which is generally higher than 15 points. This helps ensure that all its models are energy efficient and offer higher reliability for a long time.
More Compressor Option
Having a good compressor is vital to the efficient working of any unit, and American Standard understands this well. All its units, therefore, come with the AccuComfort technology. This is a special component of all the brand's models, which ensures a variable-capacity compressor mechanism. This also ensures that the unit runs at exactly the energy required and not a tad bit higher. This, in turn, provides you with energy and cost-efficient unit.
Introduction of an Automation System
This is one of the most noteworthy features of the American Standard, which makes it significantly different from its competitors. The units are equipped with an amazing automation system that not only integrates smart home devices in a single app but also makes your usage much more convenient. This thermostat also helps you control and hence
Noise Levels
American Standard heat pumps are unbeatable when it comes to reducing noise levels. They come with special insulating materials, including thermosetting plastics and rubber, that provides it with greater noise control. 
Comparison of the Best American Standard Heat Pumps
If you live in a very cold area and your old heat pump has suddenly broken, then the chances are that you don't have much time to do proper research on the internet and are hence looking for a product instantly. To help you make a wise choice, here is a quick comparison table for our chosen American Standard heat pumps.
| Model Name | Unit Size (Ton) | Energy Efficiency (SEER) | Home Sq. Ft. | Condenser Fan Motor (i.e., Single vs. Two) | Cost of Unit Only | Installation Cost |
| --- | --- | --- | --- | --- | --- | --- |
| AccuComfort Platinum 18 | 2 | 18 | 1000 – 1300 | Variable | $3,745 | $9,300 |
| AccuComfort Platinum 19 | 2 | 19 | 1000 – 1300 | Variable | $4,540 | $10,500 |
| AccuComfort Platinum 20 | 2 | 20 | 1000 – 1300 | Variable | $4,350 | $10,125 |
| Gold 17 | 2 | 17 | 1000 – 1300 | Two-Stage | $3,355 | $8,775 |
| Silver 14 | – | 14 | 1000 – 1300 | Single | $2,055 | $6,475 |
| Silver 15 | 2 | 15 | 1000 – 1300 | Single | $2,450 | $7,090 |
| Silver 16 | 2 | 16 | 1000 – 1300 | Single | $2,790 | $7,750 |
Review of the Best American Standard Heat Pumps
Heat pumps are a necessary piece of equipment, and almost every house has its own separate unit or a range of units. But most often than not, buyers get confused between the plethora of models that exist in the market. So if you have set your mind on American Standard and have difficulty choosing amongst its wonderful collection, there here is a detailed review to help you out.
AccuComfort Platinum 20
Cooling Efficiency (Max SEER): 20
Heating Efficiency (Max HSPF): 10
Decibel Level: 43-54 dB
We may earn commission from purchases made from our links, at no additional cost to you
Review
This model is at the top of our list, and there are plenty of reasons why. The most noteworthy feature of this heat pump is its high SEER. For anyone who understands the jargon, knows how important this is. The AccuComfort ensures lower overall utility bills.
It does this by providing a relatively high-efficiency system with a very high SEER rating. This also ensures that your unit consumes less energy, which then also translates to less money spent on electricity bills. Not only this, but the model is also known for improving the heat capacity by up to 20%.
Bottom Line
This product might seem expensive at the start, but its ability to generate fewer bills throughout the usage makes it a desirable product. Equipped with a communicating control board, it is able to not only regulate the amount of heating required in your room but also ensures that it automatically adjusts the heating to your required temperature.
Moreover, it comes with an insulated body that ensures that less sound is produced hence providing you with greater comfort. But that's not all; the unit's ability to provide you with a range of different speed options makes it one of the best models in the market so far.
Pros
Has a very high SEER for added efficiency
Covered with insulator hence produces less sound
Can improve the overall heating capacity by up to 20%
Comes with a communicating control board that helps regulate usage
Provides the option for variable speed hence giving greater control to the user
Cons
Installation price is relatively high
High relative price than most other models
More sound production at greater temperatures
AccuComfort Platinum 19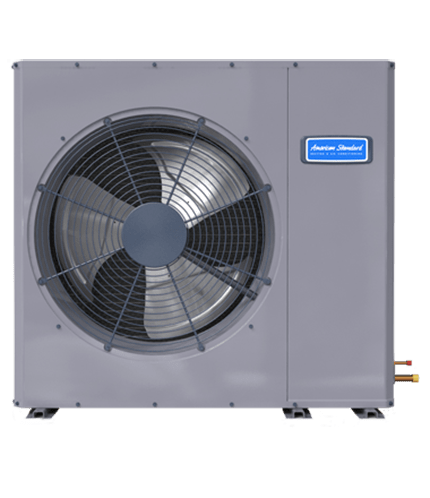 Cooling Efficiency (Max SEER): 19.5
Heating Efficiency (Max HSPF): 11.5
Decibel Level: 43-54 dB
We may earn commission from purchases made from our links, at no additional cost to you
Review
Heat pumps are more or less similar, so any product that brings more innovative features is bound to attract recent buyers. Defrost control is a word not usually associated with many heat pumps, but this one is definitely different. This special feature energizes electrical heat elements in order to warm the indoor air, thus ensuring more heating effect.
Because in the absence of this feature, there is a greater chance that your wires aren't as efficient. Moreover, the AccuComfort platinum is also known for offering a greater SEER, which helps in the reduction of heat usage and ultimately leads to lowering the overall electricity bills.
Bottom Line
Durability and reliability come together beautifully in the making of this amazing product. It is because of its strong exterior and interior that this model is so high up on our list. It is not only made of high-end construction materials that give it strength, but the addition of a firm paint finish further adds to the high durability of the heat pump.
This, coupled with the rust-resistant screws, ensures that your model can last for a significantly long time. These screws not only keep the whole unit together but also ensure that the exterior, as well as the interior, is well protected from any sort of outside damage. So if you are looking for a product that lasts significantly longer than others, then this is the heat pump for you.
Pros
High energy SEER offers greater efficiency
The paint finish adds to the higher overall durability
Has the mechanism for defrost control for colder areas
Comes with a condenser coil that makes operation faster
Comes with Sermagard screws that are completely rust resistant
Cons
High installation cost
Takes longer to heat larger rooms
Installation requires relatively more time
Best 15 SEER Heat Pump and Best for the Money
Silver 15
Cooling Efficiency (Max SEER): 16
Heating Efficiency (Max HSPF): 9.5
Decibel Level: 71-75 dB
We may earn commission from purchases made from our links, at no additional cost to you
Review
Consistency and control are the two main words that we would use to describe this model, but that's not why the product stands out to us. The best thing about it is that you get these features and a plethora of others at a relatively lower cost. This means that the myth regarding affordable products being cheap is proved completely wrong by this model.
The silver 15 is equipped with greater capacity variability and offers greater efficiency. This means that the product doesn't only cost less initially, but it also produces lower bills throughout its usage
Bottom Line
The silver 15 is one of the most cost-efficient models that offer higher efficiency and quieter operation. It is rated as one of the best-valued heat pumps by American Standard, and with it, you are bound to find the high level of consistency and comfort that you are looking for.
Equipped with a single-stage heating system and a lightweight and compact design, you can rest assured that this model is highly portable too. Not only this, it offers better control over all its settings, which means that regardless of the heating you want in your room, the silver 15 will provide it effortlessly.
Pros
Produces less noise at all temperatures
Lightweight and compact design makes it easily portable
Has the ability to heat larger rooms at a consistent temperature
Comes with a capacity variability that provides you with better control
Energy-efficient which means that it doesn't consume much electricity
Cons
Speed variation is slightly less
Less relative SEER than some other models
Utility bills are generally higher with this model
Best 16 SEER American Standard Heat Pump
Silver 16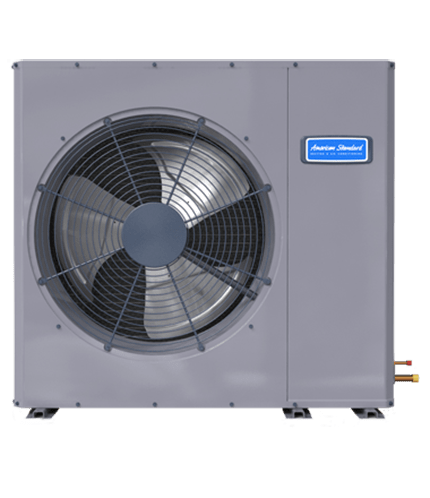 Cooling Efficiency (Max SEER): 17
Heating Efficiency (Max HSPF): 9.6
Decibel Level: 70-72 dB
We may earn commission from purchases made from our links, at no additional cost to you
Review
No matter how good a heat pump is, if it produces noise during its functioning, it isn't a good one, and that is exactly what American Standard has aimed to cater to this model. The model has the ability to produce almost no noise even at extremely high temperatures. This means that regardless of what setting you choose, rest assured that you will get a warm and comfortable room free from any noise distraction.
But that's not all; the silver 16 is also known for ensuring high rust resistance, which is another feature that makes the heat pump stand out amongst others.
Bottom Line
When you come home after a hectic day, the last thing you want is a cold room, and this is where the silver 16 comes in handy. It not only heats your room to the appropriate temperature but also ensures that it stays that way for a long time. Equipped with a noise reduction mechanism, it also offers greater convenience for people who like their rooms quiet at all times. Not only this, but you also get a very durable product with the silver 16.
The model comes with base pans that last significantly longer and are complemented by the ozone-free construction material. So if you are looking to get greater comfort and greater durability, then choose this model.
Pros
The material does not produce any ozone gas
Has a durable base pan that lasts significantly longer
Produces less noise even at extremely high temperatures
Specially designed to get protection from durable elements
Aluminum spine fin control that offers greater rust resistance
Cons
Less SEER than other models
Installation cost is slightly higher
Single compressor does not work very well at high temperatures
Best 14 SEER American Standard Heat Pump
Silver 14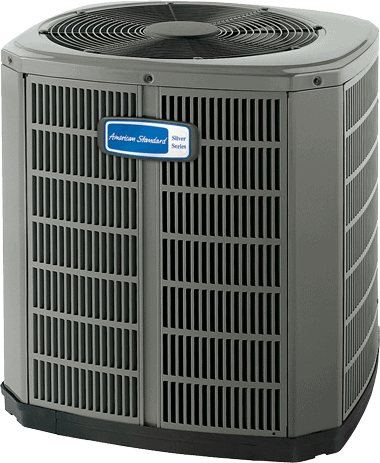 Cooling Efficiency (Max SEER): 14.5
Heating Efficiency (Max HSPF): 8.5
Decibel Level: 71-76 dB
We may earn commission from purchases made from our links, at no additional cost to you
Review
If there is one thing that the silver 14 is most known for, it's the brand new automation system. It is an amazing introduction to the whole system as it allows buyers to not only control the temperature of the room but also keep it to an ideal number.
The control board is also extremely user-friendly and ensures that anyone can use it with ease. Users can also control how much heat pump energy they want to use. This not only allows them to regulate temperature but also offers faster action.
Bottom Line
There are many great products in the market nowadays, but a recurrent problem with most products is that they lack consistent results. This is an issue because people don't want to come home to a semi-warm room that needs adjusting every now and then.
The silver 14 is known for being the most consistent model, amongst others. The product has all it takes to maintain the steadiest temperature at a great price. It is also equipped with a good SEER, which means that it saves on energy and hence offers lower electricity bills.
Pros
Relatively cheaper than some other products
Provides longer heat transfer hence faster action
Provides steady temperature throughout the usage
Has a body that is coated with a rust-resistant material
Comes with a single-stage heating system for added portability
Cons
Installation requires a professional
Does not heat larger rooms quickly
Leads to higher utility bills in the long run
Best 17 SEER American Standard Heat Pump
Gold 17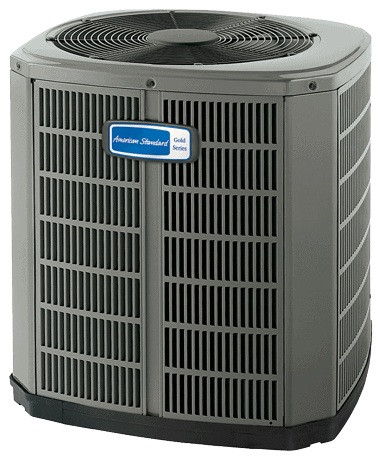 Cooling Efficiency (Max SEER): 17.25
Heating Efficiency (max HSPF): 9.6
Decibel Level: 72-74 dB
We may earn commission from purchases made from our links, at no additional cost to you
Review
Choosing this Gold 17 heat pump for your home or your office will surely be one of the best decisions you have ever made. Equipped with heavy-duty appliances, it is already considered a highly efficient model, but that's not the only reason why it stands out. Unlike many other products, this one comes with a single fan motor, which adds to the lesser weight and hence high portability.
The use of a single fan also leads to another very important feature, which is less noise production. So if you are worried about turning your heat pump to a high-temperature setting because of fear of noise pollution, then relax because this model will take care of it.
Bottom Line
Any product that offers such a high amount of energy efficiency is sure to be an excellent one. This is one such product that not only provides you with greater comfort but also greater reliability. The model is made with heavy-duty panels that add to the extra durability. These are made with steel, which not only lasts long but also provides you with greater modifications. But that's not all;
American Standard has gone to considerable lengths to add an appliance-grade finish to the make of the overall model. This provides it with greater reliability, so no matter how long you want to use the product, rest assured that the strong exterior will support you.
Pros
Has a single speed fan motor hence more portable
Appliance grade finish adds to the overall reliability
Ensures a much quieter operation than other models
Uses refrigerant that is free from ozone-related harms
Comes with heavy-duty panels made with steel for extra durability
Cons
High installation cost
Does not offer variation in speeds
Two-stage compressor adds to higher cost
Best 3 Ton American Standard Heat Pump
AccuComfort Platinum 18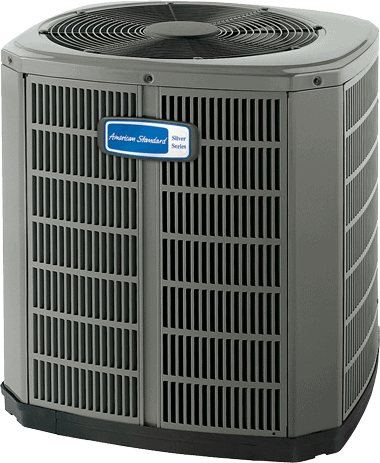 Cooling Efficiency (Max SEER): 18
Heating Efficiency (Max HSPF): 10
Decibel Level: 54-76 dB
We may earn commission from purchases made from our links, at no additional cost to you
Review
With a variable speed control compressor, this model is already making rounds in the industry. But its better control option is not what the product is most known for. Unlike most heat pumps, this one neither comes with a complex exterior nor a complex interior. It has a two-wire connection that makes installation extremely easy. Installing this model neither requires too much time nor too much effort.
Moreover, the model comes with a special communicating board, which lets you have greater control over how much heating you want in your room and for how long.
Bottom Line
If you are one of the many people who are looking for the ultimate year-round comfort, then the platinum 18 is definitely the best choice for you. It not only features the superb AccuComfort technology, which ensures variability in speed options but also provides a consistent operation throughout.
Not only this, most of the features of the platinum 18 cater to the needs of high comfort and high efficiency. With a high SEER of 18 and a 10 HSPF, you can experience affordability and comfort throughout the year.
Pros
Provides improved heat capacity for up to 20%
Has a variable speed compressor for more diversity
Simplified two-wire connections hence easy to install
Comes with a compressor sound insulator that prevents noise pollution
Comes with an AccuLink communicating board which lets you have more control
Cons
Does not offer high rust resistance
Not suitable for heating larger rooms
Communicating board is often difficult to understand
Who Is American Standard?
American Standard is a household name and a very popular one indeed too. It was a company that came into being in 1972, and till now, it has only grown to be better and more convenient. It is based out of Texas, Tyler.
The company has a wonderful collection of heat pumps that offer cost and energy efficiency, but that's not the only product the company is known for. American Standard has been in the limelight for its range of products, including air conditioners and others. The glowing amount of reviews is also a testament to the popularity of the company amongst recent buyers.
What Kind of Warranty Does American Standard Offer?
Warranty plays a huge factor when deciding whether to buy any brand or not, and American Standard knows that. It is because of this incentive that they have one of the most effective warranty policies in the market that compel even the most unyielding of customers into buying their product.
All of the brands that we have listed above come with the same warranty and hence shouldn't be a deciding factor in your choice of model. American Standard offers a 12-year warranty on all of its compressors, thus ensuring higher reliability.
Moreover, their warranty for the outdoor coil is slightly less than their compressors but still relatively higher than most other heat pump brands. It provides coverage for 10 years. Moreover, the warranty on the internal functional parts is also 10 years, which is very good news for all customers.
One thing to keep in mind, however, is to get your product registered as soon as possible. If the product is not timely registered, in 60 days, to be precise, the product will have the base limited warranty of the American Standard heating and air conditioning brand. This will result in the exclusion of some of the major parts of the normal warranty.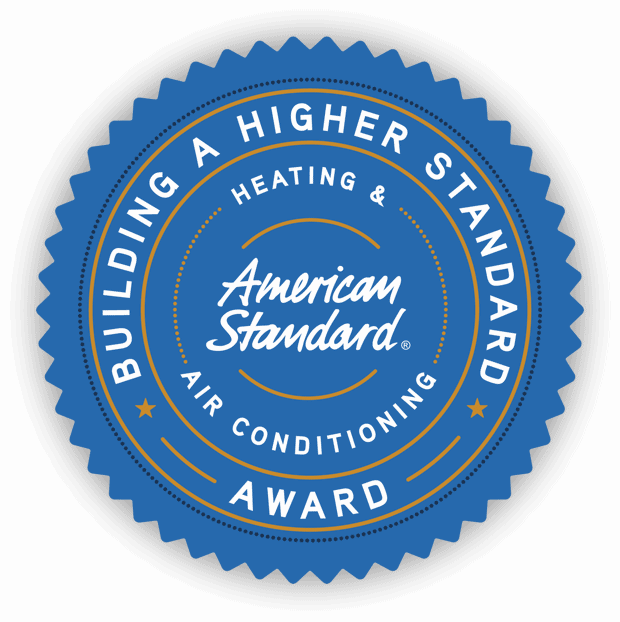 Moreover, there is another option for you to buy extended warranties. These not only pay for labor but also cover certain other costs. This is also slightly better than the warranty offered by the manufacturer.
Conclusion
By the end of this review, one thing is certain. American Standard heat pumps are definitely better than their counterparts, but that's figuring out the easy part. Customers are often confused between the amazing products that the company has to offer. Each of these heat pumps is so great that choosing one can be a daunting task, but you shouldn't worry about that.
Once you have figured out your room size and your usage time, it is easy to find out which product will best suit your needs. In this case, rest assured that whatever product you end up choosing, it's going to be a wonderful one.
People Also Ask
American Standard heat pumps garnered huge praise ever since they were introduced by the company. It is because of their immense popularity that people just can't get enough of these units and continue to talk about them on the internet.
Here are some popular questions we found on the internet. We have tried our best to answer them honestly.
Are American Standard Heat Pumps Any Good?
No answer to this is better than a plain yes. American Standard heat pumps are extremely popular, and much of their popularity stems from the fact that they have an impressive design. Not only this, they are known for their amazing SEER and home automation technology.
How Much Does an American Standard Heat Pump Cost?
This question doesn't really have a satisfying answer because American Standard has a range of different products in their series, and naturally, each of these products comes with a different cost label. But one thing that we can tell you for sure is that whatever the cost, rest assured that it's worth all the amazing features.
How Long Do Heat Pumps Last?
This is an interesting question and one that has been recurrently asked by consumers. A heat pump, in general, lasts for around 15 years, but that in no way is a fixed year range. Depending on the model and the durability it has to offer, heat pumps can last for a significantly greater or lesser amount of time.
What Are the Advantages and Disadvantages of a Heat Pump?
There are so many advantages of a heat pump that it's difficult to sum them up in a few lines. Advantages include that they have better efficiency, more durability, and come with better warranties. On the other hand, the disadvantages of heat pumps include Installed costs. Other cons include that you have to deal with the difficulty of installation and storage space issues.
Do Heat Pumps Use a Lot of Electricity?
This is a general misconception that people have in regards to heat pumps. Contrary to what many people believe, heat pumps do not use a lot of electricity. They work by raising your electricity bills, but at the same time, they reduce their heating fuels by a large margin. So overall, the units help save cost and power in the long run. Check out the calculator below for an estimate.