Window heat pumps are a wise choice for homeowners or renters who want to manage indoor temperatures without spending an arm and a leg. Despite their smaller size, they are more versatile all-around performers than furnaces or central air conditioners.
Comparison of the Best Window Heat Pumps
IMAGE
PRODUCT

Our Top Pick

Four Distinct Modes of Functioning: Heating, Cooling, Dehumidification, and Ventilation
Superior Energy-Efficiency With 17 SEER (cooling) and 9 HSPF (heating) Ratings
Automatic Swing Air Louvers for Perfectly Even Air Distribution

View Latest Price →

Four Modes of Operation: Heating, Cooling, Dehumidification, and Fan Only
Special Sleep and Energy-Saver Modes for Reduced Electricity Consumption
Electronic Push-Button Thermostat With Easy-to-Read Digital Display

View Latest Price →

Slide-Out Chassis for Super-Convenient Two-Step Installation
Multi-Speed Electronic Controls: Three Fan Speeds, Three Cooling Speeds, and One Heating Speed
A 3,500 BTU Supplemental Heating Element for Superior Wintertime Functioning

View Latest Price →

Virtually Silent Operation in All Modes and Speeds
Superior Heating and Cooling Ratings, at 9.0 HSPF and 15 SEER, Respectively
Remote Control Allows for Precise Heating and Cooling Management and Monitoring

View Latest Price →

Outstanding Energy-Efficiency Ratings (20 SEER for Cooling and 10.3 HSPF for Heating)
Noise-Free Performance From Indoor Air Handler
Self-Diagnostic System Included for Immediate Detection of Any Problems

View Latest Price →
Aspects to Consider Before Buying
Some of the major factors that should determine your choice of a window heat pump (or mini-split alternative) include:
Heating and Cooling Capacity
The potency of a heat pump is measured in BTUs, or British thermal units.  
If you want to control temperatures in an area of less than 1,000 square feet, you should look for a model that offers 15,000 BTUs or less of capacity. With as little as 8,000 BTUs, your heat pump can probably manage to heat or cool an area of 350 square feet.
For spaces of 1,000 square feet or more, you'll likely need something in the 18,000 to 24,000 BTU range. Here's a quick way to help you calculate your sizing needs.
Energy Efficiency
Heat pumps are rated on separate scales for their heating and cooling functions. In cooling mode, a SEER (seasonal energy efficiency ratio) score of 15 or higher would be considered energy-efficient. Meanwhile, an HSPF (heating seasonal performance factor) of 9.0 or better would qualify as energy-efficient in the heating mode.
Either way, the higher the number, the more energy and cost-efficient the appliance.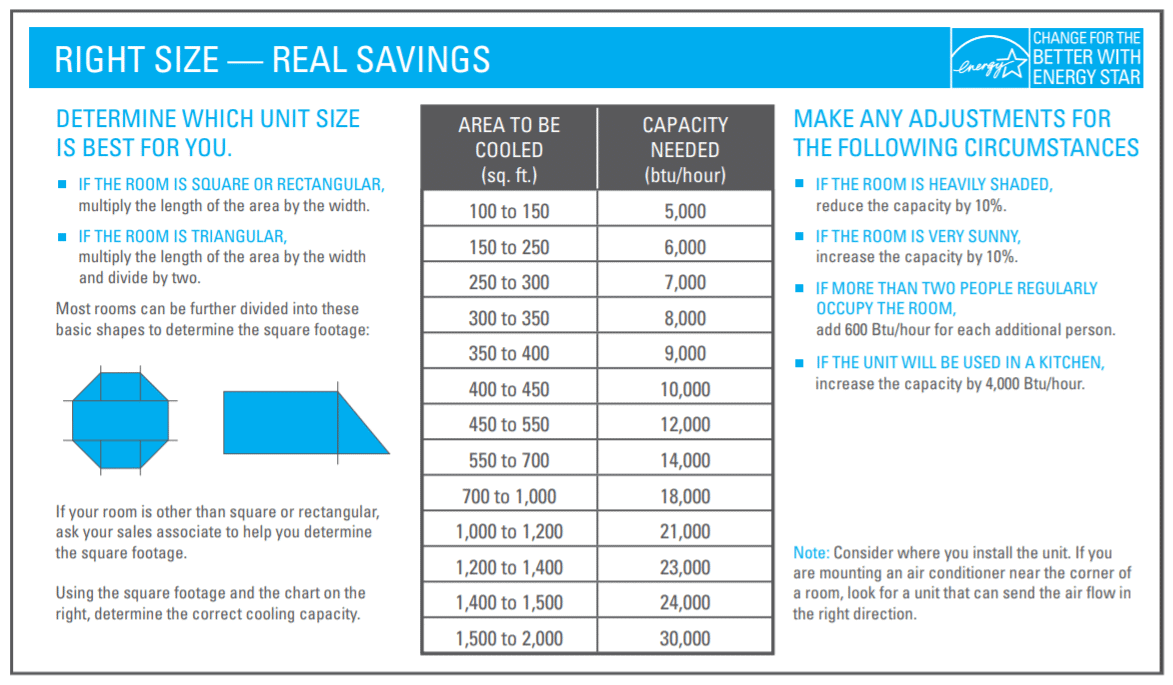 Electrical Connectivity
Heat pumps powered at 115 volts can be connected to standard home electrical outlets. However, heat pumps of 18,000 BTUs or higher are likely to have connections in the 208-230 volt range and will require a special type of outlet. You will likely need to have one installed by an electrician if you choose a larger heat pump and that is an extra expense you should be prepared to pay.
Installation Requirements
Single-hung or double-hung windows are usually required for window heat pumps. If your windows are of a different type or are too small or large to hold a heat pump, you might be able to install one in a wall sleeve built for that purpose.
Your other option is to purchase a mini-split heat pump and air conditioner. With this technology, the compressor is installed outdoors while the indoor air handler is mounted on the wall. Pipes are inserted through small holes in the wall to connect the two halves of the system.
At a Glance: Our Top Picks for Window Heat Pumps
Review of the Best Window Heat Pumps
Window heat pumps are widely available but enormously variant in quality. Consequently, you won't be sure what the best appliances are unless you seek out expert opinions.
To help you evaluate the possibilities, we've carefully evaluated the latest offerings from all the major brands. Based on our research, here are your top options in the window heat pump category:
Pioneer WYS012-17
Cooling Efficiency (Max SEER): 22.8
Heating Efficiency (max HSPF): 11.2
Decibel Level: 57.5
We may earn commission from purchases made from our links, at no additional cost to you
Review
Checking in at a solid 12,000 BTUs, the Pioneer WYS012-17 offers an impressive package of heating and cooling technology that is unmatched in its performance capabilities. This exquisitely manufactured mini-split system is appropriate for use in a broad range of weather conditions. It includes a ductless indoor section for easy wall mounting, an outdoor heat pump featuring a high-efficiency inverter/compressor, an LCD wireless remote, and a 16' installation kit.
Bottom Line
While it is not actually a window heat pump, the Pioneer WYS012-17 mini-split system gives you all the benefits of a window unit but with a supercharged level of performance. It provides incredible versatility, with dehumidification and ventilation modes in addition to its heating and cooling functions. Controllable from across the room, across town, or even across the planet, the Pioneer WYS012-17 lets you accurately manage the temperatures in your home seven days a week, 24 hours per day.
Pros
Comes With a Permanent Washable Air Filter
Can Effectively Heat or Cool a Space of Up to 800 Square Feet
Ductless Indoor Unit Can Be Mounted in Convenient Locations
Whisper-Quiet Operation Makes it Ideal for Bedroom Installation
Features Adjustable Air Distribution System for Full-Room Comfort
Multi-Speed Fan Operation Makes PreciseTemperature Management Easier
Wireless Internet Control Lets User Control the Unit From Outside the Home
Night Mode Adjusts Temperatures Up and Down Based on Sleeping Patterns
Remote Control With Digital Display Allows for Room-Wide System Management
Installation Kit Included, With 16 Feet of Copper Pipe, Connectors, Wiring, and Sealing Materials
Cons
Pricier Option Than a Traditional Window Heat Pump
May Require the Services of a Professional for Installation
Wireless Internet Access Only Available if Access Equipment Purchased Separately
Koldfront WAC12001W 12,000 BTU Heat/Cool Window Air Conditioner
Cooling Efficiency (Max SEER): 10.9 EER
Heating Efficiency (max HSPF): N/A
Decibel Level: N/A
We may earn commission from purchases made from our links, at no additional cost to you
Review
Window air conditioners don't come in a more dynamic package than this latest entry in the HVAC field from Koldfront. Built to heat or cool smaller spaces in the 450-550 square-foot range, the Koldfront WAC1200 performs smoothly and effortlessly in summer, winter, and every time in between. Control options for this appliance are plentiful and function impeccably, giving users the ability to determine room or area temperatures down to a fraction of a degree.
Bottom Line
The Koldfront WAC1200 sets a formidable standard in the smaller-space heating and cooling category. It offers a plethora of programming options for advanced adaptability, maintaining a desirable temperature level on a daily, nightly, and four-seasons basis.
It is quick and easy to install and well within the budget of the average homeowner or renter. The Koldfront WAC1200 combines precise performance with versatility, making it a winner in the window AC/heat pump category.
Pros
Low-Priced Unit in Comparison to the Competition
Remote Control Included for Hands-Free Operation
Relatively Lightweight for a Window A/C at 88.4 Lbs.
Three Separate Fan Speeds, Plus an Automatic Setting
Four-Way Directional Air Louvers Create Even Air Distribution
24-Hour Timer Allows for Enhanced Temperature Management
Removes Up to 60 Pints of Water Per Day in Dehumidifying Mode
Sleep Mode Modulates Temperatures Overnight to Lower Energy Consumption
Energy-Saver Mode Runs Fan at Two-Minute Intervals and Limits Compressor Activation
Cons
Requires a 220-Volt Connection Rather Than the Standard 115-Volt
Energy-Efficiency Ratings Slightly Below the Most Energy-Efficient Models
Best Suited for Single Rooms or Small Apartments Rather Than Larger Spaces
Best Window Heat Pump 115V
Frigidaire FFRH0822R1 8,000 BTU 115 Volt Air Conditioner/Heat Pump
Cooling Efficiency (Max SEER): 13
Heating Efficiency (max HSPF): N/A
Decibel Level: N/A
We may earn commission from purchases made from our links, at no additional cost to you
Review
As a testament to the wonders of smart technology, the Frigidaire FFRH0822R1 has few peers in the climate modification category. It is fully controllable by touch or remote control, with bright digital displays to help you keep track of its functioning.
This air conditioner/heat pump comes with a slide-out chassis that makes it suitable for window or wall installation. Built to heat or cool a 350-square foot area, the Frigidaire FFRH0822R1 features 8,000 BTUs of cooling and 7,000 BTUs of heating capacity. However, the latter is amply boosted by a 3,500 BTU supplemental heating system.
Bottom Line
The Frigidaire FFRH0822R1 doesn't have the power or range of some other models. But for sheer operating efficiency, it is a best-in-class entry all the way. The additional heating capacity gives it a cold-weather utility that other heat pumps may lack and its multitude of programming options guarantee customized comfort all year round. Your friends and family will flock to the room where the Frigidaire FFRH0822R1 is installed, which says it all about the effectiveness of this reliable appliance.
Pros
More Effective in Winter Than Most Heat Pumps
Is ENERGY STAR Certified for Low-Cost Operation
Remote Control Works for All Functions and Settings
Lightweight Unit at 80 Lbs.Making Installation a Snap
Super-Quiet Appliance Appropriate for Bedroom Installation
Comes With Washable Mesh Filter and 'Check Filter' Warning
Includes Energy Saver and Sleep Modes for Attention-Free Efficiency
Eight-Way Directional Control for Personalized Air Flow Management
Automatic Fan Control Adjusts Fan Speed Based on Temperature Variations
Cons
Only One Setting Available in Heat Mode
Somewhat Pricier Than Some Other Options With its Capacity
Decent But Not Fantastic Dehumidification Capabilities (1.5 Pints/Hour)
Some Customer Complaints About Weak Performance in Energy-Saver Mode
Best 12,000 BTU Window Heat Pump
Senville SENL-12CD
Cooling Efficiency (Max SEER): 19
Heating Efficiency (max HSPF): 8.5
Decibel Level: 25 dB
We may earn commission from purchases made from our links, at no additional cost to you
Review
This highly-efficient mini-split system from Senville is a cut above most of the competition. Its efficiency ratings in both cooling and heating modes are top-end and it is intricately adjustable for both cooling/heating strength and direction of airflow. The Senville SENL-12CD 12,000 BTU Mini-Split is an outstanding entry in Senville's LETO Series, which is acclaimed for its professional manufacturing and cost-efficient functioning.
Bottom Line
Users almost universally praise the day-to-day performance of this device. It is effective in winter all the way down to freezing, while producing excellent cooling results even during the dog days of July and August. Using the Senville SENL-12CD 12,000 BTU Mini-Split is a nearly effortless affair, since every aspect of its functioning and programming can be controlled or monitored through its hand-held remote. While it is more costly than some models, in the HVAC industry you get what you pay for, as this entry from Senville's LETO Series so aptly proves.
Pros
Lightweight Package Mini-Split Package at Just 66.1 Lbs.
Outdoor Inverter/Compressor Comes With Five-Year Warranty
Comes With 24-Hour Timer and Sleep Mode for Overnight Usage
Indoor Air Handler Manufactured to Ensure Noise-Free Operation
Runs on 110 Volts, Allowing for Use With Standard Home Outlets
Heats or Cools Up to 550 Square Feet of Living or Working Space
Multidirectional Vents Combined With Three Intensity Settings (Low, Medium, High)
Installation Kit Features 16 Feet of Copper Piping and All Other Necessary Materials
Cons
Airstream From Indoor Unit Can Be Intensely Cold
More Costly Than Other Similar Capacity Heat Pumps
Installation Materials Provided, but Actual Installation Best Left to Professionals
Best 18,000 BTU Window Heat Pump
Senville 18,000 BTU SENA-18HF/Z
Cooling Efficiency (Max SEER): 22.5
Heating Efficiency (max HSPF): 12
Decibel Level: N/A
We may earn commission from purchases made from our links, at no additional cost to you
Review
With a heating and cooling range of up to 1,000 square feet, the Senville 18,000 BTU SENA-18HF/Z is an ideal choice for heating small homes or entire floors in larger homes. This mini-split system is a high-efficiency offering from Senville's Aura Series, which, as a group, carries the ENERGY STAR seal of approval. Steady and quiet operation are the calling cards of the Senville 18,000 BTU SENA-18HF/Z, and this model is both easy to install and program.
Bottom Line
The Senville 18,000 BTU SENA-18HF/Z is a wonderful choice for those who prefer whisper-quiet operation plus comprehensive remote programmability. At 18,000 BTUs, it is a potent heater and cooler and will work in wintertime conditions that can cause stress on less robust heat pumps with smaller capacities. The Senville Aura Series is noted for its superior energy-efficiency, and if you are worried about high utility bills this is one mini-split system that will keep your costs down.
Pros
Three Fan Speeds With Low Noise Levels on All
Features Automatic Dehumidification Capacities
Includes Silver Ion Filter With Anti-Microbial Properties
Remote-Controlled With Built-In Thermostat on the Remote
24-Hour Timer for Customized Daily Temperature Maintenance
Vertical Air Louver Swing Function for Precision Air Flow Control
Can Handle Heating and Cooling Loads in up to 1,250 Square Feet of Space
Cons
Might Need Special Electrical Wiring Plus Outlet to Handle 208-230 Volt Plug-In
Installation Kit Included, But an HVAC Technician Should Be Hired to Handle the Job
An Expensive Option in Comparison to Most Other Heat Pumps With Similar Capacity
Best 24,000 BTU Window Heat Pump
Pioneer Mini Split Air Conditioner and Heat Pump
Cooling Efficiency (Max SEER): 17
Heating Efficiency (max HSPF): 9.5
Decibel Level: N/A
We may earn commission from purchases made from our links, at no additional cost to you
Review
If you're looking for a heat pump that can handle the load in a medium-sized house or large apartment, this mega-pump from the fine folks at Pioneer can certainly do the trick. At 24,000 BTUs, the Pioneer Mini-Split Air Conditioner and Heat Pump is ready for any challenge 12 months out of the year.
Rated to perform at up to 1,500 square feet, this mini-split system will knock it out of the park time after time. Its energy-efficiency ratings are 16 SEER for the cooling cycle and 9.0 HSPF in heating mode, putting it in the upper echelon as a bank account preserver.
Bottom Line
When you need consistently effective temperature control in an expansive space, the Pioneer 24,000 BTU Mini-Split Air Conditioner and Heat Pump can deliver the goods—and then some. The wireless infrared remote control puts the user in total command of this well-crafted mini-split system, providing exact temperature control plus ventilation and dehumidification as required. An impressive entry in Pioneer's WYS Series, this unit is the perfect choice for those who need a power-packed heating and cooling system.
Pros
Surprisingly Quiet Operation for a Large-Capacity Unit
Multiple Fan Speeds for Increased Temperature Control
Timer Function Allows for Round-the-Clock Programming
Ultra-High Efficiency Inverter/Compressor With Variable Speeds
Two-Floor Coverage Area in Smaller Homes (up to 900 Square Feet)
Full Installation Kit Included for Connecting Indoor and Outdoor Halves
Night Mode Adjusts Temperatures Automatically Between Sleeping and Waking
Optional Wireless Internet Connectivity Lets Owner Program Unit From Anywhere
Cons
Wireless Internet Module Sold Separately
Too Heavy to Install for Most People Without the Help of a Trained Technician
The 208-230 Volt Power Connection is Not Compatible With Standard Electrical Outlets
What is a Window Heat Pump and What is it Used for?
A window heat pump removes heat from the air and transports it either outside (for cooling) or inside (for heating). The heat is absorbed by a liquid refrigerant that travels through a series of metal coils and it is this refrigerant that ultimately releases that heat. Even when outdoor temperatures plummet, the air still contains a certain amount of heat, which a heat pump can extract and compress into a concentrated form.
Because they have both heating and cooling modes, heat pumps can eliminate the need for an air conditioner and furnace. However, this is only true in relatively small spaces, such as single bedrooms, small apartments, workshops, or garages. They don't connect to a duct system and therefore cannot distribute air throughout a home.
Window heat pumps lack the sheer power of a furnace or air conditioner. But within their range, they are just as effective.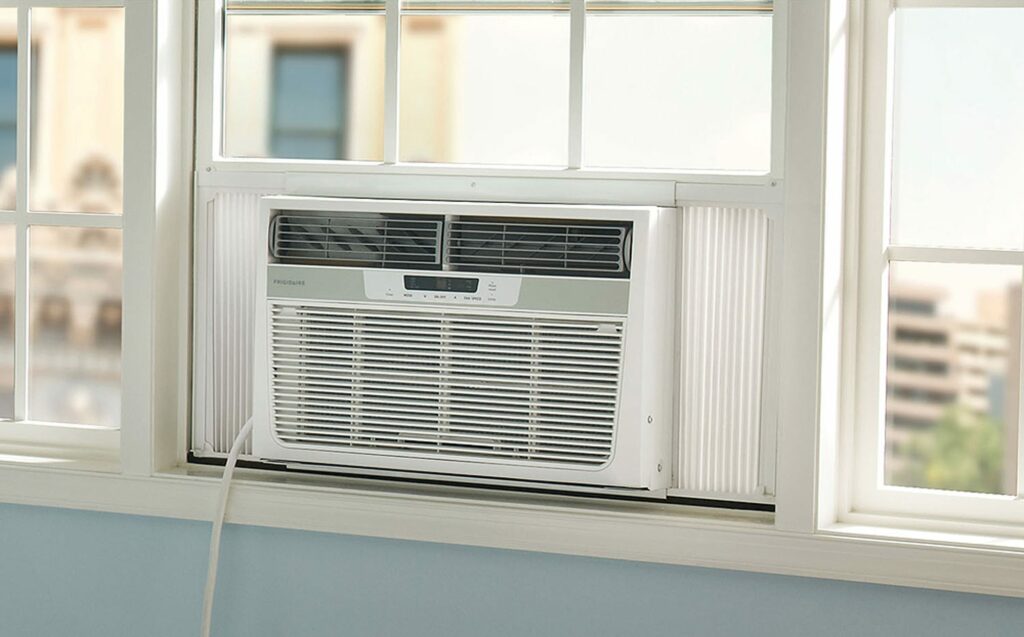 Types of Window Heat Pumps
Window heat pumps harvest heat energy for import or export directly from the air. This is why they are classified as air-source heat pumps. Ground-source heat pumps use the earth as a source of heat, or as a sink for heat that has been collected from indoors.
Mini-split systems combine the best qualities of a heat pump and traditional air conditioner. They cannot be technically classified as window heat pumps (the indoor unit is mounted on the wall while the compressor is installed outside). However, they are another option for people in the market for window heat pumps, since their function and performance is similar.
What are the Advantages and Disadvantages of a Window Heat Pump?
Window heat pumps generally cost well under $1,000, yet they can still operate efficiently and effectively in both heating and cooling modes. They can eliminate the need for separate air conditioning and heating systems and do not require ductwork to deliver heated or cooled air. In addition to their temperature-controlling capacities, they can also function as dehumidifiers or as fans for ventilation.
The main problem with a heat pump is that they are far more efficient in cooling mode than in heating mode. If you live in an area where winter-time temperatures drop below freezing, you'll need a back-up heating system of some kind to support your window heat pump.
While window heat pumps are an excellent choice for smaller spaces, most aren't suitable for large apartments or entire floors of homes. In most cases, you'll have to choose a mini-split system for that. They can be a fantastic option, however, if you already have a furnace or air conditioner but need some supplemental heating or cooling in certain rooms or spaces.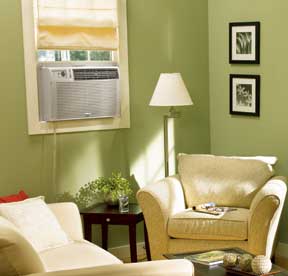 Finding the Best Window Heat Pump for Your Home
The window heat pumps and mini-split heat pump/air conditioners we've reviewed are high-quality performers. They can effectively heat and cool your home for a reasonable cost. Consequently, you can't go wrong with any of them.
There are no bad choices here. But you should purchase the heat pump that best fits your budget, your home or apartment size, and your personal home comfort preferences. The choice is yours, and as long as it is an educated one, you won't come away disappointed.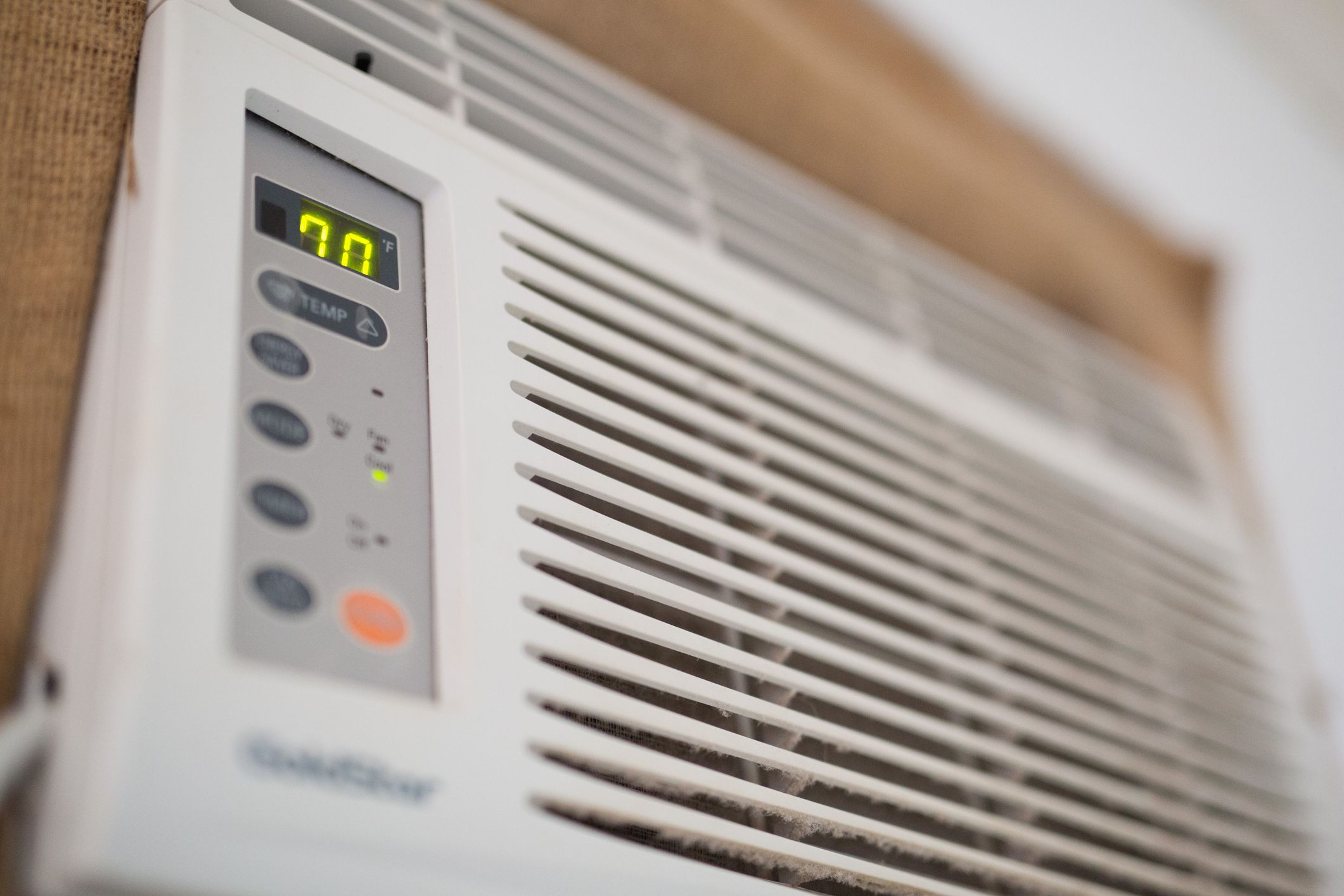 People Also Ask
A heat pump can be a mysterious technology for you if you are not into science much, and hence it is only natural that you have a lot of questions regarding it. However, don't worry. We have tried to answer some of the top questions for you.
Here are some frequently asked questions!
How Does a Heat Pump Work in Cold Weather?
Heat pumps literally pump heat from the air. Outdoor air in wintertime contains a limited quantity of heat, forcing the heat pump to compress it into concentrated form before it is hot enough for indoor heating.
Can You Run a Heat Pump in Cold Weather?
Heat pumps work exceptionally well in cool weather. This covers a range of temperatures down to a few degrees above freezing (35-40 degrees Fahrenheit). However, as temperatures plunge, a heat pump will quickly lose efficiency. At this point, you'll have to rely on a back-up furnace or heating element to get the job done.
What is a Window Unit Heat Pump?
It is an independent appliance with two basic components. It basically uses refrigeration technology along with electricity to cool or heat your space. One of the components is placed inside your space, and the other one is placed outside. These two units efficiently work together to make your space comfortable.
Why Do Coils Freeze on Window Heat Pump?
The main reason why the coil of your heat pump may freeze is insufficient airflow. If the air is not flowing properly through your unit, the air's moisture will get trapped and start to freeze on the condenser coils or evaporator.
Are Window Heat Pumps Efficient?
Window heating pumps are some of the most efficient units. They not only ensure efficient cooling but are also very efficient heaters. In addition, they cost less than most AC units. They also don't need any ductwork and hence are easy to install. To sum it all up, they save you cost in all possible ways.
Can a Heat Pump Heat a Whole House?
A heat pump may be adequate to heat your whole house if you live in a single floor open house. If you have multiple closed rooms and stories in your home, then a heat pump won't heat your complete house.
How to Clean a Window Heat Pump?
Firstly, you need to clean your outside unit, the condenser, with any foaming agent. Then use a vacuum or brush to remove any leaves or grass parts stuck in your condenser.

Be careful while cleaning the fins of your condenser as they get damaged easily. Also, clean the concrete pad on which your condenser rests.

Then, for the inside unit, which is the evaporator, first, open the access panel and filter to access the coil and then clean it with a coil cleaner. Lastly, close the access panel.
Do Heat Pumps Use a Lot of Electricity?
No, heat pumps are highly efficient units, and hence even though they use electricity, they don't use a lot of it. This feature makes them highly cost-efficient as they help minimize your electricity bills every month. Furthermore, they use a lot less electricity in comparison to electric heaters. This calculator will show you how much electricity a heat pump uses.