Explore Bosch heat pump reviews, If you're fed up with the high bills that air conditioners and furnaces present, maybe it's time to shift to heat pumps.
These are essentially an energy-efficient alternative to the two and are suitable for moderate cooling and heating needs. One of the best manufacturers of highly efficient heat pumps is Bosch.
In this article, we'll be reviewing some of the best models the company has put out to help you pick the unit you are looking for. 
How Does Bosch Compare to the Competition?
Bosch is a leading multinational company that has been serving people for years. It has a lot of competition due to its leading products and uniqueness in the market. 

Bosch's heat pumps are highly advanced, as well as ultra-efficient. The German manufacturer has succeeded in providing a water heater that will provide very hot water with great energy savings and a small carbon footprint. The units are also Energy Star rated, making them a great pick. Other factors that make Bosch stand out from the competitors include:
Features and Available Models
This company has models that can deal with larger families. Though the electric type, connections, and unit footprint are similar, their heat pumps are twice as effective as other units. Despite the high initial cost, the estimated payback is 4-5 years. 
Control Panel
The control panels and innovative electronics in Bosch are connected for regulations, easy adjustment, and better control of the heating process. The LCD is not only responsible for showing the temperature of hot water but also the protection codes or any error, inquiries, status, operating modes, and parameters of the components. The icon will be illuminated if the temperature rises to 120 F. The error codes, as well as the diagnostic functions, help in repairs and easy troubleshooting. 
Operating Modes
There are four operating modes, vacation, electric, economic, and auto. When any mode is on, it is displayed on the LCD. The different modes allow users more control over how they want to use their unit. 
At a Glance: Our Top Picks for Bosch Heat Pumps
Comparison of the Best Bosch Heat Pumps
IMAGE
PRODUCT

Our Top Pick

Energy-efficient up to 20 SEER
Air filter system is multi-part that cleanses the air and reduces odors and potential allergens
Configurations of the multi and single zone for maximizing indoor comfort

View Latest Price →

Comes with an app for easy operations
Operating costs are low that save the utility bills up to 70%
Sound levels are as low as 52dB

View Latest Price →

Best Budget Option

Best for the money
Two-stage fans for premium dehumidification
10 speeds for the best efficiency and quiet operation

View Latest Price →

Completely modulating inverter for precise matching of cooling and heating needs
Energy efficiency up to 18.5 Seers, 9.5 HSPF and 13 EER
Best Bosch 18 SEER heat pump

View Latest Price →

Best Bosch inverter heat pump
Energy efficiency is 20.5 seer, 10.5 HSPF and 14 EER
ECM outdoor blower has 10 speeds

View Latest Price →

Has a capacity of 2-5 tonnes
Best Bosch geothermal heat pump
Standard ECM and CFM blower motors

View Latest Price →
The comparison chart below will help you select the best Bosch heat pumps by providing a clearer picture of each model. 
Model Name
Unit Size (L"xW"xH")
Energy Efficiency (SEER)
Home Sq. Ft.
Condenser Fan Motor
Cost of Unit Only
Installation Cost
Climate 5000 Ductless System
33.27×27.6×14.3
25
1200
2
$1,999 -$2,500
$2,000 – $4,000
Greensource CDi Series SM Rev C
22.5×26.0x43.3
32
1000 –
3200
2
$3,500
$5,500 -$7,500
Inverter Ducted Packaged Unit
16x18x16
19
1000 – 3200
2
$1,000 –
$3,800
$1,800 –
$4,000
Inverter Ducted Packaged Unit (IDS)
16x18x16
18.5
1000 – 32000
2
$1,500 –
$4,000
$1,800 –
$5,500
Inverter Ducted Packaged Unit (IDS 2.0)
16x18x16
20.5
1000 –
3400
2
$1,700 –
$4,200
$2,500 –
$6,000
Green Source CDi Series SM Split
26.00×21.50×25.75
30
1000 – 3200
2
$2,700 –
$5,600
$4,500 –
$7,500
Review of the Best Bosch Heat Pumps
In this section, Bosch's best heat pumps are discussed in detail to provide you with an overview of what to expect from them. With this, we aim to provide you with everything you need to know. 
Climate 5000 Ductless System (2.0)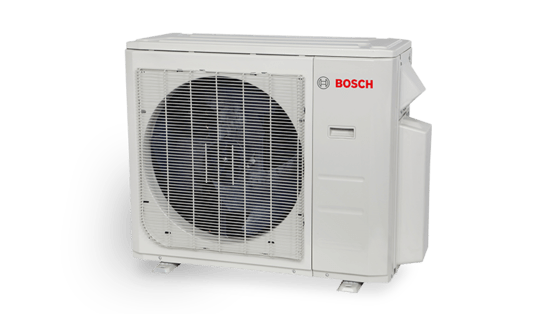 Cooling Efficiency (Max SEER): 25
Heating Efficiency (Max HSPF): 12.5
Decibel Level: ≥20 dB
We may earn commission from purchases made from our links, at no additional cost to you
Why it Stands Out to Us
Besides having a noise level lower than 20dB and energy efficiency of 20 SEER, this unit is best known for improving the quality of indoor air to the maximum. The filter system comprised of multiple parts works to refresh the air circulating in the room.
Allergens, odors, bacteria, and viruses are reduced. You and your family can breathe easily. Another thing that makes this unit so great is the ductless installation. Not only does this make the installation process easier, but it also reduces heat loss significantly.
Bottom Line
In a nutshell, the system is highly energy efficient with a lot of benefits for the environment and the user too. The ductless system is also highly efficient as it minimizes heat loss.
Plus, the auto-clean feature does triple filtration, cleaning the air, and reducing the moisture. It is ideal for basement spaces because three-inch holes are needed for a conduit through the walls to hook up between outdoor and indoor units.
Pros
Installation is much easier, as no ductwork needs to be done
Zoning can be done with units by connecting mainly to one unit
Compact and flexible for cooling and heating of individual areas
No ductwork avoids energy loss related to the forced air systems
More flexibility is offered because indoor handlers are suspended from a ceiling, as well as mounted flush in the drop ceiling
Cons
Needs professional installation
Approximately 30% more expensive than traditional systems
Greensource CDi Series SM Rev C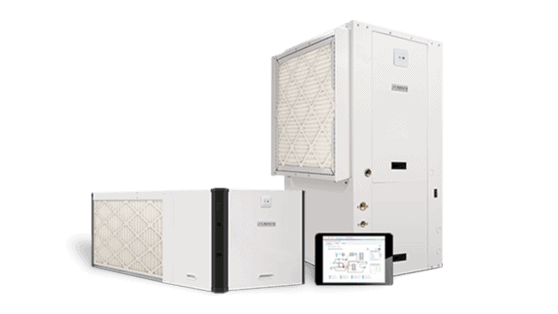 Cooling Efficiency (Max EER): 32 GLPH
Heating Efficiency (Max COP): 4.7 GLPH
Decibel Level: ≥52
We may earn commission from purchases made from our links, at no additional cost to you
Why it Stands Out to Us
In this model, Bosch has integrated a new microprocessor with a control board that allows the user greater control over the unit. Component statuses and fault feedback regarding real-time usage is provided through Easy Start App. Moreover, this unit has a two-stage scroll compressor.
This technology is essential in helping to lower operating costs without any compromise on efficiency, performance, or comfort. It is all done by adjusting the cooling and heating. It also features a cupro-nickel coil, which is a better option for brackish water or in conditions on a moderate scale. Also, it is environmentally friendly and offers improved air quality.
Bottom Line
Bosch is one of the pioneers of heating systems. This geothermal system provides comfort for a reasonable price. The energy efficiency of this unit is remarkable.
The temperatures outside may fluctuate a lot due to the changing seasons, but the underground temperatures don't change very dramatically. Free energy is provided by the geothermal system that capitalizes on the constant temperatures. This is a solid system with a lot of commendable features.
Pros
Keeps the air fresh and clean
Warranty of 10 years for parts and labor
Offers maximum comfort with high efficiency
Connects with Wi-Fi, making set-up and control easier
EasyStart App was developed for saving the time consumed in diagnosing and troubleshooting
Cons
Large ground space is needed for installation
A kit is a premium product; you have to pay a premium amount for it
Inverter Ducted Packaged Unit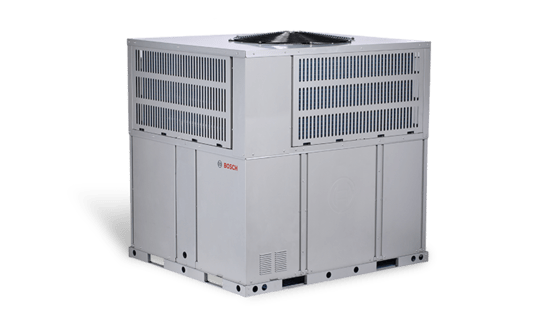 Cooling Efficiency (Max SEER): 19
Heating Efficiency (Max HSPF): 10
Decibel Level: ≥59 dB
We may earn commission from purchases made from our links, at no additional cost to you
Why it Stands Out to Us
Conventional systems require a lot of time to cool down and reach the desired temperature. However, that's no longer an issue with this unit. Its boosted compressor speeds up the whole process, making it smoother and quicker. It also turns to be a more energy-efficient and cost-saving option for its users.
The unit settles the thermostats to adjust for the output capacity to meet the ideal temperature requirements. The two-stage fans also help enhance the humidity control of the unit. Surely, this is a one-time investment in the initial phase, but eventually, it will pay off even more in 4-5 years.
Bottom Line
The IDP system is a truly innovating and revolutionizing heat pump that Bosch has put out. All the features offered work together to provide a great deal of comfort along with maximum efficiency.
Precise modulation is better in helping to maximize the comfort levels of its users and minimize the energy levels, too, hand in hand. This unit itself offers maximum comfort at a minimal cost due to its 19 SEER and 10 HSPF ratings. The modulating inverters do not supply unnecessary heating or cooling.
Pros
Keeps the air fresh and clean
Warranty of 10 years for parts and labor
Offers the best efficiency and excellent comfort
Modulating inverter maintains the desired temperature
Keeps the room temperature consistent through the pumps driven by inverters
Cons
Some homes cannot install ducted air conditioners because of less space
Ducted AC is not zoned so you'll have to pay the cooling cost of the whole house
Best Bosch 18 Seer Heat Pump
Inverter Ducted Split System (IDS)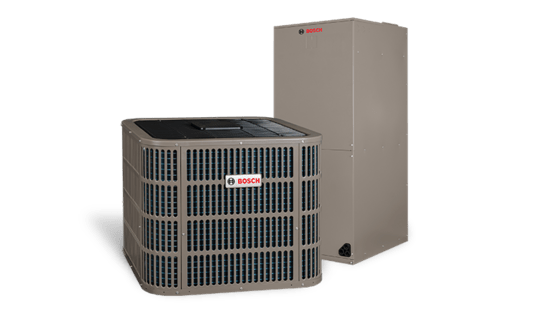 Cooling Efficiency (Max SEER): 18.5
Heating Efficiency (Max HSPF): 9.5
Decibel Level: ≥56 dB
We may earn commission from purchases made from our links, at no additional cost to you
Why it Stands Out to Us
What we love about this unit is the excellent warranty it offers. There's a warranty of ten years on the unit for residential use. Along with that, there's a warranty on parts and labor. This makes users feel very relaxed and satisfied with the company. They feel fearless in investing in premium products as they know easily that the product and its components can be replaced in case of problems. Another thing we love about this unit is how energy-efficient it is, and at a relatively low cost.
Bottom Line
A lot of features make this unit a must-buy. It is environmentally friendly and maintains the fresh and good air quality by eliminating pollutants, viruses, and bacteria. Users can enjoy the maximum benefits and comfort at the least price with this unit. While it might be expensive for some, it will pay off in a few years, as expected from any Bosch unit.
Pros
Air quality is maintained efficiently
Produces sounds as low as 56 dB
Only consumes the required energy
Maximum comfort is offered at the least cost
IDS system has effective management of temperature control even if the outside temperature drops to 5 degrees Fahrenheit
Cons
Aesthetically, its presence is not favorable inside 
Underground water supply or well is required for adequate water supply for its working
Best Bosch Inverter Heat Pump
Inverter Ducted Split System (IDS 2.0)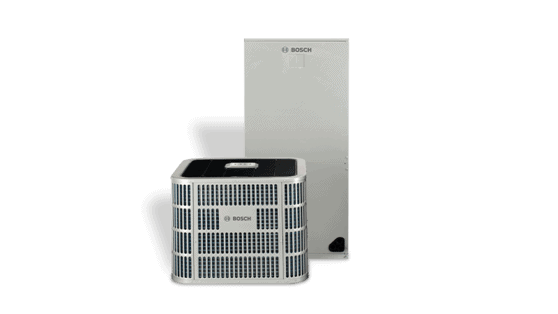 Cooling Efficiency (Max SEER): 20.5
Heating Efficiency (Max HSPF): 10.5
Decibel Level: ≥56 dB
We may earn commission from purchases made from our links, at no additional cost to you
Why it Stands Out to Us
There are several features that make this unit stand out. The sound levels are lowered to 56 dBA with the Silent Blade technology, making it nearly noiseless. The operations are smoothly ramped up, energy usage spikes are avoided, and the life cycle of the systems is also protected.
It is not just recognized for its high efficiency but also for its cost-effectiveness. Besides, this product has energy compliance with ENERGY STAR. Moreover, the aluminum coil protects it from corrosion. The electronically commuted motor helps control its humidity. Changing seasons, like cold has no impact on its performance.
Bottom Line
To sum it up, this product is exceptional. It is environmentally friendly and is the preference of many people. The system is energy efficient and produces the lowest noise level to ensure the maximum level of comfort.
You should add this product to your buying list, as all its features are favorable and outweigh its cons. In addition, it is user-friendly as well, making it a great pick.
Pros
Sound dampening system is integrated, making it noise-free
Cooling and heating systems are more efficient and smoother
Room temperature is maintained consistently even if the outside temperature drops
Provides comfort to the house owners since it is energy effective and cost-effective
Modulated inverter system ensures that energy consumption is according to your needs
Intelligent features work along with the thermostat for temperature adjustments according to preferences
Cons
Installation requires a good amount of space
Best Bosch Geothermal Heat Pump
Greensource CDi Series SM Split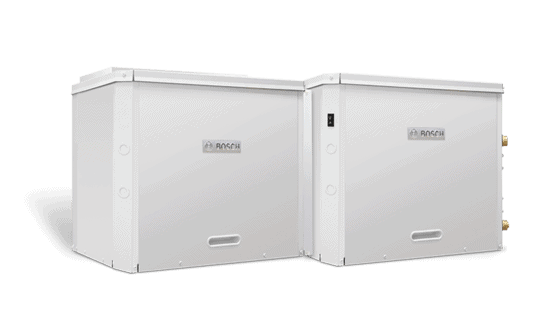 Cooling Efficiency (Max EER): 30 GLPH
Heating Efficiency (Max COP): 4.7 GLPH
Decibel Level: ≥52 dB
We may earn commission from purchases made from our links, at no additional cost to you
Why it Stands Out to Us
The earth coupling option of this product marks its uniqueness among the rest of the competing brands. Earth is used by these geothermal systems as a heat sink and heat source. For the transferring of heat into or from the ground, ground loops (heat exchangers) are used after installation on the ground.
Plastic pipes of high-density polyethylene are used in it. Heat pumps and loops are connected after that. The fluid circulation starts in the loop piping. This transfers the heat between the earth and the pump.
Bottom Line
In a nutshell, this geothermal system has been distinguished for its outstanding features. The compact design and versatility help in the adaptability for replacing it. It is highly functional and has a compact design that is very stylish. It attracts the aesthetic sense of its users.
The design engineered for quiet operation reduces the noise levels. It is also remarkable for saving the money of its users because the two-stage compressors work in coordination with each other and with the temperature of the earth, which extends the service life. The advanced controls are another way of monitoring the equipment for longevity and reliability.
Pros
Reduces energy bills by as low as 70%
Greenhouse gas emissions are reduced
Life expectancy of ground loops is more than 50 years
Rigorous standards are followed to manufacture these heat pumps
Environment-friendly and helps in making the air free from bacteria, virus, and carbon oxides
Cons
Not the cheapest unit
What Kind of Warranty Does Bosch Offer?
Bosch offers a limited warranty on its air handler series and ducted split series. The warranty also covers heat pumps, provided that their installation location remains unchanged.
Warranty Coverage
The company provides a ten-year warranty coverage. BOSCH Thermotechnology Company provides a warranty for all of its internal components and compressors shipped by the company in thermal heating systems for all its parts and labor for ten years. 

BTC may supply accessories with the heat pump as well as other components that were not present in the shipment. The warranty covers these other components for one year from the occupancy or startup certificate's date up to 18 months after shipment. If the other components are defective, the company will replace or repair it if it lies under warranty.
Who is Bosch?
Bosch is a well-renowned Germany company, popular for the highly innovative products that it has introduced in the market. While it has a prominent presence in the automotive industry, it's most famous as a leading manufacturer of top-of-the-line home appliances that include heating and cooling systems. Robert Bosch found the company in 1886, and it has, since then, served users across the globe. 
Conclusion
Overall, to sum up, Bosch heat pumps hold great value in its markets. The company is reputable and has its name in the contemporary market. These heating and cooling systems offer great comfort for their users.
They are also energy-efficient and cost-effective. While the initial unit cost might seem high, people widely observe that they recover this cost within four to five years. Therefore, this could be a great investment.