Furnaces are used to heat up large spaces. They are a major part of a home's central heating system. They use different types of fuel, i.e., natural gas, LPG, coal, wood, and electricity. 
Electric furnaces are a more efficient solution than the other types because no heat is lost. All of the energy produced is used for heating the space. 
If you live in an area with low electricity prices, then these furnaces are a great investment. If you're also looking for one, continue reading. This article reviews the best electric furnaces.
Comparison of the Best Electric Furnace Reviews
IMAGE
PRODUCT

Our Top Pick

Features a painted and galvanized steel cabinet boosting product life
Has foil-faced insulation which reduces condensation
Blower section can be used as an electric furnace

View Latest Price →

Comes with a multi-speed blower and multi-position
Power source is corded electric
Compact size is suitable for any space

View Latest Price →

Best Budget Option

Best for the Money
Small design is lightweight, yet durable
Straightforward installation is not time-intensive

View Latest Price →

Most Efficient Electric Furnace
All heating elements are rust-proof
Highly efficient with 68,240 BTUs and only 20KW

View Latest Price →

Powerful heating ability of up to 51,180 BTUs
Electric furnace consumes only 15 KW
10 years warranty on all functional parts

View Latest Price →

Up to 1,500 watts of heating power
Portable unit features a handle for convenience
Thermostat is adjustable and has numerous heat settings

View Latest Price →
How Does an Electric Furnace Work? 
Furnaces have a heating element, a blower, and an air filter. Cold air is drawn from the rooms inside the furnace chamber by the blower. That air is then pushed through the heating element, which heats it up. The blower then pushes the heated air into the building's duct system from where it is blown back into the room to warm it up. 
What differs between the different types of furnaces is how they heat the air. The heating elements are electric resistance wires wound into a coil through which charged particles move and produce heat. The transformer provides the electricity needed, and circuit breakers or sequencers control the heating elements, i.e., turn them on or off.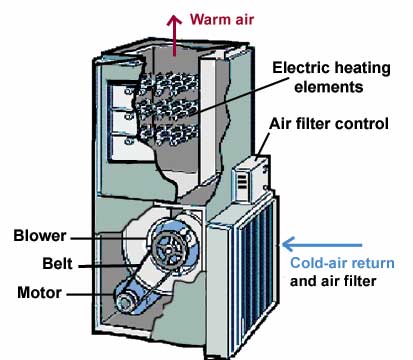 What Size Electric Furnace Do I Need? 
The size of the electric furnace is determined by its energy output, which is measured in kilowatts. The bigger your home, the more kilowatts you need. Radiators transfer the energy produced by furnaces to different rooms. You will need, on average, 1.5 kW per radiator. Some other things also factor into the size of the furnace, like how high the ceiling is. 
Another way to measure the size of the furnace is its BTU output. BTU stands for British Thermal Unit. It is the amount of heat required to raise the temperature of one pound of water by one degree Fahrenheit.
What Size Electric Furnace Do I Need For 1800 Sq Ft House?
 For an 1800 square feet home, an output of 60,000 BTU per hour will do the job.   
At a Glance: Our Top Picks for Electric Furnaces
Review of the Best Electric Furnaces
Now you know the basics of electric furnaces and how they work. To help you pick one, we have narrowed down the furnaces and are going to review some of the best ones you can get your hands on. 
Goodman MBR0800HKR10
Energy Efficiency (AFUE): N/A
Parts Warranty: 10 Years Limited Warranty
Unit Warranty: N/A
We may earn commission from purchases made from our links, at no additional cost to you
What Recent Buyers Report
Users were pretty satisfied with their purchase. The furnace's wiring instructions are a little unclear, but you can have a professional install it for you. It works fine and comes at a very reasonable price. It is also very versatile, and it can be very easily installed in a mobile home as well.
Why it Stands Out to Us
A multi-position modular air handler, like this one, with 10 kW heat elements is enough for an average home. Air handlers are metal boxes with blowers, heating elements, and filters. Multi-position means that it is easy to install. You can place it both horizontally and vertically as your space allows. 
You have to register the product with the company after installation. If the installation is done properly, the furnace has a ten-year limited parts warranty. The cabinet is painted and galvanized steel. This makes it resistant to rust and corrosion and hence durable.
It uses foil-faced insulation, which is considered the best for keeping the heat in during winter and out during the summer. It also helps with noise problems, so this furnace operates very quietly. 
It has 34,120 BTU output, which is considered enough for a 2,000 to 2,500 square feet home.       
Bottom Line
Goodman makes affordable and efficient heating equipment, including heat pumps and air conditioners, and the same is the case for this unit. It is Energy Star qualified, which means it follows the environmental protection standards and is highly efficient. 
Pros
Resistant to corrosion and rust
Has ten years of limited parts warranty
Cabinet is insulated to prevent condensation
Gives 10 KW energy, so it can handle about 6 to 7 radiators
Cons
Linsets, thermostats, and LP conversion kits are sold separately
Goodman MBR1200AA1HKR15
Energy Efficiency (AFUE): N/A
Parts Warranty: 10 Years Limited Warranty
Unit Warranty: N/A
We may earn commission from purchases made from our links, at no additional cost to you
What Recent Buyers Report
According to users, the product is easy to install and use. It is very cheap but not of low quality. It has enough power to heat up a large home efficiently. Moreover, its variable-speed helps with saving energy when needed, so it pays for itself down the road.
Why it Stands Out to Us
This is a multi-position modular blower from the MBR series of Goodman furnaces. It has a multi-speed motor, so you can change the heat as needed. For instance, you can lower the speed when the weather is not too cold or when you are not home. This saves a lot of money. 
It can be installed in three ways. The blower pumps air upward, downward, and horizontal, so you can install it any way you want.
Bottom Line
Overall, the unit has an output of 51,180 BTU per hour with 15 kW energy. If your climate is not too cold, it can heat up a large home. It will work in cold weather as well. With its 51k BTU output, this is one of the best electric furnaces, especially considering its price.
Pros
Uses high-quality aluminum coils
Can easily heat an average-sized home
Has a control board for monitoring fan delay
Comes with Energy Star certification for efficiency
Gives 15 kW of energy and can handle ten radiators
Cons
Not the most durable product
Suburban 2444A NT-16S RV Furnaces
Energy Efficiency (AFUE): N/A
Parts Warranty: 10 Years Limited Warranty
Unit Warranty: N/A
We may earn commission from purchases made from our links, at no additional cost to you
What Recent Buyers Report
This is a small and compact furnace that fits in vans and buses easily. It is very durable and warms up your space pretty fast. The fan is a little noisy, but the furnace is reliable and lasts long. It will not overload the wiring in a small recreational home as well.
Why it Stands Out to Us
The Suburban RV furnace is a very compact and lightweight model. It is designed for mobile homes and buses, etc. It has a 12-volt motor, and it can warm up a large room easily. It uses solid-state ignition to turn it on. This ignition system is easy and safe to use. The unit also saves energy.
Moreover, the installation is very easy, and no ductwork is needed. It comes with a wall thermostat, gasket-sealed vent assemblies, and chrome-plated vent caps that help with rust and corrosion.
Bottom Line
Just like installing a small furnace in a large home is inefficient; installing a large one in a small space does not work well. For recreational homes, buses, and vans, you need compact and lightweight furnaces, and this suburban furnace is just that. It is easy to install and does not require ducts.
Pros
Installation is quick and simple
Can be used in small recreational vehicles
Comes with a compact and lightweight design
Has a safe and easy-to-use electronic ignition system
Cons
Not suitable for large homes
Most Efficient Electric Furnace
Goodman 20KW Electric Furnace MBR1200AA1HKR20C
Energy Efficiency (AFUE): N/A
Parts Warranty: 10 Years Limited Warranty
Unit Warranty: N/A
We may earn commission from purchases made from our links, at no additional cost to you
What Recent Buyers Report
Buyers state that you will need an HVAC technician to install this furnace. Once it is properly installed, it works great. It has enough power to heat a large home, even in colder weather. It's compact and efficient, and it has a good warranty.
Why it Stands Out to Us
With 20 kW energy and 68,240 BTU per hour, this furnace unit is ideal for large spaces. It is estimated to easily heat a 2,400 square feet area. It has a control circuit unit, which makes it easy to use and efficient. It saves energy bills and is very economical.
It has been tested and certified by ETL labs. This certification is for product safety and standards. It has rust-proof heating elements that make its maintenance easy. You can install it in any direction you want, i.e., it is multi-directional. You can use it with heat pumps and air conditioners as well. 
Bottom Line
Having 20 kW energy output makes this furnace ideal for large spaces. It can handle extra load on it like heat pumps and air conditioners. The warranty is ten years long, and it has a durable construction. It is highly efficient and an energy saver.
Pros
Significantly reduces energy bills
ETL listed for meeting quality standards
20 kW energy makes it suitable for large spaces
Has durable and rust-resistant heating elements
Mobile Home Electric Furnace
Miller E6EB Series
Energy Efficiency (AFUE): N/A
Parts Warranty: N/A
Unit Warranty: One Year Manufacturers Warranty (void if not installed by licensed HVAC Contractor)
We may earn commission from purchases made from our links, at no additional cost to you
What Recent Buyers Report
Recent buyers report that this unit looks to be good quality and is well-built. It's not too large and can fit into a small space easily. The warranty is good and includes a clause for labor warranty as well. The installation is easy, and it can be installed in multi-directions.
Why it Stands Out to Us
Mobile homes require different furnaces. This Miller furnace is made for mobile homes. It only has a heat setting with 53,000 BTU per hour and a 15 kW output. It has both upflow and downflow air distribution options, so you can install it either way.
It uses Nichrome heating elements. Nichrome is an alloy of nickel, chromium, and sometimes iron. This alloy is used in heating elements extensively. The box is fully insulated, so there is little heat loss. You can add up to four tons of an A/C or heat pump unit.  
Bottom Line
Generally, mobile home units need small and lightweight equipment. This furnace is made for recreational vehicles. It has a heat-only option, and it can be installed in multiple positions, making it easier to fit in a small space.
Pros
Cabin is insulated, so heat is not lost
Has both downflow and up-flow air distribution
BTU output is good for a 2,400 square feet home
Has a four-speed capacity to add A/C, heat pump, or transformer
Cons
Thermostat is not sold with the unit
De'Longhi Mica Thermic Panel Heater
Energy Efficiency (AFUE): N/A
Parts Warranty: N/A
Unit Warranty: 3 Years
We may earn commission from purchases made from our links, at no additional cost to you
What Recent Buyers Report
Most buyers state that it's a high-quality heater. The multiple heat options are good for energy saving, so the unit lowers energy costs. The slim and compact design makes it easy to install and transport. You can place it in any room, and it does not waste unnecessary electricity.
Why it Stands Out to Us
It is a portable 1500-watt heating unit. It is sleek and compact with wheels at the bottom. You can move it around to any room you need. You can also mount it on the wall. It comes with an adjustable thermostat and multiple heat settings, so you can adjust it according to your comfort.
For safety, it has a thermal cut-off to prevent overheating. There is a tip-over switch that is activated when the heater is unstable. It is tested for heating 300 square feet. It is also very quiet since it has no fans.  
Bottom Line
If you only want to warm up one room and need a more personalized touch, this heating unit is the option for you. It has carry handles and wheels for moving it around. You can install it on the wall or place it on the ground as you need.
Pros
Safe and easy to use
Has a sleek and modern look
Comes with a wall mounting kit
There are multiple heat settings
Features a compact and portable design
Cons
Will only work for one room
Electric Furnace Types 
Furnaces differ from each other in two major different ways. One is the source of heat, and the other is the method of heating. Electric furnaces get their source of heat from electric charges flowing through the conductive coils. 
Now there are different ways you can use electric current for heating. The three ways used in furnaces are the following:  
Induction Heating
Induction heating uses the process of electromagnetic induction. The process consists of a conductive material (coil) with an alternating current source. A magnet is placed within the vicinity of the current source. The changing current produces a magnetic field in the magnet. This process of electromagnetic induction produces eddy currents. Eddy currents flow in closed loops in the conductor. As a result of resistance in the conductor, the eddy current produces some heat. 
This is how inductive heaters and furnaces heat air. Such furnaces are considered the fastest and the most efficient. Unlike other types, little to no energy is wasted.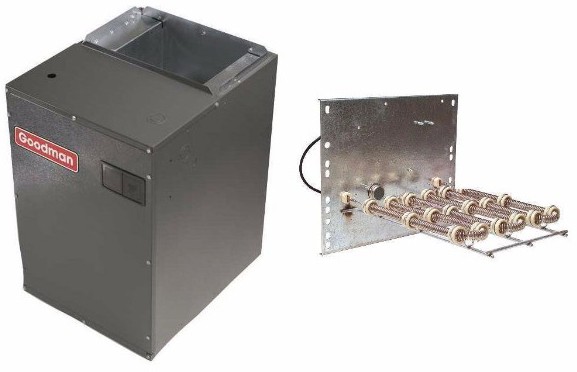 Resistance Heating
When an electric current passes through a resistive element, it dissipates some heat because of the collisions of electrons with vibrating atoms. These furnaces are capable of providing very high heat, but they take longer to reach the desired temperature.   
Arc Furnace
An electric arc furnace works by heating charged material through an electric arc. An electric arc is produced when a usually non-conductive material (gas or air) is exposed to high electric field strength. This causes a breakdown in the material or gas, which increases its conductivity. 
Comparison Overview 
There are a lot of different types and ways of heating you can use in your home. The one you choose depends on your heating requirements, i.e., the space you need to heat, the temperature of the surrounding environment, the cost of electricity in your area, etc. 
To help you better understand which choice will suit you best, here is a comparison of all the different types of furnaces, depending on their power source. 
Electric vs. Gas Furnace
In a gas furnace, natural gas is burned on a burner. This process produces the necessary heat that heats up the heat exchanger. Cold air from the room is drawn to the heat exchanger where it is warmed up. That warm air is then distributed to the home's ductwork. But which one is better? Here's a comparison to help you figure that out. 
Working
The working of the gas furnace is pretty much the same as an electric furnace other than the heat source. The former uses the ignition of natural gas for energy, and the latter uses electricity to generate heat in a conductive material.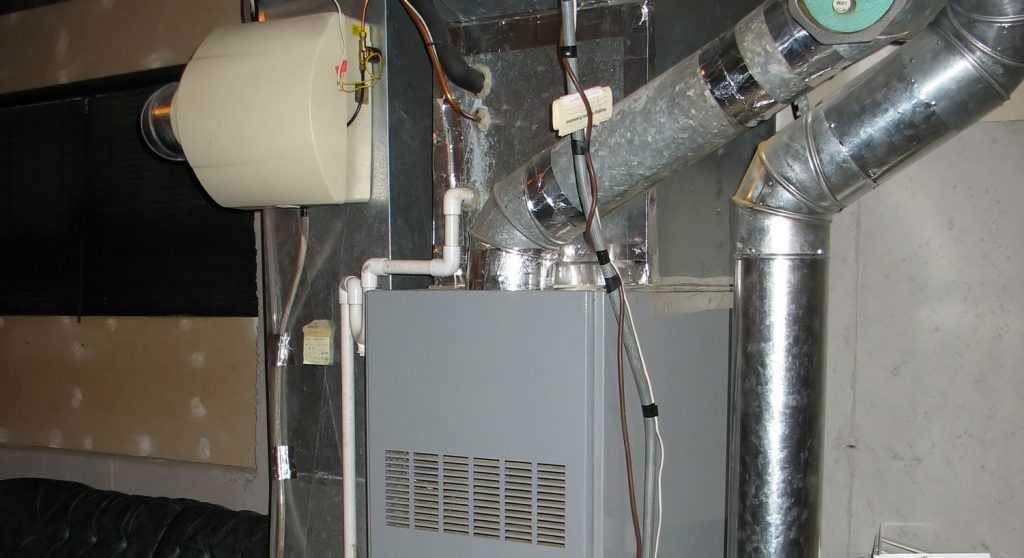 Price
An electric furnace's cost range is between $1,000 and $2,500, while that of a gas furnace is between $3,000 and $4,000. Electric furnaces are also less expensive and less complicated to install. If your furnace is of high efficiency and if you live in an area where electric costs are low, then the furnace pays for itself over time. Your fuel costs also go down considerably. 
But if you consider the cost per million BTU, then gas is cheaper than electricity. So the decision depends on the availability of the two. Some houses only have an electric connection.
Efficiency
Older gas furnace models have efficiencies around 78% or more. Newer models even achieve a 97% efficiency rating on the AFUE (annual fuel utilization efficiency) scale. On the other hand, every electric furnace has an efficiency between 95 and 100 percent. 
Which is Cheaper, a Gas or Electric Furnace?
An electric furnace doesn't just save fuel costs; it is also cheaper when you buy it compared to gas furnaces. Installing an electric furnace is also cheaper. However, when it comes to the cost per million BTU, then a gas furnace seems to be the better choice. 
Heat Pump vs. Electric Furnace
A heat pump is used to transfer heat from its source to a thermal reservoir. It uses a compressor to pump refrigerant between two heat exchangers. In one heat exchanger, the refrigerant is evaporated, and in the other heat exchanger, it is condensed. 
During the evaporation process, the refrigerant absorbs heat from the surrounding area. When the refrigerant is being condensed, it releases the absorbed heat. It works in winter because even cold air and ground contain heat. Here is how it compares to an electric furnace:
Why Do Heat Pumps Operate More Efficiently Than Electric Furnaces?
Heat pumps don't generate heat; they transfer heat from the outside to the inside. Furnaces, on the other hand, have a heating element that operates via electricity and warms up the air.
Generating air costs more and is more difficult than simply transferring it. Therefore, heat pumps are more energy-efficient. They consume far less energy than they transfer. 
Efficiency
For places that have moderate winters, heat pumps are more efficient than furnaces. They consume less electricity than a furnace and therefore have a lower carbon footprint. They also have higher efficiency ratings. And since the process can be reversed, heat pumps can be used for cooling in summer.    
Durability
Electric furnaces have an average lifespan of 20 years. A good unit will last you very long if you do regular and proper maintenance. Heat pumps only last for 15 years or less.  
Installation
The installation price of a heat pump varies a lot, depending on its type and size. The cost can be as low as $1,500 and as high as $10,000. An electric furnace installation will cost around $1,200 to $5,900.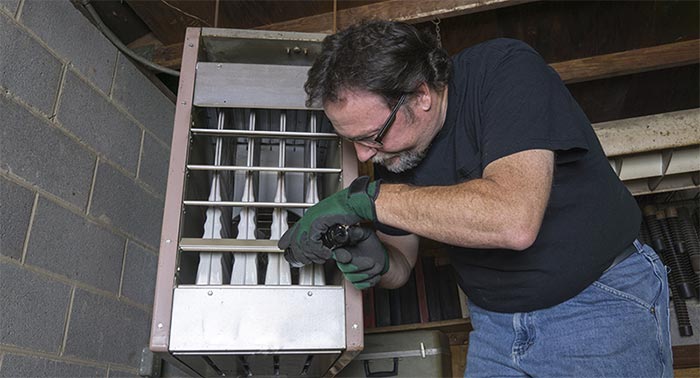 Electric Furnace vs. Oil Furnace
Oil furnaces have oil in their burn chamber, where it is turned to mist. That mist is sprayed on the burner. When the burner chamber heats up, the cold air from the surroundings is brought to the chamber to heat up. Oil furnaces are a good option for cold climate areas. 
Here are the similarities and differences between oil and an electric furnace:
Fuel Cost
The cost of furnace oil is much higher than electricity. Therefore, oil furnaces are not very popular. Their alternative is gas furnaces if you don't prefer electricity.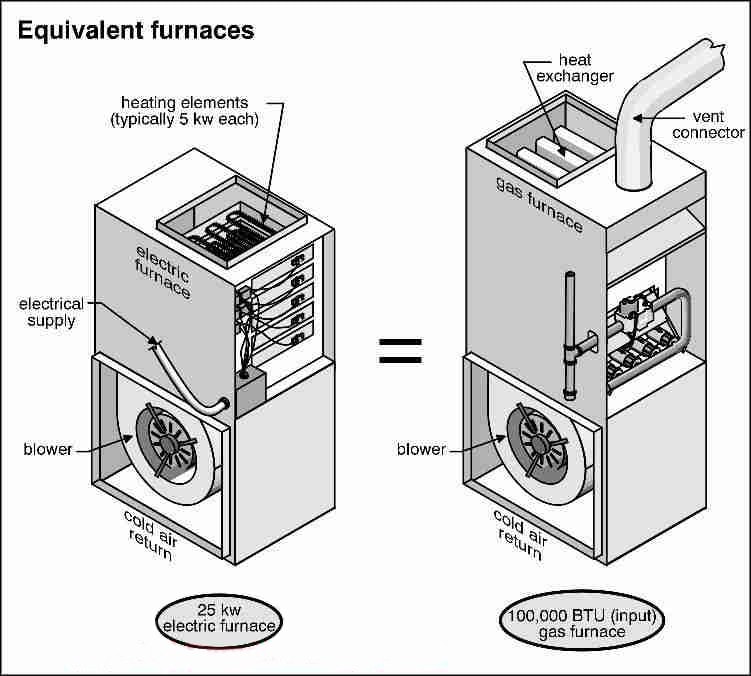 Efficiency
Oil furnaces are not the most efficient. Their AFUE rating lies between 84 and 90 percent. Electric furnaces, on the other hand, have 97 to 100 percent efficiency.  
Electric vs. Propane Furnace
A propane furnace is very similar to a gas furnace. Instead of burning natural gas, propane is used to produce heat. But is it better than an electric furnace? Let's find out:
Efficiency
Propane furnaces have fuel efficiency above 70 percent and often even 90 percent. Propane burns very cleanly and hence leaves little impact on the environment.
Electric furnaces have an efficiency rate of 95 percent or more. The electric furnace's impact on the environment depends on the type of unit you have and how much you use it.
Durability
A propane furnace generally lasts around 10 to 20 years. With proper maintenance, it can last longer. Meanwhile, every electric furnace can work well for 20 years or more if it is of good quality.
Power
One gallon of propane gives 92,000 BTU energy per hour. This is more than enough for an average-sized home, i.e., 2,400 to 2,600 square feet.
The BTU output of an electric furnace depends on its size and how many kiloWatts it produces. You can get a smaller furnace around 30,000 kW or a larger one, depending on your needs.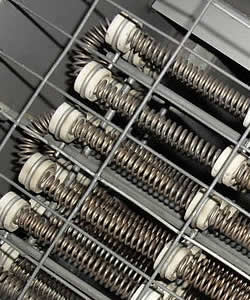 Electric Furnace Efficiency Tips
The efficiency of the furnace given by the manufacturers is not always right. When you first start using the product or after years of use, you might find the furnace not working at its optimum capacity.
To make sure you get the best from the product, you can do routine maintenance. Here are some tips to help maintain your furnace's efficiency:
Air Filter
Filters in a furnace are used to make sure the air that comes inside the chamber is free of dust and other contaminants. After some time of use, the filter will no longer be usable. This time depends on the filter type and quality.
If you keep using the furnace with the dirty filter in place, your unit will have to do extra work to pull in clean air. It is, therefore, necessary to change the filter every once a while.
Clean filters ensure that the furnace does not work more than it has to, and it does not get damaged. 
Thermostat
If you install a programmable thermostat, it gives you control over the temperature the furnace operates at and how often it is turned on. You can program your thermostat so that the temperature is lowered when you are on vacation or at the office. This way, the thermostat does not work all day, and it saves you energy bills. 
Home
You can also add some things in your room or home to see that the furnace has better efficiency. Make sure the vents and radiators are clear of any obstacles, and the warm air is free to travel in the room. 
Make sure the space you are trying to warm up does not have any unnecessary leaks like damaged windows or weather strips. It can help to have carpets on the floor as well. All this makes the job of the furnace easier.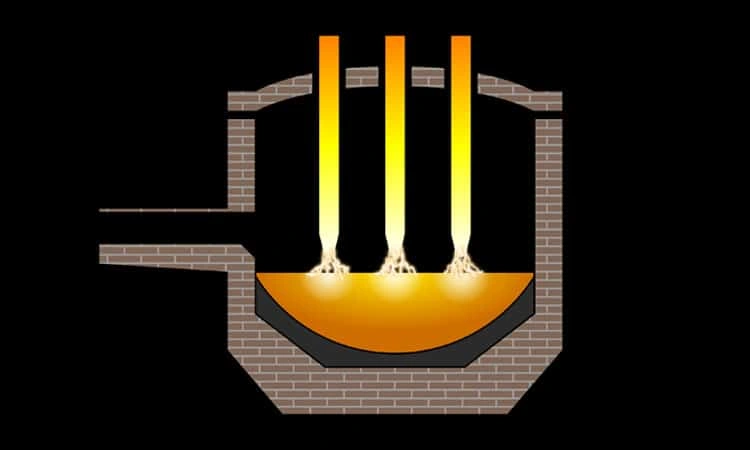 How to Install an Electric Furnace 
It is often recommended to install the furnace using professional help. So, if you are trying to do it yourself, you need to follow the correct instruction to a T. To make sure nothing goes wrong, here's what you have to do:   
Before installing a new furnace, you have to carefully remove the old one.


Cut off all power supply to the furnace by switching off the thermostat and circuit breakers that are connected to it. Before disconnecting the wires in the furnace, it is a good idea to label them, i.e., which one goes where.


If the furnace is screwed to the wall and floor, unscrew it using a drill.


Use a drill to unscrew the plate at the bottom end of the furnace. There will be six wires inside (ground wires and wires connected to circuit breaker). You will have to lift the furnace up to get past the wires coming from the floor.


Now, carefully lift the new furnace and place it on top of the wires where the old furnace was.


Put something below the furnace to lift it slightly and then pull the ground wires inside the unit.


Reconnect all the wires using your labels correctly.


Screw the plates back in to conceal the wires. Also, screw the furnace onto the ground and wall.


Now, turn the thermostat and circuit breakers back on.


The furnace itself will have circuit breakers. You need to turn them on as well.


If the furnace has a front cover with air filters, put that on.
That is all there is to the whole process. If you have questions or some confusion, refer to the video given below for more detailed instructions and safety tips.
How to Install an Electric Furnace In a Mobile Home
Installing a furnace in a mobile home is not much different than installing it in a regular home. For that, here is what you need to do: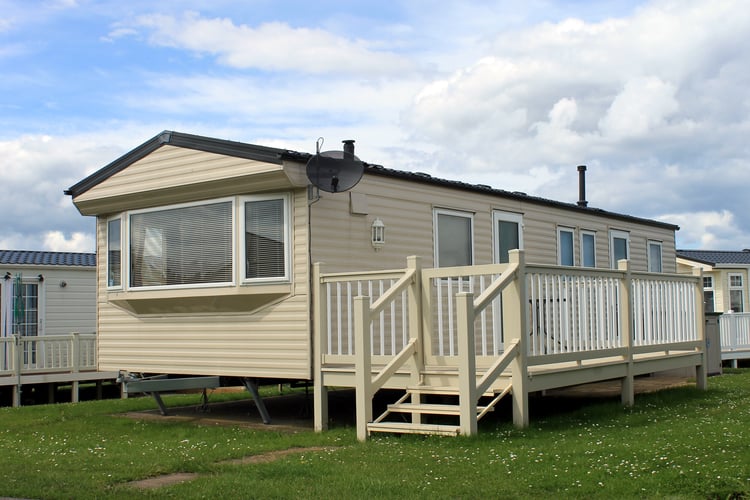 From the roof of the mobile home, remove the old vent termination and extensions.


Clip the brackets holding the flue and remove it.


Install the top half of the new vent kit.


Disconnect all wiring of the old furnace and break the gas line.


Remove the furnace.


Clean out the area where the old furnace was placed.


Screw the new furnace in place and connect the wires.


Use the manufacturer's instructions to place the new vent system in.


Seal the edges with silicon, so there are no roof leaks.


At the bottom of the furnace, drill small holes for gas and condensate lines.


Use a thread sealer to install a gas cock on the fuel line.


Install flex lines, so they do not run through the furnace body or the floor.


Connect all the furnace wires and thermostat.
Electric Furnace Troubleshooting
A lot can go wrong with electric equipment. For instance, there might be faulty wiring or accidental damage. Having a basic knowledge of determining why something went wrong can save you time and money.    
The following are some common problems you might come across while dealing with electric furnaces.
Electric Furnace Not Blowing Hot Air
There can be several reasons why your furnace is blowing cold air instead of hot. Here are some things you can do if that happens.
If you have a thermostat connected with the furnace, you should check if its temperature is set to the right level. With a programmable thermostat, you would also want to check the date and time. Programmable thermostats lower temperature at certain times, like when you are at the office. Make sure that the date and time are correct. Also, check the thermostat battery and replace it if necessary.
Check to see if the furnace circuit breaker and the circuit breaker for the blower motor are ON. Also, check if the furnace is on. Make sure everything is working.
If you have not changed your filter in a few months, you might want to take a look at that. Filters get clogged up with time, and if there is enough debris inside, it will block the air from getting out. If the hot air is not getting out, the furnace can overheat. Overheating can cause the furnace to shut down for safety reasons.   
If none of that works, the next step is to see the blower. It is the blower's job to push the hot air out. To check if the problem is actually the blower:
Turn the furnace off.


Put the thermostat to fan mode.


Wait for some time for the thermostat to work. If the fan starts, then the blower is not the problem.
The other option is that the fan does not turn on. There can be a few reasons for that. Check the circuit breaker as it might have tripped. If it has tripped, call a technician. If the circuit breaker is working, then the thermostat or the fan is the issue. Buy a new thermostat and test if that works. If that doesn't work either, buy a new blower.  
Why Does My Electric Furnace Short Cycle?
The first few steps you will want to follow for this problem are the same as before. Check for the circuit breakers and switches. Make sure everything is turned on. If everything is working, the problem might be overloading in the motor. The motor needs some rest, so turn the furnace off for 30 minutes and then press the reset button.
Filter clogging can also cause short cycling. Short cycling is when the furnace turns rapidly on and off. Replace the filter if that is the case and check the blower. If it is old, then it will need proper cleaning and lubrication.
Short cycling can happen because of the furnace overheating due to clogged filters or closed grates. Grates, also called vents, are what let the hot air out. If too many grates are off, the furnace will overheat. You should open some of the vents and let the air out.
Blocked exhaust vents are another reason for short cycling and overheating. Check the vents and see if there is something stuck inside.     
My Electric Furnace is Not Producing Heat
The major reason for a furnace not producing heat is low maintenance and dirt. Dirt will hinder the flow of air, especially if the filter gets too jammed up. This stops the furnace from distributing the hot air outside, leading to overheating of the equipment, causing it to shut down. You need to clean the filter or change it and check the thermostat. 
My Electric Furnace Not Heating Enough
If the furnace is not giving enough heat, it could be because the thermostat is set at the wrong temperature. Change the setting of the thermostat if needed. It can also happen because the furnace blower is working at a lower setting. Clean out the filters and furnace. Turn the blower off for a few minutes to give it some rest, as it might be overloading.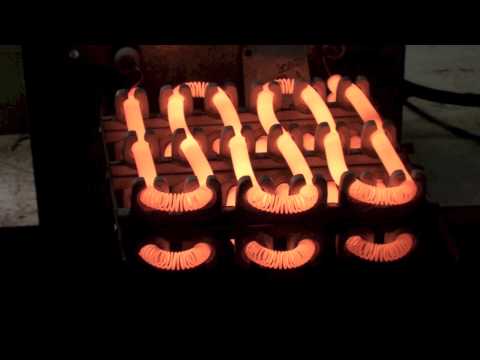 The Electric Furnace Heating Element Stays On
This is a common problem with electric furnaces. There are elements called sequencers with breakers. They are what turn the heating elements on. For this particular problem, you need to replace the sequencer.
Other things you might want to check are loose wires, dirty fuse, and leaks in the furnace.   
Conclusion 
Electric furnaces are an efficient, safe, and budget-friendly way to heat up a home. If you invest in the right quality product, it will pay itself off with time. When choosing the furnace, you have to keep in mind the heating requirement of your house. Also, make sure to maintain your unit properly so that it can last you for a while!
People Also Ask
Electric furnaces are of different types and have different capacities for heating. If you have more questions about them, then read through these frequently asked questions below.
How Many Watts Does an Electric Furnace Use?
The exact amount of Watts that an electric furnace uses depends on its size, but typically they take around 18,000 watts or more.
How to Wire an Electric Furnace
The wire connections of an electric furnace are usually given in the user manual. Wiring for one furnace is not the same for all models, so you will need to look at the furnace guide for this.
Is My Furnace Gas or Electric?
Gas furnaces have a window on the front that displays blue flames.

Electric furnaces have motors that run the blower, so you can determine which one you have by looking out for these things.
How Much is an Electric Furnace?
Electric furnace costs around $1,000 to $2,500, on average.
How to Clean an Electric Furnace
Before cleaning the furnace, first, turn off the power supply. Then remove the front cover of the furnace. You might need an electric drill to loosen the screws. Inside the furnace, don't mess with the wires but check for dust and cobwebs. Use a clean cloth to wipe away the dirt. Next, check all the filters and replace them if they are clogged.
How to Light an Electric Furnace
Turn the furnace power on. The ignition button will have a red button next to it. Press them both simultaneously. Once the pilot is lit, let go of the ignition button. Hold the red button for one more minute. Some furnaces can have different ways of lighting, so you need to check the manual.
Who Invented the Electric Furnace?
A German-British inventor Sir Williams Siemens invented the electric furnace in 1879.
Does an Electric Furnace Have a Pilot Light?
Older electric furnaces have pilot lights, but newer ones mostly use hot surface ignition.
What is an Electric Furnace?
An electric furnace works on the same principle as other forced air furnaces. It uses a blower to pump in cold air over a heating element. The heating element warms up the cold air, which is then circulated into the home's duct system.
How Does a Heat Pump Work With an Electric Furnace?
Heat pumps take cold air from the outside, warm it up, and distribute it inside the home. They can be added to an existing furnace in climates that are not too cold. It saves money.
Can an Electric Furnace Produce Carbon Monoxide?
Only furnaces that use combustible fuel produce carbon monoxide. Electric heating does not give off any toxic gas.