When shopping around for the best AC that meets your budget and your home's requirements, you need to take into account the brand's reputation and customer reviews. York is a particularly affordable brand known for its value pricing and one of the top brands for central air conditioners. It has been around as a company since 1874.  
Today, York makes residential gas furnaces, split-system air-conditioners and heat pumps under the Affinity, LX, and Latitude product lines.
Let's go over what makes York a good or bad choice for certain buyers and we'll help you decide if a York AC is what you're looking for.
How Does York Compare to the Competition?
York has been a popular brand on the market, and a testament to its superior quality and name, is the energy star certification that it has received, but that's not all. There is so much more to the story. But before we move on, let us first look at the most notable features of York that help differentiate it from the competition.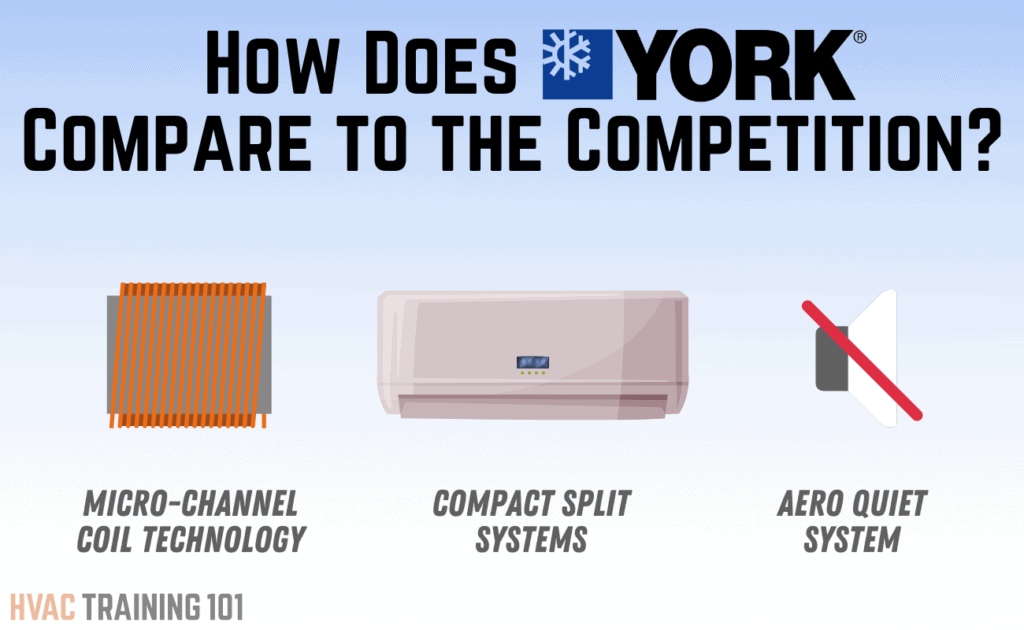 Micro-channel Coil Technology
York has been long known for its advanced micro-channel coils that offer much higher durability. They are made with a special alloy that ensures reliability. Not only this, but these coils also offer better control with the changing temperature and pressure settings in the environment. Moreover, the exterior of the units is painted with a soft glow, and the double coating gives it a professional look that lasts for a long time.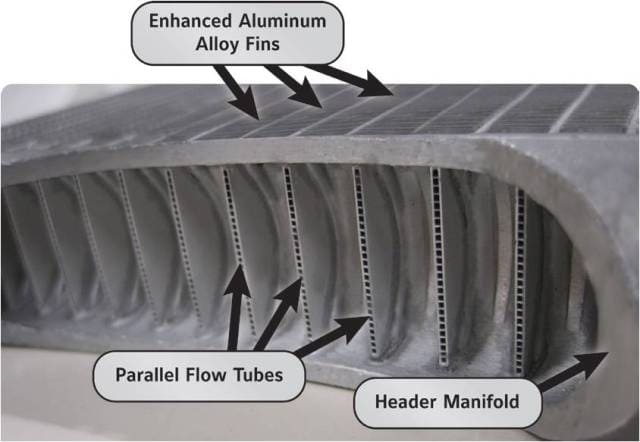 Compact Split Systems
There are many amazing models on the market, but not many can boast of having a split system that is compact. If you are looking for a ductless unit, you will find one right here in York's LX series. The best thing about them is that they require zero ductwork and are built specifically to protect the interior system. Moreover, the air conditioners by the brand are capable of withstanding the harshest weather with ease. They also offer 33% more robustness when compared to other similar models.
Aero Quiet System
Regardless of how popular the AC is, no customer wants a model that makes too much noise, and the York series has ensured your utmost comfort by including the Aero quiet system in all of its products. This not only reduces the noise pollution that you might experience otherwise but also ensures a very relaxing and comfortable environment at home at any given time.
Key Terms to Know
To help compare products in this review, we have included a few key specifications for each. Here is a quick summary of what they mean.
Cooling Capacity: This is typically used in central units and is measured in tons. Ton refers to the amount of heat necessary to melt a ton of ice over 24-hour period. In simpler terms, this is the amount of heat the unit can remove from your home in one hour.

Weight: The physical weight of the air conditioner.


Voltage: The amount of electricity the unit uses. This determines the type of outlet it must plug into. 


Energy Efficiency Features: Whether the unit has any features or ratings relating to energy usage.


dB (decibel) Level: The amount of noise the AC produces when in operation.
Comparison of the Best York Air Conditioners 
Buying an air conditioner can be as hard as buying a new car. There are so many strings attached as your comfort and convenience depend on it. To help you make this choice in a minute, we have compiled a summary of the most notable comparison feature of all 3 series.
| Model Name | Unit Size | Energy Efficiency (SEER) | Home Sq. Ft. | Condenser Fan Motor (i.e., Single vs. Two) | Cost of Unit Only | Installation Cost |
| --- | --- | --- | --- | --- | --- | --- |
| Latitude Series | 1.5 – 5 | 14.5 | Depends on Unit Size | Single – Stage | $1000 – $2000 | $2600 |
| York LX Series | 1.5 – 5 | 13 | Depends on Unit Size | Single – Stage | $1650 | $3350 |
| York Affinity Series | 2 – 5 | 18 | Depends on Unit Size | Two – Stage | $2250 | $4250 |
Review of the Best York Air Conditioners
York is undoubtedly one of the finest companies on the market, especially in regards to the air conditioners, hence it is no wonder that users can get confused between their different series models. 
York offers three product lines: Latitude, LX, and Affinity. Latitude is the smaller, less efficient, and more affordable option with units rated around 13 SEER. LX is a step up, with up to 14.5 SEER, and the Affinity line offers a wide range of products between 13 and 18 SEER, but it's known for being extremely quiet and should be purchased when noise is a real concern. Most of York's products have received an Energy Star and a Good Housekeeping Seal.
To help you understand each of these series, here is a thorough review of each.
Latitude Series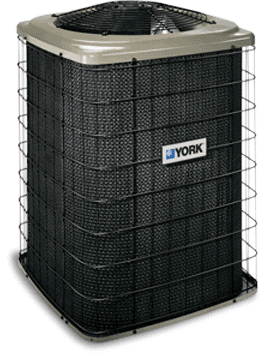 Cooling Capacity: 1.5-5 Tons
Energy Efficiency Features: SEER: 14.5
We may earn commission from purchases made from our links, at no additional cost to you
Why it Stands Out to Us
In evaluating any product, we always look at the design and construction of the product first, and looking at this York series, we were completely blown away. The construction material not only offers higher durability, but the special coils technology also saves you a lot of space so you can get the optimum performance without sacrificing much of your yard space. The design is also complemented by the highly efficient fan motors that come with permanent lubrication that not only protects the coils from changing temperatures but also variable pressures. Moreover, this added lubrication ensures easy and efficient use and adds to the durability. The compressor is also top-notch and further adds to the appeal of the model.
The two Latitude air conditioners, TCDG and TCGF, have SEERs of 13 and 14.5 respectively. TCGF is part of their "Ultra quiet" units. These air conditioners have earned Energy Star efficiency ratings according to government standards. All of York's air conditioners, including those in the Latitude series, use R-410A, a more environmentally friendly form of coolant than the previously popular R-22.
Bottom Line
If comfort and convenience had another name, it would most certainly be the Latitude series. The fact that is has an energy star rating must be enough to hint at its utmost perfection, but to help you make a wise choice, we'd still offer our bottom line. The series is one of the most revered on the market, thanks to its better construction and other phenomenal features.
The SEER is not as good as some other series, however, this drawback is insignificant because the advanced coil technology helps save money on utility bills. Moreover, the series comes with a special high-pressure relief valve that not only includes a very solid core filter for optimum performance but also adds to the shelf life of the compressor, thus ensuring that it lasts for a longer time.
Pros
High efficiency ensures less utility bills in the long run
Comes with energy star ratings thus ensuring reliability
Lowered maintenance costs are offered by highly lubricated fan motors
The smaller footprint of the series will ensure greater space around your place
The compressor ensures higher protection from changing temperatures and pressure
Cons
Lower SEER than most other models
Single-stage fan often consumes more energy
Higher installation costs make the model expensive overall
LX Series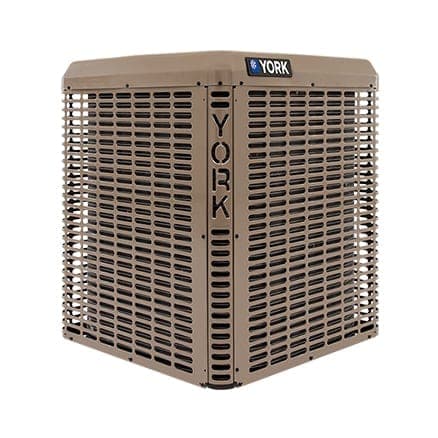 Cooling Capacity: 2-5 Tons
Weight: 292 lbs
Voltage: 208/230V
Energy Efficiency Features: SEER: 21
dB (decibel) Level: 53 dBA
We may earn commission from purchases made from our links, at no additional cost to you
Why it Stands Out to Us
If there is one thing the LX series is most known for, it's better energy consumption. The models in the series not only help you take care of the planet by using less energy, but they also ensure that you get lower utility bills than you would with any other product. The series contains only 2 models, and although the number of models is less, the product efficiency most certainly isn't.
The series has been given an energy star thanks to its amazing performance both in the short and long run. It comes with the modern split system technology that caters to each individuals needs by offering more control and diversity in the models. This technology also plays a huge role in reducing the utility bills of your home or your office.
The two air conditioners in this series also have SEERs of 13 and 14.5. In addition to the features of the Latitude models, they include the aluminum Micro-channel coil. They also use a more sophisticated compressor and fan parts, which require less maintenance.
The LX air conditioners add coil protection between the grill and the condenser. They also use a different cabinet design. The YCJF model can be matched with a variable speed blower (the default has only one speed) to bring its SEER rating above 16.
The York LX YCJD offers single-stage cooling and is available in sizes between 1.5 and 5 tons. The model operates quietly and is suitable for temperatures that don't reach extreme levels. It one of the most affordable and reliable AC models on the market.
Bottom Line
The York LX series has been on the receiving end of a lot of praise thanks to its superior coil and split system technology. Together, these two not only add to the overall durability of the unit but also ensure a reduction in utility bills. Moreover, for people who don't like very large units, they will love to know that the LX series comes with a relatively shorter footprint, thus consuming less of your yard space.
You would also be amazed to see so much diversity in the models of the same series, but this diversity has been well appreciated by customers online. One customer was also of the opinion that the LX series could last for more than 2 decades if used with care. If that is not a testament to the higher quality of the series, then we don't know what is.
Pros
Micro-channel technology adds to higher durability
Split system technology caters to each individual's needs
Model comes with a reduction in utility bills in the long run
Series has a smaller footprint and reduces the space used
Coil technology offers better protection and reduces noise pollution
Cons
High unit and installation costs
Smaller make often comes with less airflow
Relatively difficult to operate since the model is ductless
Affinity Series
We may earn commission from purchases made from our links, at no additional cost to you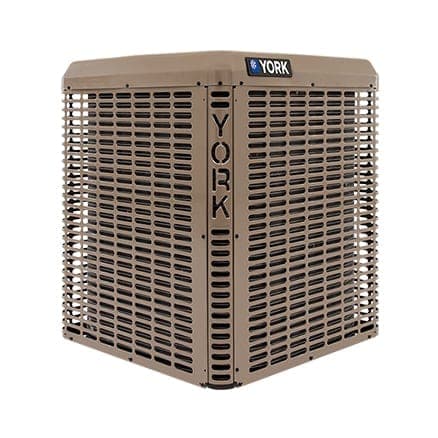 Cooling Capacity: 2-5 Tons
Weight: 292 lbs
Voltage: 208/230V
Energy Efficiency Features: SEER: 21
dB (decibel) Level: 53 dBA
We may earn commission from purchases made from our links, at no additional cost to you
Why it Stands Out to Us
The York Affinity series has long stood out because of its professional features and greater customization, but that isn't the only reason the series is so appreciated by a lot of recent buyers. It offers a range of different models, each of which comes with a different exterior and interior. The range of SEER offered is also a unique feature and lets the user make a wiser choice. The models offer 13, 16, and 18 SEER, and this means that with variable costs come variable SEERs. Moreover, the series is known to be one of the quietest on the market. Its fan motor comes with a special quiet drive technology that not only minimizes the overall sound production but also ensures that your fans revolve at the perfect speed.
Affinity is York's premium air conditioner series. There are four models in the series. The models here that have lower SEER ratings compensate with other features.
The single-stage Affinity TCHD is similar to the LX and has a SEER of 13. Its physically compact form makes it ideal for small spaces or even stacking.
The CZB also has a 13 SEER rating but operates especially quietly due to a special fan design. It also uses the QuietDrive system, which involves the fan and the compressor.
The CZF is a single-stage Energy Star certified unit with a SEER of 16. It brings to the table a ComfortAlert system, which provides a compressor monitor to the homeowner.
The CZH is the most sophisticated model with a SEER rating of 18. It employs a two-stage compressor, which means it can operate at different speeds at different times, contributing to its high efficiency.  It also features the noise suppression technology described above. It comes in seven different colors and the exterior uses powder-coated paint and sealed electrical connections to improve durability. Also, the model has a Comfort Control communicating system that makes it different from its equivalents in other brands. The system monitors the operation of the air conditioner protecting it from very high or very low pressure.
Bottom Line
With better noise production and greater range, this series has already garnered a lot of praise from users. It not only has an efficient fan motor, but its single-phase unit air conditioner also comes with the quiet drive technology that ensures less noise production. Together, these 2 features have enabled the series to get an energy star that hints at the higher quality. Not just this, the unit comes in 1.5 to 5 ton sizes, thus allowing you to choose the size for your home or your office. So, if you are looking for superior quality without any compromise on your relaxation time, then this product is definitely the one for you.
Pros
A single-phase unit thus costs less
Provides a range of SEERs including 18, 16, and 13
Available in 3 different models with varying features
Motor comes with quiet drive technology that reduces sound production
Advanced TCHD allows it to reach 13 SEER while using relatively less refrigerant than some other models
Cons
Internal coils often get too hot
Higher cost often reduces the overall appeal
Two-stage compressors are very difficult to repair and replace
The Best of York
York International Corp., based in Pennsylvania, makes durable and efficient ACs that are well known in the industry for their quality. They manufacture units that are designed to deliver efficiency even in hot climates, and their features are particularly user-friendly. Moreover, York central ACs are painted using a long-lasting powder coat that creates a quality finish that holds up exceptionally well in harsh weather. The finish on the units is 33% more robust than usual finishes.
Micro-channel Coils
The York LX series of air conditioners contain micro-channel coils built with an alloy resulting in continued reliability of the system. This is an industry-leading technology for AC units. The compressors are also internally protected to help them withstand extreme pressure and temperatures. This makes the air conditioners able to withstand harsh weather correctly.

Compact Split Systems
York offers the LX series which has ductless units.  If you choose a ductless unit, you can save on the costs of buying new ducts in a home as it requires zero duct work. This is especially good if you have individual rooms that need cooling rather than a whole-house system.
AeroQuiet II System
Some ACs are very noisy and can be disruptive. York provides the AeroQuiet II System in its air conditioners to keep noise levels as minimal as possible. The sound levels are as low as 72 decibels, which means you can be assured of quiet running of the unit. This smooth operation of the air conditioner ensures that you are not bothered nor are your neighbors disturbed in any way.
The Drawbacks
Luckily, there's only one drawback:
Warranty
York offers a 10-year parts, lifetime compressor and 1-year limited labor warranty for the Affinity AC series. It offers a 10-year parts, 10-year compressor, 10-year electric heat, and 1-year limited labor warranty for the LX series. To get the full warranty York requires online registration within 90 days of installation. These are comparable to most of the competition but not as good as the lifetime warranty offered by a few manufacturers.
Finding the Best Prices
Getting a new central AC is a big investment and it never hurts to get a discount on a purchase. We're going to give you some advice on how to get the best deal on your York air conditioner.
A savvy AC buyer waits until winter to make the purchase. Why? Because in the winter, demand for air conditioners is at its lowest and retailers have excess stock in their inventory. To encourage sales, appliance stores usually offer discounts to incentivize buyers to make a purchase during the off season.
Secondly, when it comes to the installation of your York AC, do not compromise on the installer's reputation. Picking a cheaper installer may save you a few dollars, but the costs of repairs and re-installation due to a shoddy installation job may end up being a lot more.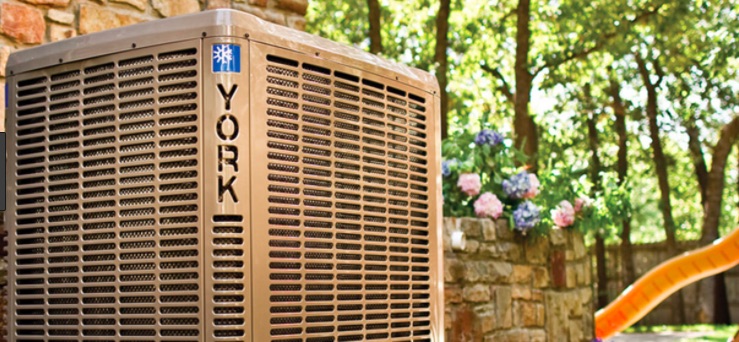 The cheapest quote may not necessarily be the best, especially if the contractor has many dissatisfied customers. It's a good idea to also check the ratings on the Better Business Bureau website so that you know what kind of service and quality you can expect. Wait until fall or spring to install the new system to get an off-season discount from the HVAC contractor, as the contractors are not as busy.
Another way to really save money on a new AC is to check online for any offers, rebates, or incentives being given by your state or local utility for replacing an outdated HVAC system with a newer, more efficient one. In case both the state and the utility company are offering a promotion, you may be able to stack both offers, thus saving yourself a good chunk of money. You should also check with the leading HVAC manufacturers if they offer any rebates.
Finally, ask for multiple bids from contractors before you make the decision. Ask them to factor in any applicable tax rebates and state incentives on efficient appliances into the bid. Keep in mind that you may need to wait a few days or weeks in order to get a quote, so unless it's an emergency, start getting quotes well in advance of when you expect to get the new AC.
What Kind of Warranty Does York Offer? 
Imagine buying a product only to find out that it doesn't work or worse, imagine seeing it suddenly stop working after a couple of weeks. This is a terrifying thought, right? To help ease the customers, each company tries to make their warranty policies as good as they can. 
York has always ensured a higher commitment to their users, and their warranty policies are a testament to that. York is known for offering one of the best warranty policies on the market. Where popular brands only offer a warranty for 6-7 years, York offers a limited warranty for 10 years.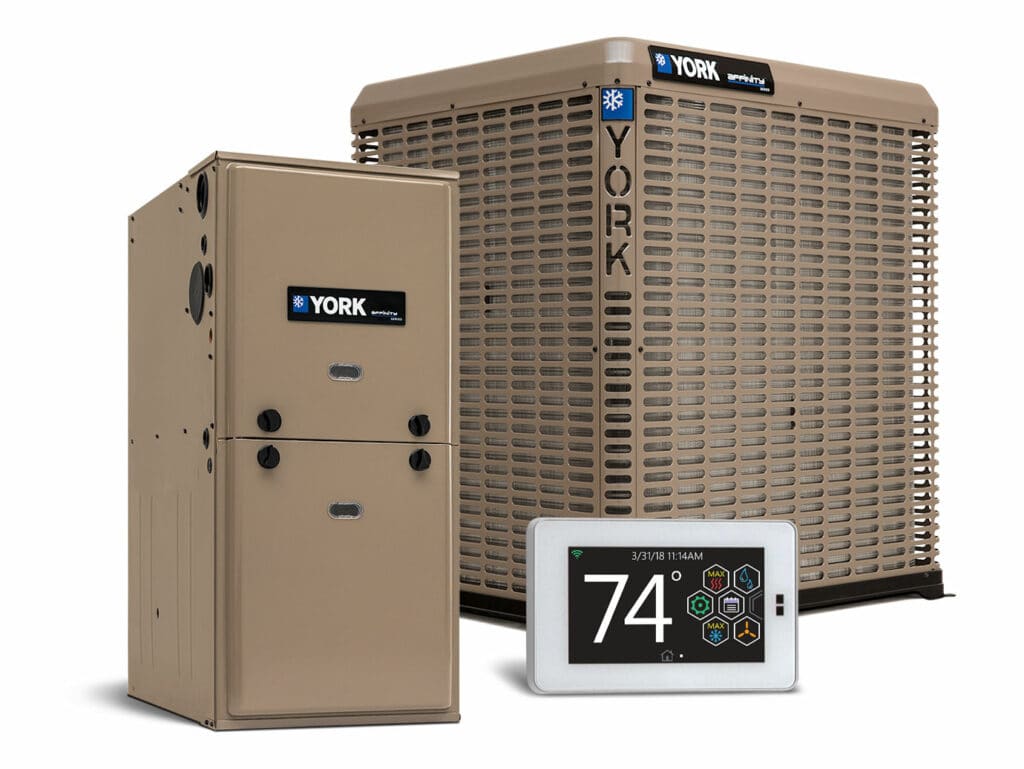 To avail this warranty, however, users need to register their YORK products within the first 90 days of the installation. Failure to do so might result in the company reducing your warranty timing to 5 years instead of 10 years, and many people have lost a significant amount of their warranties due to this careless mistake. Hence it is important that you get your product registered as soon as possible to ensure you get the full 10-year warranty. 
Moreover, a downside to the warranty policy is that York doesn't offer any labor when it comes to claiming your warranty, therefore, you have to spend some extra money out of your own pocket. There are many popular websites on the internet that will help you find cost-effective and trustworthy labor in no time.
Company History
York International Corp. is a global manufacturer of heating, ventilating, air-conditioning, and refrigeration products. It was founded in York, Pennsylvania, in the fall of 1874 by six men. It became a partnership in 1885, the year that the company built its first ice machine.
In 1927 the company was reincorporated in Delaware, with nine affiliated companies, and was renamed the York Ice Machinery Corp. During World War II, York installed air-conditioning and refrigeration equipment aboard the ships of six countries and at military sites.
York's business continued to boom with new innovations in the late 1940s and early 1950s.
In 1956, Borg-Warner purchased the company, making it the York Division of Borg-Warner.

By 1981, York was the second-largest maker of air-conditioning and related equipment in the United States. In 1986, York was spun off as an independent company, York International.
York had operations in more than 120 countries in 1994, including sales and service organizations. At the time of its acquisition by Johnson Controls in 2005, it was the world's largest independent manufacturer of air conditioning, heating, and refrigeration machinery.
Conclusion
York has been providing quality products for over 100 years. Like many of its competitors, York has product lines that suit a variety of budgets and home sizes. Whether you need a central AC or a split, whether you have space constraints or not, York makes a model that is right for you.
When selecting the model you want, take care to choose a reputable contractor for installing the AC, and use our guidelines to get a good deal on the price. 
Interested in researching other AC brands? Read our complete AC buyer's guide here.