A humidifier is a very handy device to have. It hydrates the air around you by adding moisture to it. It can help battle dry conditions and all the problems that are associated with it.
For instance, dry air can cause itching and irritation on the skin. When the air is hydrated, it keeps your skin and even your hair moist and healthy. Apart from that, a humidifier can help reduce asthma and allergy symptoms caused by dry air.
One brand that has gained quite a lot of success with its humidifiers is Vornado. We've picked out some of the best Vornado units available and why you should invest in these.
At a Glance: Our Top Picks for Vornado Humidifiers
Comparison of the Best Vornado Humidifiers

IMAGE
PRODUCT

Our Top Pick

Intelligent humidification and 3 fan speeds
Innovative Vortex technology ensures uniform humidification
Push-button controls are LED-lit for easy visibility

View Latest Price →

Best Budget Option

Weighs only 5.3 lbs for portability
3 fan speeds and 6 output level settings
Innovative water tank design makes refilling and cleaning easy

View Latest Price →

Covers areas up to 1,000 sq. ft.
4-gallon capacity allows long operation and fewer refills
Automatic humidity control with built-in humidistat

View Latest Price →

Energy Smart DC motor technology for higher efficiency
Low-water indicator light and automatic shut-off
Customizable humidity and multi-speed fan settings

View Latest Price →

Who is Vornado?
The name Vornado is quite unique and is actually a combination of the word "vortex" and "tornado." The company is based in Andover, Kansas, and is a well-known brand which manufactures appliances like household fans and other devices related to air circulation. Though the company as we know it today was established in 1989, it has a very interesting history preceding it.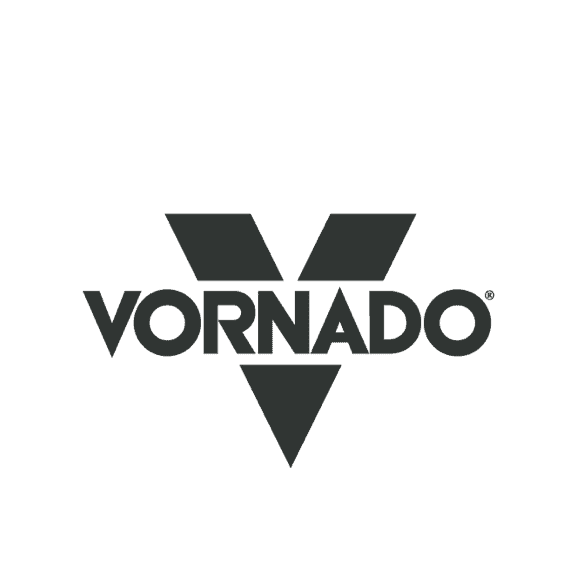 The original Vornado fan was inspired by the design of airplane propellers back in the 1920s and 1930s. The brains behind the idea were Ralph. K Odor and Ottis. A. Sutton. It was after World War II that the very first fan by Vornado was sold under the name Vornadofan by the O.A. Sutton cooperation.
Since then, the company has progressed and has continued to make some of the best household fans and air circulation products in the market. Vornado incorporates the latest technologies and the best design in all their products.
How Does Vornado Compare to the Competition?
Here's a quick overview of why Vornado is a quality company:
Vortex Action Technology
This technology is unique to Vornado products. It enables the air flow to be distributed evenly across the room. How is it able to do that? Well, the fans in all Vornado products move at a continuous speed causing the air in the room to move in a tornado-like manner. When it does so, it ensures that the air flow throughout the room is consistent.
This works much better than the oscillation technology used by many of its counterparts. This technology only provides momentary airflow in a certain direction at a certain time. The reason the Vortex Action Technology works better is that it is able to maintain a pleasant atmosphere regardless of the location.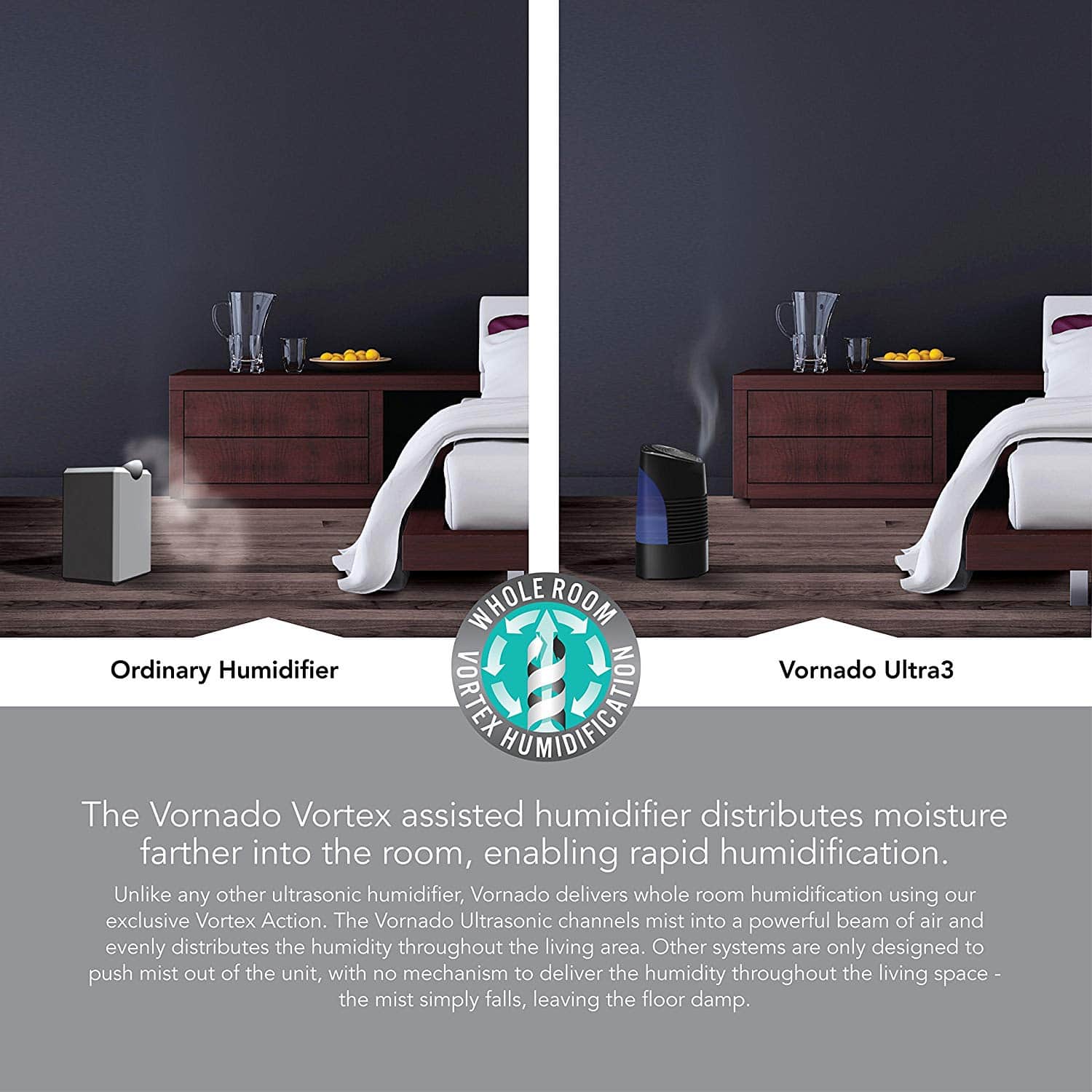 Energy Saving
The most recent models from Vornado are equipped to save energy. Being energy efficient is very important in this day and age. First and foremost, it helps with the environment. Using less energy means using fewer natural resources that are used to make that energy. So, it directly contributes to saving the planet.
Secondly, using less energy also means going easy on the pocket! Vornado takes care of that as all the latest models provide up to 80% of energy savings. This is a great way to be eco-friendly, and the best part is that being energy efficient does not affect the performance of the devices at all!
Purpose-Built Devices
Vornado has a wide variety of products. The good thing about their products is that they are purpose built. You will easily find something that is a perfect fit with your needs. Some good examples can be found in the fans manufactured by the company. For instance, the Zippi fan is the smallest fan made by the company. However, it has an amazingly powerful airflow.
Moreover, it is powered by batteries and be taken just about anywhere. Another great purpose built product by Vornado is the Pivot. This is a small desk fan with a contemporary design that provides both aesthetics and performance.
Review of the Best Vornado Humidifiers
Since we have talked about the company itself, let's dig into some of the best humidifiers Vornado has to offer. In this section, we will be taking a thorough look at the features, pros, and cons of the top five Vornado humidifiers. Let's find out what makes them the best.
Vornado Ultra3 Whole Room Ultrasonic Humidifier
Dimensions: 9.7×9.0x15.8″
Weight: 7.1 lbs.
Decibel Level: N/A
Capacity: N/A
(Max. Water Removal / Day)
We may earn commission from purchases made from our links, at no additional cost to you
Review
The Vornado Ultra3 Whole Room humidifier works with ultrasonic technology. This is different than the usual heat based humidifiers. Ultrasonic humidifiers turn water into a fine but visible mist by using vibrations. This, paired with the signature Vornado Vortex fan technology, enables the humidity to be distributed evenly across the room.
The humidifier has a water capacity of 1 gallon. With this much water capacity, the humidifier can produce up to 2 gallons of output in 24 hours. As mentioned before, the device is equipped with the Vortex Fan system which enables it to cover an area of 600 square feet. Apart from that, the humidifier features various settings that you can adjust easily thanks to the large, LED-lit buttons. The settings include fan speed which can be set to high, medium and low.
Furthermore, the electronic humidistat automatically regulates humidity levels in the room. The device can be set to automatic. In this mode, the fan and the ultrasonic transducer function together to set and regulate humidity levels as needed. Apart from that, the device can also be set on a continuous mode which makes it run constantly until the water supply is exhausted.
The humidifier has a very classy appearance. The exterior is all black with a blue-tinted water reservoir. The combination of blue and black contributes to its appearance and gives it a somewhat professional look as well. Thanks to that, the humidifier can be placed in offices and workplaces as well.
Bottom Line
The Ultra3 Whole Room has a modern and classy look to it; therefore, it can be used in many different settings. The humidifier has quite a lot of features such as the ultrasonic function or the automatic mode which make it popular amongst users. It is a device that can be easily controlled and set up, and that is what makes it a good investment.
Pros
1-gallon water capacity
Spreads humidity evenly across the room
Covers an area of 600 square feet
Uses ultrasonic technology which creates a cool mist
Cons
There is no indicator for the current humidity level
Vornado EV100 Humidifier
Dimensions: 13.0×8.0x12.3″
Weight: 5.3 lbs.
Decibel Level: N/A
Capacity: 8 Pints
(Max. Water Removal / Day)
We may earn commission from purchases made from our links, at no additional cost to you
Review
This little device has a lot of features which make it one of the best products by Vornado. First of all, the design of the humidifier is simple. It does have any twists and turns which make it difficult to operate.
The water reservoir can be removed easily; the controls are all very simple and easy to use as well. Just one touch and the job is well done. The device is lightweight as well. It weighs around 5.3 pounds which makes it easy to lift. You can even take this humidifier from room to room without much of a struggle.
The water tank holds a total of 1 gallon of water. The water tank is see-through, so you can easily tell the level of water the device has. As mentioned previously, the water tank can be removed easily. This makes the entire cleaning, maintain and refilling process very easy.
However, the high water capacity of the tank means that you will not have to go through the process very often. The high water capacity also contributes to the run time; the larger the water capacity, the longer the run time.
Since the humidifier is a whole room humidifier, it covers a maximum of 300 square feet. This is thanks to the vortex fan system which distributes the mist with consistency and power. The device can run for 24 hours when it is filled to the maximum capacity and set to the highest setting.
Bottom Line
The EV100 is small, yet it is no less than any other humidifier. It works with efficiency and provides good results by creating a comfortable atmosphere. It is also very easy to use which just makes the device better.
Pros
Holds 1 gallon of water in its water reservoir
Very easy to use and has user-friendly controls
Evaporative function prevents white dust or wet spots from forming on furniture
Can cover 300 square feet and run for a whole day when set on the high speed
Cons
The wick filter needs to be changed frequently
Vornado Evap40 Humidifier
Dimensions: 10.5×19.5×13.5″
Weight: 9.0 lbs.
Decibel Level: N/A
Capacity: 32 Pints
(Max. Water Removal / Day)
We may earn commission from purchases made from our links, at no additional cost to you
Review
Although it may not look the part but the Vornado Evap40 is not your ordinary humidifier. In fact, it is nothing short of a powerhouse in the world of humidifiers. Weighing a total of 9 pounds, this humidifier has two water tanks. Each water tank can hold up to 2 gallons of water, making up a total capacity of 4 gallons.
Of course, with four gallons of water, you can free yourself from the worry of checking up on the device as it can work for a long period of time without any interruptions. This also means that the area covered by the humidifier is greater than that of your average humidifier. To be specific, the Evap40 can cover an area of 1000 square feet. This is perfect for larger rooms and spaces.
Since the device has two very big water reservoirs attached to its flanks, it is not something that you can easily ignore. However, the design of the humidifier is by no means tacky. It is well designed to suit your convenience and features the control panel right at the front of the device. Through the control panel, you can choose the humidity level, fan speeds, etc.
Bottom Line
Though this may not be the prettiest humidifier you have ever seen, it's also unlike any other. The device puts its bulkiness to good use. It has a water capacity which cannot be found in its counterparts. It even covers a greater area than most of its counterparts. Therefore, it is a good choice if you want to use it in large rooms or workplaces.
Pros
Can cover up to 1000 square feet
Has a very large water capacity
The Vortex fan system ensures even distribution of humidity
Cons
The device is bulkier than its counterparts
Filters need to be changed quite frequently
Vornado EVDC500 Humidifier
Dimensions: 8.1×18.9×12.2″
Weight: 8.9 lbs.
Decibel Level: N/A
Capacity: 16 Pints
(Max. Water Removal / Day)
We may earn commission from purchases made from our links, at no additional cost to you
Review
This is another humidifier from Vornado that uses evaporative technology. The function of an evaporative humidifier is quite easy to understand. It has two major components, a wick filter, and a fan. The wick filter is soaked from the water present in the water tank.
When the fan is on, it blows towards the wet filter causing the water on it to evaporate and come out of the device in the shape of a fine mist. This type of humidifier only provides cool mist. The EVDC500 works in a similar manner.
With the help of its 4 gallons worth of water capacity, it covers an area of 100 square feet. Moreover, the water capacity also enables the device to function for 24 hours without needing a refill. The function of the device is aided by the signature Vortex Fan system. This makes sure that the entire room is getting an equal amount of humidity and that no area is too humid or too dry. All in all, it creates an ideal atmosphere for patients with allergies asthma and other such respiratory diseases.
Bottom Line
The EVDC500 is a device that works effectively and efficiently. It has various features which make the humidifier easy to operate and maintain. Moreover the humidifiers large water capacity and area coverage only adds to the ease of use.
Pros
Ideal for use in larger rooms
Auto shutdown function
Very energy efficient
Water capacity of 4 gallons
Very easy to use with adjustable settings
Cons
Filter needs to be changed at least once a month
Uses a wick filter which can be expensive to replace
Vornado Ultra1 Whole Room Ultrasonic Humidifier
Dimensions: 9.8×18.4×10.8″
Weight: 13.0 lbs.
Decibel Level: N/A
Capacity: N/A
(Max. Water Removal / Day)
We may earn commission from purchases made from our links, at no additional cost to you
Review
No Vornado product can be complete without the Vornado Vortex Fan technology, and that goes for the Ultra1 humidifier as well. With the help of the vortex action fan, this humidifier is able to consistently moisturize the air in an area of 900 square feet. This makes the device ideal to use in medium to large rooms.
Another advantage of the vortex action fan is that it prevents the area around the humidifier from dampening as it propels the mist out with force. Even though the device uses considerable force to project the mist evenly across the room, it works without making a ruckus.
The water capacity of this humidifier is 2 gallons. Since the device has a large water capacity, it is less of a hassle to use as you do not need to check up on the water level again and again. Moreover, the 2-gallon water capacity provides an output of 3.5 gallons in a day. This is more than enough to have a comfortable atmosphere throughout the day.
The Ultra1 can produce both cold and warm mist. Each type of mist has its own benefits so you can choose the one that is more suited to your need at the time. The fan speed is also adjustable. It can be set between three options, namely high, medium and low. The device also lets the user select their desired humidity level. All these settings are controlled by electronic push buttons. The settings are clearly displayed on the LCD screen on the top of the device.
Bottom Line
The Ultra1 is not just your ordinary humidifier. It has a high water capacity as compared to its counterparts and provides a steady output which can go on for hours unattended. Furthermore, the device can produce both cool and warm mist which is another feature that makes it different from your typical humidifier.
Pros
Settings are adjustable
Water capacity of 2 gallons
Can produce both warm and cool mist
Easy to control buttons and a clear LCD display
Cons
Can make a little noise when set on high fan speed
Conclusion
Vornado is a well-renowned brand and is known to make some of the best products in the market. All five products discussed in this review prove that products by the company do not lack variety and versatility. It has something for everyone.
Furthermore, qualities like large water capacity and greater area coverage attract users to Vornado products. And of course, we cannot leave out the full room coverage option as that is what makes these products so unique.