Not all rooms in a home or office building are designed to host large air conditioning units.
Sometimes you need to compromise, but that doesn't mean you can't receive quality airflow. 
Here's our guide to buying the smallest ceiling fans to provide that comfort that you deserve.
Comparison of the Smallest Ceiling Fans
IMAGE
PRODUCT

Our Top Pick

Includes a pull chain for easy operation
Includes dual-finish reversible blades
Features 2 LED light bulbs

View Latest Price →

Designed for small indoor rooms
Makes little noise when in operation
Very easy to operate and install

View Latest Price →

Best Budget Option

Best for the Money
Can be used to improve decorative aesthetic
Has a conveniently quite motor

View Latest Price →

Smallest Ceiling Fan With Light
Features 3 metallic fan blades
Provides great air flow

View Latest Price →

Smallest Outdoor Ceiling Fan
Made with great quality metal
Can be controlled via a button

View Latest Price →

Smallest Kitchen Ceiling Fan
Has a compact and contemporary design
Includes 15W dimmable LED light bulbs

View Latest Price →

Smallest Flush Mount Ceiling Fan
Designed to be used indoors
Makes very little noise when in operation

View Latest Price →
What to Look For When Buying a Small Ceiling Fan
When you're reading through our reviews of the smallest ceiling fans or shopping online, there are a few significant factors you should take into account. Let's look at some of them now.
Blades
Since you have limited space to play with, you'll need to check the blade span. You don't the ceiling fan hitting your walls or any nearby furniture. It should also provide both cooling and warming with reversible blades for the summer and winter months.
Performance
Just because the unit is small doesn't mean you can't find a ceiling fan with decent performance. Ensure that you look at the specs for how much airflow it delivers in cubic feet per minute (CFM). You'll also want to see how efficient it is, so check if it mentions wattage to determine the CFM/W.
Mounting
We've already indicated that you need at least seven feet between the floor and ceiling fan. To ensure that you remain compliant, look at the mounting methods of the unit you want to buy. For low ceilings, you'll want a flush, hugger, or surface-mounted fan. If you have a high ceiling, you should aim for one with a downrod.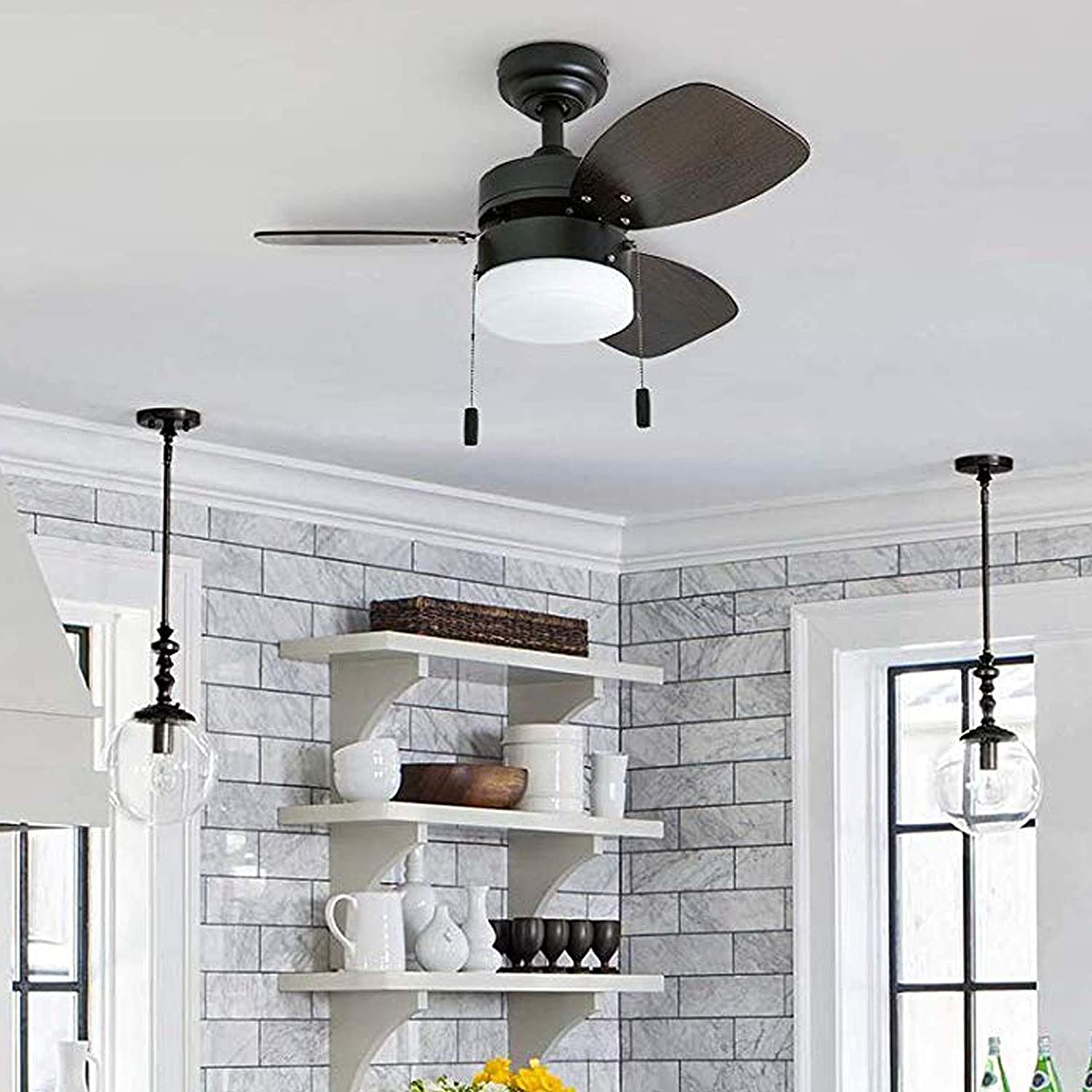 At a Glance: Our Top Picks for Smallest Ceiling Fans
Review of the Smallest Ceiling Fans
Let's head into our review of our selection of the smallest ceiling fans available on the market.
Honeywell Ceiling Fans 50602-01
Dimensions: 16.73 x 8.78 x 9.45″
Special Features: Reversible
We may earn commission from purchases made from our links, at no additional cost to you
What Recent Buyers Report
Customers indicated that this Honeywell ceiling fan is an excellent addition to kitchens, bedrooms, and offices with small spaces. There's sufficient airflow and brightness, despite many buyers replacing the supplied lights. Some reviewers were pleased with the inclusion of a downrod.
Why it Stands Out to Us
This Honeywell product has a beautiful design with an espresso bronze finish on the housing. You can choose which side of the blades you want to install, with light oak on one side and satin nickel on the other. There are also three reversible speeds for different temperatures throughout the year.
Speaking of temperatures, the light fixture emits 2,700 K with 450 lumens. While this brightness is low for large spaces, you need to bear in mind that manufacturers design the smallest ceiling fans for areas up to about 100 sq ft. For this purpose, the light and airflow are more than enough.
Bottom Line
Honeywell's 30" ceiling fan has a beautiful design with dark colors and stunning style. It's fantastic seeing a color rendering index (CRI) of 80 on such a small unit, a feature we don't often see on these fan sizes. You'll receive radiant light with excellent detail.
Pros
Includes 4" downrod
Three-speed reversible motor
30" fan size with dual-finish blades
Compatible with universal Honeywell remotes
Excellent lighting with 450 lumens, 2,700 K, and 80 CRI
Cons
No flush mounting for low ceilings
Slight humming noise during operation
Litex BRC30WW6L
Dimensions: 30 x 30 x 11″
Special Features: Reversible
We may earn commission from purchases made from our links, at no additional cost to you
What Recent Buyers Report
Many buyers aimed for this product due to the small 30" design and white finish. After the easy installation, they were pleased with how well it looked in their rooms. Reviewers also mentioned that the airflow and brightness were sufficient for small spaces.
Why it Stands Out to Us
Nothing expresses purity more than a ceiling fan with a complete white design. The frosted glass bowl does an excellent job of complementing the appearance with a soft white light. With the flush mounting, you can install this unit in any room with a low profile.
We usually aim for products with three to five blades, but the six-blade layout's symmetry is unique and makes it stand out among the rest. While there's a pull-chain feature, you can also switch the fan on and off with a button switch. The lightweight design makes it easy to install, clean, and maintain.
Bottom Line
This Litex unit is the perfect runner-up for the best smallest ceiling fans with its white appearance, low weight, and superb lighting. If you're installing it in a small room, you're sure to receive adequate airflow and temperature control.
Pros
Reversible speeds
Beautiful white finish
Fifteen-year warranty
Six blades over a 30" fan diameter
Flush mounting for low profile ceilings
Cons
Limited mounting options
Supplied bulbs have a short lifespan
Prominence Home 51587
Dimensions: 17.05 x 9.88 x 9.09″
Special Features: Reversible
We may earn commission from purchases made from our links, at no additional cost to you
What Recent Buyers Report
With a choice between the 30" and 48" models, many customers bought the former for smaller rooms. The installation was easy for both buyers and professional installers. One customer was so pleased that they purchased another two for the rest of the house.
Why it Stands Out to Us
Not only is the 30" ceiling fan option excellent for small areas, but it also only consumes 5 W without the lights. The CFM/W airflow efficiency is fantastic when you consider this measurement. The three blades deliver excellent speeds, granting you three levels from which to choose.
When it comes to appearance, we particularly like the contrasting finishes. The housing has an oil-rubbed bronze design while you have a light wood color on the blades. As a final touch, the white glass light bowl delivers a warm light of 500 lumens.
Bottom Line
If you're on a tight budget and worried about which of the smallest ceiling fans is the best value for money, look no further than the Prominence Home 51587. There are low maintenance and utility costs, and you won't break the bank purchasing it.
Pros
Three blades with reversible speeds
Bronze finish with light wood blades
Silent motor with only 5 W consumption
Downrod mounting for standard ceilings
Glass bowl lighting delivering 500 lumens
Cons
Limited lighting options
No flush mounting option for low ceilings
Smallest Ceiling Fan With Light
Fanimation Studio Collection LP8350BLAZ
Dimensions: 19.69 x 19.69 x 12.8″
Special Features: N/A
We may earn commission from purchases made from our links, at no additional cost to you
What Recent Buyers Report
Many customers loved the cage design of this ceiling fan, remarking that it's perfect for tiny spaces. While it has a tricky installation with the lights and blades inside the dual-cage layout, they were impressed with the final result. Buyers were also happy that it came with a remote instead of pull chains.
Why it Stands Out to Us
This Fanimation unit is by far the best smallest ceiling fan with lights. The roll cage design presents a magnificent sight when the inner lights glint off the black metal. While the 1,472 CFM may sound low, it's powerful enough to affect you in small spaces.
We must admit that we're fond of seeing the three blades within the cage design. It creates better safety than with external blades, as a loose component will merely fall on the metal bars. Furthermore, we agree with buyers that remote control is better than pull chains for this product.
Bottom Line
If you have a small room with a high enough ceiling for a downrod, this Fanimation ceiling fan will make an attractive feature. The aged bronze color fits well with dark themes in any environment, but we particularly enjoyed it in a kitchen setting.
Pros
Remote control
Airflow of 1,472 CFM
Includes 4.5" downrod
20" fan size for tiny spaces
Three blades with three reversible speeds
Cons
Challenging installation
Limited options for mounting
Smallest Outdoor Ceiling Fan
TroposAir Mustang 18″ Oscillating Ceiling Fan
Dimensions: 20 x 13 x 10″
Special Features: N/A
We may earn commission from purchases made from our links, at no additional cost to you
What Recent Buyers Report
Customers used these ceiling fans in tight spaces, with a few opting to install them in their garages. Many buyers were surprised at how challenging the installation was for such a small unit but were generally pleased with the results.
Why it Stands Out to Us
The first aspect that catches our attention is the ability to tilt the motor and housing to direct the airflow in a specific direction. You can also switch it to oscillate from left to right to cover a greater area. It's like having a standing fan in your room, with the unit attached to your ceiling rather than resting on the floor.
The appearance is enjoyable, too. It has a lightweight design with an aluminum body, while the blades deliver an impressive 2,050 CFM. Even with a smaller span, it has a better performance than some 20" models. However, the concentration is lower, and it covers a smaller area.
Bottom Line
If you love standing fans that move from left to right but have no space on your floor, this ceiling fan is perfect for you. It might be limited in functions and features, but it pushes an immense amount of airflow for such a tiny unit.
Pros
Protruding mounting
18" fan size for outdoor areas
Airflow performance of 2,050 CFM
Aluminum body with oscillating function
Adjustable hinge to change the airflow direction
Cons
No light fittings
Challenging to install and adjust the tilt
Smallest Kitchen Ceiling Fan
Minka-Aire F510L-ORB
Dimensions: 26 x 26 x 11″
Special Features: N/A
We may earn commission from purchases made from our links, at no additional cost to you
What Recent Buyers Report
When shopping for small kitchen ceiling fans, buyers loved how well this unit delivers airflow and lighting. The wall switch has settings for brightness and motor speed, but some wished for a universal hand-held remote instead. Of all the features, they enjoyed the oil-rubbed finish the most.
Why it Stands Out to Us
We love this unit for small kitchens thanks to the compact design and small blades. It also helps that it has flush mounting for low profile ceilings. For lighting, it features a glass bowl that emits sufficient light with its 5 W LED fitting.
The most impressive feature is the wall remote. There are two knobs that you can raise and lower for fan speed and brightness, each with four different selections. The motor is also reversible so that you can heat and cool your kitchen at any time.
Bottom Line
The Minka-Aire ceiling fan is a fantastic option for small kitchens with low ceilings. You'll have a wall unit for setting your lights and fan speed, while the oil-rubbed bronze will liven any space in your home. It might not be the smallest ceiling fan on our list, but it provides excellent airflow performance.
Pros
Compact 26" design
Exquisite wall remote
Four reversible speeds
Dimmable LED light fitting that uses 5 W
Three oil-rubbed bronze blades with 14° pitch
Cons
Wall remote wiring is challenging to install
Minka-Aire universal remote doesn't work with this unit
Smallest Flush Mount Ceiling Fan
Westinghouse Lighting 7230700
Dimensions: 30 x 30 x 12″
Special Features: Reversible
We may earn commission from purchases made from our links, at no additional cost to you
What Recent Buyers Report
Few customers had anything bad to say about this ceiling fan. The flush mounting is perfect for low ceilings, making it compatible with most rooms in the house. The installation was easy, and they loved how much light and airflow it produced.
Why it Stands Out to Us
We adore how the rosewood blade finish stands out against the brush nickel housing, so we prefer it over the light maple side. The light delivers 800 lumens, which is quite bright for small areas. The airflow of 2,146 CFM isn't too bad either, so you'll receive proper air circulation. 
If your ceiling is about 8 feet high, the flush-mounting system will ensure that you remain within the building regulations. You'll also have a lifetime warranty on the motor and two years for any other components. This feature is perfect for when the ceiling fan stops working correctly after a few months or years.
Bottom Line
Westinghouse Lighting is a well-known brand for providing quality ceiling fans, and this product is no different. You'll receive both powerful airflow and optimal lighting for small spaces, while the flush mounting caters to homes with low ceilings.
Pros
Reversible speeds
Airflow of 2,146 CFM at 53 CFM/W
30" dual-finish blades with rosewood and light maple
Glass bowl light fitting with 10 W Omni LED kit for 800 lumens
Lifetime motor warranty and two years on the other components
Cons
No dimming function
Doesn't include an anchor for installation support
Smallest Ceiling Fan Without Lights
Gulf Coast Fans 26″ Mini Breeze
Dimensions: N/A
Special Features: N/A
We may earn commission from purchases made from our links, at no additional cost to you
What Recent Buyers Report
There are few reviews for this ceiling fan. Of the ones we found, there's mention of an easy installation until you reach the wiring and blades with the hidden screws. Otherwise, it's a pleasant unit with a beautiful design.
Why it Stands Out to Us
This 26" ceiling fan appeals to us due to its satin finish and paddle-blade design. It has a ball-hanging mount system that makes it suitable for vaulted and flat ceilings. The blade irons are skirted, the screws hidden so that it doesn't detract from the unit's stunning appearance.
The four blades run on three variable speeds that are reversible. You can opt for the same satin steel finish or turn it over for black if you'd like contrasting colors. The motor has a 50-year warranty, ensuring that you're covered if it doesn't last as long as the expected lifespan.
Bottom Line
This model provides a quaint look for any small room, offering four-blade, three-speed functionality. While the blade irons may be challenging to install, you'll love how the screws are hidden from view.
Pros
Satin steel finish
50-year motor warranty
Three reversible speeds
Four blades with dual-finish
Ball-hanging mount for vaulted or flat ceilings
Cons
Tricky wiring
Challenging to install blades
Smallest Low Profile Ceiling Fan
Westinghouse Lighting 7236600
Dimensions: 24 x 24 x 12.13″
Special Features: Reversible
We may earn commission from purchases made from our links, at no additional cost to you
What Recent Buyers Report
Buyers were pleased with how the ceiling fan performed in small spaces, thanks to the low profile downrod mounting. One reviewer mentioned how it cooled the kitchen down to such an extent that the cats enjoyed the cool breeze. Another one said that it works well on slanted ceilings, too.
Why it Stands Out to Us
The fan blades have a huge pitch, but the effect looks fantastic and saves aerial space. While it's a low profile unit, there's a short downrod so that you can install it on slanted ceilings. It delivers 1,259 CFM airflow that's more than enough for rooms up to 100 sq ft.
As usual, we love referring to the aesthetics of the products we review, as appearance is everything when visitors first look at the ceiling fan. You can choose between beech and wenge blade finishes but turning to the appropriate side. The housing has a chrome color that makes it pop in any setting.
Bottom Line
This ceiling fan has an excellent performance in terms of airflow and brightness in small spaces, with 800 lumens being more than sufficient. While we expected flush or hugger mounting, it was a pleasant surprise to find a downrod included.
Pros
Downrod mounting
Lifetime motor warranty
Airflow of 1,259 CFM at 43 CFM/W
Chrome housing finish with frosted opal glass
Dual-finish blades with wengue and beech finishes
Smallest Ceiling Fan For Bathrooms
Quorum 51306-8
Dimensions: 18.05 x 11.16 x 7.6″
Special Features: Remote, Reversible
We may earn commission from purchases made from our links, at no additional cost to you
What Recent Buyers Report
Customers indicate that the ceiling fan is incredibly straightforward to install. They boast that it provides adequate temperature control for small rooms, but it doesn't perform well in locations with intense heat. There was also praise for its silent running.
Why it Stands Out to Us
The Medallion Collection's white color and design are an excellent match for any small bathroom. If you have a low ceiling, the flush mounting will help you keep the ceiling fan at least seven feet from the floor as per building regulations. While the 1,142 CFM may struggle to cool excessive heat, it still delivers fantastic performance for its size.
The six white blades present beautiful harmony against a light ceiling, or they could deliver a stark contrast against darker colors. Despite having no lights or remote control include, its flexible design lets you install compatible fittings. Feel free to reverse the motor for those cold winter nights when the bathwater doesn't feel warm enough.
Bottom Line
You'll enjoy the elegant touch that the ceiling fan brings to your bathroom, with six blades and reversible speeds. If you decide to move it from your bathroom to a different location, you can always add to its glory with exquisite LED lights.
Pros
Six blades with 26° pitch
30" fan size for small bathrooms
White Medallion Collection finish
Airflow of 1,142 CFM at 36 CFM/W
Adaptable for light fittings and remote
Cons
Light kit and remote sold separately
Airflow insufficient for excessive hot climates
When Would a Small Ceiling Fan Come in Handy?
There are several uses for the smallest ceiling fans, so you're not alone in considering owning one. Here are some of the reasons why you'd buy them.
Small Homes or Apartments
Not everyone can afford a luxurious mansion. With the economy the way it is today, most people have to settle for small rooms in a house or apartment. Since building regulations dictate that the unit must be at least seven feet from the floor with ample space around it, obtaining one of the smallest ceiling fans may be your only option.
On the Road
If you love traveling in your motorhome, the built-in air conditioning may not be sufficient. Fortunately, you can get compact ceiling fans that are suitable for RV installation. You'll need to ensure that the blades don't extend to the edge of the bed or dining table.
Into the Wild
You might enjoy camping in the wild, sitting on your porch, or spending weekends by the riverside in your tent. Portable units that you can clip up onto an overhanging surface for convenience are the best solution for these adventures. Small ceiling fans are perfect due to the lightweight design and battery efficiency.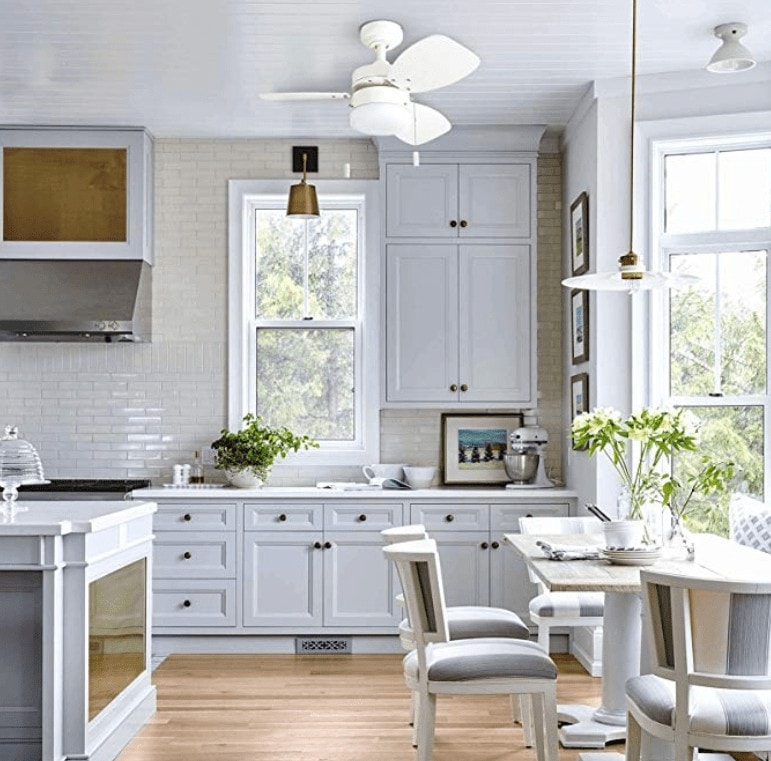 Are All Small Ceiling Fans The Same?
It would be a dull day in paradise if all of the smallest ceiling fans looked and performed the same. Thankfully, each one has a different design that features unique specifications for the finish, blade pitch, span, airflow, and style. That's why it's crucial to read guides like this so you can determine which are your best choices.
The brand name is also essential. Many manufacturers are well-known for creating quality ceiling fans, such as Honeywell, Hunter, and Westinghouse Lighting, to name a few. Each one has a specific way of designing their products, which may include light fittings, remote control, and fancy casings.
Cautious Considerations to Keep in Mind
When purchasing any of the smallest ceiling fans listed above, you should keep the following factors in mind.
Choosing the Right Size
Selecting the correct size fan and blades for your room is of utmost significance. You don't want it to take up too much space, but you also want to ensure that you receive enough airflow. Furthermore, you'll need to make sure that it's the right height from the floor so that it doesn't hit anyone's head.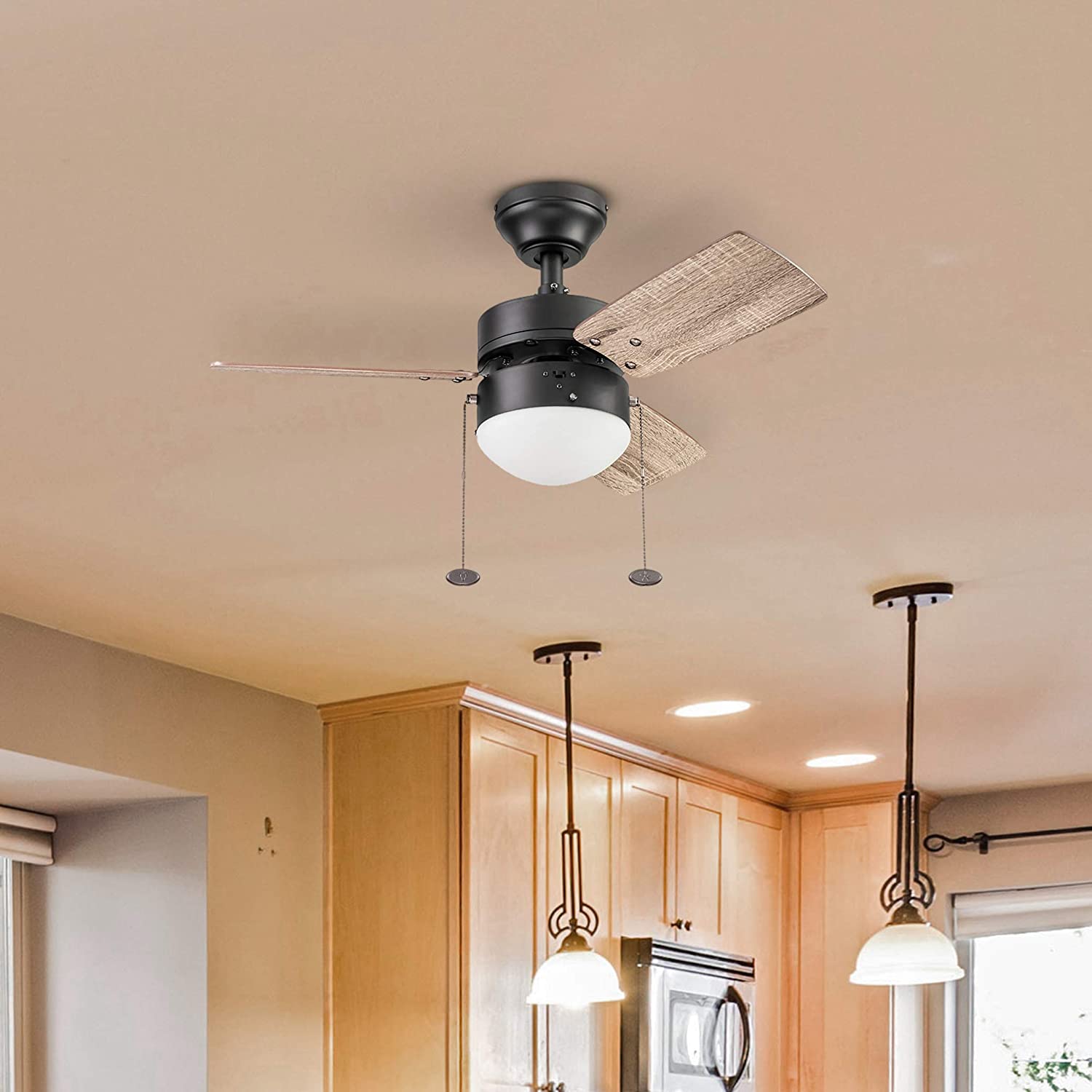 Small Parts
When you unpack and install the ceiling fan, beware of small parts. It's easy to lose them, specifically the screws, nuts, or washers. Take extra steps to label and store them safely until you've secured them in place.
Lighting
Buying a small ceiling fan with a light is beneficial for rooms where you're replacing the primary lighting source. However, you should ensure that the bulbs emit enough lumens for the area. It shouldn't be too bright or low while having dimming capabilities is advantageous. 
Advantages of Investing in a Quality Small Ceiling Fan
You may be wondering if buying any of the smallest ceiling fans has any benefits. Well, we believe that there are indeed a few. 
Affordability
The central theme you'll find with these units is that they're affordable compared to larger ones. However, just remember that they're built for a specific purpose. It doesn't make financial or practical sense to save money on a small fan for a large room where you won't feel any airflow.
Efficiency
As a complement to the above statement, small ceiling fans are also very efficient. They use less wattage, which in turn increases the CFM/W. Your utility bill will be lower, and your bank balance will thank you.
Temperature Control
Ceiling fans don't merely contribute to air circulation. Even the smallest ceiling fans have reversible blades so that you can cool and warm the room in summer and winter. This aspect may be incredibly significant if you live in a small apartment that becomes extremely hot or cold.
Types of Small Ceiling Fans
Shopping for the smallest ceiling fans can be exciting when you realize how many different types are available. 
Ceiling Fan with Light
Despite the small size, you can still find ceiling fans that have light fittings attached. You might find several variations, such as LED, glass bowl, halogen, and incandescent lights. It depends on the look you're going for as well as bulb lifespan and functionality.
Ceiling Fan with Remote and Light
Most small ceiling fans have a pull-chain to control the brightness and blade speed. However, you may find some that have remote control capabilities to dim the lights at leisure. We've even seen some that let you control it with your voice.
Damp-Rated Ceiling Fan
These ceiling fans generally have a specific rating for whether they operate under damp or humid conditions. It's useful when you plan to install it outside or in an environment where there are storms or constant rain. 
Low Profile Ceiling Fan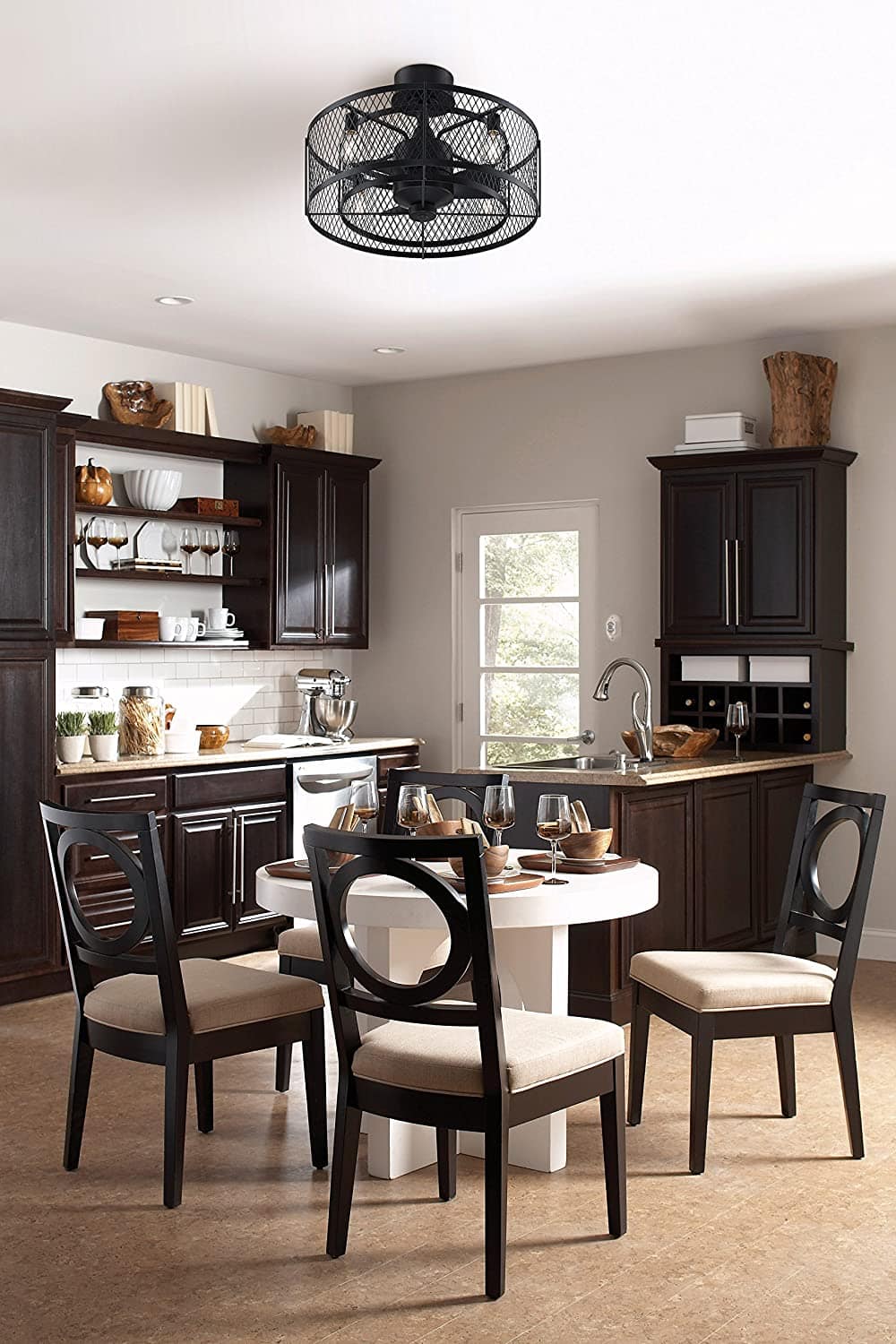 The unit you'll encounter the most for small rooms is the low profile ceiling fan. These hug the ceiling so that you have more space in the area to walk around, specifically when you have a low ceiling. Instead of a downrod, you'll find a flush mounting system.
Small Ceiling Fan vs Stand Up Fan – Comparison Overview
Some people prefer to buy a stand-up instead of a ceiling fan for its simplicity. Let's take a look at the features you'll find with both and how they differ.
Airflow Distribution
While both serve to circulate the room's air, the stand-up version has a more concentrated focus on a specific area. The ceiling fan has better distribution and covers the entire room if you bought the correct size.
Functionality
Ceiling fans have reversible fans so that you can warm or cool the room depending on the time of year. Stand-up units don't have that luxury and generally only serve as a cold breeze on a hot summer's day.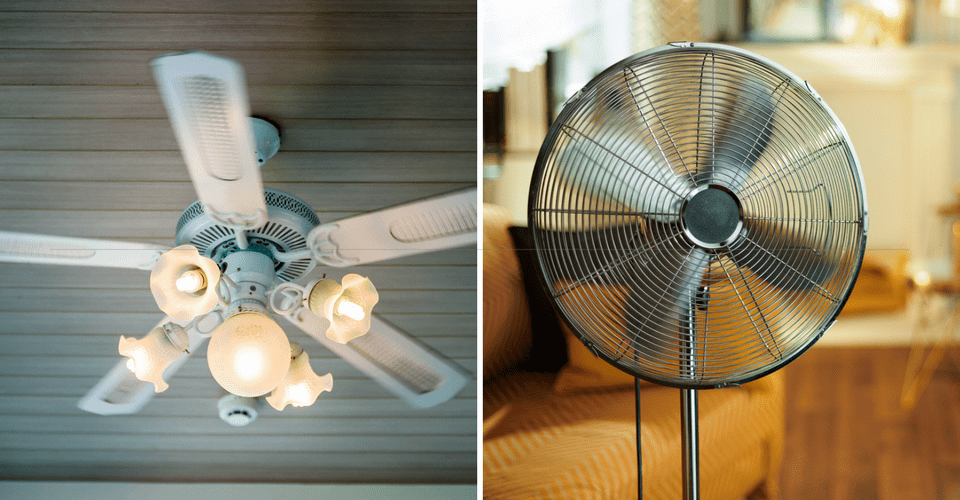 Additional Features
You may want some light fittings or remote control with your ceiling fan, which may also present other extra features. Unfortunately, stand-up ceiling fans have limited options, such as pressing buttons for speeds. For this reason, they're more affordable than ceiling fans.
Portability and Installation
Stand-up fans win the title for transporting and moving around the house, even if you buy a portable ceiling fan. There's no need to assemble and disassemble the unit or mount it back into place. It also has a better resistance against the external elements, and you can comfortably sit with it on your porch or at the beach.
Conclusion
Finding the smallest ceiling fan for your room or apartment can be challenging, especially with so many factors to consider. We hope our article has guided you towards the perfect choice. 
People Also Ask
If we've left you with some burning questions, here's a quick look at some FAQs. Feel free to leave us a comment if you still have something you'd like to know.
What is the Smallest Size Ceiling Fan?
The smallest ceiling fan is 29" if you're looking to cover a 50 sq ft room. You might find something smaller, but they won't perform as well or deliver the quality you need.
Do Small Ceiling Fans Work?
Yes, if you place it in the right environment for the correct room size. If you install a small ceiling fan in a massive room, you won't feel the intended effect.
Are 3 or 4 Blade Fans Better?
We prefer the three-blade design due to its symmetry, but an extra one can generate more airflow due to less space between the blades. However, it also creates more weight and causes more wear on the motor.
Can You Use a Small Ceiling Fan in a Bathroom?
Yes, you can, but all it will do is circulate the air and steam around the room unless you crack open a window. Extractor fans work better in this regard since it eradicates the moisture and keeps your bathroom better ventilated. However, these are usually more expensive for purchasing and maintenance.