Coming home from a long and hard day of work in the hot weather calls for a relaxing environment, which is where a ceiling fan with great cooling comes in handy. There's no such word to describe the feeling of relief when you sit back on your couch and relish in the cold air coming from the fan. But how do we get there? By buying a good-quality ceiling fan, of course.
This article takes you through one of the best ceiling fan manufacturers, Craftmade, which has stayed in the industry long enough to know exactly what you need. There are so many styles to choose from that we can guarantee you will find something best suited for you. 
We've formulated a list of all the necessary details and top products so your fan search can be an absolute breeze. So, let's go ahead and explore!
At a Glance: Our Top Picks for Craftmade Ceiling Fans
Comparison of the Best Ceiling Fans by Craftmade
IMAGE
PRODUCT

Our Top Pick

Highlighted by cold rolled steel for enhanced sturdiness
Manual reverse function with five different speeds
With an airflow of 1056 cubic feet per minute

View Latest Price →

Silicone steel body perfect for kids room
Hangs at 17 inches from the ceiling
Highlighted by attractive matte white opal glass

View Latest Price →

Best Budget Option

Best for the Money
Featuring a blade sweep of 58 inches
Noiseless motor performance with whisper wind technology

View Latest Price →

Best Craftmade Outdoor Ceiling Fan
Including a handheld and wall remote control
Built to last with heavy-duty aluminum blades

View Latest Price →

Soft lightweight fans for energy-efficient performance
Featuring yellow and green ABS blades
Made out of glass and silicone steel

View Latest Price →

Best Craftmade Sonnet Ceiling Fan
Offering an energy-efficient lighting kit of 1300 lumens
Highlighted by a sweep diameter of 70 inches

View Latest Price →
What Makes Craftmade Products Stand Out From the Competition?
With over 35 years of experience in the industry, it's safe to say that Craftmade is quite the master of ingraining its phenomenal experience and tacit knowledge into every one of its products. 
The company takes pride in putting training, design, dedication, and commitment as the top-most priority. These priorities are what's responsible for nurturing the company, which has now grown to become one of the biggest multi-channel suppliers in the United States.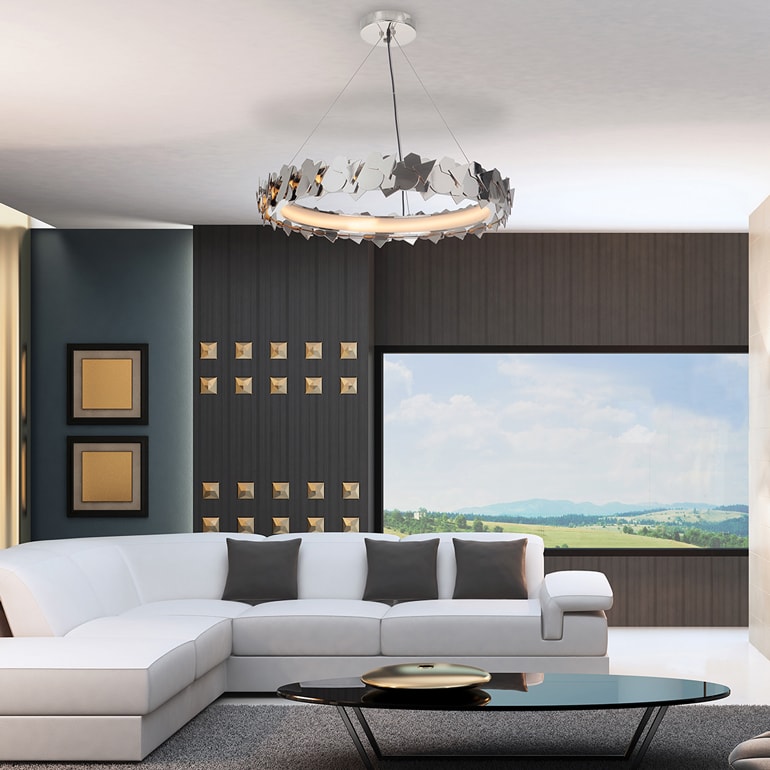 Distinctive, High-Quality Offerings
Achieving this has a lot to do with the company offering distinctive items showcasing immaculate quality at competitive pricing. How they have managed to corroborate these attributes can be traced back to their efficient utilization of resources, efficiencies, buying power, and partnerships. They operate over 40 different factories in China, Taiwan, and the US, which aids in attaining economies of scale and hence, high-quality product offerings. 
Reliability
They have managed to build their image as a reliable brand that makes great ceiling fans. These high-quality fans can help consumers save a lot of energy in terms of cooling costs. This is because the fans are known to be extremely energy-efficient, even at higher fan speeds. The superior quality also elevates the longevity of the products. 
Great Warranty
Lastly, Craftmade provides a warranty anywhere from one to six years to even limited lifetime warranties on several of their products. This would cover repairs, maintenance, and, at times, even replacement. On top of that, some fans even come with an additional year of warranty for the accessories alone, which is quite uncommon if we look at competitors.
Review of the Best Craftmade Ceiling Fans
Now that we know who Craftmade is, let's elaborate on some of their ceiling fan models. All of these models ensure exceptional quality, optimal functioning, good aesthetics, and energy efficiency. 
Craftmade BRC52WW5C
Dimensions: 52 x 52 X 13.5
Special Features: Reversible
We may earn commission from purchases made from our links, at no additional cost to you
What Recent Buyers Report
Most customers were very happy with what they got out of this purchase. The build quality was highly appreciated. Individuals who were looking for fans with lighting were very satisfied with the fact that the bulbs were included. They also reported how easy and quick the entire installation process was.
Why it Stands Out to Us
The Craftmade BRC52WW5C is one of the best fans that the company has come up with. It is beautifully designed and comes in a great variety of color and material options. The BRC52WW5C variant comes in construction of cold-rolled steel with an aesthetic and minimal white finish.
It has a function lighting kit integrated into its design. The glass shades for the bulbs have a white frosted finish, giving them a modern profile. It comes with four 60-watt candelabra A15 bulbs included in the box, which are dimmable.  
This is a high-quality product backed up by 15 years of limited warranty. All in all, it has everything you could want out of a traditional fan and more.
Bottom Line
This light kit integrated fan is perfect for large rooms. It would not only provide a great airflow in summer evenings but also great lighting in the nights. Most people who bought one either bought another or recommended it to a friend. We don't see how anyone can go wrong with this!
Pros
Comes with a 15-year limited warranty 
Three-speed pull chain with reversible motor
Five white/washed oak 52″ reversible blades and light kit included
Can be controlled by wall control and is adaptable to remote control
Modern and aesthetic design which is constructed with quality in mind
Cons
Some users reported they were unbalanced and noisy at high speeds
Craftmade WB348TS3
Dimensions: 48 x 48 X 17
Special Features: N/A
We may earn commission from purchases made from our links, at no additional cost to you
What Recent Buyers Report
Users who bought it for their kids' room seem very satisfied with this purchase. The fan is very quick and easy to install with a small flush mount installation. Many customers loved how it looked on the wall and that it came with the light kit included in the box.
Why it Stands Out to Us
This ceiling fan is the perfect way to accessorize your kids' room. It is from the warplane collection, with this variant having the tiger shark finish. So, you get not only a functional fan but also a unique design.
The WB348TS3 has an integrated light kit as well, which helps brighten up the room quite decently. It comes with a 60W candelabra B10 bulb, which is dimmable.
It is built with a silicon steel body with plywood fan propeller blades. The bulb is housed behind a matte glass cone, which provides a modern touch to a traditional profile. To top it all off, you get a 30-year limited warranty, assuring you of the quality of this fan.
Bottom Line
To sum up, the fan would make a great addition to any kids' room, though the motor is equipped to provide optimal air movement for a medium-sized room that's up to 12 by 14 feet. All in all, we think this multifunctional light kit integrated fan for a variety of purposes.
Pros
Comes with a 30-year limited warranty
Three-speed pull chain for reversible motor
Three Tiger Shark 48" blades and light included
Separate pull chain for switching a light bulb on and off
Unique design which is perfect for kid's room, especially if they want to be a pilot
Cons
Some users reported that the airflow wasn't efficient for larger rooms
Craftmade VE58W3
Dimensions: 24.72 x 8.64 X 8.79
Special Features: Reversible
We may earn commission from purchases made from our links, at no additional cost to you
What Recent Buyers Report
Recent buyers loved how easy and quick this fan was to install. It also moved a lot of air on high, all while being quite silent. Though it seems to have an old school and traditional design, it went well with most customers' modern aesthetic. Almost every customer who bought this fan recommended it further or got another.
Why it Stands Out to Us
The Craftmade VE58W3 is an industrial fan built with functionality and efficiency in mind. It has a nonreversible motor which comes with four different speed modes. At high speed, it provides 93 cubic feet per minute per watt of airflow efficiency. 
This fan has a minimalist design with solid metal construction, making it very sturdy and well-built. It comes in three different painted finishes, namely white, flat black, and stainless steel.
It gives manual control to the user through wall control. This fan is best for indoors and will work well even on the hottest summer days. All in all, we don't see any reason why this wouldn't be the best choice for anyone.
Bottom Line
We can safely say that this fan is definitely worth the price. It may seem simple compared to other fans, but it makes up for it with its heavy-duty motor and construction. Moreover, it will last you a long time due to its custom-made ABS-blended blades. We highly recommend checking the Craftmade VE58W3 out.
Pros
Comes with a 30-year limited warranty
Offers several different simple and minimal designs
Four-speed options with the heavy-duty non-reversible motor
Three 58" propeller fan blades and downrod included in the box
Industrial build quality with metal construction and painted finish
Cons
Does not come with light kit adaptability
Best Craftmade Outdoor Ceiling Fan
Craftmade MND72BNK6
Dimensions: 35.76 x 10.7 X 11.14
Special Features: With remote and reversible
We may earn commission from purchases made from our links, at no additional cost to you
What Recent Buyers Report
Almost all the customers were extremely happy with this incredible fan. Like with most Craftmade fans, the MND72BNK6 was very quick and easy to install. It accessorized any environment or layout it was placed in and worked very well. Even at high speeds, the only noise that the fan caused was that of the wind, and that too was quite pleasant.
Why it Stands Out to Us
The reason this ceiling fan stands out to us is that it's an incredibly well-built piece of machinery. It boasts a metal construction with plastic, making it very durable and sturdy. It works in any environment you want to place it in, be it indoors or outdoors.
The design is unique, with six aluminum blades and a silicon steel body. It features an industry-grade motor which can be controlled by a handheld remote for your ease. It provides 176 cubic feet per minute per watt of airflow efficiency.
Lastly, it features a light kit adaptable option with LK104 LED bulb, which is sold separately. All in all, this is definitely worth the investment as it would last you a very long time.
Bottom Line
Overall, this industrial fan will work well in rooms larger than 18'X20'. It is built to be compatible with damp outdoor locations, meaning you don't have to think about where to place them. The best thing is that even if you encounter an issue, the company offers great customer service on top of the lifetime warranty. We honestly cannot recommend Craftmade MND72BNK6 enough.
Pros
Comes with a lifetime warranty
Controlled through wall control and DC remote
Simple yet unique design which is built with solid materials
Second-generation six-speed reversible motor which also saves energy
Six 72″ Blade Sweep and 6″ Downrod included with light kit adaptability
Cons
Some users reported a slight bend in the downrod and clicking noise on low speed
Best Craftmade Bloom Ceiling Fan
Craftmade K10367
Dimensions: 21.89 x 14.8 X 13.19
Special Features: Reversible
We may earn commission from purchases made from our links, at no additional cost to you
What Recent Buyers Report
People who bought this fan loved how easy and quick the entire installation process was, even though the design seems very complicated. The quality is quite decent, and the fan remains sturdy without much noise, even at high speed. Buyers also loved that they got a one-year warranty on the accessories.
Why it Stands Out to Us
Undoubtedly, this is one of the most unique-looking fans on the market. This isn't surprising since Craftmade is known for its amazing designs. The fan has silicon steel and steel construction with a glass covering for the integrated light kit, making it quite sturdy and durable.
The integrated light kit comes with two nine-watt GU24 CFL bulbs, which are dimmable. The K10367 features a heavy-duty three-speed reversible motor, which provides 84 cubic feet per minute per watt of airflow efficiency. It also includes a 6″ downrod in the box.
It's not all about looks and design; this fan still provides a lot of functionality, making it a great addition to any room or patio. All in all, if you're looking for something different that stands out, this is perfect for you!
Bottom Line
We think this fan is incredible because of not only its bloom flower design but also its intricate engineering of multiple fan blade levels. It works well for large rooms up to 18'x20'. It will become the centerpiece of any room you place it in.
Pros
Comes with an integrated light kit with bulbs included
Unique design with a beautiful color palette that looks like a flower
Comes with a lifetime warranty for the three-speed reversible motor
Controlled through an ICS remote control or wall control, which is optional
Ten green and pink/yellow ABS & polycarbonate blades included with a diameter of 52"
Cons
Design does not match with all settings
Best Craftmade Sonnet Ceiling Fan
Craftmade SON52CH-70LOK
Dimensions: 70 x 70 X 17
Special Features: N/A
We may earn commission from purchases made from our links, at no additional cost to you
What Recent Buyers Report
Buyers bragged about the simplistic installation process of this fan. They were very pleased and reported that the mounting and wiring of the main unit and the remote were straightforward and simple. Users further stated that the lighting unit easily adjusted to varying levels of intensity and was adequate for their needs. Lastly, the fan was quiet and efficient. 
Why it Stands Out to Us
We can surely say that Craftmade SON52CH-70LOK is here to leave a mark. It comes in three different sizes, namely 52-inch, 60-inch, and 70-inch, so you can install a model according to the dimensions of your room. The fan has a clean yet attractive aesthetic appeal, which makes it a favorite of many. 
Designed to introduce a contemporary look onto different decors, this model showcases a 14-watt dimmable integrated light kit and three beautiful light oak wood blades. The body also features an energy-saving six-speed reversible DC motor, so you don't have to worry about electricity costs when using the fan at high speeds. 
If you're concerned about the less number of blades translating into less airflow, you don't have to worry. The blades are manufactured using Craftmade's years of acquired experience and expertise, so the fan is sure to present a stellar performance. Lastly, the fan blades are quiet and evenly distribute the airflow so you can enjoy sitting under the fan after a hot summer day. 
Bottom Line
The Craftmade SON52CH-70LOK will definitely catch the eye of anyone that sees it. It intricately brings minimal design implementation to a modern profile. It doesn't feature any unnecessary decorative embellishments yet expresses the art of ceiling fans at a simplistic level. Coming in three different sizes, this fan is an excellent choice for customizing your interior space.
Pros
Comes in three different sizes for you to choose from
Construction features a high-quality chrome body with three light oak solid wood blades
Incorporates a frosted lens with a 14-watt dimmable integrated light kit, so you get a two-in-one appliance
Showcases remote and wall control with features like six fan speeds, lighting dimming, and reverse function
Cons
Installation of blades can be tricky
Who is Craftmade?
Craftmade International Inc is a company based in Dallas, Texas, popularly known for its designs, marketing, and distribution of ceiling fans and ceiling fan light kits. Established in 1985, the company has now grown and established itself as one of the largest multichannel suppliers currently operating in the United States. 
The company also manufactures and distributes interior, exterior lighting and commodity lighting, vents and chimes, and related accessories in addition to ceiling fans. What sets Craftmade apart is the immense focus on customer experience, training of employees, design implementation, and sheer dedication. These factors have gone a long way in building the company's reputation, which is only ever-growing.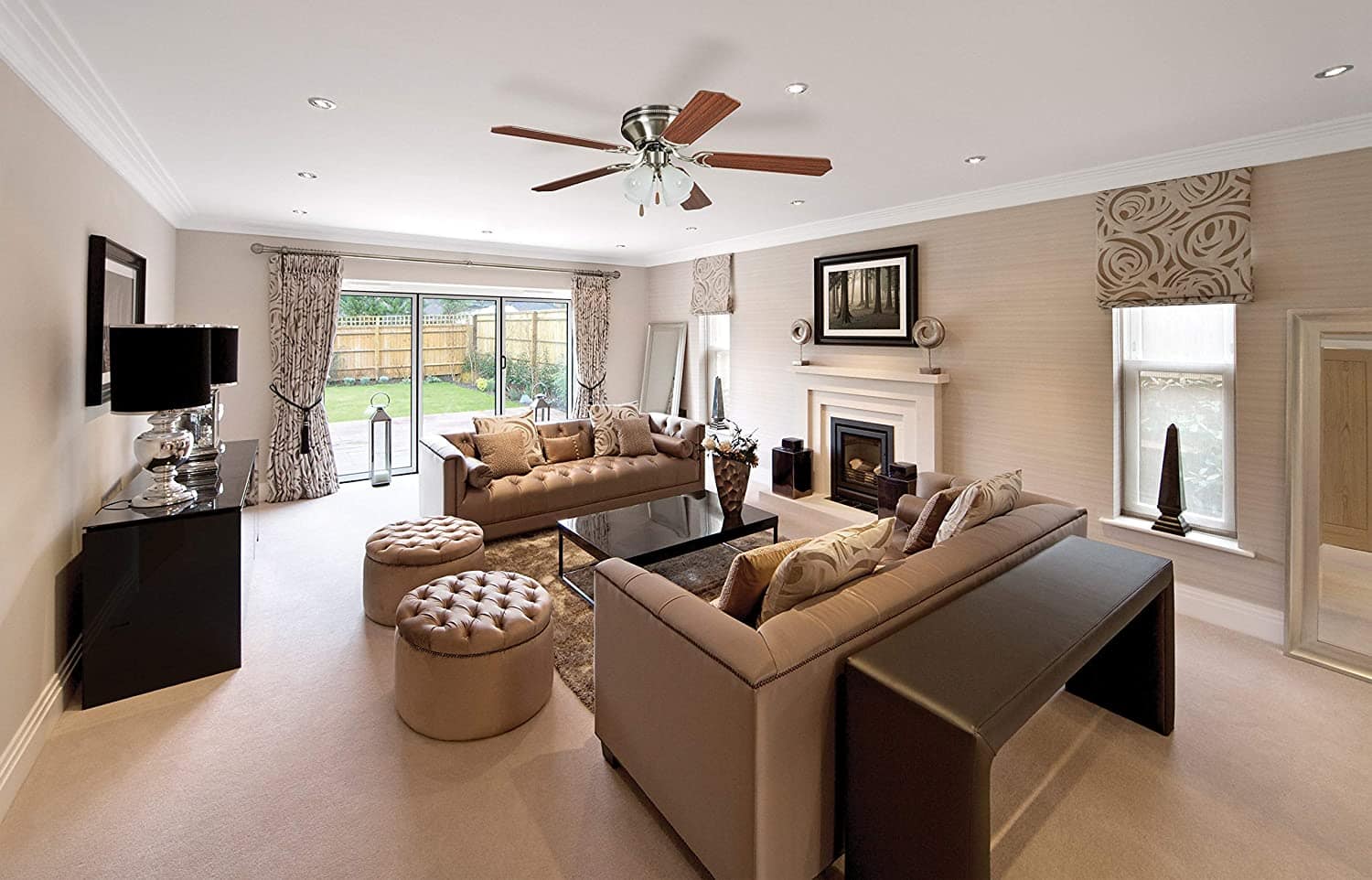 Where Are Craftmade Products Made?
Craftmade products are manufactured outside the US in over 40 factories dispersed over countries like China and Taiwan. It is arguably one of the largest private-label companies making fans and lighting in the United States. 
Who Makes Craftmade Products?
Craftmade products are made by the company itself. However, its product assortment of bathroom strip lighting and outdoor lighting is designed, distributed, and marketed by the company's wholly-owned subsidiary, Trade Source International Inc.  
Who Owns Craftmade?
Litex Industries Limited owns Craftmade.
How Long Has Craftmade Been Around?
Craftmade was incorporated in 1985, so it's been around for almost 35 years. 
Types of Ceiling Fans From Craftmade
Craftmade manufactures a variety of different ceiling fans. These include:
Indoor Fans
The company makes indoor ceiling fans that have specific elements that are ideal for indoor use, so they are not equipped to handle moisture and wind. There are different finishes offered on indoor fans, including black, brass, bronze, chrome, nickel, etc. There are also a variety of blade finishes and styles. 
Outdoor Fans
Outdoor ceiling fans made by Craftmade are equipped with special materials that can withstand high winds and weather elements. These fans are further categorized based on style, including classic, contemporary, modern, traditional, etc. Meanwhile, the finishes include bronzed, galvanized, and titanium.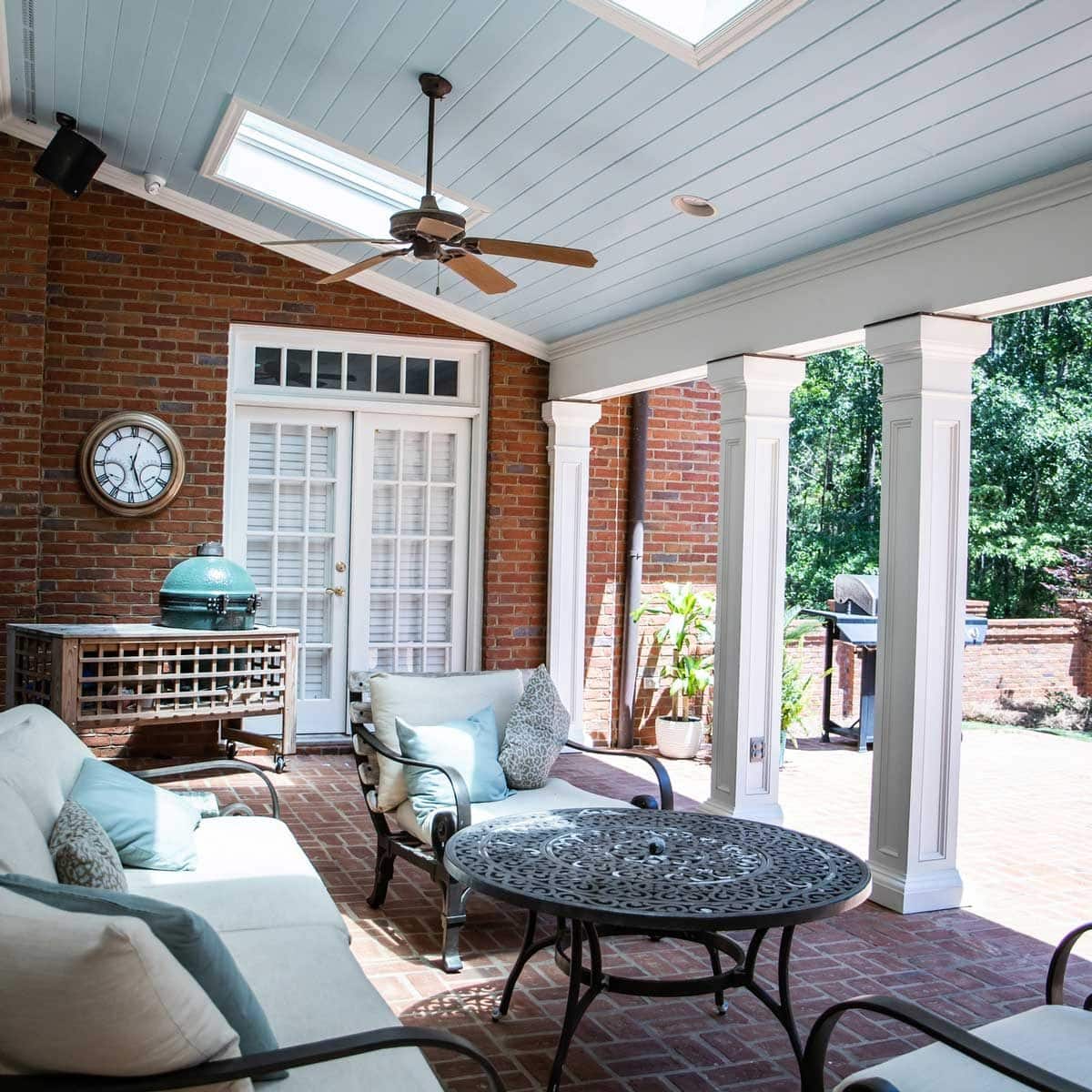 Flush Mount Fans
These fans come in different styles like modern, classic, traditional, transitional, and youth. These are specifically designed for flat ceilings, so they're perfect for rooms having ceilings below eight feet. 
Contractor's
Under the company's contractor collection, the ceiling fans include different blade finishes, finish groups, and styles. 
Wall Fans
Wall fans made by Craftmade come in three different designs. These are ideal for spreading air-conditioned air throughout the room and eliminate warm air from the ceiling in the colder months. Furthermore, these fans save space and are ideal for smaller rooms or rooms with low ceilings as they don't utilize floor or ceiling space. 
How to Install a Craftmade Ceiling Fan
When it comes to installing a Craftmade ceiling fan, the very first step is to verify that you have all the parts available and use the instructions manual as a guide. Make sure you have a Phillips head screwdriver, a wire stripper, and a ladder before you start the installation process. 
Make sure to turn off the power at the circuit breaker box before you begin. 


First, you will need to assemble the motor.


Cut the wire six inches longer than the downrod size you're using.


Secure the downrod with the hitch pin and set screws.


Slide the flange cover and the canopy cover over the downrod.


Now, align and install the ball assembly.


The next step involves pre-assembling the blades. Attach each of the blades to the blade arm using the screws and washers provided.


Repeat the process for all blades.


After that, you're going to address the ceiling portion.


Attach the hanger bracket to the outlet box using the screws and washers provided.


Lift the fan and seat the hanger ball downrod assembly on the hanger bracket.


Turn the fan around until it seats in the grove.


Attach the safety cable to the J hook provided. Also, connect the green ground wires.


Now, connect the black and blue wires from the fan to the power wire in the junction box.


Next, connect the white neutral wires.


Lift the canopy so that it touches the ceiling and tighten its screws to secure it.


Remove the rubber cushions from the fan.


Using the motor screws provided, line up the holes from the blade arm with the holes in the motor housing.


Attach the blade and tighten. Continue to do this process until all the blades are installed.


The final step in the installation process involves finalizing the light kit assembly. For this, assemble the fixture to the lower switch housing and attach the light kit wire connections.


Push the plugs firmly together until they latch.


Raise the lower switch housing cover and secure it.


Install the lightbulbs and slide the glass shade onto the threaded nipple and tighten with the help of the included washers and nuts.


Add the filigree and secure.


Add both fan dangles.


Now, all you need to do is turn the fan on, sit back and enjoy!
For a more visual explanation of the process just mentioned, refer to the following video.
Craftmade Ceiling Fans Troubleshooting
If your Craftmade ceiling is facing some generic issues like slow fan speed, fan or fan light not working, refer to our troubleshooting guide for solutions. However, it should be noted that if the problems you're experiencing are uncommon and not ones that generally occur, you need to call Craftmade customer service. 
Ceiling Fan Running Slow
If you're experiencing slow speed from your fan, it may be a sign to replace your motor. If you want to check if it's time for motor replacement, you can use the following tricks:
Turn on the ceiling fan and let it run for a few minutes.


Now, check around the housing of the fan for heating issues. You need to be careful while doing this.


If the fan is hot, the motor needs to be replaced.


On the contrary, if the motor hasn't gotten hot, it means there's a problem with the speed switch. In this case, you need to bring in a professional.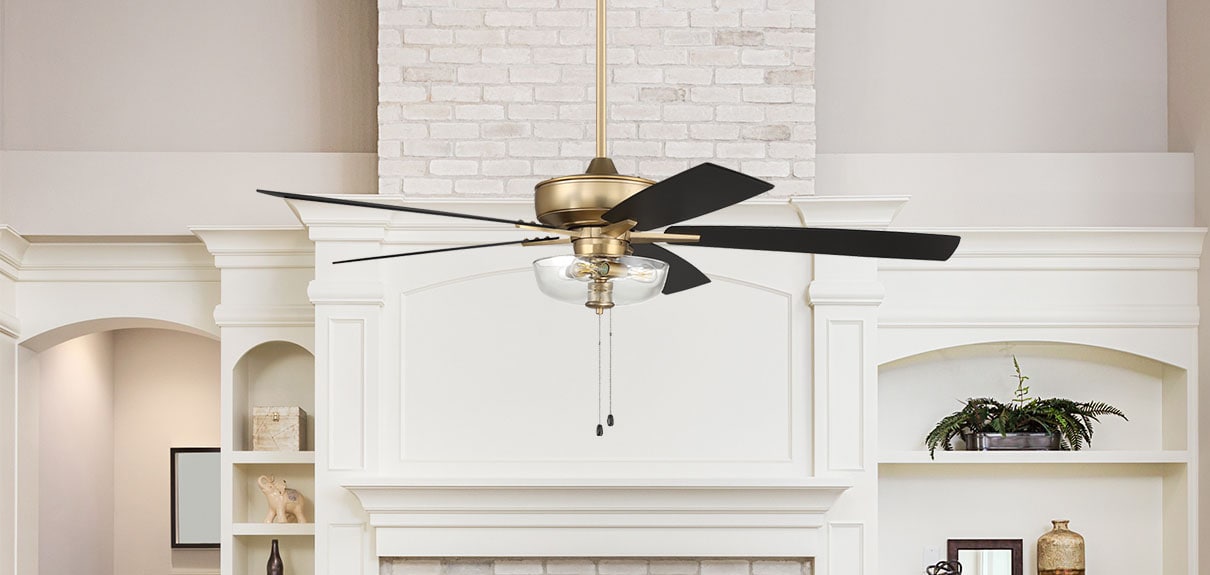 Fan Light Not Working
If your fan light fails to work, the following suggestions might come in handy:
Check if the lightbulb is securely fastened and not overly tightened. 


Try to inspect the sockets for any burned marks. If you see any, there's a problem with the wiring, and they need repairing or replacement. 


Verify that the light bulb wattage does not exceed the mentioned limit.


Carefully check the wires and see if they're properly secured and wired.


If you are using a remote to operate the light, you need to check if the dip switches present on the receiver and control are at the same frequency.
Ceiling Fan Speeds Not Working
If you're having trouble even turning on the fan or with the speed settings, here's what you can do:
Properly clean and lubricate the ball bearings.


Try replacing the capacitor of the ceiling fan.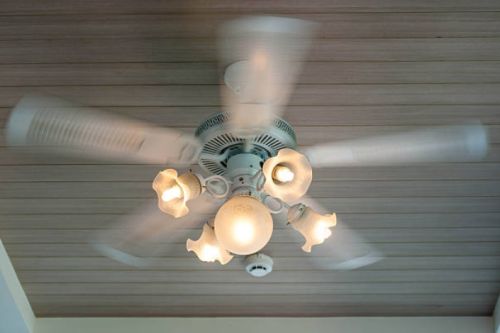 Resetting Ceiling Fan Remote
To reset the ceiling fan remote, you need to turn off the power at the breaker. Now, turn the power back on and hold down the program or reset button in the remote's battery compartment within 30 seconds of turning the power on. 
Craftmade Ceiling Fan Remote Not Working, Why?
The most common cause of a ceiling fan remote not working is weak or dead batteries. You can check this by opening the battery cover of the remote and checking to see if the batteries have expanded or are in the wrong direction. Rectifying this issue may solve the problem. 
Furthermore, if your remote has an indicator light, you can check and see if it blinks when you press a button; if not, you need to change the batteries.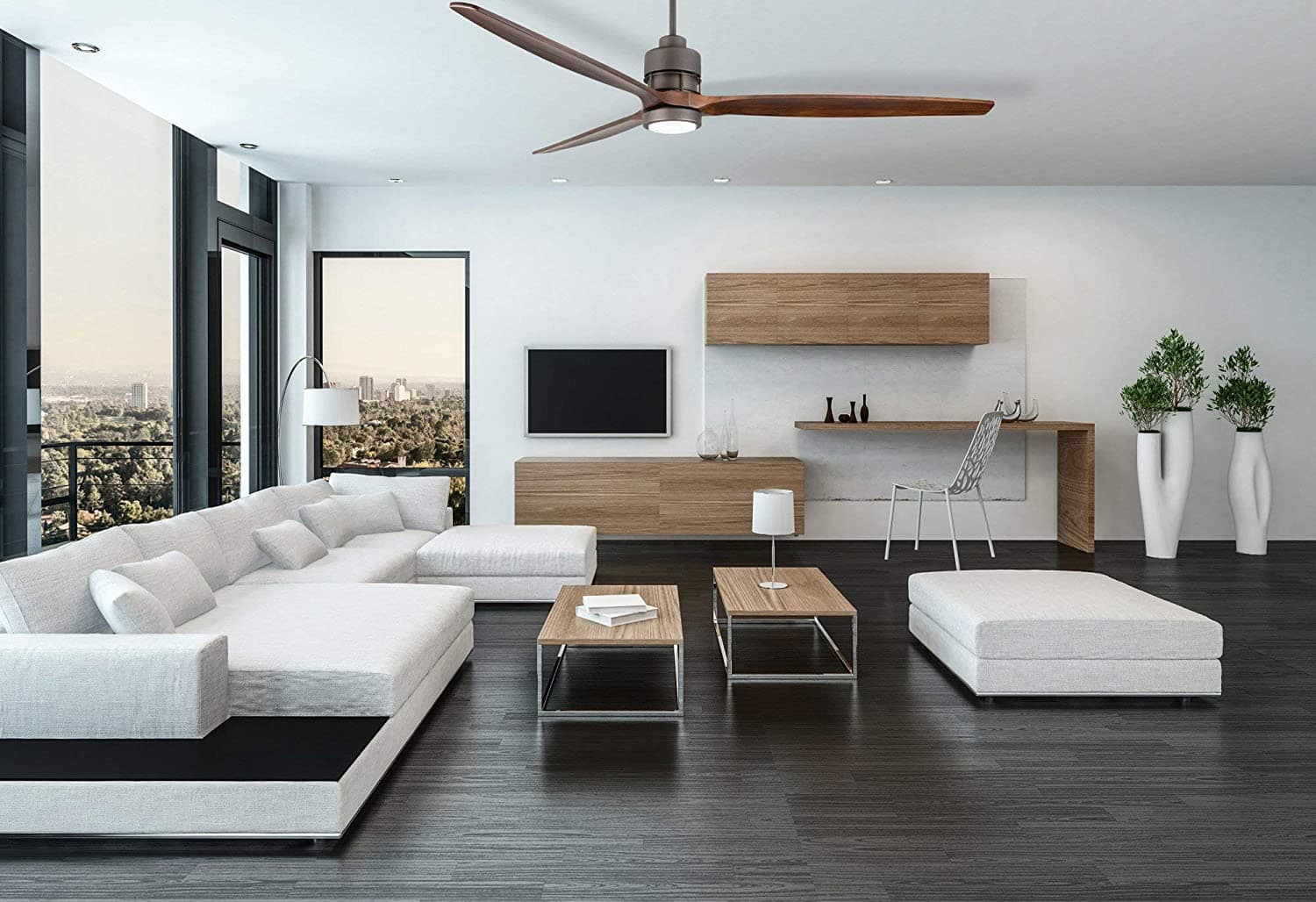 Conclusion
Craftmade is a reliable company that manufactures many different products, including interior and exterior lighting, vents and chimes, and most important of all, ceiling fans. What's more is that there's a huge variety of styles, designs, and collections to choose from. Believe us when we say 'huge' because their collection of ceiling fans truly is! So, to make things easier for you, we've reviewed some of the best options. All that's left to do now is to choose the best one!
People Also Ask
If you still have some doubts about investing in a Craftmade ceiling fan, the following questions can help provide further clarity. 
What Kind of Warranty Does Craftmade Offer?
Craftmade offers a one-year warranty on its products starting from the date of shipment to the customer. The warranty covers defects in material and workmanship. But, you will only be able to attain the warranty on your fan if you've purchased it through an authorized Craftmade brands dealer. The company further offers a five-year warranty on fan motors that fail to operate satisfactorily. 
What Kind of Light Bulb For Craftmade Ceiling Fan?
For this, you need to check the type of base your fixtures take as well. Generally speaking, fans will have a medium base, which is a standard size for candelabra or incandescent bases. Some fans might also be able to take E12 bases or PLS 13.50.
How to Maintain a Craftmade Ceiling Fan
Regular maintenance is key to ensure the optimal functioning of your ceiling fan. Each type or model may require a different kind of maintenance, depending upon the way it's manufactured. Hence, you should refer to your ceiling fan's instruction manual for proper maintenance and cleaning tips. However, some of the general tips include:

1. Regularly dust and vacuum the fan. You can use a feather duster to properly clean all the blades and any other exposed parts. You can also use a vacuum wand attachment.


2. Make sure the screws are tightened. You might need to regularly check if the screws are tight and secure to ensure safety and proper functioning.


3. Clean the fan motor frequently.


4. Lubricate the fan bearings of the ceiling fan.