There are plenty of ceiling fans on the market that offers various choices regarding lighting accessories. However, when it comes to finding the best light bulbs for ceiling fans, how do you know what to look for and which option is suitable?
Our article will guide you and take you through our list of recommendations.
At a Glance: Our Top Picks for Light Bulbs For Ceiling Fans
Comparison of the Best Light Bulbs For Ceiling Fans
IMAGE
PRODUCT

Our Top Pick

Candelabra bulbs for white, and soft light
Offering dim adjustability from 0 to 100%
Available in a few different bases

View Latest Price →

Highlighted by LEDs of 30000 hours lifespan
The bulbs emit a 600 lumens light
Simple installation of Hangsang E12 bulbs

View Latest Price →

Best Budget Option

Best for the Money
A 5000K candelabra bulb
Offers up to 30000 hours of effective performance

View Latest Price →

Best Led Light Bulb For Ceiling Fan
Energy efficient - up to 90% less energy
Zero flicker and no buzzing

View Latest Price →
How to Choose Light Bulbs for a Ceiling Fan
Selecting the best light bulbs for ceiling fans isn't merely a case of heading to the store and finding one that looks the same. Here are a few factors to consider.
What Wattage Bulbs For Ceiling Fan Light?
Remember to select the wattage that suits not only your specific ceiling fan but also your environment and purpose. You don't want a light bulb that consumes too much power, as it will defeat the purpose of having an energy-efficient unit. However, you want to make sure you have enough brightness.
Lumens
You'll want to make sure your ceiling fan generates enough brightness for the room's purpose. For a nursery, you're looking at about 600 lumens with the option to set it lower as a nightlight. For general purposes, such as a living room or a study, you'll want to aim for about 800 lumens.

Color
You don't have to settle for natural white light. You can choose between warm, natural, and cool white hues.
Furthermore, you can change the color that fits your theme, such as yellow, orange, or red.
Controls
One aspect to bear in mind when picking the best light bulbs for ceiling fans is how you control the unit. Some bulbs don't work with dimmer switches, while others are better suited for pull-chain devices. You'll also need to check whether the item you're wanting is compatible with the remote control installed. 
Review of the Best Ceiling Fan Light Bulbs
Welcome to our review of the best light bulbs for ceiling fans. We'll take you through the pros and cons of each, what customers had to say, and why it stands out for us.
GE Lighting 24782
What Recent Buyers Report
Many clients mentioned that the bulbs light up small rooms sufficiently and have a long lifespan. There were a few issues with items found broken upon delivery, but most customers expected it. The primary downfall that annoyed most users is the printed label on the glass that's visible when the lights are on during the night.
Why it Stands Out to Us
We like that there are many options you can select. For one, you can choose a 25 W bulb for 155 lumens, 40 W for 360 lumens, and 60 W for 640 lumens. If you opt for the highest wattage and brightness, you're sacrificing your ceiling fan's energy efficiency for better lighting.
The bulb is an excellent decorative feature if you select the Frosted White option. It has a bent tip, giving it a classy style for any ceiling fan.  The color temperature is warm at 2500 Kelvin (K), perfect for when you're looking to set the right mood. 
Bottom Line
Printed labels on the glass aside, the candelabra-type bulb has an elegant appearance with a soft, warm light. The best tip is a good touch, while you'll love all the options available. If you receive the items in the right condition, it should last you at least 1,500 hours.
Pros
Available in packs of 12 and 16
Choose between 25, 40, and 60 W
Crystal Clear or Frosted White glass
Lifespan of 1.4 years based on daily 3-hour usage
Produces 155, 360, and 640 lumens based on selection
Cons
Labels printed on glass
Low brightness for large areas
Hansang LED Bulbs Light E12 Screw Base
What Recent Buyers Report
Many clients were impressed by how much light the small 6 W bulbs were able to produce, almost the equivalent of 60 W. There's mention of a failure to dim the lights, but the manufacturer clarifies that it's not intended for that purpose. Buyers were also pleased with the 30-day money-back guarantee and 24-month warranty.
Why it Stands Out to Us
The 6 W unit is one of the best light bulbs for ceiling fans that need to pack a bright punch. Of course, you'll need a ceiling fan with sockets for at least three of these units to create enough brightness. With a CRI of over 81, you're going to receive a color rendering of nearly 100% daylight.
There are three color temperatures to choose from 2,700 K Warm White, 4,000 K Natural Daylight, and 5,000 K daylight. No matter which option you select, they all rely on the same wattage and offer the same lifespan. You'll obtain 600 lumens of light, which is ideal for small indoor areas.
Bottom Line
While you won't receive as many options as the GE Lighting 24782 for wattage and lumens, there's plenty of features to make the Hansang LED product the runner-up. The lifespan is on the top of that list, followed shortly by the warranty and three warm colors.
Pros
Up to 600 lumens
24-month warranty
Three different white levels
Lifespan up to 30,000 hours
Color rendering index (CRI) of 81+
Cons
Not dimmable
Only suitable for small indoor areas
SHINESTAR 8-Pack E12 LED Bulbs
What Recent Buyers Report
While there were a few complaints that the 2,700 K bulb didn't produce the stated lumens, the 5,000 K unit received praise for its brightness and warm color. Buyers welcomed the instant brightness it provided once switched on but would have preferred the option to dim.
Why it Stands Out to Us
This Type B LED bulb is perfect for ceiling fans, pendant lights, chandeliers, and table lamps with candelabra bases. While the size might make it challenging to place it in sockets with small covers or shades, you'll receive 600 lumens of light that are ideal for living areas, studies, and other medium-sized rooms. If you have a vast expanse you intend to light up, you'll need a ceiling fan with several light attachments.
The SHINSTAR product is another one of the best light bulbs for ceiling fans that produce over 80 CRI for optimal color renditions. The 6 W item works as well as 60 W units, creating better energy efficiency. You'll receive an estimated 30,000 hours of performance with three years of customer support.
Bottom Line
Few products perform as well as this ceiling fan light bulb in interior spaces. Since it doesn't dim and isn't waterproof, there are limited applications. However, if your intention is merely to switch the light on and off, you're looking at a long bulb life with assistance from the support team should there be any unexpected issues.
Pros
Instant full brightness
Two warm-light variations
No lead, mercury, UV, or IR
6 W bulb equivalent of 60 W
Three-year customer support
Cons
Not dimmable
Not suitable for small shades or covers
Best LED Light Bulb for Ceiling Fan
SHINESTAR 3-Pack Light Bulbs
What Recent Buyers Report
Customers were exceptionally pleased with how bright the product is, stating that it feels like more than 600 lumens. This unit's round shape appears to fit better as a ceiling fan light bulb than the Type B one reviewed above in the SHINESTAR 8-pack. There was mention of a few defective bulbs, but buyers received replacements immediately.
Why it Stands Out to Us
You'll find most of the same features as the Type B 8-pack, except for the bulb shape. It's shorter in length, which also makes it compatible with most ceiling fan shades. The instant-on feature means you won't be waiting for the lamp to warm up first, and there's no flickering during operation.
Of course, what we liked the most is how quickly customer support responds to queries. You should expect to receive 30,000 hours of life, but the team is ready to help you work out the issue if it fails to meet that expectation.  We're happy to see so many buyers report that it provides more than enough brightness.
Bottom Line
The 2,700 K and 5,000 K options compete for popularity with buyers, with most of them selecting the latter for improved performance and lighting. With a CRI of over 80, it certainly is one of the best light bulbs for ceiling fans that don't have a dimming feature.
Pros
80+ CRI
Two white-light variations
Delivers up to 600 lumens
Instant-on with no flickering
Estimated lifespan of 30,000 hours 
Cons
Not waterproof
Vanity bulb with no dimming option
How Does a Light Bulb for Ceiling Fan Work?
There's a misleading conception that choosing the best light bulbs for ceiling fans merely provides lighting in a room. This notion is far from the truth. While it does serve that purpose, it also accentuates other items in a room or provides a specific ambiance or atmosphere. 
You'll find a few units that let you dim the brightness for different situations. You might want to install a baby room ceiling fan, where you need a lower lumen level. Alternatively, you may be looking into high-speed fans for your outdoor patio, where you need a more substantial brightness. Finding the right bulb is essential.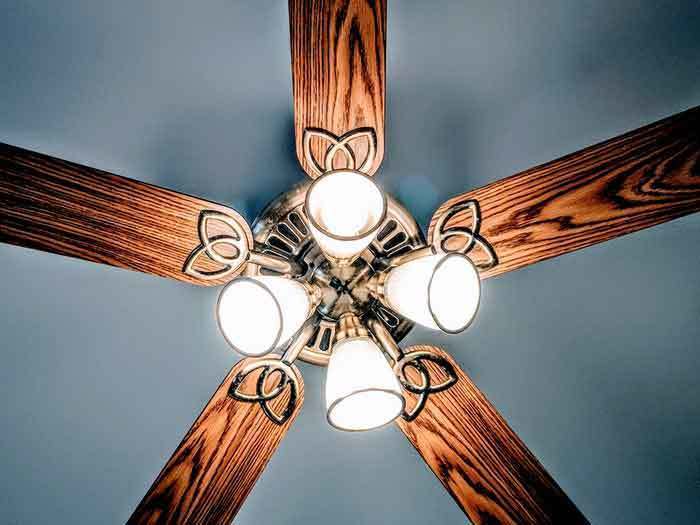 What Size Light Bulbs for a Ceiling Fan?
You'll generally measure a ceiling fan's efficiency by how much airflow it produces per energy consumed, signified as cubic feet per minute for each watt (CFM/W). Of course, you need to consider how much power it uses when the light is on or off. There are different sizes you can choose from, each with its consumption level.
For instance, ceiling fans between 36" and 56" usually require 55 W to 100 W bulbs. As a general calculation, a 48" unit will need a 75 W bulb. You can always check the manufacturer's specifications if you're not 100% sure. 
Safety Considerations in Choosing Light Bulbs for Ceiling Fans
Besides assessing specific features when selecting the best light bulbs for ceiling fans, there are also a few safety factors to consider. Let's take a look at some of them.
Threat of Fire
Incandescent bulbs are notorious for excessively heating up, and having a thin glass surface doesn't help matters. If your ceiling fan doesn't allow for the heat to dissipate quickly, there's a good chance the bulb may catch fire or explode. Never leave your ceiling fan light on for prolonged periods or when you leave the house.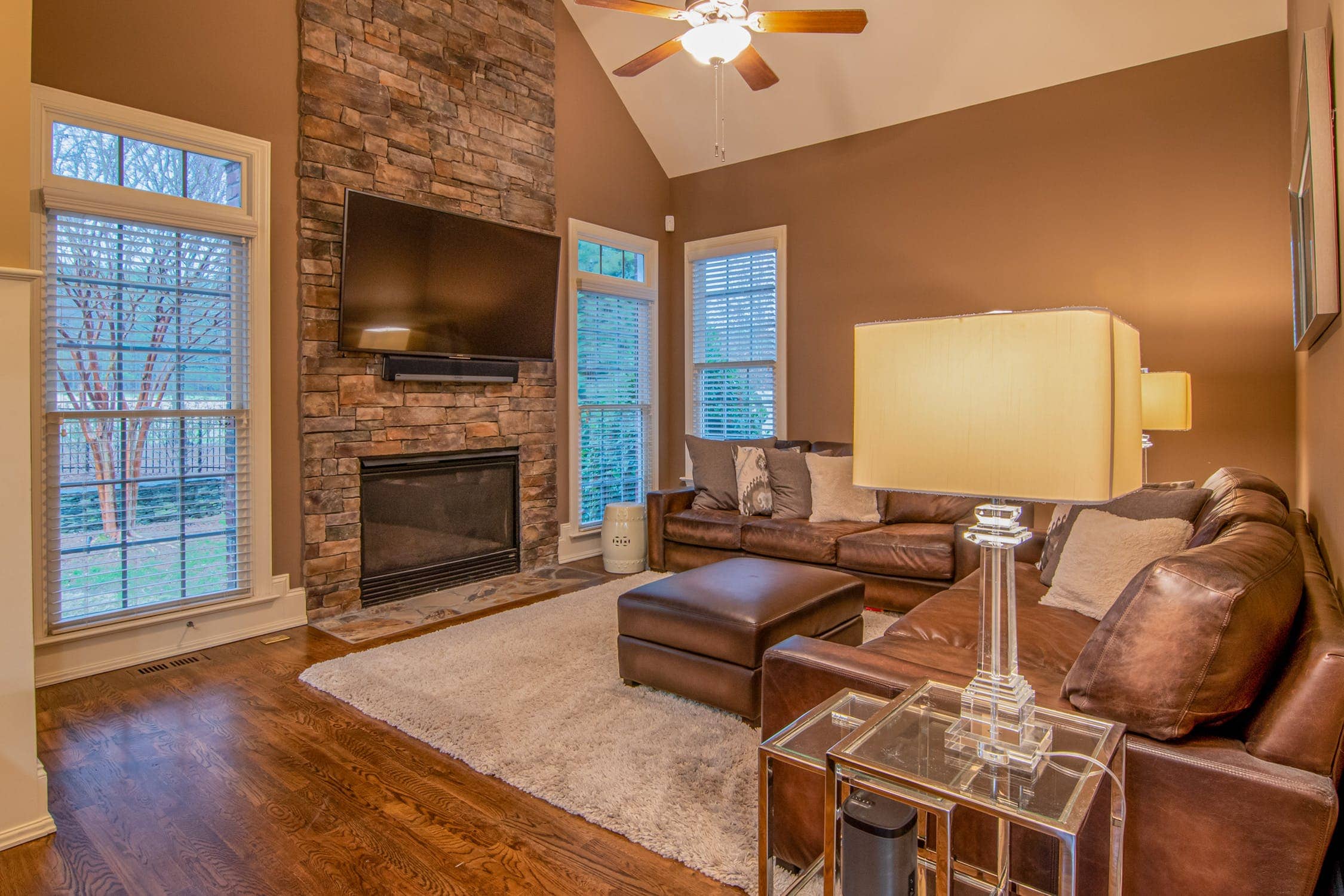 Ultraviolet Light
While some people consider halogen bulbs to be the best light bulbs for ceiling fans, they pose a UV light danger. While it's safe in moderation, excessive exposure is unhealthy, and touching the bulb while warm can burn your skin. Ensure that you only work with any of these items when they've cooled down enough.
Dangerous Chemicals
Most bulbs contain specific chemicals that help them function. For instance, CFL contains mercury, and you'll find traces of lead, arsenic, and nickel in LED lights. If one of them explodes or you need to dispose of them, you need to handle them with care and protection to ensure these elements don't end up in your eyes or mouth.
Types of Light Bulbs for Ceiling Fans
While we may have mentioned a few light bulbs types already, let's look at the most common ones used in ceiling fans.
LED
As you may have noticed in our product reviews, LED tops our list of the best light bulbs for ceiling fans. They have better efficiency for energy consumption and lifespan, lasting on average up to 25,000 hours. It's perfect for fans located on high ceilings so that you don't need to replace them too often.
Halogen
Halogen lights present two benefits. Firstly, it's 15% more energy-efficient than fluorescent and incandescent types. It's also dimmable, making it an excellent choice for ceiling fans with light controls. However, it's more prone to excessive heat than LEDs.
Fluorescent
CFLs are more efficient than incandescent lights and last longer than halogens. The primary concern is that it isn't as visually appealing as the other options, so it's best used with ceiling fans that provide shades. Furthermore, you can't dim these bulbs.
Incandescent
While the incandescent bulb is popular for traditional ceiling fans, it's fallen out of use due to its high electrical usage. They also tend to overheat, leading to fires or explosions.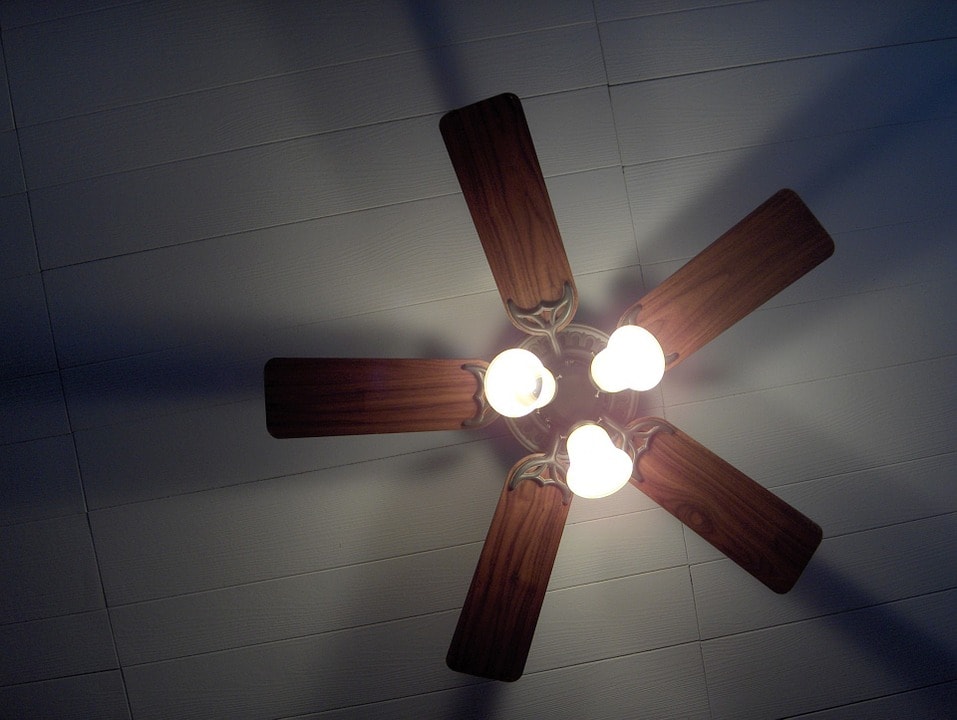 Candelabra Bulbs vs Regular Bulbs – Comparison Overview
You may have noticed us speaking about candelabra lights in our reviews. What makes them so unique, and what are the similarities and differences with regular ones? Let's take a brief look.
Similarities
The most common similarity between candelabra and regular bulbs is that they can use the same wattage. Both have the screw-on base variety, and you can use them in ceiling fans with the appropriate sockets. You can also receive the same variation in color warmth, generally measured in different Kelvin levels.
Differences
The primary difference is that candelabra bulbs have a smaller base and shape. Manufacturers developed it in response to the call for more electrical efficiency, which is why you'll find 6 W units that perform as well as 60 W lights. However, there's a common opinion that candelabra lights don't emit as many lumens as regular bulbs for the same wattage.
Candelabra light bulbs also exude elegance in every setting. They usually have a tapered tip to resemble candles flickering in the dead of the night, while some have the typical round shape. In most ceiling fans that boast exceptional energy efficiency, you'll generally find candelabra LED lights.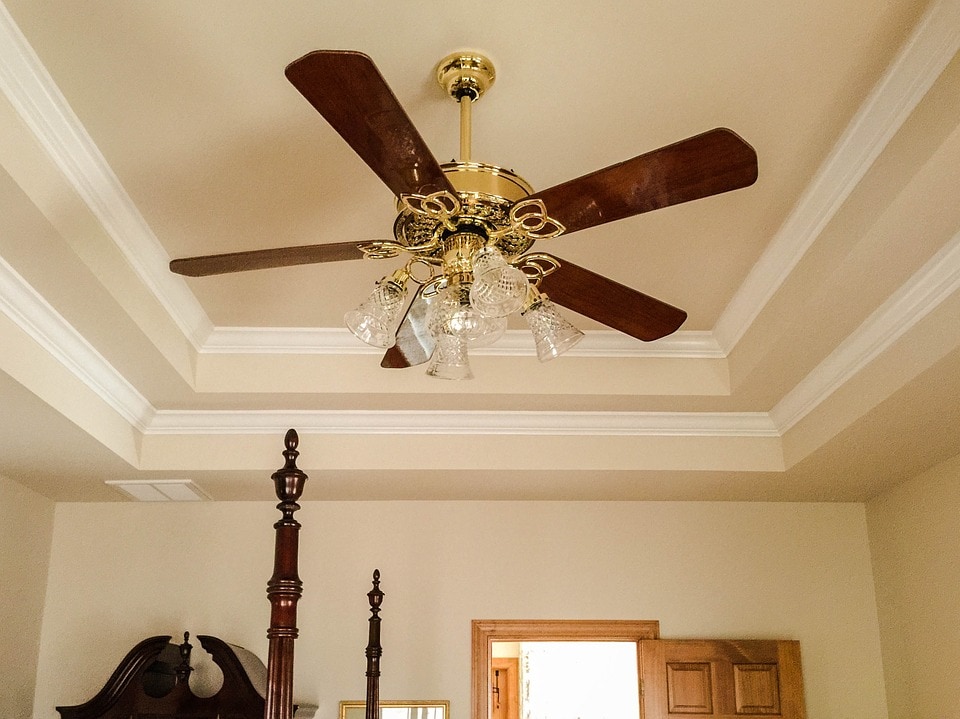 Conclusion
Choosing the best light bulbs for ceiling fans can be a daunting task, and it may lead to frustration if you don't know what you're looking for or how to select the right types. We hope that this article has guided you in the right direction.
People Also Ask
If you have any further questions, we may just have the answer right here. Feel free to shoot us a query if there's anything else you need to know.
Do Ceiling Fans Need Special Light Bulbs?
No, as regular bulbs will also do the trick. However, you need to pay attention to the socket size and maximum watts to be on the safe side. You should also check how many lumens you need and whether the item can meet that demand.
How Do I Make My Fan Light Brighter?
You should look for bulbs that emit higher lumen levels or offer warmer colors. Check the specifications to see what the Kelvin level is. Furthermore, a light bulb with a better CRI creates improved visibility in your home.
How Many Watts Does a Ceiling Fan Use?
There are different values. For instance, a 6 W LED can emit the same brightness as a 60 W bulb. It can go as high as 100 W, and then you still need to take the collective energy usage across all the light fixtures. As a general notation, you're looking at any amount between 10 W and 120 W for a standard ceiling fan.
Can LED Bulbs Be Used in Ceiling Fans?
Yes, they can. We strongly recommend it as a safer option with the best energy efficiency.
How Do I Know What Kind of Bulbs My Ceiling Fan Takes?
The ceiling fan manual should give you a good indication of which bulbs you need. If not, you can always look at the socket and see if there's a label for size and wattage. 
Why Do Ceiling Fans Have Candelabra Bulbs?
Firstly, these bulb types are excellent for conserving energy, using 6 W while performing as well as a 60 W unit. It also has the classic look of candles lighting up the room.
What Happens if You Use a Higher or Lower Wattage Bulb on Your Ceiling Fan?
If you use a higher wattage, there's the potential of overheating the wire leads connected to the circuit wiring. It could melt the insulation and cause permanent damage. A lower wattage won't present a danger, and you can find LED bulbs that emit the same light as lights with higher values.