For all those who live in places where the levels of humidity run high, dehumidifiers are nothing less than a blessing. They not only keep the level of humidity in check to allow easier breathing, but also prevent problems like mold in households, saving you from a number of expenses that may follow. 
While a 30-pint dehumidifier might not be sufficient in all sizes of rooms, a 70-pint model might be too much to invest in if your room isn't big enough.
A 50-pint dehumidifier, however, may prove to be the ideal choice for different sizes of rooms, and this article will provide you a review of the best ones you can invest in.
At a Glance: Our Top Picks for 50 Pint Dehumidifiers
Comparison Chart of the Best 50-Pint Dehumidifiers
IMAGE
PRODUCT

Our Top Pick

Our Rating: 10
Tank Capacity: 4 Liters
Warranty Length: 1 year

View Latest Price →

Our Rating: 10
Tank Capacity: 4 Liters
Warranty Length: 1 year

View Latest Price →

Our Rating: 9.8
Tank Capacity: 2.49 Liters
Warranty Length: 2 years

View Latest Price →

Our Rating: 9.7
Tank Capacity: 3.3 Liters
Warranty Length: 5 years

View Latest Price →

Our Rating: 9
Tank Capacity: 6 Liters
Warranty Length: 1 year

View Latest Price →
Characteristics of Our Favorite Models
This article will focus on the best 50-pint models of dehumidifiers you can invest in. In case you're curious about how we've picked out the absolute best models, here are the characteristics we kept in consideration while choosing the models.
Top-Notch Performance
The performance of a unit and its efficacy at its primary job is what matters above all other features. Only the devices that ensure the best in dehumidification are further considered. A unit, even if it features a long list of functions, is no good if it can't effectively dehumidify a room of the recommended size.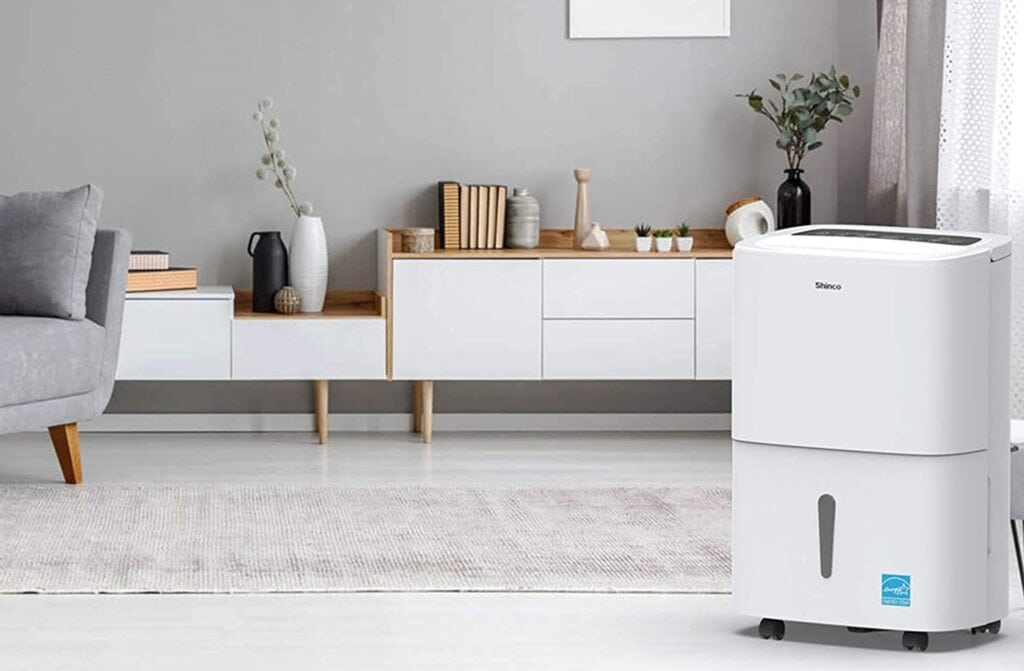 A Run for the Money
Not all products can fit in a budget, but those that are priced higher than others should also give functioning worth the money being paid. A unit that provides the value and functioning that is expected of it is definitely one we would consider.
Ratings & Reviews
If one were to buy a model based on the description given by the brand itself, no brand would ever be said to have any flaws, because that is how marketing works. But ratings and reviews give you a better and more realistic idea of how the device really functions. So while a unit is being considered, its rating and reviews from a number of people are considered to evaluate if the device really delivers all that it promises.
Review of the Best 50-Pint Dehumidifiers
With a clear idea of why one would opt for a 50-pint model when it comes to dehumidifiers, and how to pick the perfect model for yourself, you can finally go through the models yourself and choose the right one. To give you a place to start, here is a review of the best on the market to choose from.
Shinco SDZ1-50P
Quick Product Specs:
Pints (DOE): 50
Warranty Length: 1 year
Size & Weight: 13.5×9.4×20.1"; 33 lbs.
Tank Capacity: 4 Liters
Decibel Level: 48 dB
Review
With 5-star marks for affordability and cost efficiency, the Shinco SDZ1-50P is one of the best 50-pint dehumidifiers that money can buy. The key to its success is that it covers 3,000 sq. ft., which makes the unit an anomaly in the 50-pint dehumidifier space.
Furthermore, it comes with a number of unique features that you didn't even know you wanted. A programmable sleep timer and quick-dry feature highlight the extras that make this unit a step above the rest. And with a relatively small size, this dehumidifier is ideal for bedrooms, RVs, basements, and more.
Bottom Line
Thanks to built-in handles and 360-degree turning casters, the Shinco SDZ1-50P adds another top mark to its resume, boasting a 4.5-star rating for portability. It also gets a 4.5-star space efficiency rating, which acts as a testament to its overall efficiency, especially for its size.
If there was a single drawback, it's that the Shinco only gets a 2-star warranty rating. But with everything it has to offer, this dehumidifier is the cream of the crop for a reason. Fire it up and you'll know you made a great decision.
Pros
Energy Star certified
Covers up to 3,000 sq. ft.
Auto-restart after power outages
Comes with a 2-hour or 4-hour sleep timer to maximize comfort
Quick-dry feature that's perfect for drying clothes or smaller areas
Cons
Humidistat accuracy problems
Some buyers report that this unit is louder than the stated decibel level
JHS D025B-35PT
Quick Product Specs:
Pints (DOE): 50
Warranty Length: 1 year
Size & Weight: 10.2×13.8×19.7"; 34.2 lbs.
Tank Capacity: 4 Liters
Decibel Level: 53 dB
Review
The JHS D025B-35PT lines up side-by-side with the Shinco SDZ1-50P in almost every facet. Offering 5-star ratings for both cost efficiency and portability, this unit is every bit as powerful, which is why it took home a 10-star overall rating with the Shinco dehumidifier.
However, it offers some different specs which might appeal to certain buyers. A three-speed fan allows you to control the JHS to your liking, while the company's proprietary Intelligent Humidity Control ensures that the humidity is always perfect, no matter where you put this 50-pint behemoth.
Bottom Line
Although this JHS unit boasts stellar water absorption, it still gets the highly coveted Energy Star certification, giving it even more appeal to the green buyer. Plus, a 4.5-star ranking for both space efficiency and portability adds the final touches to what's a great overall unit. While a 2-star warranty rating may detract from its overall value, the JHS D025B-35PT is still an excellent choice in the 50-pint dehumidifier space.
Pros
Three adjustable fan speeds
Interface makes usage a cinch
Easy-to-see full tank warning light
Auto shutoff, defrost and restart features
Intelligent Humidity Control provides perfect humidity levels no matter where you put the unit
Cons
Noisy compared to other 50-pint units on this list
Problems reinstalling filter cover after cleaning filter
Colzer HD08C
Quick Product Specs:
Pints (DOE): 50
Warranty Length: 2 years
Size & Weight: 20.5×14.5×11"; 28.8 lbs.
Tank Capacity: 2.49 Liters
Review
Colzer isn't exactly a household name, but don't let that fool you into thinking it's a poor option for your next 50-pint dehumidifier. With 4.5-star marks for portability, affordability, and cost efficiency it's a capable option in a crowded and competitive market. Up to 3,500 sq. ft. of dehumidification is among the perks of the Colzer, although three dehumidifier settings and dual drainage options don't hurt it either. Overall, it's a solid unit that provides the solutions you want in your home, RV, or basement.
Bottom Line
While the Colzer HD08C lacks the Energy Star certification that the first two units have, it's still every bit as capable and won't leave you with a gigantic energy bill. Built-in handles and four casters provide excellent portability even in tight spaces, while a 4-star space efficiency rating gives it a bit of extra capability no matter where you put it. And with a more impressive 3-star warranty, you get a bit of extra peace of mind.
Pros
Child lock feature
24-hour programmable timer
Up to 3,500 sq. ft. of coverage
Dual drainage options for ease of use
Three dehumidifier settings for maximum control
Cons
Senor malfunctions may occur which can cause the unit to shut off
Frequent emptying of water tank due to an undersized tank capacity
Honeywell TP50WKN
Quick Product Specs:
Pints (DOE): 50
Warranty Length: 5 years
Size & Weight: 10.5×13.2×20.1"; 34 lbs.
Tank Capacity: 3.3 Liters
Decibel Level: 50 dB
Review
Some buyers might think that they're just buying a name with the Honeywell TP50WKN, but this isn't further from the truth. With a host of top-notch features, you're getting Honeywell quality, which includes a 4.5-star portability rank and a 4.5-star space efficiency rank. Moreover, 3,000 sq. ft. of coverage, a cord winder, and a vibrant LED display provide this unit with some unique features you won't find in other 50-pint dehumidifier options.
Bottom Line
An affordability rank of 3.5 stars and a 3.5-star cost efficiency rating make this unit an even more highly prized commodity, and with Honeywell's 5-year warranty, you get peace of mind compared to other units on this list. While some buyers had some issues with the price and some drainage issues, the good certainly outweighs the bad in this 50-pint monster.
Pros
Cord winder for easy storage
Up to 3,000 sq. ft. of coverage
Vibrant LED display for ease of use
Anti-spill design for easy water disposal
Smart feature that turns on when the unit senses a rise in humidity
Cons
Expensive compared to other similar units
Hose connector has some drainage issues
Keystone KSTAD504D
Quick Product Specs:
Pints (DOE): 50
Warranty Length: 1 year
Size & Weight: 10.8×15.4×23.2"; 40 lbs.
Tank Capacity: 6 Liters
Decibel Level: 55 dB
Review
The Keystone KSTAD504D is yet another 50-pint dehumidifier that's among the top in its class. Boasting 4.5-star ratings for affordability and cost efficiency, it's a genuine dehumidifying leviathan, operating in large spaces up to 4,500 sq. ft. And you won't have to spend a bundle to get it.
Other features include an amazing, easy-to-use LED interface, three adjustable settings, and a handy auto-restart feature that always ensures that your dehumidifier is in proper working order.
Bottom Line
While the Keystone KSTAD504D suffers from only a 2-star warranty rating and a 3-star space efficiency rating, on the whole, it's a top-notch unit due to its coverage and excessive amount of features. And on this list of great 50-pint dehumidifiers coming in last is certainly not coming in least.
Pros
Easy-to-use LED display
Up to 4,500 sq. ft. of coverage
Clean filter and bucket full alerts
Normal, turbo, and auto-defrost settings
Auto restart that saves your settings during a power outage
Cons
Releases an inordinate amount of hot air at times
Water fills to very top of bucket, so spilling almost always happens
How Long Will 50 Pints Last in a Dehumidifier?
A 50-pint model of a dehumidifier is one that can eliminate up to 50 pints of moisture in a day, i.e., 24 hours. This doesn't mean the device will always eliminate 50 pints, as that depends upon the present level of humidity of the room.
However, these will work ideally in a room as large as 2000 square feet. These units fall in the middle range, compared to the 30-pint models which are meant for crawl spaces, and 70-pint models which work in open spaces. Most rooms are usually within the mid-sized range, making the these the perfect choice for a majority of people.
The time that a dehumidifier takes to fill up greatly depends upon the water tank capacity and the actual amount of moisture being removed. On average, the tank takes between 16-24 hours to fill up, given the device is functioning at its maximum capacity.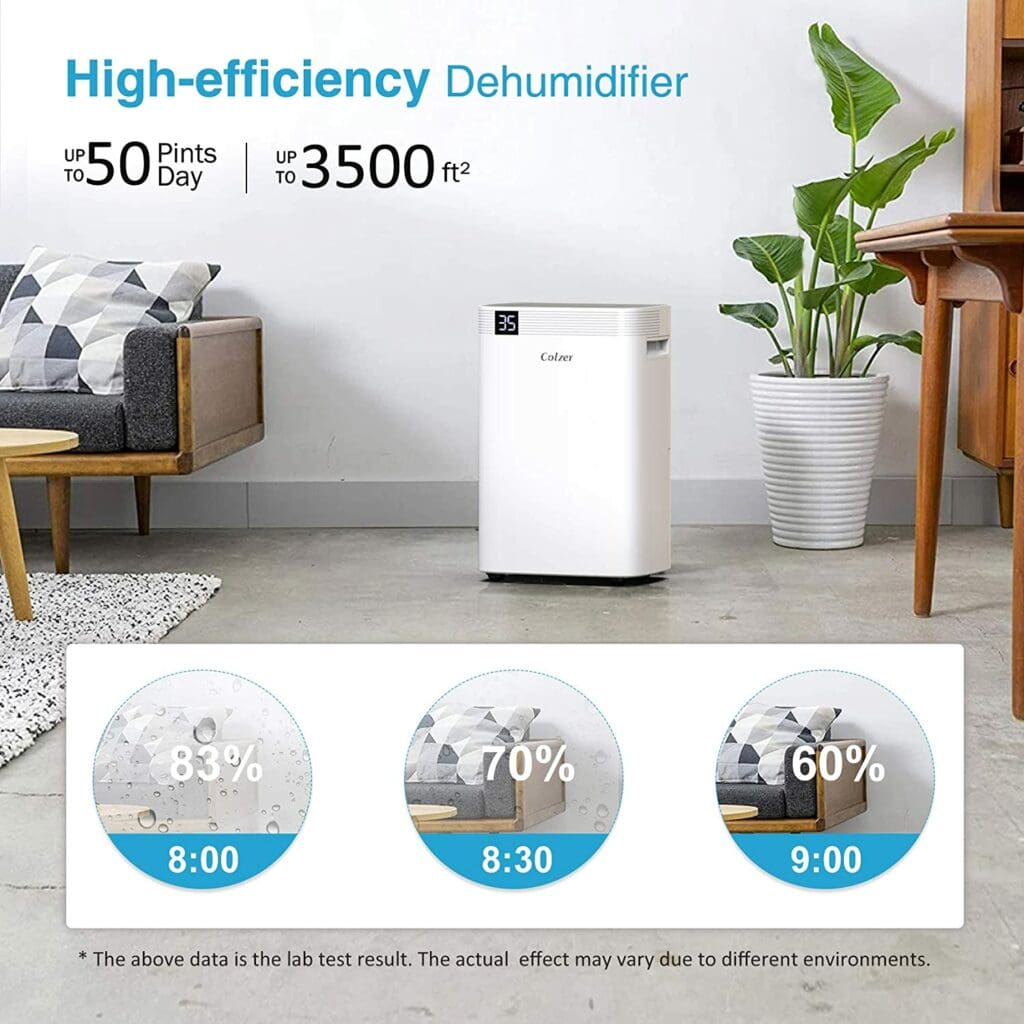 50 Pint Dehumidifier Comparisons
We've put together some head-to-head comparisons to truly determine how various brands and types of dehumidifiers perform. Here's what we found:
50 Pint vs 70 Pint Dehumidifier
50 pint units are great for medium or small spaces. However, larger spaces may require a bit more horsepower to effectively reduce the temperature and accurately gauge the humidity level. It's worth looking at a 70-pint option if you're dealing with a bigger job.
Dehumidifier 30 Pint vs 50 Pint
A 30-pint option makes for a more portable dehumidifier, and is more effective in small spaces, than a 50-pint option. The smaller 30-pint device is perfect for small apartments, smaller rooms, closets, storage spaces, and crawl space.
However, a 30-pint unit may not be effective in a medium-sized room. A 50-pint dehumidifier is a better option for a larger space or when dealing with a lot of moisture, and it can run for longer before filling up.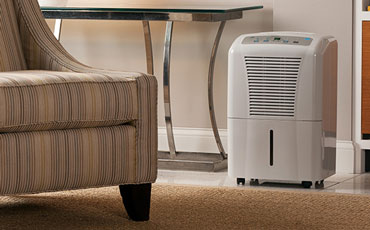 Hisense vs Frigidaire Dehumidifier
Both Hisense and Frigidaire are well-respected companies that produce a lot of dehumidifiers. Hisense produces a more affordable range of products. 
These dehumidifiers are effective, well-designed, and durable. They tend to offer more value than Frigidaire's products. However, Frigidaire produces more effective and energy-efficient dehumidifiers. 
Danby vs Frigidaire Dehumidifier
Frigidaire's units are effective, efficient, and well-designed while also offering different speeds, which allows the user to control the fan speed and reduce noise.
Danby also makes high-quality products that can't be beaten in terms of portability. Its dehumidifiers are aesthetically pleasing, well-built, and effective. They're often very user-friendly as well.
Advantages and Disadvantages of 50 Pint Dehumidifiers
A 50-pint dehumidifier is the most common size among residential dehumidifiers. However, they're not designed to undertake every dehumidification task. We've broken down some of this option's pros and cons to determine if it's right for you.
Pros
Here are some pros:
Capacity
These units can remove and store 50 pints of moisture. They can pull even more in while running continuously if the drainage hose is connected.
Compact
50-pint dehumidifiers are compact enough to move between rooms and service multiple areas.
Function
Dehumidifiers pull moisture from the air, making rooms feel fresh, clean, and hospitable.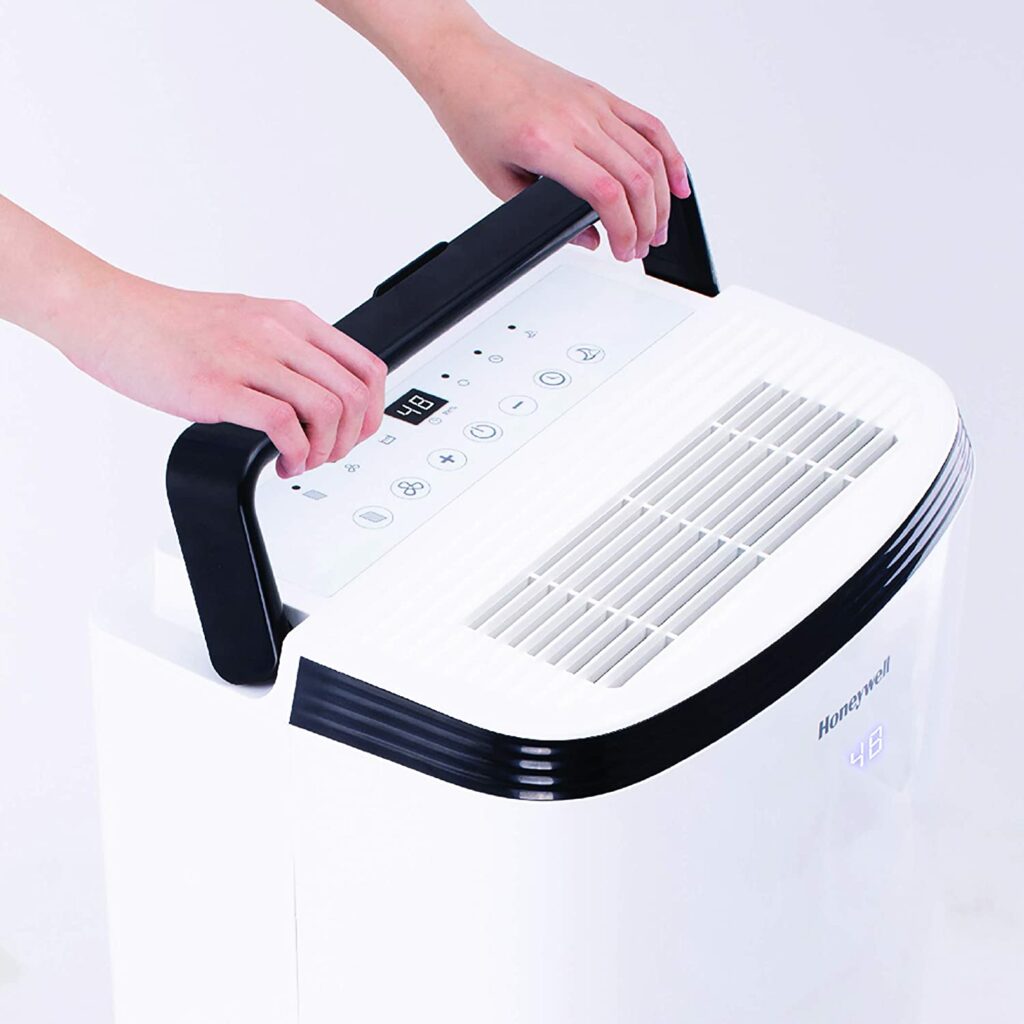 Cons
Here are some cons:
Limitations
These units aren't designed to draw moisture from large rooms, warehouses, or very humid spaces.
They may not be effective for the toughest jobs.
Weight
They can be tough to carry up or downstairs due to their size. It may be easier to have two smaller dehumidifiers if you have a multi-floor unit.
What Do I Need to Know Before Buying a 50 Pint Dehumidifier? 
Here are a few things to keep in mind when buying a 50-pint dehumidifier: 
Square Footage
It's important to determine your dehumidifier's capacity. The square footage listed refers to the area in which the dehumidifier can effectively gauge humidity level and reduce moisture. If your room is larger than the square foot coverage, it won't work at full capacity.
Room Design
A room can't have open windows or gaps in which humidity can enter when using a dehumidifier. The humidity level won't decrease if the moisture is higher outside and the room isn't contained.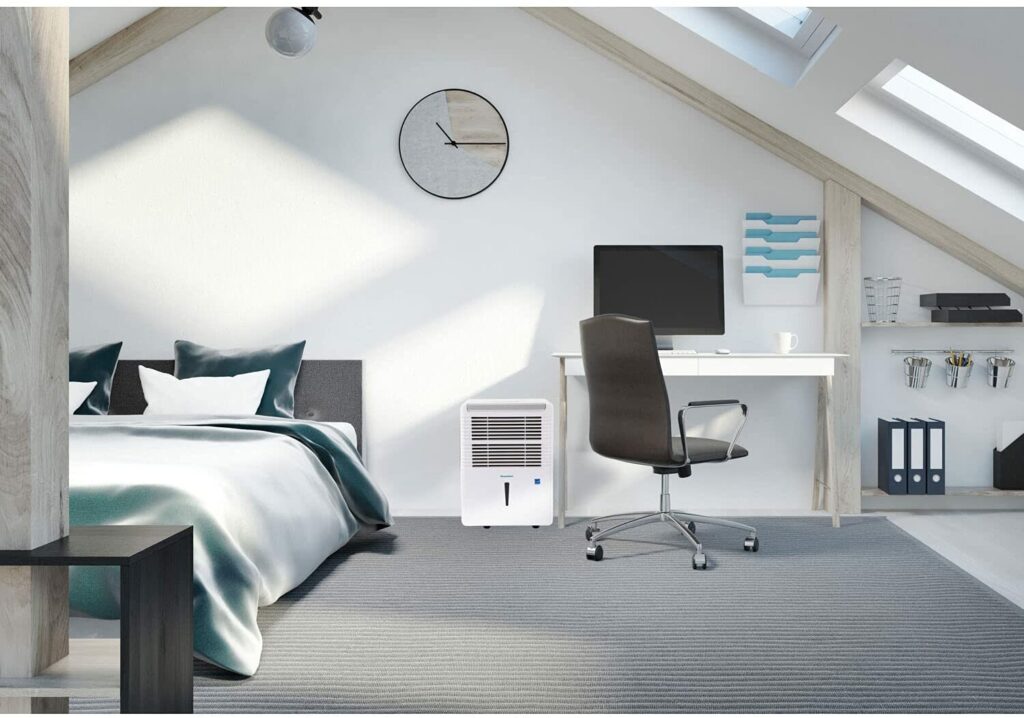 Weight
A 50-pint dehumidifier might be pretty heavy. It might be worth getting a smaller option and emptying the bucket more frequently if you love alone or need to carry it between living spaces. 
You should also consider a dehumidifier's moisture reduction rating, energy efficiency, noise level, compactness, and if it's user-friendly.
Why Would You Want a New 50-Pint Dehumidifier?
A dehumidifier is a dehumidifier, right? Why invest in a 50-pint dehumidifier, specifically?
The answer is simple; all the different types of dehumidifiers serve to function for different conditions and in different sizes of rooms. What makes an ideal product is that it falls in the mid-range of dehumidifiers in terms of price, as well as space coverage.
These are cheaper than the industrial strength 70-pint ones and only a little more expensive than the 30-pint ones, meaning they fit into most budgets.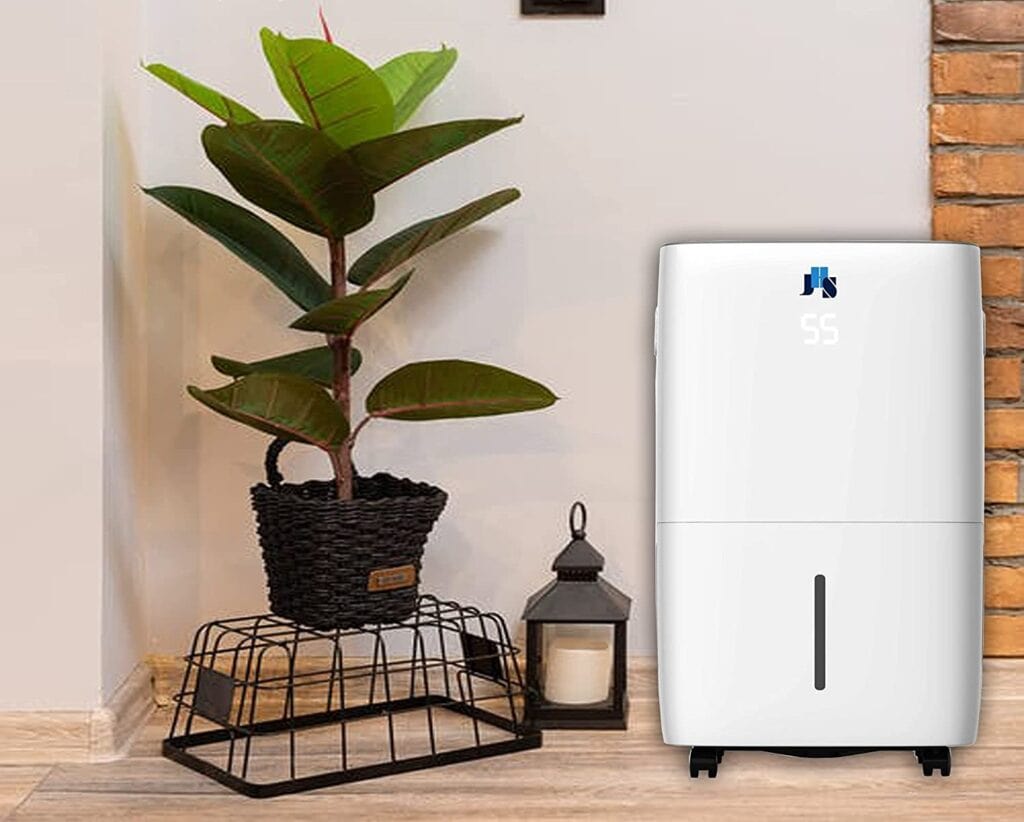 People need to choose a dehumidifier that is the ideal size and will be able to dehumidify the entire area they desire. Moreover, the size of the dehumidifier needed to cover this amount of space is considerably big enough to provide good efficacy of dehumidification, all the while ensuring the unit is not too large and still remains portable.
All in all, these models give you all the ideal features you would want from your dehumidifier, making it the wisest choice to invest in.
Conclusion
A good dehumidifier is not too hard to find. All you need to do is consider the right type and focus on the right features. If you do that and pick out the ideal 50-pint dehumidifier, you will feel the marginal difference that a dehumidifier can make just by enjoying the more comfortable breathing.
People Also Ask
Here are our answers to the most commonly asked questions regarding 50-pint dehumidifiers.
How Many Square Feet Does a 50-Pint Dehumidifier Cover?
It varies depending on the model in question. Most units can cover an area of about 1,500 square feet. Some can cover up to 4,500. Others can cover just 1,200.
How Many Watts Does a 50-Pint Dehumidifier Draw?
About 520 watts if it's running at a good level. However, we've seen dehumidifiers running on less than 400 watts while others run closer to 1,000.
What Size Room is a 50-Pint Dehumidifier Suitable for?
It's most effective in small- and medium-sized rooms. It may also function well in a larger room if the area has a low humidity level. The 50-pint dehumidifier is a great option for basements, garages, and offices, but you may need to upsize for large, humid spaces.