Unlike a basement, a crawl space is not a place to utilize for living and therefore often goes unnoticed by homeowners.
However, for good air conditioning and maintenance of the crawl space in hot and humid areas, dehumidifiers for a crawl space can be extremely important. These ensure that there is no excessive moisture, which can lead to several problems such as wet patches on your walls and ceilings. 
To help you clear out moisture from your crawl space, we've picked out the best crawl space dehumidifiers available on the market. We invite you to use this informational guide as a starting point for your search.
At a Glance: Our Top Picks for Crawl Space Dehumidifiers
Comparison of the Best Crawl Space Dehumidifiers
IMAGE
PRODUCT

Our Top Pick

Our Rating: 10.0
Pints (DOE): 53
Warranty Length: 5 year(s)

View Latest Price →

Our Rating: 9.3
Pints (DOE): 55
Warranty Length: 5 year(s)

View Latest Price →

Our Rating: 9.1
Pints (DOE): 50
Warranty Length: 1 year(s)

View Latest Price →

Our Rating: 6.0
Pints (DOE): 30
Warranty Length: 1 year(s)

View Latest Price →
Aspects to Consider Before Buying a Dehumidifier for a Crawl Space
Before we go ahead and review our top picks, there are some important aspects that you must consider before making your purchase. These aspects include the area coverage, weight and dimensions, extra features and bonuses, and noise production. These are some important aspects that have a direct impact on the overall performance and experience of any crawl space dehumidifier.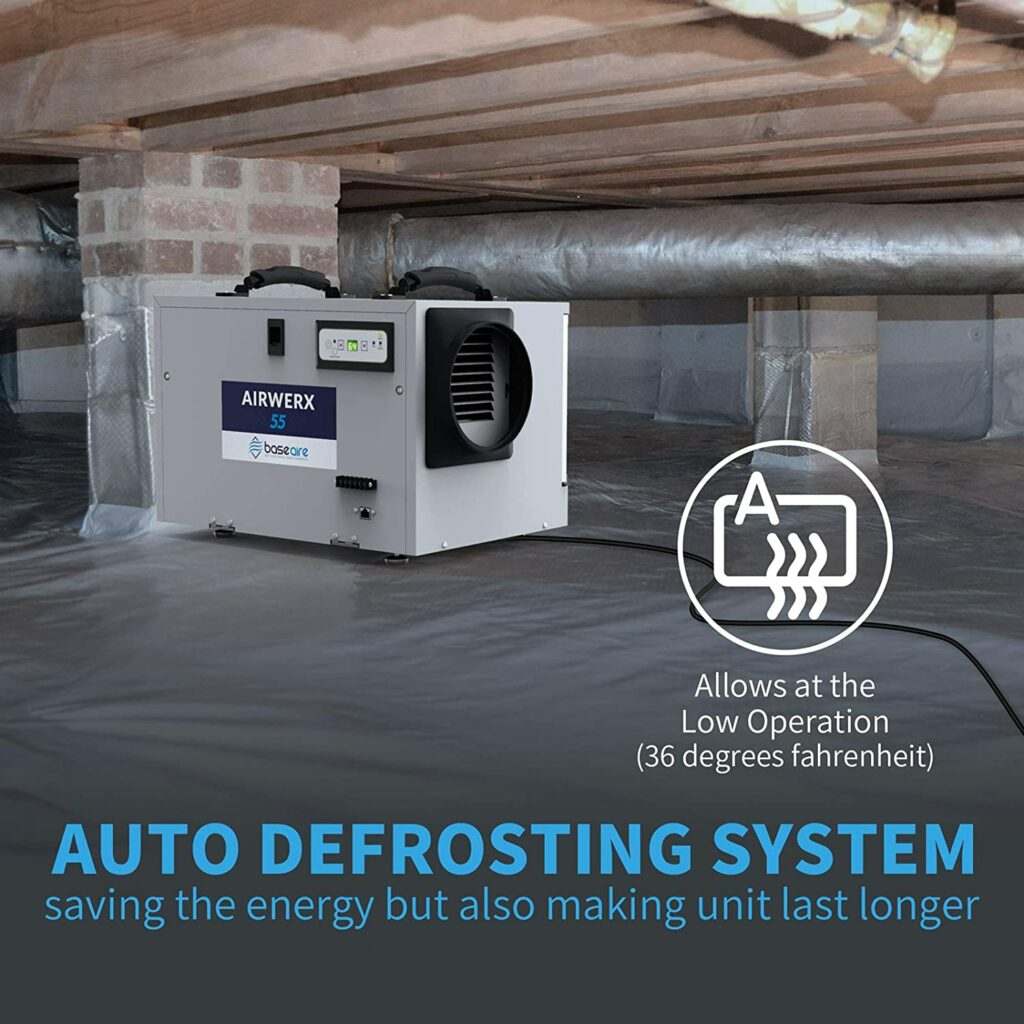 Coverage Area
This refers to the capacity of the dehumidifier regarding how much area it can serve. The larger the crawl space, the larger coverage area the dehumidifier needs. The coverage capacity of the dehumidifier is also linked to how humid the area is. Moreover, in a sealed crawl space, a dehumidifier will cover a larger area.
Weight and Dimensions
While weight and dimensions may not directly impact its performance, it does impact your overall convenience and comfort. An unnecessarily heavy dehumidifier will take more effort to fit properly in your crawl space, and it will also be inconvenient to move around.
Extra Features
Extra features enhance the performance of the dehumidifier as well as make your experience even more convenient. Such features include a corrosion-resistant build and controls that are easy to read and operate.
Some dehumidifiers also come with multi-functional features such as 2-in-1 dehumidifying and heating systems for both winters and summers.
Review of the Best Dehumidifiers for a Crawl Space
We have reviewed 6 of the best crawl space dehumidifiers. The market is packed with versatile and varying options for you to choose from, which can make it confusing and overwhelming to pick just one. These in-depth reviews aim to help you in finding and choosing the most appropriate and suitable dehumidifier for a crawl space in your home.
BaseAire AirWerx 55
Quick Product Specs:
Pints (DOE): 53
Warranty Length: 5 year(s)
Size & Weight: 19.2"x12.2"x13.3"; 57.3 lbs
Review
If you want a high-performance dehumidifier that can tackle even the most saturated, muddy crawl space, the BaseAire AirWerx 55 is perhaps the best unit that money can buy. Featuring a 4.5-star affordability rating and a 4.5-star cost-efficiency rating, the AirWerx mixes a cheap price with maximum dehumidifying power. And with a set of wheels for added portability and anti-frost protection, this unit has it all.
Bottom Line
Despite its upsides, the AirWerx 55 has some issues, offering space efficiency and portability ratings of only 0.5 stars. This is due to the hefty weight of the dehumidifier compared to its dehumidification ability. Still, the overall ability of this unit to remove water from your crawl space quickly and efficiently, as well as your ability to use it in any room of your house, gives it a best-in-class 10-star rating. 
Pros
Auto defrosting system
Covers up to 1,200 sq. ft
Included 6.5-foot drainage tube
MERV-8 filter for efficient air filtration
Up to 113 pints of water removal per day in saturated areas
Cons
Louder than advertised
Problems with humidistat inaccuracies
ALORAIR HD55
Quick Product Specs:
Pints (DOE): 55
Warranty Length: 5 year(s)
Size & Weight: 11.81"x17.72"x11.81"; 57.32 lbs
Review
With commercial-rated power, the ALORAIR HD55 is in a class all its own in the crawl space dehumidifier realm. Despite its relatively small size, this 55-pint unit provides 3.5 stars in cost efficiency, attesting to its ability to leave your crawl space as dry as the Sahara. While it's a bit on the bulkier side, it has handles to help you lower it into any tight areas, giving it a decent 2.5-star rating for portability. Throw in the only internal pump in the crawl space dehumidifier class on this list, and you have all the makings of a solid dehumidifier.
Bottom Line
Thanks to a 3.5-star affordability rating, the ALORAIR HD55 is light on the wallet, making it the ideal choice for bargain-friendly buyers. Its space efficiency rating comes in at only 2 stars, but don't let that fool you. A large coverage area, a 5-star warranty, and cold-weather capabilities make it versatile enough to tackle even the most treacherous and frigid crawl spaces.
Pros
Easy-access filter
Optional remote control
Up to 1,300 sq. ft. of coverage
One of the best warranties in the industry
Excellent cold-weather option that works in temperatures as low as 36 degrees
Cons
Coil defrosting issues
Customer support is lacking
Haier QDHR50LZ
Quick Product Specs:
Pints (DOE): 50
Warranty Length: 1 year(s)
Size & Weight: 11.4"x14.4"x23.5"; 46.15 lbs
Tank Capacity: 6.8 Liters
Decibel Level: 50 dB
Review
The Haier QDHR50LZ sits in the third spot on this list thanks to a host of features you won't typically find in the crawl space dehumidifier world. Aural cues to empty the water tank and a clean air filter alert are nice touches while a Smart Dry feature adjusts the humidistat on its own. A 5-star cost efficiency rating pairs with a 5-star affordability rating to provide an effective unit that won't break the bank.
Bottom Line
For everything that Haier has to offer, it also comes with some downsides. The weakest warranty on the list comes in at just 2 stars, which may leave the apprehensive buyer wanting more. It also suffers from a lower capacity than other units, contributing to a 0-star space efficiency rating.
And while it's lighter than other units, it lacks handles or wheels, which gives it only a 1-star portability rating. But with unique, high-tech features, the gadget-friendly buyer may find that its added specs make it worth the price.
Pros
Clean air filter alert
Aural alert to empty the tank
Three fan speeds to meet your needs
Auto-restart mode starts the unit after power outages
Smart Dry feature enables enhanced dehumidifying power
Cons
Flimsier than similar units
Problems with the tank sensor, causing it to beep before the tank is full
Ecor EPD30
Quick Product Specs:
Pints (DOE): 30
Warranty Length: 1 year(s)
Size & Weight: 7.87"x7.87"x7.87"; 10.58 lbs
Review
If you subscribe to the set it and forget it a mantra, the Ecor EPD30 is perhaps the best dehumidifier for your crawl space. Simply set on the ground or mount in place, flip it on, and you're ready to dehumidify for the next five years.
However, the best feature of the EPD30 just might be its compact size, making it fit anywhere and allowing it to garner a 5-star portability rating. The unit also operates in super-cold and hot weather, giving it the versatility to tackle a variety of climates with the added bonus of a 3-star space efficiency rating.
Bottom Line
Compact size is a great reason to buy the Ecor EPD30, but it's also a hindrance in terms of dehumidifying power. It covers only 500 sq. ft., which means a cost-efficiency rating of just half a star, but for smaller areas, it's a no-brainer. A 2.5-star affordability rating also brings the EPD30 down, but for tighter spaces, it's money well spent.
Pros
Super compact
Quiet operation
No draining required
Self-regulating, requiring no added work
Works at a variety of temperatures from -4 to 104 degrees
Cons
Highly priced
Only covers 500 sq. ft
Why Would a Crawl Space Need a Dehumidifier?
Dehumidifiers regulate moisture levels and the condition of the air in your home. Excessive moisture can be problematic for a number of reasons, including damage to property, an unhealthy living environment, and buildup of bacteria. Here are some reasons for having a crawl space dehumidifier:
Pest Protection
Excess humidity leads to pest infestation, which can devalue your property and can also lead to several health issues. A dehumidifier will ensure protection from pests by controlling and regulating the moisture levels in the crawl space.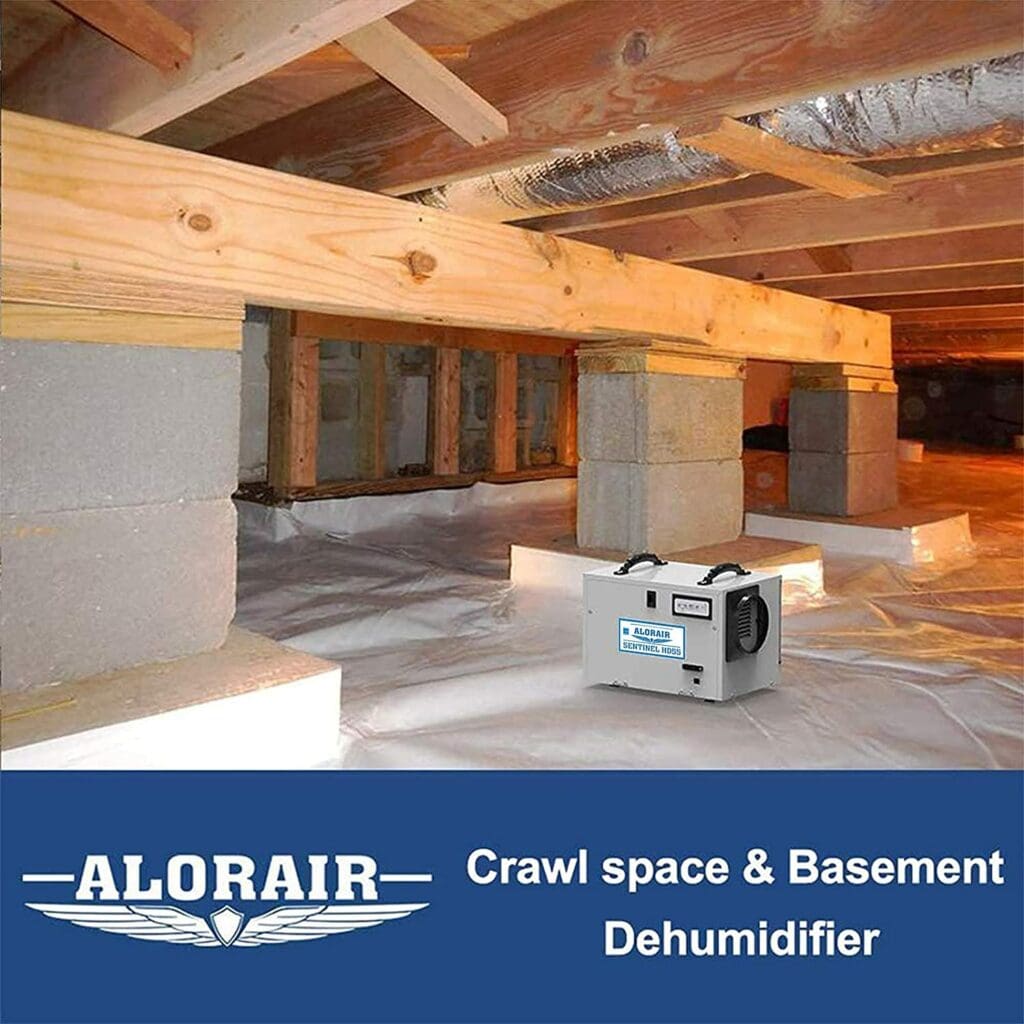 Hot and Humid Areas
If your house is in a hot region, then you are likely to have air conditioners installed and used frequently. This makes the air condensed in the crawl space, leading to high levels of moisture. A dehumidifier can help regulate the air in such humid and hot regions, making your life worry-free.
Healthier Living Environment
By preventing pests and buildup of condensed air in the crawl space, you will be maintaining a healthier environment in your home. Extra moisture in the air can lead to respiratory issues, build bacteria and mold, and can also cause allergic reactions. A dehumidifier can help prevent all of that.
What Makes a Dehumidifier Great for a Crawl Space?
Different dehumidifiers are designed for different tasks. While you need a quiet and compact device for a bedroom to allow yourself to sleep, a crawl space requires something a little more rugged.
A crawl space is the perfect breeding ground for insects, mold spores, and rot. A dehumidifier will help reduce the growth or presence of these unwanted pests to let you safely store things in your crawl space and prevent damage to your home. Here's what you'll need to ensure an effective crawl space dehumidification process.
Capacity and Coverage
A high capacity for moisture reduction and storage is essential for a humid crawl space.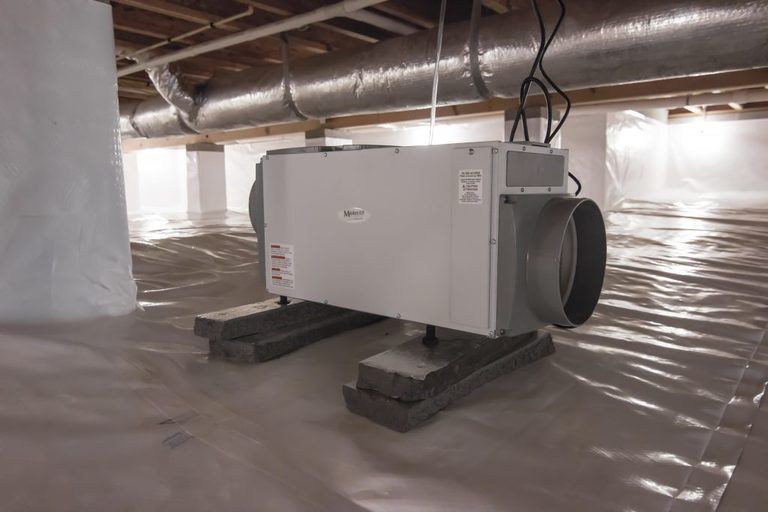 Temperature Range
Your dehumidifier will also need a wide temperature range to handle high and low temperatures in a crawl space. For example, inside models may not work below a certain temperature.
Durability
A durable dehumidifier will ensure your device can handle wide temperature changes, bad weather, and dirt.
What Purpose Does a Crawl Space Dehumidifier Serve?
Crawl space dehumidifiers, like standard dehumidifiers, serve to reduce excess moisture as much as possible. They circulate air with a fan, draw in moisture, store it, and expel dry air.
In addition to a dehumidifier's standard benefits, a crawl space dehumidifier will:
Prevent Mold
Reducing the moisture level in the air will reduce the risk of mold growth in your crawl space, protecting any storage items.
Prevent Rot
Reducing humidity will also stop wooden beams and supports from rotting over time. A damp crawl space is a structural danger.
Discourage Insects
There's nothing that insects love more than dark, damp spaces. Reducing moisture levels in your crawl space will discourage insects from settling in.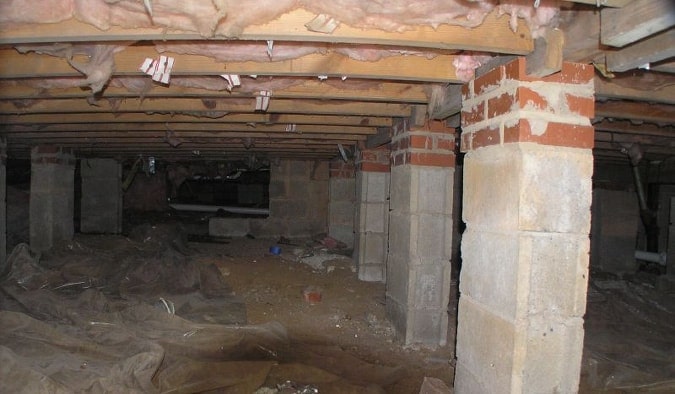 What Size Dehumidifier For a Crawl Space?
The size of the dehumidifier you need depends upon the device's square foot-coverage area and bucket capacity. You'll likely need a high-capacity unit or drainage hose for a very humid space. Additionally, the dehumidifier's coverage area should be equivalent to, or larger than, the size of your crawl space.
How to Choose a Crawl Space Dehumidifier
Your crawl space will present problems specific to that area, such as mold, rot, and pests. These issues require a different dehumidifier from a device you'd use in your bedroom or living room. Therefore, you need to consider various factors when choosing a crawl space dehumidifier.
Discharge Method
An attached discharge hose will ensure that runoff is passed safely into a tank or away from your home while the dehumidifier runs continuously. Check what the discharge options are for different models.
Coverage Area
Measure your crawl space to see what coverage level you need and determine which dehumidifiers can handle the job.
Temperature
Verify what temperature range your dehumidifier can handle. Many are unable to work in extreme cold or heat. However, crawl space dehumidifiers generally have a better temperature than standard devices.
Crawl Space Dehumidifier Comparisons
There are several popular ways to control the air quality and humidity level of a residential crawl space, including fans, air induction, and ventilation systems. We put these systems head-to-head with dehumidifiers to determine the best options available: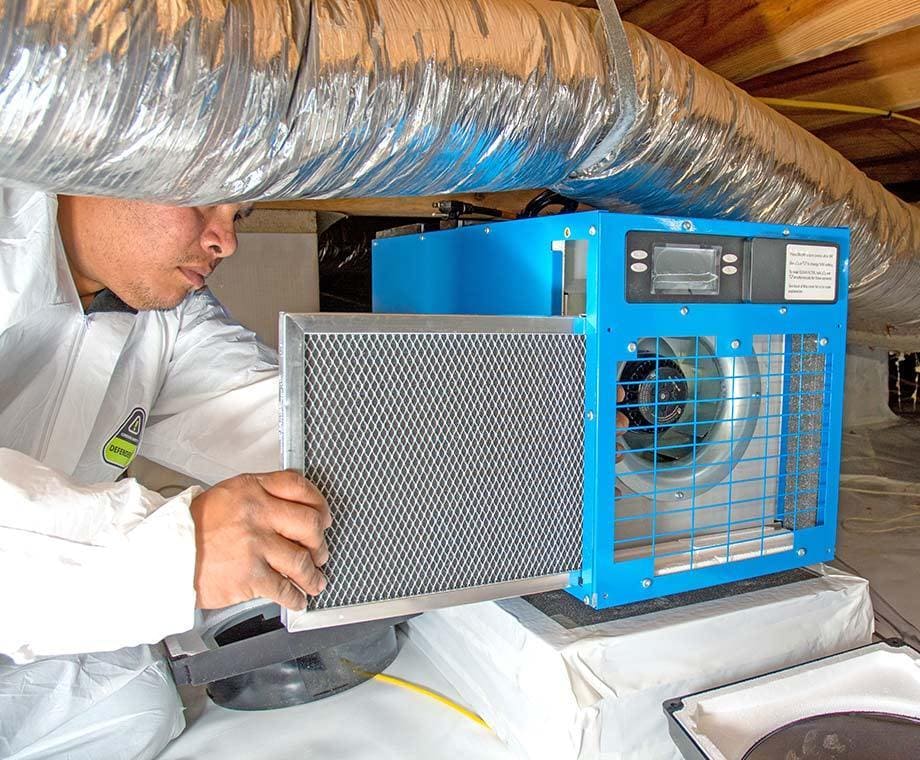 Crawl Space Fan vs Dehumidifier
A crawl space fan will improve air circulation, prevent stagnant air buildup, and control the temperature. But it won't lower the moisture level. A dehumidifier is far better at removing humidity from the air and preventing rot or mold.
Crawl Space Air Induction vs Dehumidifier
An air induction system will pull outside air into the crawl space, allowing for better circulation. These often include a backflow damper to prevent unwanted air. While these systems can improve circulation and remove stagnant air, they're not a fix-all solution. You'll need a more efficient and sophisticated system to resolve humidity issues.
Basement Ventilation vs Dehumidifier
A basement ventilation system isn't suited for a crawl space, as it relies upon air circulation. These systems don't remove moisture from the air, they only introduce fresh air and circulate unwanted air out.
Types of Dehumidifiers Suited for Crawl Spaces
There's more than just one kind of dehumidifiers that you can install in a crawl space. The type of dehumidifier you choose to install will depend on how you plan on using the appliance. Here are some commonly found types of dehumidifiers currently on the market:
Refrigerant Dehumidifiers
These are the most common variety. They work by running moist air through cold evaporator coils, causing condensation and collecting the vapors from the air. The dry air is released back into the environment.
Bucket Based Dehumidifiers
Such dehumidifiers collect moisture and water and drain it out into an attached bucket. They require you to clean out the bucket by yourself.
Gravitational Force Dehumidifiers
These dehumidifiers work vertically, depending on gravity to push down the collected water through a hose to a drain. These require minimum supervision and manual control.
Built-in Drain Pump
These dehumidifiers come with a hose and pump, allowing them to drain water upwards and sideways. They allow you to drain moisture and then push along the hose till the drain if the drain is at a distance. These are more expensive, higher-end models.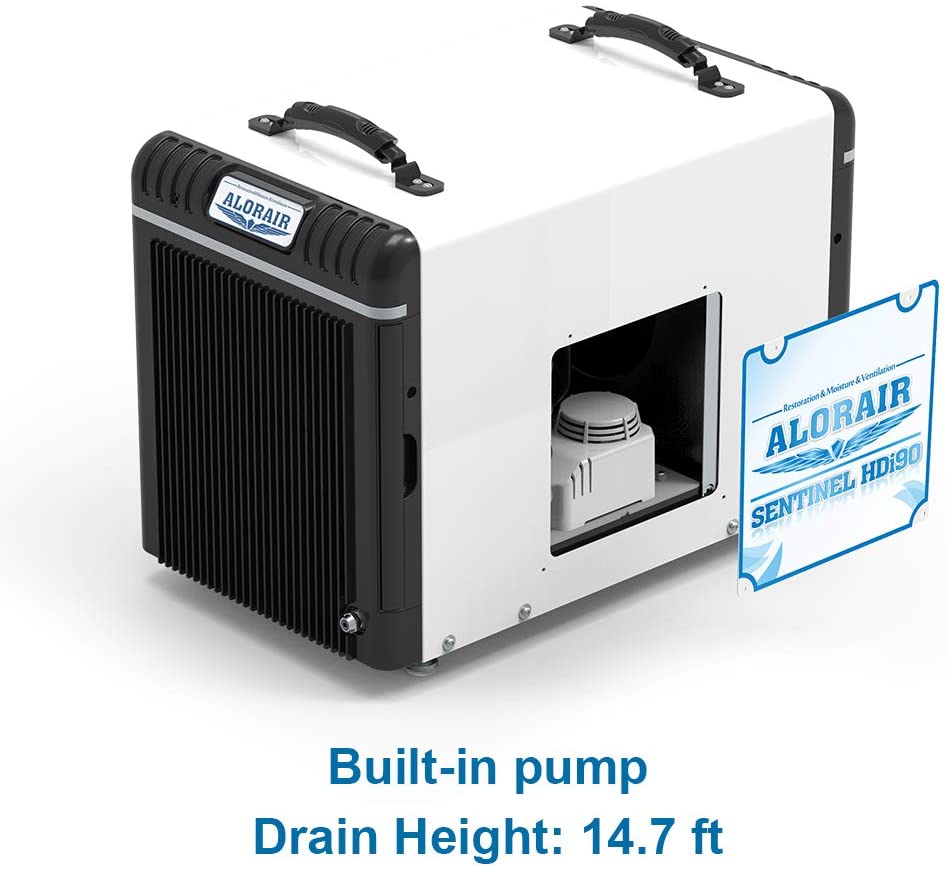 Crawl Space Dehumidifier Installation
You can install a dehumidifier yourself. It'll save you a lot of money, it requires little effort, and it's also a fulfilling and rewarding experience.
The installation instructions provided by the manufacturer will apply to the specific unit you have, but these devices are installed similarly. We've outlined the typical steps to installing a hanging unit:
Unbox the product and lay out all the parts


Attach a light to your crawl space


Measure the crawl space


Measure the beams in your crawl space


Attach the brackets to the beams in your crawlspace


Tighten the bolts with a wrench or drill


Attach the hanger for your dehumidifier to the brackets. This will be according to instructions included by the manufacturer


Plug the dehumidifier in and attach it to the hanger on the brackets


Tighten the bolts with a wrench or drill


Test the unit
For a full breakdown of the process, refer to the YouTube video below:
Conclusion
To wrap it up, we can say that the most important factors that will impact your final decision are your personal preferences and how you plan on using the dehumidifier. Depending on the size of the room and the humidity level, the performance of the unit will also be impacted.
There are several high quality units on the market that are available at budget-friendly prices, so you should explore and go through your choices thoroughly before investing in an unreliable unit. Warranty, area coverage, and leakage protection features are some important considerations.
People Also Ask
Here are our answers to the most commonly asked questions asked about crawl space dehumidifiers:
How Much Energy Do Crawl Space Dehumidifiers Use?
It varies depending on the model in question. You can expect a dehumidifier to consume about 280 watts per hour, which could increase if your dehumidifier is particularly powerful. Likewise, less powerful models will often consume less energy.
How Long Will It Take For a Crawl Space Dehumidifier to Reduce Humidity?
It depends on a variety of factors, including the dehumidifier's capabilities, the room's humidity level, and the area's degree of containment. Reducing humidity to an optimal level shouldn't take long in the average space.
Where is the Best Place to Put The Dehumidifier in a Crawl Space?
It's always best to place it on a flat and stable surface. This area should also be the most humid part of the room. Additionally, ensure the device is away from any materials that could block the exhaust or intake, as well as windows or open doors.
What Makes Crawl Space Dehumidifiers So Costly?
Crawl space dehumidifiers tend to be more compact than their full-sized cousins as they need to fit into small areas while maintaining a significant amount of power. They're also often industrial grade and usually last much longer.
What Is the Normal Setting on a Dehumidifier in a Crawl Space?
It depends on the issue you have in your crawl space. You'll likely need to put your dehumidifier on a continuous or automatic setting if your crawl space consistently collects a lot of moisture.
Can I Use a Regular Dehumidifier in a Crawl Space?
Yes, but different dehumidifiers are more ideal for different tasks. Therefore, a crawl space dehumidifier will likely be the best thing to use in a crawl space. Other types or models may not be as effective.