Are you sick and tired of the humidity that is causing your hair to frizz each time you visit your basement? Sick of the bad odor and smells rising from your basement?
Then, worry no more because what you need is a dehumidifier that's ideal for your basement. With the plethora of choices available, you are bound to be confused.
However, we're here to help you decide which one you need to purchase.
At a Glance: Our Top Picks for Dehumidifiers For Basements
Comparison of the Best Dehumidifiers for Basements
IMAGE
PRODUCT

Our Top Pick

Our Rating: 10.0
Pints: 50
Warranty Length: 1 year

View Latest Price →

Our Rating: 9.6
Pints: 50
Warranty Length: 2 years

View Latest Price →

Our Rating: 9
Pints: 35
Warranty Length: 1 year

View Latest Price →

Our Rating: 9
Pints: 180
Warranty Length: 5 years

View Latest Price →

Our Rating: 8.4
Pints: 85
Warranty Length: 5 years

View Latest Price →
How to Choose a Basement Dehumidifier
This is the obvious question that is bound to cross your mind once you're convinced you really need to invest in a top-quality dehumidifier for your basement. So, what are the actual features that you should consider before making a purchase? Let's have a look at some of these:
Spaciousness and Size
The very first thing to consider before making any decision is to deduce the size of your basement. Doing so allows you to then decide how large of a dehumidifier you require. If you have a larger basement, then you'll require a dehumidifier that can collect a larger amount of moisture and one that is suited for larger spaces.
Humidity
This is important as some dehumidifiers, although suited for your space, will fail to work if the level of humidity in your basement is too high. Some areas experience worse summers and higher levels of moisture, making a few models inefficient for your use. Moreover, your basement could possibly be built in a way that causes it to be damper and moldier than others in the same region.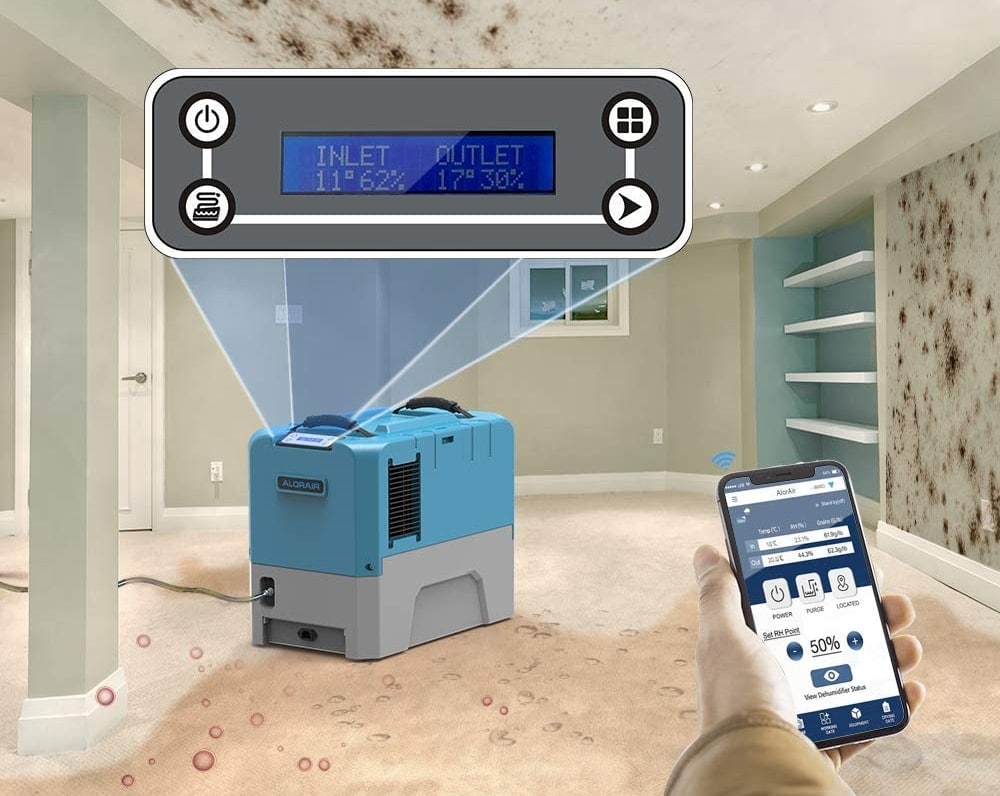 Portability
Not all dehumidifiers are portable. If you're interested in switching positions or moving it for use in other parts of your house, then you need to consider this.
Also, it's quite interesting to note that there are dehumidifiers that are available for controlling humidity throughout your house. Although, a great investment, these models are not portable.
Water Removal
You may not have a setup that is suitable for drainage that works due to gravity in your basement. You may then need a dehumidifier that drains out water automatically through pumping.
Review of the Best Dehumidifiers for Basements
Let us now look at the best dehumidifiers for basements available in the market. In the end, you can compare and evaluate the option which is best for you to ensure you get the right pick.
Midea MAD50S1QWT
Quick Product Specs:
Pints (DOE): 50
Warranty Length: 1 year
Size & Weight: 14.45×14.76×14.57"; 42 lbs.
Tank Capacity: 23 Liters
Decibel Level: 48 dB
Review
Cheap, efficient, and reliable, the Midea MAD50S1QWT is the best overall dehumidifier for basements, earning a 5-star rating for cost efficiency and 4.5 stars for affordability. On top of these high marks, the Midea also earns a space efficiency rating of 4 stars to go along with a 4.5-star portability rating thanks to handles and its relatively compact size.
Furthermore, its 23-liter tank takes the hassle out of frequently emptying the unit, providing tons of flexibility compared to smaller units or those without a drain and internal pump.
Bottom Line
Despite the unit's top-tier rankings, the Midea MAD50S1QWT suffers from a poor warranty and somewhat flimsy construction, earning just a 2-star rating in that department. But don't let this deter you from picking up what is an otherwise top-notch unit that can cover a whopping 4,500 sq. ft., which is ideal for even the biggest, dampest basements.
Pros
Compact size
Internal pump
Anti-frost protection
4,500 sq. ft. of coverage
Three times larger tank capacity than similar units
Cons
Poor customer service
Humidistat can be slightly off in higher temperatures
Hisense DH7019KP1WG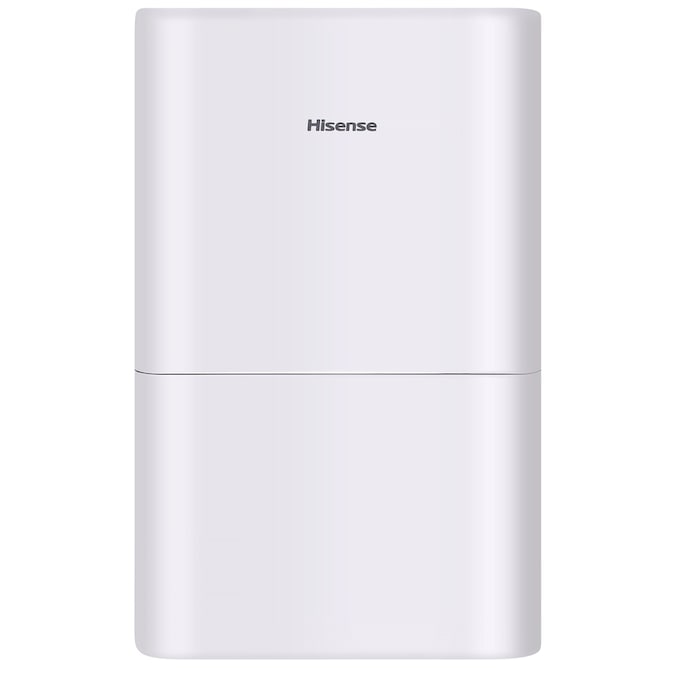 Quick Product Specs:
Pints (DOE): 50
Warranty Length: 2 years
Size & Weight: 15.1×10.7×24.8"; 39.5 lbs.
Tank Capacity: 8.7 Liters
Decibel Level: 48 dB
Review
The Hisense DH7019KP1WG is a mighty workhorse, removing 70 pints of water from the air a day to give it a 4.5-star cost-efficiency rating to go along with a 2.5-star space efficiency rating.
Moreover, its lightweight design and built-in handles provide 4-star portability, allowing you to put it anywhere in the basement with ease. And with extras such as a programmable timer and a built-in pump, you never have to worry about this unit giving out on you when you need it the most.
Bottom Line
Despite its stellar ratings, including a 4-star mark for affordability, the Hisense DH7019KP1WG only has a 2-year warranty. While this may not be an issue for some buyers, the more hesitant or thrifty buyer beware. Yet even with this minor setback, the unit remains one of the top choices for the dampest basements around.
Pros
Drain hose included
Internal pump standard
Washable and reusable filter
Works in cold climates (38 degrees)
Easy-to-use, programmable 24-hour timer
Cons
Internal pump has quality issues
Directions are difficult to read or understand
Midea MAD35S1QWT
Quick Product Specs:
Pints (DOE): 35
Warranty Length: 1 year
Size & Weight: 13.39×13.5×13.5"; 33.29 lbs.
Tank Capacity: 16.5 Liters
Decibel Level: 48 dB
Review
If you want a dehumidifier with all the extra without breaking the bank, a few options can top the Midea MAD35S1QWT. Earning dual 5-star ratings for affordability and portability, you can easily place this unit anywhere in your basement, as long as wheeling it there isn't a concern. Easy-to-use handles provide the portability you need, while 3,500 square feet of coverage can dry out even the largest of basements.
Bottom Line
While the Midea MAD35S1QWT lacks the warranty and Energy Star-rated efficiency of some other units on this list, it's still a formidable entry for one of the best dehumidifiers for basements. Its space efficiency rank is only 2.5 stars due to its smaller pint capacity, but at its core, it's a great unit to remove the moisture from your basement.
Pros
Anti-frost protection
Up to 3,500 sq. ft. of coverage
Works with or without the accompanying water tank
Smart, Wi-Fi compatibility allows you to set the timer from anywhere
Extended and compact settings for maximum efficiency and portability via the lift-and-twist design
Cons
Difficulties removing the air filter
Lack of portability/wheels can make moving the unit more difficult
ALORAIR Storm Pro
Quick Product Specs:
Pints (DOE): 180
Warranty Length: 5 years
Size & Weight: 21.1×19.2×31.4"; 94.8 lbs.
Tank Capacity: 48.3 Liters
Decibel Level: 58 dB
Review
If the phrase "industrial strength" appeals to you, the ALORAIR Storm Pro just might be the unit for you. Featuring 180 pints of dehumidifying power to go along with a massive 48.3-liter thank, the Storm Pro gets an impressive 4-star rating for cost efficiency to go along with an acceptable 2.5-rating for space efficiency.
What's more impressive is the built-in Wi-Fi that allows you to control the unit from just about anywhere — a feature that's widely absent on most other industrial-strength dehumidifiers. Add in the built-in wheels for easier transportation and a built-in pump, and you have all the makings of one of the top high-grade dehumidifiers on the market.
Bottom Line
If you don't have a massive basement and you weren't the victim of heavy rains or floods, the ALORAIR Storm Pro might just be more powerful than you can handle. It gets only a 2.5-star rating for affordability, which sheds some light on the price you pay for industrial-grade water absorption.
While not everyone needs a behemoth to get their basement dry, the Storm Pro offers an option to deal with emergencies and the inefficiencies you may find with some smaller dehumidifiers.
Pros
Built-in pump turns back on after a power outage
Perfect for disaster restoration after heavy rains or flooding
Unit disassembles in 10 seconds if you need to service the interior components
Built-in wheels provide excellent portability despite the heaviness of the unit
Ability to control the unit straight from your smartphone through the ALORAIR downloadable app
Cons
Louder than other basement dehumidifiers
Hard to transport up or down stairs due to its bulk
ALORAIR 85PPD
Quick Product Specs:
Pints (DOE): 85
Warranty Length: 5 years
Size & Weight: 22.8×13.7×17.3"; 70.5 lbs.
Review
With 85 pints of water-removing capacity, the ALORAIR 85PPD is a great option for mid-sized basements. While it doesn't have the gargantuan size of its Storm Pro sibling, it still is the second-largest unit on this list, offering a space efficiency of 3.5 stars and a cost efficiency of 2.5 stars. Some might say this unit lacks, but with the extra-long drainage hose and power cord to pair with advanced anti-frost technology, it can still hold its own among the big boys in the space.
Bottom Line
For a commercial-grade humidifier, you probably won't find one better than the ALORAIR 85PPD, or at least for its size. And while the pump can grow suspect with age and the unit itself is heavy, a 5-year warranty and operability in a greater range of temperatures than other units provide an edge over competitive 85-pint dehumidifiers.
Pros
Built-in handles for greater portability
Includes an internal pump and drain hose
Super-long 19.6-foot cord and 19.6-foot drainage hose
Alloy tube evaporator to prevent frost damage to the unit
Operates in temperatures ranging from 33 to 105 degrees
Cons
A tad on the heavy side
Internal pump can weaken over time
What Can You Expect After Adding a Dehumidifier to Your Basement?
A dehumidifier has several benefits it will bring with its installation. These include:
Prevention of mold growth on the basement walls


Fresher, odorless air that does not feel clammy


Dampness of walls and the floor is prevented


Rotting and decay of belongings stored in the basement is prevented
We'll get to which dehumidifier model is the best choice for you in a bit, but one thing is absolutely sure, regardless of the one you invest in; a dehumidifier will definitely make your life easier. If you invest in a high-quality dehumidifier for your basement, chances are you will never regret your decision.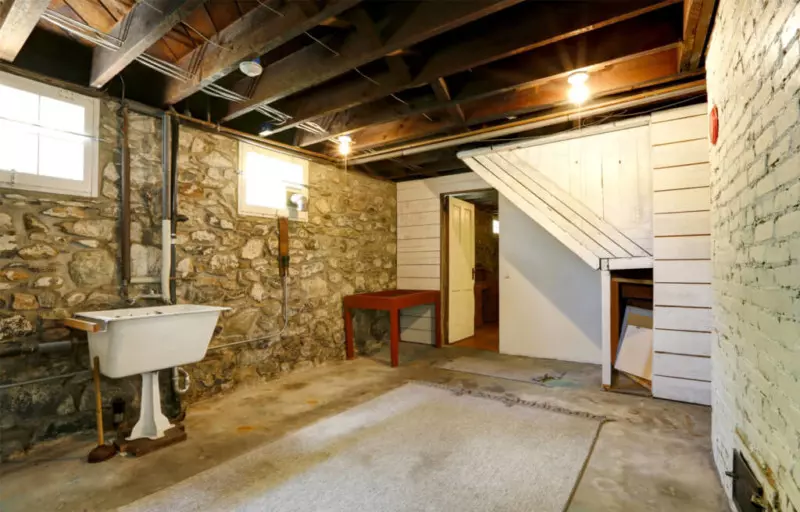 You won't need to spray insecticide ever so often to kill the insects that grow in the damp and dark. Moreover, the basement will not need constant cleaning or even repainting and scrubbing of walls. Most importantly, you won't have to hold your breath each time you go down to get some of your stuff. The air will feel fresh and clean.
Additionally, investing in a dehumidifier that can ensure a particular temperature is even more useful. This will allow you to set up the required temperature. Not only are health problems prevented, but a dehumidifier is also able to switch itself on after a power outage making it hassle-free to own and run one.
What Makes a Dehumidifier Great for a Basement?
Dehumidifiers gauge the moisture level in a room concerning the room's overall temperature. They circulate the air in the room with a fan and then draw the moisture out of the air to reach a preset or desired level.
This ability to keep the amount of moisture level in a room at a comfortable level makes dehumidifiers essential for your basement, which is likely the most humid area in your home and frequently used for storage. Dehumidifiers will prevent mold growth and other damages from affecting your basement and belongings.
Some other advantages of a dehumidifier include:
Reduction of allergens: These units reduce the allergen levels in the air


Prevent dust mites: In addition to mold, dehumidifiers reduce the presence of dust mites


Discourage insects: Insects are far more attracted to humid and damp spaces than dry areas


Rust prevention: Keeping the air dry reduces rust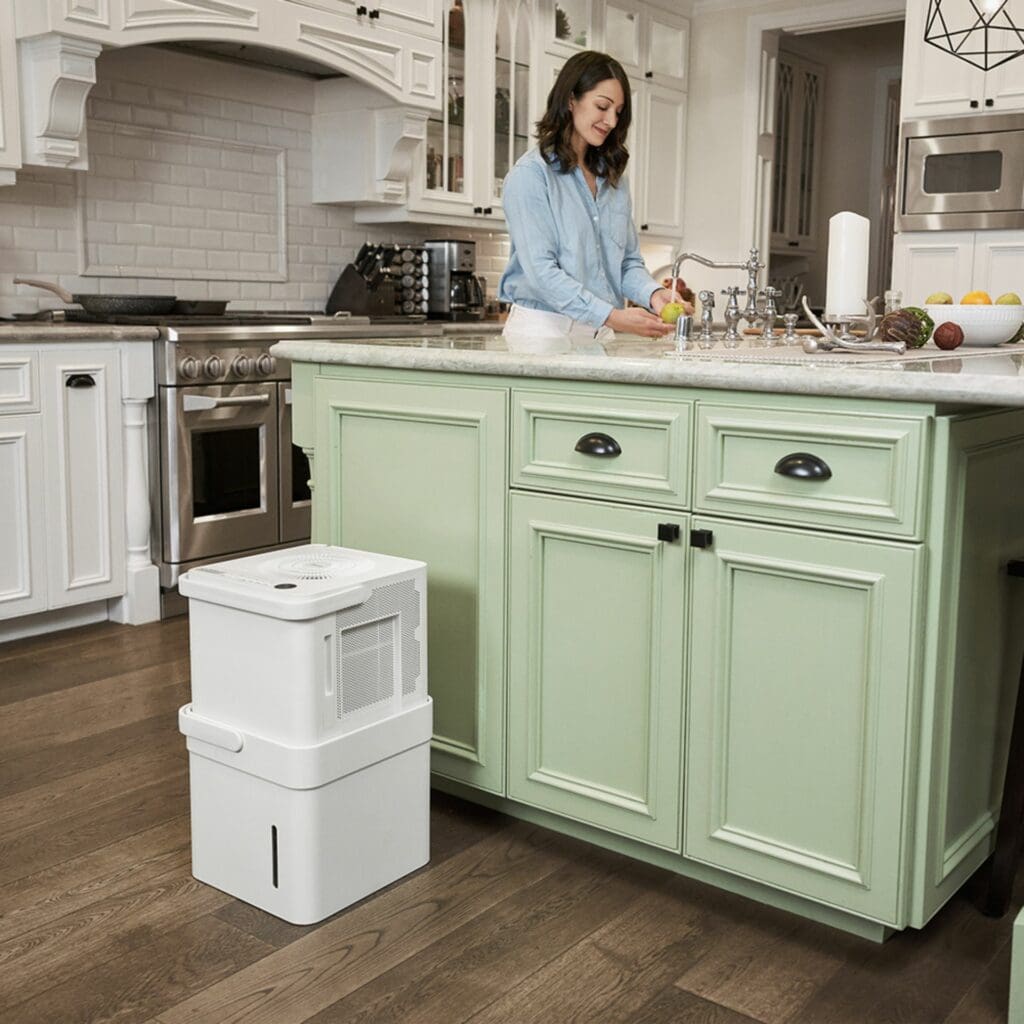 What Size Dehumidifier For Basement?
It's important to consider the size of your room when choosing a dehumidifier. You also need to account for the device's pint capacity, moisture reduction capability, and square foot coverage. 
However, most dehumidifiers state how much area they can effectively cover.
Types and Sizes of Basement Dehumidifiers
Some of the smallest dehumidifiers are about eight pints and intended for use in a cubicle, closet, or crawl space. Other units can reach up to 250 pints and are best suited for warehouses or industrial spaces.
Here's a look at some of the most common sizes available:
30 pint: For small spaces, a 30-pint dehumidifier will do the trick. They're light, portable, and usually compact.


50 pint: Medium-sized rooms are an ideal match with a 50-pint option.


70 pint: A 70-pint dehumidifier can handle serious jobs such as basements or large spaces.


100 pint: Although not the biggest available, this is one of the most popular large dehumidifiers. It can often handle large basements and houses.
You need to measure your space to decide which size you should use and what you can expect from your dehumidifier.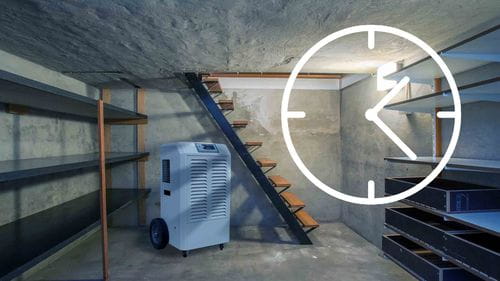 Basement Dehumidifier Comparisons
We put basement dehumidifiers head-to-head with other devices and systems to give you a true sense of which paths are most effective and how useful a dehumidifier can be. We looked at everything from moisture level to energy efficiency and comfort.
Here's what we found out:
Basement Ventilation System vs Dehumidifier
A well-ventilated basement may have lower humidity levels than an enclosed and poorly ventilated space. However, installing a new ventilation system is more costly than buying a dehumidifier. You'll likely only need a new ventilation system if your issue is serious.
Basement Air Conditioner vs Dehumidifier
While a basement air conditioner will lower the temperature in a room, it won't remove the moisture from the air. You'll need a basement dehumidifier to make your basement less humid. However, air conditioners are great if you use your basement as a living space and it doesn't suffer from humidity issues.
Dessicant vs Compressor
A desiccant model is most suited to cooler environments, where it's more effective than the average dehumidifier. We recommend desiccant dehumidifiers if your basement is cold.
If it's warm, use a compressor – or refrigerant – dehumidifier to lower the room's temperature while removing moisture.
French Drain vs Dehumidifier In Basement
French drains – trenches containing pipes that redirect surface water – aren't alternatives to a dehumidifier and vice versa. They can resolve issues with flooding or leaking, but you'll need a dehumidifier if you want to lower the moisture level in the air.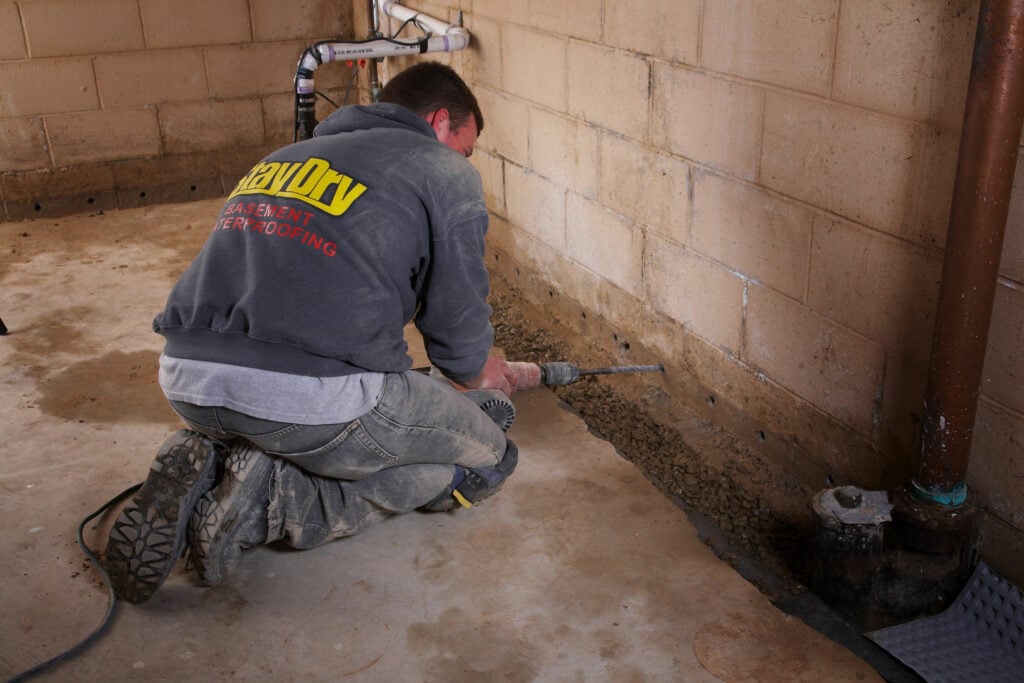 Conclusion
It should have become easier for you to deduce which dehumidifier you require for your basement after comparing all of the best models available. Regardless of your choice, it is important to note that a dehumidifier in general, has a lot of advantages.
These include fresher air, mold and mildew prevention, prevention of respiratory troubles and odorless air. Moreover, it helps reduce billing costs and runs automatically making it hassle-free to own one. So, to tackle your smelling and pollutant-filled basement, you now know what to do!
People Also Ask
Here are our answers to the most frequently asked questions regarding basement dehumidifiers.
Where to Place a Dehumidifier in the Basement?
You should place your dehumidifier in the most humid area of your basement. This allows it to function most efficiently. Ensure that the intake and exhaust are not blocked and that the dehumidifier is sitting flat and stable on the ground.
Will a Dehumidifier in the Basement Help the Whole House?
The humidity level in the basement may impact other areas of the house, but this is an indirect effect. A dehumidifier would have to be very large and powerful in order to impact the entire house.
What Humidity Should I Set My Dehumidifier to in the Basement?
This is a matter of choice. The dehumidifier should be set to about 40% humidity if you want your basement to be dry. This will significantly reduce any dampness or moisture collection in the basement.
How Often to Run Dehumidifier in a Basement?
You'll likely need to run the dehumidifier constantly in a humid basement to keep the humidity level down. The moisture levels will rise when the dehumidifier isn't running. Also, you'll need to attach a drainage hose or regularly empty the bucket to maintain a comfortable level.
How Does a Dehumidifier Work in a Basement?
It's the same as in any other area of your home. It detects the moisture level in the air and accounts for the temperature of the room. Then, it uses a fan to circulate air. It draws in moisture and stores it in a bucket.
Does a Basement Dehumidifier Help Temperature Control?
It'll decrease the humidity level. This will make a humid room feel much cooler and more comfortable. Some dehumidifiers will also expel cool air with the fan cycle. However, they control humidity, not temperature.
Do I Need a Dehumidifier in My Basement?
Some basements don't require dehumidifiers. Others become very humid, making it a risk to store anything in that space. Test the humidity percentage to check whether you need a dehumidifier.
When Should I Turn Off My Dehumidifier?
Your dehumidifier will turn off once the bucket is full if it runs continuously. If you have a drain hose attached, the water will pump out and continue to run until the desired humidity level is reached. You can turn the unit off once the moisture level in the air is comfortable.