Hate the humidity that comes along with summers? Does sweat and frizzy hair irritate you? Do you want your air conditioning to work faster whilst conserving energy? Then a house dehumidifier is what you desperately need.
It is a great investment for all those who face long summers and require an efficient system that helps cool down the house. Since it is an appliance that requires a chunk of your investment, it is essential that you compare the best dehumidifiers to make the right choice.
If you're clueless as to which unit to purchase, check out these popular picks.
At a Glance: Our Top Picks for Whole House Dehumidifiers
Comparison of the Best Whole House Dehumidifiers
IMAGE
PRODUCT

Our Top Pick

Our Rating: 10
Pints: 70
Warranty Length: 2 years

View Latest Price →

Our Rating: 10
Pints: 70
Warranty Length: 2 years

View Latest Price →

Our Rating: 9.7
Pints: 70
Warranty Length: 5 years

View Latest Price →

Our Rating: 9.7
Pints: 70
Warranty Length: 1 year

View Latest Price →
Benefits of Having a Dehumidifier for the Whole House
There are countless advantages to owning a whole house dehumidifier. Investing in a top-quality dehumidifier is bound to leave you with endless benefits. Some of these include:
Asthma Attack Prevention
It is basic knowledge that allergens, mites, and insects thrive in damp and smelly places. It is also well-known that these are allergens that trigger asthma and promote other breathing problems.
A dehumidifier prevents extra dampness, making the air in your home fresh, clean, and balanced with the correct amount of moisture.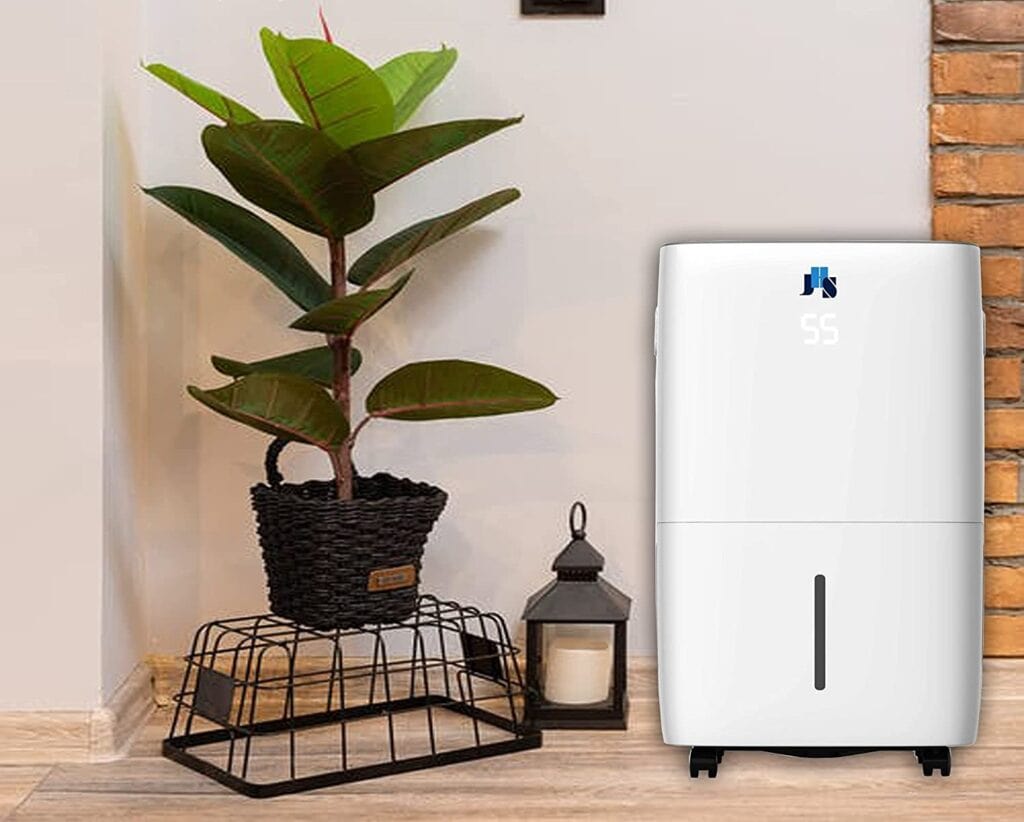 Noise-Free
This should be an appliance which works quietly in the background without interfering in your daily life.
Mold Prevention
Furniture and curtains will be mold-free and non-smelly as the air will have a balanced amount of moisture.
Less Cleaning
As this product will prevent dust and build-up of allergens and insects, you'll need to clean your house less often.
Review of the Best Whole House Dehumidifiers
Let's look at some of the best humidifiers available on the market. Keep reading to find out the features of each and further assess which one best meets your requirements.
Hisense DH7019K1G
Quick Product Specs:
Pints (DOE): 70
Warranty Length: 2 years
Size & Weight: 16x12x25"; 45 lbs.
Tank Capacity: 6.62 Liters
Decibel Level: 46 dB
Review
Despite only having a 70-pint size, the Hisense DH7019K1G is a surprisingly efficient unit, earning a 5-star rating for cost efficiency that pairs with a 2.5-star space efficiency rating. However, the low price tag might be the coup de grace of this unit, offering a 5-star affordability rating, which is often difficult to find for a whole-house dehumidifier. It also comes with a few extras, including an internal pump, drainage hose, and a programmable timer so you can get the best dehumidification possible with minimal work.
Bottom Line
The Hisense DH7019K1G is a genuine workhorse in every sense of the word, working faster and more efficiently than other units. It also has quiet operation, making it a great choice for the bedroom or living quarters. Lightweight and appropriately sized, it also boasts a 4-star portability rating, adding to the overall value of the unit.
With a 10-star overall rating, this dehumidifier checks all the boxes, although its 1,000 sq. ft. of coverage may push owners of larger homes to a bigger unit. But all in all, the Hisense ranks here for a reason, providing more-than-adequate dehumidification at rock bottom prices.
Pros
Drainage hose included
Programmable, 24-hour time
Faster water removal than comparable units
Multiple fan speeds, but still low noise even at higher speeds
Visual and aural cues to change water bucket to avoid overflow
Cons
Not enough coverage for larger homes
Some buyers report longevity issues if unit runs constantly
Hisense DH7019KP1WG
Quick Product Specs:
Pints (DOE): 70
Warranty Length: 2 years
Size & Weight: 16x12x25"; 43 lbs.
Tank Capacity: 6.62 Liters
Decibel Level: 47 dB
Review
As the sibling of the Hisense DH7019KP1G, the DH7019KP1WG (look out for that "W" in there) takes everything you love about the original unit and adds in an internal pump. For those who want minimal interaction with their dehumidifier, this internal pump is a godsend. It also carries the same 5-star ratings for both affordability and cost efficiency, which means you won't lose any dehumidifying power on account of wanting an internal pump.
Bottom Line
Your decision on which Hisense unit to buy all comes down to whether you want an internal pump. Both the DH7019KP1G and DH7019KP1WG have 1,000 sq. ft. of coverage and a 24-hour timer, as well as cold-weather operation and a 4-star portability rating. If you opt for this unit, you'll pay a bit more for the pump, but when you have other things to do around the house, this whole home dehumidifier pays dividends.
Pros
Cold-weather operation
24-hour programmable timer
Washable and reusable filter
Drainage hose included with the unit
Built-in internal pump comes standard
Cons
Buyers cite that the directions are difficult to read
Quality and longevity of the pump called into question with consistent or constant use
Honeywell TP70WKN
Quick Product Specs:
Pints (DOE): 70
Warranty Length: 5 years
Size & Weight: 12.4×15.75×25.4"; 48.95 lbs.
Tank Capacity: 7.9 Liters
Decibel Level: 51 dB
Review
If you want the peace of mind of a well-known brand the Honeywell TP70WKN is probably what you're searching for. But you aren't paying for the brand alone. With 4-star ratings in affordability, cost efficiency, and portability, this dehumidifier is no slouch, offering a whopping 4,000 square feet of coverage to go along with an Energy Star certification.
Furthermore, the 5-star warranty is the best on this list, giving you a bit of added solace and knowledge that this unit will work every bit as hard as you do.
Bottom Line
The major hindrance of the Honeywell TP70WKN is that it only offers a 2-star space efficiency rating, which can create problems in larger households despite its 4,000 sq. ft. of coverage. Still, it has a pump that's more durable than other options and also has some of the best customer service in the business. If you're an individual who trusts the Honeywell name, this unit should scratch you where you itch.
Pros
Energy-saving time
Energy Star certified
Included internal pump
Superb customer service compared to other units on this list
Filter cleaning and full water tank alerts to prevent overflow or dirty water
Cons
Pump may give out just after warranty ends
Flimsy plastic connector between pump and drainage hose is prone to breakage
JHS D026B-50PT
Quick Product Specs:
Pints (DOE): 70
Warranty Length: 1 year
Size & Weight: 11.3×15.4×24.4"; 39.7 lbs.
Tank Capacity: 8 Liters
Decibel Level: 53 dB
Review
The JHS D026B-50PT snags fourth place on this list primarily due to its massive amount of coverage. With 4,500 sq. ft. of dehumidification power at its disposal, it's powerful enough to pull the humidity out of even the largest homes. 5-star ratings for both cost efficiency and affordability are the shining achievements of this unit, showcasing that you don't have to spend a small fortune to get the dehumidification that you need. And with the customizable settings, you can create a different setting for the bedroom, bathroom, kitchen, or basement. It's truly an easy way to dehumidify your home without any hassles.
Bottom Line
Despite its upsides, the JHS D026B-50PT suffers from a weak 2-star warranty, which may make some buyers apprehensive, especially compared to the 5-star warranty ratings of the Honeywell unit. However, the added power of a 5-star cost efficiency rating and a complementary 3-star space efficiency rating is well worth the gamble. Add in the auto-restart and anti-frost protection, and the JHS D026B-50PT should get the job done in a splendid fashion.
Pros
Freeze and anti-frost protection
Compact and lightweight design
Allows settings for different rooms of your home
Up to 4,500 sq. ft. of coverage, making it a great choice for larger homes
Customizable settings allow you to adjust the unit based on where you place it in your home
Cons
Higher fan speeds are loud compared to other dehumidifiers
Temperature can wreak havoc on the dehumidifying power of the unit
JHS D026B-50PT-P
Quick Product Specs:
Pints (DOE): 70
Warranty Length: 1 year
Size & Weight: 11.3×15.4×24.4"; 40.89 lbs.
Tank Capacity: 7 Liters
Decibel Level: 53 dB
Review
Much like the two Hisense options on the list, the JHS D026B-50PT and the JHS D026B-50PT-P come down to one major decision: pump or no pump. In this case, the JHS D026B-50PT-P is the one that comes with an internal pump, providing ease of use that its sibling can't offer.
It offers the same 5-star ratings for affordability and cost efficiency, so you won't lose any ground if you want to go for the pump. Plus, it maintains the 4,500 sq. ft. of coverage that's ideal for bigger homes.
Bottom Line
One major drawback of the JHS D026B-50PT-P is that the internal pump can get noisy, but at just 53 dB, it's not like a jet engine flying overhead. A 2-star warranty leaves much to be desired, but again, it may be worth the gamble. And with a 3-star space efficiency rating rounding out its benefits, the JHS D026B-50PT-P is a solid dehumidifier with a pump that should give you the moisture removal you crave most.
Pros
Reusable filter
Energy Star rated
Perfect for larger homes
Fuse and thermal overload protection
Room-select mode for improved comfort
Cons
Incomplete directions that are hard to read
Can get loud when the internal pump works, making it a poor choice for bedrooms
How Does a Whole House Dehumidifier Work?
A dehumidifier is an appliance that works efficiently to remove excess moisture from the air in your home. This, therefore, keeps you feeling cooler and relaxed. Also, as the humidity level drops, it is easier for cooling appliances to help build up comfortable room temperature.
A fan inside the unit pulls in air from the room which then passes a chamber with cooling coils which causes water to condense and drop down into a reservoir, leaving the remaining air moisture-free. This low moisture air is then reheated and returned to the room. The unit can be programmed to make the air reach certain moisture levels and then shut down automatically for that perfectly balanced room environment.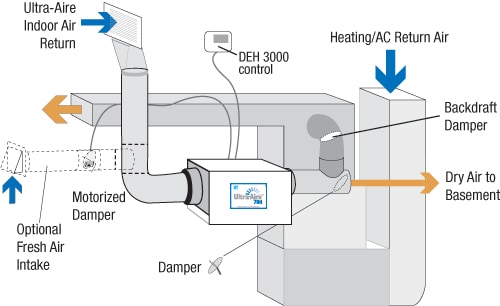 What Size Dehumidifier Do I Need for My House?
One of the most significant factors to consider when buying a whole house dehumidifier is how much space it needs to cover. You don't want a compact unit for a large house, as you'll only be able to focus on a few rooms at a time. Here's how you can estimate what size you need.
Whole House Dehumidifier: How to Determine Square Feet?
It may be clear that you should measure every room you intend on dehumidifying. You might not want to include the entire house, so only assess the affected areas. However, there's more to this exercise than walking through every space with a tape measure and calculating the total environment's square feet. 
For instance, the coverage indicated on a dehumidifier's specifications usually caters to ceilings eight feet high. If your ceiling height is smaller or larger, you may need to round. Similarly, modern homes with foam-insulation and more classic houses need to be measured differently, where you'll adjust the latter for extra coverage.
What Size Whole House Dehumidifier Do You Need With Existing Air-Conditioning?
If you're hooking up your dehumidifier to an existing HVAC system, you must assess every single room that the ventilation system connects to without exception. If there are crawl spaces, attics, or a basement linked to it, you need to measure each of them for the complete area. Remember to also account for the sq. ft within the ducting.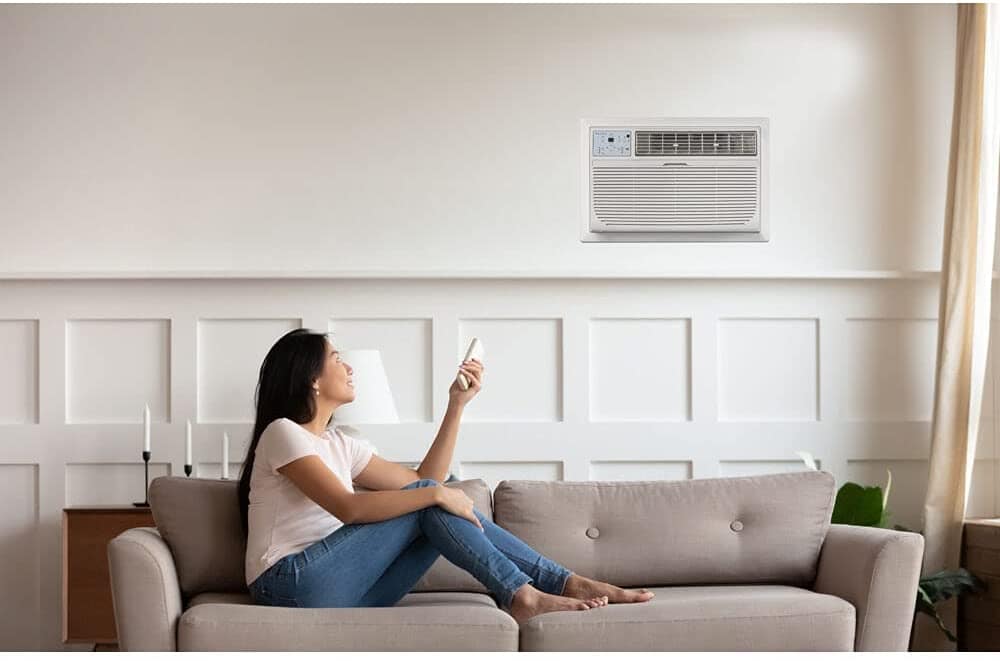 Types of Dehumidifiers for the Whole House
When you're shopping online for a dehumidifier, check to see what type it is. Each one functions differently, which may affect the output or performance. Let's see which type would suit your house better.
Refrigerant
This dehumidifier works by condensing the moisture that it draws from the air. Internal coils lower the temperature enough to form water, which then collects in a tray. The air that leaves the unit contains less humidity than the air which entered.
Desiccant
These units also draw in the air with high humidity, but they use an adsorbent to remove the moisture rather than cooling it down. This dehumidifier is the perfect selection for regions with cold climates. The material usually consists of a silica gel that's ideal for removing water vapor.
Heat Pump
Some dehumidifiers have an internal heat pump to dry the air that exits the unit. It will still collect any water that forms through condensation on interior panels, but the primary function is to dry the moisture as much as possible before reintroducing it back into your living space.
Dual-Purpose
Many people prefer ventilating their homes with fresh air, which is why they opt for air-conditioning systems. However, some dehumidifiers have a dual purpose. They can remove the moisture while ventilating your house, with an option to switch between the two functions.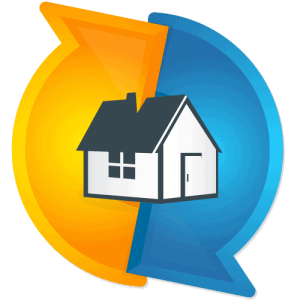 How Do Whole House Dehumidifiers Compare?
You might wonder how whole house dehumidifiers compare to other types. We'll look at these comparisons in this section so that you can evaluate which would suit your home best.
Whole House Dehumidifier vs Air Conditioner
Air conditioners ventilate the home to manage temperatures and ambiance. Some AC units also contain humidity levels, but they do so by cooling the air. Dehumidifiers remove moisture internally by drying the air instead, which often results in the emission of heat.
Whole House Dehumidifier vs Portable
The difference between these two units is mostly revealed in the names. Portable dehumidifiers are ideal for use for specific locations that have water damage or dampness. You can move it around the house, focusing on areas with mold or mildew.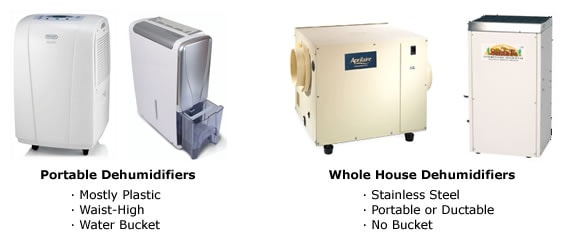 Whole House Dehumidifier vs Central Air
Some units provide air conditioning or dehumidification from a central location instead of using vents in separate rooms. While this method can be effective, there are often many obstacles to overcome. For instance, you need to ensure that nothing blocks the airflow and that the performance is powerful enough to cover the entire home.
Integrated vs Stand-Alone Whole House Dehumidifier
An integrated dehumidifier refers to connecting the unit up to HVAC systems or vents that are already installed throughout your home or office environment. Stand-alone devices have fans that help with circulation so that you don't need to install new ducts. However, they consume more power as they need more energy to circulate the air around the entire area.
Aspects to Consider Before  Buying
One important thing is to consider the various aspects of an appliance before making a purchase. If you're wondering about what important things you need to consider before making an investment, then wonder no more. Below are some of the most important things you should note before you buy a dehumidifier:
Space
It is important to note the space and area of your house where you'll place the appliance. Also, it is essential to consider how large your house or room is before making a purchase. Once you figure this out, you'll be able to decide how large of a dehumidifier tank you'll need. Hence, you'll be able to pick an appliance that not only blends into your room but is also able to work efficiently.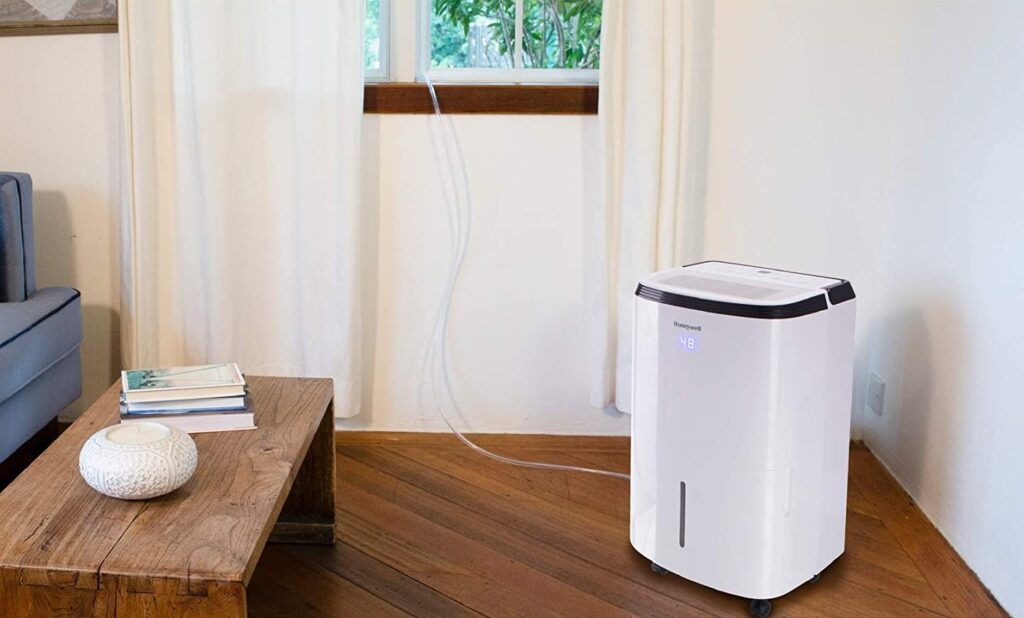 Noise
If you're someone who cherishes their peace and quiet, then this is one important thing you must consider. Not all machines are as quiet as they claim and some are even loud. If you want a device that is quiet and noise-free, you'll need to read a few reviews and do some research.
Portability
This is important if you are someone that usually moves their appliances about or if you're unsure of where to exactly place your machine. Not all dehumidifiers are easy to move, so you should pick one with wheels and handles to make portability easier.
Whole House Dehumidifier Pros And Cons
Let's see the pros and cons of installing a whole house dehumidifier in general and whether they are machines worthy of your investment:
Pros
Generally easy to set up and run


Usually, have their own drains, so continuous drainage is made possible


Prevent mold and mildew which, in turn, prevents health problems


Remove bacteria and other allergens around the house


Keep curtains and furniture from damage and corrosion


Reduce electric bills as the AC does not have to work as hard to cool down the house


Not as noisy


Preferred humidity levels can be set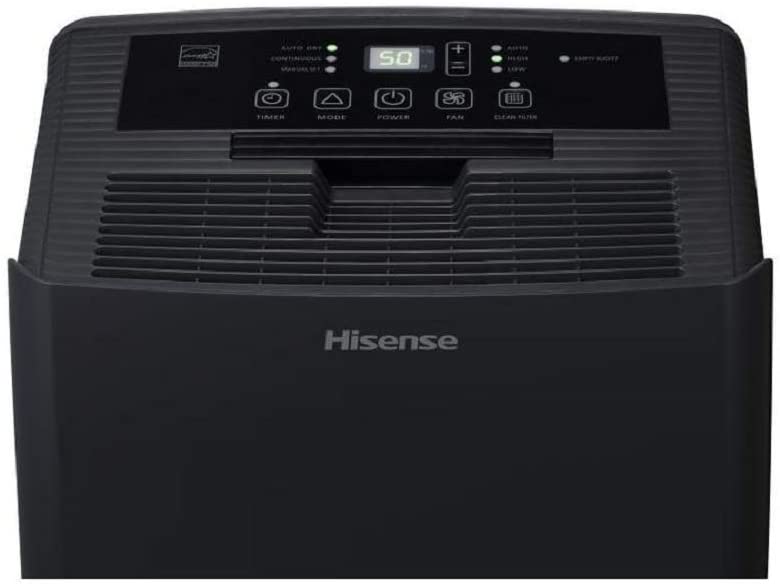 Cons
Require regular maintenance


You may have to empty the tank if the hose malfunctions


Even though they are not as noisy, a humidifier could be too loud
How to Install a Whole House Dehumidifier
When you purchase a dehumidifier, you're bound to wonder how it should be set up and what the installation procedure is. We have summed up the steps to help guide you and make the installation process a whole lot easier. Below are the steps you must follow:
Once you've picked out the correct dehumidifier for your space, the next step is to decide upon its location. This is important for the appliance to run smoothly since where it's placed and the space it will take up all account for the smooth operation. If it is portable, you'll be able to move it to different locations to check where it works best. Otherwise, it is important to make the correct decision for the location to avoid further issues.


Next, choose your drainage method. Pick whether you'd like to empty the tank yourself after 24 hours or whether you prefer continuous drainage.


Set up the correct humidity level as per your requirements.


Make sure you keep it clean and check on the appliance regularly. Maintenance will increase the life of the dehumidifier.
To get a better understanding of these steps, you can refer to this video:  
Conclusion
A dehumidifier is an appliance that is a must-buy for those that worry about electricity bills and are generally fed up of the humidity levels in their region. Moreover, it also helps prevent allergies and breathing problems and also keeps your home and furnishings from decaying and rotting. Prevention of mold and mildew helps keep your home looking fresher and cleaner so make sure to invest in the right unit.
People Also Ask
Readers sometimes send us some questions regarding HVAC systems. Here's our list of FAQs for whole house dehumidifiers. 
How Much Does a Whole House Dehumidifier Cost?
The price depends on how large the dehumidifier is and which features are included. For a basic system, you could pay between $1,000 and $1,300. More advanced units range up to $1,500, while a high-end model could cost you up to $1,700.
How Long Do Whole House Dehumidifiers Last?
The expected life expectancy is about three to five years. However, if you maintain it properly, you could see it run for up to eight years. Some manufacturers offer five-year warranties to replace faulty parts, thereby extending the lifespan.
How Much Electricity Does a Whole House Dehumidifier Use?
It depends on the model and size. For instance, a 70-pint dehumidifier can draw up to 700W, while Energy Star units use even less. If you want to compare, it consumes less power than a hair dryer, air conditioner, and water heater.
Will a Dehumidifier in the Basement Help the Whole House?
Yes, but several factors can influence the effect. For example, you'll need a powerful dehumidifier, and nothing must block the airflow. The unit will struggle if the house above the basement has higher humidity than in the actual room in which it's located.
Do Whole House Dehumidifiers Work?
Yes, they do. Of course, you'll need to make sure it can handle the workload, and it's connected in the right way. You also must select a type that suits your home.
Where to Put a Dehumidifier in the House?
If you're connecting it to an HVAC system, you'll need to make sure it's located where it can make the most impact. Don't place it near metallic vents, as it will cause rust. Also, you don't want it close to electrical sockets since it can lead to a short circuit. For stand-alone dehumidifiers, put them where you find the highest humidity.