"Nothing runs like a Trane" may be the most recognizable slogan in the HVAC industry. Trane is a well-known HVAC company, but if you are looking for a new central heating and air system for your home or business you can be overwhelmed by the seemingly endless number of available brands and models.
Let us make your research a little easier by explaining the branding in the HVAC industry and giving you an inside look at some of the top models.
The average Joe or Jane may not realize there are actually only a few manufacturers of air conditioner units but each one of these manufacturers has several brand names. For example, this brand review will cover the Trane Company but they also manufacturer the American Standard brand.
How Does Trane Compare to the Competition?
Trane ACs are some of the most sought out air conditioning units in the United States. The reason for that, is because units manufactured by Trane come with a promise of quality and innovation. Before we kick off the reviews, let's take a look at how exactly Trane compares to the competition.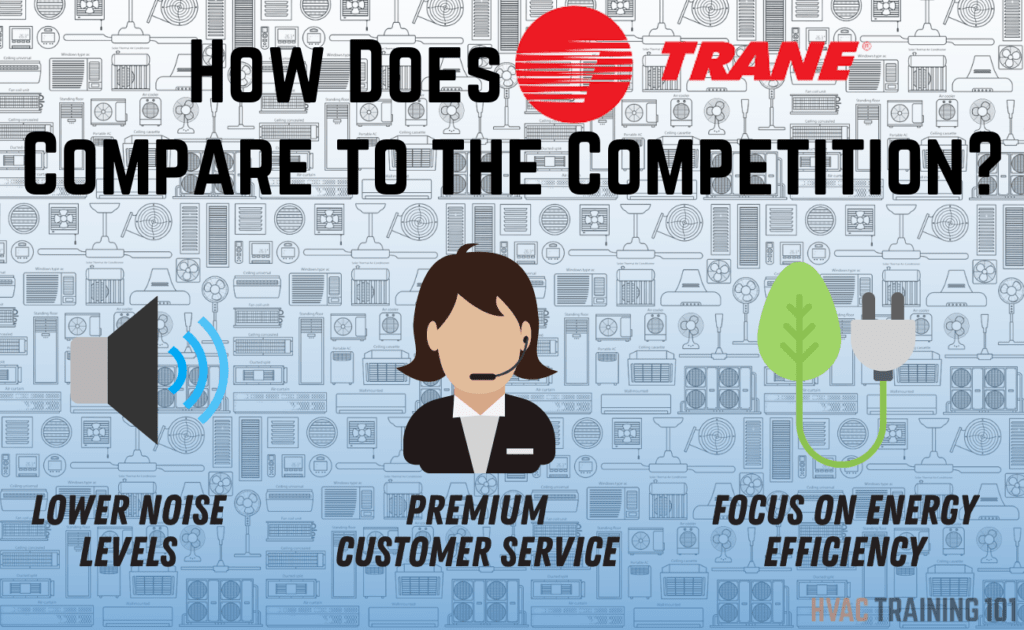 Noise Levels
Units manufactured by Trane have some of the lowest noise levels. The company makes noise levels a priority as it has a significant impact on the user's comfort. It strives to produce units that provide efficient cooling but also provides maximum comfort for its users. 
Customer Service
Customer service is another aspect that makes Trane stand out. They make sure to provide users with premium customer care. They provide multiple outlets through which customers can contact Trane and resolve any issues that they might be having. It also makes the process of getting information about Trane products easier. 
Energy Efficient
Trane takes into consideration the current issue of climate change and tries to make its appliances as energy-efficient as possible. Energy-efficient appliances help to reduce emissions of greenhouse gases that are fatal to the environment. Therefore, Trane does as much as it can to make its air conditioning units energy efficient. 
Comparison of the Best Trane Air Conditioners
To help differentiate better between the AC models discussed in this review, we have added this table. It is a quick way to get a general idea of the specifications of each and every model. It will also help you single out models that capture your interest. 
| Model Name | Capacity | Energy Efficiency (SEER) | Condenser Fan Motor (i.e., single vs. two) | Noise Level (Decibels) |
| --- | --- | --- | --- | --- |
| XL16i | 2 – 5 | 16.50 | Single | 69 |
| XL18i | 2 – 5 | 18.50 | Two | 73 |
| XR17 | 1.5 – 5 | 18 | Two | 74 |
| XV18 | 2 – 5 | 18 | Two | 55 |
| XV20i | 5 | 22 | Two | 55  |
Review of the Best Trane Air Conditioners
Now let's start off with the reviews for some of the best air conditioner units from Trane. This section will mainly focus on the features of each of the units, including the pros and the cons and what exactly makes them stand out from all the rest. So let's get right to it!
Trane differs from other brands by not having product lines, such as Platinum or Plus. Instead they simply designate a model number to each unit. The model number usually begins with an X and the numbers that follow refer to the unit's seer rating. For example, the XV18 has a seer rating of up to 18.
Trane is also one of the very few companies that manufacture their own compressors, and many of their compressors are variable speed. This allows the compressor to operate at higher and lower levels – a low level for moderate temperature conditions and high levels for more extreme temperatures. This allows you to achieve greater energy savings than with a compressor that operates at only one speed.
You will notice some of the units listed below are equipped with variable speed compressors. Another type of Trane compressor, outside of the base, one stage compressor, is the two-stage compressor. While the two-stage compressor is not as complex or energy efficient as a variable speed, it does offer two stages for extreme conditions and normal conditions. Two-stage compressors are more energy efficient than one stage. Each listing will also give the SEER rating (energy efficiency) and the noise level in decibels (dB).
XV20i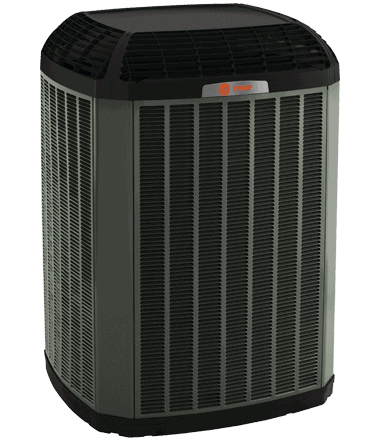 Cooling Capacity: 2 – 5 tons
Weight: 281 lbs
Voltage: 208/230V
Energy Efficiency Features: SEER: 22
dB (decibel) Level: 55 dB
Modes: Cool, Heat
We may earn commission from purchases made from our links, at no additional cost to you
Why it Stands Out to Us
Every aspect of this model stands out. First of all, it is extremely energy efficient and saves up to 64% of energy when in use. Secondly, it does not make a lot of noise and functions quietly. It produces only 55 decibels of noise, which is practically like a whisper.
Apart from that, the TruComfort technology is a really attractive feature that helps to adjust temperatures while maintaining the speed at which the unit is operating. The purpose of this is to avoid sudden temperature shifts inside the room. The construction of the unit is great, and it is one that will hold out for a long time. 
The XV20i offers a great 22 SEER rating and quiet performance. Trane says it's efficient enough to save you around 64% on your energy bills. It operates around 55 decibels. It is Comfort Link II Compatible for improved comfort in all parts of your home.
Bottom Line
If you are looking for an air conditioning unit that is an all-rounder, the XV20i is a very good option to consider. Not only is it well built and durable, but it also functions with maximum efficiency. The unit itself is completely rustproof and can withstand bad weather conditions as well. The AC unit also filters out many of the pollutants that come along with the outdoor air to provide its users with a clean, fresh, and pleasant environment. 
Pros
Has a cooling efficiency of up to 22 SEER
Runs quietly without making much of a disturbance
Integrated with Trane's TruComfort technology to provide maximum comfort
Qualified by Energy Star which is an international standard for energy efficiency
Has no side effects on health and provides cool and healthy air in indoor settings
Cons
Installation costs can be high for users who are located in bigger apartment complexes and commercial buildings
XV18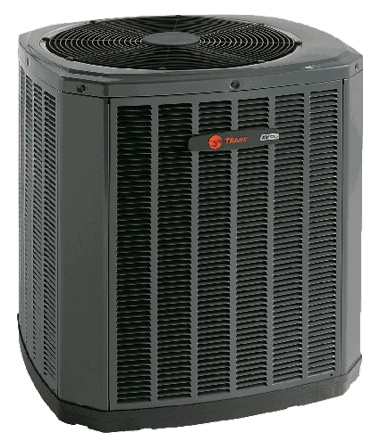 Cooling Capacity: 3 – 5 tons
Weight: 228 lbs
Voltage: 208/230V
Energy Efficiency Features: SEER: 18
Modes: 55 dB
Modes: Cool, Heat
We may earn commission from purchases made from our links, at no additional cost to you
Why it Stands Out to Us
The reason we have chosen to include this model in our review is because of its excellent specifications and its equally excellent performance. The unit has a high cooling efficiency, which measures up to 18 SEER. It has a two-stage compressor, which makes the unit more efficient and enhances the performance as well. This is because, with a two-stage compressor, the cooling cycle lasts much longer than with the single-stage compressor. Furthermore, it also performs well in terms of sound production. Any sound produced by the air conditioner is not disruptive or distractive in any way. 
This 18 SEER rating unit is available in 2-, 3-, 4- and 5-ton sizes. The lower SEER means it's not quiet and energy-efficient as the model above, but Trane says it can still save you 56% on your energy bills. It runs quietly around 55dB. Another Comfort Link II Compatible model, it will help make the whole house comfortable.
Bottom Line
At a glance, it is clear to see why this model is considered a favorite. It has really earned the name of an energy-efficient appliance and is truly one of the best units you could invest in. With this unit, you do not have to worry a lot about care and maintenance, as it is both sturdy and durable. It is further coated with a powder paint finish and has a rust-proof base pan. It is also quiet, which is an added plus. 
Pros
Cooling efficiency of this unit is up to 18 SEER
Two-stage compressor enhances the general performance of the unit
One of Trane's quietest air conditioner models functioning at 55 decibels 
Powder paint finish protects the external components of the air conditioner very well 
Built with high-quality material which makes it more durable than the completion
Cons
In case any of the parts break off or are damaged, the user may find them very difficult to replace
XL18i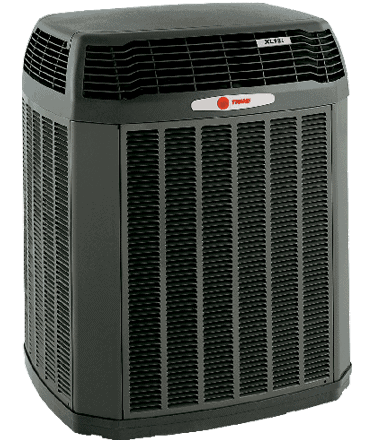 Cooling Capacity: 4 – 5 tons
Weight: 305 lbs
Voltage: 208/230V
Energy Efficiency Features: SEER: 18.50
Modes: 73 dB
Modes: Cool, Heat
We may earn commission from purchases made from our links, at no additional cost to you
Why it Stands Out to Us
One of the reasons this unit stands out is because of how economical it is. It has all the basics of a good air conditioner and more. It operates well even when put on a low mode, and needless to say, it always works well in the high mode as well. Apart from that, it is a durable device that will last you a very long time if proper care is taken. There is not a lot to do as the device is easy to clean and easy to use too. 
The XL series is a step down from the XV. They're still highly efficient but a bit noisier. This model and others in this series do not support Comfort Link II. However, The XL18i is a two-stage compressor that does allow the unit to more adequately deal with both "normal" and "extreme" temperature days. It boasts an 18 SEER rating.
Bottom Line
The XL18i really makes its own place when it comes to comparison with competitors. It operates at a relatively low noise level and has a lot of settings that can be personalized. In addition to that, it is a heavy-duty unit because it has good cooling capacity. .
It also provides optimal comfort by filtering out the unwelcome pollutants that invade your house. Given its features, it is a really economical option and is perfect for anyone looking for an AC that can cool an indoor setting without a hitch. 
Pros
Cooling efficiency for this unit goes up to 18 SEER
Filters outdoor air so that it is cleaner and healthier 
Energy Star qualified which is proof of its energy efficiency
Two-stage cooling helps to avoid any sudden temperature swings 
Variable-speed fan motor that allows you to adjust the fan settings as you like 
Cons
Some users have experienced slow and lackluster services after they had made the purchase
XL16i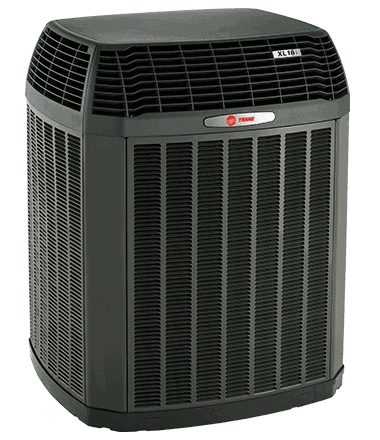 Cooling Capacity: 1.5 – 5 tons
Weight: 208 lbs
Voltage: 208/230V
Energy Efficiency Features: SEER: 16.50
dB (decibel) Level: 69 dB
Modes: Cool, Heat
We may earn commission from purchases made from our links, at no additional cost to you
Why it Stands Out to Us
There is no reason for this air conditioning unit not to stand out. It is a really economical model, and perhaps that is one reason it is so popular among the users. In addition to that, it is protected by a layer of baked-on powder paint finish. It is capable of saving 54%. Furthermore, the unit is corrosion resistant. It is a great option if you are looking for something for your room or your lounge. 
With a single-stage compressor and a lower SEER rating, the XL16i is also a bit less expensive. It's also from 1.5 to 4 tons in half-ton increments, and also in 5 ton. Trane suggests that with a 16 SEER rating, you could save up to 54% on energy costs. It has a 16.5 SEER Rating and operates at about 69 dB.
Bottom Line
Overall, there are no major flaws when it comes to the Trane XL16i. Despite having somewhat of a lower SEER rating, it is still pretty efficient and does what it is made to do. The external part of this unit is great, as well. It is made from tough materials that are not impacted by bad weather or any type of harsh impact. Plus, it is also qualified by Energy Star. 
Pros
Capable of saving up to 54% energy
Great for use at home or other living spaces
Weather Guard protects the unit from some unusual weather conditions
Qualified by Energy Star and categorized as one of the best units of 2019
Insulators placed on compressors to minimize the noise produced by them
Cons
SEER rating is a bit lower compared to the other models
XR17
Cooling Capacity: 4 – 5 tons
Weight: 292 lbs
Voltage: 208/230V
Energy Efficiency Features: SEER: 18
dB (decibel) Level: 74 dB
Modes: Cool, Heat
We may earn commission from purchases made from our links, at no additional cost to you
Why it Stands Out to Us
Trane does a great job manufacturing energy-efficient units. This one, for example, is able to save up to 56% energy. This is a lot considering it cuts down energy usage by more than half. Since less power is used, it leads to fewer carbon emissions. Moreover, the unit filters the outdoor air before circulating it in the area. It gets rid of any pollutants such as dust and pollen and provides an environment that is safe and healthy. It is basically like killing two birds with one stone. In addition to that, Trane has made sure that the unit lasts a long time. It is made with sturdy materials and is protected from corrosion, rust, and bad weather. 
The XR17 has up to an 18 SEER rating. But with a two-stage compressor, it does run somewhat loudly, at around 74 dB. That's around the level of a hairdryer, although it's diminished somewhat since it's outdoors. It might not be a unit to have right by your bedroom window. However, this unit will still provide decent savings and is more affordable than the ones above.
Some other popular models include:
XR16: 17 SEER Rating – 71dB – One Stage Compressor


XR16 Low Profile: 17 SEER – 70dB – One Stage Compressor – designed for limited space


XR14: 16 SEER Rating – 72dB – One Stage Compressor


XR13: 14.5 SEER Rating – 75dB – One Stage Compressor
Bottom Line
If you are on a budget but are looking for something that is not your average AC unit, then you should definitely consider the XR17 by Trane. It really fits the bill of an affordable product, meaning that it offers more than a handful of features and is great in terms of quality, yet it does have a very high price point. After going over what this air conditioner has to offer, it is safe to say that investing in this unit is, a good deal. 
Pros
Has a cooling efficiency of up to 18 SEER
Provides quick and efficient cooling throughout the area
Built with high-quality materials that make it durable and sturdy 
Two-Stage cooling helps to prevent sudden temperature swings
Great affordability as it offers great features at a lower price point
Cons
Though the parts are available, it is really difficult to make repairs once the unit has been damaged in some way
The Best of Trane
The Trane brand prides itself on reliability. Trane units are made from parts that are designed and manufactured specifically for their units. They own patents on many of the parts that make the Trane brand unique. This commitment to developing patented technology coupled with 120 years of experience in the business helps Trane maintain its reputation as one of the top brands in the HVAC industry.
One of the innovations Trane is known for is the Spine Fin™ coil design. Most condenser coils are made of copper tubing with aluminum fins attached to dissipate heat. Trane coils are all aluminum and have fewer joints than copper coils. The name comes from the aluminum "spines" attached to an aluminum strip that is mechanically wrapped around aluminum tubing.

The fact that they do not have any connections between the entrance and exit of the tubing make them much less likely to leak. Leaking coils can be a costly problem when you consider the price of refrigerant. Fewer refrigerant leaks means less money out of your pocket over time.
It is generally accepted in the HVAC industry that Spine Fin™ coils are also easier to maintain. Many also argue that they last longer than coils made from dissimilar metals. The all-aluminum design also makes it ideal in coastal applications where the salty air takes a toll on highly-corrosive copper coils. Many companies have warnings or restrictions about installation in coastal regions but Trane has no such restrictions.
In short, there is a great deal of data to support the claim that Trane's patented Spine Fin™ air conditioning condenser coils leak less and are easier to maintain.
Notable Innovations By Trane Include
The Trane Hyperion™ air handler: As an HVAC technician I have to say this air handler was super fun to service because of how cool it was and how much thought was put into the design. The ease of access made the main components very accessible and it was a breeze to clean the coil. The design allows for better maintenance of the unit and can possibly result in more longevity.
More than anything else, this units design gives insight into the future of HVAC units since it is focused on energy efficiency. The structure of homes and all of the appliances inside them will drastically change going forward due to heightened energy codes and regulations. This trend is due to an ever-growing global population creating a demand for power and energy so great it is beginning to place a strain on power grids and energy resources around the world.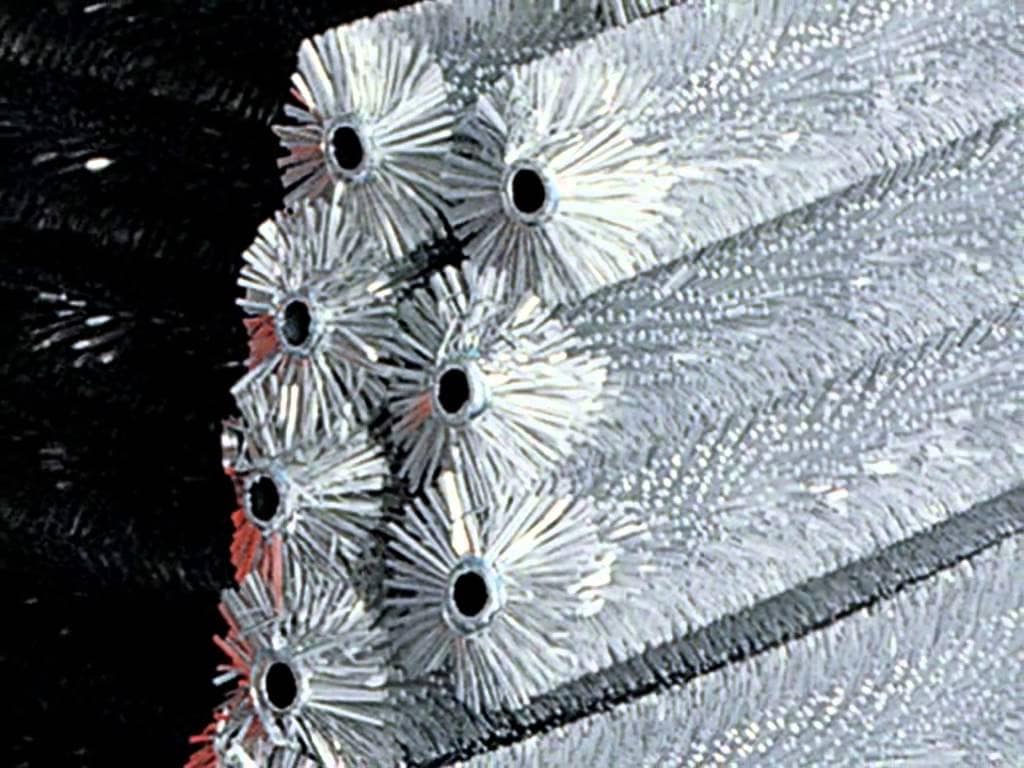 The Trane ComfortLink™ II control was awarded the 2010 Breakthrough Award by Popular Mechanics and dubbed one of "The Year's Most Transformative Products." This system allows you to send heat or cooling to the room or zone of your home that most needs it.
Trane CleanEffects™: Trane claims the system removes up to 99.98% of airborne allergens from the air passing through the filter with the least amount of air restriction among comparable filtration systems. If you are a skeptic, then you will feel better knowing professors from the Harvard School of Public Health verified the system's performance.
The Drawbacks
What makes Trane HVAC units unique also creates its biggest drawback, that is the price. Trane's commitment to designing and producing its own parts makes Trane one of the more expensive central heating and air options in the industry.
The old saying, "you get what you pay for" applies here in concept. The parts Trane uses are indeed higher quality and more expensive. However, there is a counterargument that, despite Trane units being of a higher quality build, cheaper competitors are close enough in performance to make them preferable over a more expensive Trane unit.
In the past, established companies like Trane had a much larger distinction in performance. The advancement of manufacturing on a global level has allowed lesser-known companies to gain ground in quality and performance. While Trane is clearly among the elite brands of HVAC units when it comes to craftsmanship and longevity, customers on a budget can purchase cheaper equipment at an acceptable level of performance.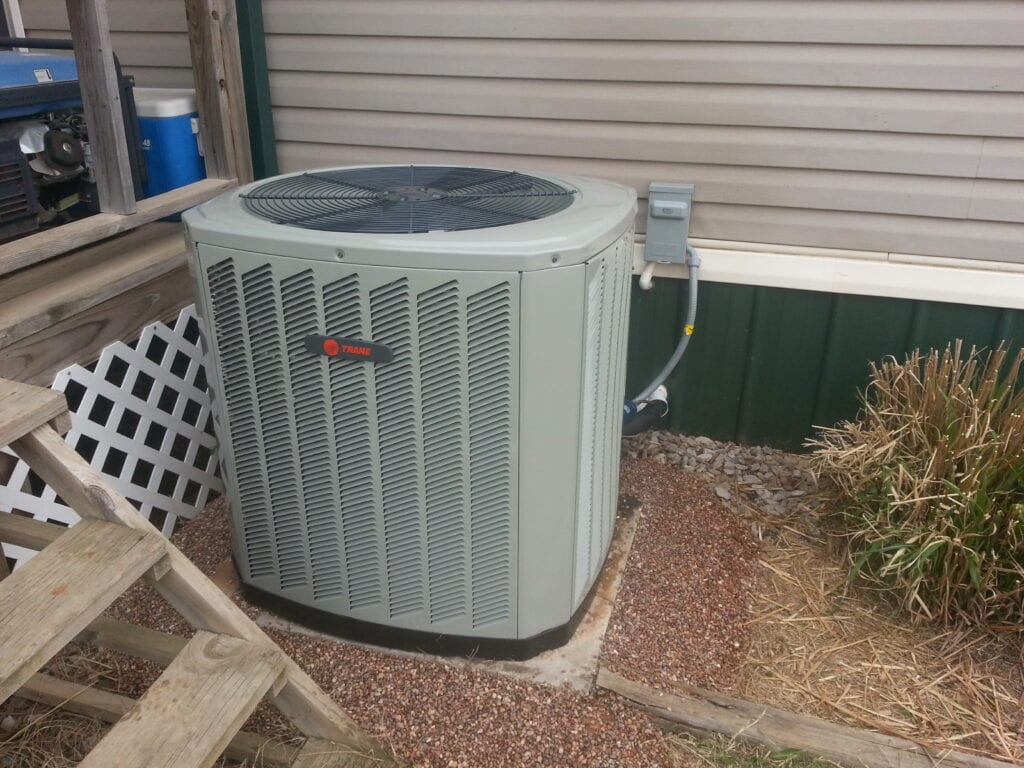 Finding the Best Prices
At the end of the day we all want the best quality we can get at a price we can afford. However, many professionals in the industry believe that the reliability and performance of your system are more dependent on the quality of its installation than what brand you choose. Without proper installation, your unit will not operate properly and a quality installation can mean the difference in several years of your unit's life and thousands of dollars in your wallet.
The first step is to identify at least three contractors in your area that install Trane units that are either highly reviewed and/or come highly recommended. Then, sit down with each company separately and discuss pricing, financing, tax credits, and specials. Remember to specifically address federal and state tax credits with each company. Some sales representatives may be more informed than others and you might find a sales representative willing to go the extra mile and uncover savings their competitors weren't aware of.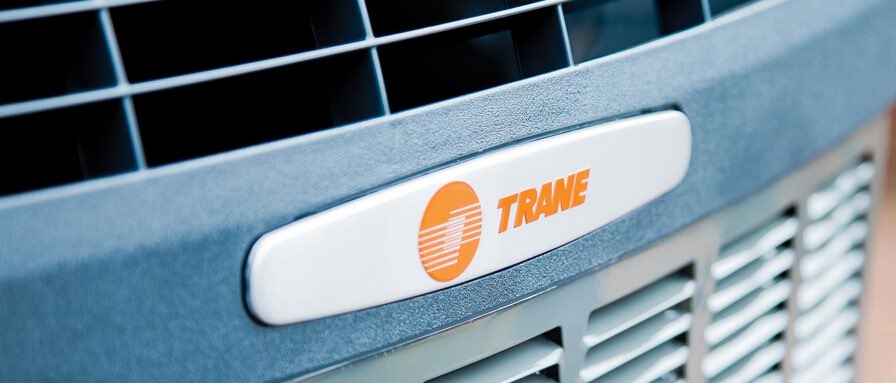 What Kind of Warranty Does Trane Offer?
Warranty is really important and even more so for appliances like air conditioners. Since it can cover the additional costs for repairs and replacements, they make it very easy for the customer. However, each manufacturer has a different set of conditions and policies attached to their warranty. Let's find out what kind of policies Trane offers to its customers. 
Base Limited Warranty
This type of warranty can last from 1 to 20 years, depending on which unit you decide to invest in. The base limited warranty is offered with every residential unit and covers the cost of parts that break due to a manufacturer defect. However, you must remember that it does not cover the cost of labor. 
Registered Limited Warranty
This is basically an extension of the previously mentioned warranty. All you have to do to avail this warranty is to register your new Trane product within 60 days of purchase. The time frame for this one can be anywhere from 5 years to even a lifetime. Again, it depends on which unit you decide on buying. The same rules apply for this warranty as well, it will only cover the cost of the broken part and not the cost of the labor. 
Company History
James Trane opened up his own plumbing shop in La Crosse, Wisconsin in 1885. His son Reuben, who was a mechanical engineer, later joined him and together they founded the Trane Company in 1913. The Trane Company became known in Wisconsin for their advancements in residential heating. In the 1930's, the Trane Company pioneered in the commercial air conditioning business and never looked back.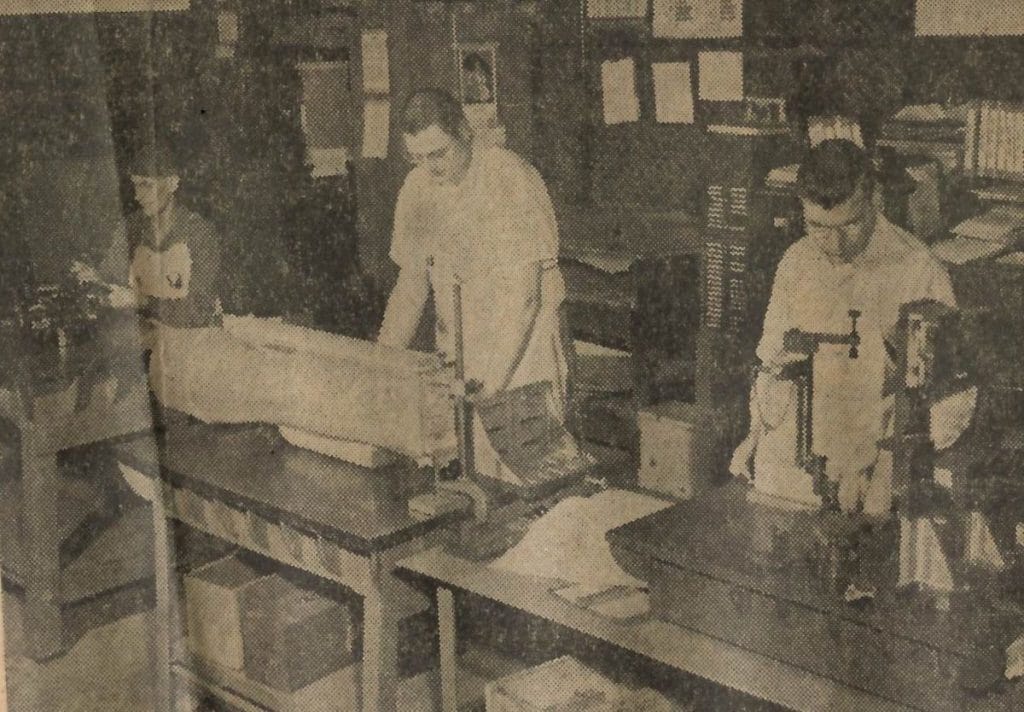 In 1982 Trane became an industry leader in residential HVAC by acquiring General Electric's Central Air Conditioning Division. Patented GE technology such as the Spine Fin™ coil design allowed Trane to immediately differentiate itself in the residential HVAC industry. Trane developed a reputation of quality and reliability by focusing on the workmanship of each part put into their systems.  
American Standard acquired Trane in 1984. In turn, American Standard was later acquired by the Ireland-based company Ingersoll Rand. Ingersoll Rand helped take the Trane and American Standard brand to a more global market.
Conclusion
The Trane Company is a story of ingenuity and craftsmanship. There is little debate that Trane HVAC systems are high-quality systems and are among the most innovative units on the market. While many factors come into play when a homeowner is in the market for a new system, Trane is definitely a brand to put on your short list.