Mitsubishi Electric opened its HVAC division in 1980 and has been expanding and developing new cutting-edge technologies ever since.
Now regarded as one of the leading companies in the industry, it offers a wide range of efficient air conditioners that are perfect for both homes and offices. 
However, with so many different models, choosing the right air conditioner is no piece of cake. To help you with your decision, this guide includes the reviews of some of the best models offered by Mitsubishi, the warranty offered by the company, and how it compares to the competition. Let's get started!

How Does Mitsubishi Compare to the Competition?
Mitsubishi offers high-end products designed with innovative features that you just won't find in other models. All units align with the 'Mitsubishi Electric Quality' standard and ensure efficiency, durability, and high comfort. The company stands out from its competition in several different areas, including:
Efficiency
Most Mitsubishi air conditioners have Energy Star certification. They consume less electricity compared to other low-efficiency products and help cut energy costs, making them extremely environment-friendly as well. 
Innovation
Challenged to develop air conditioning systems that deliver outstanding performance in all the different climatic conditions found in Japan, Mitsubishi has developed incredibly sophisticated yet durable products and systems that can be used under virtually every natural climatic condition found on earth.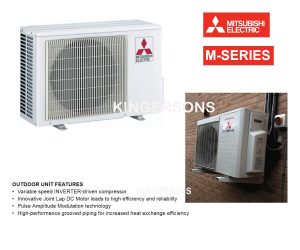 Mitsubishi 24,000 BTU 1.5 TON 2 x 12,000 BTU
Mitsubishi is also one of the few companies that sell inverter heat pump replacements. These heat pumps use inverters to produce the heat needed to heat up the room effectively. Moreover, they flawlessly work at subzero temperatures, making the pump usable year-round in almost every climate.
Air Quality 
All Mitsubishi HVAC equipment is designed with two separate filters to provide cleaner air. This comprehensive and advanced filtering technology ensures enhanced air quality in your home, creating a safer and healthier environment.
Noise
All HVAC equipment is designed to ensure quiet operation. Indoor units feature low-speed fans that have a much quieter operation than the high-speed fans found in other models.
Key Terms to Know
To help compare products in this review, we have included a few key specifications for each. Here is a quick summary of what they mean.
BTUs: British Thermal Unit (BTU) measures energy. This refers to the energy necessary to increase the temperature of one pound of water by one degree Fahrenheit.

Dimensions: The actual dimensions in l x w x h.


Weight: The physical weight of the air conditioner.


Voltage: The amount of electricity the unit uses. This determines the type of outlet it must plug into. 


Coverage Area: The amount of square footage the unit can adequately cool, determined by the manufacturer.


Energy Efficiency Features: Whether the unit has any features or ratings relating to energy usage.


dB (decibel) Level: The amount of noise the AC produces when in operation.


Modes: The modes of operation the unit features. This includes dehumidification, fan only, cooling, etc.
Comparison of the Best Mitsubishi Air Conditioners
Mitsubishi offers an extensive range of air conditioners to accommodate a variety of both cooling and installation needs. To help you decide between the different quality models available today, we've constructed a comparison table that will certainly make your decision clearer:
| Model Number | BTU | Energy Efficiency (SEER) | Refrigerant type | Maximum CFM | Cost of unit only |
| --- | --- | --- | --- | --- | --- |
| MSZ-GL12NA-U1 / MUZ-GL12NA-U1 | 12000 | 23.1 | R-410A | 399 | $1629 |
| MUZGL15NA – MSZGL15NA | 15000 | 21.6 | R-410A | 463 | $2259 |
| MZ-FH15NA | 15000 | 22 | R-410A | 411 | $2569.89 |
| M2H24C12120000-B | 24000 | 20.0  | R-410A | NA | $4189.65 |
| MUZGL24NA – MSZGL24NA | 24000 | 20.5 | R-410A | 738 | $2842.95 |
| MXZ3C24NA – MSZFH12NA – MSZFH15NA | 27000 | 20 | R-410A | NA | $3990.66 |
Review of the Best Mitsubishi Air Conditioners
With such an extensive range of models offered by Mitsubishi, choosing the right one can be an extremely technical and time-consuming decision. To help you find a unit that best suits your needs, here are detailed reviews of some of the best Mitsubishi air conditioners: 
Mitsubishi 24,000 BTU 20.5 SEER
Type: Mini-split
BTUs: 24,000
Weight: 156 lbs
Voltage: 208-230V
Coverage Area: 800 – 1300 sq. ft
Energy Efficiency Features: SEER: 20.5
dB (decibel) Level: 44 dBA
Modes: Cool
We may earn commission from purchases made from our links, at no additional cost to you
Why it Stands Out to Us
This model stands out to us for several different reasons. Firstly, its advanced filtration system is an innovative combination of an enzyme-based filter and a hybrid catechin deodorizing filter. Along with capturing the offending particles, this filter also breaks them down, purifying and cleaning the air as it's cooled. Secondly, its Econo Cool mode slowly adjusts the cooling setpoints and swings the horizontal vanes, resulting in enhanced efficiency without any compromise on comfort. Lastly, its swing modes cycle through every position for maximum coverage. Once users activate the wide mode, the fan speed is increased beyond the current setting.
Bottom Line 
An inverter-driven ductless wall-mounted indoor unit, this model certainly deserves a place on our list of top picks. It's perfect for all residential applications and operates efficiently and quietly to provide exceptional comfort in every room. Manufactured for use in multi-zone systems, its functional design cleans and conditions the air without disrupting your space. Moreover, its convenient mounting plate makes the installation process incredibly quick and easy. Ideal for year-round operation, it heats, cools, dehumidifies, and much more. All in all, it's not just powerful but delivers an excellent performance as well.
Pros
Anti-allergy filter captures and breaks the offending particles 
Hot start technology delays fan operation to prevent cold drafts 
Incredibly efficient cooling operations that provide unparalleled comfort 
Auto mode chooses the best vane position according to the operating mode
Innovative coil design reduces the possibility of mold growth or any other property damage
Cons
Air blades do not move left and right 
Might produce some vibration noise if mounted on a wood wall
Mitsubishi 12,000 BTU 23.1 SEER
Type: Mini-split
BTUs: 12,000
Dimensions: 9-1/8 D x 11-11/16 H x 31-7/16 W"
Weight: 103 lbs
Voltage: 208-230V
Coverage Area: 350 sq. ft
Energy Efficiency Features: SEER: 23.1
dB (decibel) Level: 49-51 dBA
Modes: Cool, Heat
We may earn commission from purchases made from our links, at no additional cost to you
Why it Stands Out to Us 
Part of the Mr. Slim series, this unit provides an extremely efficient solution for cooling and heating while providing exceptional comfort for each individual zone in which they're installed. Along with keeping you comfortable, this model has been designed keeping energy efficiency in mind. The wall-mounted air handlers determine the temperature of the return air, and adjust it automatically, significantly reducing the unit's reliance on a thermostat. The inverter technology further rams the system up and down according to the set technology, ensuring the room maintains a steady temperature and does not experience any large temperature swings. 
Bottom Line 
Ideal for rooms that become too cold in the winter or too hot in the summer, this model is a superior alternative to conventional HVAC systems. The heating and cooling system focuses on individual living spaces and rooms, rather than the one-size-fits-all design found in most central systems. It is also flexible, energy-efficient, and easy to install. Offering a hassle-free operation and wall mount installation, this model is specifically designed for ductless spaces. It further boasts four operating modes, Energy Star-rated performance, included remote control, and adjustable fan speed. Featuring a 23.6 SEER, it provides excellent value for money.
Pros
Parts are backed by a 5-year warranty
Inverter technology keeps the room at a steady temperature 
Mounting plate ensures a quick and easy installation process
Advanced filtration system cleans the air while conditioning it at the same time 
Temperature of the coil stays below the dew point to remove any unwanted moisture 
Cons
Instructions are a bit difficult to follow
Best Mitsubishi Ductless Air Conditioner
Mitsubishi 27,000 BTU 20 SEER
Type: Mini-split
BTUs: 27,000
Dimensions: 33.5 x 14 x 12″
Voltage: 208-230V
Energy Efficiency Features: SEER: 20
dB (decibel) Level: 55 dB
Modes: Cool, Heat, Auto
We may earn commission from purchases made from our links, at no additional cost to you
Why it Stands Out to Us
This ductless heat pump system uses small pipes to directly deliver cooled or heated refrigerant into air-handling units. Every room or living space has a air-handling unit, and every unit comes with a wireless temperature controller. In simpler words, this system quietly delivers hot or cool air wherever it is required in the room. It's further designed with a complex multi-part filtration system that reduces contaminants like viruses, bacteria, and allergens from the air, producing a healthier breathing environment. Moreover, its I-see sensor scans the room using infrared technology and makes adjustments according to the human heat signatures. By automatically adjusting the airflow and temperature, this system eliminates hot and cold spots and maintains consistent comfort.
Bottom Line
This ductless split system consists of a heat pump or an outdoor condenser, and one or more indoor units that condition and distribute air through your home. It provides heating and cooling with the ease of a wireless remote control, but more importantly turns off when you leave, allowing you to save money on electricity bills. With no costly changes to your business or home central heating and cooling systems, it can be used for the most difficult to heat or cool areas as well. Lastly, its advanced technology makes it an incredibly cost-effective alternative to both central ducted air conditioning systems and oil or gas-fired units for heat.
Pros
Handheld smart controllers enable users to control every room individually 
Enhanced filtration systems use washable filters that have a life of 10 years
Individualized comfort control for up to 8 rooms that are connected to a single outdoor unit 
I-see sensor detects cold or hot spots and adjusts the airflow and temperature accordingly for consistent comfort 
Powerful Mode function runs the system at a lower-higher temperature to quickly bring the room to the optimum comfort level
Cons
Small critters might get into control boards and short them out
Best Mitsubishi Mini Split Air Conditioner
Mitsubishi 15,000 BTU 21.6 SEER
Type: Mini-split
BTUs: 15,000
Dimensions: 11-5/8 x 31-7/16 x 9-1/8″
Weight: 116 lbs
Voltage: 208-230V
Coverage Area: 500 – 800 sq ft
Energy Efficiency Features: SEER: 21.6
dB (decibel) Level: 49-51 dBA
Modes: Cool, Heat
We may earn commission from purchases made from our links, at no additional cost to you
Why it Stands Out to Us
Completely packed with features, this unit is the perfect solution for all your home and business needs. Manufactured with washable filters that have a life of 10 years, it helps save money and greatly reduce environmental impact. Advanced Multi-Stage filtration further captures and removes contaminants that spread illness, trigger asthma and allergy symptoms, and negatively impact air quality. It also allows users to control each zone in their home independently, and turn off zones that are not being used. Another great feature of this system is that it measures the return air in each room and adjusts it automatically, rather than using the conditions measured by the thermostat situated in a different room.
Bottom Line 
For more than 50 years, Mitsubishi has been the pioneer in the mini split industry because of its dedication to developing user-friendly, efficient comfort solutions. Designed for houses without any existing renovations or ductwork, this Energy Star-rated system boasts a cooling power of 12,000 BTUs that makes single rooms incredibly comfortable. Moreover, a built-in heat pump has 18,000 BTUs of heating power, enabling year-round use. All in all, its functional design is combined with quiet operations to provide comfort without disturbing you or disrupting your space. With multiple fan speeds, multiple airflow directions, and multiple operating modes, this unit is undoubtedly the best Mitsubishi mini split air conditioner.
Pros
Dry mode removes unwanted moisture and enhances comfort
Swing modes cycle through every position to provide maximum coverage 
Hybrid catechin deodorizing filter captures and breaks down all offending particles 
Inverter technology maximizes energy efficiency while keeping costs at a minimum
Vibration dampeners and insulated compressor compartment ensure an extremely quiet operation
Cons
Installation cost is a bit high
Remote does not have a light 
Best Mitsubishi Wall Mounted Air Conditioner
Mitsubishi MZ-FH15NA
Type: Mini-split
BTUs: 15,000
Dimensions: 9-3/16 D x 12 H x 36-7/16 W"
Voltage: 208-230V
dB (decibel) Level: 55 dBA
Modes: Cool, Heat
We may earn commission from purchases made from our links, at no additional cost to you
Why it Stands Out to Us
The features of this system are what truly make it stand out from its competition. Designed with H2i technology, it operates efficiently in low temperatures as well. It has a 100% heating capacity at 5-degrees Fahrenheit and is capable of providing heating in conditions as low as -13-degrees Fahrenheit. Moreover, its Smart Set function enables users to save a heating and cooling profile that consists of fan speed, airflow direction, and temperature. This profile can be easily activated using the Smart Set button on the controller. Lastly, hot-start technology provides warm air from startup, while the I-see Sensor aligns the air conditioning according to the number of people around the room so that air flows around them.
Bottom Line
This system is perfect for cooling and heating residential rooms and spaces, like home offices, basements, kiosks, bedrooms, dining rooms, guardhouses, living rooms, bonus rooms, and more. Quiet by design, it directly delivers cooled air to the room it's situated in, without the use of any noisy fans. It further allows users to remotely adjust their settings so that every room has the perfect temperature when you return. All in all, this unit is undoubtedly the best Mitsubishi wall mounted air conditioner and certainly deserves a place on our list of top picks. 
Pros
Washable hybrid Catechin pre-filter eliminates odors and captures dust 
Front panel access of indoor unit makes filter cleaning an extremely easy task 
Auto changeover automatically switches between heating and cooling as required 
Slim design with an incredibly quiet and efficient operation to provide users with consistently warm or cool air 
Comes with a wireless, RFI-RedLINK controller, allowing users to control the unit from a smartphone, tablet, or remote PC
Cons
Heat cannot be set below 61 degrees
Mitsubishi 24,000 BTU 1.5 TON 2 x 12000 BTU
Type: Mini-split
BTUs: 24,000
Voltage: 208-230V
Coverage Area: 1100 sq. ft
Energy Efficiency Features: SEER: 21
Modes: Cool, Heat
We may earn commission from purchases made from our links, at no additional cost to you
Why it Stands Out to Us
Compact and slim, this unit is designed with a wide airflow pattern, ensuring better air distribution in a much less obtrusive style. This model boasts an outdoor condenser with inverter technology, which makes precise adjustments of refrigerant flow and compressor speed, resulting in improved system efficiency and temperature accuracy. It also features an advanced thermal sensor that determines the occupancy and the hot and cold spots of the room. It then uses this data to direct airflow to specific areas of the zone in different situations. Moreover, the included remote controller kits have multiple scheduling options and dual setpoint controls. They determine how quickly different zones are heated and cooled and adjust scheduled operations accordingly, ensuring the right temperature every time!
Bottom Line
This two-zone system is designed to give users total control over the temperature in different rooms. A low-profile SLZ-KF ceiling cassette and 2 wireless remote controls are combined with a highly efficient outdoor condenser for the perfect combination of comfort and convenience. With multiple fan speeds, multiple airflow directions, and multiple operating modes, this system meets the needs and requirements of virtually every home. Whether you're supplementing an existing cooling and heating system or designing a completely new one, this model is undoubtedly an excellent addition.
Pros
Hot start technology stalls fan operation to prevent cold drafts
Multiple fan speeds and operating modes make it incredibly versatile 
Comes with a five-year parts warranty and a seven-year warranty on compressors
Internal drain mechanism prevents condensate overflow and simplifies installation
Inverter technology and electronic linear expansion valve improve temperature accuracy 
Cons
Some people received a defective unit
What Kind of Warranty Does Mitsubishi Offer?
All packaged air conditioners, regardless of registration, are backed by a 7-year compressor warranty and a 5-year warranty on parts that can only be used by the original owner of the unit. Once buyers register their unit, they'll become eligible for an extended warranty service. While Mitsubishi offers an extended warranty, it's important to remember that all labor costs must be paid by the consumer. 
If buyers register their unit online within ninety days of installation, they'll receive a 10-year compressor and parts warranty. Furthermore, if consumers have their system registered and installed by a Ductless Pro or a Diamond Contractor within 90 days of installation, they'll become eligible for a 12-year compressor and parts warranty.
Who is Mitsubishi?
First founded in 1870 by Yataro Iwasaki, the Mitsubishi Group has now grown into a group of several independent companies that are active in almost every sector of the industry. Mitsubishi Electric was founded in 1921 and has retained its reputation for creating groundbreaking new technologies that have truly revolutionized business fields around the world. The company also made history by developing the 'brain' of the KOUNOTORI – an unmanned supply vehicle that docked with the ISS. It also released the first car navigation system that incorporated GPS and completed the Subaru telescope that's now situated in the summit of Mauna Kea, Hawaii.
Conclusion
Mitsubishi is undoubtedly a reliable company and one that has developed some of the best air conditioners available today. However, an air conditioner is a big investment, and it's essential that you make the right choice. Hopefully, this guide will have made your decision a bit easier.