No matter what part of the country you live in, chances are very good that your home is equipped with an air conditioning system. A central air conditioning system is the most common method of cooling your home.
When trying to evaluate which air conditioning system to buy either for new home construction or to replace an old, worn out or inefficient unit, it can be difficult for a homebuyer or homeowner to know what to look for. Energy efficiency, quality of construction, reliability, ease of maintenance, noise level, and the warranty are all things that can help determine what system to choose.
Additionally, the strength of the air conditioning brand's name and the system's price will play a large part in your decision. The Carrier brand name is always among the top brands to consider when it comes to air conditioning.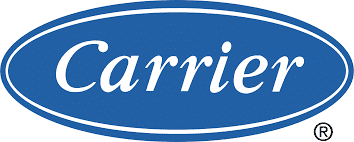 How Does Carrier Compare to the Competition?
All brands tend to invest heavily in developing the best and most efficient equipment possible, including heat pumps, ACs, furnaces, and even solar panels. Carrier is one company that aims to provide feature-filled air conditioners and aims for smart home compatibility. This brand stands out from its competitors due to many reasons, these include the following: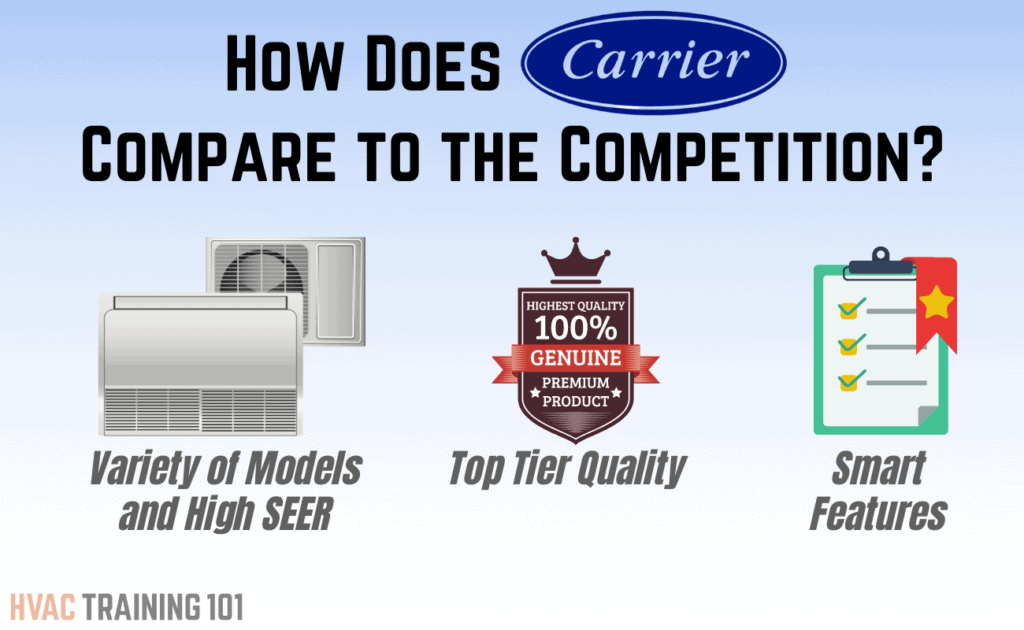 Air Conditioning Performance
Carrier Air Conditioners are available in single-stage models, two-stage models, and variable-capacity models from 21 SEER down to 13 SEER. Their variable-capacity ACs have compressors that can modulate between forty percent and a hundred percent capacity or speed.
Keep in mind that the faster the compressor circulates, the faster your house is cooled.
Top Tier Quality
Carrier air conditioners are the top brand in terms of quality. Consumer surveys confirm that the ratings for these air conditioners are very high due to the efficient performance they provide along with the high-quality you get. Furthermore, Carrier AC is spread nationwide, so you can get installation help wherever you are located.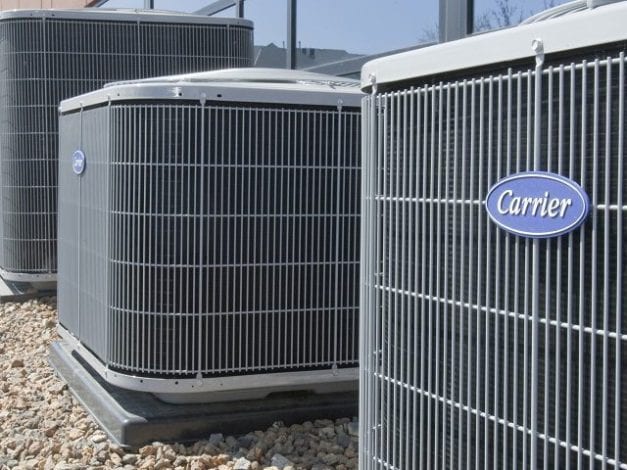 Smart Features
Carrier air conditioners allow you to control them smartly via Cor. Cor is the home automation system that has the ability to control the HVAC of Carrier, home safety, and home security using an app, Cor thermostat, and a different range of sensors. This smart feature makes Carrier outshine some of its competitors.
Comparison of the Best Carrier Air Conditioners
With so many different Carrier air conditioners present on the market, finding the best one can be a tough decision to make. So, to help you out, we have compiled a comparison between the best Carrier air conditioners for you.
| Model Name | Unit Size (Ton) | Energy Efficiency (SEER) | Home Sq. Ft. | Condenser Fan Motor | Cost of Unit Only | Installation Cost |
| --- | --- | --- | --- | --- | --- | --- |
| Comfort Series 24ABC6 | 1.5 – 5 | 16 | 600 – 3200 | Single | $1,625 | $3,330 |
| Performance Series 24ACB7 | 2 – 5 | 17 | 1001 – 3200 | Two | $2,159 | $3,775 |
| Infinity Series 24VNA0 | 2 – 5 | 20.5 | 1001 – 3200 | Variable | $3,985 | $6,115 |
| Compact 14 24AHA4 | 1.5 – 5 | 14 | 600 – 3200 | Single | $1,950 | $3,550 |
| Infinity 21 24ANB1 | 2 – 5 | 19 | 1001 – 3200 | Two | $3,795 | $5,950 |
Review of the Best Carrier Air Conditioners
Finding the best Carrier air conditioner can be a confusing decision to make and with so many options on the market, you are bound to be confused. To help you with the right decision, we have compiled a review of the top Carrier air conditioners present on the market. Read on below to find the right air conditioner for you.
Comfort Series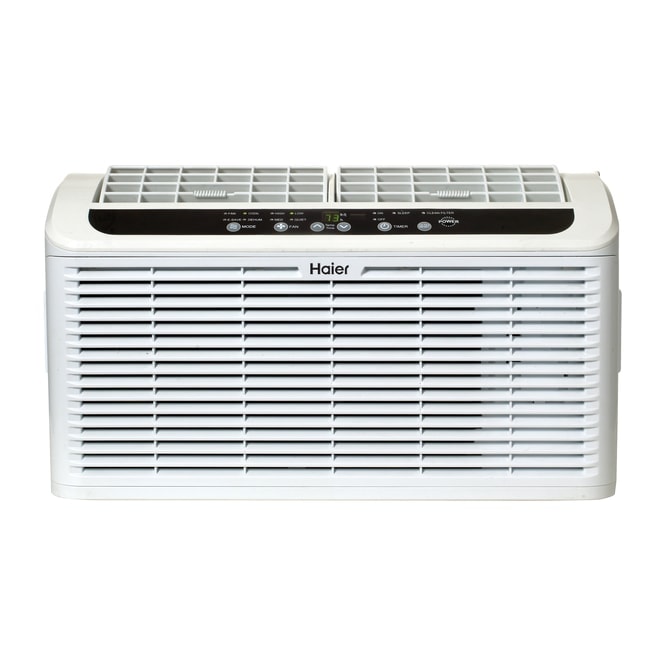 Type: Window
BTUs: 6,050
Dimensions: 21.2 x 9 x 12.4″
Weight: 55.6 lbs
Voltage: 115V
Coverage Area: 151 – 250 sq. ft
Energy Efficiency Features: EER: 11.2
dB (decibel) Level: 43 dB
Modes: Cool, Dehumidify, Fan, Energy Saver
We may earn commission from purchases made from our links, at no additional cost to you
Why it Stands Out to Us
This Comfort series Carrier air conditioner stands out due to the simple design it has. This conditioner is efficient and aims to provide you with affordable cooling. Since it comes with an impressive SEER rating, it keeps you relaxed when the bill arrives at the end of the month. Due to the minimum energy efficiency it uses, it makes it an ideal investment for your household.
This Comfort series air conditioner is the most economic way to not only improve the reliability of your air cooling system but also improve efficiency. It runs quieter than your normal hairdryer and makes sure that it is easy on the ears.
Comfort Series Air Conditioners are three base models with SEER ratings from 13.2 to 16.5. All are Energy Star qualified with single-speed compressors and run at sound levels of around 72 to 76 dB.
Bottom Line
This Carrier air conditioner belongs to the Comfort series, and this series is focused on quietness. For this reason, these machines cool your room right away without making a noise at all. They achieve this objective with the help of the sleek design they have and their insulated bodies. The impressive SEER rating these products come with ensures that they do not make a hole through your wallet.
Moreover, the body of these air conditioners is made from metal, but they make use of other materials such as thermosetting plastic, rubber, or other noise absorbents to reduce any noise it can make.
Pros
Robust machine and a good, strong unit
Very efficient and quiet throughout the night
Great comfort level due to exceptional features
Comes with excellent features and smart technologies
Cools the room right away and doesn't consume too much energy
Cons
Can leak water from the coil if not fit properly
Will need to change the air filters every month
Performance Series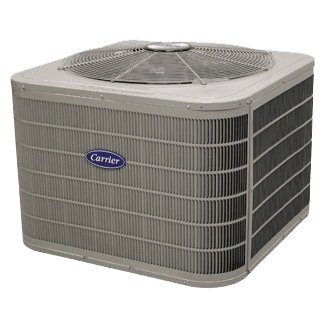 SEER Rating (up to) 17 SEER
Cooling or Compressor Type: Two-Stage
Special Features: ENERGY STAR® certified, up to 13.5 EER
Sound Rating (as low as) 72 dB
We may earn commission from purchases made from our links, at no additional cost to you
Why it Stands Out to Us
Performance Series Air Conditioners are the perfect balance between your budget limit and your desire to get long-term energy-efficient technology and savings. These air conditioners bring you efficiency with their 17 SEER cooling ability. They are not entirely quiet but provide you sound as low as 72 dB. This one is no different. It comes with superior temperature control and humidity adjustments as well.
This air conditioner also has WeatherArmor Ultra protection and filter drier system protection that protects it from contaminants and moisture. This performance series goes a step further and provides you with two-stage compression for a quiet and comfortable summer.
Performance Series Air Conditioners are four mid-line models with SEER ratings from 15 to 17. Some models are Energy Star qualified, can be equipped with single-stage or two-stage compressors, and run at sound levels between 68 and 74 dB.
Bottom Line
The Performance series provides you with SEER rating performance that ensures de-humidification throughout the summer without a big energy bill. Air conditioners in this series have temperature and humidity control and are able to work quietly. They have a filter protection system that ensures contaminants and moisture stay at bay.
These ACs are made of good quality and have a steel construction for long-lasting use. They also have non-ozone depleting Puron refrigerant that keeps the environment safe on your behalf. All sizes in this series meet the Energy Star qualification that is needed, and their two-stage compressor quickly cools your room for your needs.
Pros
A great system overall and performs efficiently
Helps in dropping your electric usage right away
Comes with great installation, taking away your worry
Comes with a new 2-stage condenser and cools the house perfectly
Has 3 zone cooling which is ideal for large and medium-sized houses
Cons
Louder in performance
Has a single speed of a fan installed
Infinity Series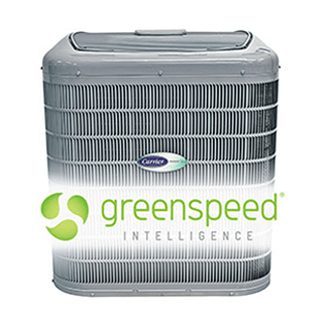 SEER Rating (up to) 20.5 SEER
Cooling or Compressor Type: Variable
Special Features: ENERGY STAR® certified, up to 15.5 EER
Sound Rating (as low as) 58 dB
We may earn commission from purchases made from our links, at no additional cost to you
Why it Stands Out to Us
Infinity series provides users with cooling efficiency of up to 20.5 SEER. It is not a very quiet series but can go as low as 58 dB. This AC uses Greenspeed intelligence and has optimal temperature and humidity control settings. Overall, the variable compressor present in this AC is perfect for comfort and quietness.
Infinity AC also has system protecting features, and this ensures a high-pressure switch and a low-pressure transducer. Some other features this unit comes with are a compressor sound blanket, WeatherArmor ultra protection, non-ozone-depleting Puron refrigerant, and a ten-year-long warranty on the AC parts.
Bottom Line
Infinity series comes with great features and optimal performance that makes it stand out. These air conditioners ensure de-humidification all summer long. The load matching performance present in these series has speed ranging from 40 to 100 percent. There is a filter drier system protection also present that keeps contaminants and moisture away from your unit.
All Carrier air conditioners are environment-friendly, and this makes them perfect for investing. The ten-year-long warranty keeps you worry-free. The variable-speed compressor also provides you with comfort that you will appreciate.
Pros
Comes with low energy bill qualification
Comes with WeatherArmor ultra protection
Ensures optimal summer de-humidification
Has variable speed compressor for top comfort
Provides you with temperature and humidity control
Cons
Makes noise when working and is not very quiet
Compact 14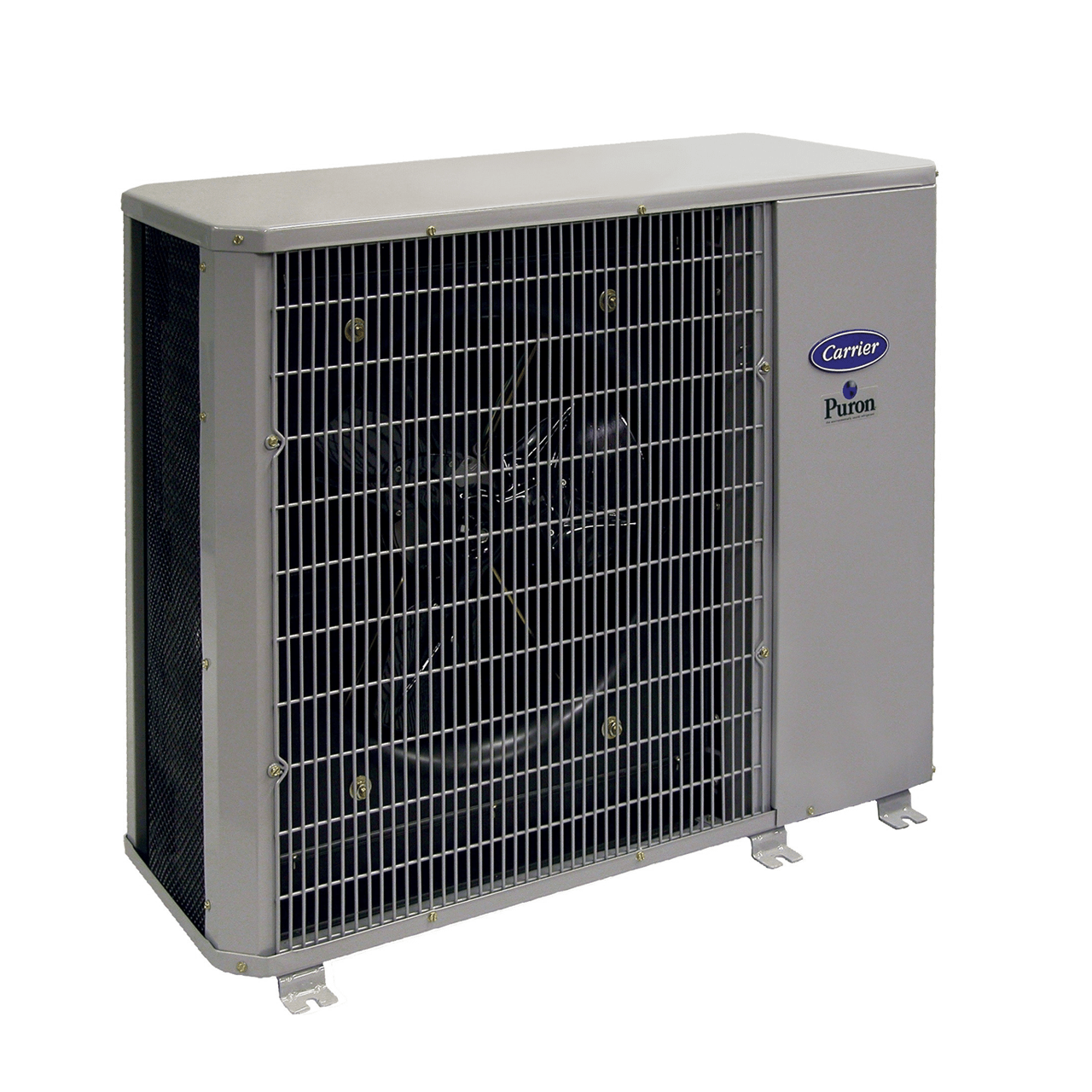 SEER Rating (up to) 14 SEER
Cooling or Compressor Type: Single-Stage
Special Features: Up to 12.2 EER
Sound Rating (as low as) 66 dB
We may earn commission from purchases made from our links, at no additional cost to you
Why it Stands Out to Us
The Compact air conditioner is a good air conditioner with a sound level as low as 66 dB. The cooling efficiency on this unit is 14 SEER and ensures a low utility bill. The filter drier system of this air conditioner keeps it clean and moisture, bacteria, and contaminant-free.
The range on this unit is -28 degrees to 52 degrees, and you can use this as a cooler and as a heater. Moreover, this AC ensures that the ozone layer remains intact, and the environment does not get harmed with its usage. With Carrier Cor thermostat, you can control the temperature on this unit easily.
Bottom Line
The Compact air conditioner makes use of heavy-gauge steel construction that makes it durable and long-lasting. The single-stage compressor has a single-phase that tends to run at full speed when it cools the house. This compressor is automatic and turns off once your house cools down, and the intake air is not hot. When the air becomes hot again, the compressors get to work again.
This content switching of the compressor consumes more energy, but with the 14 SEER, it keeps your utility bills at a low price.
Pros
Good enough to warm a large house easily
Comes with a sleek design that looks good
Can be warm or cool when you need it to be
Doesn't use too much electricity and save you money on bills
Has a minimal noise level that doesn't disturb your neighbors
Cons
Does not have a high SEER
Not filled with a lot of features
Infinity 21 24ANB1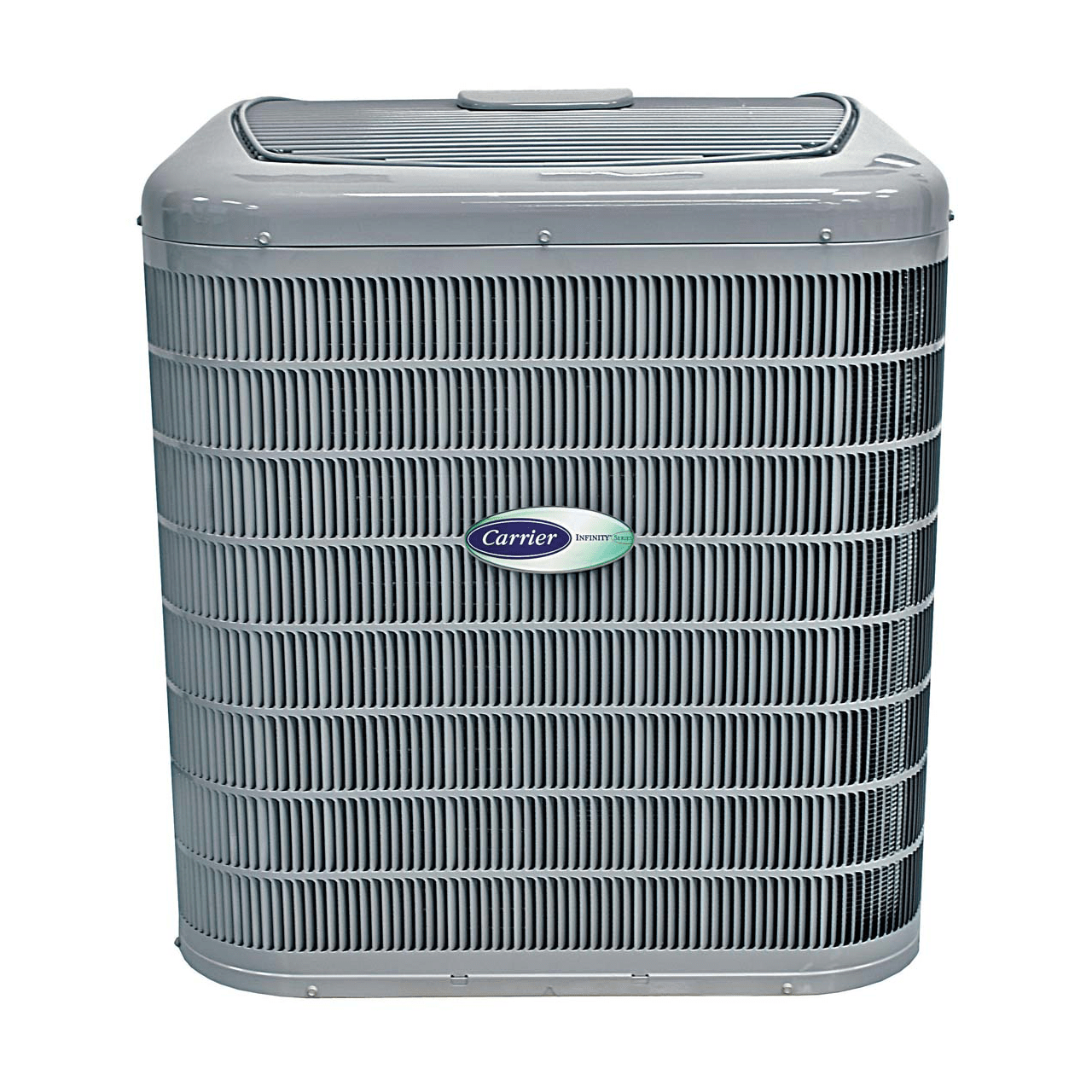 SEER Rating (up to) 17 SEER
Cooling or Compressor Type: Two-Stage
Special Features: ENERGY STAR® certified, up to 15.5 EER
Sound Rating (as low as) 65 dB
We may earn commission from purchases made from our links, at no additional cost to you
Why it Stands Out to Us
This conditioner comes with a high SEER rating of up to 19, and this makes it easy for you to use the conditioner all night long. This conditioner keeps your bills at a moderate level. It also comes with a low sound, which is as low as 65 dB, and the temperature and humidity control allows you to set the unit up to your desired temperature.
This unit also has a compressor sound blanket present along with a Silencer System II design. Both of these features ensure that the air conditioner works without any problem and makes no noise, hence it doesn't disturb your neighbors or sleeping kids at all.
Infinity Series Air Conditioners are five high-end models with SEER ratings from 16 to 21. Available in units from 2 to 5 tones.  All are Energy Star qualified. The Infinity can be equipped with compressors up to five-stage variable speed that allows the system to gradually step down to 25% of capacity and cycle back up as needed to reduce energy costs.
The Infinity series also offers "sound-blanket" construction for very quiet operation to sound levels between 56 and 67 dB. The Infinity series is one of the most efficient on the market. The trademark Infinity control is a touchscreen display the provides precise programming and can be internet enabled.
Carrier's two top-selling air conditioning system models are:
This Air conditioning unit is a slim-line unit at 18 inches wide. That means it can be placed very close to a building. It has a 14 SEER rating and runs very quiet with a noise level as low as 66 decibels. It is the only air conditioner that is offered in a compact unit that will fit in confined spaces. This unit is Energy Star qualified and is available in units from 2 to 5 tons.
This is one of Carrier's top-of-the-line air conditioners. It has the highest SEER rating that Carrier offers at 21. Higher SEER ratings mean big cost savings in energy usage. This unit has a noise level as low as 65 decibels. The Infinity 21 24ANB1 features a state-of-the-art two-stage compressor system with a sound blanket that offers better comfort and ultra-quiet operation.
Bottom Line
This is the most efficient AC made for beginners. Moreover, it comes with a two-stage compressor that helps exceptionally in providing you comfort and assists you with managing the humidity level indoors.
This two-stage compressor also lets the system function in a low stage, which provides you with the highest efficiency and high de-humidification due to large run time. This unit is the best way to get a high level of efficiency and cooling comfort, as well.
Pros
Highly rated due to its quality
Can cool down small to large rooms with ease
Ideal for every climate and can cool and warm your room
Can last for a long period of time when maintained properly
Has Puron refrigerant that keeps away from ozone depletion
Cons
Expensive and has expensive installation
The Best of Carrier
Carrier pioneered the air conditioning industry 115 years ago. Carrier is recognized as a world leader in HVAC manufacturing and is known by consumers, commercial businesses and contractors for their innovative technology, energy-efficient products, quality construction, and reliability.
Holds Over 500 Patents in the HVAC Industry
Since 1902, when Willis Carrier first invented the air conditioner, Carrier has introduced new HVAC technologies and patented processes that continue to revolutionize the HVAC industry.
Committed to the Environment and Energy Efficiency
Federal mandates required refrigeration units to switch from Freon R-22, which depletes ozone layers, to chlorine-free Puron R-104A by 2010. Carrier was the first company to use R-410A in indoor cooling systems.
In 2017, Carrier Introduced and Received Energy Star Certification for Its Côr™ Thermostat
This is a smart connected thermostat that allows consumers to check and adjust their thermostat from their phone or tablet. It was among the first companies to receive the Energy Star certification.
In 2018, Carrier introduced the Carrier 9,000 BTU/h single-zone ductless air conditioning system, which is rated 42 SEER, the highest efficiency system in the industry.
Very Selective About Who They Let Represent, Install, and Repair Their Products
Dealers have to be factory authorized and complete continuous training on Carrier products in order to represent the Carrier brand. Less than 5% of HVAC professionals meet the rigorous standards that Carrier sets. Carrier requires that each of its factory-authorized dealers meet high customer satisfaction standards, strict guidelines for insurance and liability coverage and EPA certifications. Carrier oversees product training, installation, and provides technical support and procedures for repair of its units.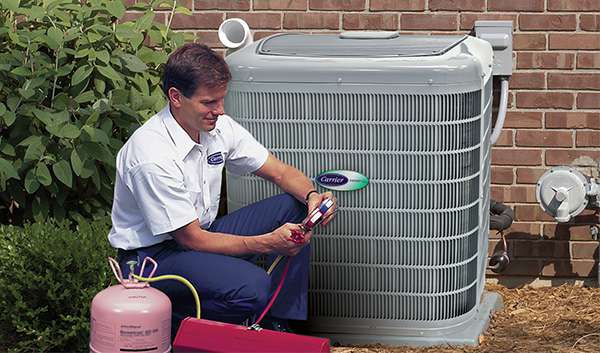 Has Been a Favored Homebuilder's HVAC Brand For Over 10 Years
In BUILDER Magazine surveys of leading homebuilders. Carrier has been ranked the top brand in heating, ventilation, and air conditioning for over 10 years. The majority of builders listed product performance, sustainability features, ease of installation, price, and warranty as the primary things considered when evaluating HVAC manufacturers.
The Drawbacks
The biggest drawback to a Carrier air conditioning system is the price. Being a premium brand, a Carrier air conditioning system can run thousands of dollars more than less name brands for similar types of models. For example:
Carrier 3 Ton Performance 24APA5 16.5 SEER Air Conditioner lists for $2,499.00 (uninstalled and with no additional equipment).
Trane 3 Ton XR15 17 SEER Air conditioner lists for $1,759.00 (uninstalled and with no additional equipment).
Also, Day and Night air conditioners are made by the same company with the same components as Carrier models, but at a much lower price.
Finding the Best Prices
Getting the best price on your air conditioning system starts with doing some research on efficiency, reliability, features offered, and other factors for the major brands you are interested in. If you have some information under your belt, it will make it easier to talk to HVAC contractors about what you are looking for in an air conditioning system. Here are a few other ways to get the best prices.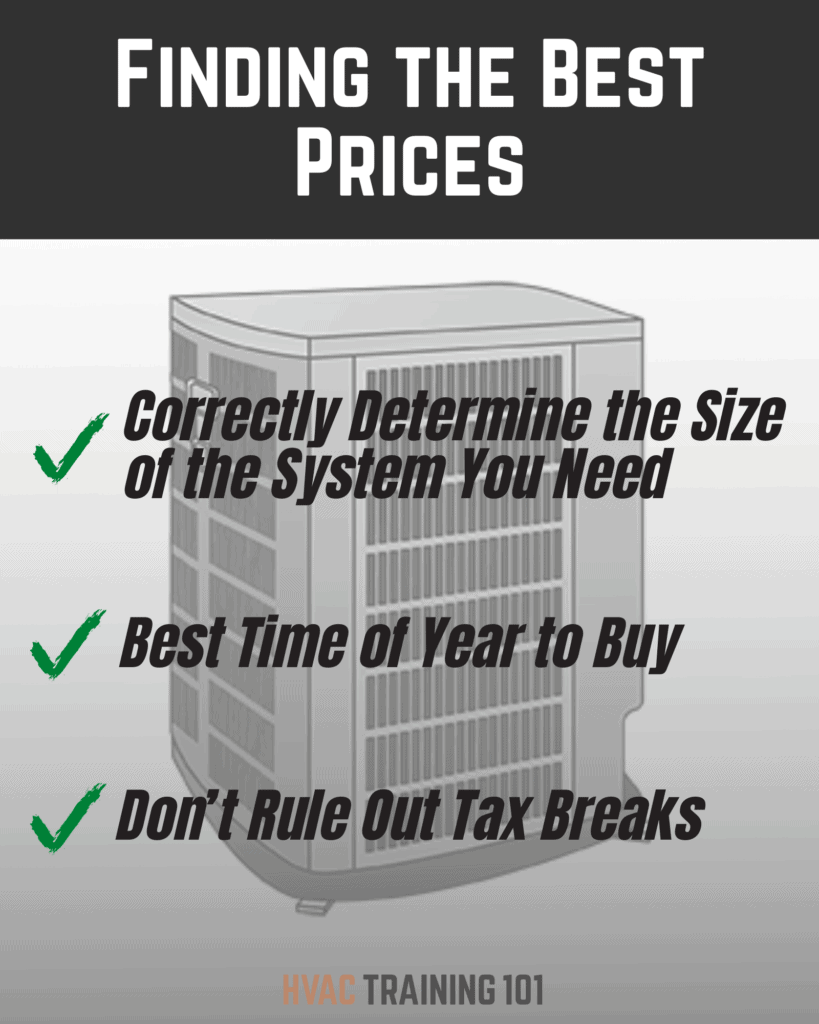 Correctly Determine the Size of the System You Need
Many people don't really know how to determine what size air conditioning system they need for their home. You don't want to get a system that is too big for your needs because it will cool the home faster than it can remove the humidity resulting in a cold, damp air quality that would be uncomfortable. Unfortunately, most homeowners aren't trained in the engineering procedures that HVAC contractors use to calculate the proper size cooling equipment for your home. So working with a reputable HVAC contractor is key to getting the proper size system for your home.
Time of Year
Many people might think that the best time to buy an air conditioner would be in the winter. While it's not horrible advice, the fall is probably a better option.
HVAC dealers and contractors are busiest in summer and winter and many people buy both their air conditioning and furnace systems at the same time. The best time to buy a system is when you don't need it.  Many dealers will offer sale prices during those times in order to generate business.
Don't Rule Out Tax Breaks
The government has offered tax credits to homeowners to encourage them to purchase energy-efficient appliances because that helps reduce the consumption of energy on a national basis. Check to see if any are available – locally or nationally – when you're ready to replace your unit.
To qualify for the tax credit, you need to be in possession of a certificate issued by the manufacturer of your air conditioning system. Tax credits can be worth approximately $300 for air conditioning systems that are rated 13 SEER and higher.
What Kind of Warranty Does Carrier Offer?
Carrier air conditioners are known widely for the top-of-the-line support they provide to their customers. However, when it comes down to the warranty, this company starts to lag in this area. Carrier does not offer a lifetime warranty on its products. They do, however, provide you with a limited warranty on air conditioners and even on heating pumps. This limited warranty means, customers get a five-year limited warranty on the compressor and replacement parts.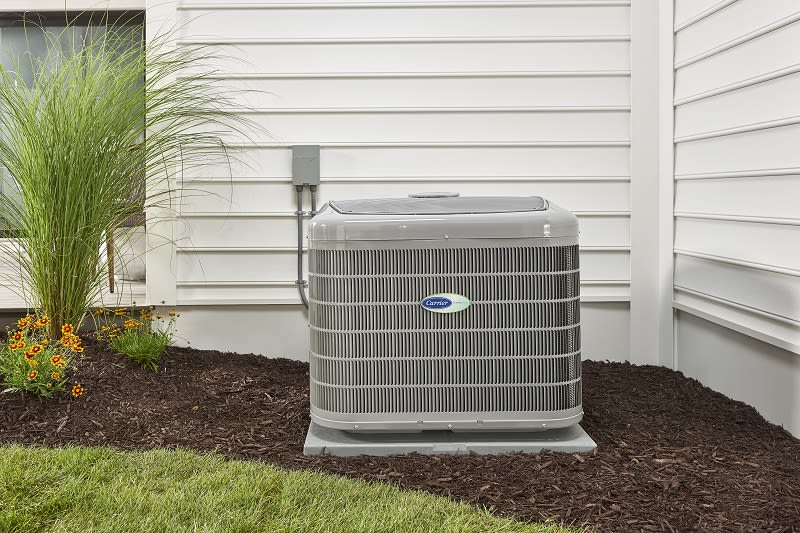 Furthermore, if you register your product within a time span of 90 days after purchasing your air conditioner, then this limited warranty period extends up to 10 years each. You may also purchase an extended warranty if you want, and this covers not only the cost of the parts but also the labor. 
Company History
Willis Carrier designed the first air conditioner in 1902. Together with several engineers, he formed the Carrier Engineering Corp. in 1915 and opened a factory in New Jersey in 1920 to produce and market their air conditioners to homeowners and homebuilders. In the 1930's, Carrier moved its operations to Syracuse, NY.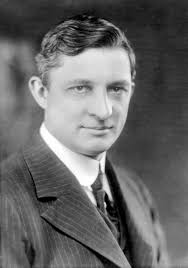 After Willis Carrier's death, Carrier merged with Affiliated Gas Equipment in 1955, which added the heating and furnace equipment brands of Bryant and Payne as well as Day & Night water heaters to Carrier's product portfolio. At that time, Carrier moved its operations to Indianapolis, IN due to the lower cost of operations.  
In 1979, United Technologies acquired Carrier but allowed it to continue operations independently. By 2001, Carrier was the largest manufacturer of HVAC and refrigeration equipment in the world.
Carrier, Otis, and United Technologies Fire and Security merged into one subsidiary of United Technologies in 2013.
Conclusion
An air conditioner's performance depends not only on the quality of its installation and how well it is maintained on the equipment itself. Carrier is probably the most well-known name in home cooling, heating, and refrigeration systems worldwide.  Having pioneered the air conditioner and 115 years of operating history, Carrier has a large market share in the HVAC market.
Although Carrier is at the higher end of the pricing spectrum, they can be expected to deliver consistently reliable and energy-efficient performance with enhanced technological features.