What's better than an endless supply of hot water, especially in the cold winters? If you are in search of an on-demand tankless water heater, then what better manufacturer is there than Rinnai?
Rinnai is a Japanese company and the most reliable manufacturer of tankless water heaters out there. This company believes in bringing comfort and satisfaction to its customers. In this article, we have laid down a detailed review of some of the best-known Rinnai Tankless water heaters to help you find the perfect one!
When you are in need of a water heater replacement, looking for the right model for your home can be a real chore. No doubt you have heard of Rinnai tankless water heaters, and probably for good reason.
With extremely comprehensive and plentiful warranties and entirely replaceable parts, Rinnai is known for its longevity and durability. Its products display exceptional energy efficiency, while the rigorous testing ensures that all customers receive top quality products. If you're wondering whether Rinnai tankless water heaters are the ones for you, take a look at this quick guide to the brand.

How Does Rinnai Compare to the Competition?
The term tankless water technology might be new for you; however, heaters based on this technology have been in use in Asia and Europe for decades now. Rinnai has continued to introduce some flawless appliances since its establishment in 1920. 
They are known for their top-notch technology and innovative ideas. Here, we've noted down some factors that make it stand out from its rivals. Let's discuss them one by one!
Space Saving
Rinnai is well-known for providing space-saving appliances. Whether you are looking for an indoor or an outdoor water heater, Rinnai is there to serve you. You can simply mount the appliance on the wall and get to enjoy a hot water bath.
Comparison of the Best Rinnai Tankless Water Heaters
If you are in a hurry, you are recommended to go through this brief comparison of the best Rinnai Tankless Water Heaters. This section discusses the comparison of some of the major specifications of tankless water heaters to simplify your search in addition to saving your time.
Model Name

 

Unit Size (L"xW"xH")

 

Energy Efficiency (SEER)

 

Home Sq. Ft.

 

Condenser Fan Motor

 

Cost of Unit Only

 

Installation Cost

 

Rinnai V Series HE

13.9×8.8×23.6 

0.82

N/A

Single

$671.45

$600 – $1450

Rinnai RUC98iN

10×18.5×26 

0.92

N/A

Single

$1510

$1000 – $1500

Rinnai RUR98iN

12.5x10x26 

0.96

N/A

Single

$1915

$1500 – $1800

Rinnai RUC80iN

10×18.5×26 

0.96

N/A

Single

$1298.99

$1450 – $1700

Rinnai C199EN

26x10x18.5 

N/A

N/A

Single

$924.35

$600 – $1000
Review of the Best Rinnai Tankless Water Heaters
Investing in a tankless water heater requires some research before making a purchase. Well, leave that to us. Here, we have drawn a detailed review of some of the best Rinnai tankless water heaters that we thought are worth the investment.
Rinnai V Series HE Tankless Hot Water Heater
Max Water Flow (GPM): 6.3
Energy Factor (EF): 0.82
Dimensions: 14.04 x 9.27 x 26.9 inches
Water Temp Range: Low 98 -High 140
We may earn commission from purchases made from our links, at no additional cost to you
Why it Stands Out to Us 
One of the finest models from Rinnai, this tankless hot water heater comes with a compact design that takes up very little space. It is built from high-quality materials to ensure the reliability of the product. Moreover, the best thing is the least emission of greenhouse gases like carbon dioxide. 
This model holds a 6.5 GPM capacity of hot water. The temperature can be set from 120 degrees F to the maximum 145 degrees F according to the choice of the consumer. Lastly, the product holds an impressive warranty, including 120 months for the heat exchanger, 12 months for the workmanship, and 60 months for multiple components of the appliance.
A natural gas powered water heater, the V65iN is installed inside and is 1.2" gas line compatible. It is wifi enabled and comes with a 10-year residential heat exchanger warranty, a 5-year warranty on parts, and a year's warranty on labor.
Designed for a family home, this model produces 6.5 gallons per minute of hot water, making it a good model for the standard household single-family application. It has a BTU input of up 150,000 BTU and has anti-frost protection.
This model is quite energy efficient, with a UEF rating of 0.81, and an Energy Star seal which certifies this rating. It also has low NOx emissions and carbon emission, making it a safer and more eco-friendly model.
This unit comes with leak detection that will turn off the water if it suspects problems, which can prevent a great deal of property damage.
Bottom Line
With this model onboard, you get to enjoy hot water supply in a couple of seconds. Not only is the design impressive, but the appliance is great in functionality as well. The most striking feature is the mobile app that lets you control the performance of the heater even at a distance, enhancing the comfort level of the customer.
Moreover, the appliance is completely eco-friendly and energy-efficient as it works on natural gas. You might feel a little drop in the pressure when several showers are running, plus the installation of this model is limited to indoor use only. If you can overlook these factors, then this will be a great pick.
Pros
Offers a great supply of hot water
Comes with residential factory warranty
Exhibit a great design which is meant to last a long time
Mobile app lets you control the appliance from a distance
Energy-efficient model that can help you save on your bills
Cons
For indoor installation only
Might encounter a pressure drop
Not suitable for those on a tight budget
Rinnai RUR98iN
Max Water Flow (GPM): 9.8
Energy Factor (EF): 0.96
Dimensions: 12.5 x 10 x 26 inches
Water Temp Range: N/A
We may earn commission from purchases made from our links, at no additional cost to you
Why it Stands Out to Us
Another efficient product from Rinnai, this model is immensely popular among the users for its attractive price tag and high-end performance. It comes with 9.8 GPM in order to deliver hot water all across your house. Being a condensing tankless water heater, this model is energy efficient and exhibits 98% thermal efficiency ratings.
Installation of this condensing model takes a longer than a non-condensing one, and you get to choose between concentric PVC or twin pipe venting kit. The most striking feature is its user-friendly design that is not only compact but gives you information about the whole system's performance by merely looking at the LED display.
Bottom Line
A model packed with a set of exceptional features; this model is one of the most budget-friendly tankless water heaters you'll find on the market. It is not only eco-friendly but user-friendly as well. It is extremely compact and can be installed indoors to offer hot water supply.
Additionally, it is WiFi compatible, and you can control the operations with the help of an app. The model is backed by a striking warranty of 12-year for the heat exchanger, followed by a 5-year warranty on multiple parts. Lastly, the model incorporates a re-circulation system that ensures an endless supply of hot water all across the house. What else can you ask for at such a price?
Pros
Package includes the insulation valves
Comes with 96% thermal efficiency rating
Offers two venting options to choose from
Exquisite design that goes with your interior
Built-in re-circulation system to provide endless hot water supply
Cons
Suitable for indoor use only
Installation might take longer
Does not include the venting kit
Best Rinnai Tankless Gas Water Heater
Rinnai RUC80iN
Max Water Flow (GPM): 8
Energy Factor (EF): 0.96
Dimensions: 10 x 18.5 x 26 inches
Water Temp Range: N/A
We may earn commission from purchases made from our links, at no additional cost to you
Why it Stands Out to Us
In case you are looking for a reliable tankless water heater that is not only compact in size but also includes some top-notch features, then you must get your hands on this model from Rinnai. It comes with a low NOx type design that ensures the reduction of greenhouse gases, especially carbon dioxide.
The maximum BTU is 152,000, and the energy rating reaches to 0.96. It offers a flow rate of 8 gallons of water per minute. It hardly produces any noise while working, plus the installation can be done both indoor and outdoor according to the requirements of the customer. Lastly, there are two venting options, including concentric PVC and dual PVC venting kits.
Bottom Line
This model is known for its quality, reliability, and durability. Extremely compact in design, this model can be installed both indoors and outdoors to deliver an endless supply of hot water. The thermal efficiency is great, plus it takes far less time to heat the water, which means you can cut short on your electric bills easily.
Talking about the warranty, manufacturers offer a long warranty of 12-year for the heat exchanger and another limited warranty for various parts of the heater. The flow rate is enough for delivering hot water all across the house, be it big or small. All the characteristics contribute to making this eco-friendly heater the best Rinnai heater on the market.
Pros
Two venting kit options to choose from
A great design that is user-friendly as well
No tension of greenhouse gases emission
Suitable for installation anywhere you want
Long warranty of 12-year to guarantee reliability
Cons
Relatively expensive model
Extra expenditure of venting kits
Might encounter a slight drop in the water pressure
Best Rinnai Commercial Tankless Water Heater
Rinnai C199EN
Max Water Flow (GPM): 11
Energy Factor (EF): 0.93
Dimensions: 26 x 10 x 18.5 inches
Water Temp Range: N/A
We may earn commission from purchases made from our links, at no additional cost to you
Why it Stands Out to Us
The consumers of this product are quite satisfied with its performance, and therefore, this model is rated as the best Rinnai commercial tankless water heater. The model is highly durable and extremely compact in size, which enhances the location flexibility of the appliance. You can either install it indoor or outdoor according to your needs.
The maximum BTU is 199,000, and the energy efficiency goes up to 96%. In the package, you will find the isolation valves, and there are multiple venting options in order to enhance the installation flexibility of the model. Moreover, there is a limited warranty of 6 years on the heat exchanger to enhance the confidence of the customers in the product.
Bottom Line
In case you want a compact heater with installation flexibility, then you should definitely consider this commercial tankless water heater. Not only is the design compact, but there are various venting options in order to ease the installation process.
It works by condensing natural gas or propane. This appliance is capable of providing endless hot water supply all across your house. Moreover, the built-in WiFi capability helps the user to control the operation by merely sitting at a distance. Another striking quality is the least emission of the greenhouse gases, which makes it environment-friendly. Overall, the product boasts quality and reliability.
Pros
Offers an endless supply of water
Multiple venting options to choose from
An energy-efficient model with a 96% rating
Suitable for both indoor and outdoor installation
Embodies a compact design with an appealing look
Cons
No batteries included
Frequent maintenance required for high-end performance
Relatively short warranty when compared to other models on the list
Rinnai RUC98iN
Max Water Flow (GPM): 9.8
Energy Factor (EF): 0.96
Dimensions: 10 x 18.5 x 26 inches
Water Temp Range: Low 98 -High 140
We may earn commission from purchases made from our links, at no additional cost to you
Why it Stands Out to Us
This reliable model from Rinnai has a maximum BTU of 199,000, and the maximum energy rating is dictated as 0.92. Designed on the basis of low NOx technology, this appliance is great for reducing the emission of carbon dioxide. It is quiet and fast in operation and does not take long to provide hot water. Plus, it offers two venting options, including concentric PVC and twin pipe.
Talking about the design, it is established from high-end materials and tends to last for a long time. Plus, it is very compact and does not take much space, making it a perfect choice for indoor installation. Lastly, you get to enjoy a 12-year warranty on heat exchanger, 5-year on the various components, and a 1-year warranty on labor.
More suitable for larger applications, this natural gas-powered model can generate up to 9.8 gallons of hot water per minute. Extremely compact in size, this model can be installed inside in a little hideaway and has both a concentric of PVC venting option. The warranty on this model lasts for 12 years on the heat exchanger, 5 years on the parts, and a year on labor. This model is also wifi enabled and has a maximum BTU output of 199,000.
With a UEF factor of 0.92, this model is outstandingly efficient and also, therefore, heralds the Energy Star compliant seal. As well as its efficiency in fuel consumption, this unit has ultra-low NOx and carbon emissions, which significantly reduces your carbon footprint, showcasing this model as an eco-friendly device.
Bottom Line
An extraordinary model with a great set of features, this model is known for its superior performance. The design is extremely compact and requires little space for installation. In addition, it works on natural gas and, therefore, one of the energy-efficient models you will find on the market.
There would be no tension of greenhouse gas emission, thanks to the low NOx type design. Similarly, the appliance is backed by an impressive warranty that covers various parts of the appliance to ensure reliability. Moreover, the installation is a breeze, and since it does not take long to heat water, you will save quite a bit on water bills each month.
Pros
No tension of gas leakage
Delivers hot water in very little time
Compact in size and takes less space
Model is quiet and efficient in its performance
Installation does not require too much struggle
Cons
Very expensive model
Lacks a re-circulation system
A slight drop in pressure if multiple showers are running
Rinnai V65EP 6.6 GPM Outdoor Low NOx Tankless Propane Water Heater
Max Water Flow (GPM): 6.6
Energy Factor (EF): 0.79
Dimensions: 9 x 14 x 23 inches
Water Temp Range: N/A
We may earn commission from purchases made from our links, at no additional cost to you
The V65EP model is fueled by propane and is installed outside. It is also ½" gas inch line compatible and is wifi-enabled. This model has the same warranty as above with 10 years for the heat exchanger, 5 years for parts, and 1 year for labor.  It has a 150,000 BTU maximum and heats water instantly, providing 6.5 gallons per minute.
A little less energy efficient than the above model, this water heater has an energy efficiency rating of 0.79 UEF. The temperature lock prevents accidental alterations on the temperature, which helps to increase energy efficiency when in use.
Regarding durability, this model has enhanced scale detection, censoring the buildup of limescale and helping users to troubleshoot this issue. It helps to keep the unit maintained, and prevents blockages and drops in efficiency.
The Best of Rinnai Tankless
Rinnai Tankless heaters are dedicated to ensuring that their customers have the most comfortable experience. From compact models to quick-to-heat water, their products are designed to give a consistent performance that keeps their customers satisfied. Here are some of the things that give Rinnai Tankless such a great reputation:
Space Efficient 
Space can be valuable, especially if you live in an apartment or a smaller house. In this respect, you need a water heater that isn't going to significantly reduce your living space. Rinnai Tankless water heaters are designed as compact wall-mounted devices that take up as little room as possible.
Not much bigger than a small suitcase, their wall-mounted tankless heaters can be installed both on the exterior and interior walls. Not only that, the smaller size means that water heaters can be installed in more creative places to save space, such as crawl spaces and small attics. This also means it can be installed in modular homes.
Replaceable Parts
Durability is key to ensuring the longevity of your water heater. However, this means the water heater is only as durable as its weakest part. With most water heater manufacturers, when a part breaks, you need to replace the whole water heater with a new model.
Rinnai boasts that its water heaters have replaceable parts that are easy to reinstall. This means that if a component breaks, you don't have to spend a huge amount of money replacing the water heater. Instead, with replaceable parts straight from Rinnai, you are able to extend the lifetime of your water heater at a low cost. It's great to know that every single part of a Rinnai water heater can be replaced by the company.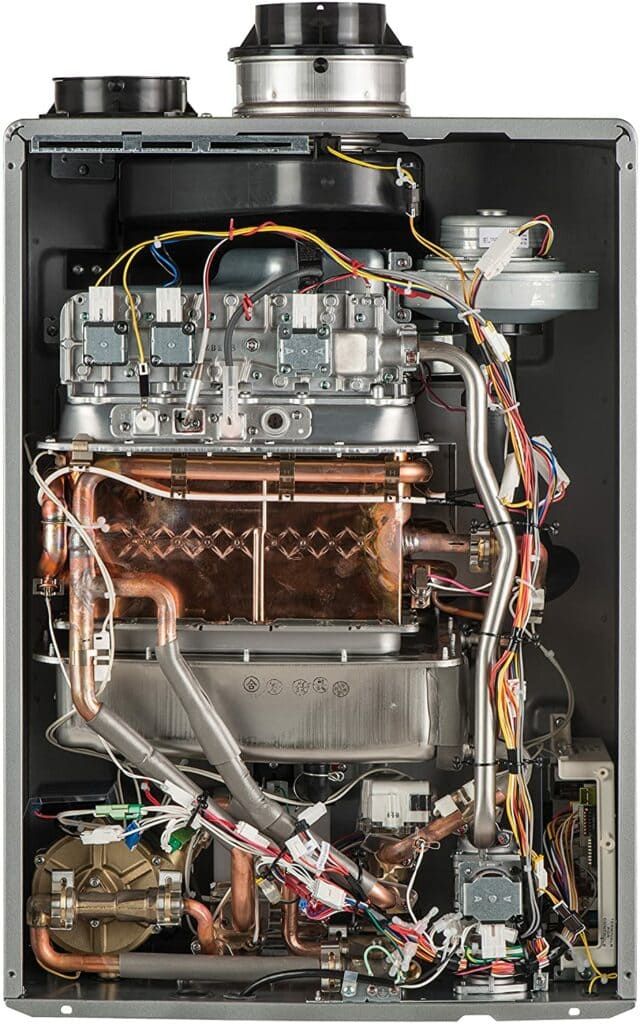 Eco-Friendly
With a keen eye on the environment, Rinnai recognizes that customers want products that are kind to the Earth. By increasing energy efficiency and reducing emissions, Rinnai provides products that stick with this eco-friendly testament.
This is why you will see many of Rinnai's products displaying the Energy Star seal. This gives Rinnai the merit for producing devices that far surpass the industry standards for energy efficiency. In fact, some of Rinnai's products have outstanding energy efficient ratings of up to 93%, meaning only 7% of energy is lost. According to Rinnai, their products can reduce energy consumption levels by up to 40% while all reducing carbon dioxide emissions. In terms of eco-friendliness, this helps to reduce your carbon footprint noticeably.
Transitioned to UEF
Last year EF (energy factor) ratings were replaced with the new industry standard for energy efficiency measurements. The new ratings, UEF (universal energy factor) was expected to be adopted by all companies within the industry. Many brands have fallen short of this switchover, but Rinnai has taken the bull by the horns and jumped straight into this new measurement.
Where the EF only previously measured the fuel to heat efficiency rate, the UEF measurement now takes into account others factors and is better positioned to help consumers with selecting correct products based on how they use their hot water supply. While Rinnai's products haven't changed, they have taken the plunge to alter their ratings to this new measurement, showing their willingness to be ahead of the curve.
Recirculating Feature: Get Hot Water Quickly
Rinnai promises its customers that they no longer have to wait for hot water when they want to shower, as their products deliver immediate hot water all over the house. Using a re-circulation system to push the water through your plumbing system, hot water becomes available wherever it is needed, without delay.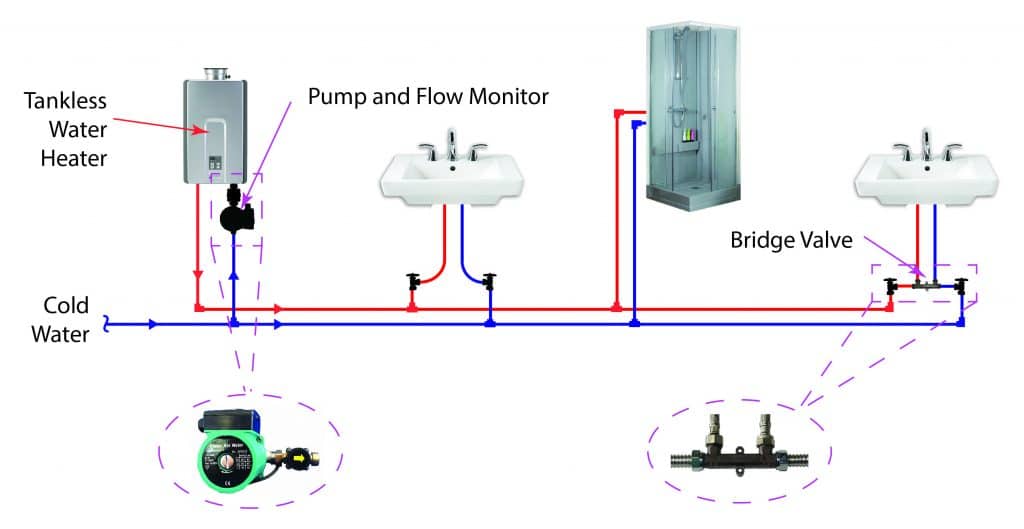 Due to their dedicated return line installation, the pump pushes the water around the re-circulation system through this line and straight back to the heater. Due to this, Rinnai's solutions can be installed with any plumbing configuration system already existing in your house. Normally, those households without a dedicated return line find that adding one is a very expensive endeavor. Rinnai, however, solved this issue with the re-circulation system, allowing rapid hot water without a dedicated return line.    
Quality Control Checks During Assembly
With a focus on technological quality and durability, Rinnai ensures that all products are of the best manufacturing level before they are sent out. Designed and engineered with intense precision, Rinnai products are put under extreme stress tests before being sent to the shop floor for consumer purchase.
Rinnai actually puts every product under five different staged quality control tests to ensure that every model is manufactured and assembled correctly so that Rinnai only sends out their highest standard products. On top of this, they have CSA-accredited laboratory technicians who give the products further testing for certification, development, application, and reliability. One of their two labs is dedicated to energy efficiency testing, while the other puts the products through their paces at commercial-grade application testing. All products meet an array of strict standards, including those set by the American National Standards Institute (AMNI).
Impressive Product Warranty Coverage
Rinnai has such a high level of confidence in every one of its products that it offers an outstanding warranty. The warranty is actually the best one available from any tankless water heater manufacturer. The warranty lasts for 12 years on the heat exchanger, 5 years on parts, and one year on labor. Not only that, if your device is registered within 30 days of purchasing the unit, you can register for extended coverage on labor.
When you consider the fact that all parts can be replaced, coupled with this lavish warranty, this really gives Rinnai the top spot for the longevity of products.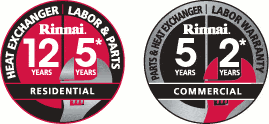 Drawbacks
While Rinnai certainly looks to go the extra mile for their customers to receive great service, this comes at a price. Rinnai water heaters are quite expensive in comparison to their competitors' equivalent models. Not only are the upfront costs of the water heaters expensive, but they are also very hard to install. This means that you need a professional installer, and the installation costs are also pricey, resulting in a significant finishing total.
Some customers also complained of limescale build up inside their Rinnai products. The LC code that indicates the presence of calcium was constantly on which demands the tank be serviced and cleaned. For the inexperienced user, this may add an extra cost to have someone come out, and deal with the buildup.
Available Rinnai Tankless Water Heater Models
Rinnai Tankless models are categorized by efficiency, labeled as High Efficiency, High-Efficiency Plus, Super High Efficiency, and Super High-Efficiency Plus. The V model catalog is their high-efficiency range, with a gallon per minute values ranging from 5.3 – 9.5 GPM on the varying models. The models, which come as either propane or gas-fueled, have a UEF of around 0.81 and are wifi capable.
The RL and RLX models are the high-efficiency plus run. They are re-circulation and wifi enabled, and have a UEF rating of up to 0.81. The units come with GPM ratings ranging from 7.5 – 9.8 and can come as either gas or propane fueled devices.
The super high-efficiency category is comprised of the RUR, RUC, and RU models. These have UEF ratings of up to 0.93 and are all Energy Star recognized.
They are all re-circulation enabled, with RUR models having a 360 re-circulation pump. Available as both natural gas and propane models, these units come with gallons per minute values of between 9.8 and 11 GPM.
What Kind of Warranty Does Rinnai Offer?
Rinnai is known to offer committed services to its consumers both in terms of reliability and quality. It offers multiple warranties on the product to enhance the overall experience of the customers. However, the warranty works only if the product is purchased from an authorized Rinnai dealer. Plus, you must have the receipt or any other proof of purchase in order to enjoy the customer services.
Mostly the products from Rinnai come with a limited warranty, which involves responsibility for damaged parts or any other defect in the product. Moreover, it will cover the services of workmanship when the appliance is installed according to the instruction manual provided by Rinnai. This warranty only holds for those appliances that are installed properly in the United States and Canada only. In case the appliance was not installed according to the guidelines of Rinnai, the warranty won't work.
The warranty lasts for 10 years for the heat exchanger, plus other components are guaranteed for 5 years. The services offered by Rinnai will cover the repair or replacement of damaged parts or any other parts of the appliance. However, it may become void if the product is damaged by improper installation, poor handling, use, and operation.
Similarly, there will be no services provided if the model number or serial number has been vandalized.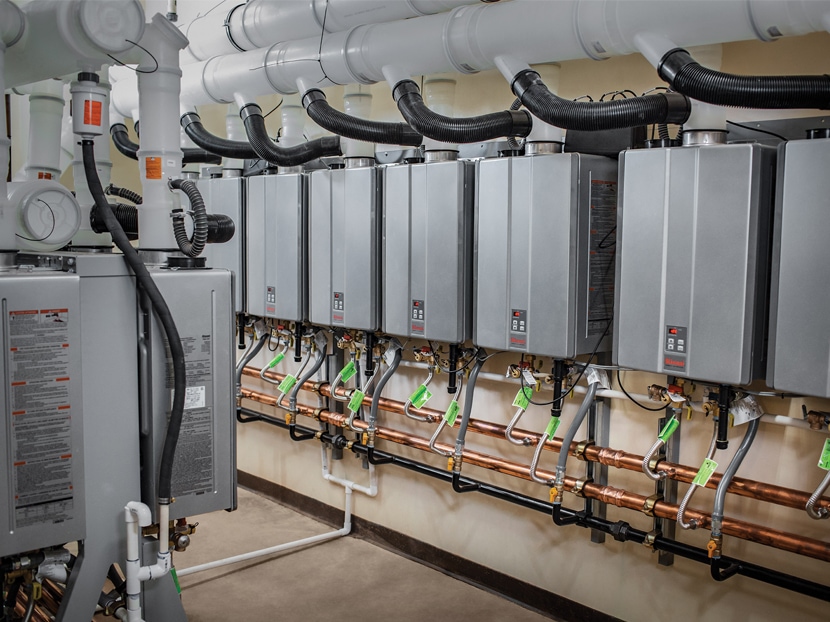 Who is Rinnai?
Rinnai marks its position as one of the top international Japanese industries. It was founded in Japan a century ago in September 1920 by Hidejiro Naito and Kanekichi Hayashi. It was firstly named Rinnai & Co. and was totally based on the principles of harmony, truth, and spirit.
The fame of Rinnai expanded by virtue of its gas appliances in 1923. However, the company paused the distribution of these appliances for some time and started to manufacture aircraft parts. In 1958, the company made a partnership with Schwank GmbH, and from since then, it has been one of the finest companies working in gas appliances technology.
Rinnai Tankless Company History
Based in Nagoya, Japan, Rinnai began making products just under 100 years ago. First incorporated in 1920, Rinnai launched its first tankless water heater in 1921. The company went public in 1950 on the Tokyo Stock Exchange to expand its market. By 1967, they had consolidated their research and engineering to open a new technology center for innovation. In 1974, Rinnai established their US-based company Rinnai America Corporation, in Los Angeles.
By the early 2000s, Rinnai was improving its product range with a new tankless water heater in 2000 and a commercial version in 2001. This led to them being voted #1 as Builder Magazine's "Most Popular Product" for their LS Series Tankless Water Heaters in 2006.
In 2009, Rinnai narrowed down their focus to efficiency, and 6 products earned the Energy Star, with condensing tankless models being presented the following year.
Rinnai now has 20 branches around the world. Six of these branches are in Japan, with 86 sales offices across 15 countries, including Thailand, the UK, Vietnam, and the USA.
Conclusion
Winter is just around the corner. Therefore, it is better to do your homework and make sure to purchase the best water heater that completely fits your needs. Take your time to do your research about the perfect choice. Hopefully, this review has helped you enough in finding the model that you have been looking for.
Rinnai is an undoubtedly solid brand to put your confidence in when choosing a water heater. Make sure you understand your requirements when choosing a water heater for your household. A reliable and durable brand with an excellent warranty and a dedication to longevity, Rinnai products are a great choice. Just remember that upfront costs and installation can be a little pricey.
People Also Ask
Rinnai Tankless water heaters are used by a number of people, plus its superior performance has attracted certain new customers as well. Most of them have some queries about the functionalities. This section has summarized some of the frequently asked questions by customers in order to improve their overall experience with Rinnai Tankless water heaters.
Where is the Serial Number on the Rinnai Tankless Water Heater?
A serial number gives information about the manufacturing date as well as the age of the product. It is also known as the model number. You can easily find this number on the left side panel of any tankless water heater manufactured by Rinnai. Moreover, it gives details about the warranty of the model as well.
What Temperature Should I Set My Rinnai Tankless Water Heater?
Pressing the priority button gives a clear indication of the hot water supply. However, you can only adjust the temperature while there is no hot water running. Moreover, the temperature can be only set between 98 and 110 degrees F. You can do this by pressing the up or down button to reach the desired temperature.
What Does Priority Mean on Rinnai Tankless Water Heater?
You will find a priority button on the temperature controller. Pressing this button will light up a green priority light, which indicates that the controller is now responsible for controlling the temperature. From this indication, we get to know that tankless water heater is now ready to deliver hot water to the user.
Can a Tankless Water Heater Run Out of Hot Water?
No, a tankless water heater does not run out of hot water. In fact, one of the major advantages of using these heaters is that there is an unlimited supply of hot water. Moreover, you can enjoy a 5 hour-long shower without worrying about the supply of hot water. However, there is a limitation to the amount of water that can be supplied at a time.
What is Code 11 on a Rinnai?
Code 11 refers to the error code on Rinnai. Basically, this code is an indication of a lack of any built-in ignitions or gas supply to the whole system. These problems can be easily fixed by either checking the system for any loose or damaged part, or you can check the gas supply. Make sure it is turned on by turning on a gas appliance such as the stove.