There are a certain calm and comfort in watching the logs burn in the stove. That and the fact that catalytic wood stoves are very efficient in warming living spaces is why they are still so popular. 
Now they are available in better styles and more intelligent designs to lower fuel consumption and provide more warmth.
This article reviews some of the best catalytic wood stove burners. Read on to see what makes them earn their high ranking.
Comparison of the Best Catalytic Wood Stoves
IMAGE
PRODUCT

Our Top Pick

Made from soapstone materials for better heat retention
Can be easily installed and is user-friendly
Made strong and durable to last longer

View Latest Price →

Easy to control heat combustion system
Made from high-quality cast iron to last longer
Easy access for quick and easy cleaning and maintenance

View Latest Price →

Best Budget Option

Best for the Money
Comes with 10 and 100 percent warranty included
Made with nice-looking display features for great decor

View Latest Price →

Best Small Catalytic Wood Stove
Has quite a large heat retention chamber
Comes with very low soot emission for a safe environment

View Latest Price →

Will quickly and easily reach maximum heat capacity
Made from high-quality steel materials to last longer
Controls are very easy to use and is accessible

View Latest Price →
What is a Catalytic Wood Stove?
A catalytic stove makes the most use of the fuel. The smoke produced as a result of wood combustion is passed into a catalytic chamber or a catalyst-coated honeycomb for ignition and burning. The particles in the smoke are burned again to fully utilize the fuel. Such stoves are known to produce even heat and are technologically a bit more advanced than the non-catalytic stoves.
Over the years, manufacturers have perfected the design and have added an aesthetic appeal to it as well. The resulting product is not only fuel-efficient but also eco-friendly and caters well to people's heating needs.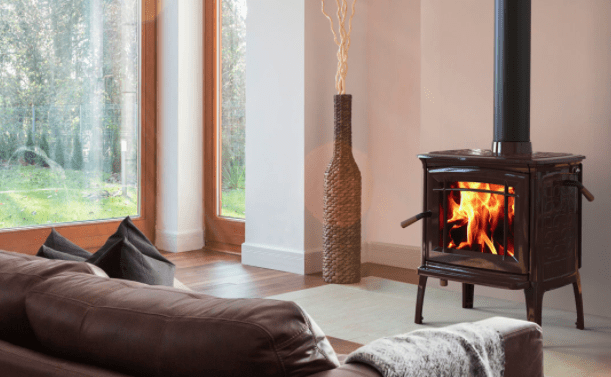 How Does a Wood Stove Catalytic Converter Work? 
The stove has a wood-burning chamber which opens into a catalyst-coated chamber via a lever. Once you load up the wood inside the chamber, it is burned to produce heat, and smoke particles are released as a by-product. This smoke is led into the chemical catalyst-coated chamber. The coating is usually platinum or palladium; both are good conducting metals and interact with the smoke inside the chamber. 
The metal catalyst lowers the ignition temperature for the smoke from 1100C to 500C. As a result, the particles within the smoke burn, liberating heat and making the stove 5-10% more energy-efficient. Additionally, the emission value of the stove is lowered, deeming it eco-friendly.
What Size of Catalytic Wood Stove Do I Need?
In theory, catalytic wood stoves are space heaters used to heat a particular area or room. Smaller stoves are suitable for rooms with limited space that do not need to be heated often. However, to warm up larger spaces, large stoves that can run non-stop over longer periods without being a danger are necessary. 
A room with an area of 1500 sq. ft. would easily be heated by a stove with a firebox that is 1.5 to 2 cubic feet in size. The approximate heat output of this size would be 50,000BTU/hr, which is enough to warm up the room nicely. Meanwhile, for a larger room with an area of 2500 sq. ft., a stove with a firebox of two to 2.5 cubic feet and a heat output of 70,000BTU/hr would suffice.
At a Glance: Our Top Picks for Catalytic Wood Stoves
Review of the Best Catalytic Wood Stoves 
By far, we know that a good catalytic wood stove should be fuel-efficient and should provide more even heating compared to the non-catalytic wood stove of the same capacity. The sizes of these stoves determine their suitability for different spaces. Now, let's have a thorough look at what the market has to offer.
Hearthstone Craftsbury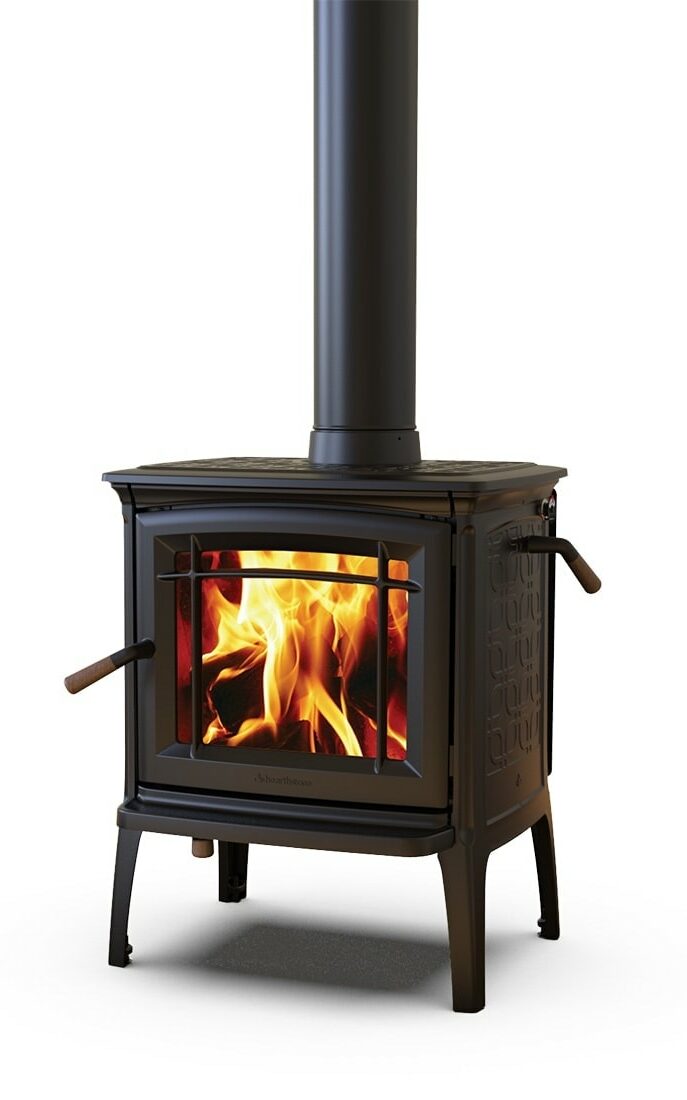 Heat Output (BTU/h): 40,000
Heating Capacity (sq ft): 1,400
We may earn commission from purchases made from our links, at no additional cost to you
What Recent Buyers Report
Recent buyers were delighted with this wood stove as it brought utility and style to the room. They liked how the cast iron construction did not give way under constant use. The stove warmed up a small to medium-sized room in no time, and the heat was evenly distributed as well. Overall, they were quite satisfied with their purchase.
Why it Stands Out to Us
Our first pick conforms to the latest 2020EPA standards. It keeps the hourly emissions at 1.07g/hr that is below 2g/hr as required by EPA. It does so by engaging the TruHybrid technology that works on the principles of the catalyst stove. 
Fuel is burned in three levels: primary, secondary, and tertiary combustion. The catalyst is engaged in tertiary combustion to burn any remaining particles and get the most out of the fuel. As a result, minimal particles are released to the surrounding, making the stove safe to be around. 
Moreover, the design utilizes cast iron parts that are excellent conductors of heat and reduce the heat loss to a minimum. The soapstone lining absorbs the high heat from the fire and radiates it in a gentle warmth into the surroundings, warming not only the air but also the objects. A porcelain finish gives the unit the regal feel that would make it suitable and stylish to be placed in the rooms.
Bottom Line
One of its kind, the catalytic woodstove by Hearthstone is a perfect choice for small spaces. It can keep a 1400 sq. ft. space warm for up to 20 hours with one woodpile load. It is energy-efficient and environmentally safe. You can choose from three different color options to match the furnishing of your room.
Pros
Made of cast iron with a porcelain finish
Offers a good percentage of fuel efficiency at 79%
Provides up to 40,000 BTUs per hour and can heat up to 1400 sq. ft.
Equipped with TruHybrid technology for better heating and fuel efficiency
Uses stainless steel catalyst for fewer maintenance issues and a long life
Cons
Firebox capacity is limited at 1.32 cubic feet
Not all clearance models include a rear heat shield
Hearthstone Manchester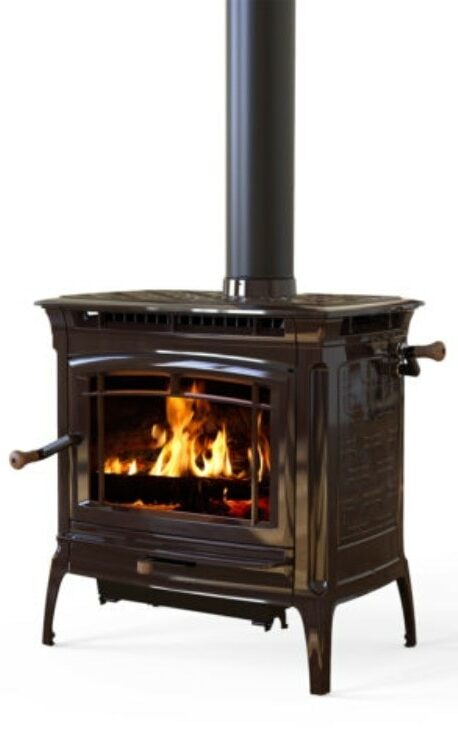 Heat Output (BTU/h): 75,000
Heating Capacity (sq ft): 2,400
We may earn commission from purchases made from our links, at no additional cost to you
What Recent Buyers Report
Recent buyers widely appreciated the 30 hours of heat life. They reported that all they had to do was load the stove once and let it do the rest of the work. It did not need constant supervision or reloading. As a result, they could enjoy or relax in a cozy room without having to worry about the stove.
Why it Stands Out to Us
Another great product by Hearthstone, the Manchester model is built for more robust functioning. It can warm large spaces for up to 30 hours seamlessly. The soot emission is kept at 0.65g/hr, which is unbelievably low for such a large unit. Moreover, it comes with all the accessories like a heat shield, ashtray, adapters, door locking kit, etc. 
The 2.9 cubic feet firebox has enough room to harbor a good amount of wood at a single time, which is then combusted through the three-stage combustion to make the most use of it. The Manchester model lies at 78% in the efficiency chart, which is also quite impressive. 
Bottom Line
Manchester wood stove by Hearthstone is going to prove to be a valuable addition to your space. It brings style and grandeur to the place and stays for the long haul. With its 78% efficiency, up to 75,000BTUs of energy, and 30 hours of heat life, it will not only provide a toasty warmth but also save on money.
Pros
30 hours of heat life with one pile of wood
Comes with all accessories and a very detailed instruction manual
Capable of heating up to 2400 sq. ft. of space evenly and efficiently
Features a 2.9 cubic feet firebox to hold a significant amount of wood
Very low emission value at 0.65g/hr for safer and healthier breathing environment
Cons
Only two color options to choose from
Weighs 520lbs and is difficult to move around
Regency Cascades F1500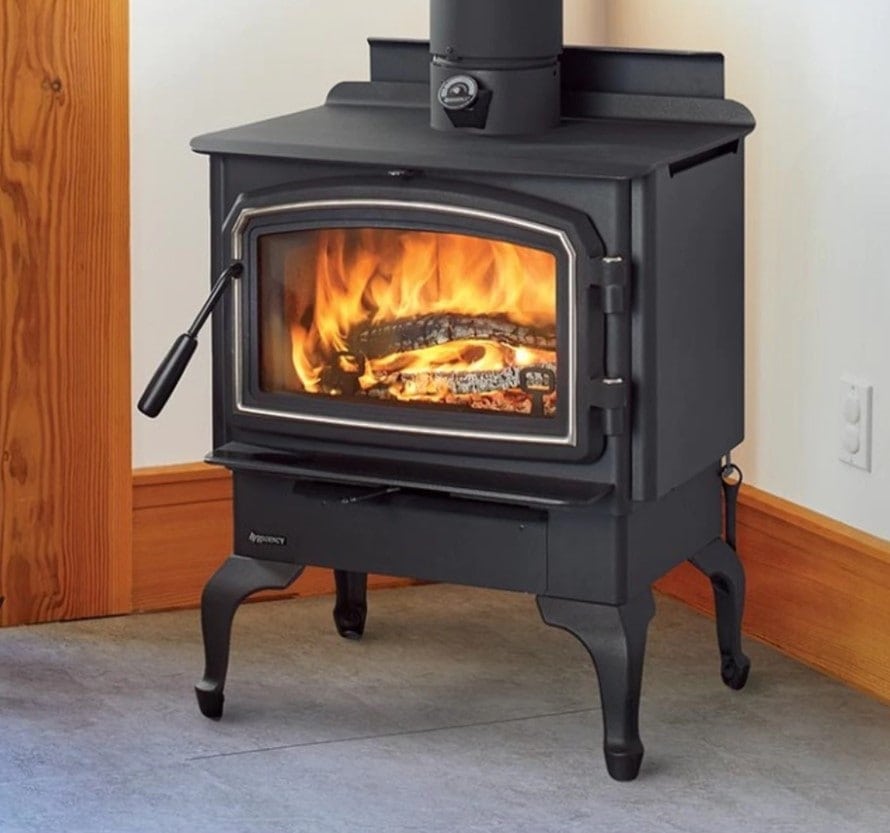 Heat Output (BTU/h): 55,000
Heating Capacity (sq ft): N/A
We may earn commission from purchases made from our links, at no additional cost to you
What Recent Buyers Report
The 85% efficiency of this stove was one of the main reasons why most recent buyers opted for this unit, and according to them, it did not disappoint. They noticed that a pile of wood lasted much longer in it compared to others. The heat radiated was evenly distributed and warmed the objects of the room as well as the air.
Why it Stands Out to Us
When it comes to ensuring a solid and dependable build for a wood stove, Regency is a reliable name, and this Cascade F1500 is no exception. It features a large window to view the burning log, adding a rustic look to space. The window is covered with a heat-radiating ceramic glass door that is safe to touch. The hinges that hold the door are made of cast iron and are guaranteed to neither break nor bend. 
There is a cam lock that securely bolts the glass door to prevent any sort of accident. Other parts of the stove are also built from high-quality material to ensure long life and easy usability. There is also a thermometer on the stove to provide easy temperature readings.
What adds further value to this whole package is the comprehensive warranty that covers both the stove and the catalyst. A limited lifetime warranty backs the stove parts while the catalyst has a ten-year original warranty to cover for damage or breakage. 
Bottom Line
We believe that this catalytic wood stove model by Regency provides the best value for your money. It is designed for small rooms but with very high-quality material so that you make a one-time investment that is worthy and useful. The efficiency of this stove is extremely impressive, which saves on fuel costs. Lastly, a solid warranty package really makes up for a good deal for your money.
Pros
Works at an optimum efficiency of 85%
EPA 2020 certified with 1g/hr of emissions
Heavy-duty construction with non-breaking or bending parts
Can provide 55,000BTUs per hour for quick warming of the space
Limited lifetime warranty for the stove and 10-years original catalyst warranty
Cons
Provides only 10 hours of heat life
Firebox has a small size of 1.3 cubic feet
Best Small Catalytic Wood Stove
Hearthstone Bari Plus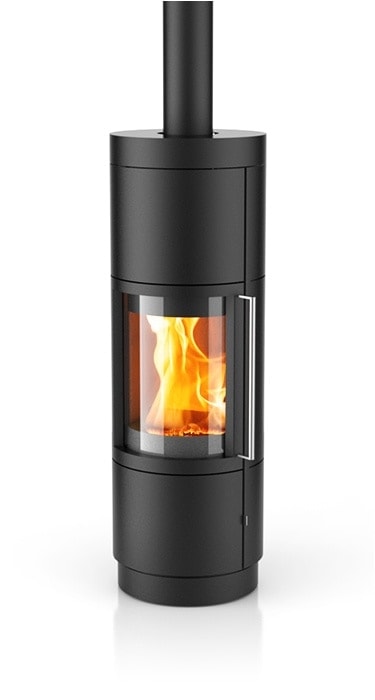 Heat Output (BTU/h): 35,000
Heating Capacity (sq ft): 1,400
We may earn commission from purchases made from our links, at no additional cost to you
What Recent Buyers Report
As per reports, 0.94g/hr is an impressively low emission rate for a wood stove and was one of the most appealing factors for many buyers. They were of the view that small spaces tend to get warm quickly, and the exhaust stays for some time in the room before it is released out. Hence, the low emission rate ensured that the breathing air of the room stayed clean and safe to live in.
Why it Stands Out to Us
Like all other Hearthstone products, this stove, too, features TruHybrid technology with triple combustion. But the firebox is lined with ceramic bricks. The ceramics not only adds to the durability of design but also absorbs heat from the fire, which is stored for even release through radiation later. The tall layout further helps with extending the heat life. Also, 16 hours of resultant heat life is quite impressive for such a small unit.
Moreover, this stove has a gauge steel build that acts as an efficient radiator of heat and provides a smooth, clean finish to the stove. The streamlined unit has a very modern and contemporary look to it, which goes very well for spaces with minimal furniture.
Bottom Line
For those looking for a sleek and neat-looking wood stove with a more modern vibe, this one by Hearthstone might be an option worth considering. It provides far more functionality than expected from its size. The emissions are kept extremely low so that the breathing space is not polluted. Hence, the stove unit fits nicely in small spaces, works exceptionally well, and does not make the place too congested.
Pros
Brick lining and the tall height help elongate heat life
Provides 76% HHV efficiency with 0.94g/hr of emissions
Streamlined, sleek modern layout based on European designs
Provides 16 hours of even heat life and turns the space toasty and cozy 
Constructed with gauge steel and ceramics, making for a very reliable unit
Cons
Heats small spaces of 1400 sq. ft. only
Weighs 642 lbs, which is heavy for a small stove
Regency Pro-Series F3500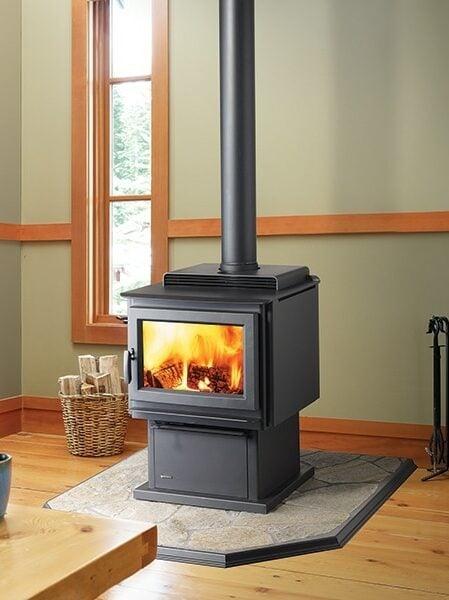 Heat Output (BTU/h): 75,000
Heating Capacity (sq ft): N/A
We may earn commission from purchases made from our links, at no additional cost to you
What Recent Buyers Report
This stove was also well-received by recent buyers for a number of reasons. It was deemed very convenient to use and operate thanks to the wide-opening door and the easy-to-read thermometer. The ash lip was also a good addition according to most buyers because it not only prevented the floors from getting dirty but also brought a nice old fashioned flare to the room with its stone-like appearance.
Why it Stands Out to Us
The Regency Pro-Series is a large unit that is designed to perform non-stop. It features a 3.0 cubic feet firebox that can hold 60lbs of wood cut in 20" pieces. The door opens wide to an angle of 170ͦ and makes it easy to load the fuel front to back or side to side. The door is secured with a cam lock so that burning logs don't fall out. 
One of the best features of this stove is that it comes with a thermometer. The thermometer is very easy to read and lets the user how much heat the unit is producing. In order to increase or decrease the produced heat, all that is needed are slight adjustments to the front-mounted air adjustment lever. This lets in more or less air to increase or decrease the combustion accordingly.
Bottom Line
Large spaces need more robust wood stove units that cover more area and produce more BTUs per hour. The Regency Pro-Series F500 is just what you need for large spaces. It can produce up to 75,000 BTUs of heat in one hour with a coverage of 181 sq. ft. Moreover, the heat could be easily adjusted via the airflow lever and the thermometer.
Pros
EPA 2020 certified and covered with warranties
Airflow lever helps regulate combustion and the heat produced
Door can open wide at 170ͦ for easy loading up to 60lbs of wood
Includes a thermometer to read and adjust temperature readings
Comes with a welded ash lip that does not bend or break and keeps the floor clean
Cons
Burn time is limited at 24 hours, which is less for such a big unit
Unit is huge, and the ash lip requires even more space for placement
Pros and Cons of a Catalytic Wood Stove
Although quite useful, catalytic wood stoves have their own cons as well as their pros. The pros are what make them suitable and usable in almost all settings. The cons are cautious considerations that need to be kept in mind in order to land the best model that suits your needs. Have a look:
Pros
The following pros make catalytic stoves very useful and reliable hence earning them their popularity.
Eco-Friendly
One of the greatest advantages of wood catalytic stoves is that they are environmentally friendly. Almost all units conform to the EPA 2020 standards. The use of the catalyst, along with many other advantages, also lowers the emissions, considerably preventing the release of harmful and unburnt particles. As a result, the air remains clean and safe to breathe.
Energy Efficiency
This one-time investment saves on the fuel cost in the long run. The catalytic chamber easily burns off almost all residue that might have escaped in the smoke during the primary and secondary combustion. This way, the maximum use of each wood piece is made, and lesser fuel is used.
Usable For All Locations
While gas or electric stoves work extremely well for developed areas, the same cannot be said for remote places. But catalytic wood stoves are versatile in this regard. They work as well in the heart of a city as they do on some remote mountain or valley. All you need to find is wood. Moreover, they add a nice, pleasant touch to the room.
Cons
The cons associated with catalytic wood stoves must be looked at to make sure you don't make an uninformed decision. Considering these will ensure that the unit you end up with is the best option for you.
Occupy Space
Unlike small gas or electric heaters, wood stoves are large. They are bigger because the wood needs to be placed inside for combustion, and it takes someplace. Hence, even smaller units need some designated space for placement. If you live in a very small room, make sure you use minimal furniture to make room for the stove.
Need Maintenance
Catalytic wood stoves are very efficient heaters, but they need maintenance to be kept in prime condition and ensure optimal performance. They should ideally be placed below the chimney so that the exhaust can easily escape. The chimney needs regular cleaning so that it does not get blocked and trap exhaust in the room. The firebox, when cooled, needs to be cleaned to maintain its aesthetics. The ashtray needs to be cleared out every time so that it does not overflow either.
Catalytic vs Non Catalytic Wood Stove – Comparison Overview 
Two of the most widely used designs are the catalytic and non-catalytic stoves. They do have some basic principles that are common in both. But some significant differences are also seen in the two. These differences are what make either type suitable for different uses. Have a look: 
Similarities
The features that unify the two designs and provide the baseline working principles are as follows:
Wood is the fuel used in both of these designs and is the source of energy production. 


There is primary and secondary combustion involved in both layouts. The wood is burned in the primary stage while the thick smoke rich in particles is burned to an extent in the secondary phase.


Airflow can control the heat produced in both of these models. A thermometer can also be used on both.


Exhaust is let out through a pipe rising above the firebox and ending in the chimney.


Both of the designs have large layouts with firebox, pipes, and ash lip.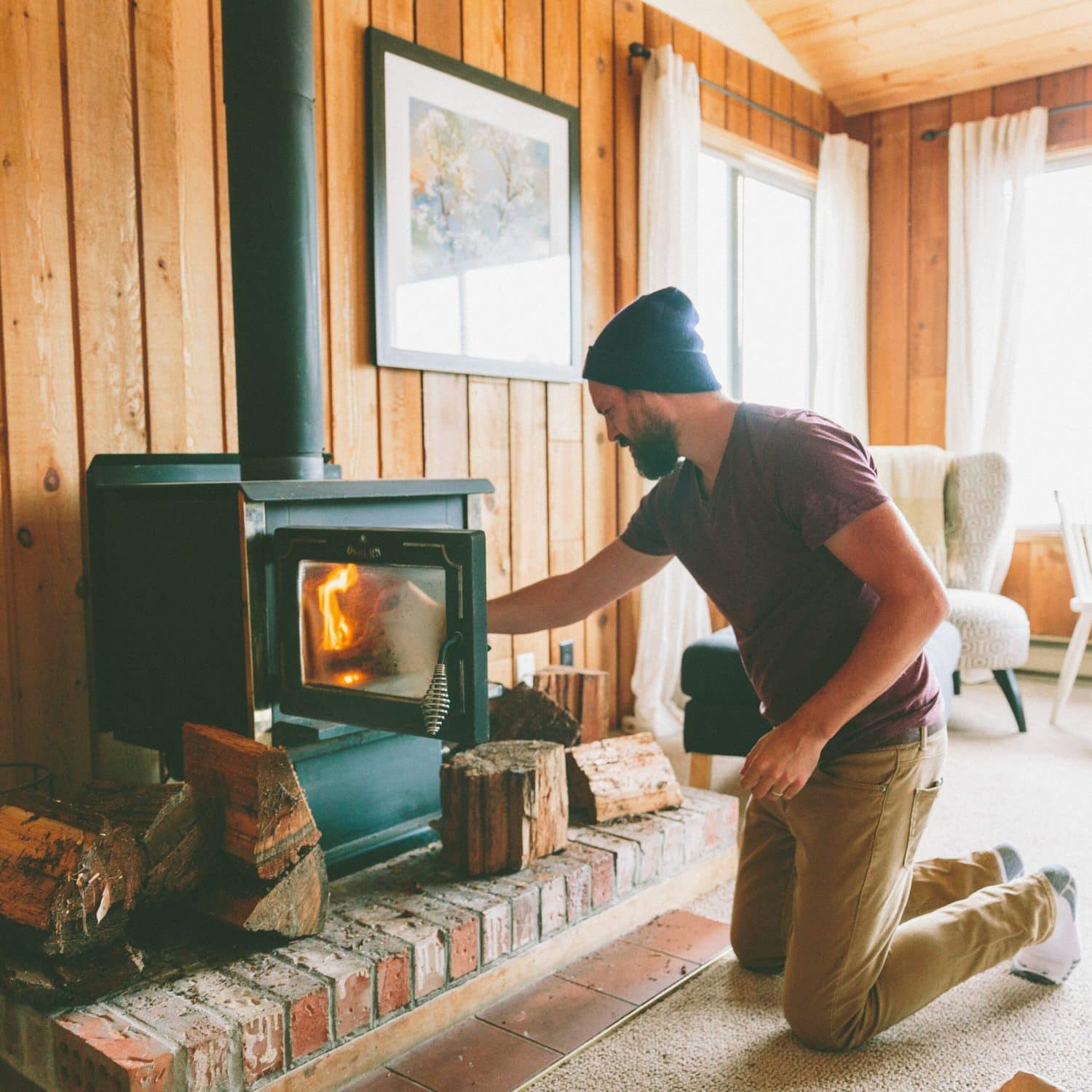 Differences
Things that make the actual differences between catalytic and non-catalytic wood stoves are as follows. 
The catalyst is the biggest difference between the two types. Catalytic stoves have an additional chamber lined with a catalyst to further burn the residues in the smoke.


Tertiary combustion happens in a catalytic stove but not in a non-catalytic stove. The tertiary combustion takes place inside the catalytic chamber. The remaining residues and particles inside the smoke are burned to emit heat and make the most use of the fuel.


Catalytic stoves are more energy-efficient because they utilize unburnt smoke particles better.


Since lesser particles are released in the exhaust of a catalytic wood stove, it is more environmentally efficient.


More BTUs per hour are obtained from catalytic stoves than non-catalytic ones of the same capacity due to the catalyst-driven tertiary combustion.
How to Use a Catalytic Wood Stove
It is not difficult to learn how to operate and use a catalytic wood stove. Once you learn how to do so, you would not remain dependent on professionals for every little adjustment you might want to make. Let's take a look at how to use a catalytic wood stove.
On the stove, you will find two knobs or levers. One is for the air control, and the other controls the inlet to the catalytic chamber. These are situated in plain sight.


The air control knob regulates how much air the fire receives. It is marked with L for low and H for high. The lower the air, the longer the wood burns but on a lower flame. The higher the airflow, the quicker the wood burns on a hot stove.


The By-Pass catalytic chamber lever opens and closes the catalyst bypass. If the lever is facing you, the bypass is open, and when it is away from you, the bypass is closed.


The firebox is locked via a cam lock that needs to be opened to reach inside.


Inside the firebox, there is a flame shield at the roof of the box. This shield prevents flames from reaching the catalyst chamber.


The bypass needs to be open to start a fire or closed for steady heating. It should never be left partially closed.


To check the door latch, use a piece of paper and close the door with it between the stove wall and the door. If the paper stays put and does not slide out, then the door is tightly sealed. Do this for all sides, including the hinge. 


If the paper does slide out, adjust, or tighten the latch on the door until the paper doesn't slide out anymore.


If the paper still slides out at the hinge sight, you need to change the gasket.


In order to ignite a fire in the stove, start by loading up the wood and opening the bypass.


Open the airflow control too and set it to the higher value.


If there is ash in the tray at the bottom of the stove, empty it and replace the tray.


Light a fire in the log pieces placed in the firebox. Build the flame until it reaches a significant size.


Look at the thermometer. As soon as it reaches the 'active zone,' close the bypass.


Make sure to run the stove on high for about half an hour. After that, you can increase or decrease the flame as required.


Use the air control to control the fire.
For a clearer understanding of the process, here's a video you should check out:
How to Clean a Wood Stove Catalytic Converter
It is important to clean the stove to make sure that the inner parts are not damaged. Cleaning also helps with even distribution of the heat in the following burns. A dirt stove also messes the aesthetics of the stove. Also, the creosote buildup, if not cleaned, can cause a fire.
Here's how you can clean it:
Loosen the bolts on top of the stove and remove it.


The top cover of the stove is now free and can be lifted.


After lifting the top, you will see the catalyst.


The catalyst is honeycombed, and the little openings inside it are plugged up with soot.


Place this catalyst on a piece of paper to prevent a mess later.


Use a store-bought pipe cleaner. These are gentle and do not harm the catalyst.


Take a piece of the cleaner and run it through each hole. Move it up and down a few times to let the build-up out.


Keep going until all the holes have been cleaned.


Put the catalyst back in its place and tighten the screws back in again.
For a better understanding and for visual help, here's a helpful video:
Conclusion 
Catalytic wood stoves are a very smart choice for heating up spaces. They are energy-efficient, eco-friendly, and safe to be around. Since they use wood as fuel, they find usability anywhere from the remotest places to the most developed parts of the world. They not only provide a cozy addition to your room but also bring a regal and rustic touch to the room.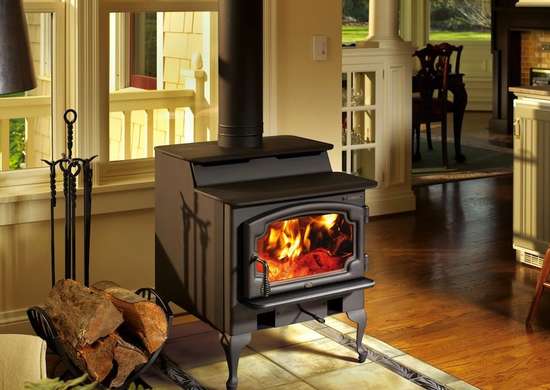 People Also Ask
Because wood stoves are a hefty investment, you must consider everything before you buy one. An informed decision may lead to problems with fuel consumption, emissions, or operation of the stove. This section addresses the questions that might not have been answered in the discussion above. 
Are Catalytic Wood Stoves Better?
Catalytic wood stoves are a better choice in many aspects. They utilize the fuel to the fullest and have a design that radiates heat evenly. They have a very low emission profile and are deemed more environmentally safer than their non-catalyst counterparts. The low emissions also make for a safer breathing environment inside the room.
What is a Catalytic Combustor in a Wood Stove?
A catalytic combustor is where the smoke particles are ignited to emit heat. Any of the particles that are left unburnt after secondary combustion enter the catalytic combustor where, at a certain heat, the catalyst is activated. It then helps burn the remaining particles to make as much use of the fuel as possible.
How Long Does a Catalytic Combustor Last?
If the catalytic combustor is properly taken care of, it can last for quite some time. Maintenance and regular cleaning are important factors in determining the life of the catalytic combustor. If the guidelines are followed, the combustor can last for 12,000-14,000 hours under constant use.
Can You Add a Catalytic Converter to a Wood Stove?
Specially designed models of a wood stove with catalytic combustors are available in the market. Placing a catalyst inside a simple and wood stove will not do the job.

A specifically designed model with a specific chamber is needed to make the catalyst come into play.
Do You Need to Vent a Catalytic Wood Stove?
Although the emissions from a catalytic wood stove are very little, it is still a better choice to opt for an air vent. The air vent ensures that no air pollutants remain inside the room, providing for a safe breathing environment for the people in it. In case an air vent is not present, the room becomes congested with excessive heat build-up, even if emissions are not a problem. 
What Can You Burn in a Catalytic Wood Stove?
The primary fuel source for a catalytic wood stove is wood. You can use logs of wood cut into smaller sizes. The size-specific to the firebox is listed in the specifications table of the product. It is usually 20" in length. To start a fire, you may use paper or ordinary newspapers as tinder, but these cannot replace wood as the primary fuel.
How Far Does a Catalytic Wood Stove Need to Be from the Wall?
36 inches is the standard distance that needs to be maintained between a wall and a wood stove. The distance prevents soot from depositing on the wall. The heat produced inside the wall has the capacity to cause burn marks on the wall. If the proper distance is maintained, the wall does not receive direct heat and remains spotless. Moreover, any other appliances, wires, or light sources connected to the wall remain safe as well.